If you're looking for the right brew to go with your meal, my Beer and Food Pairing guide will help you navigate through the many choices. Nothing beats a delicious home-cooked meal, but many believe a meal is not complete until you have a complimentary beverage to go with it. For many people, that means water or their favorite nonalcoholic beverage.
But for those of us who chose a different option, it is important to know that different flavors will taste better if you have a good match with the wine, type of beer, or spirit you choose that will complement your meal.
While exceptional wine can complement a meal, there are other beverage choices that can help you enjoy your favorite dishes. Beverage pairing isn't difficult, and my beer and food pairing guide will help you find the perfect match for the type of food you'll be eating. Let me help you find the right beer flavors to go with the type of food you enjoy eating.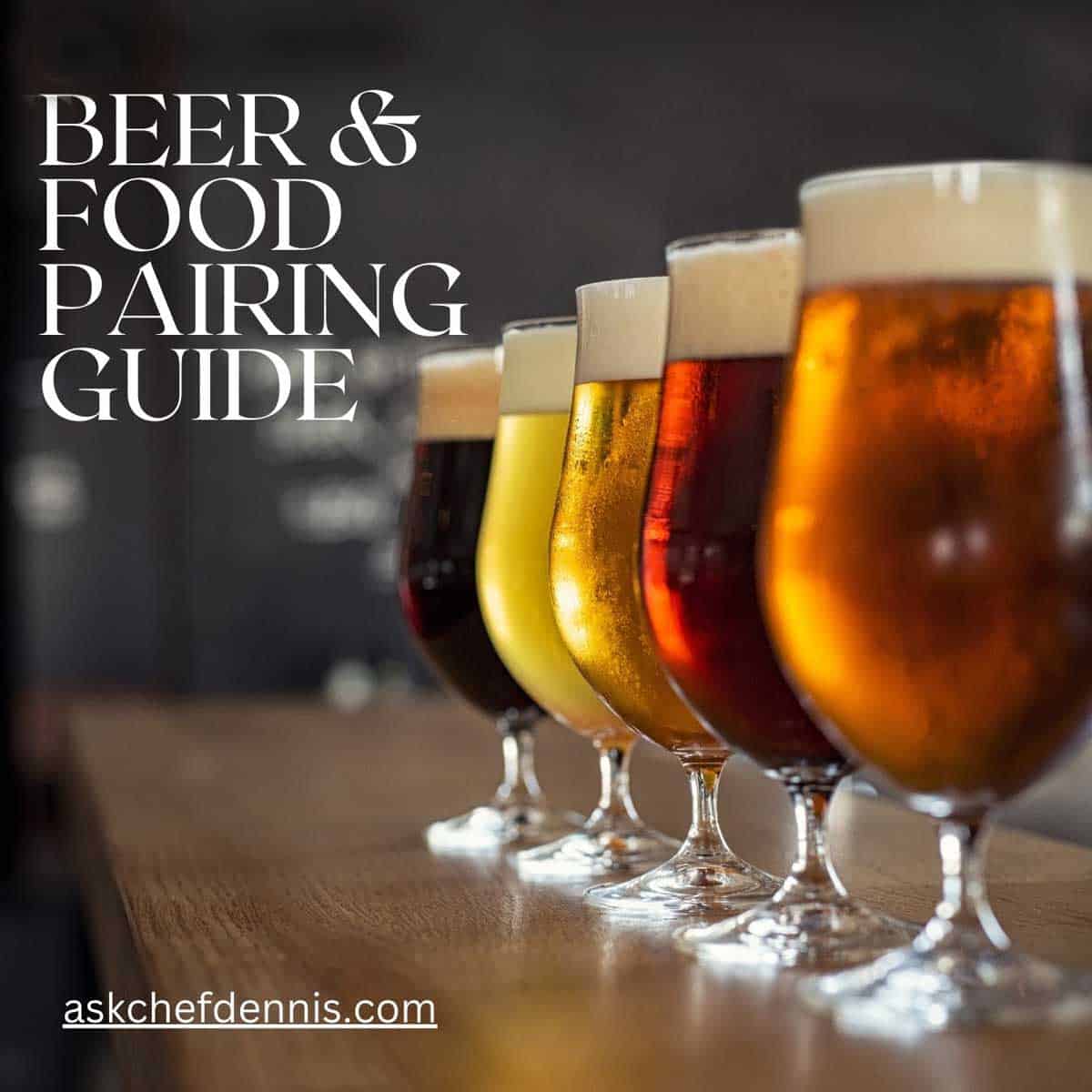 Ask Chef Ryan
Did you know there are over 50 different types of beer? For this guide, I am only going to touch on the different styles of beer I have found most popular during my 20-plus years in the food and beverage industry.
We are going to start off with the most basic question of what a Pale Ale is. Some of the most popular styles of beer over the last 10 years or so have "Pale Ale" in the name, although these days, it has changed from when it was started in the 18th century.
While this question is important, it can vary depending upon the styles of "Pale Ale" that are being created around the globe. Living in New Jersey, we have seen an abundance of independent craft beer breweries pop up offering many versions of Pale Ales, Imperial Pale Ales, India Pale Ales, Wheat Beers, Milkshake IPAs, etc. We don't see many light beers at craft breweries, so we won't be talking about them at this time.
What does ABV mean?
Over the course of beverage pairing, you will see some acronyms constantly throughout while discussing popular beer styles. The first term ABV means alcohol by volume.
As we progress through distinctive styles of alcohol content, you will see that in most instances, the ABV in our drinks starts at the low end with most beers, and it progresses into wine and then, ultimately, liquor and spirits.
What does IBU Mean?
The other one you will see is IBU which stands for International Bitterness Units. This measures how "bitter" a beer is. Being in the industry for decades, I have seen different cocktail trends and styles vary in popularity. My beer and food pairing guide will help find the right beer flavors and make your next BBQ or get-together a delicious success.
American Pale Ale
American Pale ales are slightly bitter beers that offer a moderate level of herbal hops with generous additions of citrus and pine, depending on the style and brewery. It has evolved over the years into a multitude of styles and offers a moderate alcohol content ranging from an ABV of 4.5% to 6.5% and a color range from golden to amber.
American Pale Ale pairs well with grilled steak, burgers, fried chicken, Mexican food and pizza. These recipes pair well with American Pale Ale: Grilled Ribeye, Fried Chicken Tenders, and Chile Colorado.
India Pale Ale (IPA)
IPA (India Pale Ales) is a bitter beer that is very hop-forward and offers fruity, citrus, earthy, and pine notes. IPAs over the last decade or so have really taken over the beer world. With all its variants and a variety of styles, there is an IPA for every taste. Originally an IPA came about as they added more hops to the liquid to help it make long journey's so they could still offer a quality product to the buyers in India while traveling by ship in the 1700s. An IPA has an ABV that ranges from 5.5%-7.5%, with an IBU from 50-70.
The bitterness of an IPA pairs well with spicy food, fried food, fatty foods, curries, burgers, barbecued meats, strong cheeses, and desserts. These recipes pair well with IPAs: Chicken Tikka Masala, The Ultimate Pulled Pork Cheeseburger, Baked BBQ Chicken, and Hummingbird Cake.
Imperial IPA
Imperial India pale ale is a bitter beer that offers more hoppy beer flavors and aromas than a traditional IPA, as well as offering citrus and pine notes. This is a very robust, flavorful beer with ABVs ranging from 7.0% to 12.0%, with IBUs from 65-100.
Imperial IPAs pair well with spicy foods, curries, burgers, barbecued meats, cream sauces, and sweet desserts. These recipes pair well with Imperial IPAs: Grilled Chicken Alfredo, Marinated Grilled Lamb Chops, and Individual Strawberry Shortcake.
New England IPA
A New England IPA is a less bitter hazy beer that offers a hoppy aroma and juicy citrus taste. This beer can range from something quite simple to something more dramatic by adding milk, lactose, and other earthy ingredients to bring out a variety of flavors and choices. My beer and food pairing guide places the ABV range from 6.3%-7.5% with an IBU of 50-70.
New England IPAs pair well with burgers, barbecued meats, cream sauces, fruit, cheese, and similar flavors. New England IPA is a great beer to pair with: Red Snapper with a Lobster Cream Sauce, Baked BBQ Short Ribs, and Classic New York Cheesecake.
American Lager
American lager can offer a toasty or caramel-like malt character. Hop bitterness can range from low to moderate depending on the brewery and fermentation process. The clean and crisp finish makes pale lagers a very drinkable beer. Lager has an ABV between 4.1%-5.1% with an IBU of 30-45.
American Lager pairs well with spicy foods, barbecued meats, grilled vegetables, french fries, cheese, fruit, and dishes seasoned with green herbs and green sauces. These recipes pair well with American Lager: Korean BBQ Chicken, Spicy Meatloaf with Collard Greens, Grilled Shrimp and Pineapple Skewers.
Blonde Ale
Blonde Ales are an easy-drinking beer with low bitterness, offering notes of honey, spices, and fruit. It has a low malt aroma and a medium sweetness. My beer and food pairing guide places this lighter beer with an ABV between 6.3%-7.9% with an IBU of 15-30.
Blonde ales pair well with spicy foods, poultry, seafood, salads, and cream sauces. These recipes pair well with Blond Ale: Korean Pork BBQ, Frutti di Mare, Grilled Cajun Chicken Wings, and Vegetable Lasagna.
Marzen
Marzen beer has a malty roasted sweetness and dry bitterness with hints of bread or biscuit-like malt aroma. A Marzen is the original Oktoberfest. Typically brewed in the spring and summer months and served in the fall season. It ranges from 5.8%-6.3% ABV with an IBU of 18-24.
Marzen's pairs well with barbecued meats, Mexican food, spicy food, grilled white fish, and grilled vegetables. Good pairings for Marzen are Fish Tacos, Chai Marinated Chicken with Roasted Vegetables, and Crab Stuffed Flounder.
Brown Ale (beer and food pairing guide)
Brown ales are full-bodied beers that boast a sweet malty flavor with hints of caramel and chocolate and a nutty flavor. Brown ales typically offer a moderate hoppy flavor and a moderate to high bitterness. My beer and food pairing guide places Brown Ale at ABV ranges from 4.2%-8.8% with an IBU of 25-45.
Brown ale is the perfect beer for barbecued meats, pork, sausage, nuts, and dishes containing nuts. These recipes pair well with Brown Ale: Tuscan Chicken and Sausage, Pistachio Encrusted Salmon, and Pulled Pork.
Hefeweizen
Hefeweizen is a beer that offers the bright fruitiness of banana with hints of clove and vanilla. Hefeweizen being a yeast beer, will be an unfiltered cloudy beer with a medium amber color. The ABV ranges from 4.0%-7.0% and with an IBU ranging from 10-15.
Hefeweizen pairs well with charcuterie, white sausage, spicy foods, cream sauces, and pickles. These recipes pair well with Hefeweizen. Chicken Salad, Fettucine Alfredo, Tomato Braised Pork Chops.
Porter
Porter is a medium-bodied rich beer offering a dark color and rich flavor with notes of caramel, toffee, and cocoa with a malty sweetness. A popular version of a porter is a smoked porter that offers wood-smoked malt. My beer and food pairing guide places Porters at AVB ranging from 5.1%-8.9% with IBU that varies from 20-40.
Porter's are a great beer to serve with barbecued meats, bacon, cheese, grilled fish, and desserts. These recipes pair well with Porter: Grilled Salmon, Chocolate Cake, and Beef Brisket.
Stout (beer and food pairing guide)
Stout is one of my favorite darker beers and offers a rich malty flavor with notes of coffee and chocolate. Along with traditional stouts, you will find other variations of stout beers, including Oatmeal Stouts, Milk Stouts, and Russian Imperial Stouts. These unique styles offer a wide variety of flavor profiles ranging in ABV from 4.0%-13% with IBU's from 20-90.
Stout's pair well with barbecued meats, game meats, burgers, brown sauces, shellfish, and salty flavors. These recipes pair well with Stout: Guinness Beef Stew, Wild Boar Sliders, and Seafood Marinara.
Fruited/Sour Beer
Fruited or Sour Beer gets its sour flavor from souring agents such as fruits or from the influence of barrel aging. My beer food pairings guide has this beer with an ABV that ranges from 2.5%-13.3%, with an IBU ranging from 5-45.
Fruited/Sour Beer pairs well with poultry, salads, cheese, shellfish, ceviche, and dishes seasoned with green herbs. These recipes pair well with Sour Beer: Blackened Chicken Salad, Leg of Lamb with Chimichurri, and Spanish Seafood Stew.
Pilsner
The Strong flavor of Pilsner offers a moderate to high hoppy bitterness depending upon the style of Pilsner. Offering hints of bread and or a biscuit malty finish. With an ABV ranging from 4.6% to 5.3% and an IBU of 25-40.
Pilsners pair well with sushi, spicy food, grilled white fish, poultry, shellfish, and salads. These recipes pair well with Pilsner: Pan Seared Tilefish, Four Bean Chili, and Linguine with Clams.
Cider
Cider strays away from the typical "beer," although you can find it on most beer or drink menus. Cider is made by fermenting the juice of apples. Ciders can vary in flavor profiles depending on how it is made. Some ciders are carbonated, offering a fizzy, refreshing drink to go with many meal options. My beer and food pairing guide places Ciders' ABV ranging from 4.5%-10% with an IBU ranging from 0-20.
Cider pairs well with Poultry, Spicy flavors, Tacos, Red Meat, Cheese, Roast Pork, and Desserts. Ciders offer a perfect pairing with Buffalo Wings, Country Style Braised Pork Shank, and Beef and Broccoli.
Winter Warmer (beer and food pairing guide)
Winter Warmer is a very malt-forward beer with sweet notes. Some winter warmers can have a spice-forward presence with such flavors as cinnamon and nutmeg. ABV for a winter warmer can range from 5.5%-8.0%, with IBU's from 35-50.
Winter Warmer pairs well with Ham, Roast Beef, Sweet and Savory Desserts, Red Meat, and Pork. These recipes pair well with a Winter Warmer: Stuffed Pork Tenderloin, Prime Rib, and Steak Diane.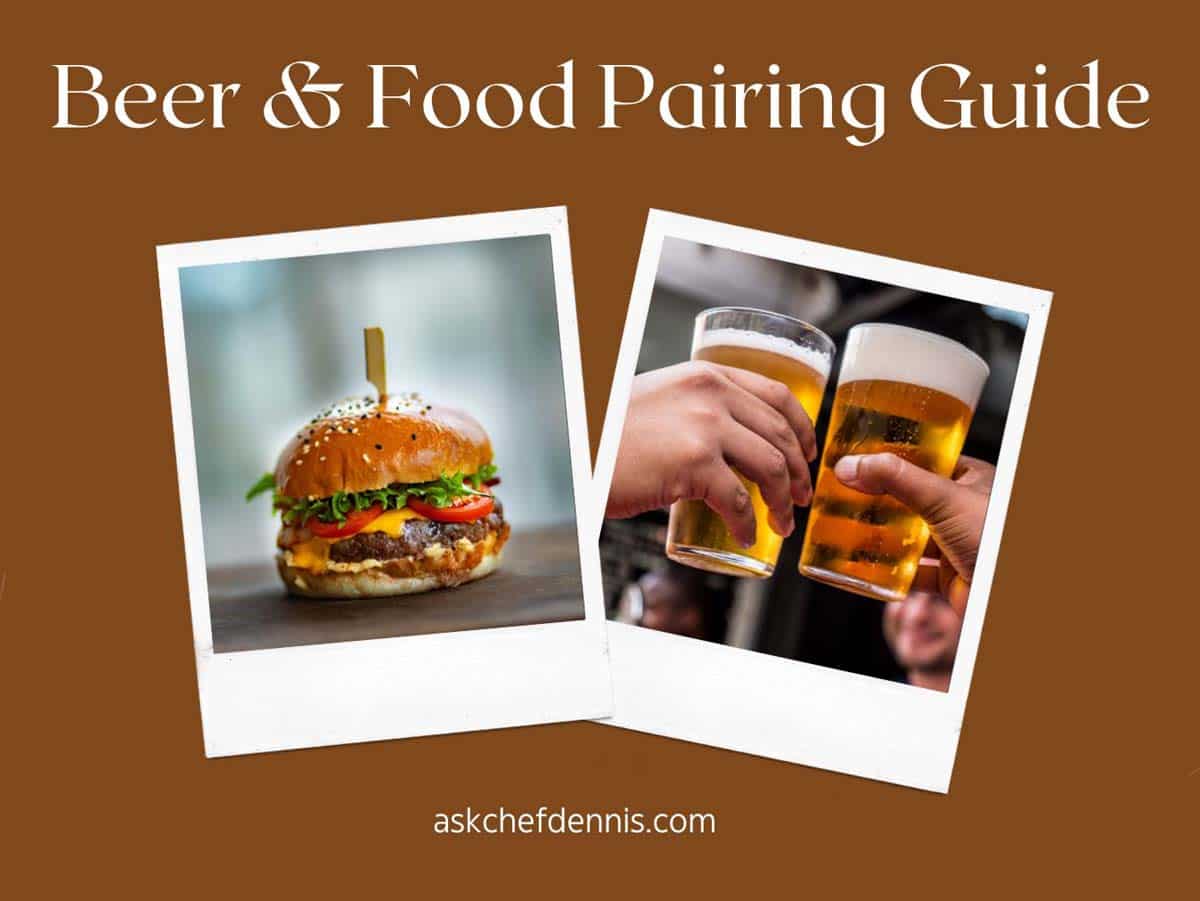 Being a person that genuinely enjoys cooking and eating out, it's always great to find the perfect drink that takes my meal to the next level. Decades of experience working in the restaurant industry has taught me a lot about what beverages go best with different foods. And that is why I decided to write my Beer and Food pairing guide.
Variety is the spice of life, and I encourage you to try different beers when the opportunity arises, but when all is said and done, it comes down to your taste buds and what you enjoy drinking. With the explosion of craft breweries across the country, your beer options have grown substantially and continue to grow. So next time you're looking for that perfect brew, go a little outside your comfort zone, and try a new beer, you might be surprised at what you find.
I will be updating my beer and food pairing guide with more options over the next few months, so stop by again and leave a comment if you have a question.
This post includes affiliate links. As an Amazon Associate, I earn from qualifying purchases.
These are some of the beer glasses I used while creating the images for my beer and food pairing guide. If you're a beer geek like me, keep a few glasses in the freezer for the perfect cold beer.