When it comes to juicy, tender, tasty hamburgers, you can't beat smash burgers, and my Mushroom Swiss Smash Burger is even more delicious with the addition of savory sautéed mushrooms.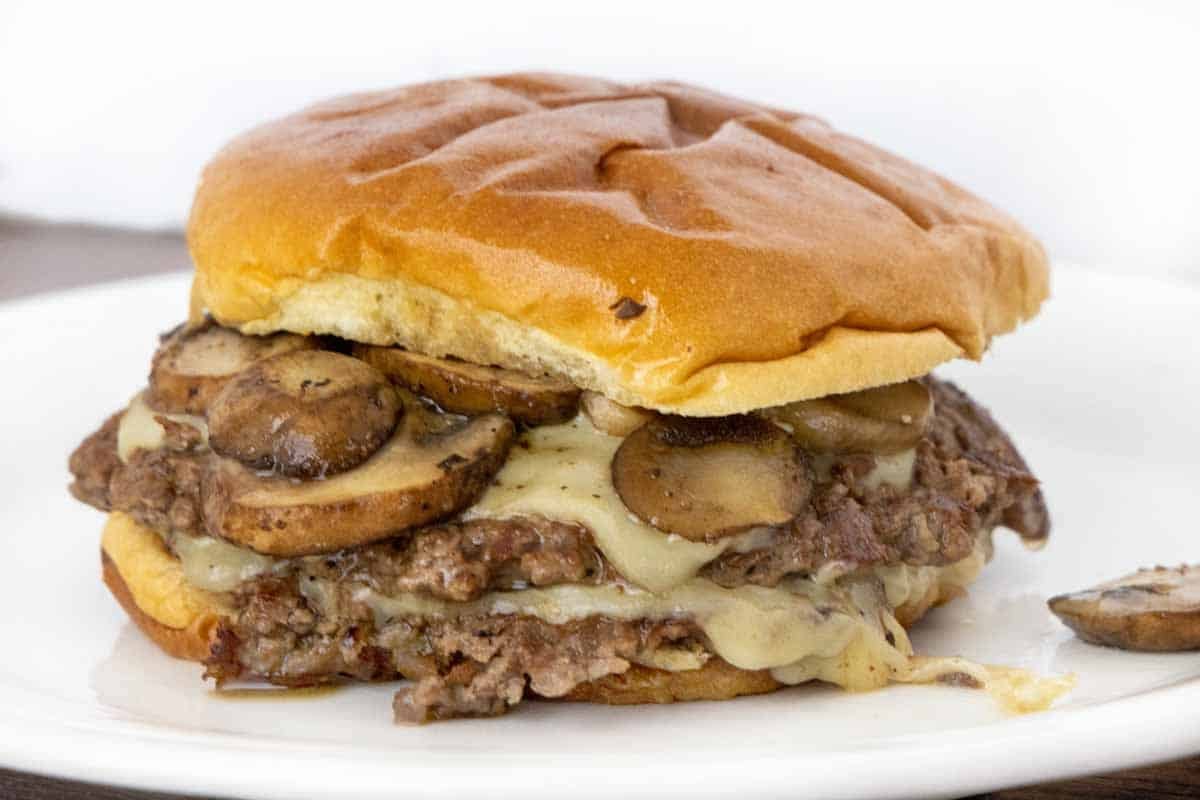 Swiss cheese and mushrooms go so well together and make a great burger combination. If you've never tried a Mushroom Swiss Smash Burger, get ready to be wowed! They are at the top of the list when I'm craving mushroom burgers.
I've been having fun creating delicious dishes with my new Blackstone Griddle, and let me tell you, it makes the best smash burgers! I love the crispy edges the ground beef gets as the meat sears, and those burgers get even more flavorful from the caramelization of the ground beef (thanks to the Maillard reaction).
If you love burgers, make sure to check out my Ultimate Pulled Pork Cheeseburger.
Ingredients to make Mushroom Swiss Smash Burger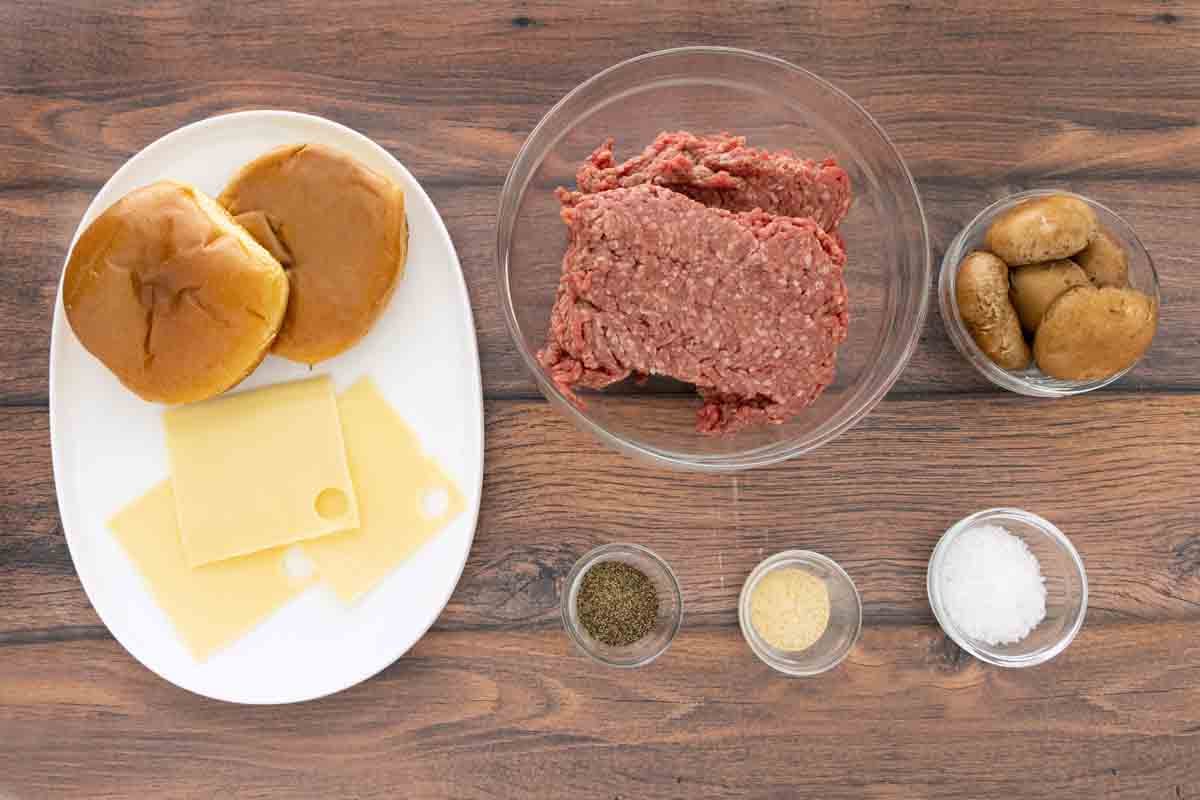 Let's start by gathering the ingredients we need to make Mushroom Swiss Smash Burger Recipe. In Chef Speak, this is called the "Mise en Place," which translates to "Everything in its Place."
Not only does setting up your ingredients ahead of time speed up the cooking process, it also helps ensure you have everything you need to make the dish.
Can I add other ingredients to the ground beef?
You sure can. You can season the ground beef with salt, black pepper, and other seasonings. Depending on your taste preference, you can add Worcestershire sauce, or your favorite premade seasonings like cajun seasoning, lemon pepper, jerk seasoning, and chili seasoning.
You can also add your favorite seasonings to the shaker, if you'd rather not add them directly to the ground beef.
What kind of ground beef should I use?
The best beef to use for Smash Burgers (or any hamburger) is ground chuck. It has a fat content of 15-20 percent range, which keeps the burger moist and makes it more flavorful as the fat melts and caramelizes while the beef is cooking.
You can also make smash burgers with ground chicken, ground pork, or your favorite vegetarian meat substitute.
Can I add other toppings to my smash burgers?
Absolutely. Some of my favorite add-ons are caramelized onions, sautéed jalapeños, and bacon. You can also have fun adding your favorite toppings, the sky's the limit when it comes to condiments and toppings.
And don't forget the cheese. Cheddar, provolone, American cheese, bleu cheese, and Monterey Jack are a some of my favorites.
How to make Mushroom Swiss Smash Burgers
Set the griddle temperature to 400 -425 degrees. If using a griddle pan or cast iron pan, set it over medium-high heat. Use a surface thermometer to check the griddle temperature.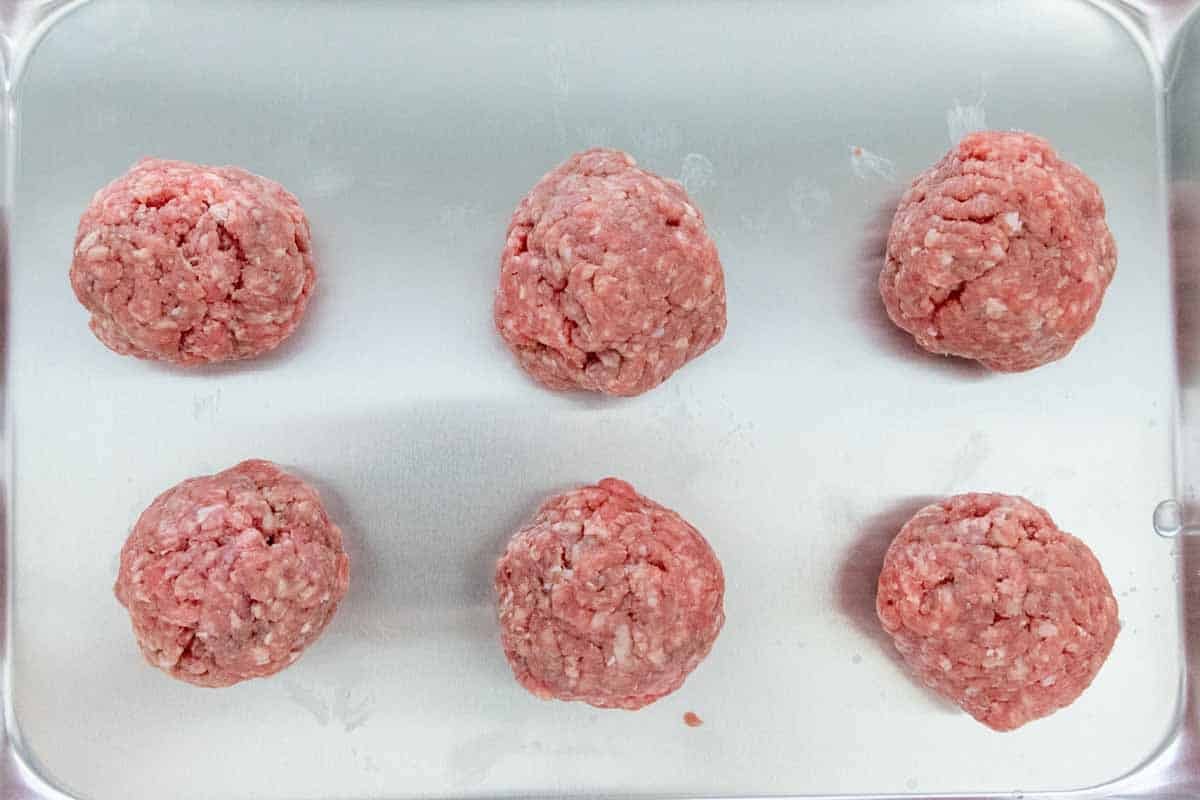 Form the ground beef into 3-4 ounce burger balls using your hands. You'll get 8-10 burger balls, depending on the size you make them. Let the meat come to room temperature while you prep the other ingredients.
Add the kosher salt, black pepper, and garlic powder to a small bowl and mix well to combine the seasonings.
*I like to add the seasoning to a shaker, it makes it easier to season the beef and mushrooms.
Pro Tip:To make grilling easier with my Blackstone griddle, I like to fill a squirt bottle with olive oil and another with water. This helps to keep things moving once I start cooking the Smash Burgers.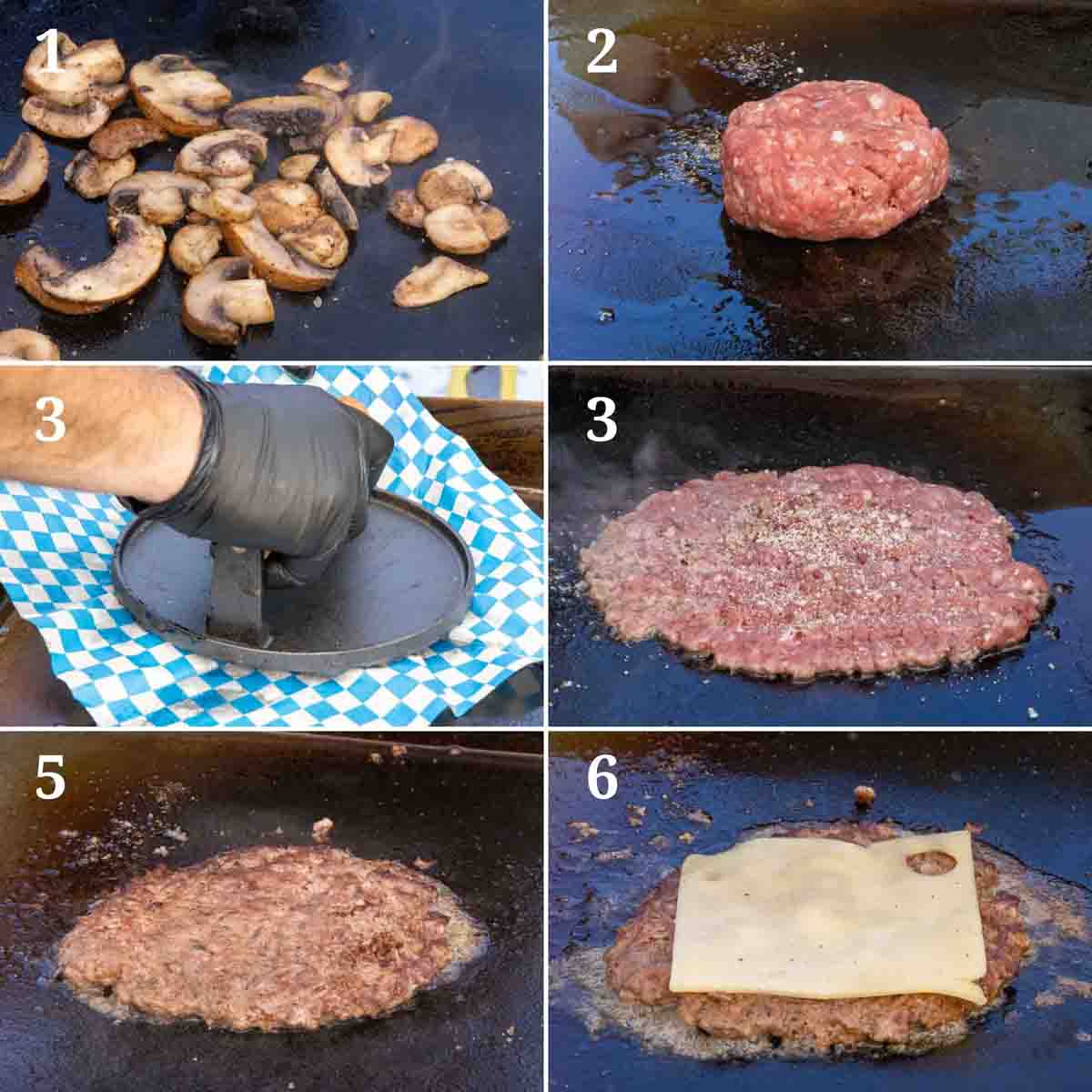 Squirt a tablespoon of oil onto the griddle and add the sliced mushrooms to the hot griddle. Season the mushrooms with the burger seasoning and let them cook for 3-5 minutes until they start to caramelize. *Use a metal spatula to turn the mushrooms over so both sides cook.
After the mushrooms have cooked for a couple of minutes, it's time to add the burger balls to the hot griddle. Place the balls of beef on the griddle, spacing them about 3 inches apart.
Using a burger press and wax paper (or parchment paper), smash the burger ball into the griddle, flattening the meat into a patty.
Season the burger patty with the seasoning mixture.
Let the burger cook for about 2-3 minutes, then using a metal spatula turn the burger over to continue cooking for another 2-3 minutes. The edges and surface of the burger should start to caramelize and get crispy.
When the burgers are cooked, add slices of Swiss cheese ( I like to use aged Swiss) on top of each burger patty.
*Give a few squirts of water from the water bottle squirt around the burgers so the steam helps melt the cheese.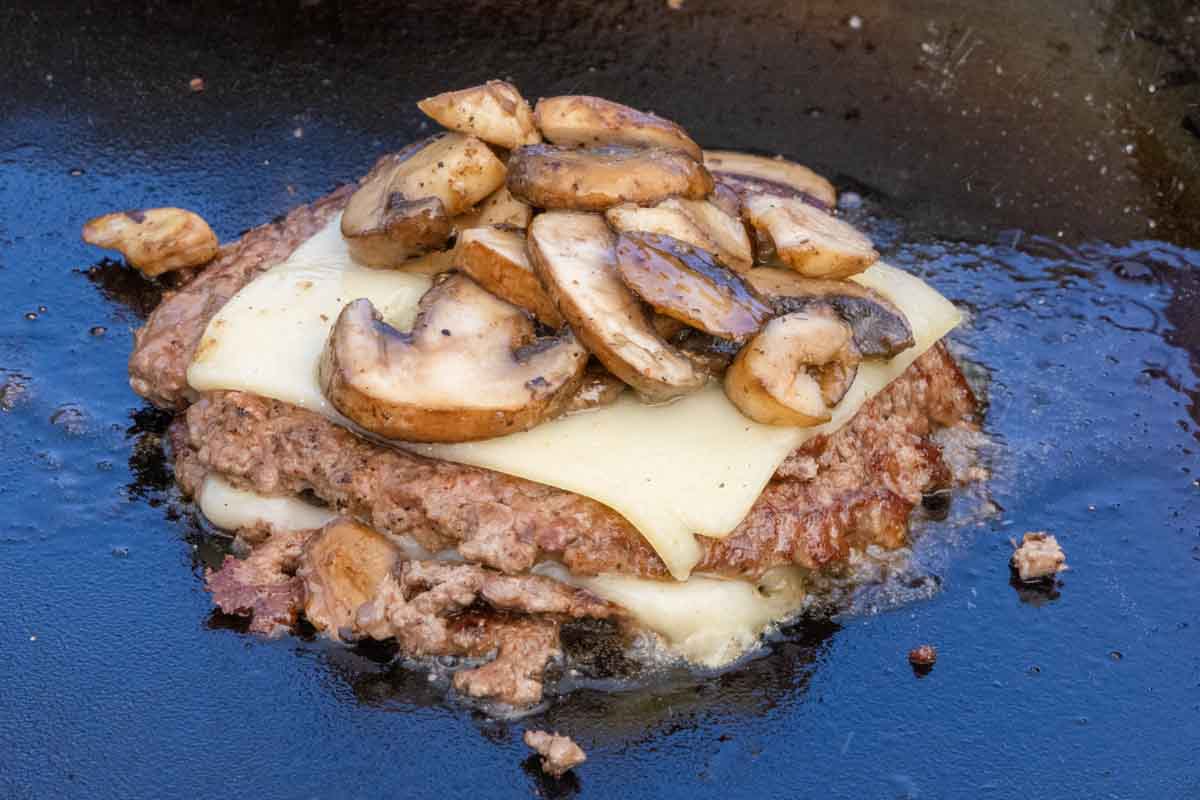 When the cheese has melted, stack two burgers for each smash burger, and top the stacked patties with the sautéed mushrooms.
Remove the Mushroom Swiss Smash Burgers from the griddle and place them on the hamburger buns, and get ready to enjoy a great burger!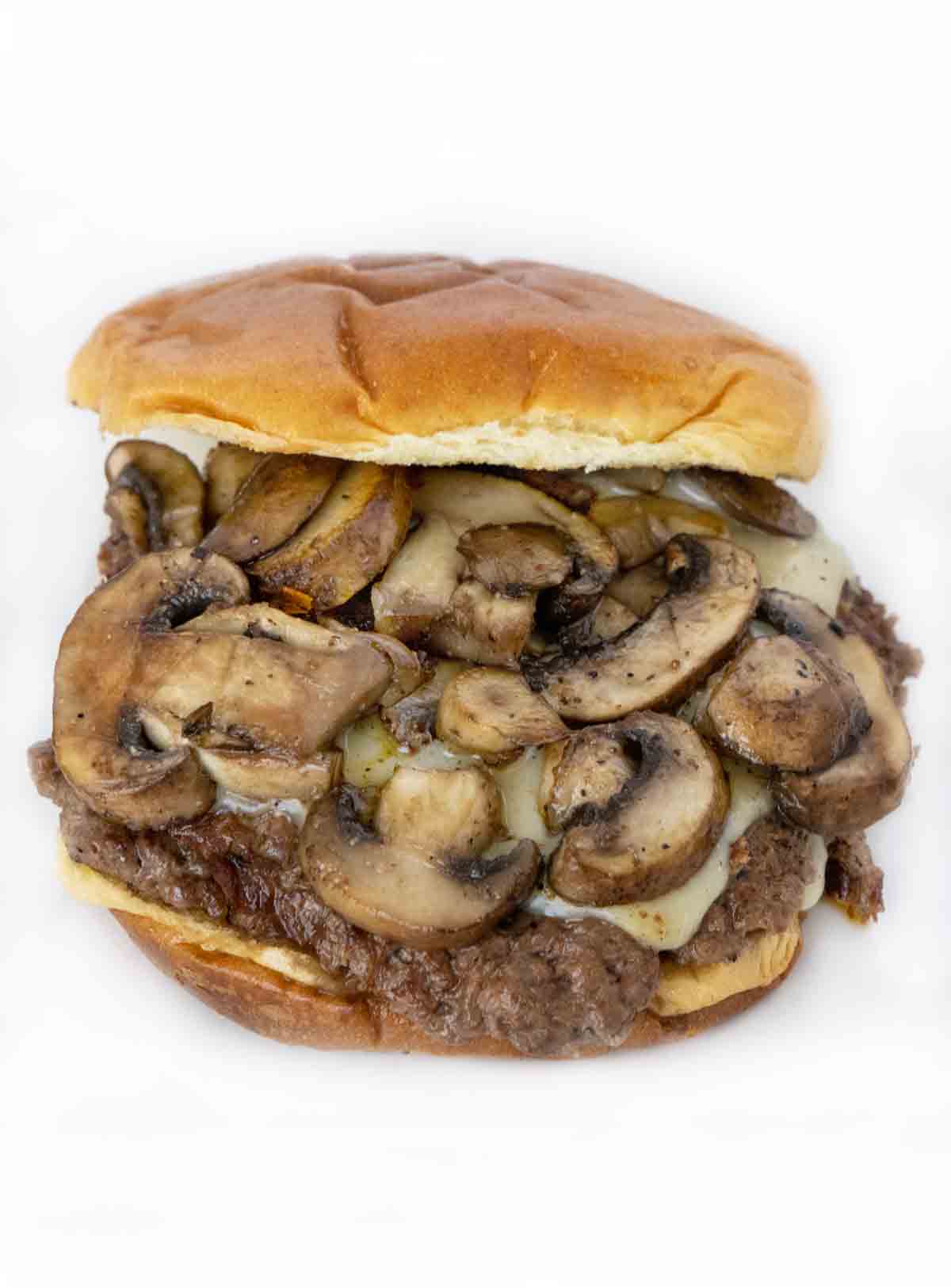 I promise you won't be disappointed with my easy Mushroom Swiss Smash Burger Recipe. Whether you make it on a Blackstone Griddle or a griddle insert on your barbecue grill, these delicious burgers have tons of flavor and take minutes to make.
You can even make smash burgers inside on a pancake griddle or cast iron pan.
Recipe FAQ's
What type of mushrooms should I use?
You can use various types of mushrooms for your Mushroom Swiss Smash Burger. Cremini mushrooms, button mushrooms, or even portobello mushrooms are great choices. Choose mushrooms that you enjoy eating and are readily available to you.
Can I use a different cheese, than Swiss?
Swiss cheese is traditionally used to make this recipe, but you can certainly the cheese of your choice. Some popular alternatives include Gruyère, provolone, cheddar American, bleu cheese and Monterey Jack. Choose a cheese that melts well and complements the flavors of mushrooms and beef.
What type of bun is best for the burger?
You can use any type of hamburger bun you prefer, but a soft and slightly toasted brioche bun is one of my favorites, followed by potato rolls. Just make sure the bun is not too big for the burger, the meat is the star of the sandwich.
More Recipes You'll Love!
These are the tools I use to make Smash Burgers: