My Buffalo Chicken Wing recipe will set a new standard of deliciousness for you. If you like more heat you can adjust that easily. You can also make your own blu cheese dressing to accompany the wings!
Buffalo Chicken Wings and Homemade Blue Cheese Dressing –
One of the great joys in life for me has buffalo chicken wings. I know it shouldn't even be in that class of happiness, but I just love them. And when I started making them at home and developed a recipe I also found that just no one else could make them as good as I could.
Of course, that doesn't stop me from trying them when we go out to eat……. because I love Buffalo Chicken Wings!
In fact, I love all styles and flavors of chicken wings like my Chinese Sticky Wings and my Drunken Tequila Wings, but Buffalo style will always be my favorite.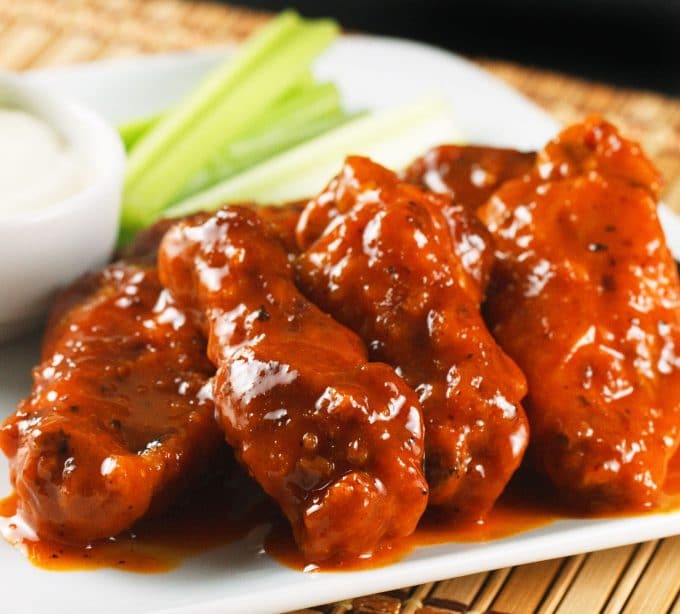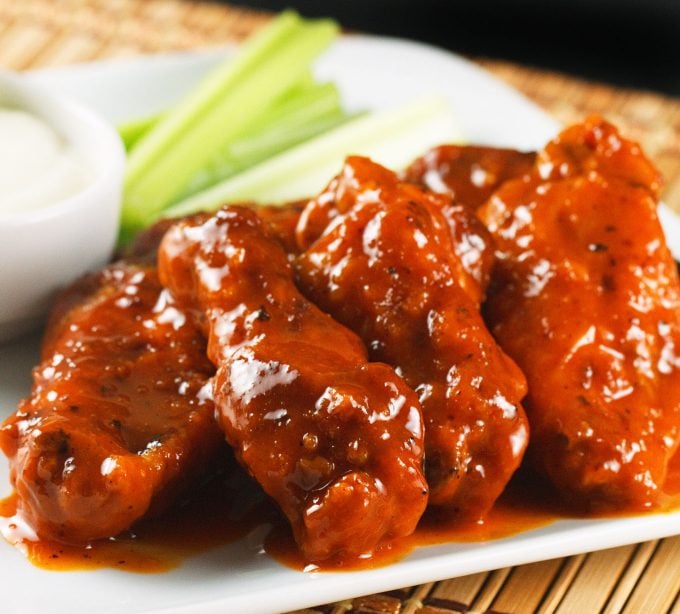 The first and most important ingredient for this dish is the Chicken wings. And if you have a choice always choose fresh not frozen wings.
Did you ever notice that sometimes the bones get black inside? That's a sign that the wings have been frozen.
Homemade buffalo wings are easy enough to make and depending on the market you shop at sometimes you can find them already separated, or without the section that no one eats
If you use fresh wings, it's not really a big deal to separate them at the joints. And don't throw away the little end piece of the wing, freeze them and save them to make chicken stock! If you've never made homemade blue cheese dressing before, you don't know what you're missing. While there are a lot of great brands in the market, homemade is so much better and pretty easy to do.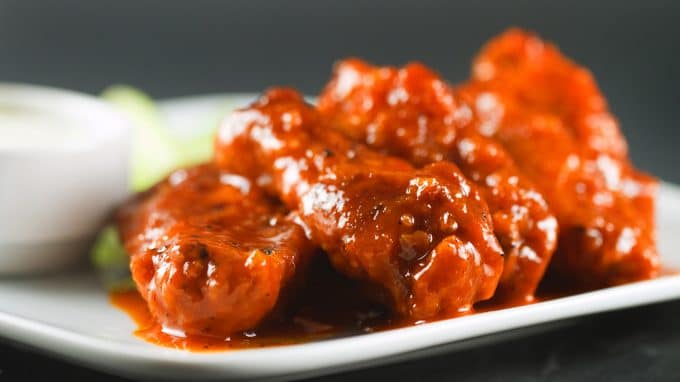 The secret is in the sauce. You can adjust the amounts in my recipe for your heat comfort level and feel free to add your own secret ingredients to make it your very own. Just follow my steps in the recipe to ensure your sauce doesn't break and comes outs rich and clingy.
Just a word of warning, once you start making your own buffalo chicken wings at home, most of the others you try when your dining out will pale in comparison. Of course, that's not necessarily a bad thing!
If you love chicken wings as much as I do I know you'll enjoy these recipes:
Buffalo Chicken Wings
My Buffalo Chicken Wing recipe will set a new standard of deliciousness for you. If you like more heat you can adjust that easily. You can also make your own blu cheese dressing to accompany the wings!
Nutrition Facts
Buffalo Chicken Wings
Amount Per Serving
Calories 1112
Calories from Fat 900
% Daily Value*
Total Fat 100g 154%
Cholesterol 131mg 44%
Sodium 3603mg 150%
Potassium 413mg 12%
Total Carbohydrates 34g 11%
Protein 19g 38%
* Percent Daily Values are based on a 2000 calorie diet.
Ingredients
Buffalo Wings
2

lbs

chicken wings

1

cup

all purpose flour

2

cups

canola oil

or your favorite oil

salt and black pepper
Buffalo Wing Sauce
12

oz

Franks Buffalo Wing Sauce

or hot sauce of your choice

6

oz

stick unsalted butter

1 and 1/2 sticks

3

oz

honey
Bleu Cheese Dressing
4

oz

Bleu Cheese

1/2

cup

sour cream or Greek Yogurt

1/2

cup

Mayonnaise

1/4

cup

milk or buttermilk

1/4

teaspoon

granulated onion

1/2

teaspoon

salt

1/4

teaspoon

black pepper
Instructions
Buffalo Wing Sauce
In a sauce pan melt the butter then add the honey and turn off the heat

Add in hot sauce and using a wire whip blend until fully incorporated into the butter/honey mixture.

You can heat this sauce if you want it hotter, but at this temperature the sauce will cling really well to the chicken wings. If you let the sauce get to hot it will break and separate into an oily mess!

Set aside sauce until ready to coat wings
Bleu Cheese Dressing
In a food processor, add the sour cream or Greek yogurt, the milk and half of your bleu cheese.

Pulse the mixture until all of the bleu cheese has been blended in.

Add this mixture to the mayonnaise with the remaining bleu cheese crumbles and seasonings. (The seasonings are just a guide, season it to your taste)

You should make this dressing at least one day ahead of time, to let the flavors build, it will taste the best after 48 hours.
Buffalo Chicken Wings
Wash all of the chicken wings, then on a cutting board, cut the wings into 3 pieces, either discarding the end wing section of freezing and saving for soup stock.

Pat dry all wing pieces you will be using.

Season your flour with salt and pepper (about 1/2 tsp salt and 1/2 tsp black pepper) and dredge chicken wings in the seasoned flour

Preheat oil in a large skillet to fry your wings

Place wings in hot oil and fry for about 4-5 minutes, then turn them over and cook the other side for about the same time. (You want the wings to get crispy and have a good color).

Remove the cooked wings to paper towels to drain

Place the cooked wings in a large bowl with your buffalo sauce and toss them to get a good even coating of buffalo sauce on the wings.

Serve and enjoy!