My Buffalo Chicken Wing recipe will set a new standard of deliciousness for you.   If you like more heat you can adjust that easily.  You can also make your own blue cheese dressing to accompany the wings!
This post includes affiliate links. As an Amazon Associate I earn from qualifying purchases.
Buffalo Chicken Wings and Homemade Blue Cheese Dressing
One of the great joys in life for me is Buffalo Chicken Wings. I know it shouldn't even be in that class of happiness, but I just love them.
And when I started making Buffalo Wings at home and developed a recipe I also found that just no one else could make them as good as I could.
That's my disclaimer for this recipe. Once you taste just how good these wings are your favorite restaurant will never be as good!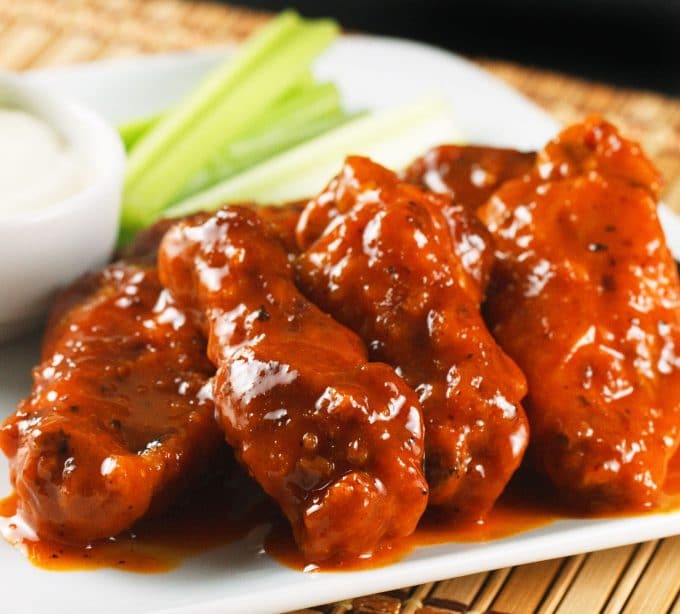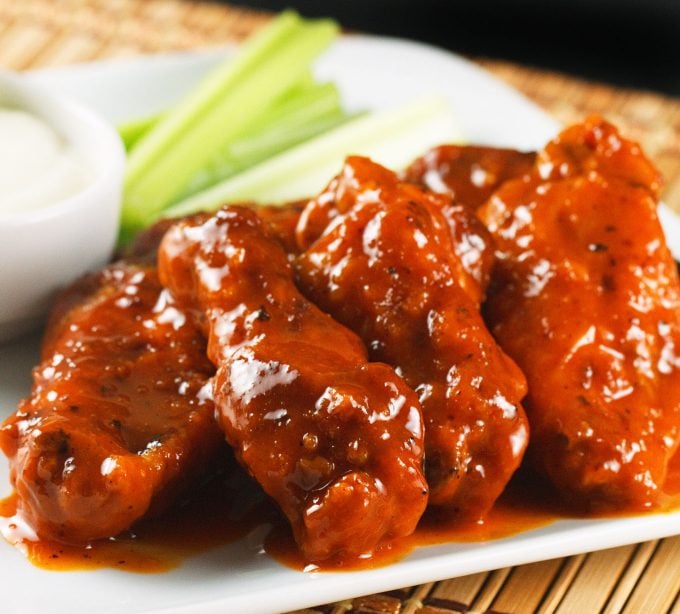 Of course, that doesn't stop me from trying them at other restaurants when we go out to eat, I do love Buffalo Chicken Wings!
What do I need to make Buffalo Chicken Wings?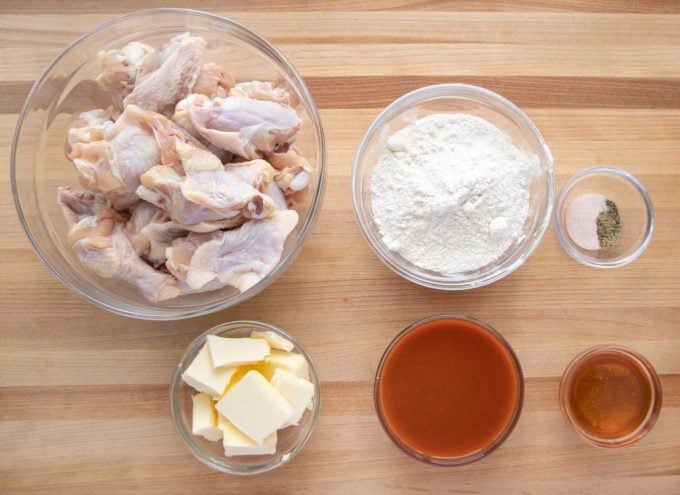 Let's start by gathering the ingredients we need to make Buffalo Chicken Wings. In Chef Speak this is called the Mise en Place which translates into Everything in its Place.
Not only does setting your ingredients up ahead of time speed the cooking process, but it also helps ensure you have everything you need to make the dish.
What Kind of Wings Should I Use?
The first and most important ingredient for this dish is Chicken Wings. And if you have a choice always choose fresh not frozen wings.
Did you ever notice that sometimes the bones get black inside? That's a sign that the wings have been frozen. In chef speak we call that Black Bone.
What Part of the Wing Should I use for Buffalo Chicken Wings?
When you look at the wing, you'll notice that there are three parts to the chicken wing.
The wingtip (also known as the flapper), the middle part is the wingette (aka the flap), and then the meatiest part is called the drumette (because it looks like a small version of the chicken leg).
I use the first two sections saving the wingtip for soup. They are easily frozen (or re-frozen) and can help you make a very flavorful chicken soup. Just place them in a Ziplock Bag and save them for the next time you make soup.
You can also leave the wingtip attached to the wingette to make it look more appetizing.
How do I Cut the Chicken Wings?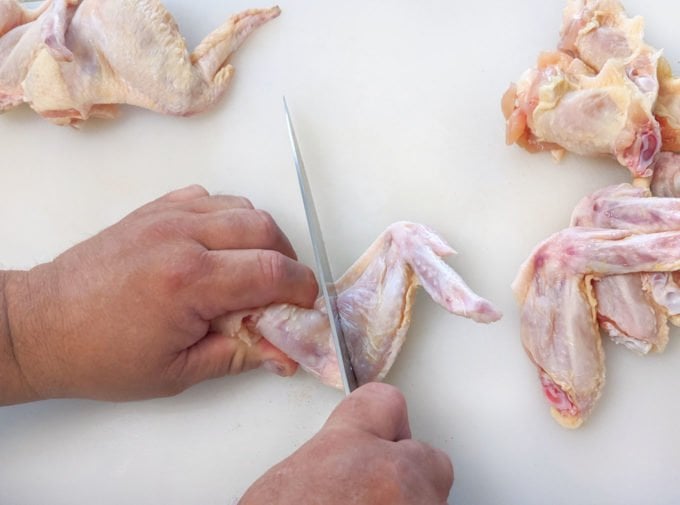 Place the wings on a cutting board and with a sharp knife carefully find the joints. Placed the knife blade (closer to the handle than the tip) on the joint, with the tip of the knife on the cutting board and chop down. The section is a little thicker to cut through, but it's pretty easy to do, just be careful.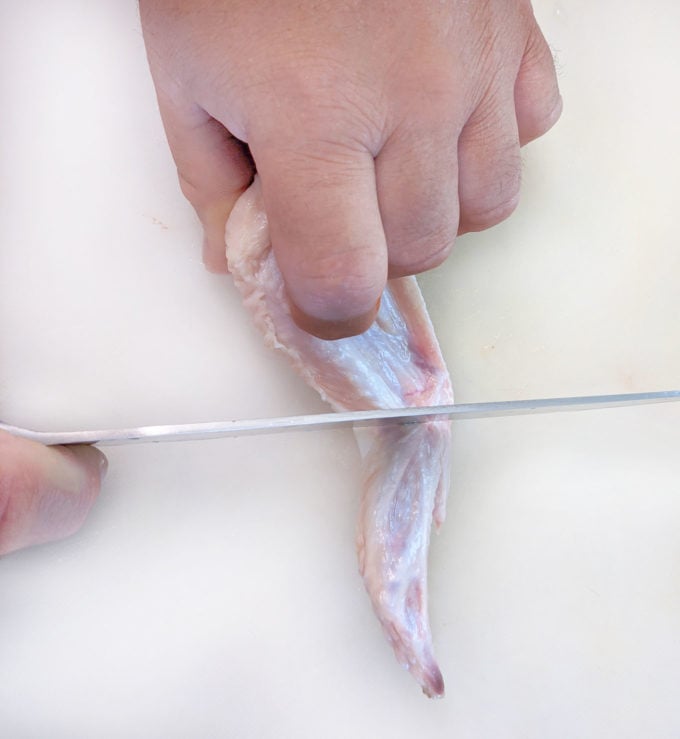 The wingtip comes off pretty easy, You can leave this on if you like, it will enhance the overall look of the wing but that's about it.
Prepping the wings will take no time at all, and sometimes you'll find pre-cut chicken wings at the market you shop at without the wingtip.
Once the wings are prepped you can move on to making the buffalo sauce.
What is the Secret to Good Buffalo Chicken Wings?
The secret to the Best Buffalo Chicken Wings You'll Ever Have is the sauce.
You can adjust the amounts in my recipe for your heat comfort level and feel free to add your own secret ingredients to make it your very own. Just follow my steps in the recipe to ensure your sauce doesn't break and comes outs rich and clingy.

melt the butter in a pan over medium heat
add the hot sauce and honey to the pan over medium heat (if you don't like the sweetness, leave the honey out)
turn off the burner and mix the sauce together. It should be thick.
Chef Dennis Tip:
The secret to getting the sauce just right is taking the melted butter and honey mixture off the stove before adding the hot sauce. When Buffalo Sauce gets too hot, it breaks and becomes oily.
Did you ever get an order of wings and the sauce in the bottom of the dish looks disgustingly greasy? That's because the sauce got too hot.
Do I have to Use Butter in the Sauce?
I do prefer using butter, but you can use margarine or any variety of butter substitute you like. I have even used Coconut Oil in my Buffalo Sauce without any problems, it just doesn't get quite as thick.
Just a word of warning, once you start making your own buffalo chicken wings at home, most of the others you try when your dining out will pale in comparison. Of course, that's not necessarily a bad thing!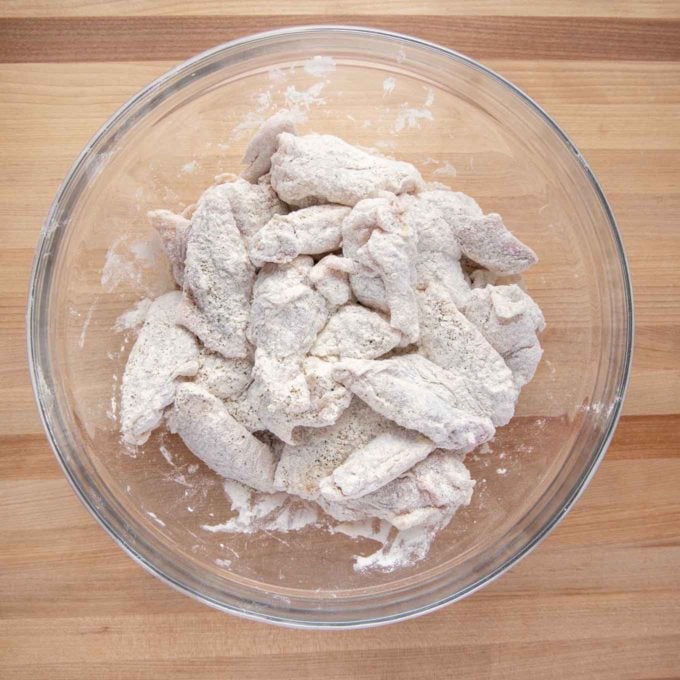 Once the sauce is made it's time to get the wings ready to fry. These are Jersey Style Buffalo Chicken Wings, which means I flour my wings before frying them. In Buffalo, this would be sacrilege, but I prefer the crunchy surface and feel that it holds the sauce better. Naked or floured the choice is yours.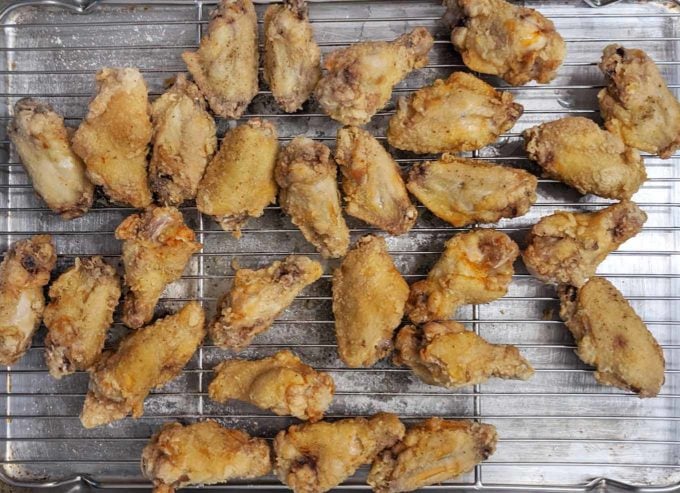 After frying the wings in hot oil for a minimum of 6 minutes (or longer if needed), make sure to let them drain before saucing the wings. If not the wings will be greasy.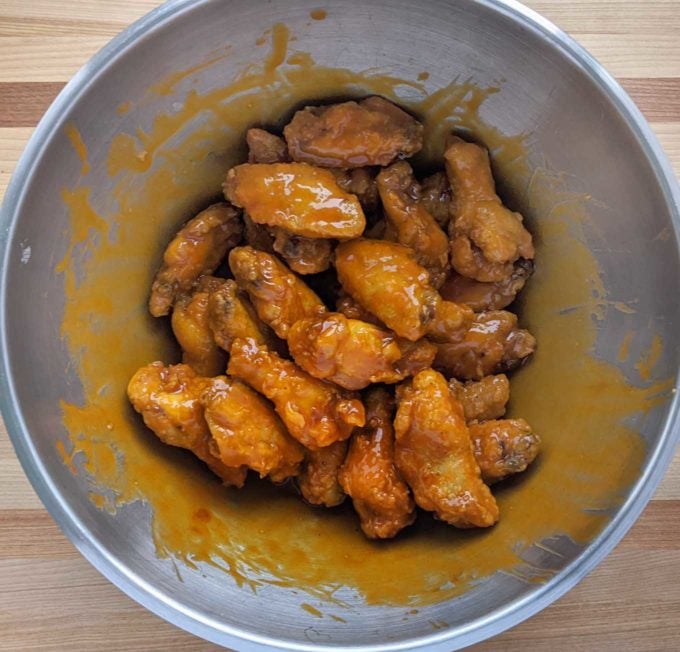 The step left is tossing the wings in the buffalo sauce. I always use a large bowl so I can toss the wings, making sure they are completely coated. And I love getting that hit of hot sauce as it drifts up to my nose..sigh.

How do I Make Bleu Cheese Dressing?
If you've never made homemade blue cheese dressing before, you don't know what you're missing.
While there are a lot of great brands in the market, homemade is so much better and pretty easy to do.
For my recipe, I use sour cream, mayonnaise and whole milk. You can easily substitute Greek yogurt for the sour cream, which adds a little tang to the dressing. Feel free to use low-fat mayonnaise and low-fat milk or buttermilk in the recipe.
Tools I use to make my Buffalo Wings:
If you love chicken wings as much as I do I know you'll enjoy these recipes:
Print Recipe
Buffalo Chicken Wings
My Buffalo Chicken Wing recipe will set a new standard of deliciousness for you.   If you like more heat you can adjust that easily.  You can also make your own blue cheese dressing to accompany the wings!
Ingredients
Buffalo Wings
2

lbs

chicken wings

1

cup

all purpose flour

2

cups

canola oil

or your favorite oil

salt and black pepper
Buffalo Wing Sauce
12

oz

Franks Buffalo Wing Sauce

or hot sauce of your choice

6

oz

unsalted butter

1 and 1/2 sticks

3

oz

honey
Bleu Cheese Dressing
4

oz

Bleu Cheese

1/2

cup

sour cream or Greek Yogurt

1/2

cup

Mayonnaise

1/4

cup

milk or buttermilk

1/4

teaspoon

granulated onion

1/2

teaspoon

salt

1/4

teaspoon

black pepper
Instructions
Buffalo Wing Sauce
In a sauce pan melt the butter then add the honey and turn off the heat

Add in hot sauce and using a wire whip blend until fully incorporated into the butter/honey mixture.

You can heat this sauce if you want it hotter, but at this temperature the sauce will cling really well to the chicken wings. If you let the sauce get to hot it will break and separate into an oily mess!

Set aside sauce until ready to coat wings
Bleu Cheese Dressing
In a food processor, add the sour cream or Greek yogurt, the milk and half of your bleu cheese.

Pulse the mixture until all of the bleu cheese has been blended in.

Add this mixture to the mayonnaise with the remaining bleu cheese crumbles and seasonings. (The seasonings are just a guide, season it to your taste)

You should make this dressing at least one day ahead of time, to let the flavors build, it will taste the best after 48 hours.
Buffalo Chicken Wings
Wash all of the chicken wings, then on a cutting board, cut the wings into 3 pieces, either discarding the end wing section of freezing and saving for soup stock.

Pat dry all wing pieces you will be using.

Season your flour with salt and pepper (about 1/2 tsp salt and 1/2 tsp black pepper) and dredge chicken wings in the seasoned flour

Preheat oil in a large skillet to fry your wings

Place wings in hot oil and fry for about 4-5 minutes, then turn them over and cook the other side for about the same time. (You want the wings to get crispy and have a good color).

Remove the cooked wings to paper towels to drain

Place the cooked wings in a large bowl with your buffalo sauce and toss them to get a good even coating of buffalo sauce on the wings.

Serve and enjoy!
Nutrition
Calories:
1112
kcal
|
Carbohydrates:
34
g
|
Protein:
19
g
|
Fat:
100
g
|
Saturated Fat:
31
g
|
Cholesterol:
131
mg
|
Sodium:
3603
mg
|
Potassium:
413
mg
|
Fiber:
1
g
|
Sugar:
8
g
|
Vitamin A:
1285
IU
|
Vitamin C:
64.1
mg
|
Calcium:
401
mg
|
Iron:
2.3
mg