When you're craving comfort food to soothe and fill your belly, my Chicken fried chicken with country gravy is just what you're looking for. Just imagine tender, juicy chicken breasts seasoned to perfection, then pan fried to golden brown for a crispy, crunchy exterior that you're whole family will love.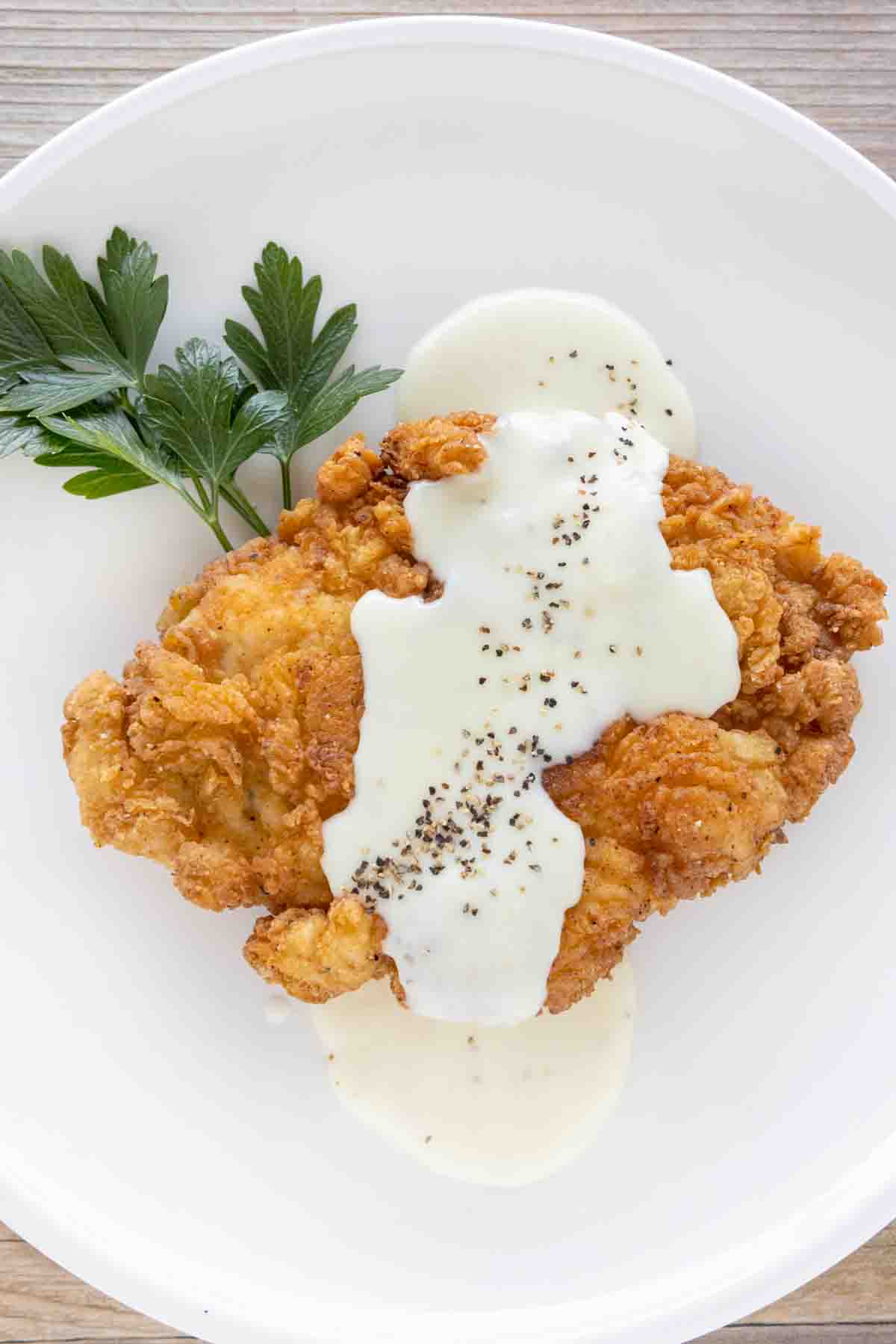 My chicken fried chicken recipe with a white country gravy is Classic Southern comfort food at its best. Whether you serve it for dinner or breakfast it sure to bring smiles to your dinner table.
If you love fried chicken, makes sure to check out my Fried Chicken Tenders and my Chicken version of authentic Wiener Schnitzel.
Ingredients to make Chicken Fried Chicken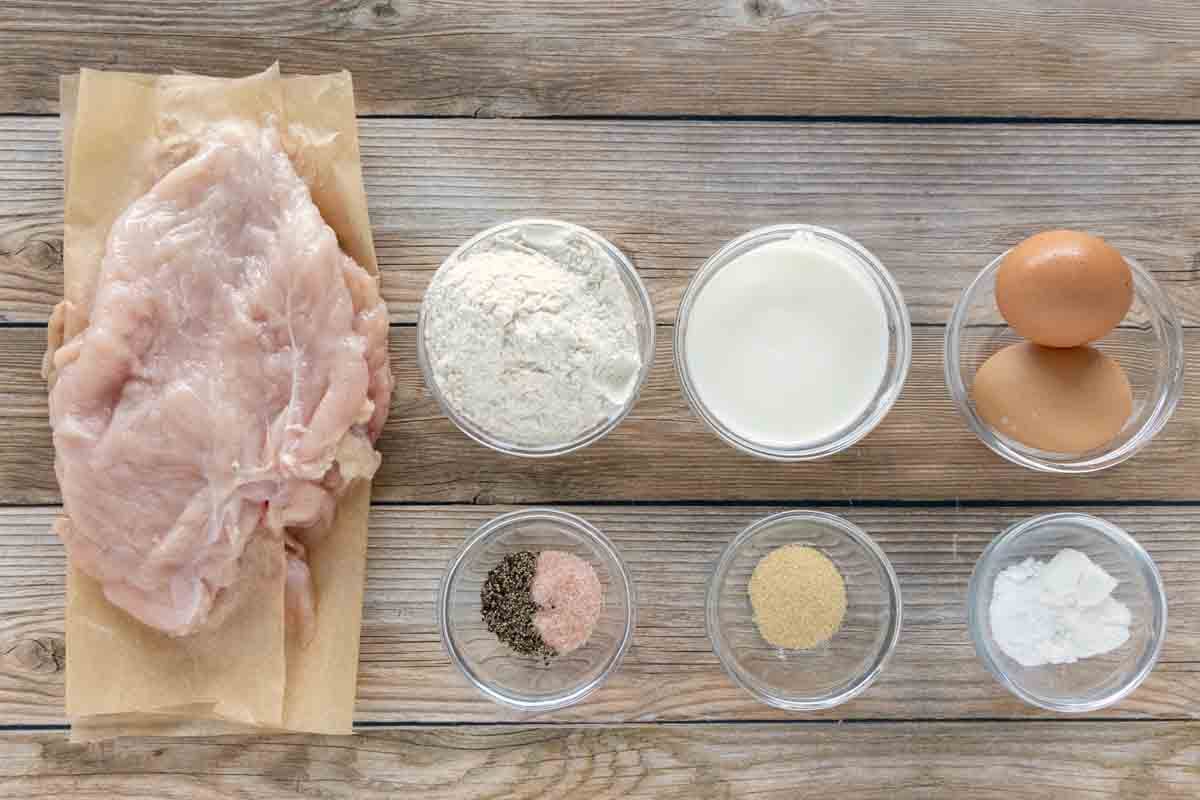 Let's start by gathering the simple ingredients we need to make Chicken Fried Chicken. In Chef Speak, this is called the "Mise en Place," which translates to "Everything in its Place."
Not only does setting up your ingredients ahead of time speed up the cooking process, it also helps ensure you have everything you need to make the dish.
What is Chicken Fried Chicken?
Chicken fried chicken is Southern fried chicken that is made from boneless, skinless chicken breasts instead of chicken pieces. It is similar to chicken fried-steak, which uses beef cube steak instead of chicken.
You can also use boneless skinless chicken thighs to make this dish.
How to make Chicken Fried Chicken
Trim chicken breasts of any fat or skin.
Place chicken breasts between two pieces of plastic wrap on a cutting board and pound them thin using a meat mallet.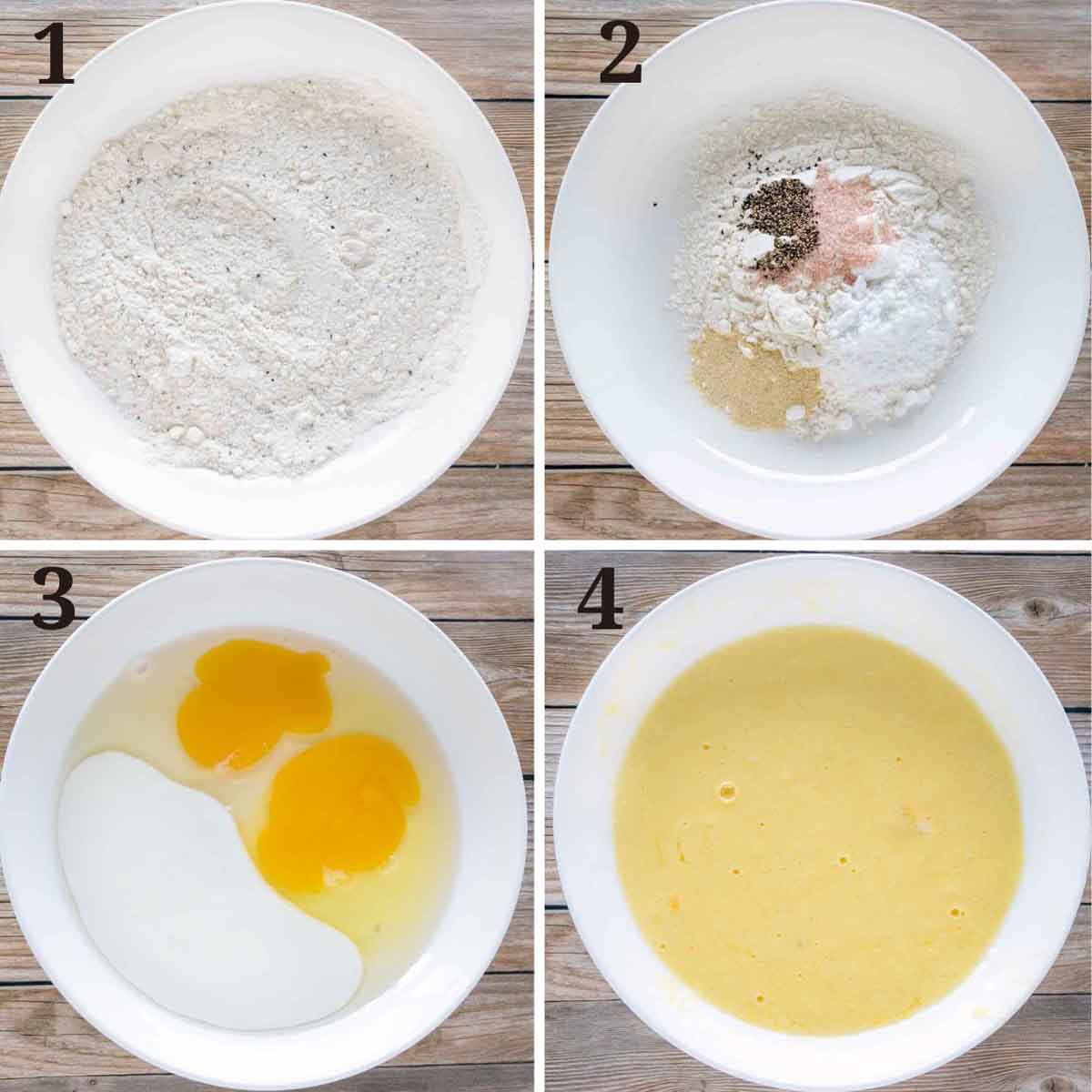 Add the all-purpose flour, baking soda, baking powder, garlic powder, salt, and black pepper to a shallow bowl or plate.
Mix well to combine the seasoned flour.
Add the eggs and buttermilk to another shallow bowl.
Whisk to combine the egg buttermilk mixture.
I didn't use onion powder in my flour mixture, but feel free to add some. If you're a fan of heat add a little cayenne pepper.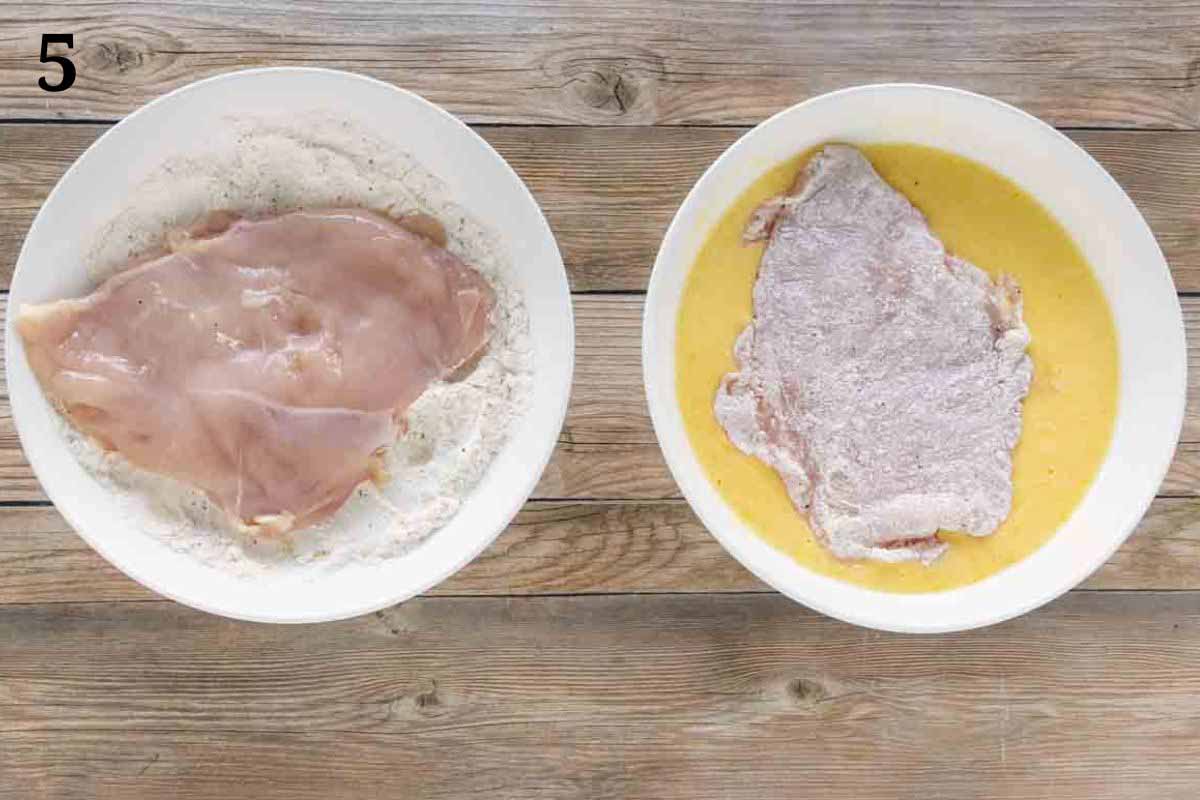 Place the chicken pieces in the flour mixture, completely coating the breast.
Dip the floured breast in the egg mixture, coating the entire breast. Let the excess egg drip off.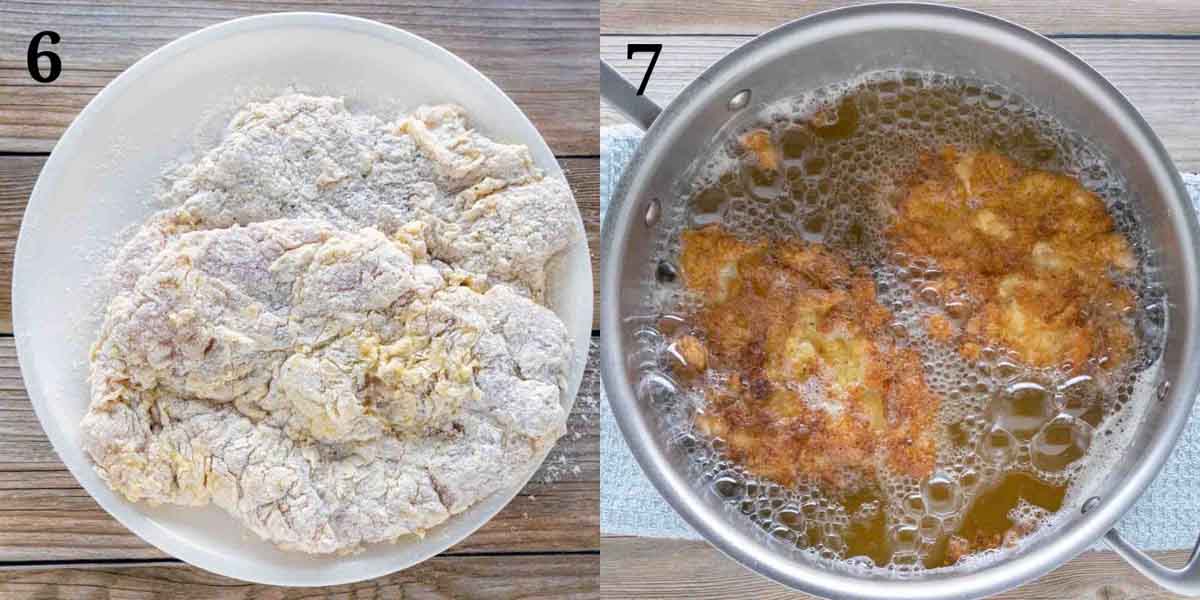 Dip the piece of chicken in the flour mixture a second time (shaking the excess flour off), getting a good coating of flour on the breast.
Add vegetable oil to a large skillet (or Dutch oven) over medium-high heat. Heat the until the oil temperature is between 325-350 degrees F. The oil should be at least one-inch deep. For deep frying you'll need about 4 inches of oil in the pot.
Cook the chicken in the hot oil for 5-7 minutes per side until it's deep golden brown and crispy. Or until an instant-read thermometer inserted into the thickest part of the chicken reaches an internal temperature of at least 165 degrees F.
*Reserve three tablespoons of the cooking oil to make the country gravy.
You can fry the chicken in vegetable oil, peanut oil, canola oil, or your favorite frying oil. Oils with a high smoke point like safflower oil, avocado oil, and sunflower oil are also good choices. Olive oil will also work but is too expensive to use deep frying.
Depending on the size of the breast, cooking times will vary.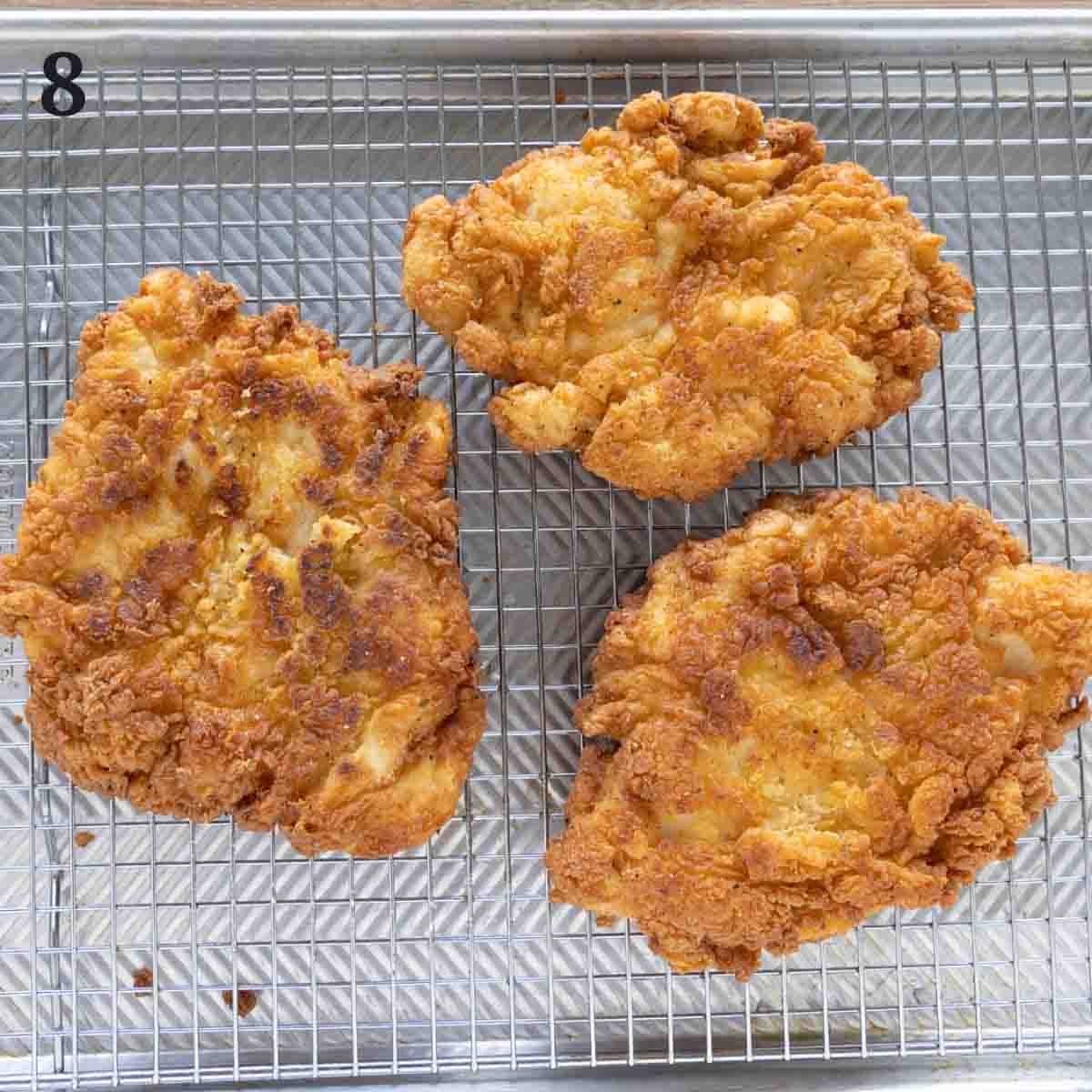 Remove the cooked chicken from the oil and allow to drain on a wire rack or paper towels.
*If you have to cook the chicken in two batches, keep it warm in a 225-degree oven until ready to serve.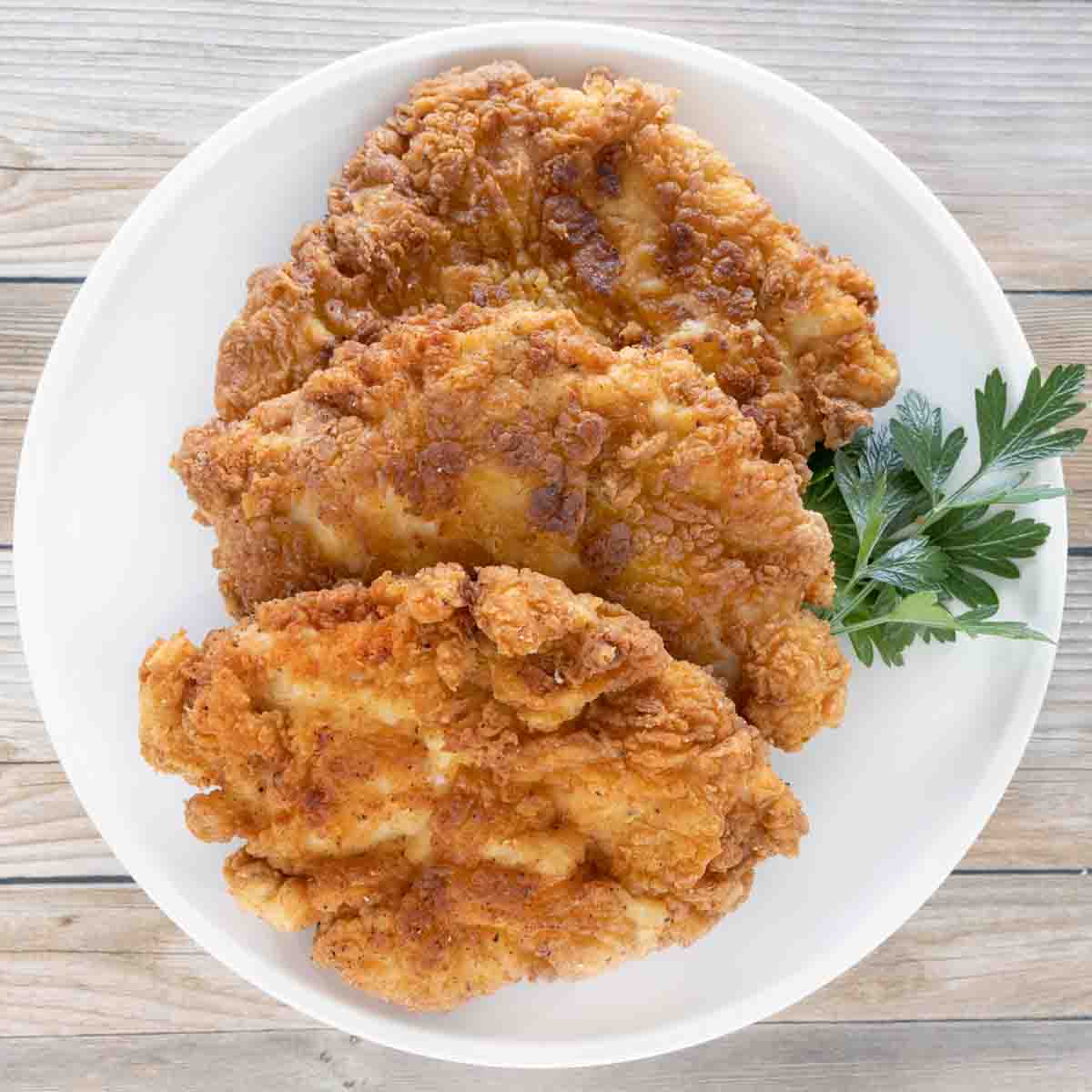 I just love the juicy meat and crispy crust of my chicken-fried chicken. And although it's best served hot, there is something to be said for cold fried chicken, it's my favorite midnight snack!
Store any leftover fried chicken in an airtight container in the fridge for up to 3 -4 days. It also freezes well and can be kept well sealed in the freezer for 2-3 months.
How to make White Country Gravy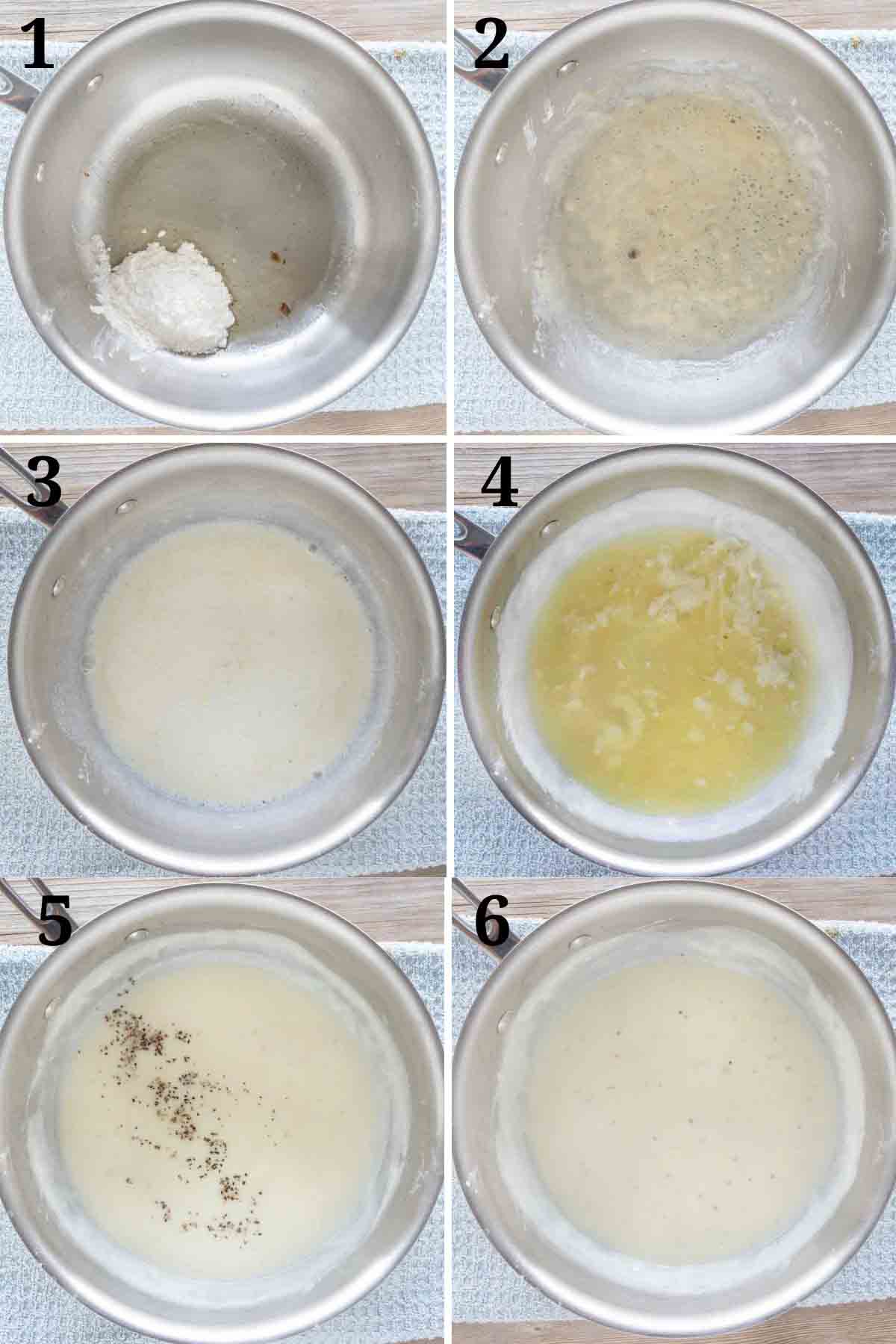 Add the cooking oil and flour to a small pot.
Mix well with a wire whisk and cook over medium-low heat for 2 minutes. Don't let the roux get dark.
Add the milk to the roux and whisk until fully combined. Continue cooking over medium heat until it begins to get thick.
Add the chicken broth to the mixture and whisk to combine. Let the creamy gravy simmer for 3-4 minutes. If the gravy gets too thick, add more water, milk, or chicken broth until you get the desired consistency.
Taste and season with salt and black pepper to taste.
Mix to combine and simmer the creamy white gravy over low heat until ready to serve.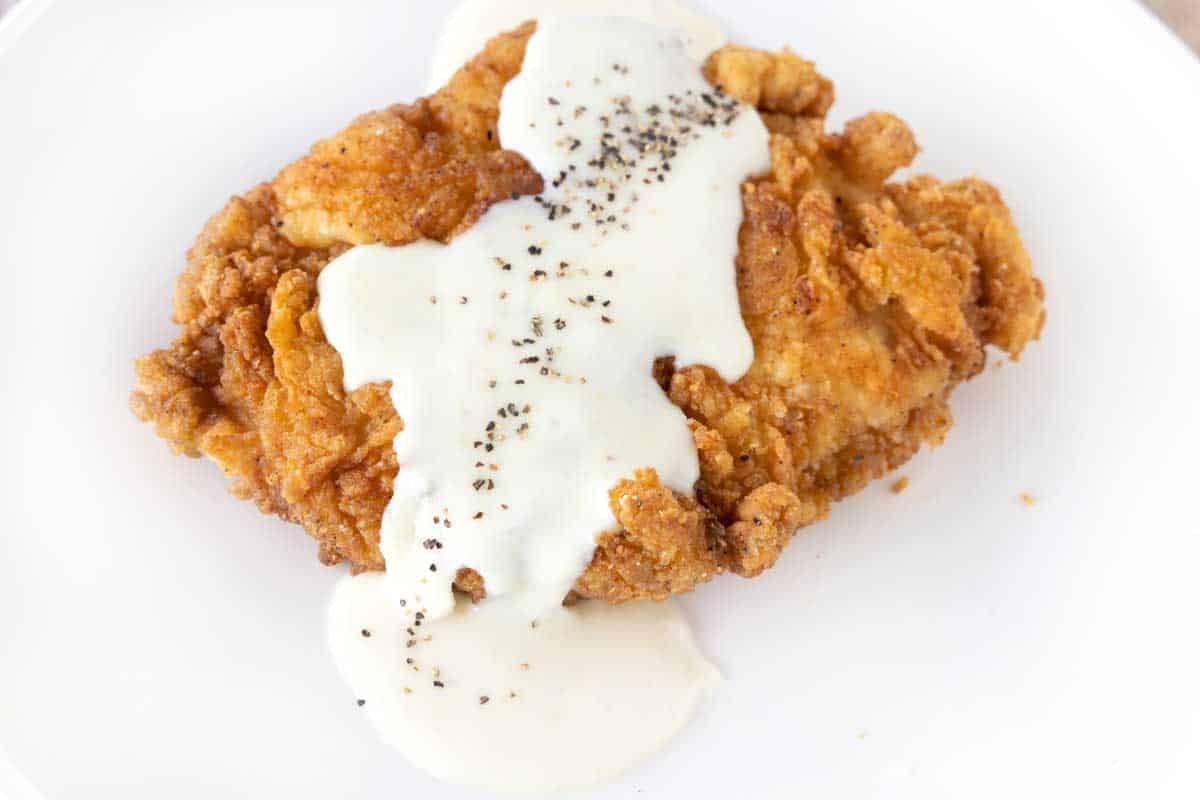 Ladle the homemade gravy over the fried chicken and serve with your favorite side dishes.
For a classic Southern experience serve with green beans, homemade buttermilk biscuits, and your favorite hot sauce.
Recipe FAQ's
Can I use cream instead of buttermilk to make fried chicken?
Yes, you can, but it won't have the same flavor as using buttermilk. You can add half a teaspoon of white vinegar or lemon juice to the heavy cream to enhance its flavor and make it more of a buttermilk substitute.
How do I know when the chicken is done?
The exterior should be golden brown and crispy, but most importantly, the internal temperature should be at least 165°F (74°C) to be considered safe to eat.
More Recipes You'll Love!