Enjoy this quick and easy restaurant style Golden Tilefish for dinner tonight.
Fish has never been my favorite meal, but in an effort better, we do have fresh fish 2 or 3 times a month, and thanks to Wegman's glorious seafood department we can always count on a quality product. I can't remember ever seeing Golden Tilefish before, or at least I never heard called by that name, but according to the Monterey Bay Aquarium Seafood Watch, it is a good alternative to other varieties of Tile Fish on the watch. Tile Fish can be found in the Mid-Atlantic waters of the United States, and is on the recovery from being overfished, unlike the southern varieties of Tilefish which are still considered to be overfished.
I can't stress how important it is to know where your fish is coming from and to be responsible about buying sustainable seafood, so make sure you ask questions when you buying fresh fish!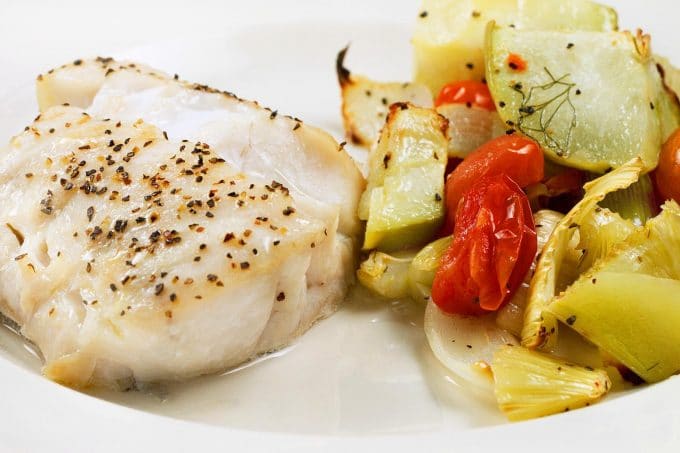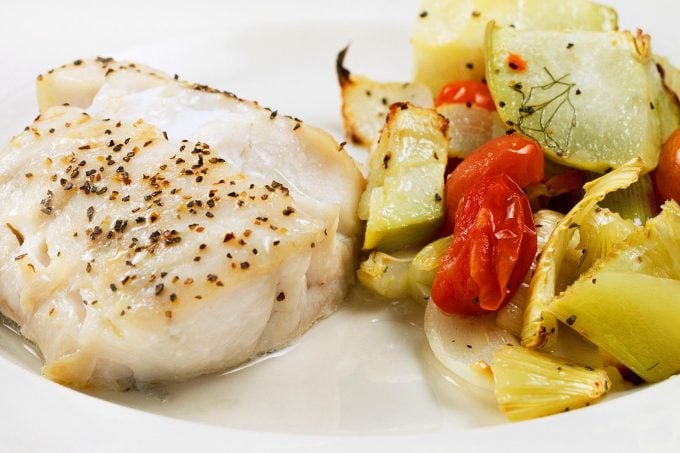 Everything I read about Tilefish compares it to Lobster, I don't think it's even close, but that's just my opinion.
If I had to compare it with another fish, I might say cod, it had a nice mild flavor and was firm and flaky. It would probably grill well, or even breaded and fried, but anyway you cook it, make sure you don't overcook it because it will get dry on you.
My standard preparation for any oven-roasted fish is pretty much the same, Olive Oil, Sea Salt and fresh ground Pepper and always add a little water to the pan when roasting fish, so it doesn't dry out! Remember it comes from the sea, so it should have a little water in the pan to help keep it moist!
While shopping I came across a new vegetable (at least new for me), a Chayote aka the Pear Squash, which is quite appropriate because they do look like pears. Chayote is a combination of a zucchini and a cucumber, lots and lots of moisture, but almost no flavor what so ever, really bland. I did read one recipe for it, and they had recommended cooking it with onions and bacon (that would make almost anything taste better) and yet another recipe called for it raw and marinated in lemon juice.
That actually sounds like a better use of Chayote, if you really feel the need to eat one! I roasted mine along with fennel, grape tomatoes and onions, with olive oil, sea salt and fresh ground pepper…..I know boring, but I like to let the natural flavors of what I'm cooking take center stage, that's the only way you know what the true flavor of what your eating is. You can always adjust from there the next time you cook it, but it's good to know what it tastes like without masking the flavors.
If you like this recipe you may also enjoy these: