Tender, flaky and mild is how I would describe this beautiful Golden Tilefish. It's easy to prepare and can be pan-seared, broiled, baked, grilled, fried, and even cooked in an air fryer.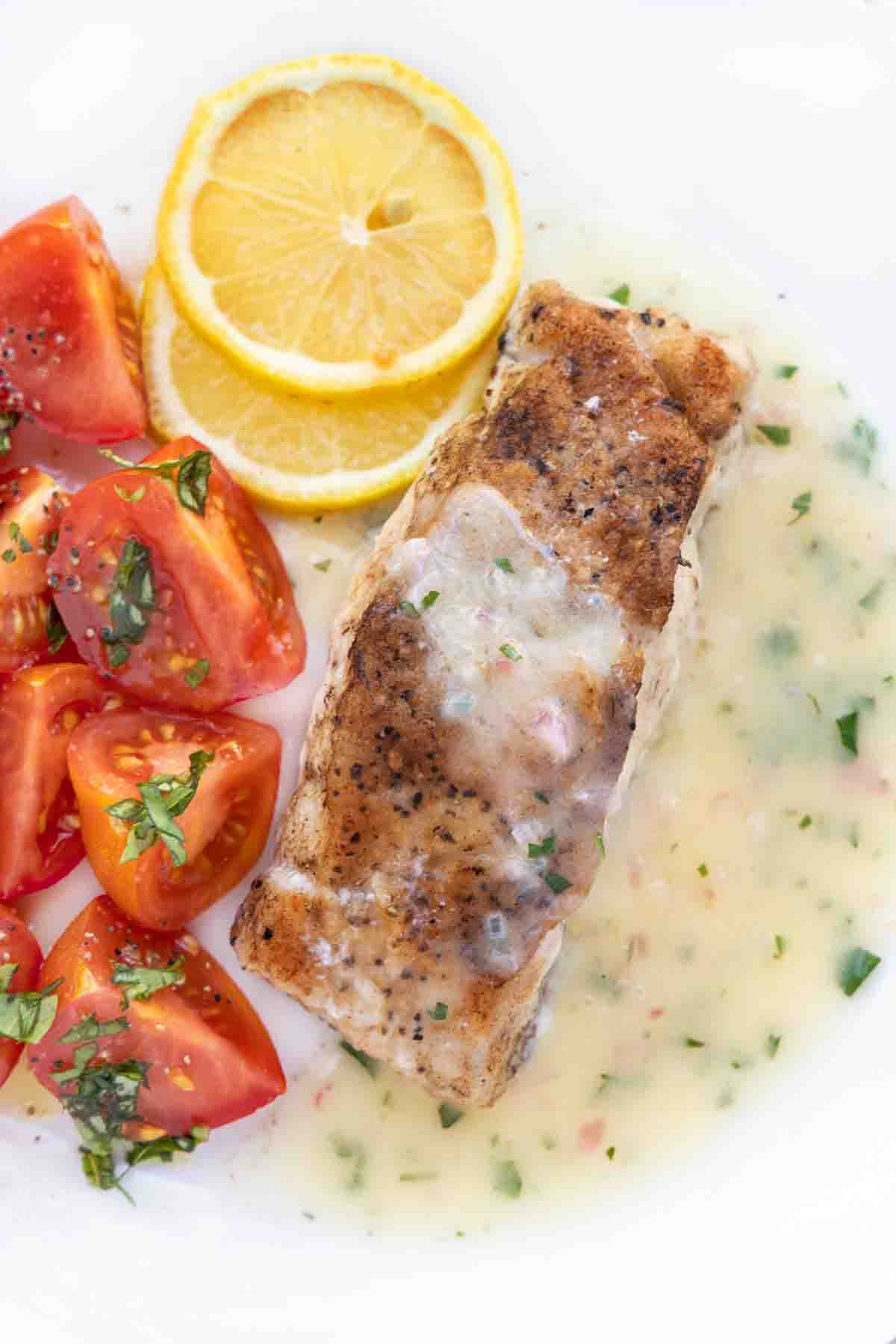 If you've never had tilefish before, you don't know what your missing. Keep an eye out at the fish counter of your grocery store or where you buy fresh seafood.
Fresh tilefish fillets are always preferable, but frozen will also work with this recipe. Just let the fish thaw overnight in the refrigerator before using.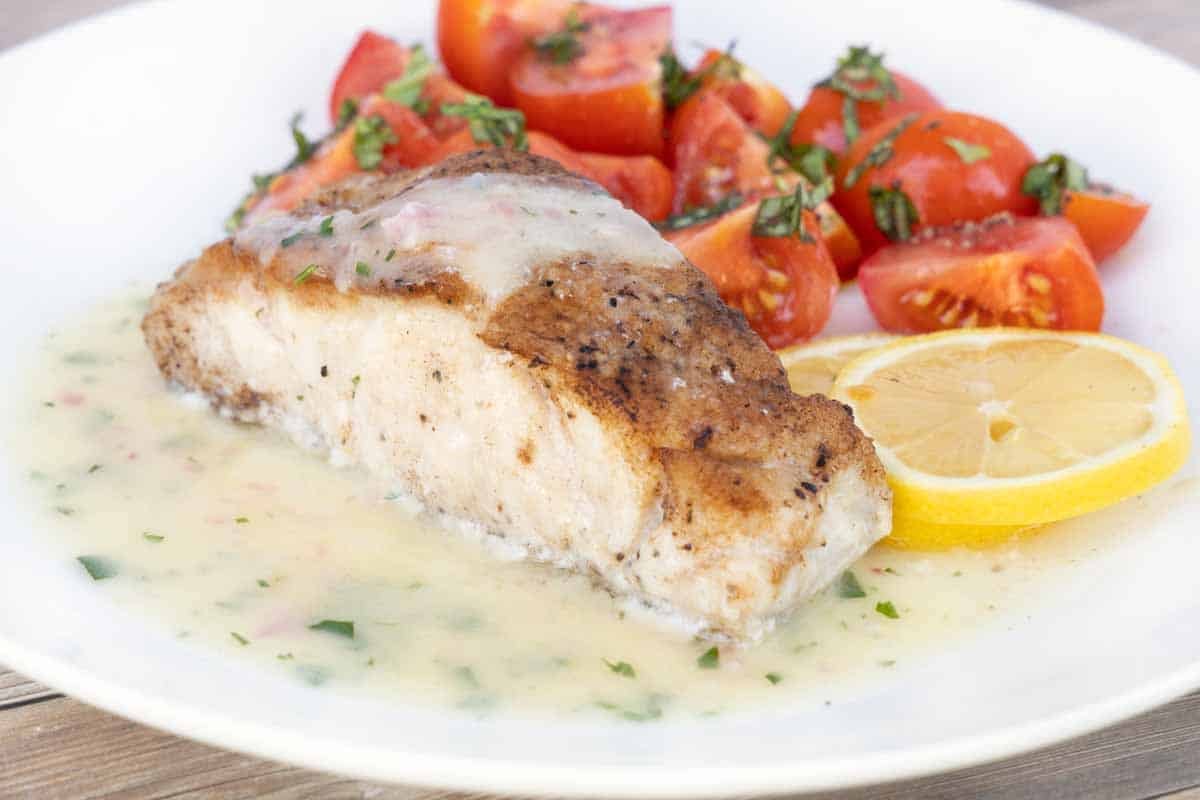 I had read that tilefish was comparable to lobster, but I can't agree with that. If I had to compare the flavor to another fish, I think cod might be the closest.
It had a nice mild flavor and was firm and flaky. Tilefish can be prepared in a number of ways, broiled, grilled, and even breaded and fried. But any way you cook it, make sure you don't overcook it because it will get dry on you.
Ingredients to make Pan Seared Tilefish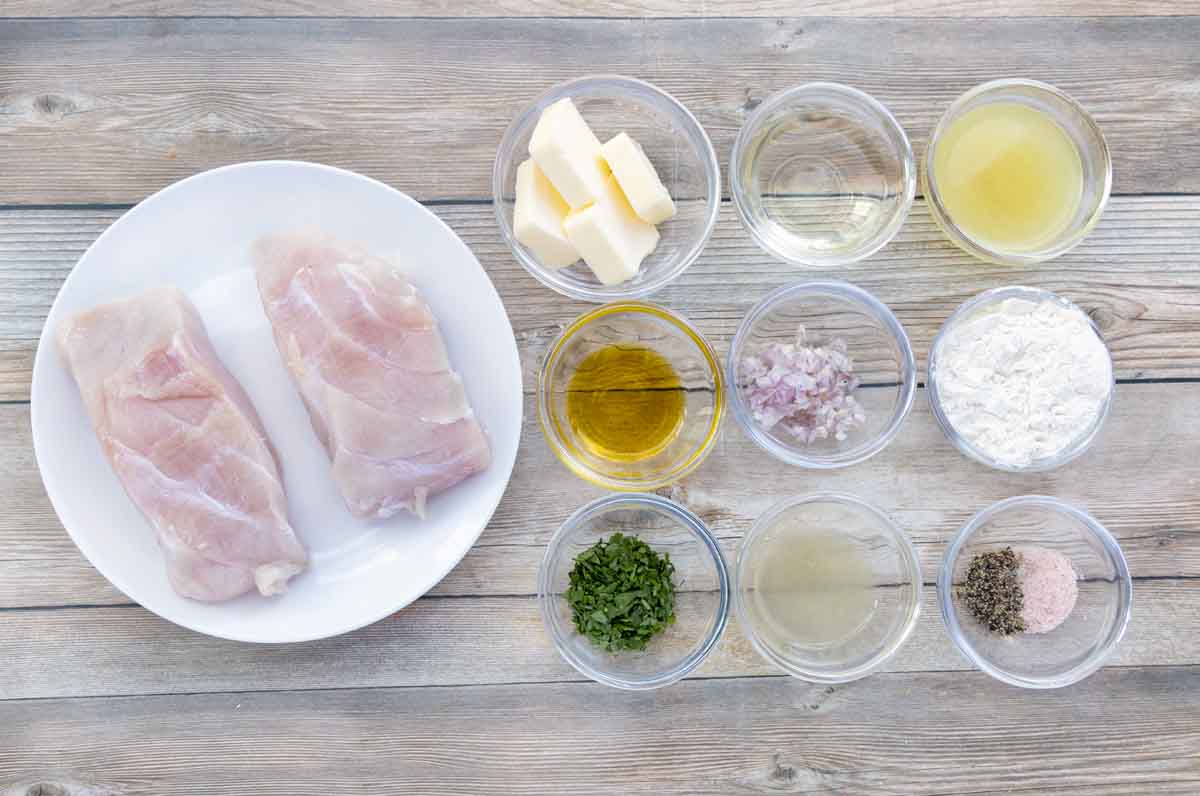 Let's start by gathering the ingredients we need to make Pan Seared Tilefish. In Chef Speak, this is called the "Mise en Place," which translates to "Everything in its Place."
Not only does setting up your ingredients ahead of time speed up the cooking process, it also helps ensure you have everything you need to make the dish.
How to make Pan-Seared Tilefish
Pat dry the fresh tilefish fillets with paper towels, then liberally season both sides with sea salt and black pepper.
Dredge the white fish fillets in the seasoned flour, coating both sides of the fillets.
Add one tablespoon of butter and one tablespoon of olive oil to a large skillet over medium-high heat.
Add the tilefish to the hot pan and sear the fillet on both sides for 3-4 minutes per side until golden brown with a slight crust.
Add the seared tilefish to a baking dish. Then add one ounce of white wine and one tablespoon of lemon juice to the baking dish.
Place the baking dish on the center rack of the preheated oven and bake for 12-15 minutes (time depends on how thick the fillets are).
*I used a non-stick skillet to sear the fish. If you have a cast iron pan, that would add better color to the fish.
How to make Lemon Butter Sauce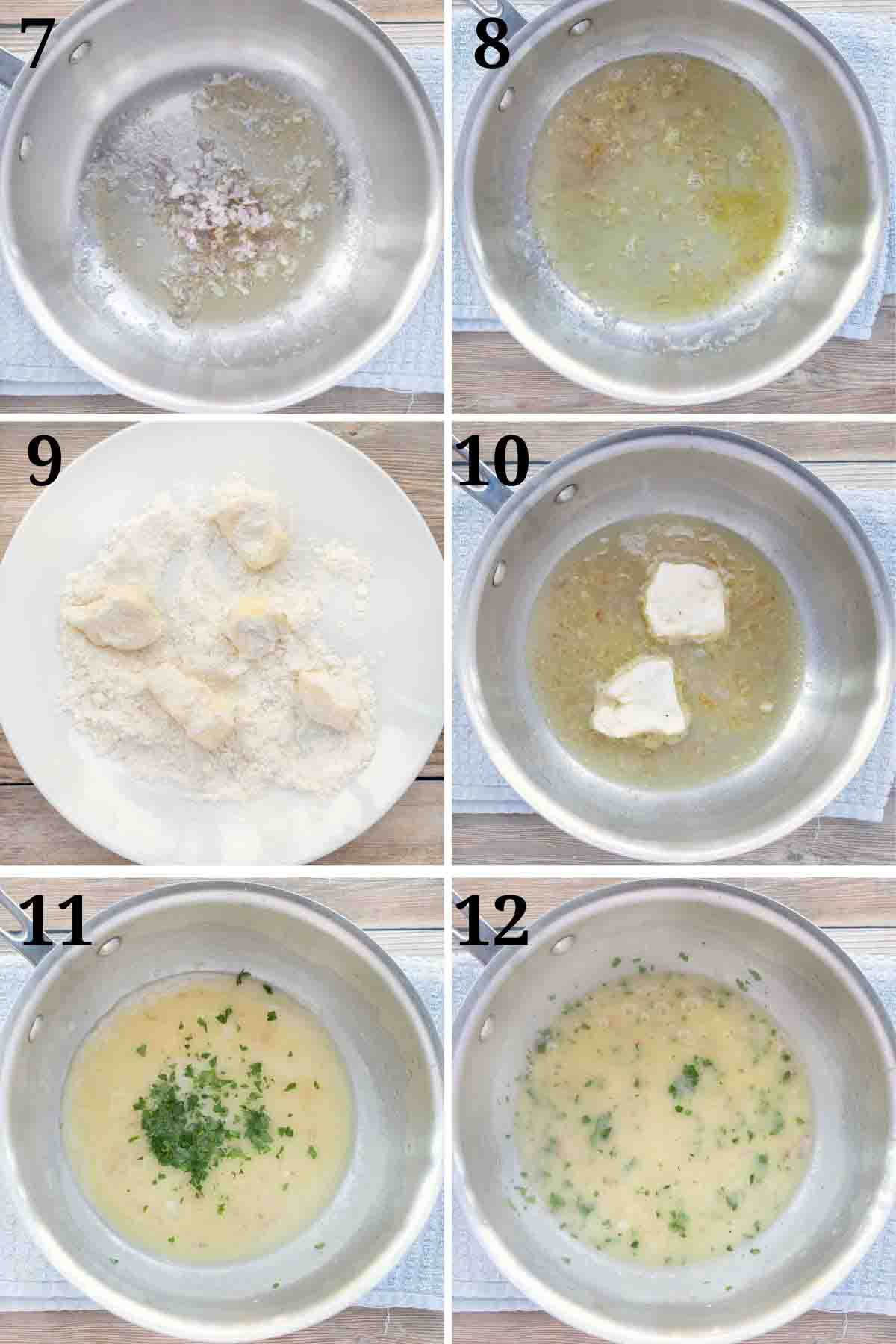 Add one tablespoon of butter to a small saucepan over medium. Add the shallots to the pan and cook for one minute.
Add the chicken broth, white wine, and fresh lemon juice to the saucepan and bring to a light boil. Reduce the heat to medium-low.
Take pieces of butter and roll them in flour, pushing the flour into the butter. The butter should be just a little soft.
Add the beurre manie (the butter pieces rolled in flour) to the pan and whisk it to thicken the lemon butter sauce.
Taste and reseason with salt and pepper if necessary and add the chopped Italian parsley to the sauce.
Mix the parsley into the sauce and keep on the stovetop until needed.
*If you want to perk up the lemon flavor, add a little lemon zest to the sauce. If you're not a fan of lemon, lime juice could be substituted. And to take a little of the tart edge off of the sauce, add ½ teaspoon of brown sugar when cooking the shallots.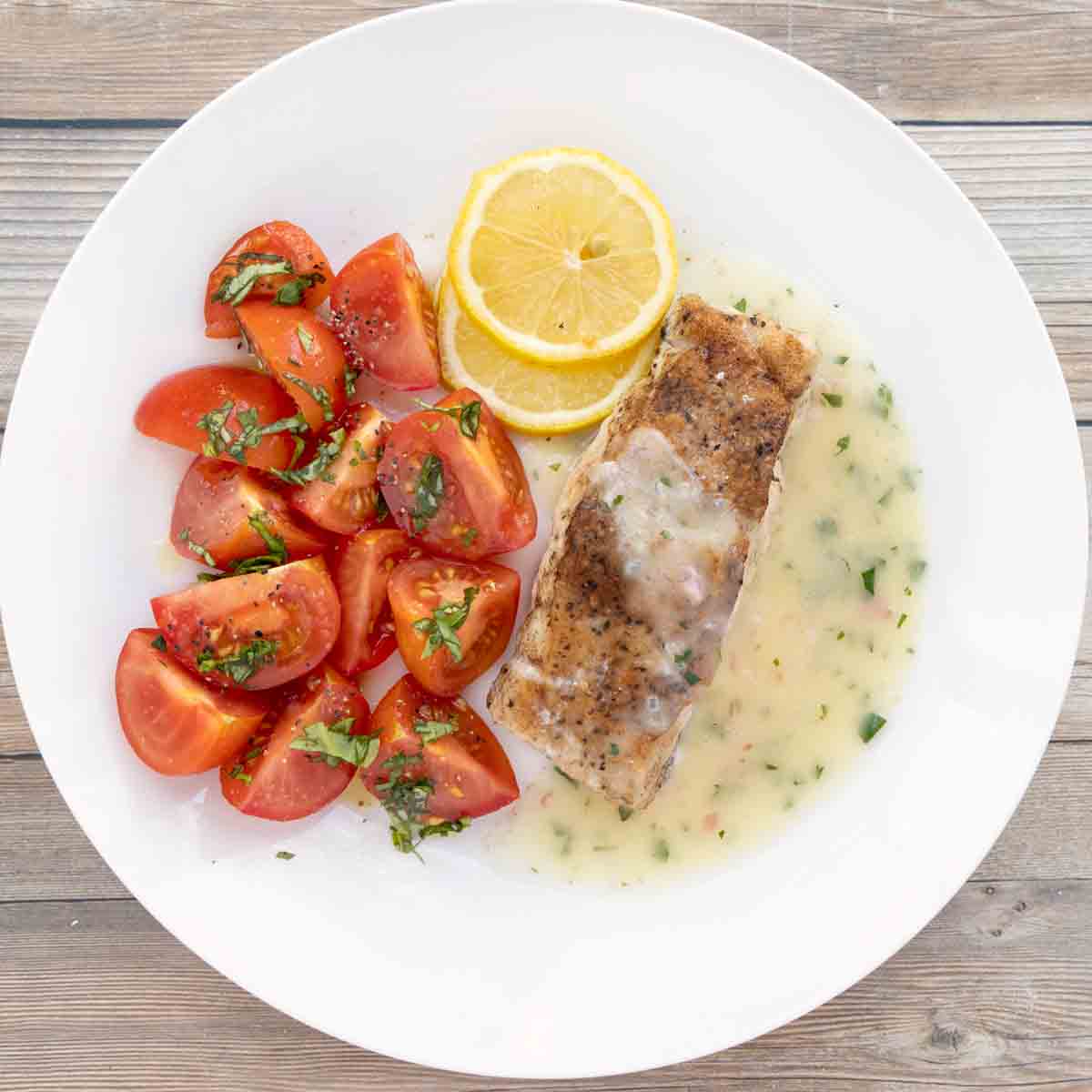 You're going to love the flaky texture of the pan-seared tilefish. Mild and moist it goes perfectly with the lemon butter sauce. Serve it with your favorite vegetables, rice, or roasted potatoes, and garnish with lemon slices for a delicious meal.
Recipe FAQ's
Can I make Tilefish in the oven?
Yes, you can. My standard preparation for any oven-roasted fish is pretty much the same. Add a little coating of olive oil (or melted butter), salt, and black pepper to taste. Add a  little water to the pan before placing it in the oven and roast at 350 degrees F. for 16-20 minutes, depending on the thickness of the fish.
What does tilefish taste like?
I have read that some people compare tilefish to lobster or crab. I can't say that I agree. Tilefish is a firm, mild-tasting fish that reminds me more of cod or halibut.
Can I make a lemon butter sauce without wine?
Yes, you certainly can. You can just leave the wine out and replace it with additional chicken broth or sparkling water. Wine is not essential in making the sauce.
More Recipes You'll Love!