Creating delicious Asian-inspired dishes like this Black Peppercorn Beef & Broccoli is a lot easier than you might think. It's simply about having the right ingredients in your house to create dishes that you would normally have to order fro your neighborhood Asian restaurant.
Thanks to my new friend Kian Lam Kho I can now create all styles of stir fry in my own home. He so graciously sent me his amazing new cookbook Phoenix Claws and Jade Trees and with this easy to understand and use cookbook, I've now got the world of Asian cooking right at my fingertips.
In Asian cooking getting your ingredients together (mise en place) before you begin is even more important because of the speed in which the dishes are created.
So make sure to have your side dishes ready before you start putting together this dish. Rice or any type of Asian noodles would be perfect with this dish. The sauce is ah-mazingly flavorful and would go well with either.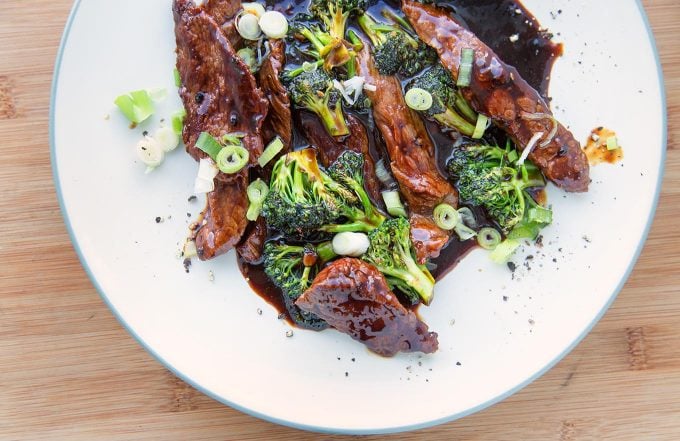 And if you're not real fond of broccoli, try substituting asparagus or any other type of stir fry veggies that you like. You could even change up the dish with chicken instead of beef, creating a few delicious dishes from this one basic recipe. Be creative and be a star in your kitchen!
It is important to have the right ingredients for Asian sauces on hand, and you can use them over and over again in your stir-fry and other dishes and pretty soon Chinese take-out will be a thing of the past, and controlling the ingredients that go into your food will not only be better for you but more delicious.
If you enjoyed this post you may also like these recipes: