My easy-to-make Crispy Baked Chicken Legs recipe will change how your family views chicken. These chicken drumsticks are seasoned with simple pantry spices and oven baked to perfection, resulting in crispy, crunchy, and incredibly flavorful chicken drumsticks. I know this is going to be one of your favorite chicken recipes!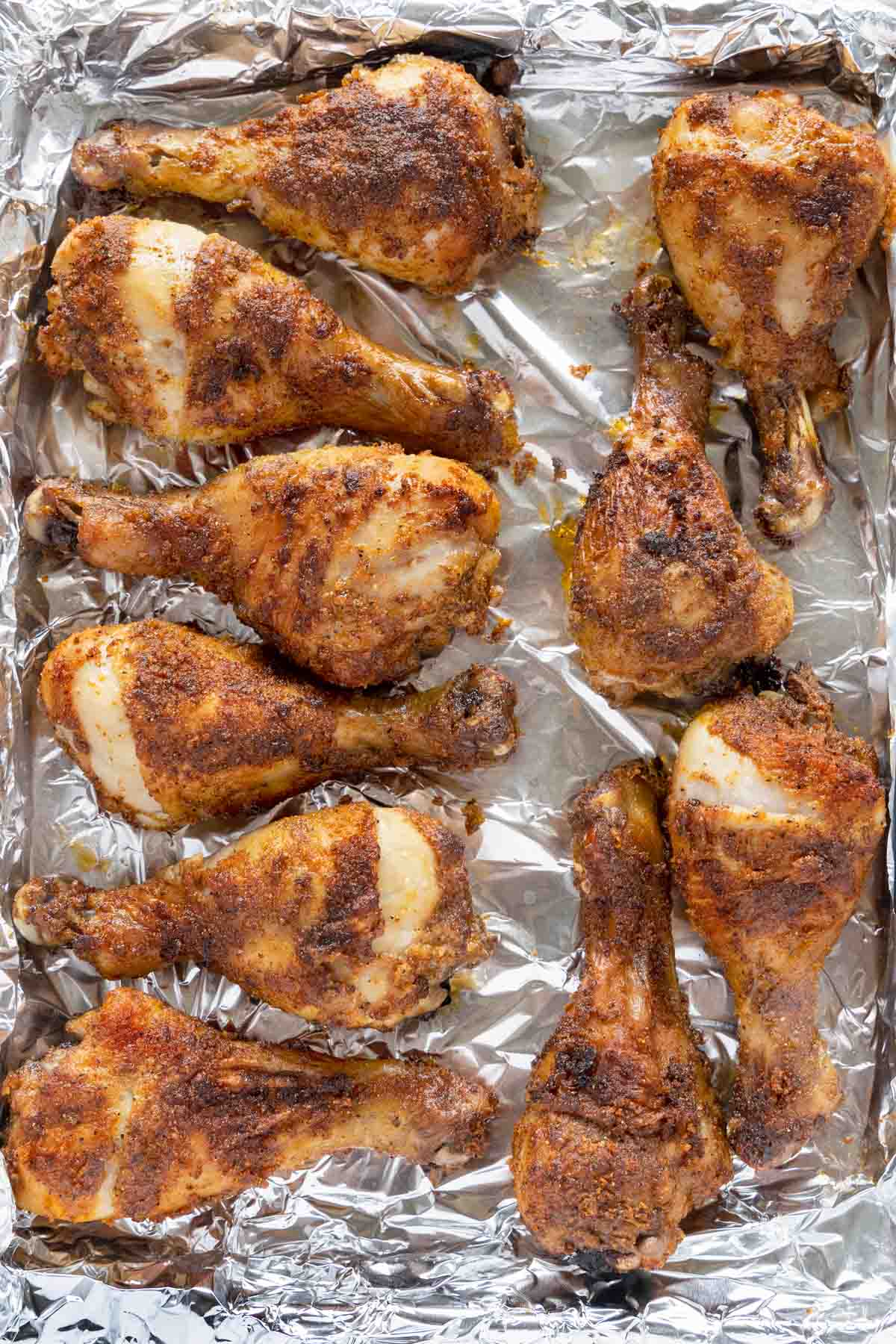 With only 10 minutes of prep, my baked chicken legs recipe will let you spend time with your family instead of in the kitchen prepping ingredients.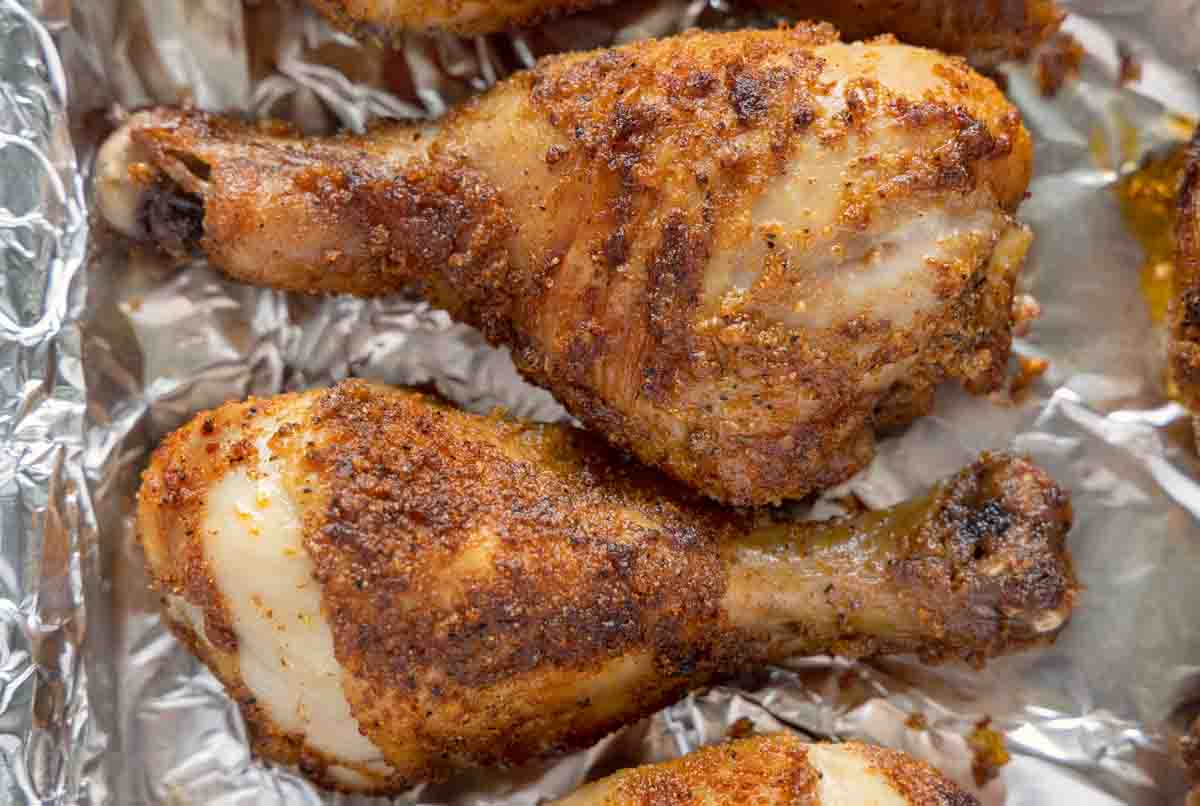 And they couldn't be easier to make! All you have to do is coat the chicken legs with the olive oil spice mixture and bake them for about 40 minutes. The secret is getting them extra crispy is high heat.
If you love crispy baked chicken, check out my recipe for chicken leg quarters. And if you're in the mood for Barbecued Chicken, my Baked BBQ Chicken Drumsticks is sure to please!
What ingredients do I need to make Crispy Baked Chicken Legs?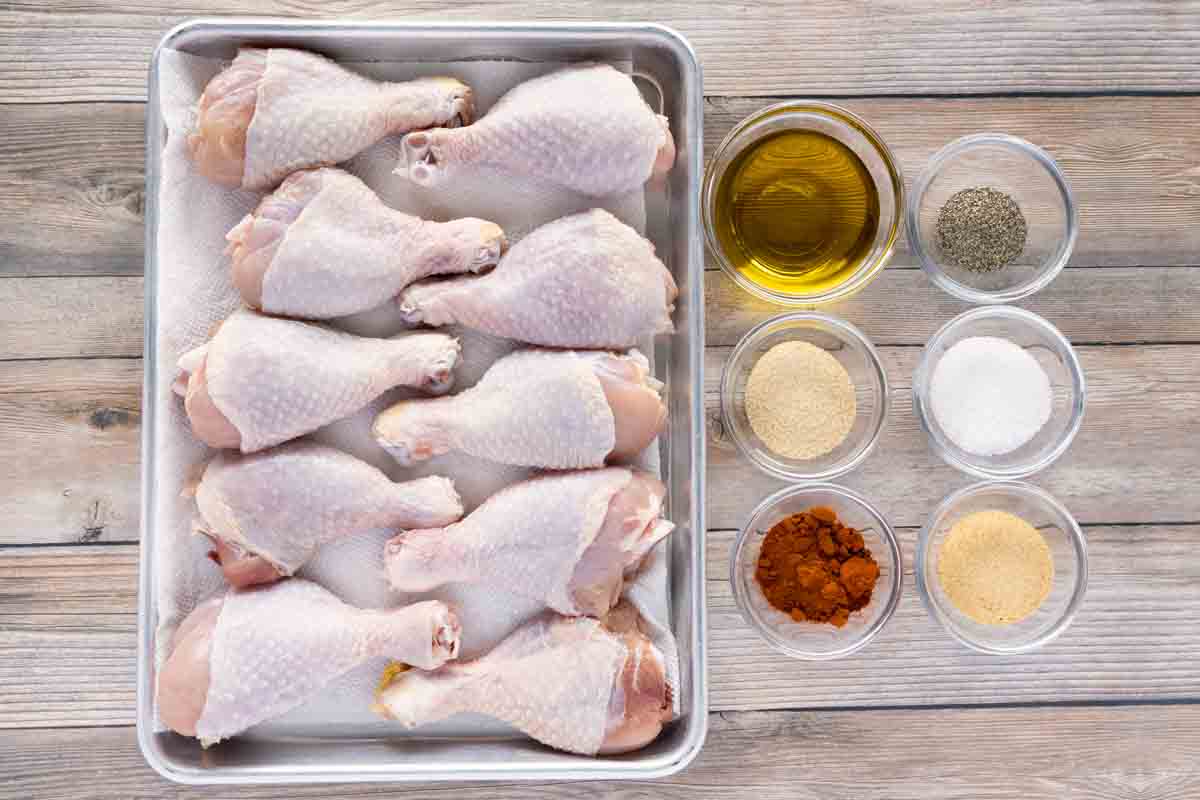 Let's start by gathering the ingredients we need to make Baked Chicken Drumsticks. In Chef Speak this is called the "Mise en Place" which translates to "Everything in its Place".
Not only does setting your ingredients up ahead of time speed up the cooking process, it also helps ensure you have everything you need to make the dish.
Can I Use Chicken Thighs To Make This Recipe?
Yes, you can. I suggest using bone-in chicken thighs. I prefer skin-on chicken for this type of dish. The skin serves as a layer of protection to prevent the meat from drying out and creates a crispy exterior. That's a win-win!
You can also use whole chicken legs with the thigh attached (chicken quarters).
If you love baked chicken try my Oven Roasted Blackened Chicken.
How do I make Crispy Chicken Drumsticks?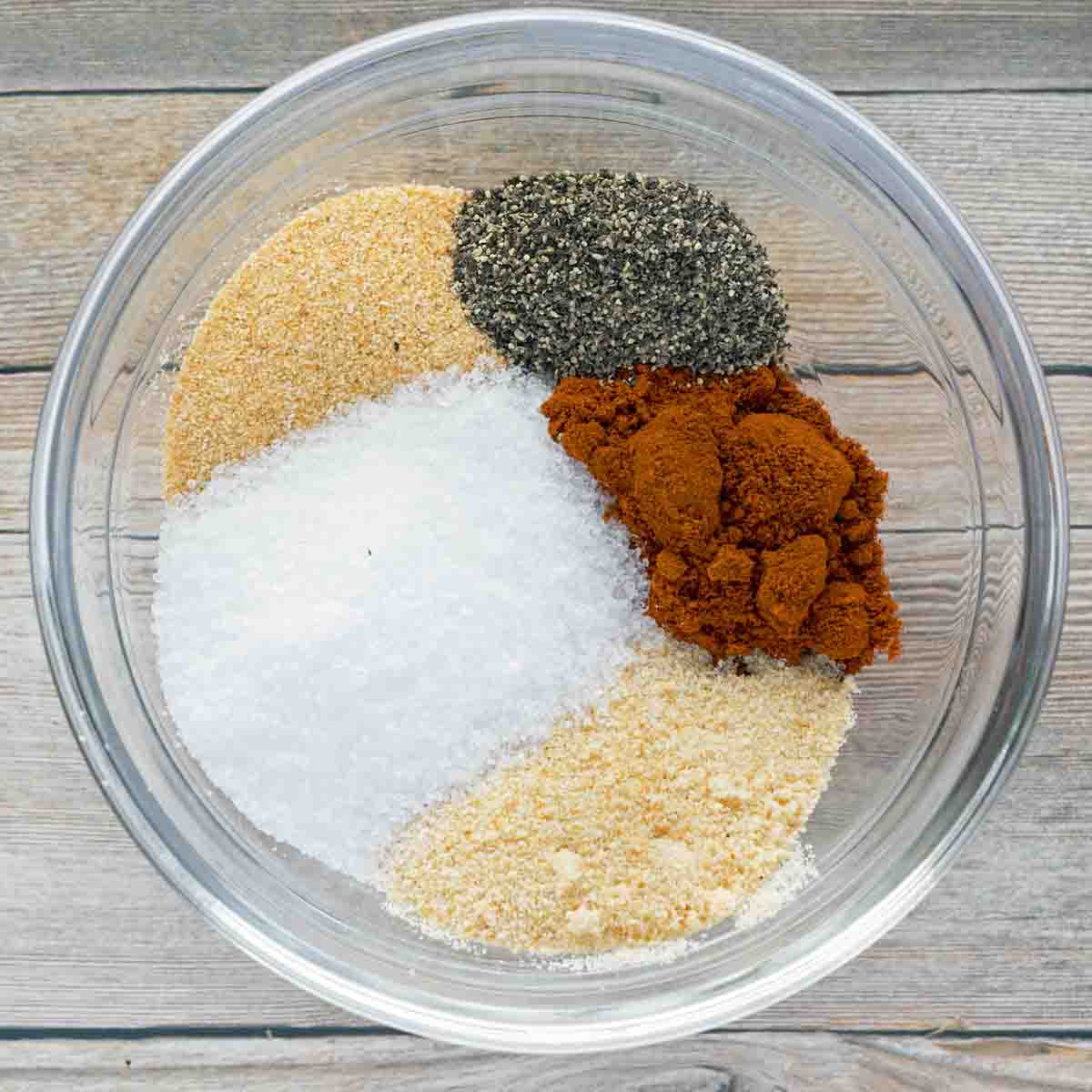 Add the garlic powder, onion powder, paprika, salt and black pepper to a small mixing bowl.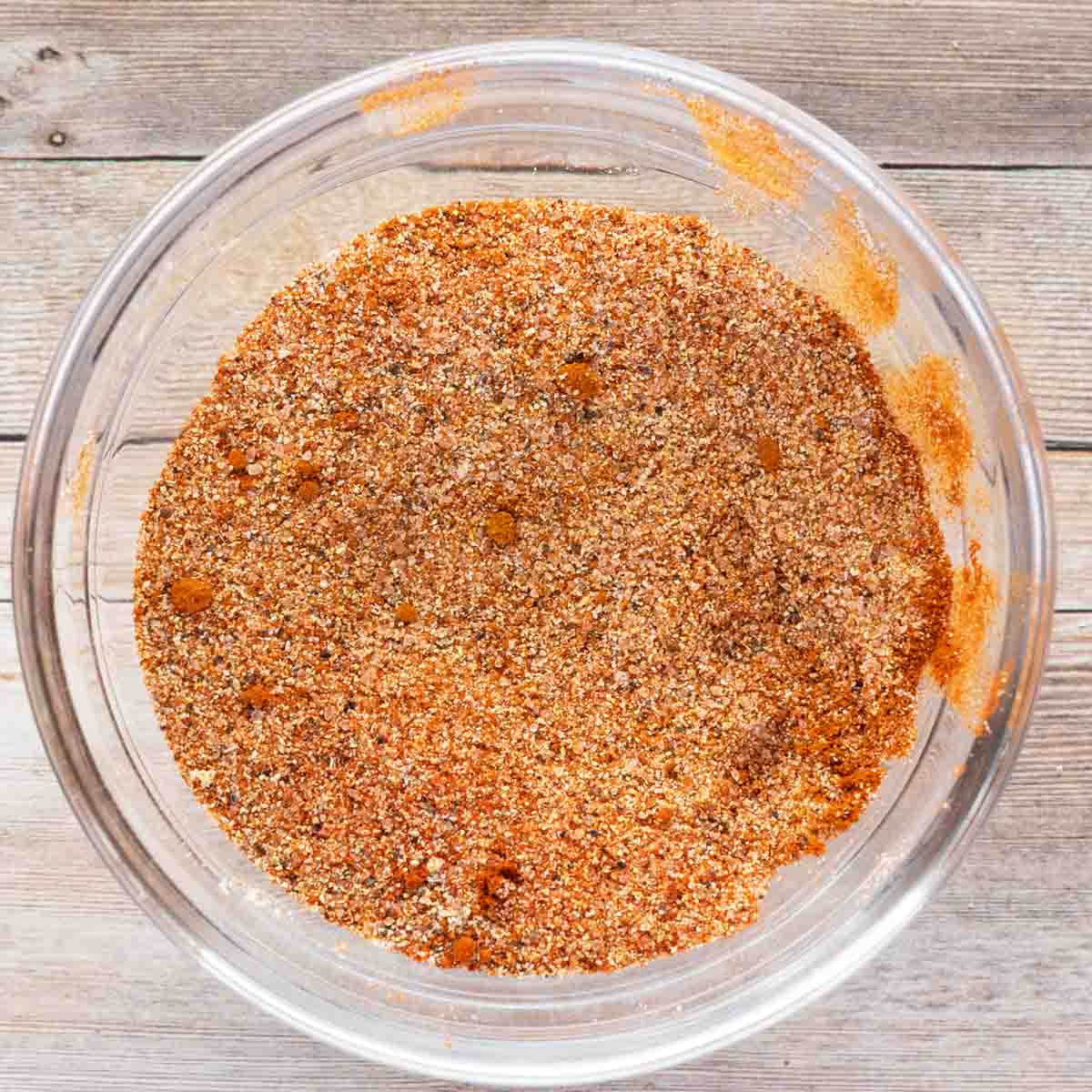 Using a fork, blend the spices together.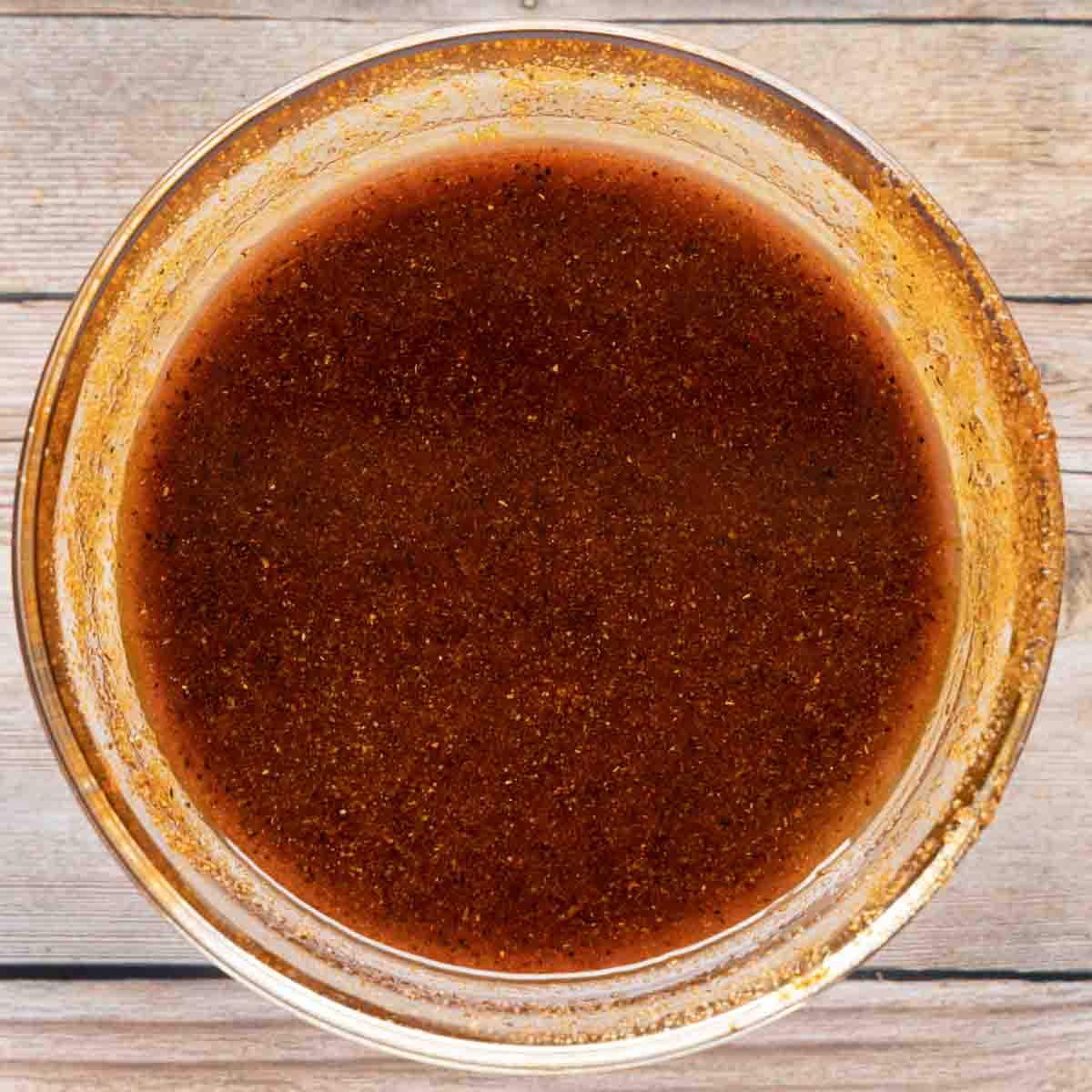 Add the olive oil to the spices and blend them together.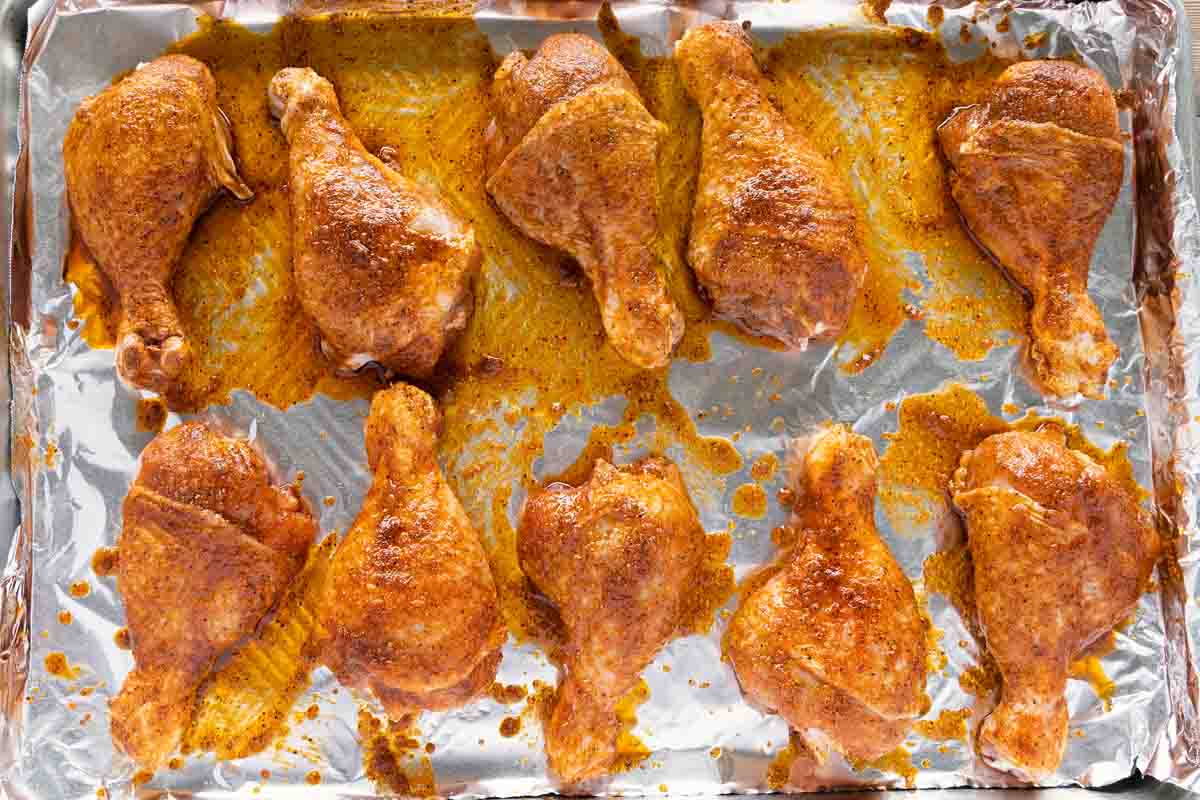 Allow the chicken legs to come to room temperature
Using a pastry brush (or your hands) coat the chicken legs with the seasoning oil mixture. Make sure to coat the entire drumstick.
Place the chicken legs in a single layer on a foil-lined baking sheet, making sure to leave room between the drumsticks.
*To get really crispy skin you need to thoroughly dry the chicken before applying the oil and seasonings. Use paper towels to pat dry the chicken legs. Removing the excess moisture from the skin will allow you to get that perfectly crispy skin.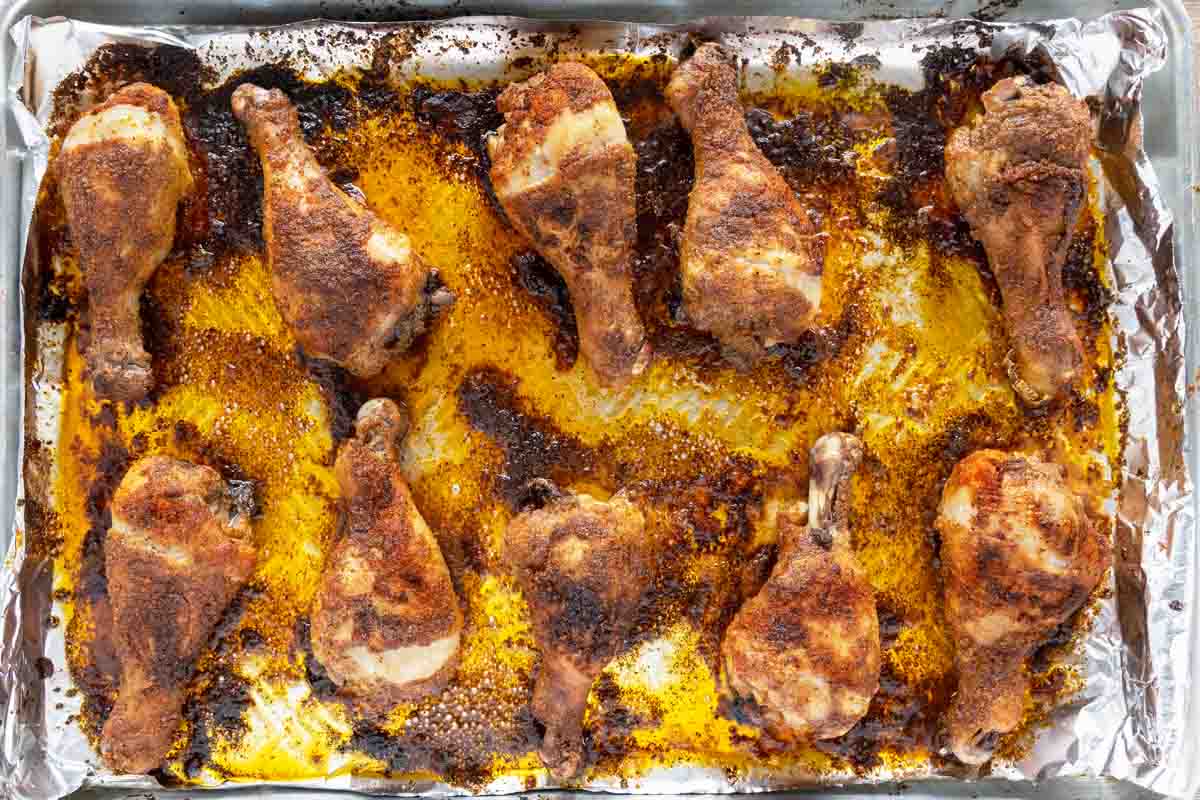 Bake the chicken legs for 30 minutes at 400 degrees on the middle rack of your oven.
Brush the legs with the oil that has gathered on the tray and bake for an additional 5-10 minutes, until crispy (cooking time may vary).
*If you use an instant-read thermometer the internal temperature must be at least 165 degrees. At this temperature and time, they should be well above that internal temp.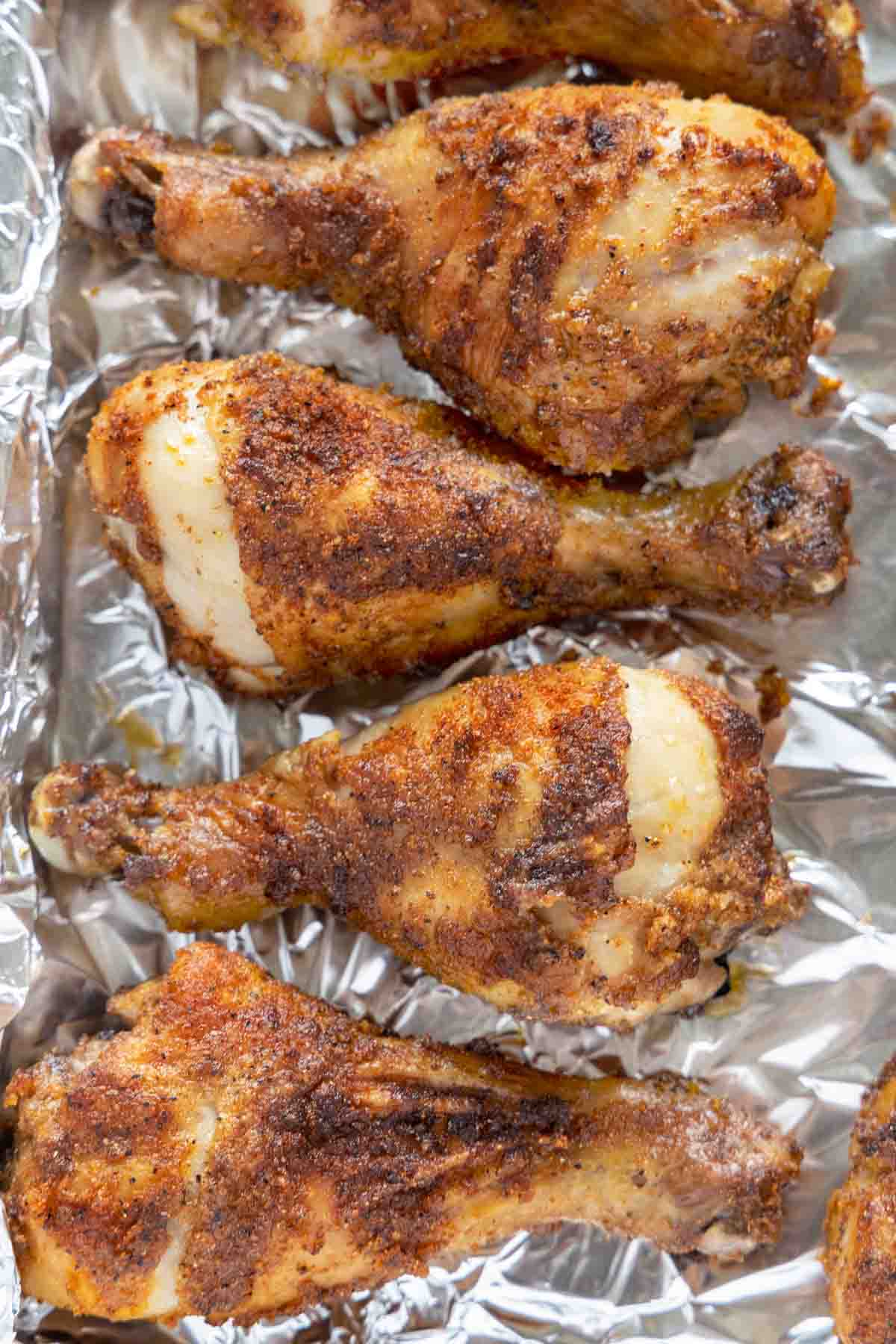 When it comes to chicken recipes, simple ingredients tend to yield the best results, making these crispy chicken legs a dish the whole family will love!
Can I use different seasonings on the chicken legs?
Absolutely! Use your favorite premade seasoning blends or create your own blend using the spices with the flavor profiles you enjoy eating.
Some of my favorite spice blends for seasoning these crispy baked chicken drumsticks are Cajun seasoning, lemon pepper, old bay, barbecue seasoning and jerk seasoning.
Recipe FAQ's:
Should you cover drumsticks in the oven?
No, you shouldn't cover the chicken legs. The skin needs to brown and get crispy. Covering the chicken during the entire cooking process will steam the chicken instead of roasting it.
Can you overcook chicken drumsticks?
You sure can. Overcooking the chicken will dry it out and make it tough. Check on the chicken legs after 30 minutes since all ovens are different.
How do I know when the chicken legs are fully cooked?
Using a meat thermometer check the internal temperature of the chicken legs. The chicken needs to reach a minimum temperature of 165 degrees.
Can I make crispy chicken drumsticks in my air fryer?
Yes, you can.
Coat the chicken drumsticks with 1 tablespoon of olive oil.
Mix the seasonings together. Toss the chicken legs with the seasoning.
Spray the seasoned chicken legs with olive oil spray.
Place the drumsticks into the air fryer basket, making sure not to crowd them.
Cook at 400 degrees for 10 minutes.
Flip the drumsticks and cook for another 10 minutes.
Remove and serve immediately.
More Chicken Recipes You'll Love!