This post includes affiliate links. As an Amazon Associate I earn from qualifying purchases.
When it comes to comfort food Pork Shanks are one of my favorites. And my Country-Style Beer Braised Pork Shank recipe takes pork shanks to the next level!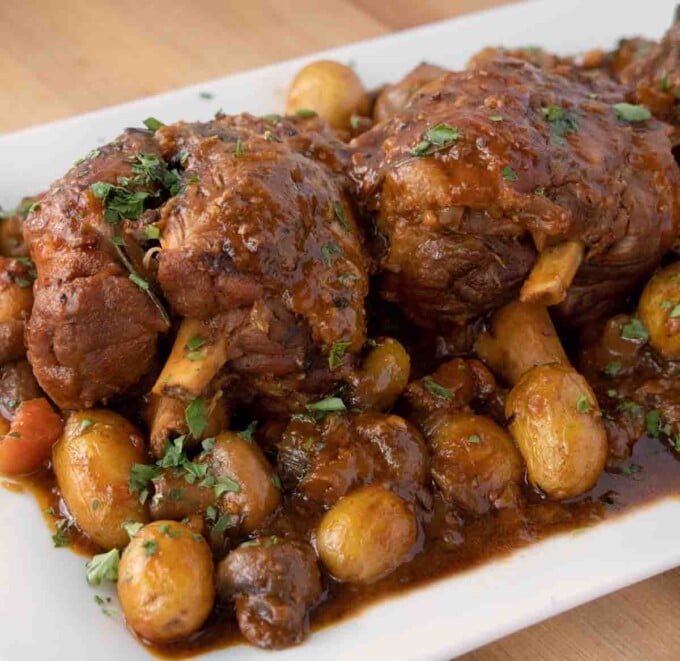 If you've never known the joy of pork shanks, you don't know what you're missing. Not only are they one of the most delicious cuts of pork you'll ever taste, they're also incredibly easy to make.
You'll find a few different ways to make pork shanks online and my beer braised version of these beauties is timeless Southern Classic that I promise you'll enjoy eating and making for years to come!
What Ingredients do I need to make Beer Braised Pork Shanks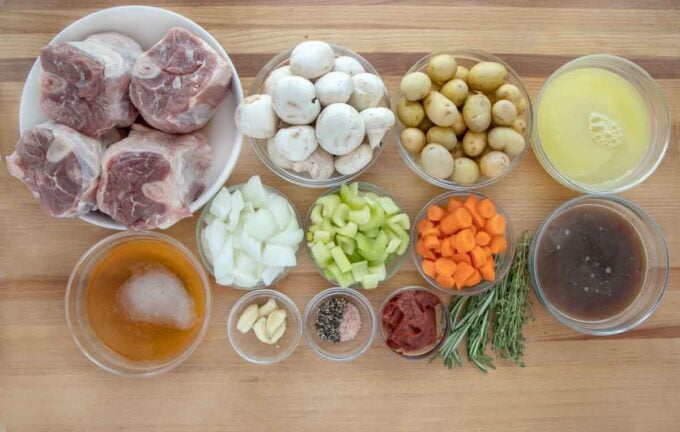 Let's start by gathering the ingredients we need to make my Beer Braised Pork Shanks. In Chef Speak this is called the "Mise en Place" which translates to "Everything in its Place".
Not only does setting your ingredients up ahead of time speed up the cooking process, it also helps ensure you have everything you need to make the dish.
How do I make Beer Braised Pork Shanks?
The first step is dredging the pork shanks in flour seasoned with sea salt and black pepper.
Add vegetable oil to a large dutch oven (6-7 quarts) (or a large skillet) over medium-high heat. Sear the pork shanks for about 2 minutes on each side.
Once seared on all sides, remove the pork shanks from the pan and set aside until needed.
**Discard the oil if it's burnt and start with fresh oil, but don't clean out the pan. We want all those tasty bits stuck to the pan for the sauce.
The next step is adding the mirepoix (celery, carrots and onions) to the pot along with the mushrooms and potatoes. Let the vegetables cook over medium heat for 5-7 minutes or until they have all been lightly cooked.
Chef Dennis Tip:
Never add uncooked vegetables to liquid and boil them. Vegetables will never develop the depth of flavor they will achieve by searing them prior to adding liquid to the pot.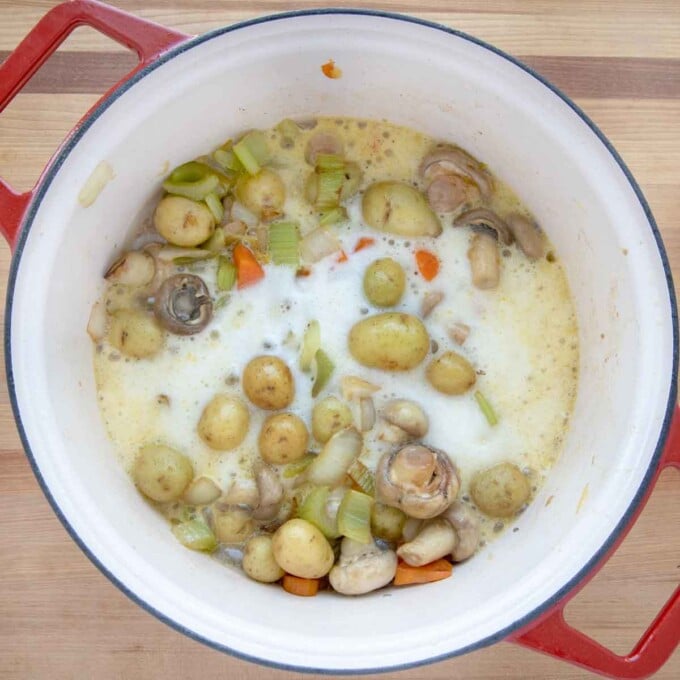 After searing the veggies, add the beer to the dutch oven. Turn the heat down and scrape all the bits off the bottom of the pan. This is called deglazing.
I used a wheat beer for my pork shanks because that's what I had on hand. I normally like using a porter or stout but your favorite beer will always do.
Cold or room temperature liquid introduced to a hot pan will help release all the tasty bits from the pan and in some cases stop the cooking process.
Do I have to use Beer to make the pork shanks?
No, you don't. If you don't have beer on hand or can't have alcohol, you can always use Dr. Pepper, Root Beer or Coke. You can also use non-alcoholic beer.
After deglazing the pan, add the stock, herbs, salt, cracked black pepper and tomato paste to the pot.
Allow the mixture to simmer over medium heat for 5 minutes.
If you don't have cracked black pepper, use one-half teaspoon of regular black pepper.
Do I have to use both chicken and beef stock in this recipe?
No, you don't if you don't have both, you can use all chicken or all beef stock to make this dish. But the combination really makes a delicious sauce and if all possible, use both types of stock, you won't be sorry.
Remove about two-thirds of the veggies and stock from the pot. Add the seared pork shanks back into the pan, arranging them so that the remainder of the vegetables and stock will mostly cover them.
Add the stock and veggies back to the pan. They should almost completely cover the pork shanks.
Cover the pot with a lid or aluminum foil and place into a 325 degree preheated oven for 3 hours.
When the pork shanks are ready you may have a good amount of grease pooling in the pan. Remove most of the grease and discard it. Mix the rest back into the sauce, remember Fat = Flavor!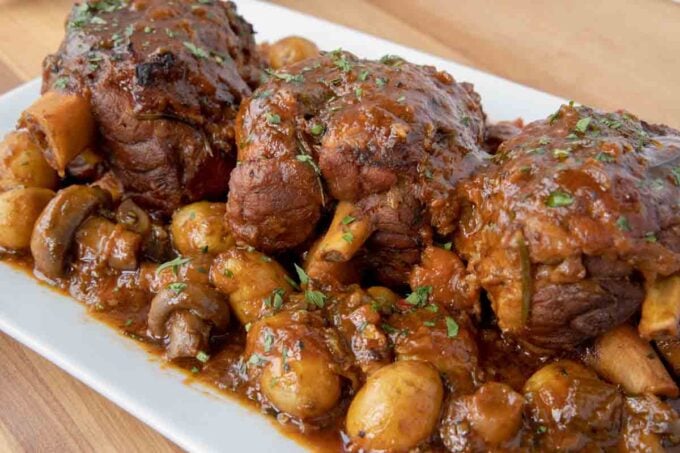 This was one of the most flavorful dishes I have ever made. The pork was outrageously tender and the sauce rich and OMG delicious!
You're going to love serving this to your family as much as you're going to love eating it!
More Pork Recipes You'll Love!