This juicy Stuffed Pork Tenderloin loaded with sweet Italian sausage, spinach, and bread stuffing, served with a mushroom marsala sauce could be your new signature dish!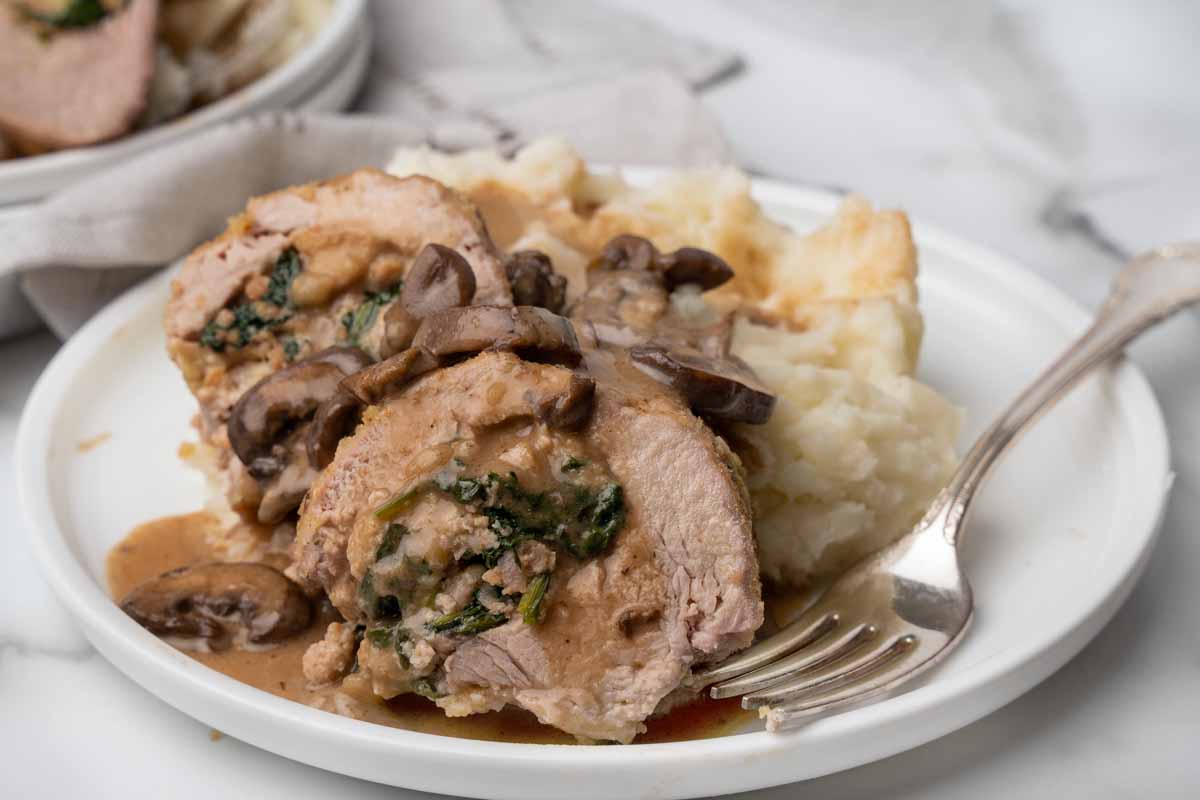 Throughout my career as a restaurant chef, I always enjoyed creating flavorful dishes using ingredients I had on hand. Taking a lackluster dish and turning it into a culinary adventure!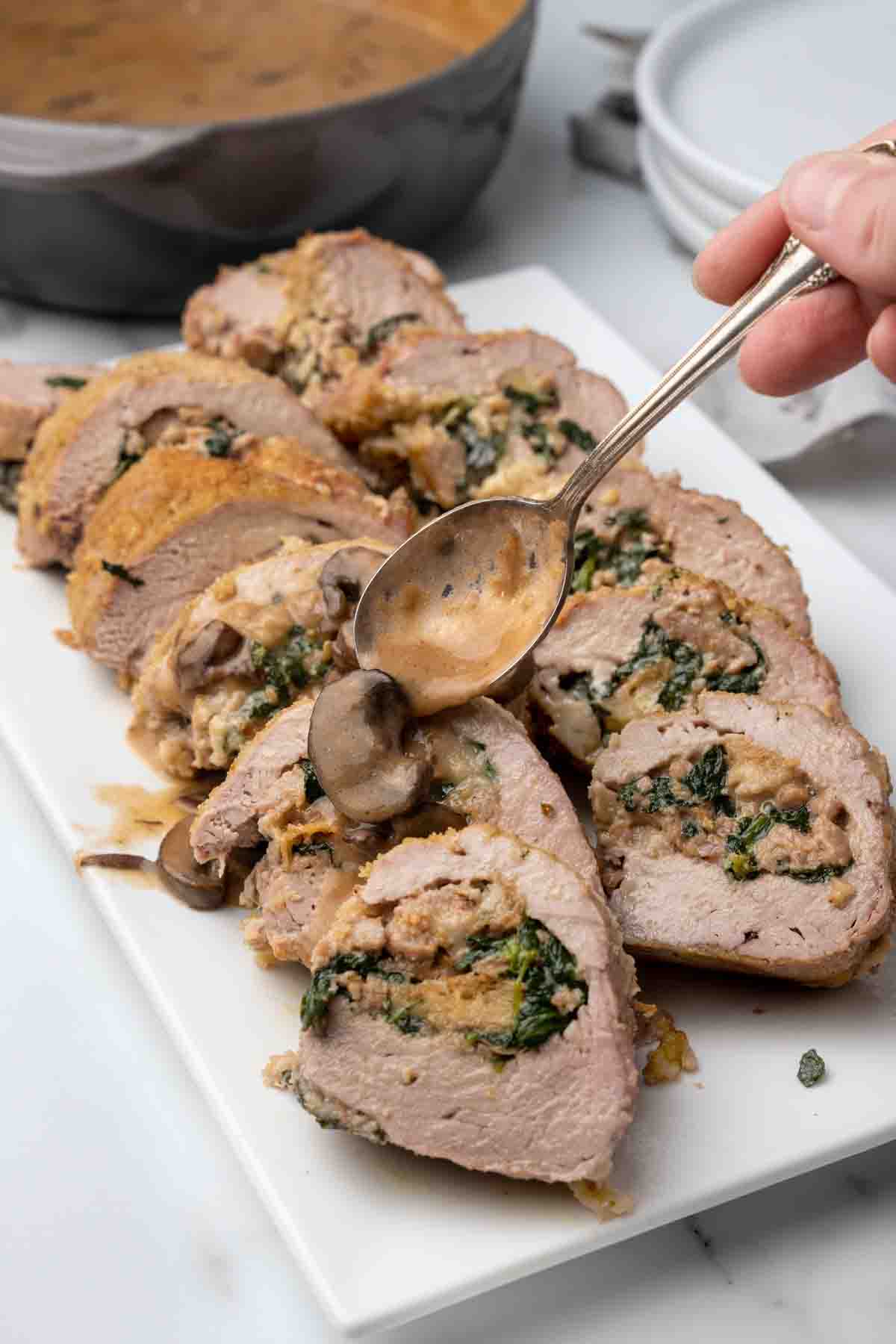 This restaurant-style dish is easy to make and an inexpensive way to feed a crowd. You're going to love my Stuffed Pork Tenderloin Recipe!
What Ingredients do I need to make a Stuffed Pork Tenderloin?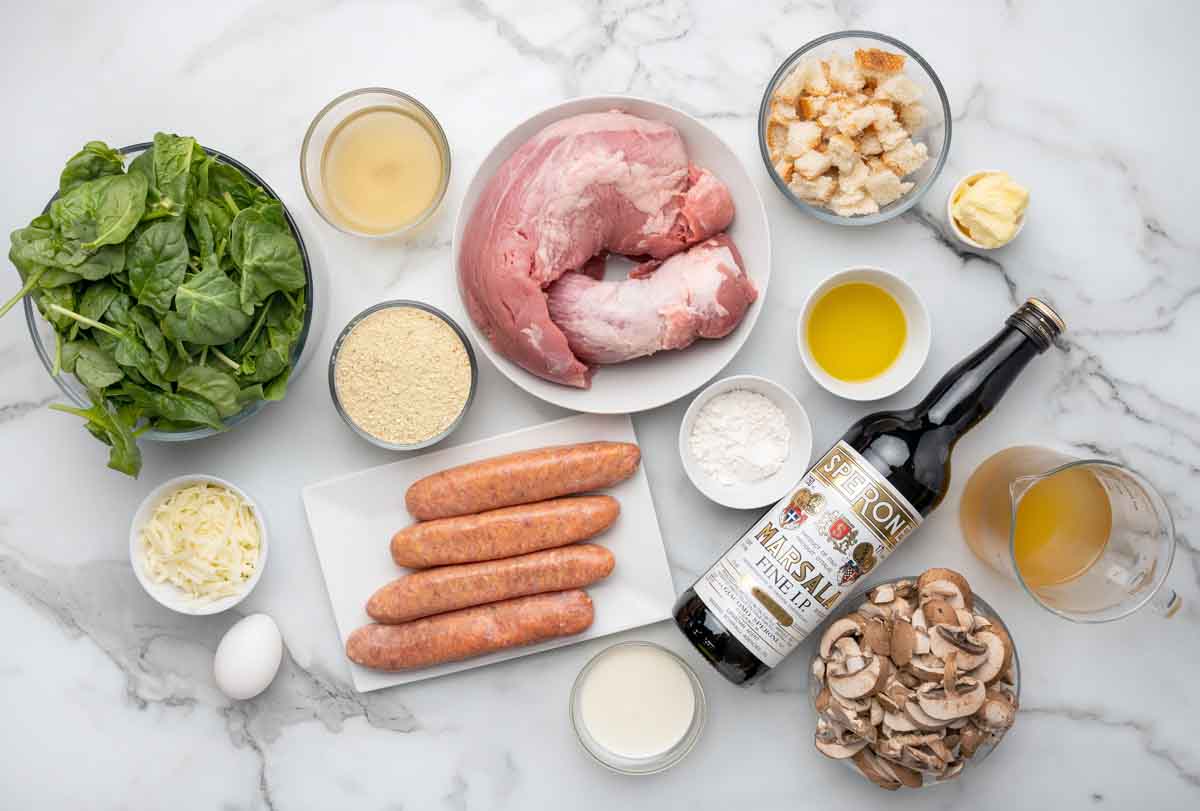 Let's start by gathering the ingredients we need to make Stuffed Pork Tenderloin. In Chef Speak this is called the "Mise en Place" which translates to "Everything in its Place".
Not only does setting your ingredients up ahead of time speed up the cooking process, it also helps ensure you have everything you need to make the dish.
What type of Marsala wine should I use?
My first choice of Marsala wine is made by Pellegrino. I second choice is Cribari. I was traveling when I made this recipe and had to settle for an imported brand which actually was pretty good. But I don't like to take chances so look for Pellegrino, Cribari, or Florio brands if possible.
The other tip on buying marsala wine, is if there's a choice between dry and
sweet, always buy the sweet (it's not sweet tasting).
This will contradict what most chefs will tell you, so you're going to have to trust me on this one. Believe me, it will make a big difference in the flavor of the dish and it will not make the sauce sweet, it's just how they differentiate between the two varieties.
Dry Marsala, in theory, should be more flavorful. But either I haven't found a good dry marsala or it just doesn't work as well as advertised in my dishes.
How do I make stuffing for a Pork Tenderloin?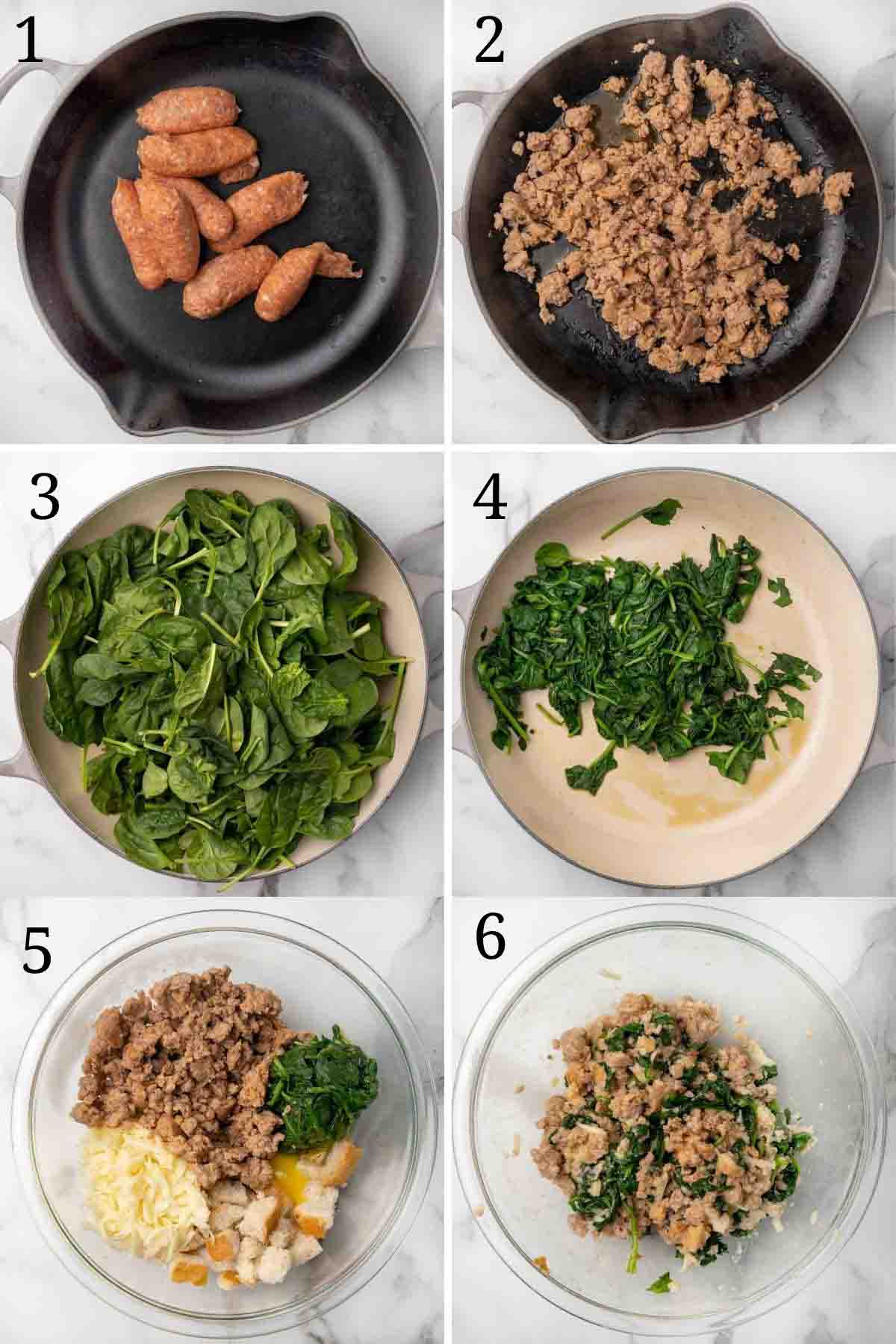 Remove the casing from the sausage and place into a hot frying pan with a little olive oil.
As it cooks, break up the pieces so they look like ground meat. When finished place to the side and allow to cool slightly.
In a clean pan add the spinach with a little water.
Cook the spinach leaves until completely wilted, then squeeze out any additional water
In a large bowl, mix together the bread cubes, sausage, spinach, mozzarella, egg and chicken stock.
Blend all the ingredients together and allow to sit for 10 minutes before using g.
How do I Stuff a Pork Tenderloin?
With a sharp knife split the pork tenderloin, long ways from end to end.
Place the pork on a cutting board and cover with a sheet of plastic wrap. Using the flat side of a meat mallet pound the pork tenderloin to flatten. This will make it easier to stuf
Divide the stuffing between two pork tenderloins.
Roll the stuffed pork tenderloin, along the long side making a log, tucking the edges in to seal it.
Coat the pork tenderloins with bread crumbs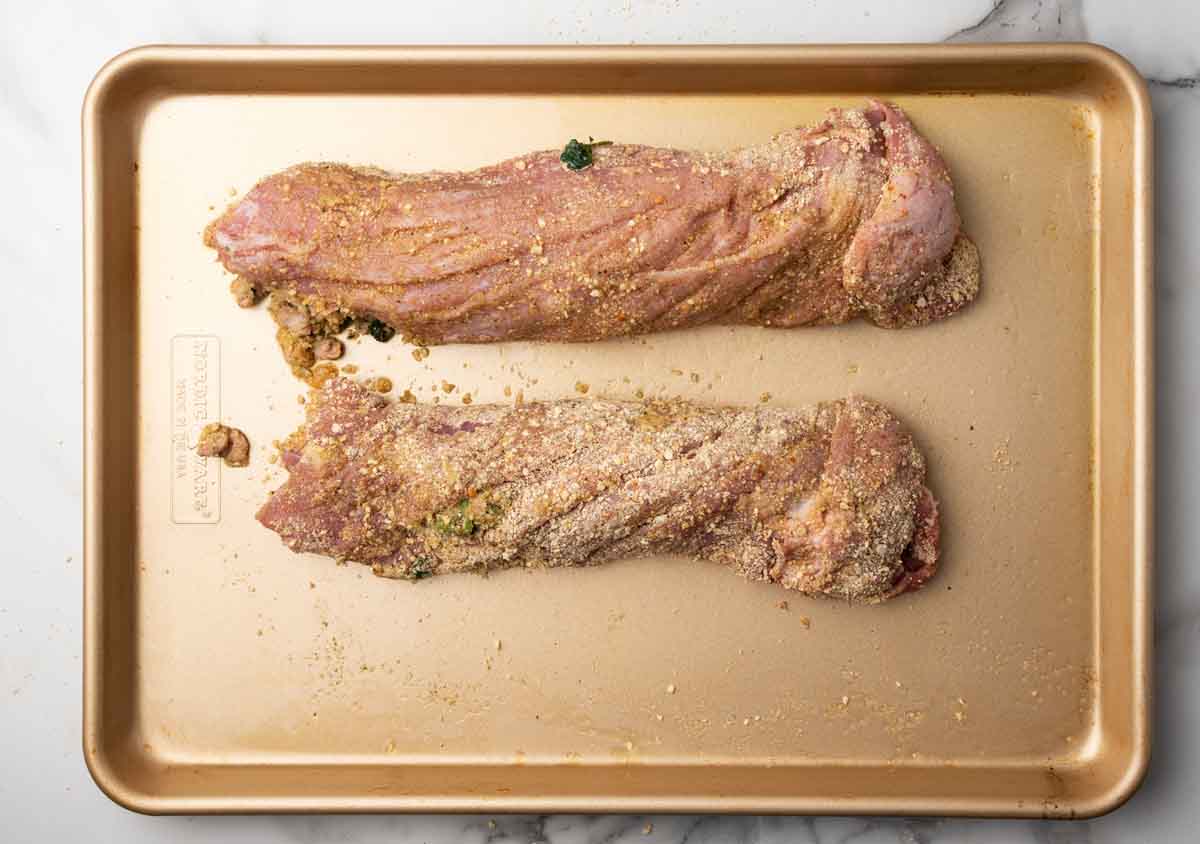 Place a baking sheet pan with 3 tablespoons of olive oil into a 350-degree preheated oven pan for 8 – 10 minutes to allow the oil to get hot.
Carefully remove the sheet pan from the oven, and very carefully place the tenderloin in the hot oil to sear it slightly, gently rolling to allow all the sides to briefly sear. *Alternatively, this can be done in a large saute pan on the stove and then placed on the sheet pan
Place the pan with tenderloins back into the oven and bake for 25 minutes
*Use a good meat thermometer to check the internal temperature. It should read a minimum of 145 degrees F. You prefer a more well-done pork roast let cook until 160 degrees has been reached.
How do I make a mushroom marsala sauce?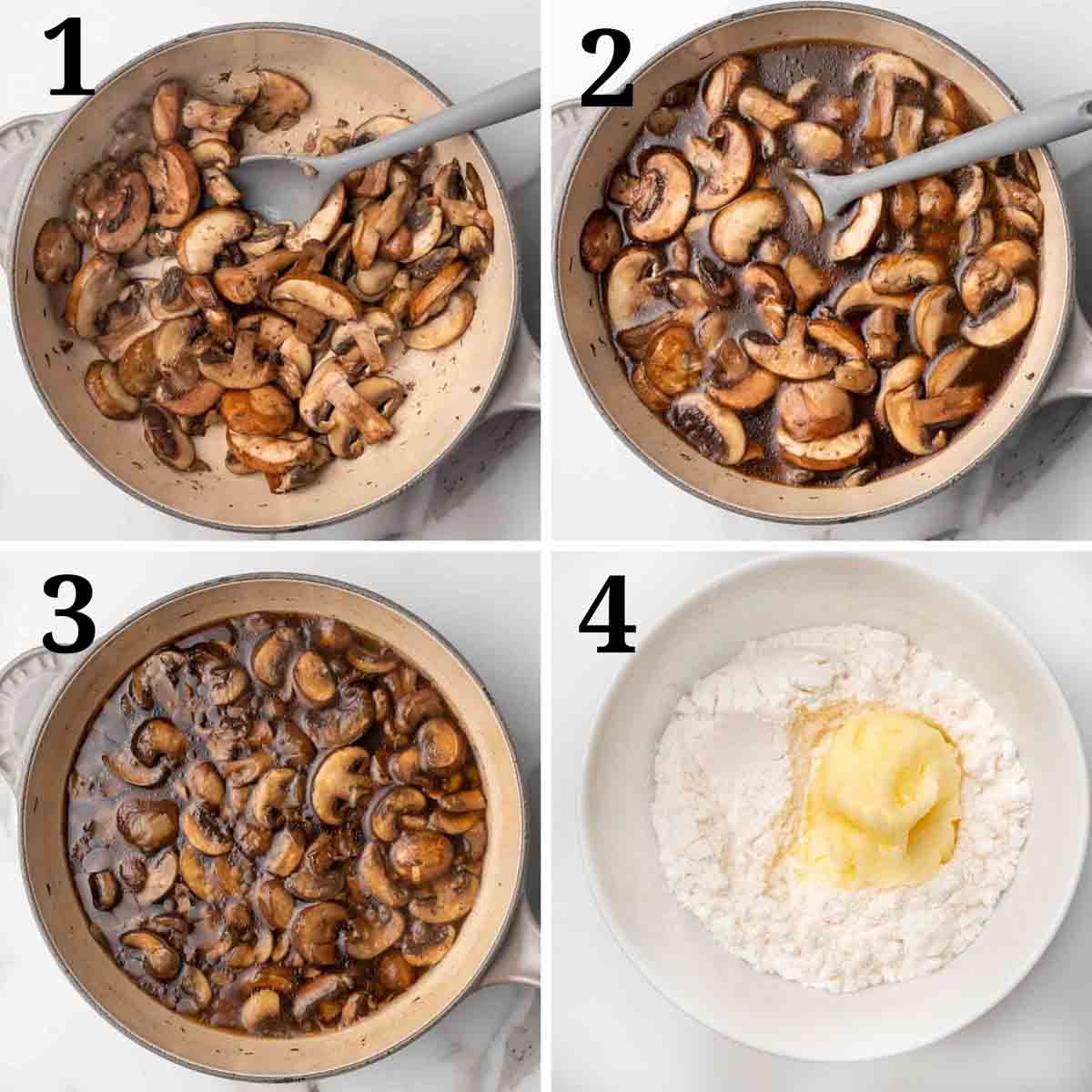 Saute mushrooms over medium-high heat in a tablespoon of olive oil for about five minutes or until they are tender. Add more oil if needed.
Add the marsala (reserve two tablespoons) allow to cook for 3-4 minutes
Add the chicken stock, reduce heat and allow to simmer
Roll pieces of softened butter in flour to make a beurre manie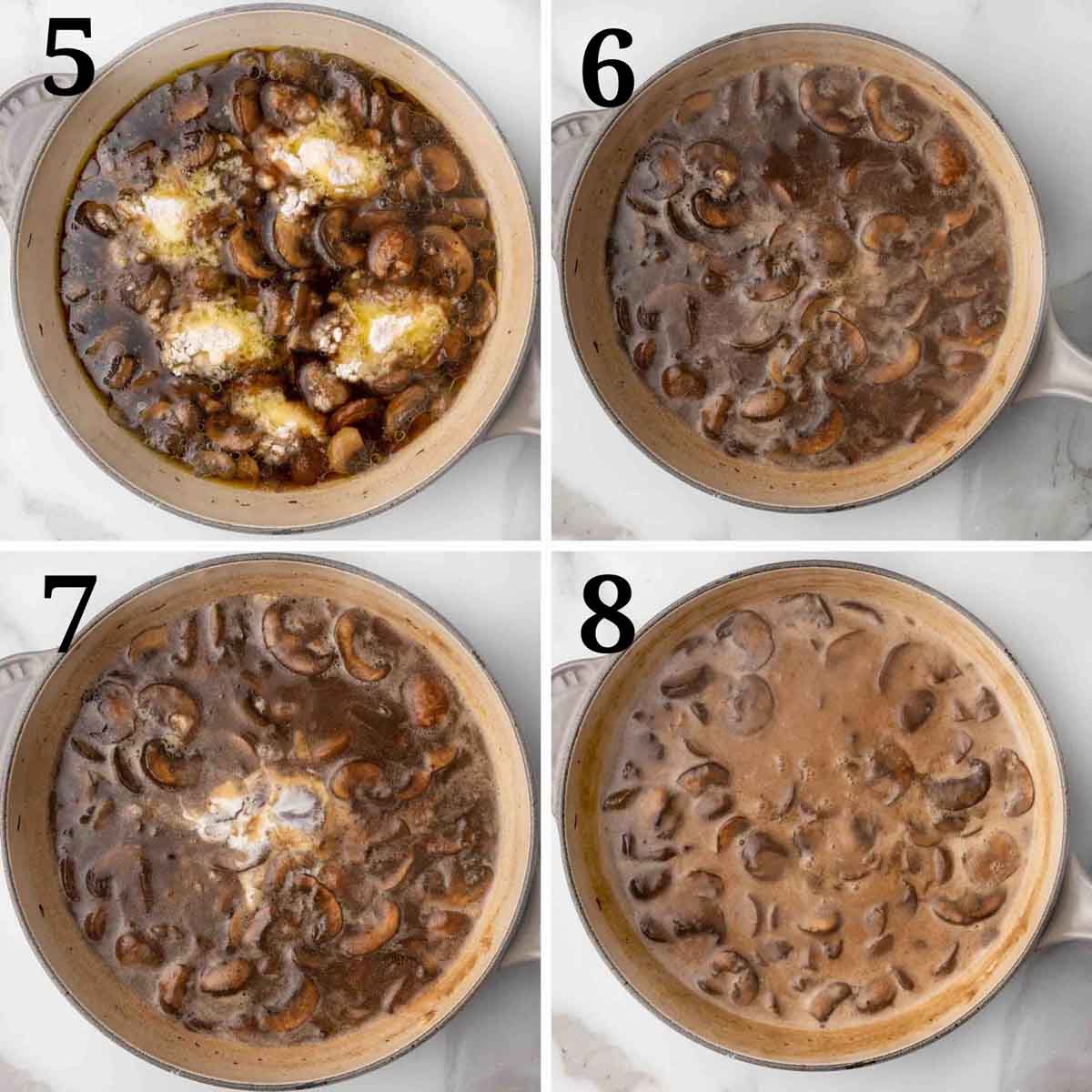 Add the beurre manie to the simmering stock. This will help thicken the sauce.
Add cream and continue to simmer for 5 minutes or until the sauce has thickened.
Before serving add the remainder of the marsala to boost the flavor.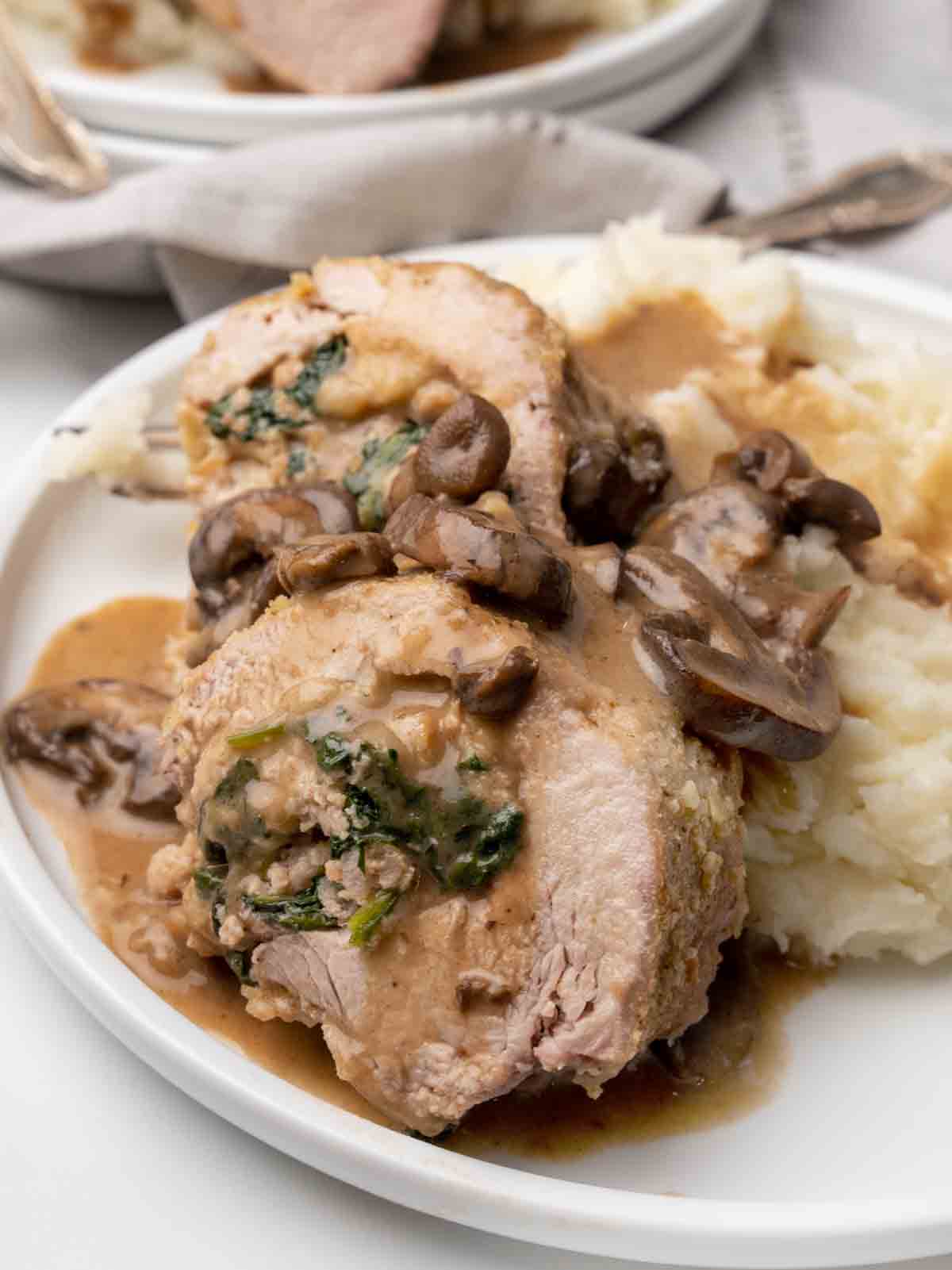 Your going to love how easy it is to make this stuffed pork tenderloin and your friends and family are going to love how delicious it is!
Recipe FAQ's
What temperature should I cook a stuffed pork loin?
The Federal Government says pork is safe to eat at 145 degrees. I question that because pre-cooked ingredients are included in the stuffed tenderloin. Therefore, it should come up to 165 degrees to be considered safe.
More Pork Recipes You'll Love!