I love Strawberry Shortcake and when I want to treat my friends and family, nothing this dessert extra special more than my individual Strawberry Shortcake Recipe!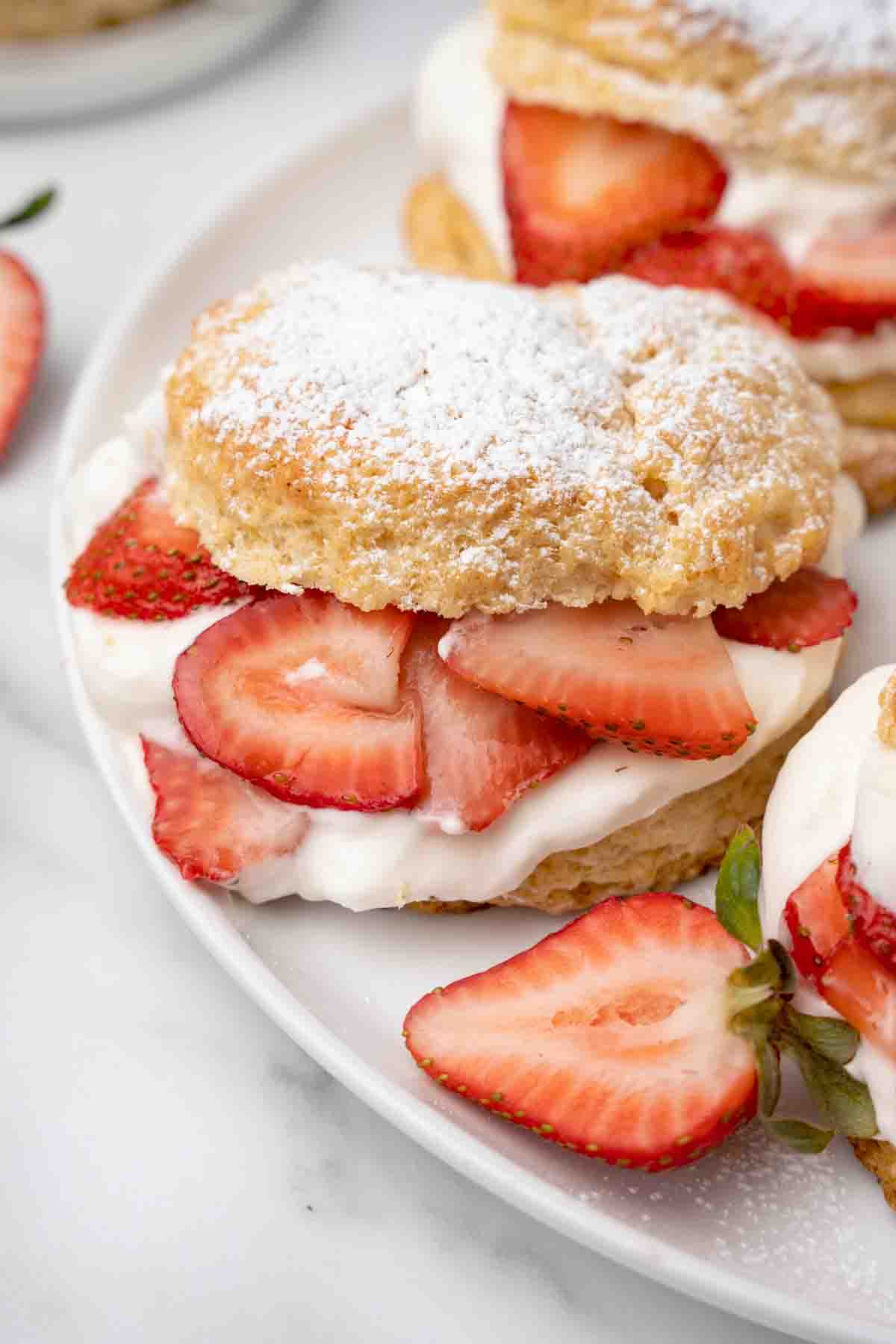 My little shortcakes are easy to make and are the perfect way to use all the delicious fresh strawberries that are available in the local grocery stores and farmer's markets.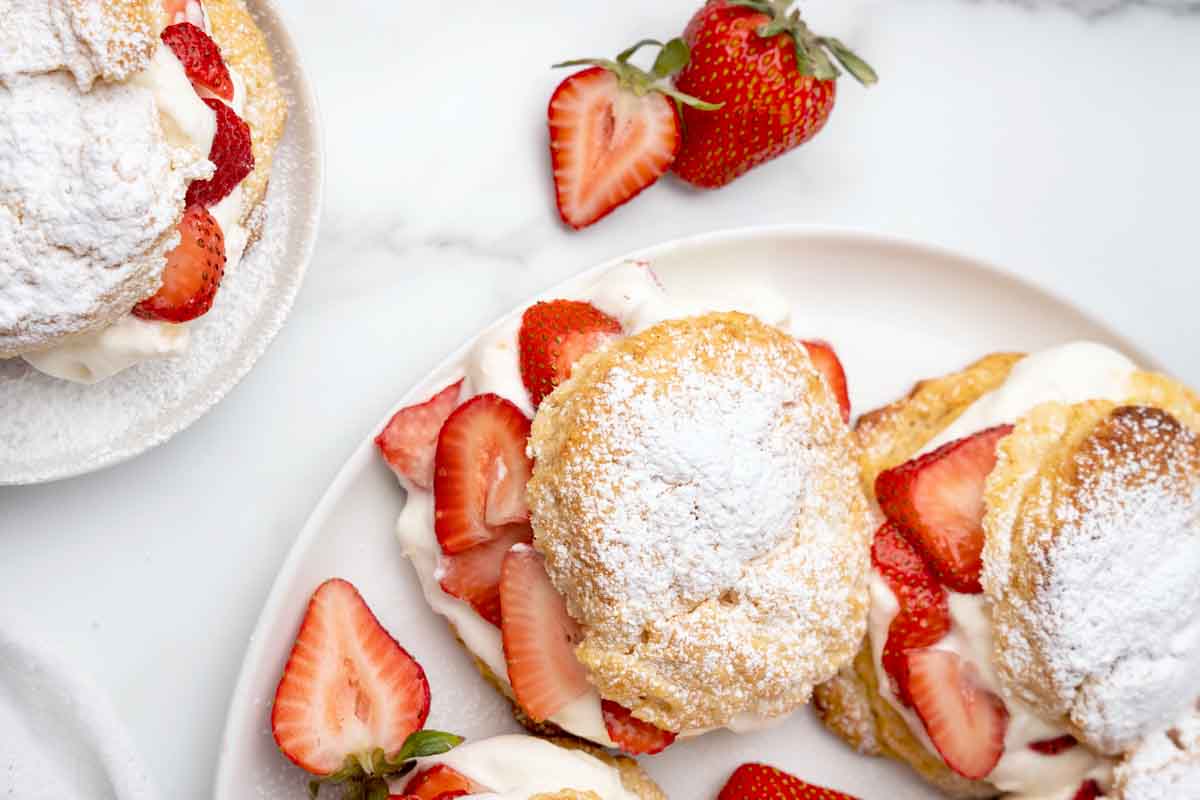 My Individual Strawberry shortcake is one of the easiest desserts to prepare, and it's a perfect finish to a family meal or your next get-together. There is just something magical about this delectable summer dessert.
What ingredients do I need to make Individual Strawberry Shortcakes?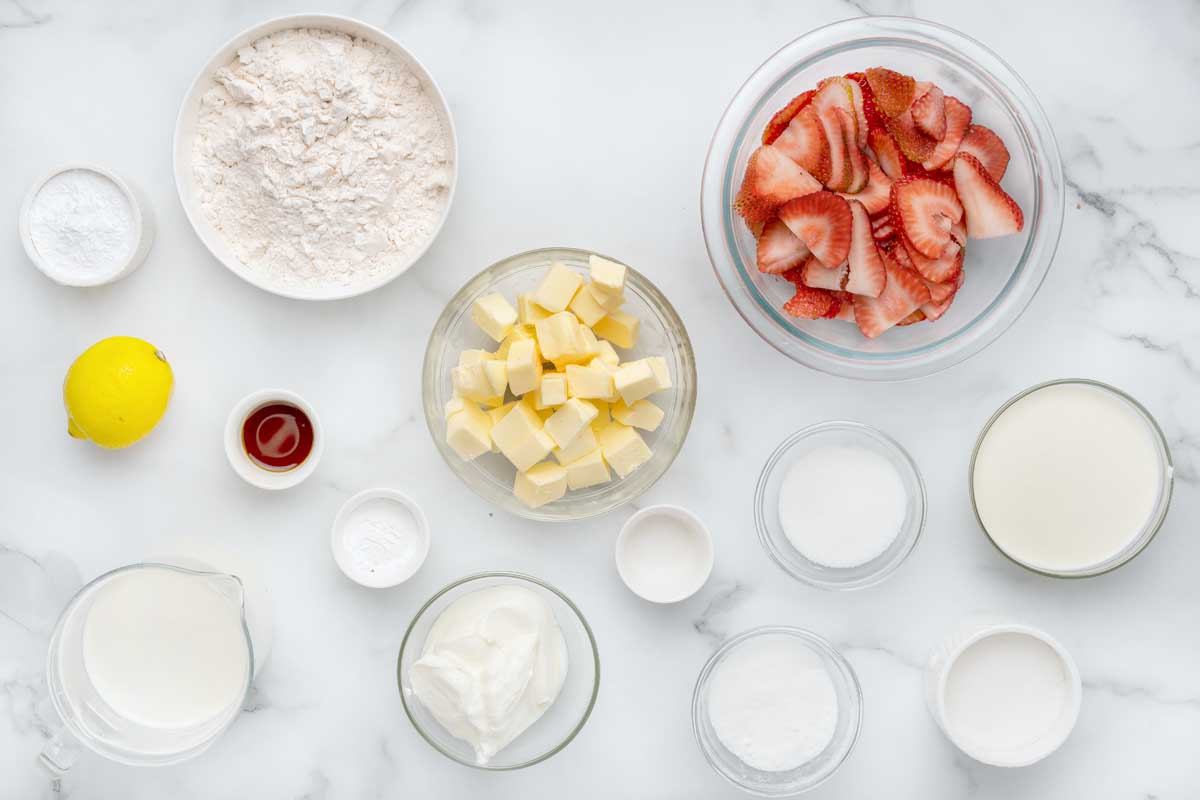 Let's start by gathering the ingredients we need to make Individual Strawberry Shortcakes. In Chef Speak this is called the "Mise en Place" which translates to "Everything in its Place".
Not only does setting your ingredients up ahead of time speed up the cooking process, it also helps ensure you have everything you need to make the dish.
The list of ingredients is short. Flour, baking powder, salt, sugar, lemon zest, butter, heavy cream, Greek yogurt, vanilla and of course fresh juicy strawberries.
How do I make Individual Strawberry Shortcake?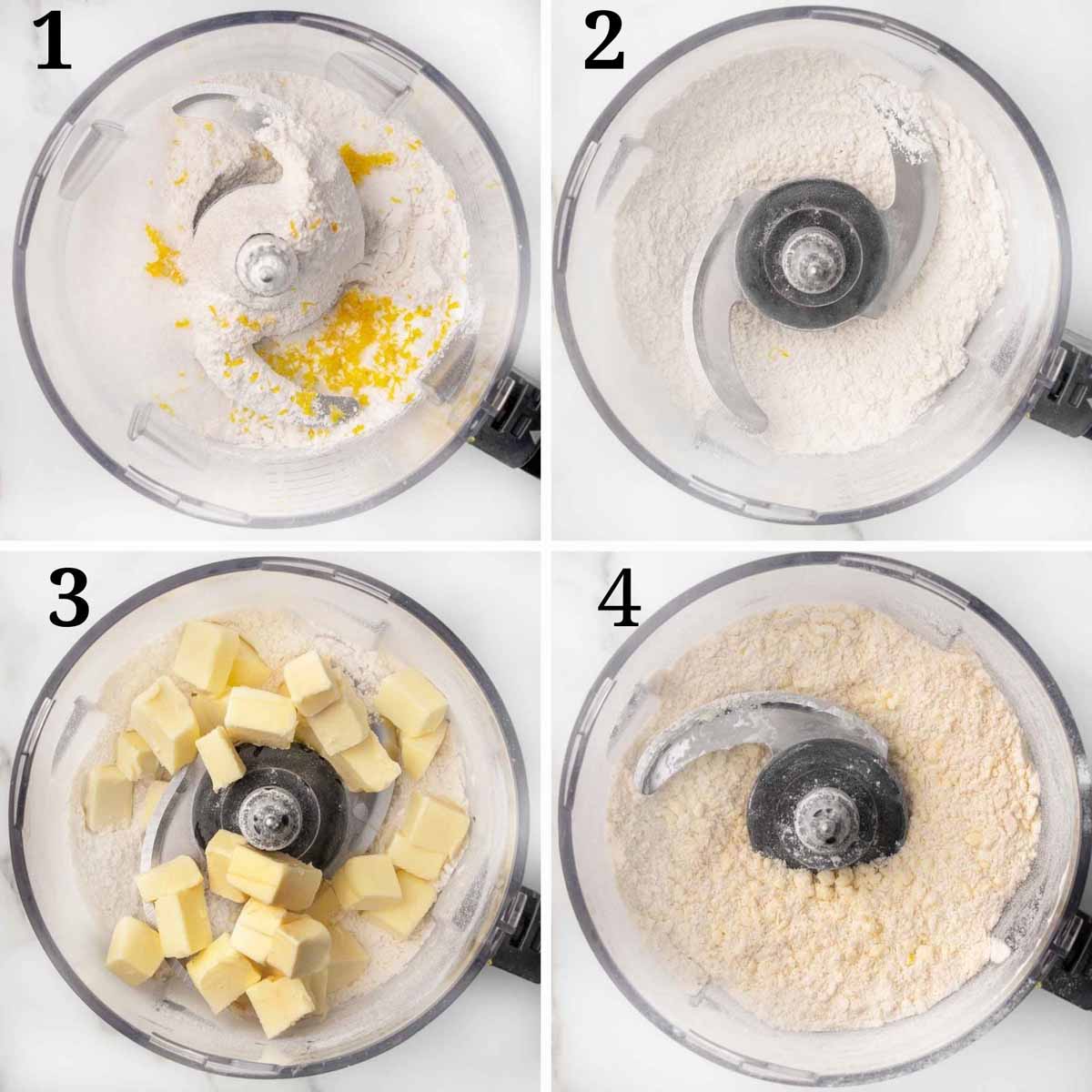 Add the flour, baking powder, salt, sugar, and lemon zest to the bowl of a food processor.
Pulse until all the ingredients are well blended.
Add the very cold cubes of butter to the flour mixture
Pulse until the butter has been cut into the mixture, it should look like coarse grains of sand.
*You can also do this by hand using a pastry cutter to cut the butter into the dry ingredients.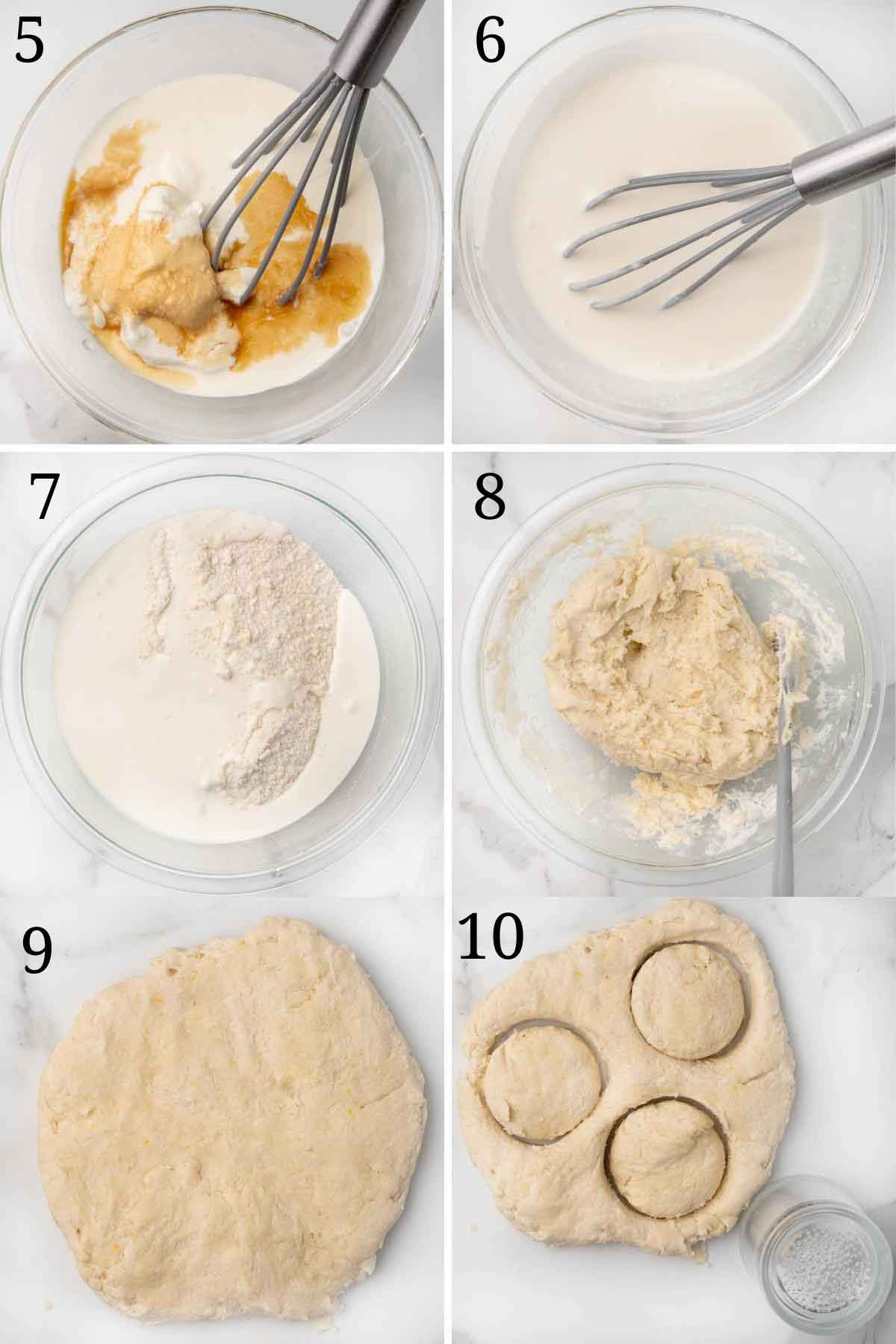 Add the Greek yogurt, heavy whipping cream, and vanilla extract to a small mixing bowl.
Using a wire whip mix the ingredients together.
Add the yogurt mixture to the flour mixture, mixing with a spoon until the dough just starts to come together. Do not overmix.
Form the mixture into a ball and use your hands to form the dough into a large circle and flatten till about 1 ¼ inch thick.
Use a drinking glass or cutter to cut out circles in the dough for the shortcakes. *Reform the leftover dough and repeat the process until you've used up the dough.
*This is my favorite shortcake recipe and is perfect for the summer months, with all the fresh berries that are available.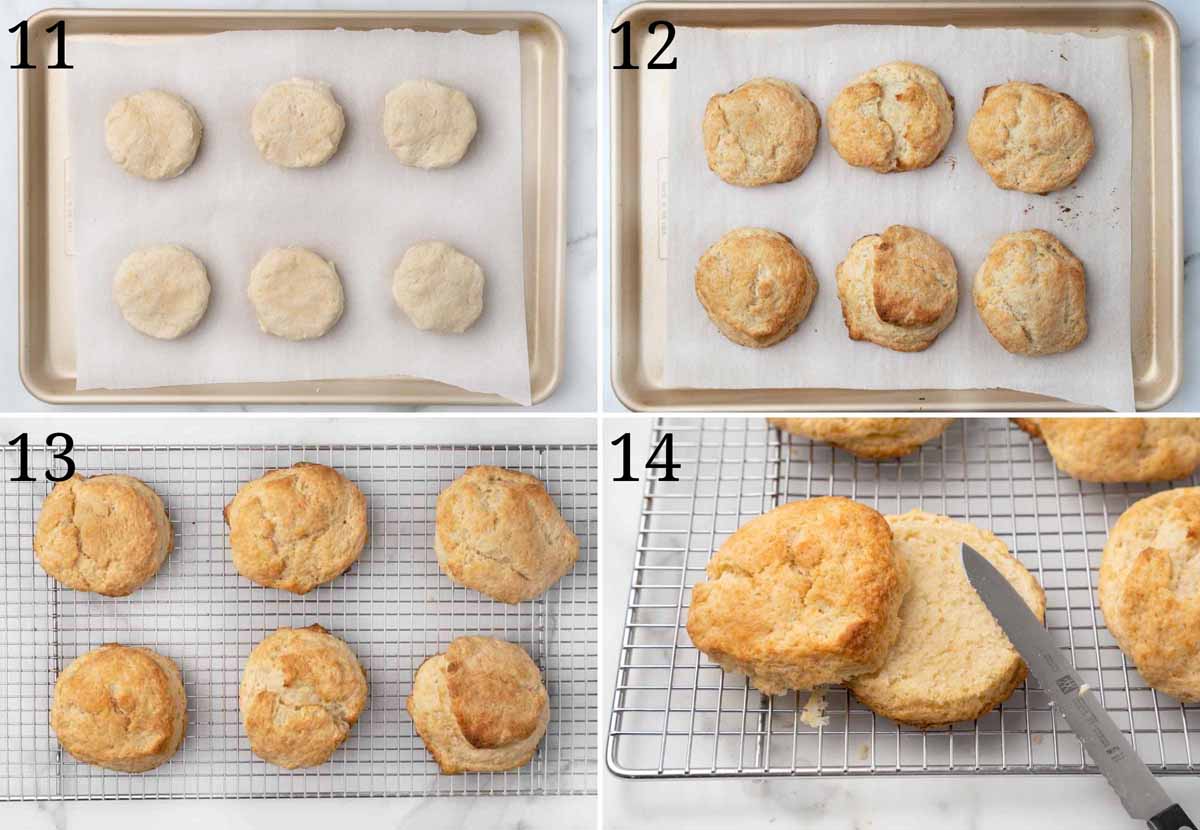 Place the dough cutouts on a baking sheet lined with parchment paper. Brush the shortcakes with heavy cream or whole milk before baking. This will give them a nice golden brown color.
Bake for 20-25 minutes, or until a deep golden brown in color.
Transfer to a wire rack to cool.
When cooled slice the shortcakes in half.
While the shortcakes are baking prep the strawberries and whipped cream.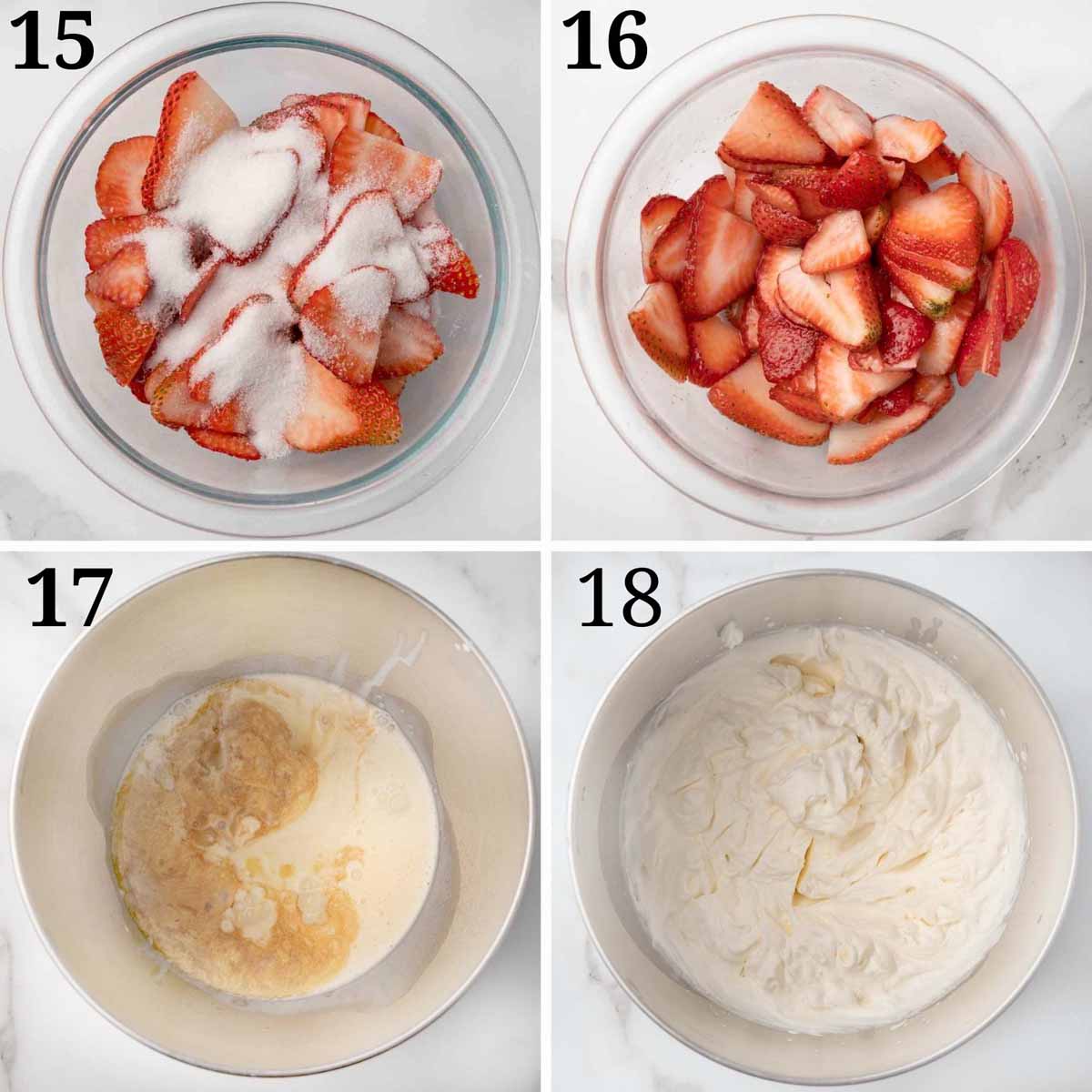 Wash and slice the strawberries.
Sprinkle sugar on the strawberries and let them sit in the refrigerator while you finish making the shortcakes and whipped cream. This will make the strawberries
In the bowl of your mixer add the cold heavy cream, sugar and vanilla
Start on low speed and build up to faster speed gradually, (this will give you a better consistency for your whipped cream than overbeating it from the beginning)
Continue beating until cream is fully whipped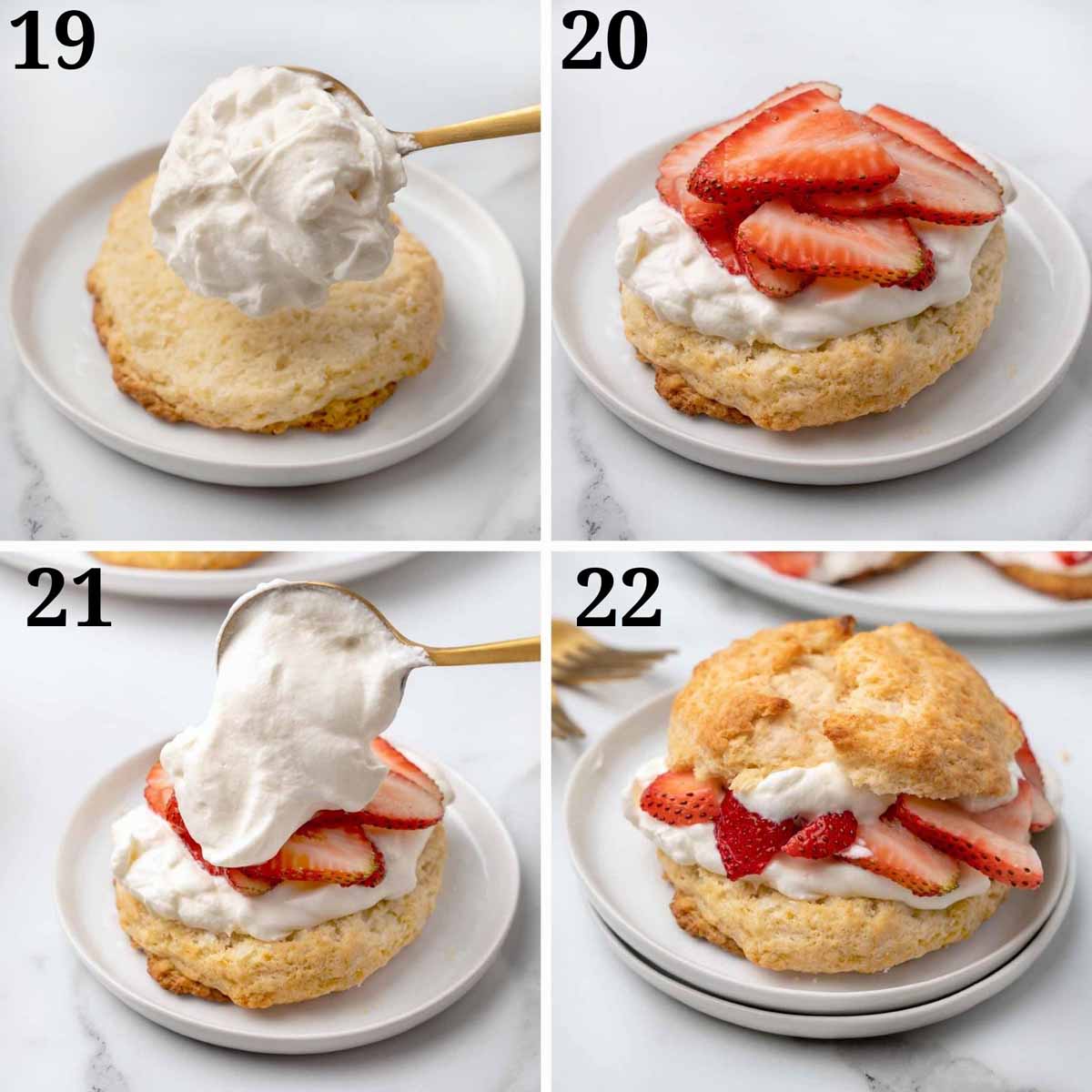 Place a large dollop of whipped cream on top of the bottom half of the sliced shortcakes.
Arrange your sliced strawberries on top of the whipped cream.
Spread a small dollop of whipped cream on top of the strawberries (this will help keep the top in place).
Add the top of the shortcake.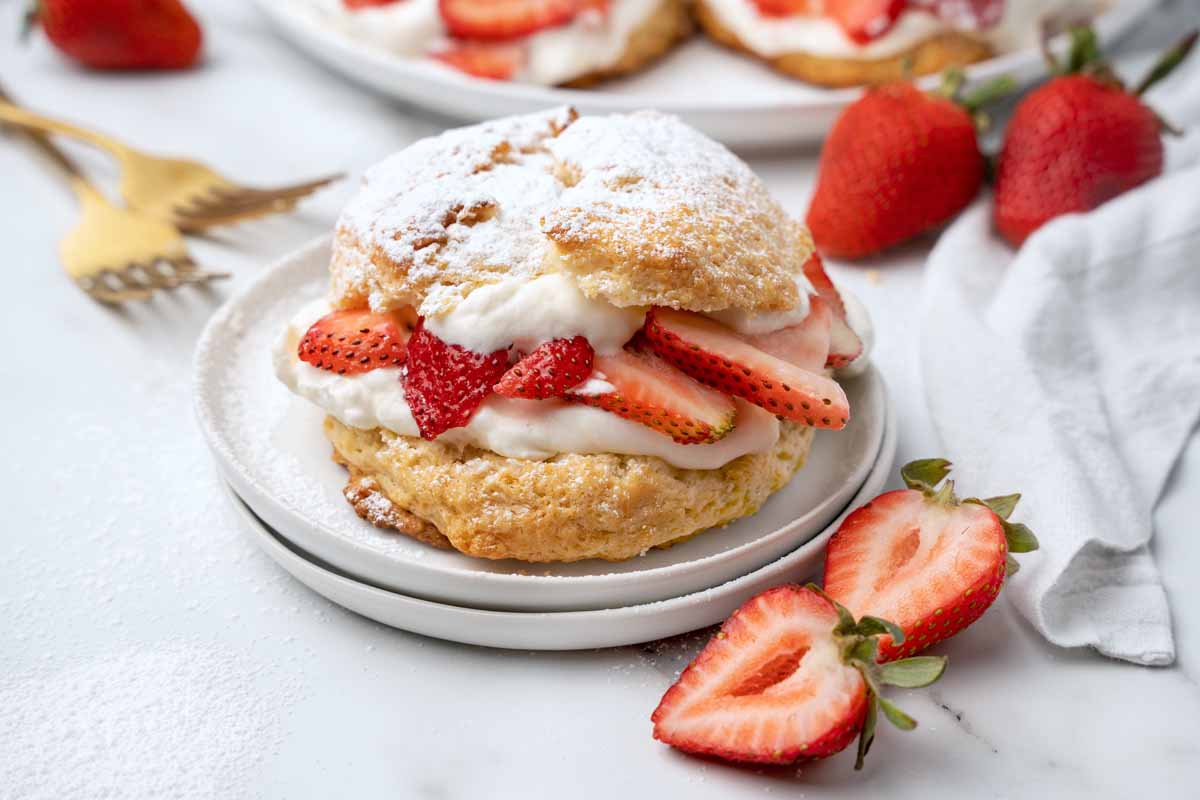 Sprinkle the Strawberry Shortcake with powder sugar, serve and enjoy!
These little beauties would be great with any fresh berries you have on hand. Peaches or nectarines would be excellent choices to add your own touch to this sweet summer dessert!
Recipe FAQ's
What is a shortcake?
Think of a shortcake as a cross between a biscuit and a scone. Made with flour, sugar, baking powder or soda, salt, butter, and cream. In my mixture, I add Greek yogurt to make them extra delicious. The dry ingredients are blended, and then the butter is cut in until the mixture resembles coarse grains of sand. The liquid ingredients are then mixed in just until moistened, resulting in a shortened dough. Hence the name shortbread.
What is traditional strawberry shortcake?
Strawberry shortcake, is truly an American dessert that is made from coast to coast with slight variations. It can be made with shortcake or sponge cake and layered with fresh macerated strawberries and whipped cream.
What is the difference between cake and shortcake?
Shortcake is more crumbly and buttery, filled with fresh fruit and whipped cream. While cake is layered, moist, and light in comparison and usually finished with some type of frosting.
More Strawberry Desserts You'll Love!