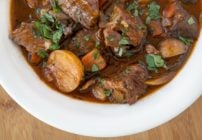 When it comes to comfort food nothing can beat Guinness Beef Stew. This amazingly flavorful and rich stew is an Irish classic that your family will love.
This post includes affiliate links. As an Amazon Associate I earn from qualifying purchases.
Have you ever had Guinness Beef Stew? If not, you don't know what you're missing!
A few years ago I got to visit Killarney, Ireland and was amazed at how good the food was. I wasn't expecting the cuisine to be very exciting or that delicious.
What I found was a country that enjoyed good food and young creative chefs that had embraced the local movement and raised the culinary level to new heights!
While their creativity created amazing new dishes, they hadn't forgotten their roots and continued to serve hearty old-world Irish dishes like this Guinness Beef Stew.
I was fortunate enough to learn how to make this stew while I was in Killarney and this is the recipe I was taught (with a few minor variations). I hope you enjoy it as much as we did!
What do I need to make Guinness Beef Stew?
The ingredients are pretty basic with the only real change being whether you add potatoes to the stew or serve the stew over mashed potatoes. Of course, that doesn't mean you can't change up the recipe to suit your tastes. Remember recipes are guidelines.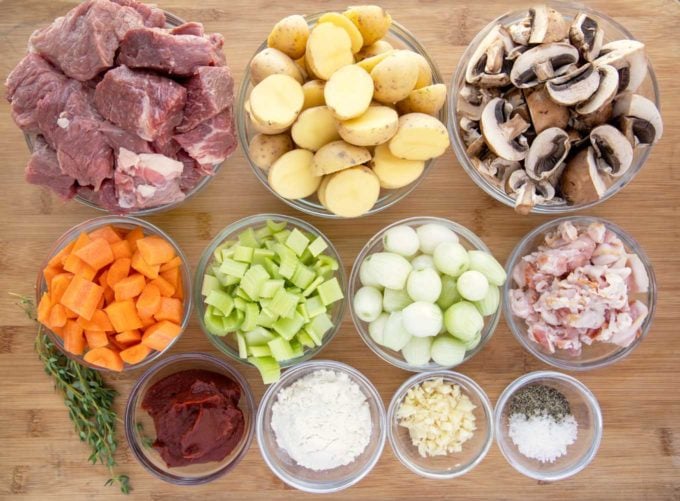 Let's start by gathering the ingredients we need to make Guinness Beef Stew. In chef speak this is called the Mise en Place which loosely translates into everything in its place. Not only does setting your ingredients up ahead of time speed the cooking process, but it also helps ensure you have everything you need to make the dish.
*(beef stock and beer are missing from the picture)
What type of vegetables do I need for Beef Stew?
Most chefs or home cooks would tell you that the three basic ingredients (aka holy trinity) are the basis for any stew. Those would be carrots, onions and celery. The size shape and variety really doesn't matter.
Cut the vegetables into bite-size pieces or larger if you don't mind cutting them as you eat.
Peel the potatoes or don't. It's up to you. You can also use any variety of potato you like.
Use any variety of onion you prefer. I used pearl onions but they broke up as they cooked so you really couldn't tell they were cute little onions.
Generally, carrots are orange these days, but if you find heirloom carrots in hues of purple, yellow and white, by all means, use those.
I used mushrooms in my stew because that's how I was taught and I love mushrooms. You don't need to use mushrooms if you don't like mushrooms.
You could use whole tomatoes instead of tomato paste. But I prefer the rich flavor the tomato paste helps build.
Garlic is an important ingredient, and trust me you won't taste it in the stew. But it does play an important role in developing flavors. I wouldn't leave it out, but it's up to you.
**Other vegetables you can add are parsnips, turnips, peas, green beans and corn. That might be straying from tradition but if you like it, it's okay!
What Type of meat should I use for Beef Stew?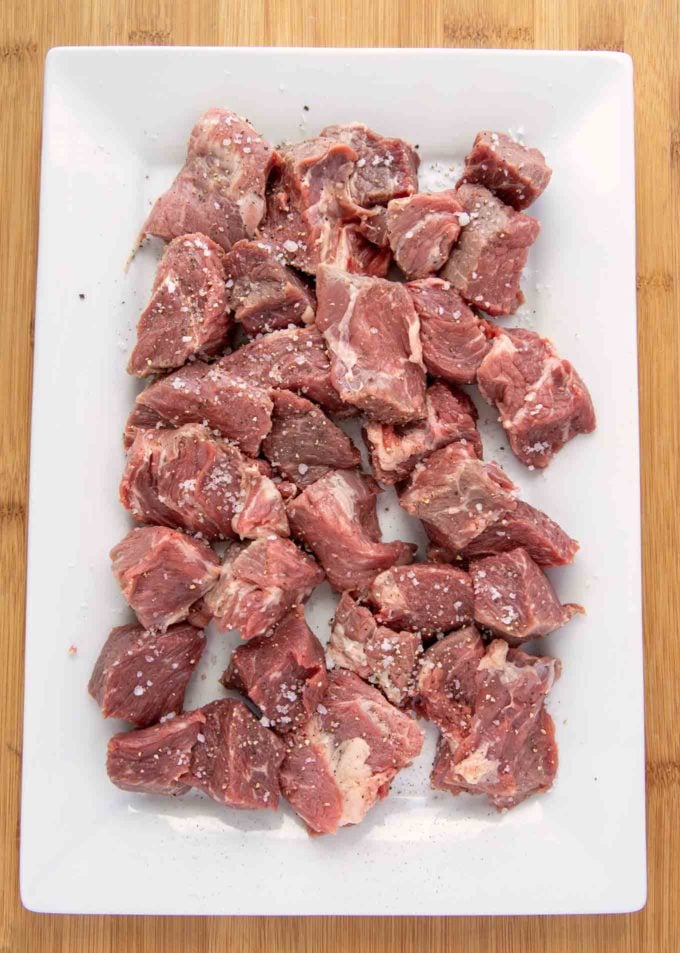 The best (and least expensive) cut of beef for stews is chuck. That comes from the front shoulder of the steer. The beef round which comes from the rear muscle is also a good choice. The chuck has more connective tissue and that's why it's my first choice.
The cheaper cuts of meat come from muscles that work more and would generally be tougher. But that also means more collagen-rich connective tissue. This connective tissue dissolves into the meat, adding to the body and richness to the stew that more expensive cuts of meat won't give you. It also keeps the meat tender and moist which is exactly what you want with stew meat.
Other good choices would be bone-in short ribs and oxtail.
Lets's get started making our Guinness Beef Stew.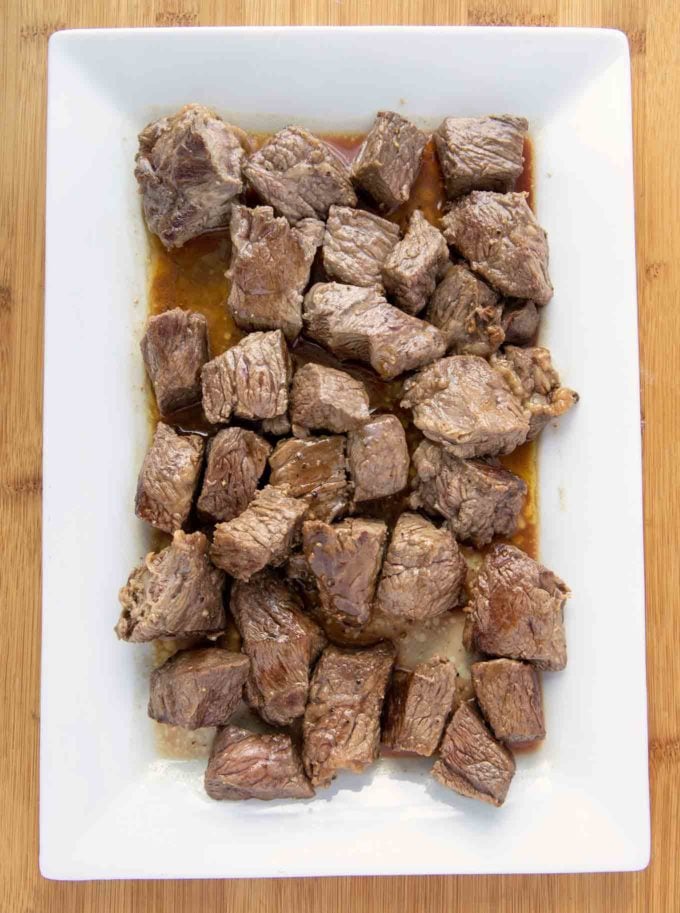 The first step is pan-searing the beef cubes in a very hot pan with olive oil. Turn the cubes so that all the sides are seared. Remove all the beef from the pan.
Add the garlic, onions, and mushrooms to a large pot and let them cook for 3-4 minutes. Season with salt and pepper and add the bacon. Let the ingredients cook for another 5 minutes to let the bacon cook down.
I use my favorite 6 qt. Copper Core 5-ply All-Clad pot for this stew. It's classified as a roaster and is a great pan for use in your kitchen, making soups, stews and sauces.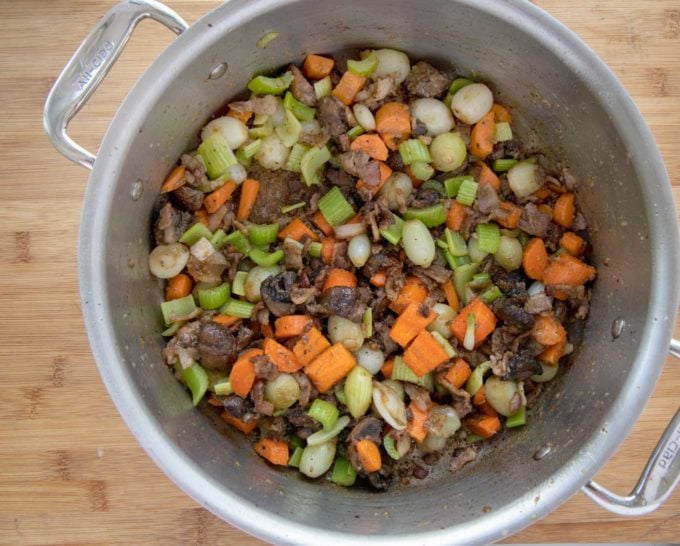 Next, add the carrots and celery to the pan. Cook for 3-5 minutes then add the flour and let the mixture cook for an additional 2-3 minutes to let the flour cook, getting rid of the raw flavor.
The next step is deglazing the pan with a bottle of Guinness. I used the Foreign Extra Stout because that's what I had on hand. Feel free to use any variety of Guinness Stout that you like to drink. You can (gasp) substitute other stouts or porters that you might have on hand.
Deglazing the pan helps unstick all of the delicious little bits that have attached themselves to the bottom of the pan during the cooking process. By adding a cooler liquid to the hot pan it helps release those tasty bits. What's left on the pan can be dislodged with a spoon.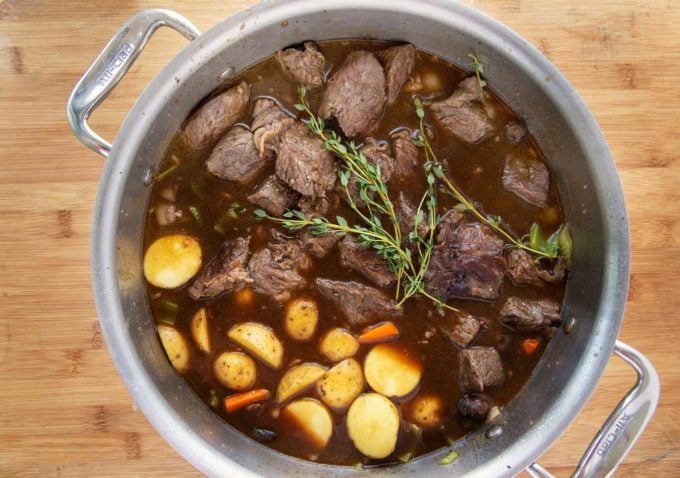 The last step is adding the beef cubes back into the pot with beef stock and thyme (bay leaves are optional if you'd like to add one). Bring the stew to a light boil, then reduce the heat to low and cover the pot allowing the stew to simmer for 2 hours.
Check on the stew occasionally, stirring the pot when you do. After two hours, remove the lid from the pot and turn down the heat to simmer and allow it to continue to cook for 1 -2 hours. This is when the magic happens.
Allowing the stew to cook a little longer will make the beef tender and the broth rich and ah-mazingly flavorful. At this point, all you need to do is check the seasonings adding more sea salt and black pepper if needed.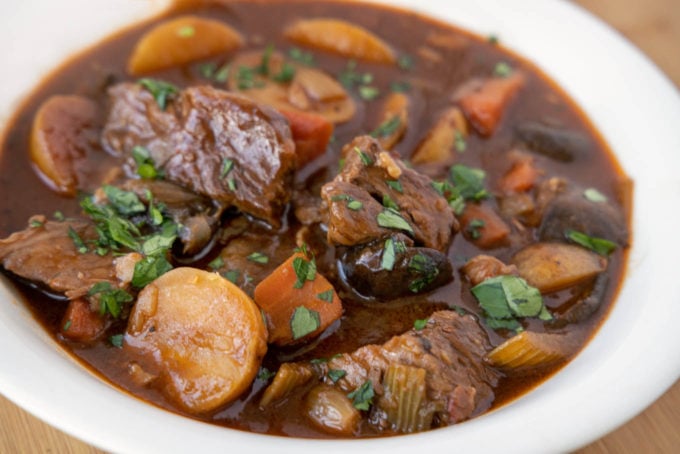 Serve this deliciousness with crusty bread and good Irish butter and you'll be living the good life!
If you enjoyed this recipe you may also like these: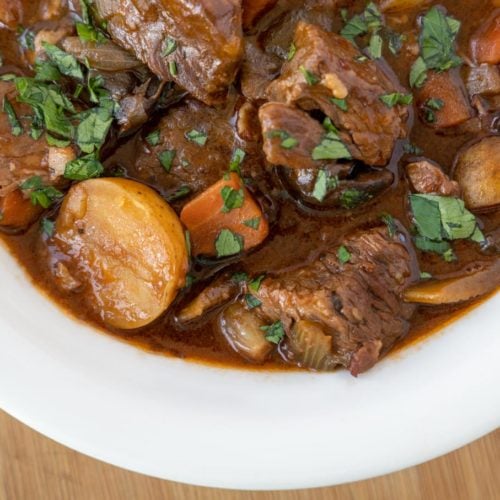 Print Recipe
Guinness Beef Stew
When it comes to comfort food nothing can beat Guinness Beef Stew. This amazingly flavorful and rich stew is an Irish classic that your family will love.
Ingredients
2

tbsp

olive oil

more if needed

2½

lb

beef chuck

cut into 1½ – 2 inch cubes

3

cloves

garlic

minced

2

cups

pearl onions

or any onion roughly chopped

6

oz

bacon

sliced in small strips

3

tbsp

all-purpose flour

14.9

oz

Guinness Beer

4

tbsp

tomato paste

3

cups

beef stock

1

cup

carrots

peeled and cut into chunks

1

cup

celery

rough cut

2

cups

mushrooms

thick slice

3

sprigs thyme

¾

tsp

sea salt

(to taste)

½

tsp

black pepper

(to taste)

2

cups

baby potatoes

cut in half. (can sub any type of potato)
Instructions
Cut the beef into 1 1/2 -2″ chunks. Pat dry then sprinkle with salt and pepper.

Heat oil in a heavy-based wide pot over high heat (I used my All-Clad 6 qt 5 ply pot). Add beef and brown the pieces well on all sides. Remove and place on a plate until needed.

Lower the heat to medium. If needed add additional oil.

Add garlic, onions and mushrooms and cook for 3-4 minutes.

Add Bacon and continue to cook until the bacon is browned (about 5 minutes)

Add carrots and celery and continue to cook for 3-5 minutes.

Add flour to the pan and mix in well. Allow the mixture to cook for 2-3 minutes to get the raw taste out of the flour.

Add Guinness to deglaze the pan and get all the bits off the pan into the sauce. Then add the beef stock and tomato paste. Mix well.

Add the browned beef into the pot (including any juices)and potatoes.

Cover, lower heat so it is bubbling gently. Let the stew cook covered for 2 hours. At this point the beef should be pretty tender. Remove lid and let the stew continue to simmer for an additional 1-2 hours. The sauce will have reduced and be amazingly flavorful.

Skim off any fat that may be on the surface of the stew. Adjust seasonings to taste with sea salt and pepper. Remove thyme and serve.
Nutrition
Calories:
619
kcal
|
Carbohydrates:
21
g
|
Protein:
46
g
|
Fat:
38
g
|
Saturated Fat:
14
g
|
Cholesterol:
149
mg
|
Sodium:
981
mg
|
Potassium:
1344
mg
|
Fiber:
3
g
|
Sugar:
7
g
|
Vitamin A:
5317
IU
|
Vitamin C:
12
mg
|
Calcium:
90
mg
|
Iron:
6
mg