When it comes to True American Food nothing beats a cheeseburger. And my Ultimate Pulled Pork Cheeseburger elevates Cheeseburgers to a whole new level!
This post includes affiliate links. As an Amazon Associate I earn from qualifying purchases.
When it comes to comfort food, a burger will always be my first choice. And when it comes to burger decadence my Ultimate Pulled Pork Cheeseburger is at the top of my list of "Foods I want to devour".
This post was sponsored by Mirum. The thoughts and opinions expressed are my own.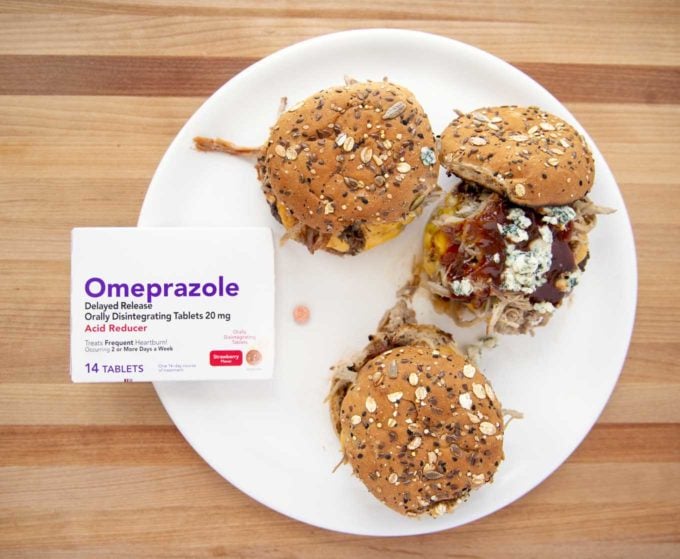 Oh, the joy of cheeseburgers…sigh. There was a time in my life when I didn't eat red meat. I found some solace in turkey and chicken burgers, but they never came close to that meaty beefy deliciousness of a grilled burger with all the fixings.
The great thing about burgers is they play well with all types of food. I've seen them topped with everything from bacon to lobster. I think that's what truly makes hamburgers the all-American food.
The sad truth is there was a time that burgers weren't on the list of foods I could eat. For more years than I care to remember I suffered from chronic heartburn. And I'm not alone—high-fat foods are one of the top three causes of heartburn, according to 2018 heartburn consumer research by C+R Research/Perrigo.
Of course, as many of us do, I'd cheat and eat the foods that made me uncomfortable and caused me to suffer from the pain that came with my heartburn. It was no fun being a chef that couldn't indulge in his favorite foods.
But I made the smart decision and started treating my heartburn daily with Omeprazole Orally Disintegrating Tablets. And there's no more looking for water to take my pills… that's the old way to take heartburn medicine.

Omeprazole ODT melts in your mouth, no water needed. I wish I had these when I worked at my restaurants, it would have made life so much easier (and enjoyable).
Now you can find it online and in stores under the store brand label. Eight out of 10 Omeprazole users prefer an Orally Disintegrating Tablet* to get relief from their symptoms.
Made for frequent heartburn sufferers who experience symptoms 2 or more days per week, Omeprazole Orally Disintegrating Tablets provide long-lasting 24-hour protection! Bonus: you don't even need a glass of water, as the strawberry-flavored tablet dissolves right on your tongue.
Do not chew it or dissolve it in liquid—just put it on your tongue and let it do all the work.
Take one dose daily for 14 days according to package directions. Don't take Omeprazole Orally Disintegrating Tablets for more than 14 days unless directed by your doctor. Omeprazole ODT may take 1-4 days for full effect and is not intended for immediate relief.
What do I need to make the Ultimate Pulled Pork Cheeseburger?
Now it's time to create some deliciousness! Let's gather the ingredients we need to make my Ultimate Pulled Pork Cheeseburger.
In chef-speak we call this the mise en place. Whether you're making burgers or baking a cake, getting all your ingredients together before you start cooking is a good habit to get into.
Not only does it make the cooking process faster, it ensures you have everything you need to make the dish you're creating. Nothing is worse than getting to an ingredient in the recipe to find out you don't have it on hand.
What type of meat should I use for Burgers?
Depending upon who you ask, you'll get a multitude of different answers. Grill masters have their own secret blend of beef to make the perfect burger. Meat grinding techniques are also important in creating the perfect burger.
That being said, it's a lot of work for truthfully not enough results. Finding a fresh or frozen burger that works for you will still create a better burger than most restaurants will serve you.
When I look for burgers at my grocery store, I check for blended meat burgers. If they don't have those I look for Black Angus burgers and then burgers made with ground chuck 80/20. Low-fat meats like a 90/10 blend will make for a dry tasteless burger. Fat equals flavor!
When I mention blended-meat burgers, I'm talking about a premade burger you'll find in the fresh meat department of your grocer. A blend of chuck and brisket will add flavor to your burger. Grill masters will usually add brisket or short rib meat to their burgers to enhance the flavor.
How do I Grill the Perfect Burger?
Prepare the Burgers for Grilling.
With fresh burgers keeping the meat cold is crucial to grilling a good burger. Frozen hamburgers should remain fully frozen before cooking.
Season the burgers before cooking. I like to brush the burgers with Worchester sauce and season them with sea salt and black pepper. You can do this ahead of time and keep them refrigerated until needed.
*Feel free to use any of your favorite seasonings or condiments to flavor your burgers before cooking.
Use High Heat when Grilling Meat.
I'm talking seriously searing hot heat….get the picture? And that means starting with good charcoal or a very hot gas grill. You want the grill heated up to 450 – 500 degrees F before adding your patties.
High heat does wonderful things to beef. The natural sugars in the meat caramelize causing what is known as the Mallard Reaction.
The Maillard reaction is a chemical reaction between amino acids and sugars created by heat. Caramelization is the browning of sugar by oxidation under heat. There are small amounts of sugars in meat, that cause this reaction and give you that rich, complex flavor that we love.
There are also fats on the surface, and they contribute a lot to the flavor of the meat. When heat melts the fat and chemically alters it, the flavor is also drastically altered. Which is why I mentioned earlier that Fat = Flavor.
Always Start with a Clean Grill.
Making sure your grill is clean before you start grilling anything should be your first concern. After cleaning the grill and allowing it to get hot, coat the grill by pouring cooking oil on a folded paper towel. Safely oil the grate using long-handled tongs to hold the oiled paper towels.
Now it's time to start grilling your burgers! There are a few rules to making delicious juicy burgers on the grill.
Rule #1: Once the burger is on the grill, don't mash it down. If you feel inclined to smash it down (unless you're using a griddle) do it before you place the meat on the grill.
**If you have problems with the burgers bubbling up in the middle when they cook, push down with three fingers in the center of the burger before you start grilling. Making a slight indentation in the center of the meat should help solve this problem.
Rule #2: Remember how you were always told not to flip the burger more than once? Forget about it. Flipping the burger over a few times will actually help it cook more evenly. But don't press down on the burger. Pressing on meat forces the fat and flavor out the burgers, which results in dry, bland burgers.
Rule #3: Don't cut into the burger to see if it's done. This will release the juices, making the burger dry and less flavorful.
**Use a digital instant-read meat thermometer to check the doneness of the burger.
How Long Should I Grill Burgers?
There are a lot of factors that can determine cooking time. But for a preheated 450 -500 degree grill with a one-inch thick patty these times should be pretty close.
Rare burgers, cook for 4 minutes total (125°F)
Medium-rare burgers, cook for 5 minutes total (135°F)
Medium burgers, cook for 6 to 7 minutes total (145°F)
Well-done burgers, cook for 8 to 9 minutes total (160 °F)
**USDA recommends not eating or tasting raw or undercooked ground beef. The safe minimum internal temperature for ground beef is 160 °F
I love toasting my hamburger buns. This is something I do after I've flipped the meat over but before I add the cheese to the burger.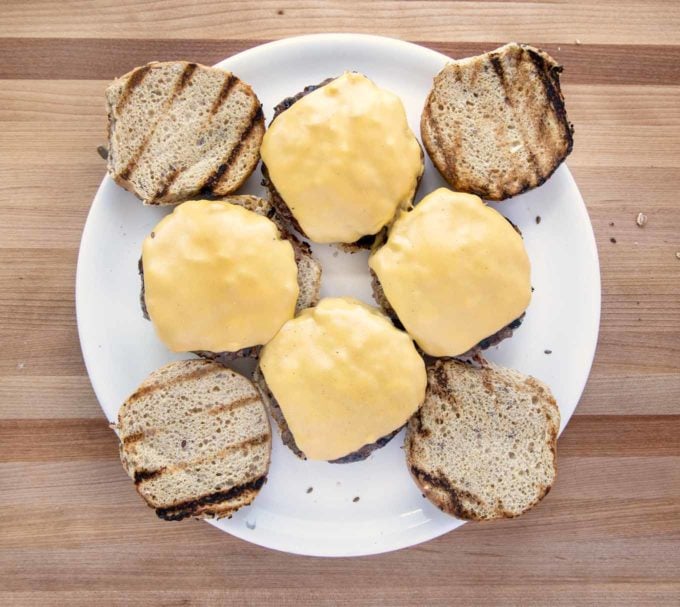 The burger should basically be done before you add the cheese. Make sure to let the cheese melt. Melting does magical things to the flavor of cheese!
When the cheese is melted it's time to top the burgers with our heated pulled pork, barbecue sauce and bleu cheese crumbles.
You can slow-roast a pork shoulder to make your pulled pork, or look for it prepackaged at your local grocery store. The same goes for barbecue sauce. You can make your own or use your favorite brand of sauce on the pork.
I love creating deliciousness in my kitchen, but sometimes shortcuts are a good thing. You can take all day making the ingredients for the dishes you prepare or buy good quality products that allow you to spend more time with your family and friends instead of in the kitchen.
I love my Cheeseburgers on the rare side. My wife is the polar opposite, there can't be a trace of pink anywhere in the meat. It's challenging for us to eat at the same time when we have burgers for dinner.
I usually let her hamburgers fully cook on one side before adding mine to the grill. Or I eat one while I'm waiting for hers to get finish cooking. A good burger is a wonderful thing and savoring it hot off the grill is how I like to eat them!
If you enjoyed this recipe, you may also like these:
Print Recipe
The Ultimate Pulled Pork Cheeseburger
When it comes to True American Food nothing beats a cheeseburger. And my Ultimate Pulled Pork Cheeseburger elevates Cheeseburgers to a whole new level!
Ingredients
4

5 oz

hamburger patties

fresh or frozen (4-6 ounce burgers may be used)

8

oz

pulled pork

homemade or store bought

4

hamburger rolls

your choice

4

slices

American cheese

4

ounces

bleu cheese

4

tbsp

barbecue sauce

homemade or store-bought (I use Sweet Baby Rays)

sea salt and black pepper

to taste
Instructions
Preheat the grill to 450 -500 degrees F.

Brush the patties with Worcestershire sauce and season with sea salt and black pepper. Keep the patties in the refrigerator until you start grilling.

Heat the pulled pork in a small pan. Add a little water to the pan so the pork doesn't dry out. You can also add some barbecue sauce to the pork, or additional seasonings. Keep warm until needed.

Place the patties on the preheated prepared grill season side down. Cook for 4 minutes and turn the patty over to continue cooking.

Depending upon how well done you want your burger you may turn the meat twice more. This will help the patty cook evenly.

When the burger is almost done, place your hamburger buns on the grill to toast them.

When the burger is at the desired doneness (use a meat thermometer to check the internal temperature) place a slice of cheese on top of the burger. Allow the cheese to fully melt.

Remove the burgers from the grill and place on a plate. Allow the burger to rest for a minute before placing it on the bun. You will get some juices flowing out of the meat. This could make the bun soggy. If you don't mind a soggy roll and want the added flavor of the juices, you can place the burger directly from the grill onto the bun.

Top the cheeseburger with preheated pulled pork, barbecue sauce and bleu cheese crumbles. Add the top of the roll and serve.
Nutrition
Calories:
793
kcal
|
Carbohydrates:
40
g
|
Protein:
46
g
|
Fat:
49
g
|
Saturated Fat:
22
g
|
Cholesterol:
167
mg
|
Sodium:
1574
mg
|
Potassium:
578
mg
|
Fiber:
1
g
|
Sugar:
17
g
|
Vitamin A:
539
IU
|
Vitamin C:
2
mg
|
Calcium:
503
mg
|
Iron:
5
mg
*Based on a 2017 survey of heartburn sufferers who had used either national brand or store brand Omeprazole tablets within the last 12 months, 78% of survey participants responded that they would prefer an orally disintegrating tablet versus other over-the-counter ("OTC") Omeprazole capsules or tablets to obtain heartburn relief.