Cooking like a chef isn't difficult and my Seafood Marinara served over pasta will show you just how easy it is to make delicious restaurant-style dishes in your own kitchen at a fraction of the cost of dining out.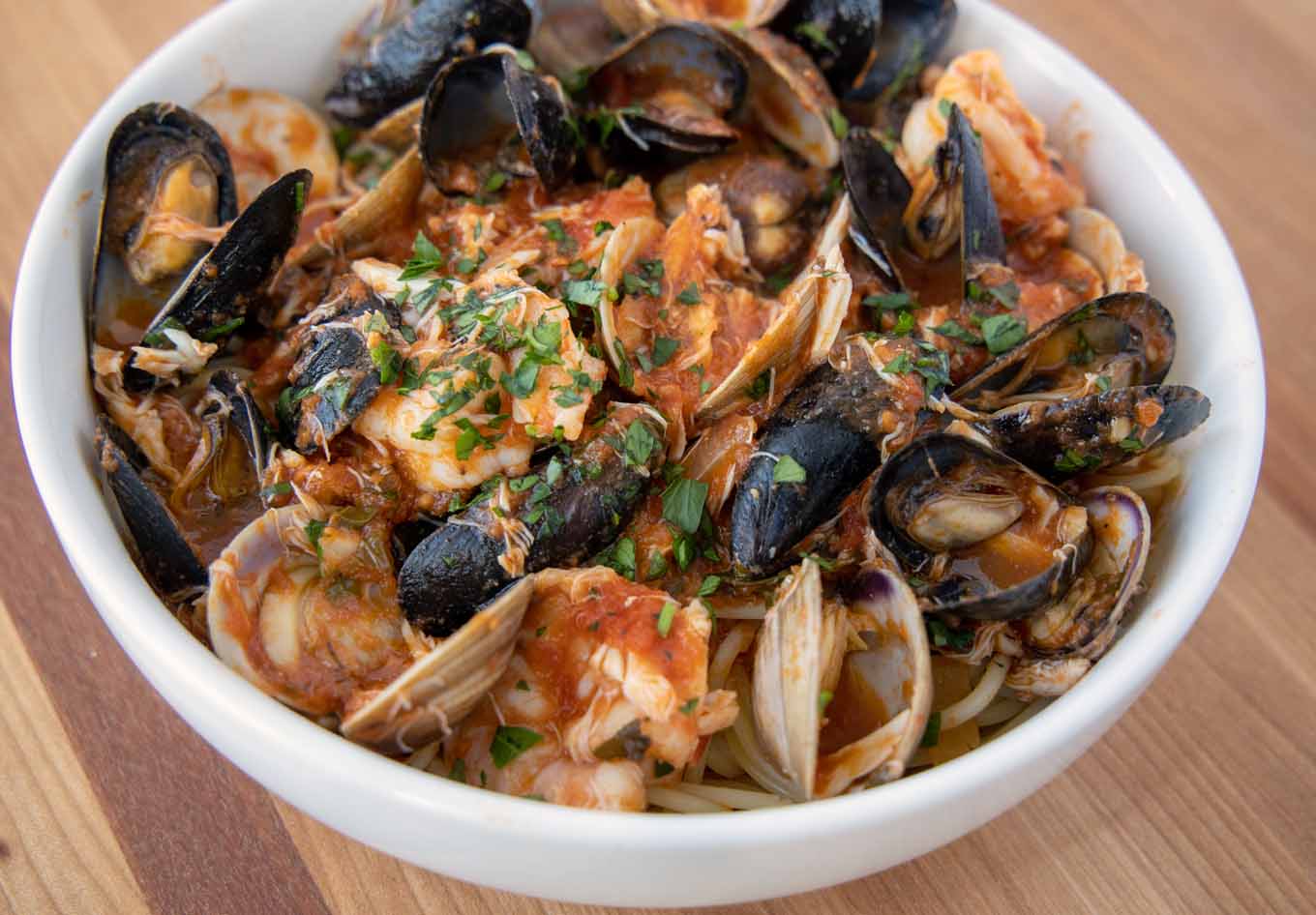 Wouldn't your family love to sit down to a bowlful of my Seafood Marinara? Can you imagine the expressions on their faces when you serve up this restaurant-style dinner?
And the truth is, it couldn't be easier to make. It's all about having the ingredients on hand to cook up dishes like this in your own kitchen.
What ingredients do I need to make Seafood Marinara?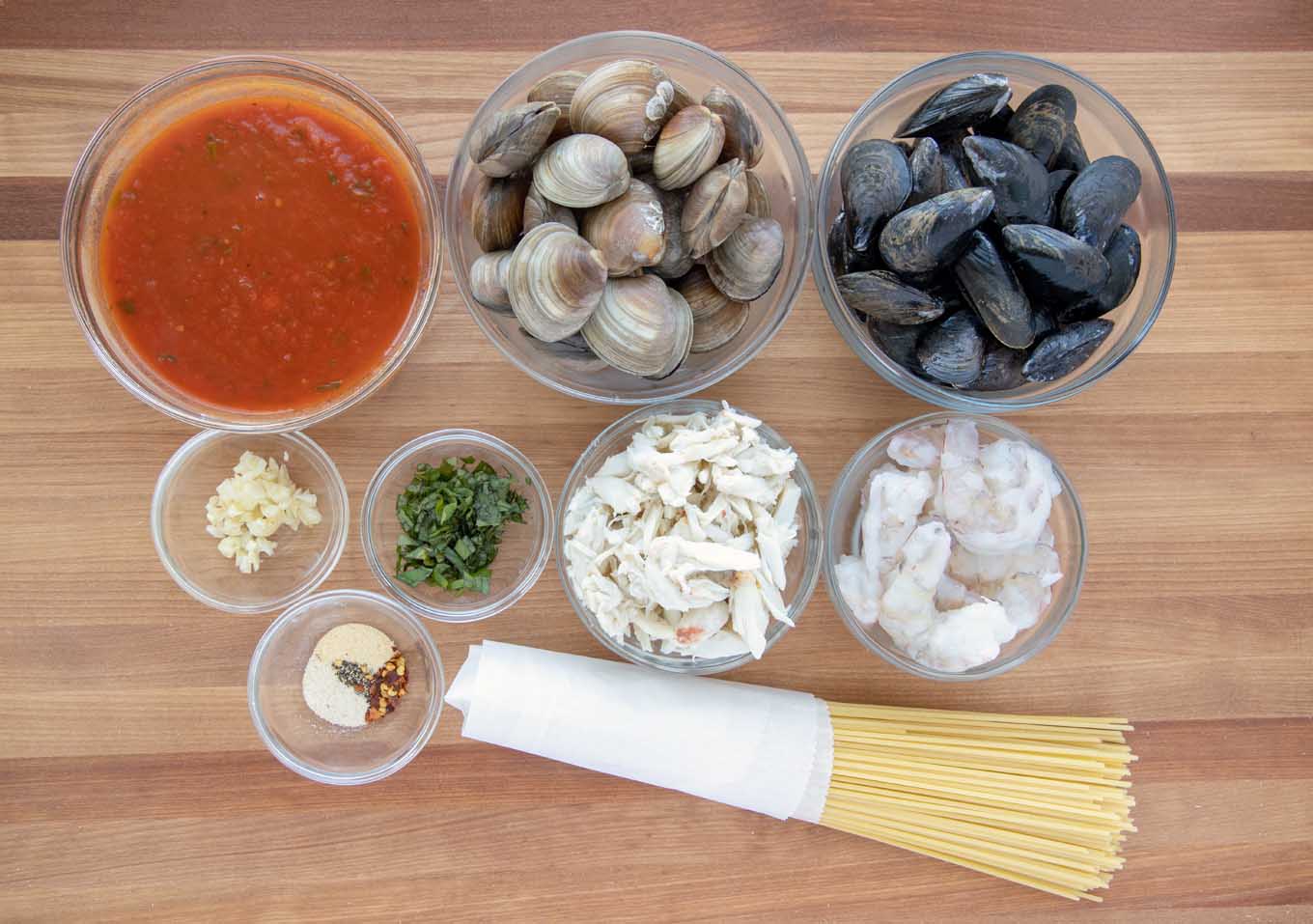 Let's start by gathering the ingredients we need to make my Seafood Marinara. In Chef Speak this is called the Mise en Place which translates into Everything in its Place.
Not only does setting your ingredients up ahead of time speed the cooking process, but it also helps ensure you have everything you need to make the dish.
What Kind of Seafood can I use in Seafood Marinara?
I have a nice assortment of seafood in my recipe but you can use any type of seafood that you like eating. Think of my recipe as a place to start.
My seafood marinara recipe is really flexible. Using seafood that you enjoy eating or have on hand is the key to making delicious restaurant-style dishes in your own kitchen. If you don't have the assortment that I used, use what you have on hand or available at your grocer or seafood store.
Many people love calamari and that would be a nice addition to this dish. I've never been a fan, but I've cooked more than my share of calamari (squid) during my career as a chef.
I've also used chopped clams when I couldn't get fresh clams. You'll also find New Zealand mussels at many grocers and they can be used instead of fresh mussels.
Adding scallops, lobster, or chunks of your favorite fish to my seafood marinara is also an option. See how easy it is to adapt this recipe? Use the seafood you like to eat or have on hand to make this delicious dish.
How do I make Seafood Marinara?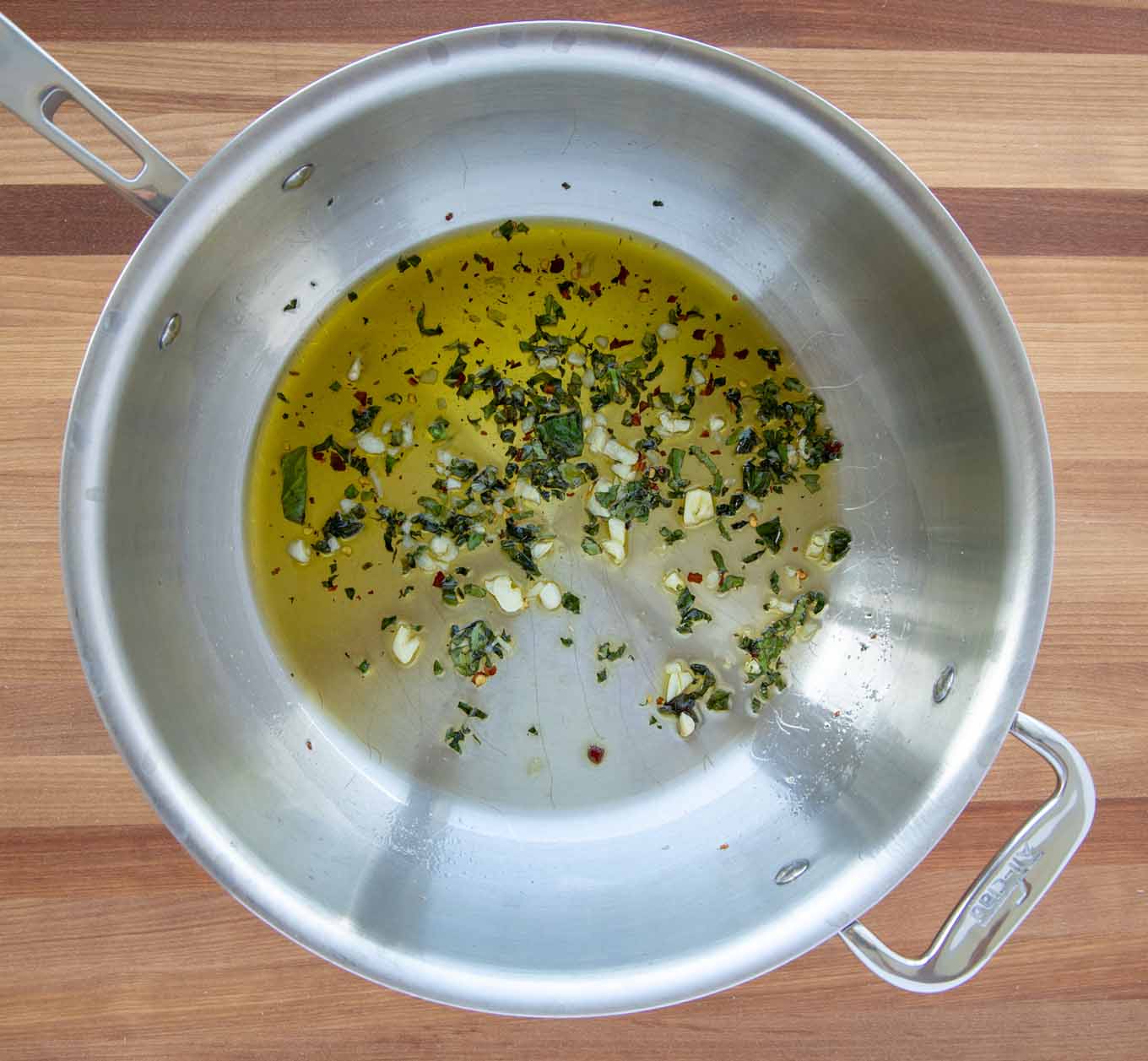 The first step in making this dish is lightly sauteing the garlic, basil and crushed red pepper flakes in olive oil.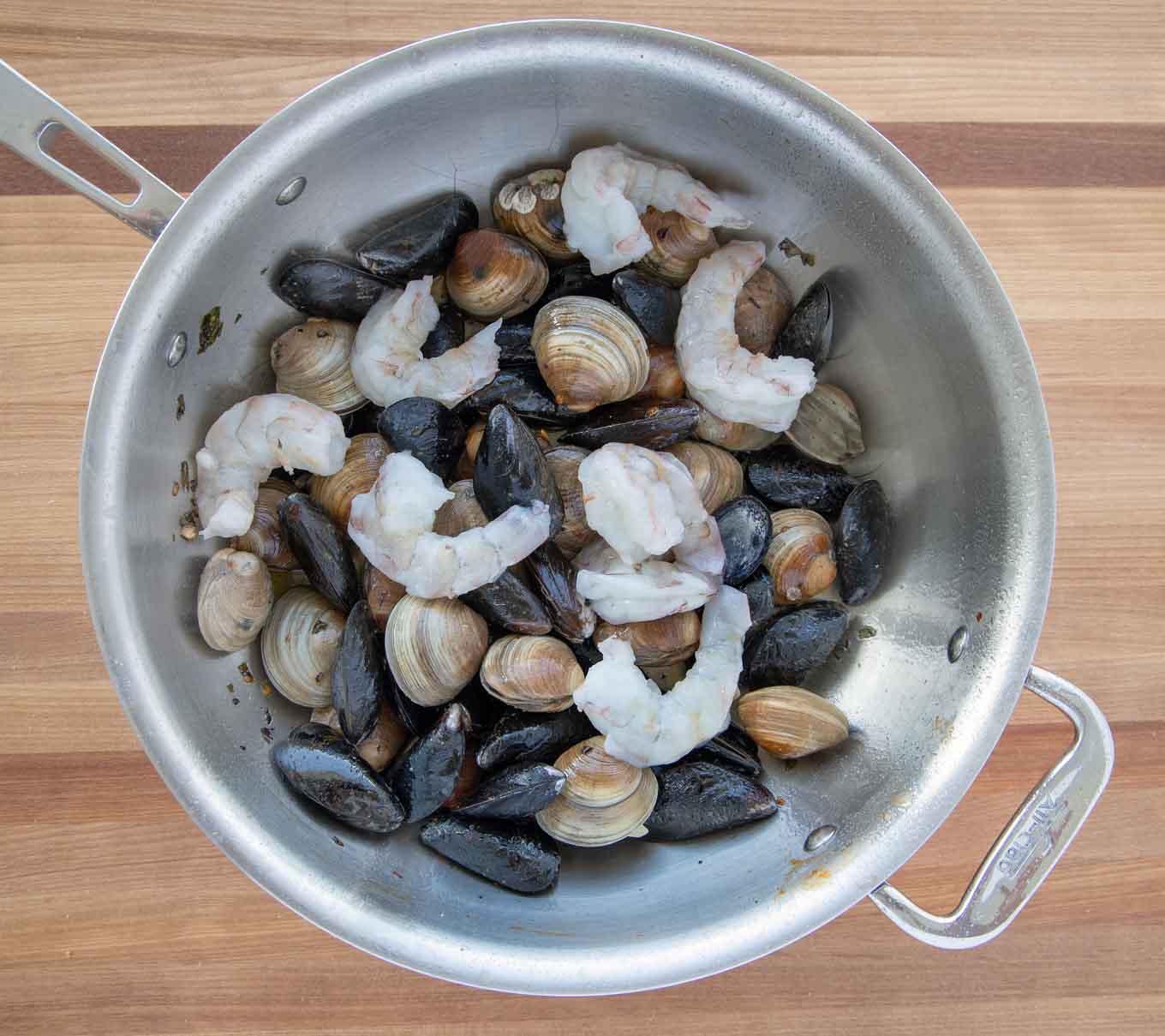 Next add in the mussels, clams and shrimp. Cover the pot allowing the mussels and clams to steam open. The shrimp will also cook during this time. The clams and mussels will provide an excellent broth that will help flavor the marinara sauce.
**Start cooking your pasta close to the time you start to cook the seafood. You've got 10-12 minutes to go at this point in the dish.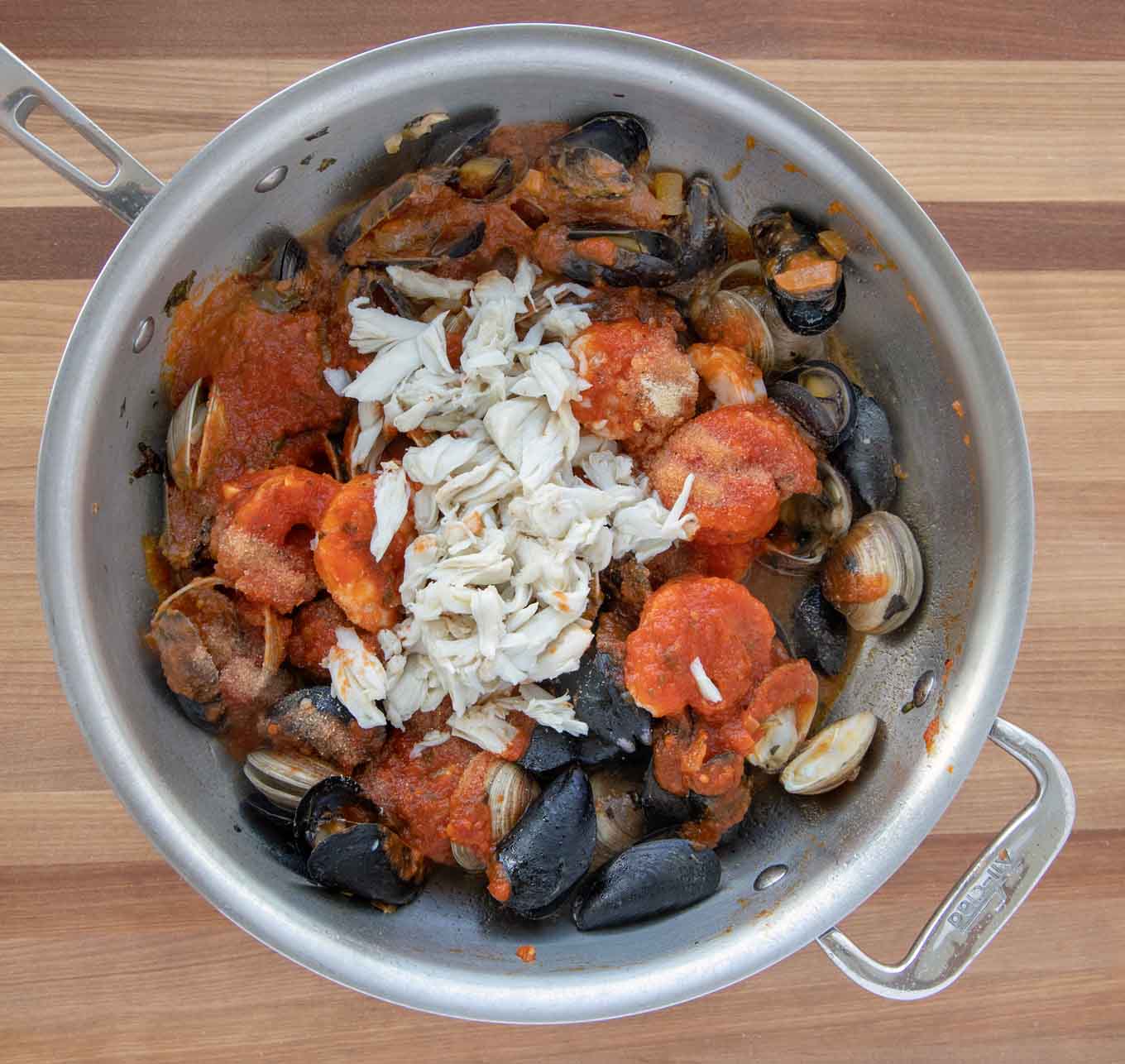 Next, add the marinara sauce and crabmeat. Mix gently and reseason to your tastes. Here is my recipe for Marinara Sauce.
**In my restaurant days, making this dish one at a time for my guests, I would reseason it with granulated garlic, granulated onion and black pepper.
Can I make this dish in a white sauce (aglio olio)?
You certainly can. Eliminate the marinara sauce and add enough broth to build out the sauce (12-16 ounces). Clam broth or chicken broth can be used to supplement the natural juices from the clams and mussels.
**If you're going to make a white sauce, you might want to add a little more garlic when you start the dish.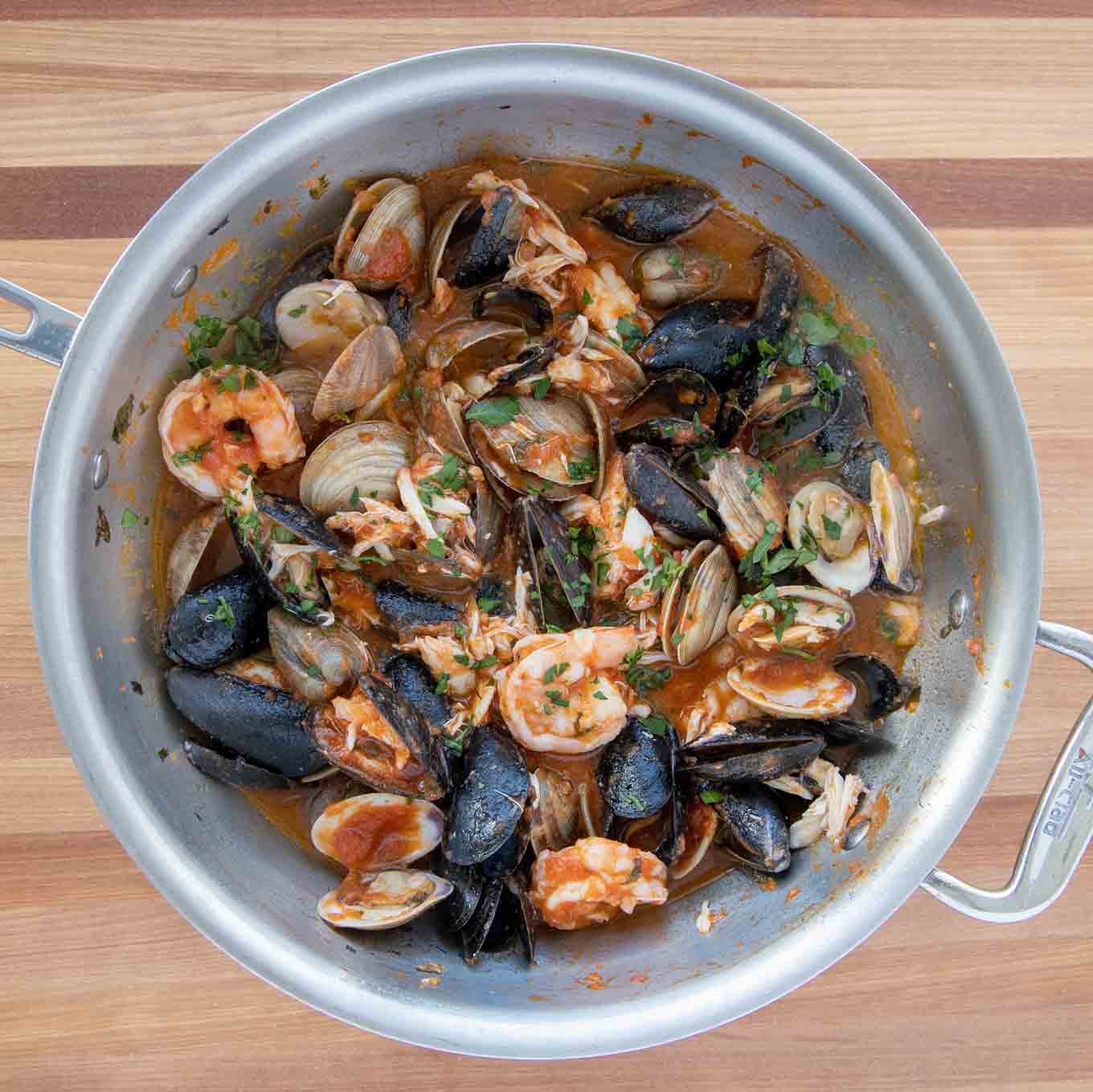 Add chopped parsley or basil and the Seafood Marinara is ready to be served over the pasta of your choice.
What types of pasta should I serve with Seafood?
My favorite pasta shape for this type of dish is a long strand, with linguine being my first choice.
Other choices include:
Spaghetti
Bucatini
Perciatelli
Thin cut Fettuccine
Angel hair is too fine for the heaviness of the seafood and wider noodles like Tagliatelle or shapes won't hold the sauce.
That being said, this is your dinner so feel free to serve it over the pasta of your choice.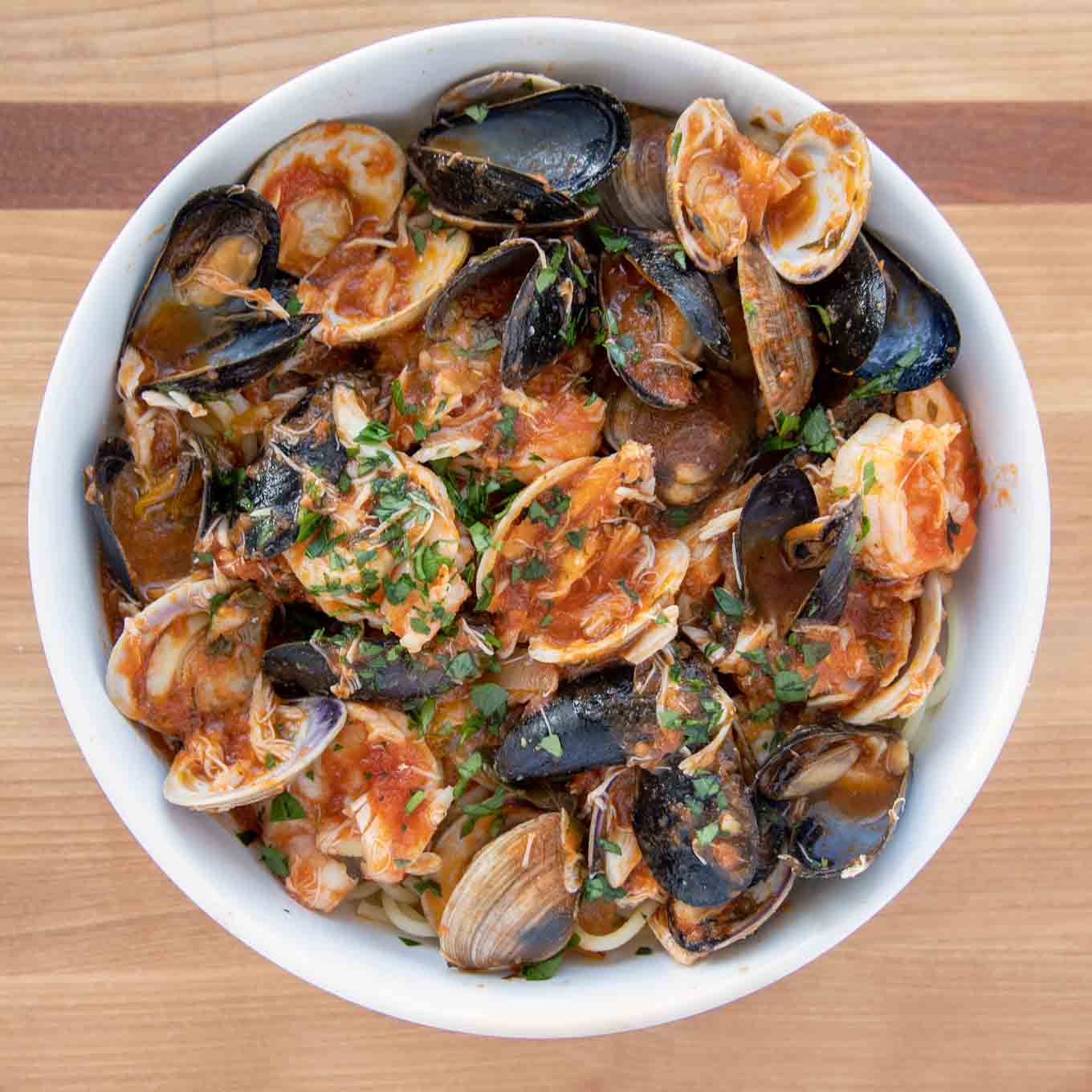 Serve up this amazingly delicious pasta dish in your favorite pasta bowl or plate. I love sprinkling grated Romano cheese on my seafood marinara and having crusty bread to sop up the sauce is something you may want to consider.
I recently got these White Porcelain Bowls on Amazon and absolutely love them. They're perfect for pasta or a dinner salad. This is the 45-ounce bowl. I also got the 30-ounce bowl which is great for dishes requiring less room.
Recipe FAQ's
What is marinara sauce?
Marinara sauce is traditionally made with tomatoes, olive oil, and garlic. The name comes from the Italian word for sailor (Mariner) but does not contain any seafood. It's a sauce that was made on board ships quickly, usually in 30 minutes or less and it became known as Marinara sauce.
What seafood goes into a seafood marinara?
Any seafood that you enjoy eating can find its way into this classic Italian dish. Calamari, shrimp, scallops, crabmeat, lobster, clams, mussels and your favorite fish are all candidates to make this delicious dish. The key is using what you like to eat and what is available.
Is seafood marinara spicy?
Generally no, seafood marinara is not spicy. But you can add crushed red pepper or pepperoncini to spice it up if you like.
More Seafood Recipes You'll Love!