If you ask me what I want kind of steak I want to eat, it's always going to be a Grilled Ribeye Steak. And over my career as a chef, I've cooked thousands of them, perfectly seared, tender, juicy and delicately seasoned to perfection.
And my chef tips will help you recreate delicious steak house style ribeye steaks on the grill for your friends and family to enjoy at your next cook out!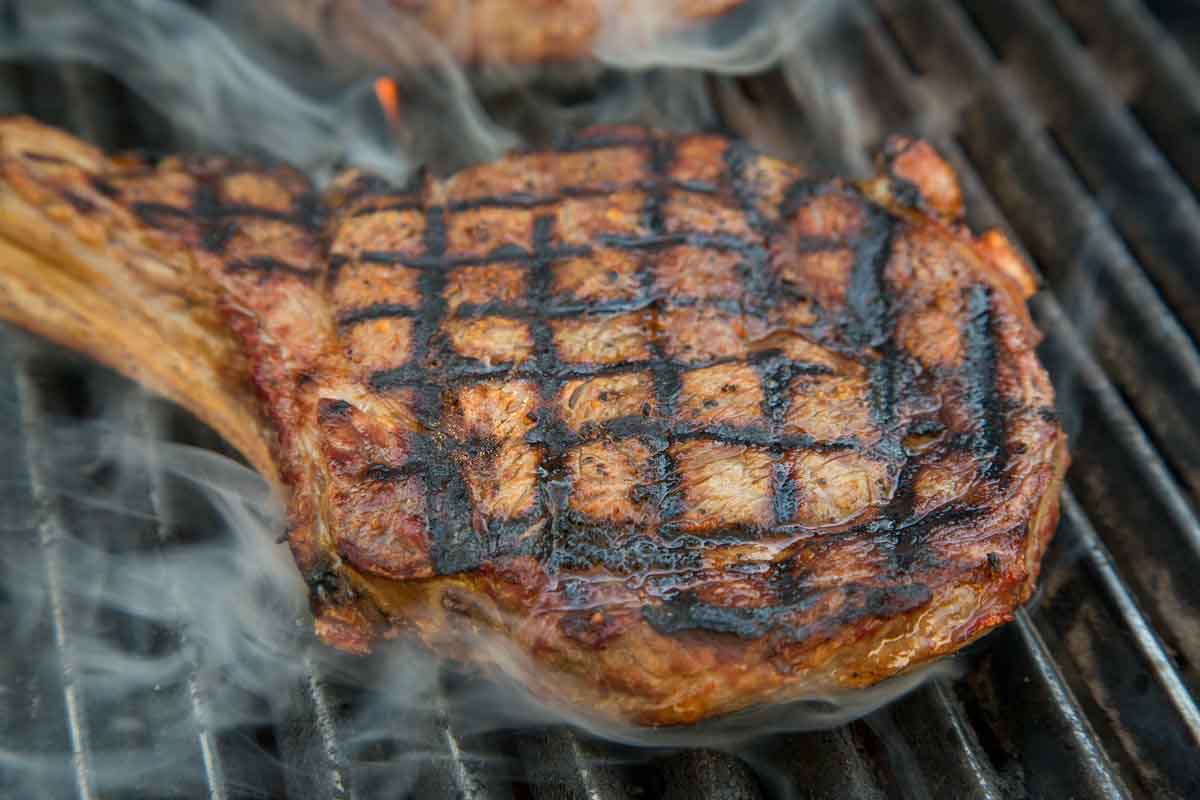 So let's talk about steaks. Of course, we're not talking about just any steak, we want something dripping in deliciousness, oozing flavor and right off the grill.
Hold your fancy compound butter and sauces, because we want to taste that amazing flavor that only fire can add to meat! Sorry, got a little carried away there and drooled all over my keyboard………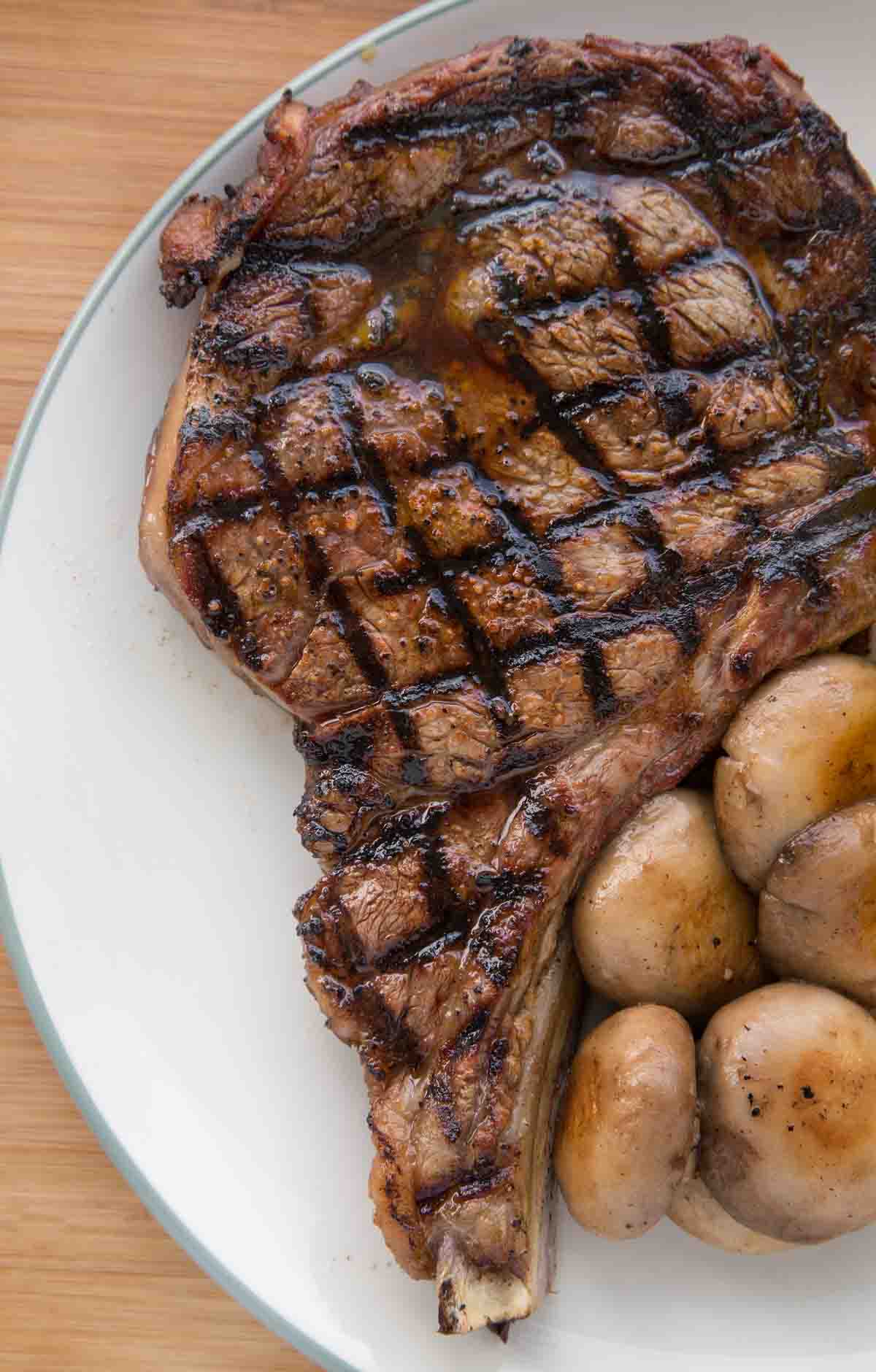 The summertime is the perfect time for grilling and whether you're grilling over charcoal or a gas grill, with my help you'll find yourself grilling steak house quality steaks throughout the year. It's really quite easy if you follow my tips and ribeye steak recipe.
If you love beef as much as I do grilling does wonders for meat but so does smoking meat. My friend Girl Carnivore makes the Ultimate Smoked Beef Tenderloin I've ever had and her recipe couldn't be easier to follow. Oh and I forgot to mention it's topped with smoked crab imperial. It just doesn't get any better than that!
What is the best steak to grill?
Without a doubt, the best steak for grilling is a bone-in ribeye. Boneless if you have no choice, but believe me when I tell you the bone adds flavor.
And it's all about sourcing good ingredients. You must first begin with good-quality beef and the right cut. If you get good meat your grilled steaks will shine without any elaborate flavorings or tenderizers.
When choosing the right steak look to the USDA's grading system to assess quality. Beef that's labeled "Prime" is superior; "Choice" is next in the quality ranking and lastly is "Select" don't bother if this is all that's available.
If you want to grill the perfect London Broil, this is my go to recipe -> Grilled London Broil.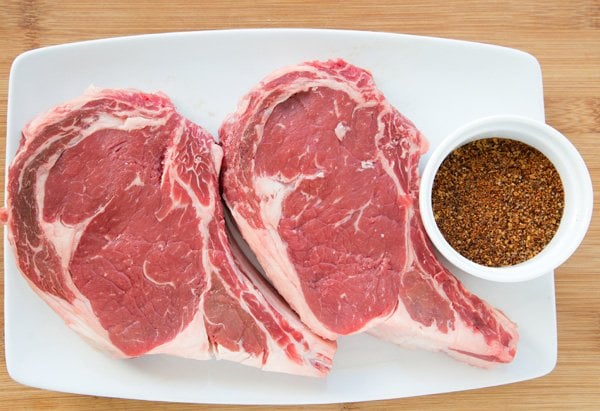 The grading designations are largely determined by the amount of visible fat that's streaked throughout the muscle tissue, called marbling. Beef that's richly marbled gets a higher grade; it's more tender, juicy, and flavorful because the intramuscular fat melts and bastes the flesh during cooking.
Also, since fat insulates, marbling provides some insurance against overcooking. Look for small, evenly distributed specks of fat rather than larger and sparser ones whenever possible.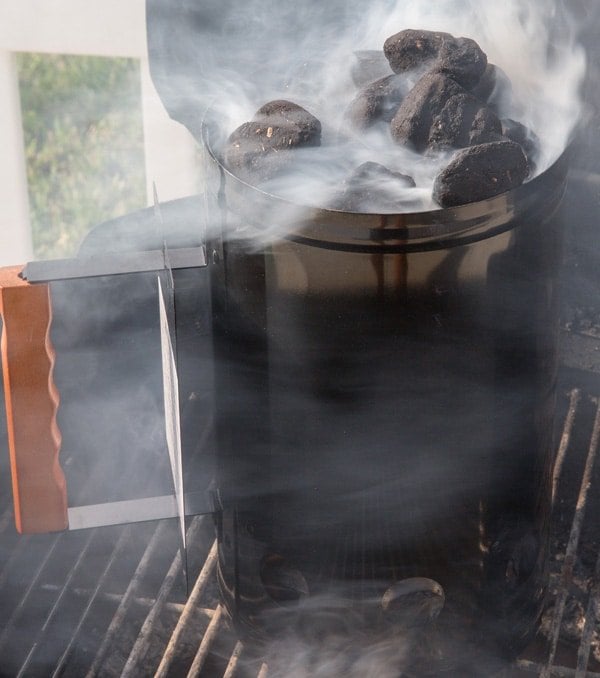 The Tools You Need to Grill the Perfect Ribeye Steak.
One major rule of grilling a ribeye steak is high heat. I'm talking seriously, searingly hot heat….get the picture?
And that means starting with good charcoal or a very hot gas grill. If you're using charcoal and want to get that really hot searing heat that creates the perfect ribeye steak, you need to fire up a full chimney of good quality lump charcoal or briquet.
*If want to go old school and use charcoal but don't have a chimney, light a pile of about 100 briquets and let them smolder and get good and hot. When the coals are ready, arrange them in a two-zone fire. Replace the top grate, and allow it to heat up — all vents should be fully open.
You should always start with a clean grill and coat the grill grates by pouring cooking oil on a folded paper towel, oiling the grate using long-handled tongs to hold the paper oiled paper towels.
What is the Two-Zone method of grilling?
Grilling on charcoal or a gas grill doesn't change the fact that you really need to zones to cook food without burning it. This is also referred to as indirect heat.
The first zone should be the hottest part of your grill and the second zone on low heat or indirect heat.
What is Indirect Heat?
Indirect heat is a barbecue cooking technique in which the food is placed to the side of or above the heat source instead of directly over the flame. This is easily accomplished by keeping the charcoal to one side of your grill, or in the case of gas burners half on and half off.
I have a four-burner gas grill and I usually keep the two outside burners on and the 2 inside burners off.
How to Cook a Ribeye Steak on the Grill
How to get the right internal temperature for your ribeye steak:
Learning to temp your steaks is almost as important as learning how to cook your steaks. So you can easily grill them to perfection for each of your guests.
And NEVER EVER CUT THE STEAK to see if it is done. Always use tongs to turn your steak.
While some say you should never turn your steak more than once, I like to get a nice crosshatch marking on my steak so although I don't flip it more than once, I do move it on the grill crossways to get those pretty cross marks on my steaks.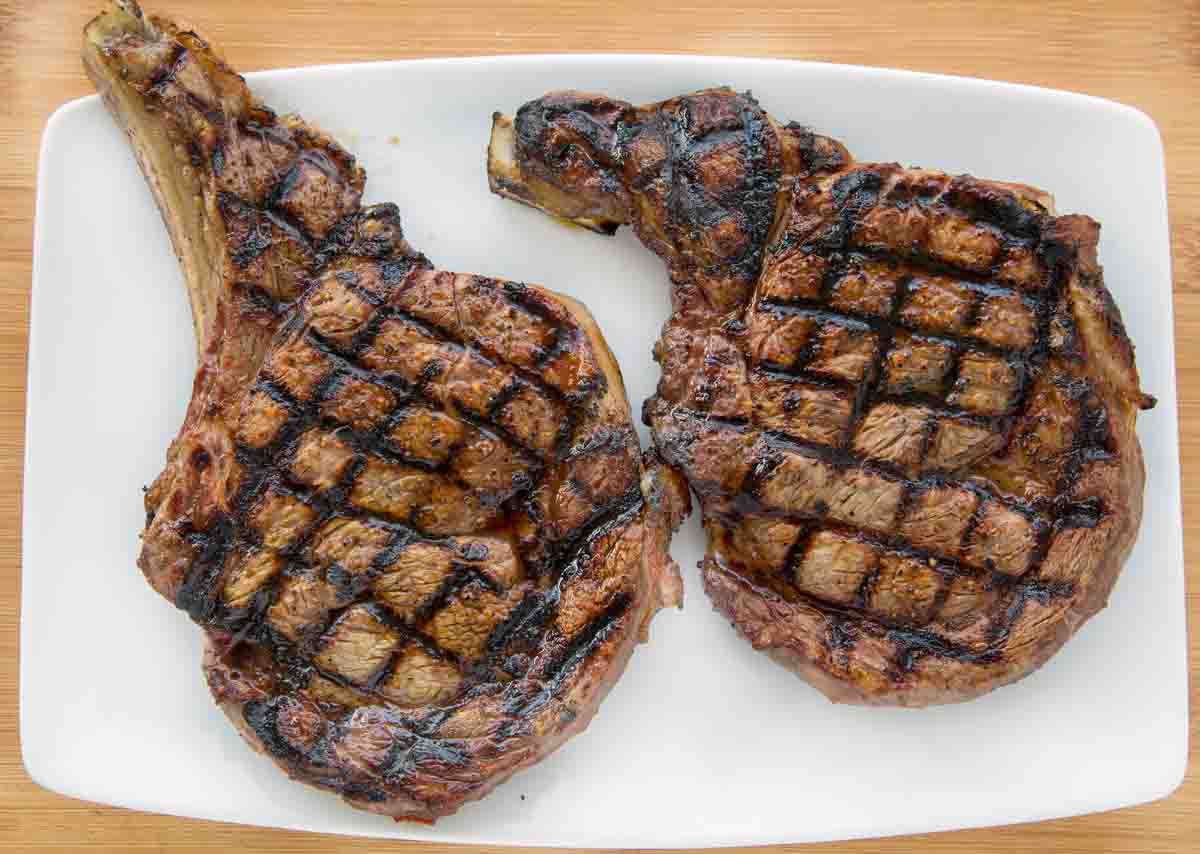 Over a hot grill, your steaks will cook rather quickly, going from very soft (very rare) to somewhat soft with a bit of a spring (medium) to quite firm (well done). Use the space on the top of your hand between your thumb and first finger to feel what a medium-rare steak should feel like.
Get in the habit of touching the steaks often to judge if they're done.
I absolutely love my Meater Plus | Smart Meat Thermometer It takes all the guesswork out of cooking meats in the oven, on the grill, or in a smoker.
And undercooking is better than overcooking. You can always cook the steaks a little longer, if necessary.
*Steaks will continue to cook once they're off the heat increasing the internal temperature from 5 – 8 degrees.
Why Does High Heat make my steak tastes better?
The surface of a steak tastes best when the high heat gets several important chemical reactions going. It might be a little TMI, but you can always impress your guests with your grilling knowledge!
The Maillard reaction is a chemical reaction between amino acids and sugars created by heat. Caramelization is the browning of sugar by oxidation under heat. There are small amounts of sugars in meat, that cause this reaction and give you that rich, complex, caramel or butterscotch flavor that makes your steak memorable.
There are also fats on the surface, and they contribute a lot to the flavor of the meat. When heat melts the fat and chemically alters it, the flavor is also drastically altered.
Fat reaches its most rich and succulent point when it becomes golden brown, just before it burns. While your steak is at best when the color is more of a nut brown. Blackening or charring a piece of meat is carbonization, and won't taste much better than the charcoal, so pay attention to what you're doing on the grill. Timing is everything!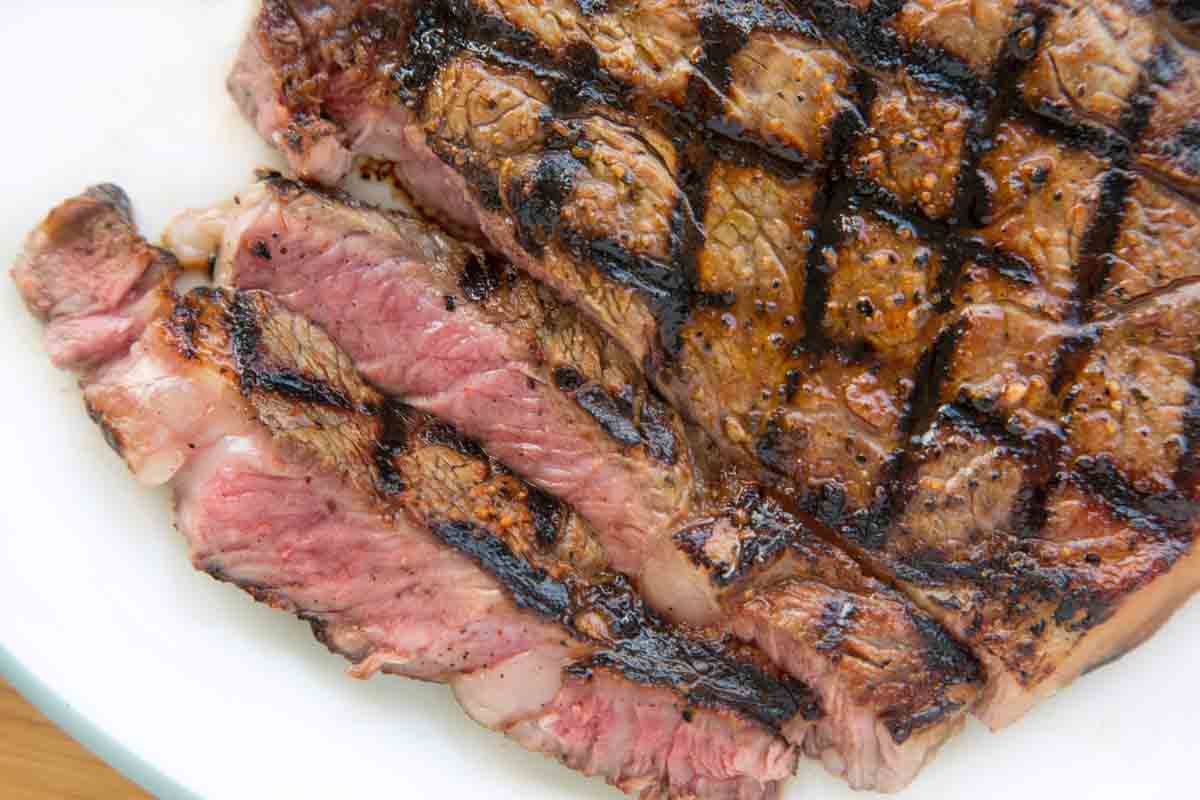 For me the rarer the better, while my wife likes no signs of pink, with her steak well done….sigh. It's proven quite challenging but also very satisfying when I get it right.
I also like to experiment with the seasonings I use, trying to masterfully create perfection. Many famous steak houses are known not only for their steaks but for the secret seasoning they use to create added flavors.
Should I let the grilled ribeye steak rest before slicing?
The answer is most definitely yes! Allow the meat to rest for 5 minutes before serving. Take the steaks off the grill and cover them with foil, away from the heat. This gives all those wonderful juices time to return to the meat, giving you a tender and juicy steak.
All that's left is a sit-down and enjoy the deliciousness of a Steak House quality steak, cooked just right.
What side dishes go with grilled ribeye steak?
I love a good Ceaser salad with my ribeye, but any type of green salad is always a good choice. Grilled or roasted vegetables, roasted potatoes, mashed potatoes, or any variety of fries (including sweet potato). And if want to make sure no one leaves the table hungry mac and cheese is always a good choice.
Recipe FAQ's
Should I put olive oil on the ribeye
steak before grilling?
There are two trains of thought on that subject, Americans tend not to add oil first, using butter to finish a steak. Europeans swear by the addition of olive oil, and in fact they add oil twice to the steak. The first application would be when you season the steak. Apply the olive oil and the seasonings and allow the steak to marinate to absorb the flavors.
The second application should come when the steak is almost done cooking. This will keep it from drying out.
How do steakhouses season their steaks?
Steakhouses typically season a steak with coarse ground black pepper, sea salt or kosher salt, and butter. The secret to a delicious steak is brushing the steak with butter before serving. The other little-known secret is seasoning with fennel pollen in addition to salt and pepper.
Should I marinate the ribeye steak beforehand?
Marinating meats will always help add flavor to the meat but it's not something you have to do if you have a good cut of beef. Marinating is usually done to help out less expensive cuts of meat, or less fatty meats that won't have as much flavor. If you do marinate meat, make sure to pat it dry before grilling. The marinade will penetrate the beef so patting it down won't affect it.
Should I close the grill when cooking ribeye steak?
If the steak you're cooking is thicker than ¾ of an inch, you definitely want to close the lid. Closing the lid creates convection. The hot air coming from the gas or charcoal is trapped by the lid and unable to escape. It moves around in the chamber you've created and that helps the thicker cuts of meat cook through.
More Recipes You'll Love!