Cooking doesn't have to be difficult and my Grilled Chicken Alfredo is not only delicious, it's also easy to prepare! And as an added bonus most of your cooking is done on the grill, so you'll only have a few pots to wash.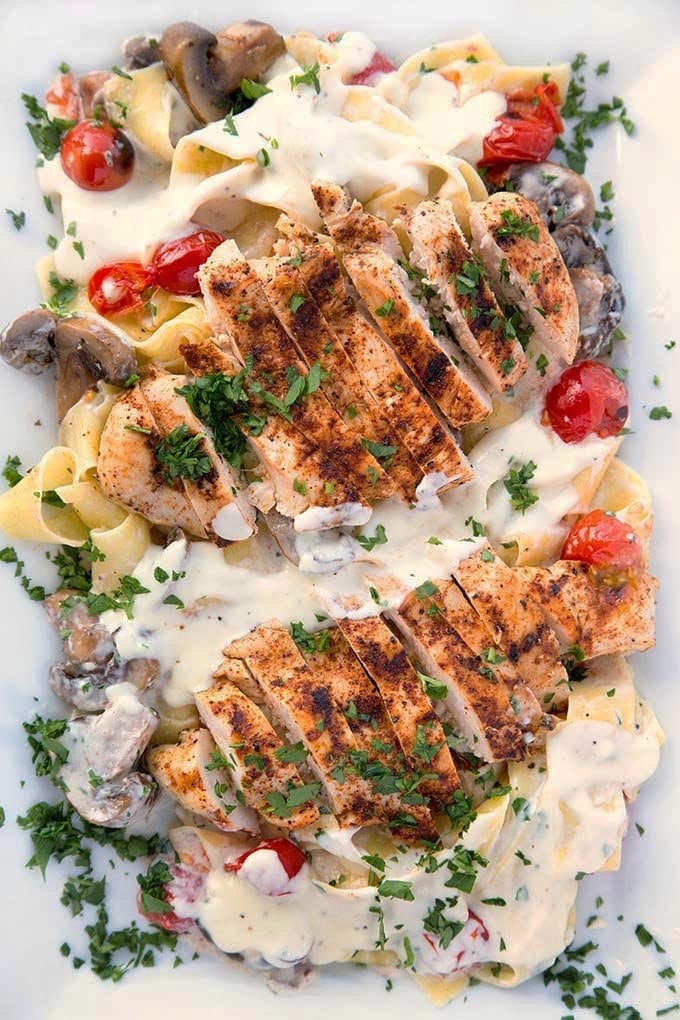 Since moving to Florida, grilling has been a year-round event for me. But truth be told there can be snow on the ground and as long as you can get to your grill, it's always an option for cooking up your favorite grilled meats and vegetables.
These are the ingredients you need to make Grilled Chicken Alfredo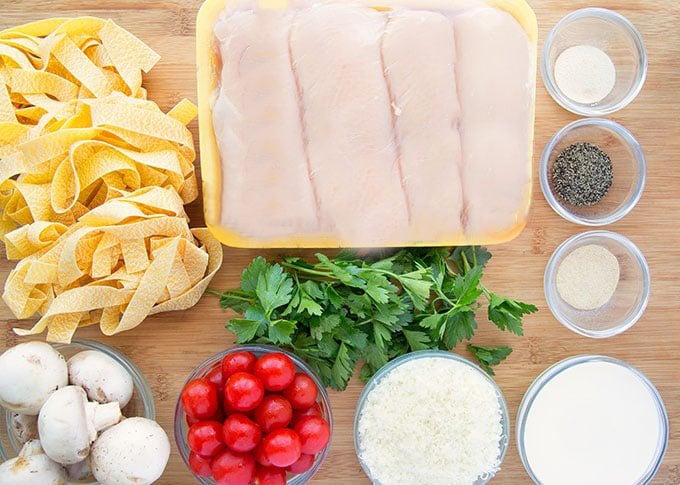 I like to start my posts with a mise en place (everything in its place). This is the easiest way to make sure I have all of the ingredients on hand and makes the cooking process much easier. It's a pretty simple dish with just a few ingredients with the star of the show being the grilled chicken breasts.
How to keep Vegetables from burning on the grill
I love cooking just about anything on the grill and I have found that using foil under vegetables still gives them that grilled delicious flavor without all the problems of placing the items directly on the grill.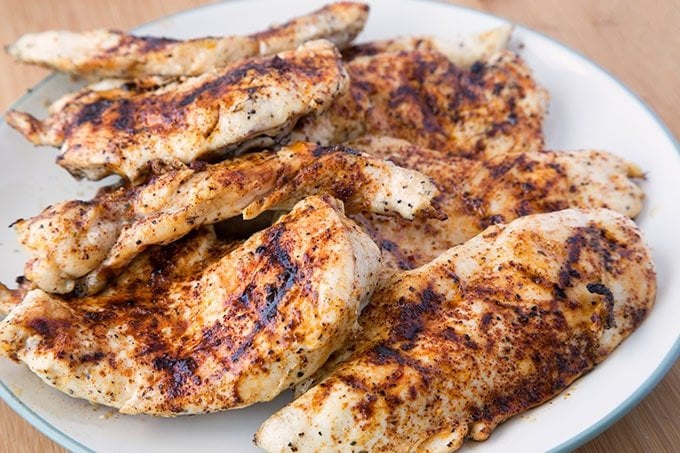 The chicken came out so OMG delicious! Moist, tender and flavorful is how I love my grilled chicken! I used a light blackening seasoning on the Chicken Breasts but you can use your favorite seasoning to make them just how you like them.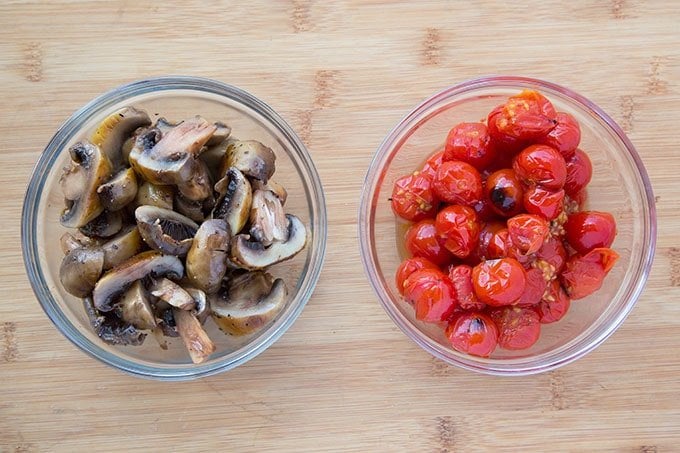 The grilled tomatoes and mushrooms added a great touch to the dish. Of course, you can oven roast them, but grilling adds a whole other flavor to the vegetables. I grilled the mushrooms whole to keep the moisture in them and sliced them before adding into the Grilled Chicken Alfredo.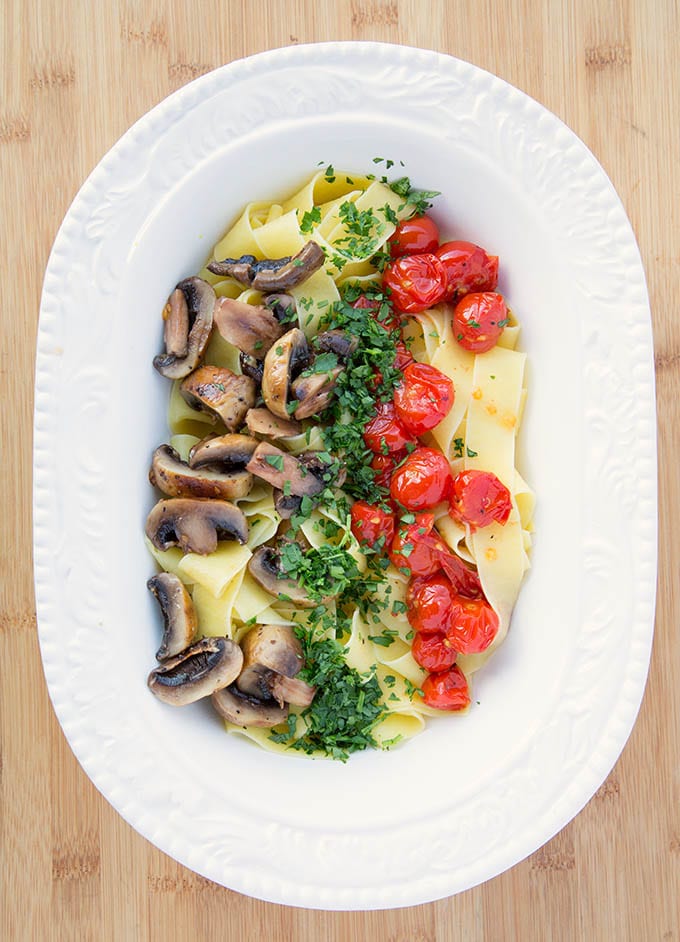 How to serve Grilled Chicken Alfredo
This dish is easy to set up in your favorite serving dish or bowl. Just place the grilled vegetables and parsley on top of the pappardelle (or fettuccine) and you're one step away from deliciousness!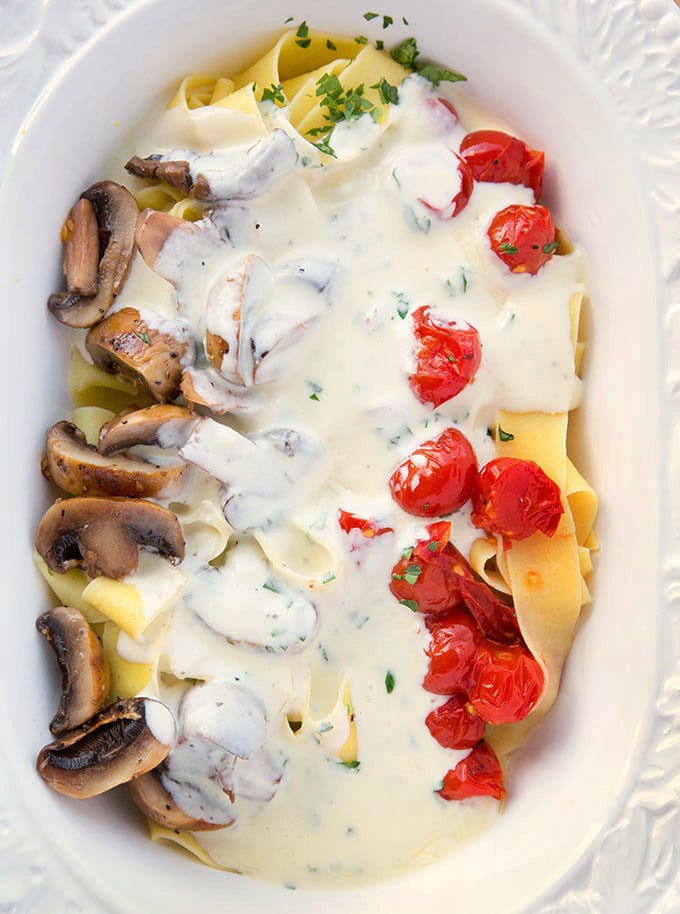 Top the ingredients with your alfredo sauce and mix together. I like to use a pretty bowl to make the presentation special. We do eat with our eyes first.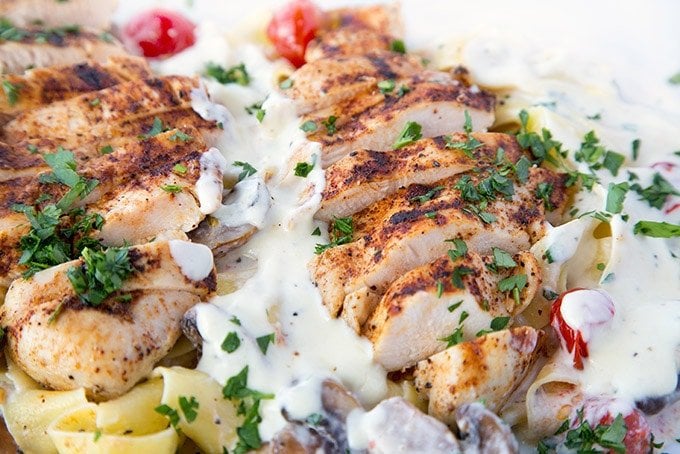 Then it's time to add in the ah-mazingly delicious sliced grilled seasoned chicken breasts and it's a party!!
There are so many ways you can change up this dish to make it your own. Use a different pasta, add in your favorite grilled vegetables and even replace the heavy cream with Greek yogurt to make it a lighter healthier version.
**Just a note if you decide to use Greek yogurt: you can't heat Greek yogurt, it's got to be room temperature when you mix it with the hot pasta.
More Grilling Recipes You'll Love!