One of my all-time favorite dishes is my Grilled Chicken Alfredo with Pappardelle. My take on an Italian Classic uses wide pappardelle noodles, grilled mushrooms and grilled tomatoes. to add another layer of flavor to a classic that soon to be a family favorite any time of the year.

Kick Up Your Summertime Grilling with my Grilled Chicken Alfredo
This post is sponsored by Tyson Foods, Inc. All comments and opinions are entirely my own.
Cooking doesn't have to be difficult and my Grilled Chicken Alfredo is not only delicious, it's easy to prepare! And as an added bonus most of your cooking is done on the grill, so you'll only have a few pots to wash.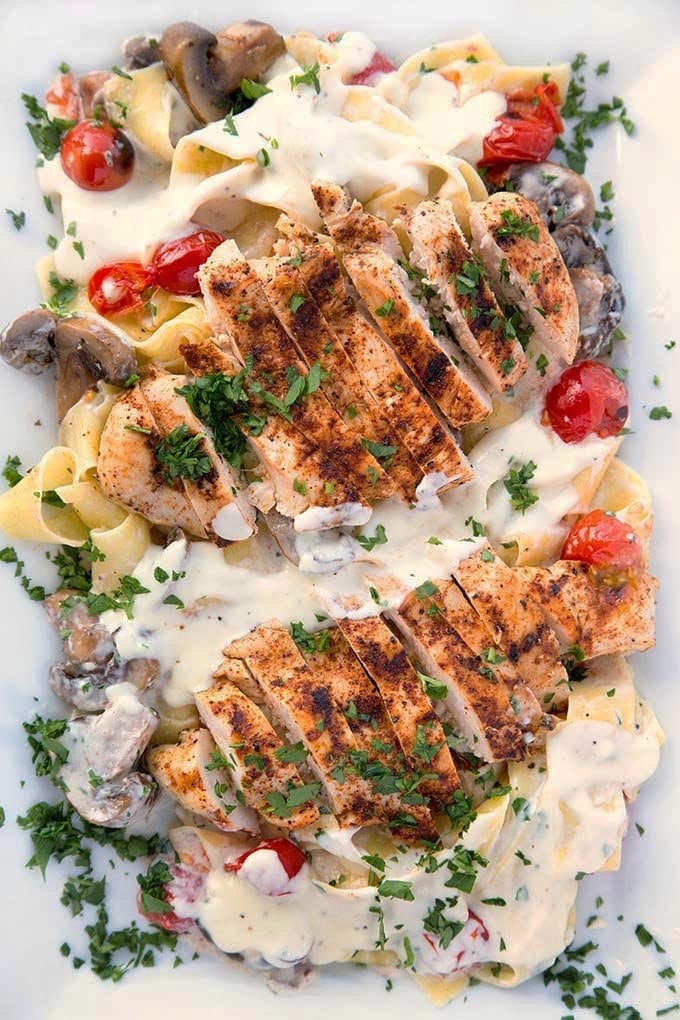 Since moving to Florida, grilling has been a year-round event for me. But truth be told there can be snow on the ground and as long as you can get to your grill, it's always an option for cooking up your favorite grilled meats and vegetables.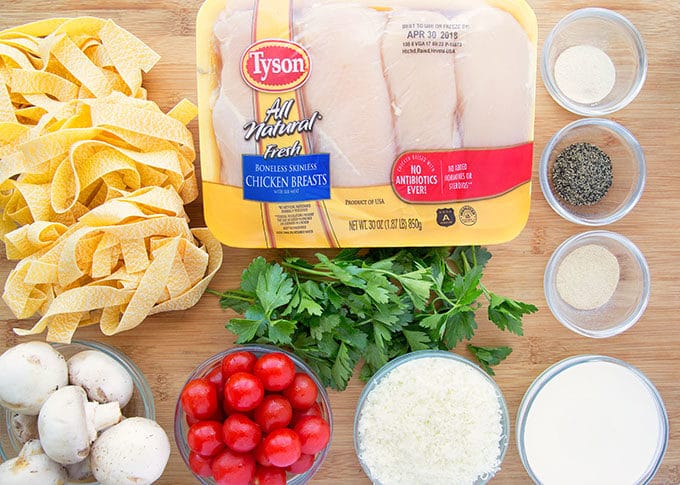 I like to start my posts with a mise en place (everything in its place). This is the easiest way to make sure I have all of the ingredients on hand and makes the cooking process much easier. It's a pretty simple dish with just a few ingredients with the star of the show being the Tyson® All Natural Fresh Boneless Skinless Chicken Breasts.
Tyson Fresh Chicken is a product I know I can count on. And I'm especially happy to see that it's one of their No Antibiotics Ever products! I've mentioned before how I love shopping at Target, it's a one-stop shopping trip for me. I picked up all the ingredients for this dish at my local Target.
I can get just about everything I need or want for my home and family, like quality food products including the Tyson Fresh Chicken I used in this recipe. Are you a Target Shopper too?
I love cooking just about anything on the grill and I have found that using foil under vegetables still give them that grilled delicious flavor without all the problems of placing the items directly on the grill.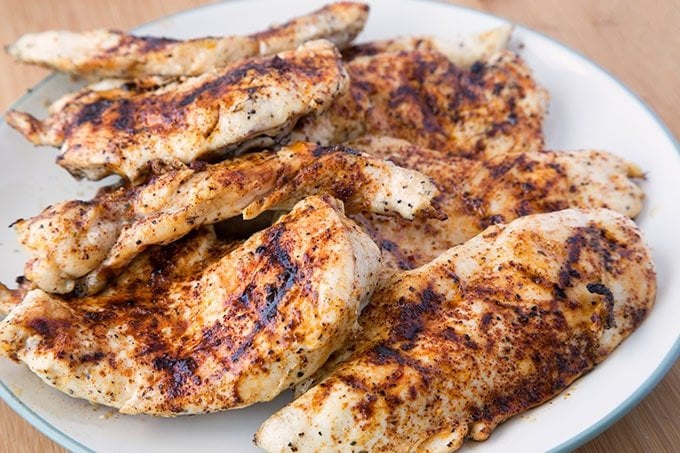 The chicken came out so OMG delicious! Moist, tender and flavorful is how I love my grilled chicken! I used a light blackening seasoning on my Tyson Fresh Chicken Breasts but you can use your favorite seasoning to make them just how you like them.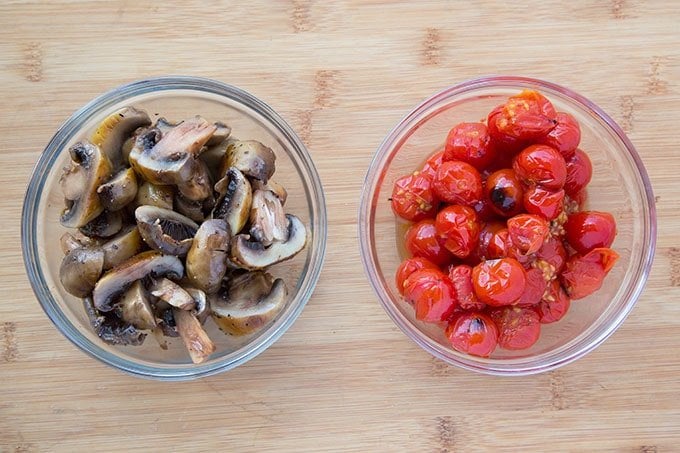 The grilled tomatoes and mushrooms added a great touch to the dish. Of course, you can oven roast them, but grilling adds a whole other flavor to the vegetables. I grilled the mushrooms whole to keep the moisture in them and sliced them before adding into the Grilled Chicken Alfredo.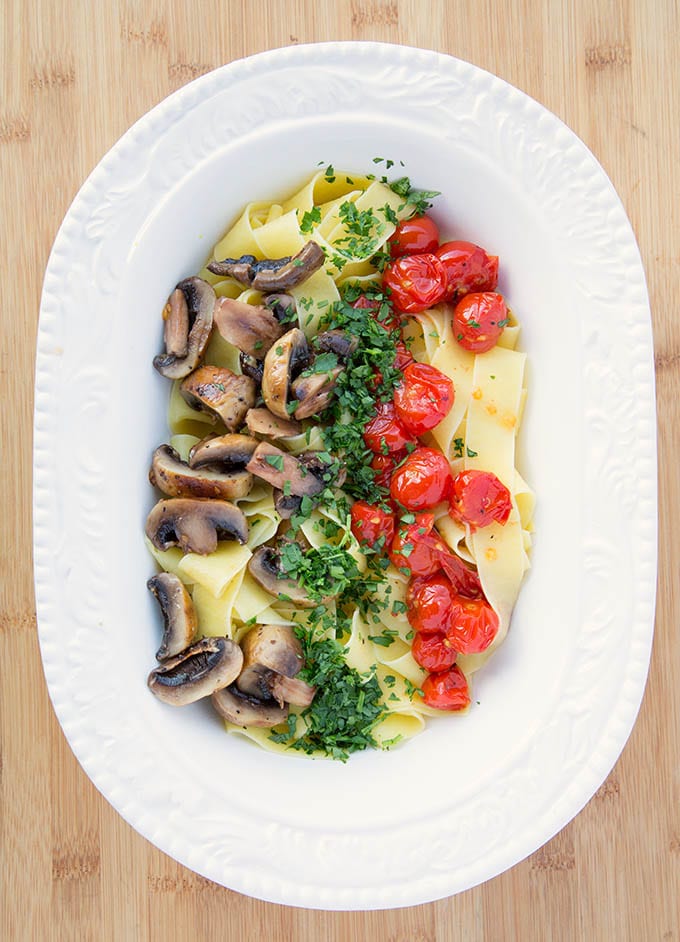 This dish is easy to set up in your favorite serving dish or bowl. Just place the grilled vegetables and parsley on top of the pappardelle (or fettuccine) and you're one step away from deliciousness!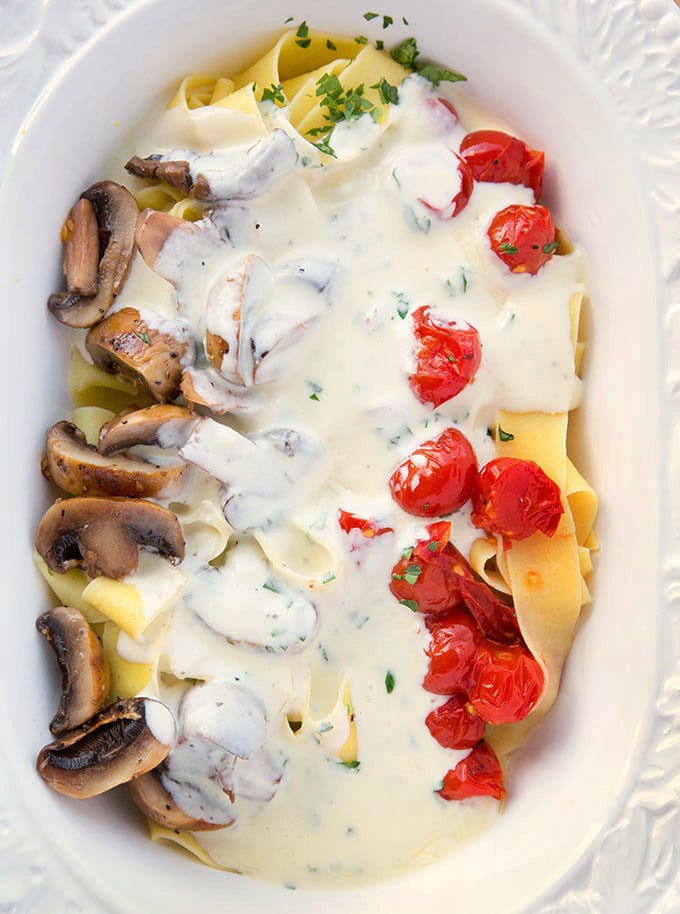 Top the ingredients with your alfredo sauce and mix together. I like to use a pretty bowl to make the presentation special. We do eat with our eyes first.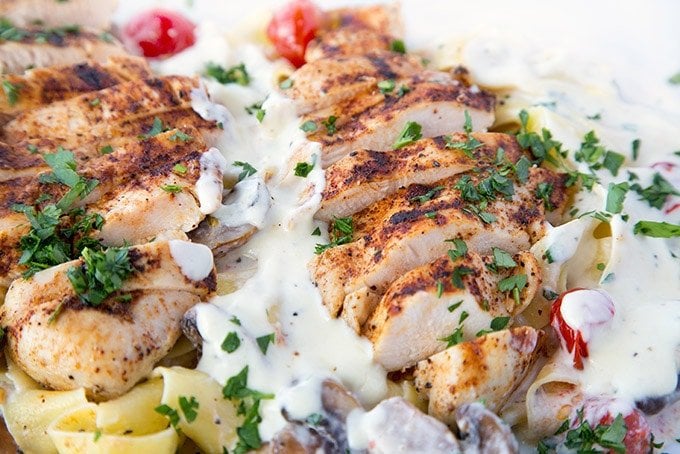 Then its time to add in the ah-mazingly delicious sliced grilled seasoned chicken breasts and its a party!!
There are so many ways you can change up this dish to make it your own. Use a different pasta, add in your favorite grilled vegetables and even replace the heavy cream with Greek yogurt to make it a lighter healthier version.
**Just a note if you decide to use Greek yogurt: you can't heat Greek yogurt, its got to be room temperature when you mix it with the hot pasta. 
For additional tips and tricks click on the link for a copy of the "Summer Field Guide"
If you've tried my Grilled Chicken Alfredo recipe or any other recipe on askchefdennis.com please don't forget to rate the recipe and let me know where you found it in the comments below, I love hearing from you! You can also FOLLOW ME  on Instagram @chefdenniseats and @chefdennistravels,  Twitter and Facebook.
Grilled Chicken Alfredo with Pappardelle
One of my all-time favorite dishes is my Grilled Chicken Alfredo with Pappardelle. My take on an Italian Classic uses wide pappardelle noodles, grilled mushrooms and grilled tomatoes. to add another layer of flavor to a classic that soon to be a family favorite any time of the year.

Nutrition Facts
Grilled Chicken Alfredo with Pappardelle
Amount Per Serving
Calories 1179
Calories from Fat 639
% Daily Value*
Total Fat 71g 109%
Cholesterol 375mg 125%
Sodium 650mg 27%
Potassium 1419mg 41%
Total Carbohydrates 71g 24%
Protein 64g 128%
* Percent Daily Values are based on a 2000 calorie diet.
Ingredients
24

ounces

Tyson® All Natural Boneless Skinless Chicken Breasts Breasts

boneless skinless

12

ounces

pappardelle

or fettuccine

12

ounces

white mushrooms

12

ounces

cherry tomatoes

2

cups

heavy cream

1.25

cups

grated Romano cheese

*use more cheese if desired

2

tablespoons

finely chopped Italian parsley

3

tablespoons

olive oil

to coat chicken and vegetables

sea salt and black pepper to taste

1

tablespoon

of your favorite blackening spice or seasoning
Instructions
Grilled Chicken and Vegetables
Place room temperature Tyson® All Natural Boneless Skinless Chicken Breasts in a large bowl and toss with olive oil, sea salt and black pepper.

place whole mushrooms and cherry tomatoes in separate bowls and toss with olive oil and sea salt.

Season both sides of chicken breast with your favorite seasoning and place on hot grill. Grill each side for 5-7 minutes (depending on thickness) or until you've reached an internal temperature of 165 degrees.

Allow grilled chicken breasts to cool slightly then slice just before serving.

Double up a piece of aluminum foil long enough to cover one section of your grill. Place the seasoned and oiled mushrooms and tomatoes on the foil. Turn as needed to cook the vegetables.

Remove the vegetables from the grill and place on plates to cool off. Be careful not to overcook the tomatoes so they don't get too mushy.

Slice the cooled mushrooms and set aside for later use with the tomatoes.
Alfredo Sauce
Add the heavy cream to a hot sauté pan and allow to boil lightly.

Reduce heat and continue to simmer sauce.

Add grated Romano cheese and seasonings to simmering cream and mix well so the cheese doesn't clump or stick to the bottom of the pan.

While the sauce is simmering, cook pappardelle per instructions on the package in boiling lightly salted water

Drain pasta and place in bowl or serving dish.

Add grilled tomatoes, grilled sliced mushrooms and parsley to the mixing bowl and toss with the alfredo sauce. Place on serving dish.

Top the pappardelle alfredo with the sliced grilled chicken breasts and serve. **Garnish with sprinkled parsley if desired.