When it comes to creating deliciousness like my Grilled Dry Rub Honey Mustard Salmon, it's all about the ingredients. Take it from a chef when you use quality ingredients you get delicious results!
This post is sponsored by Colman's Mustard. The opinions, recipe, and images are 100% my own.
I had an introduction to Colman's mustard early in my life. My father was of English descent and one of the staples at our dinner table whenever beef was served was Colman's Mustard. So I got used to the spicy, flavor of Colman's at a very early age.
My father didn't do much cooking, but he always loved adding a touch of Colman's to the dishes he prepared, especially his legendary deviled eggs. I've done my best to recreate them, but his were always better.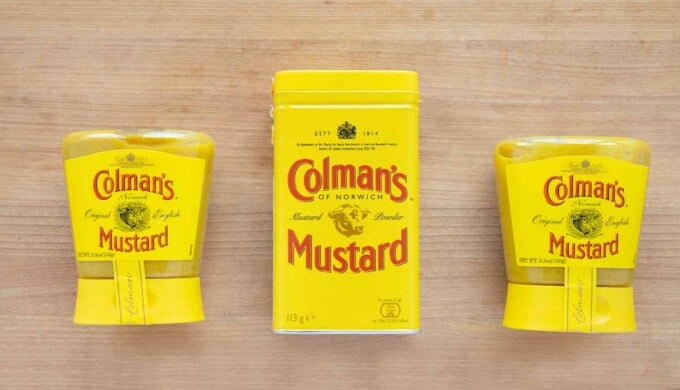 When it's time to create deliciousness in your kitchen, take it from a chef and reach for Colman's because Colman's Mustard is Exceptionally Different.
What ingredients do I need to make Grilled Dry Rub Honey Mustard Salmon?
Let's start by gathering the ingredients we need to make my Grilled Dry Rub Honey Mustard Salmon. In Chef Speak this is called the "Mise en Place" which translates to "Everything in its Place".
Not only does setting your ingredients up ahead of time speed up the process, but it also helps ensure you have everything you need to make the dish.
What type of Salmon should I use?
In my kitchen, I only use North Pacific or Alaskan Salmon. Sockeye is my first choice because of the color and flavor, followed by Coho or King Salmon. You can't go wrong with any of those varieties.
*Alaskan salmon is a rich source of a variety of vitamins and minerals, as well as lean protein and omega-3 fatty acids. Alaskan salmon is healthiest when caught in the wild.
Can I use this recipe on another type of Fish?
You sure can. This dry rub and honey mustard barbecue sauce will lend itself to any of your favorite hearty fish. These are a few of my favorites, but don't be afraid to try it on your favorite fish.
This would also be great on chicken and pork.
How do I make Dry Rub Honey Mustard Salmon?
Start by putting together the dry rub for the salmon. Creating delicious dishes that you and your family will enjoy eating comes down to the ingredients and flavors you like.
My dry rub is great as is, but feel free to make adjustments to create your own special blend of seasonings.
Coat the salmon in olive oil, then add the seasoning mixture to the top of the salmon.
*Let the salmon sit in the refrigerator after applying the rub for 20-30 minutes. This will give the seasonings time to penetrate the salmon.
Want to take your dish up a notch in heat and flavor? Try adding Colman's Mustard to the recipe.
I love the flavor the Colman's gave my honey mustard barbecue sauce.
Heat your grill to 350-400 degrees. Make sure the grates are clean. Using tongs and an oiled paper towel, coat the grates with a little cooking oil. (If you have a long-handled brush use that to brush a little oil on the grates)
Place the salmon seasoned side down on the grill. Allow it to cook for 4-5 minutes.
Carefully turn the salmon over, using a spatula.
Coat the seasoned side of the salmon with honey mustard barbecue sauce.
Close the grill lid (if your grill has one) and continue to cook for 3-4 minutes (longer if you like well-done salmon).
Do I have to grill the Honey Mustard Salmon?
No, you don't. You can cook this in your oven or air fryer at 350 degrees. Roast for 10-15 minutes, depending upon how you like your salmon cooked.
Wouldn't your friends and family love to sit down to this delicious salmon? This dish will definitely kick up your grilling game. And the Colman's will kick up the flavor!
Make sure to pick up plenty of Colman's Mustard at your local Walmart and start cooking like a chef!
More Salmon Recipes You'll Love!