Lasagna is one of my favorite comfort foods and my Tomato and Spinach Lasagna is a delicious way to enjoy this Italian Classic.
My Tomato and Spinach Lasagna is made with a bechamel sauce, sautéed spinach with garlic, roasted tomatoes and creamy ricotta cheese.
You'll find many lasagna recipes that use a bechamel sauce in place of the ricotta cheese. But it just wouldn't be lasagna without the noodles and the ricotta.
I think you can add just about anything else you want as long as those two ingredients are included.
What Ingredients do I need to make Tomato and Spinach Lasagna?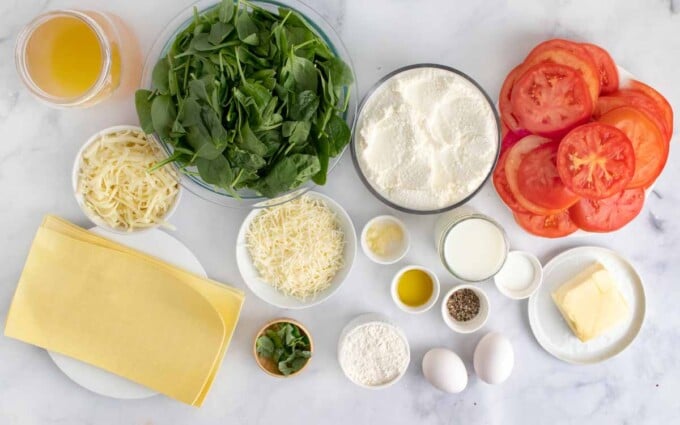 Let's start by gathering the ingredients we need to make Tomato and Spinach Lasagna. In Chef Speak this is called the "Mise en Place" which translates to "Everything in its Place".
Not only does setting your ingredients up ahead of time speed up the cooking process, it also helps ensure you have everything you need to make the dish.
Can I make Tomato and Spinach Lasagna with tomato sauce?
You sure can. Just eliminate the bechamel sauce and use your favorite tomato sauce instead. You can also use some of each sauce to make this lasagna.
How do I make Tomato and Spinach Lasagna?
Mix the ricotta cheese, grated Romano cheese, eggs, sugar and pepper together until well blended and place in the refrigerator until needed.
Slice tomatoes, season with salt pepper, and grated romano cheese. Roast the tomatoes at 350 degrees F. for about 15 minutes.
In a saucepan melt the butter, then add in flour. Stir the mixture over low heat until it begins to smell a little like bread (as the flour cooks).
*Be careful not to let the mixture burn.
In another saucepan heat the vegetable stock until almost boiling then add it to the butter/flour mixture (roux). Mix well getting all of the roux stuck in the corners blended in.
Add in the milk, Romano cheese and black pepper, mixing well. Allow to simmer for 5 minutes, mixture will thicken as it simmers.
If needed add additional milk or water to thin out your sauce. Allow sauce to cool to about room temperature before using (don't put it in the refrigerator).
In a large skillet or saucepan add olive oil, chopped garlic and spinach leaves. Let the spinach cook until fully wilted and some of the water has cooked out.
When the spinach is fully cooked place it in a colander and let the liquid drain out. Squeeze out any remaining liquid and set spinach aside until needed.
Start by placing enough bechamel sauce to cover the bottom of your lasagna pan, then add a layer of lasagna noodles on top of the sauce.
Add one-third of the ricotta mixture for the first layer of the lasagna. Top the ricotta with bechamel sauce and then another layer of noodles.
Add another layer of ricotta topped with the cooked spinach, and bechamel sauce and another layer of noodles
Add the rest of the ricotta cheese and top with the roasted tomatoes (reserve 6 slices for the top of the lasagna), bechamel sauce and a final layer of noodles.
Top the last layer of noodles with bechamel, and shredded mozzarella cheese.
Add the reserved sliced tomatoes and sprinkle with romano cheese and chopped basil.
Bake at 350 degrees F for 55-60 minutes. Allow to cool for 15-30 minutes before slicing.
Wouldn't you're family and friends love to sit down to this delicious Italian Classic? My Tomato and Spinach Lasagna is sure to become a family favorite!
More Italian Pasta Recipes You'll Love!