One of my favorite Indian Dishes is Chicken Tikka Masala. Tender chunks of chicken marinated in spiced yogurt then pan-fried and coated with an incredibly flavorful spiced creamy tomato sauce.
This rich and creamy chicken dish is as good if not better than you'll get from your favorite Indian restaurant. And you get to control the spice levels so you can adjust it to your taste preference.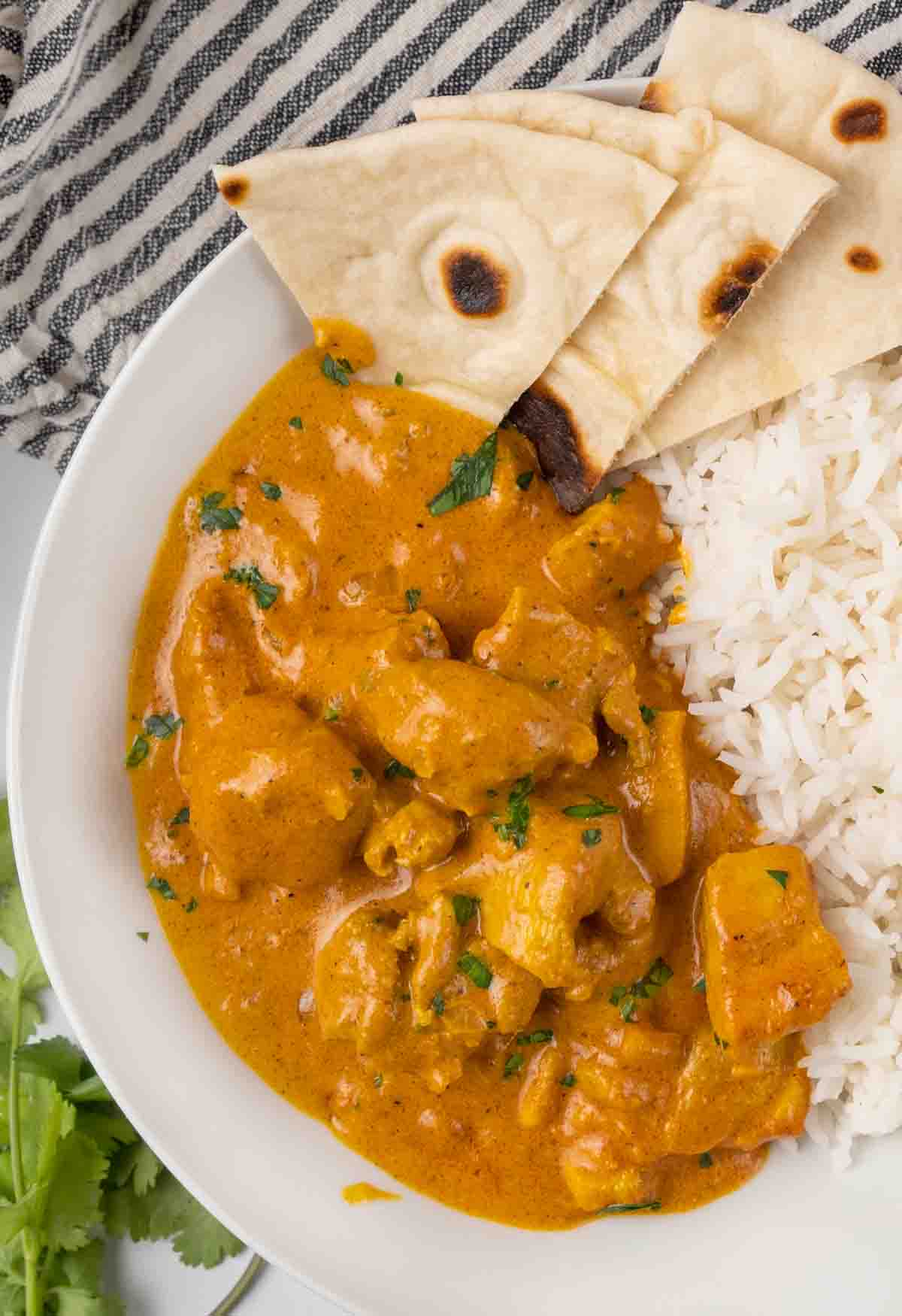 I have to admit that for many years I was not a fan of Indian cuisine, and that was because I had never tasted good Indian food. That all changed on a trip to a small town in New Brunswick, Canada, where I met a local restauranteur that brought the cuisine from his hometown in India to Canada.
After tasting his Chicken Tikka Masala, I was a convert and have been enjoying delicious Indian dishes every chance I get. I spent the afternoon with him, and he shared his recipe with me, teaching me how to make this delicious dish and how to adapt this spiced sauce with simple ingredients that can be found in your local grocery store.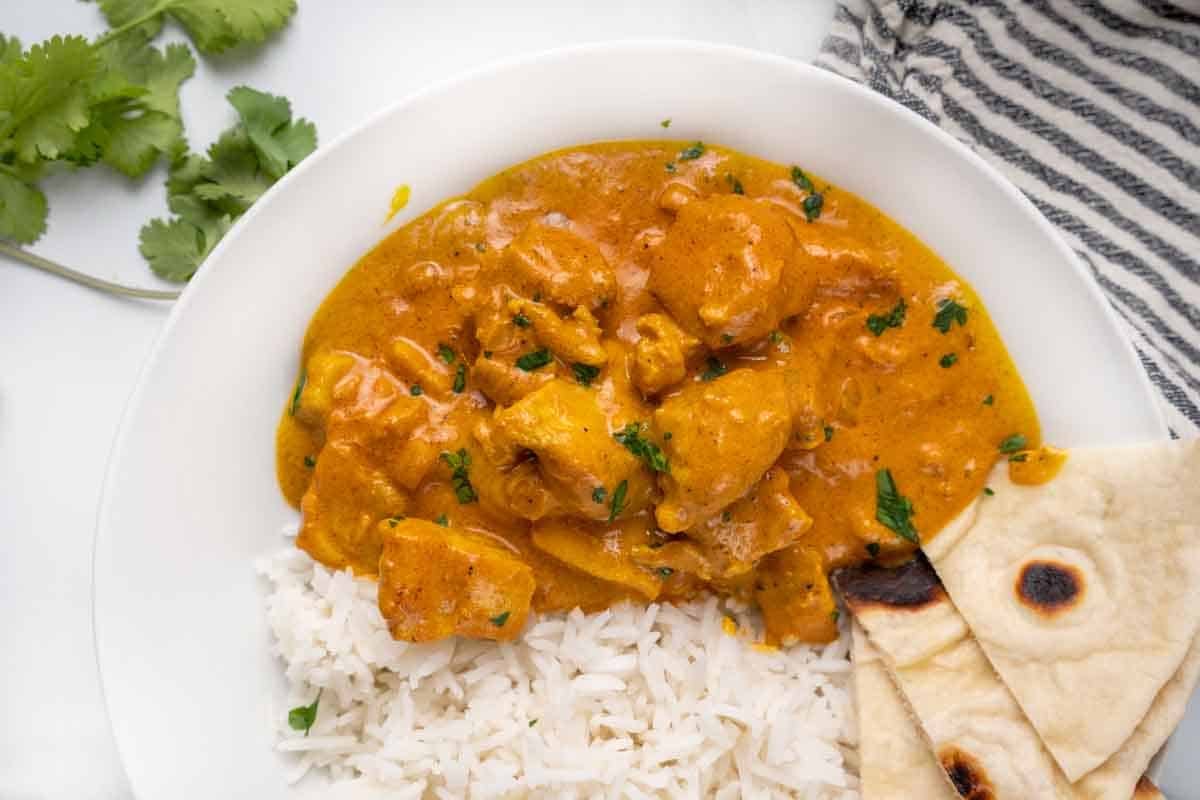 If you've never tried Indian cuisine, chicken tikka masala is a great recipe to introduce your taste buds. This, along with Butter Chicken, are two of my favorite Indian dishes.
There are different chicken tikka marinades, but this is the one I was taught and have been making for years. You may find other methods and sauces, including other spices. Feel free to adapt the recipe to your taste preference.
Ingredients to make Chicken Tikka Masala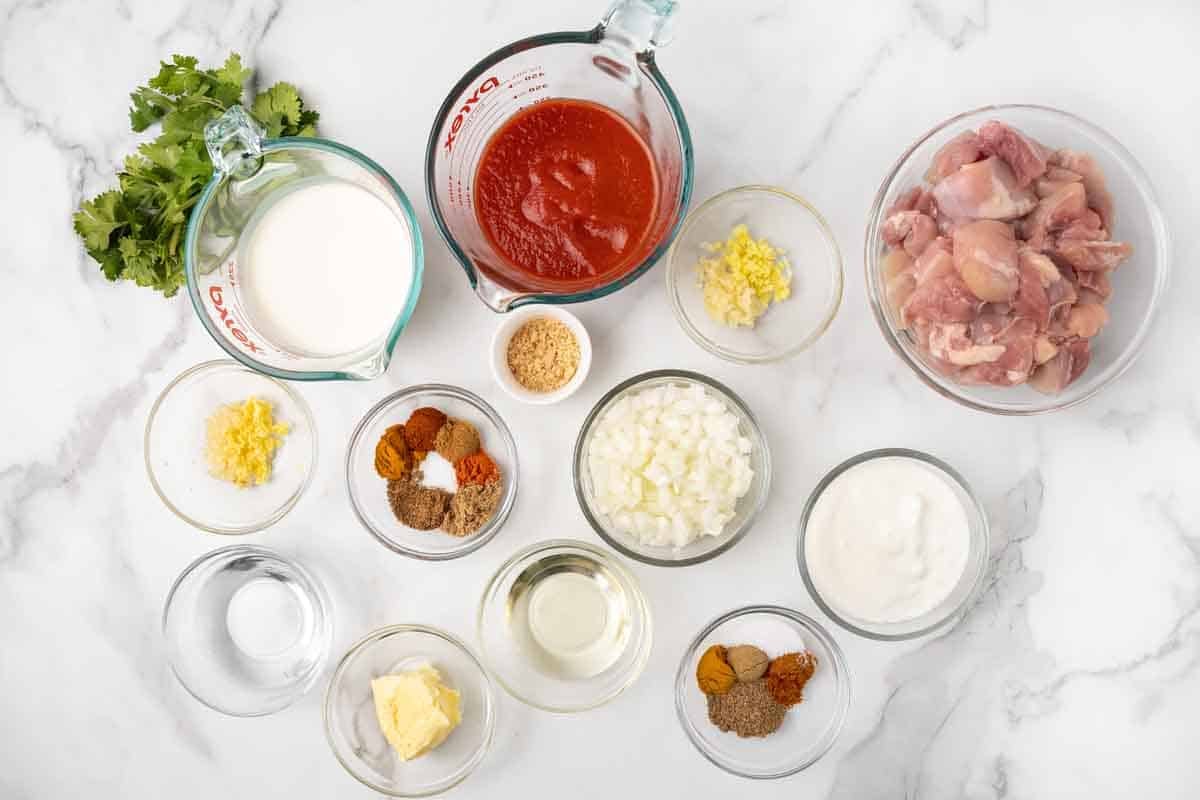 Let's start by gathering the ingredients we need to make Chicken Tikka Masala. In Chef Speak, this is called the "Mise en Place," which translates to "Everything in its Place."
Not only does setting up your ingredients ahead of time speed up the cooking process, it also helps ensure you have everything you need to make the dish.
Seasonings are the key to making the best Chicken Tikka Masala:
garam masala
red chili powder
turmeric
cumin
fresh ginger
fresh garlic
You may find some recipes that use tomato paste, I prefer the sweeter, more natural flavor of tomato puree. I use boneless skinless chicken thighs to make this recipe since it stays moist and has more flavor. You can use boneless skinless chicken breasts if you prefer.
*To make a non-dairy version of this dish, use coconut cream yogurt to marinate the chicken and cashew cream instead of heavy cream for the sauce.
How to make Chicken Tikka Masala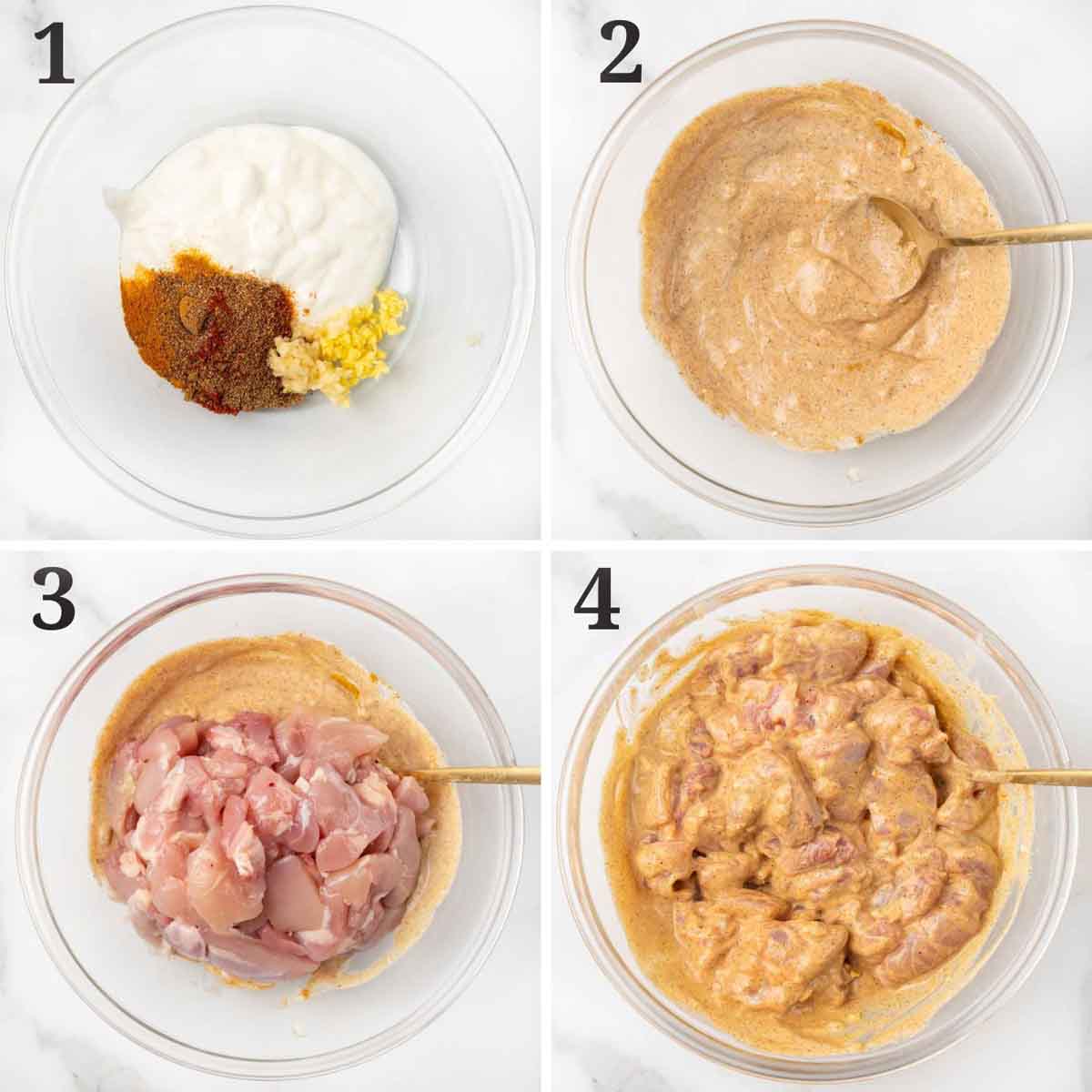 In a large bowl, combine all of the ingredients for the marinade except the chicken.
Whisk the mixture until well blended to make the yogurt marinade.
Add the pieces of chicken thighs to the marinade.
Stir to make sure all of the chicken is well coated.
Refrigerate the mixture and let the chicken marinate for one hour.
*Marinate the chicken overnight (up to 12 hours) for the best flavors.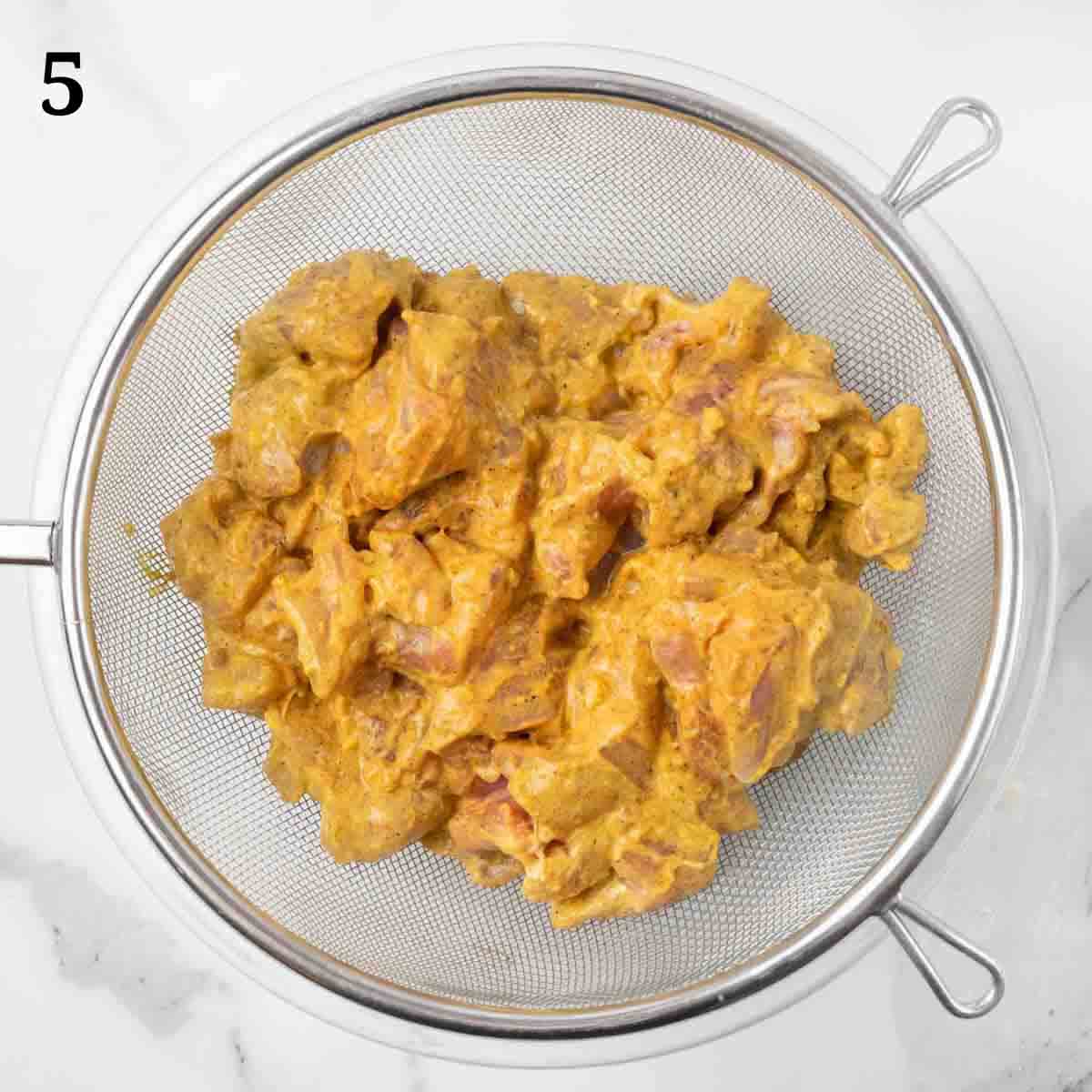 Drain the chicken pieces in a strainer to remove the excess chicken marinade. The chicken will still have a nice coating of the spiced yogurt.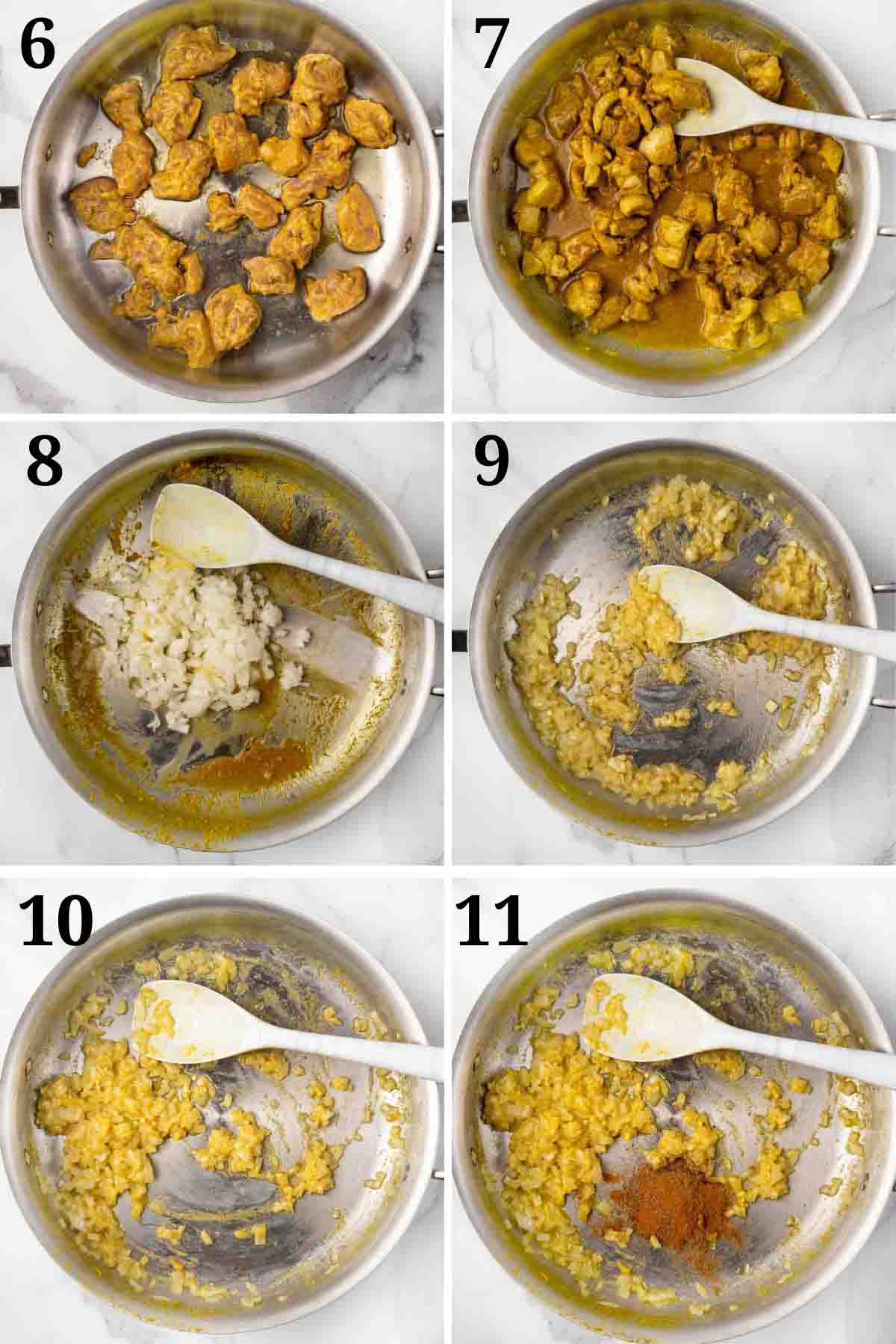 Add the cooking oil to a large skillet over medium-high heat. When the pan is hot, add the chicken pieces in a single layer. Cook in two batches if necessary. *Don't crowd the pan.
Cook the chicken pieces until nicely browned (2 minutes on each side). Then remove the chicken from the skillet and place them on a serving dish or rimmed baking sheet, loosely covered with foil to keep warm until needed.
Add the butter to the same skillet and let it melt over medium-high heat. When the butter has melted, add the onions to the pan and cook for 2-3 minutes, until soft and fragrant. If it is too dry, add additional oil to the pan. *Make sure to use a large spoon to scrape up the browned bits that stuck to the bottom of the pan.
Add the chopped garlic and ginger to the pan.
Continue cooking the mixture for 1 minute, stirring as needed.
Add the garam masala, cumin, turmeric, and coriander to the pan and continue to cook for 30 seconds until fragrant. *Stir the mixture while cooking, so the spices don't burn and get bitter.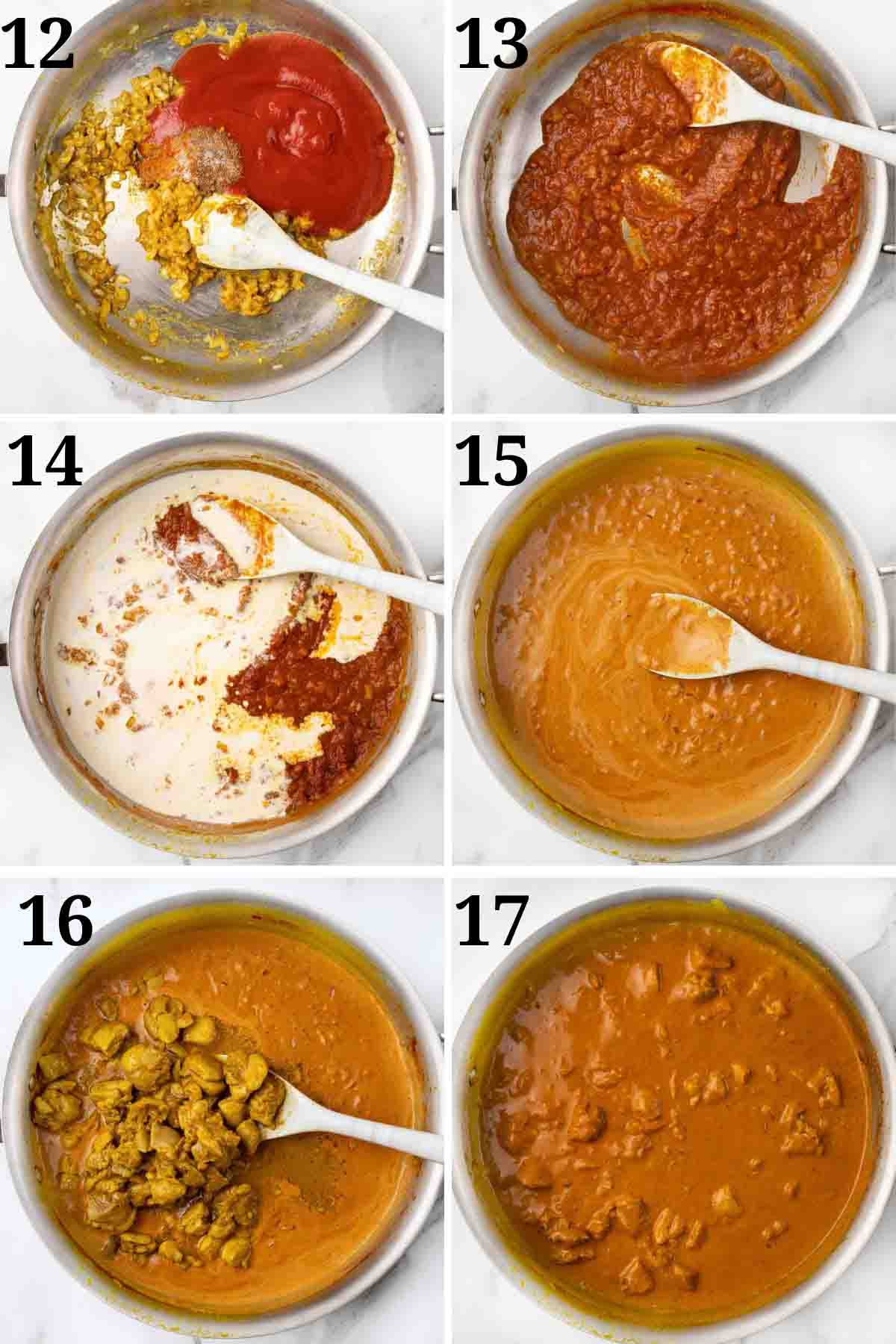 Add the tomato puree, red chili powder, paprika, and salt to the pan,
Stir until well combined. Then reduce the heat to low and let the mixture simmer for 10 minutes, stirring as needed.
Add the heavy cream and brown sugar to the sauce.
Stir until well blended.
Add the cooked chicken and any juices that may have been released from the chicken into the pan and with the sauce. Stir to combine.
Let the Tikka Masala continue to simmer for 8-10 minutes until the sauce is thick and bubbling. *If the sauce is too thick, add water to thin the sauce to the desired consistency.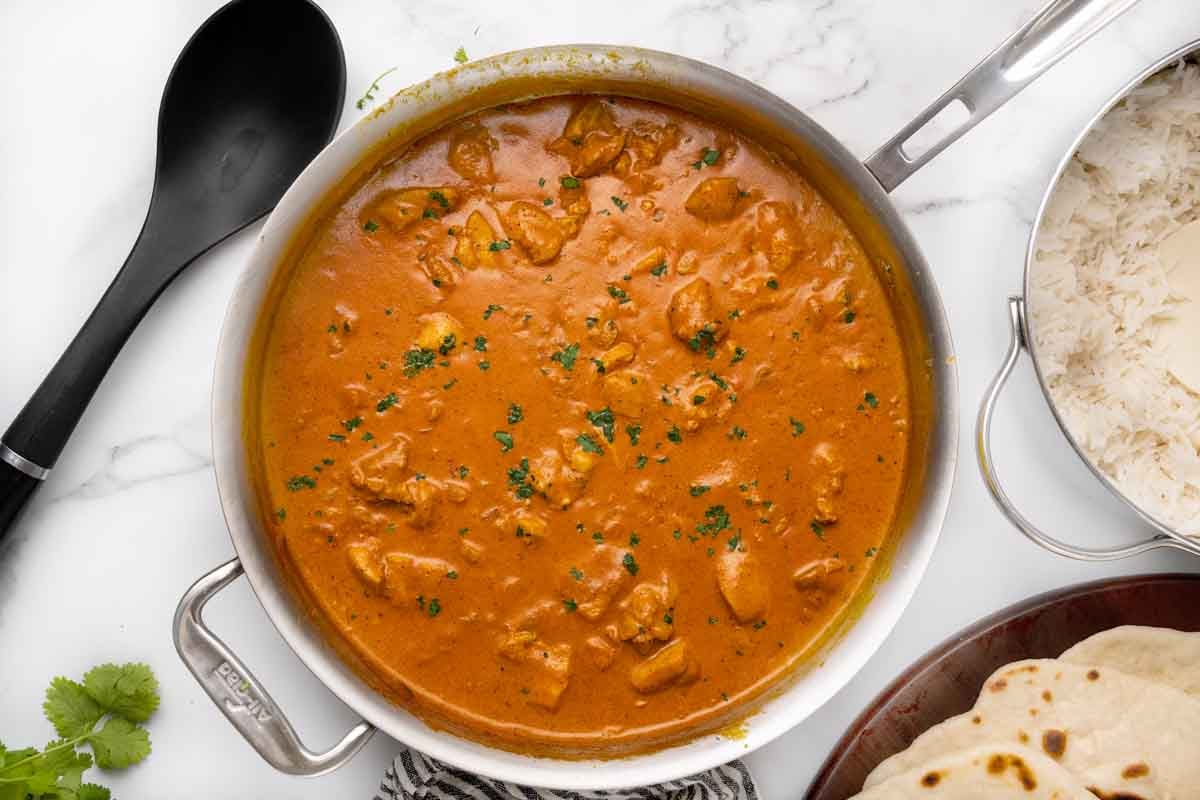 Add half of the cilantro to the pan, saving the rest to garnish the plates.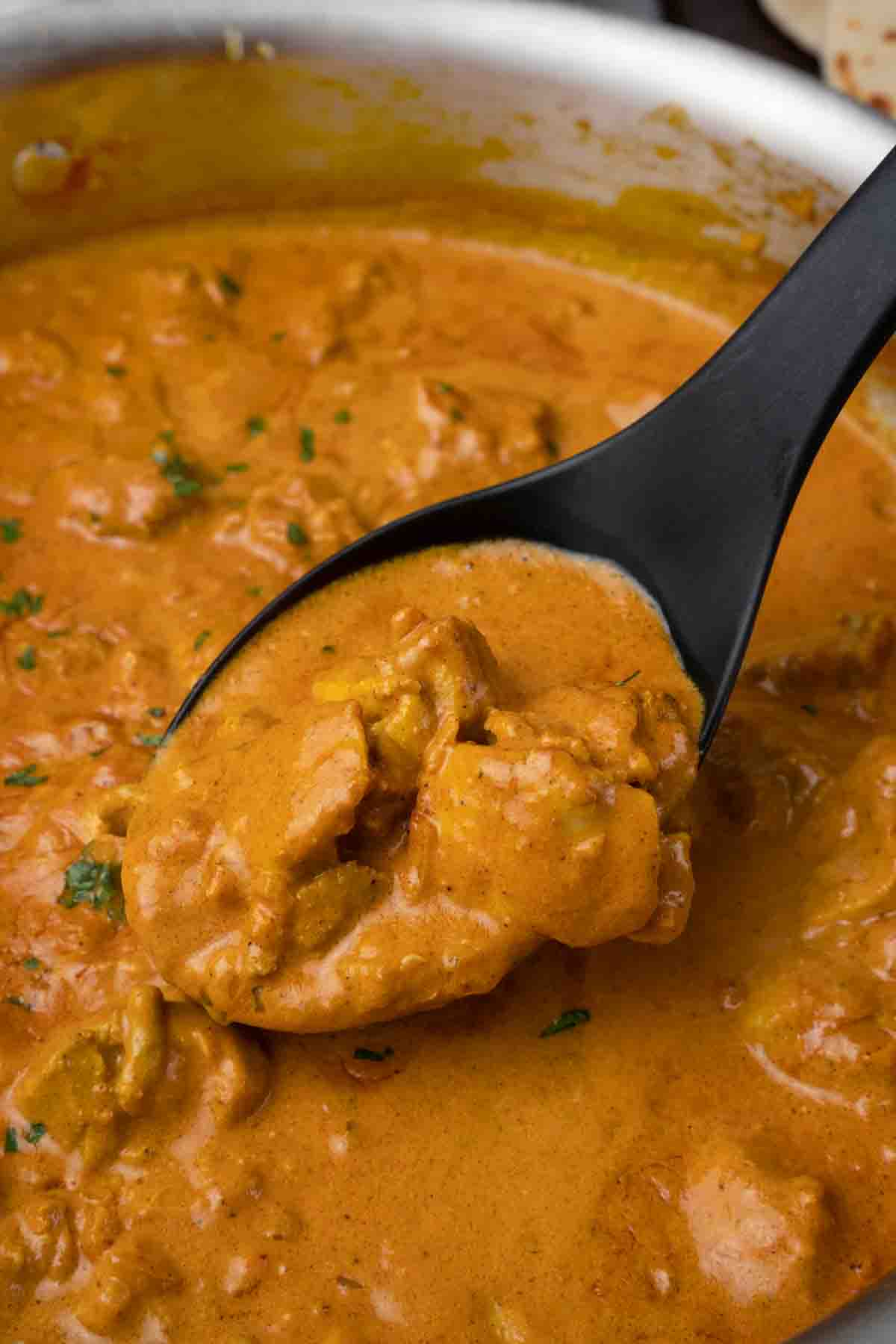 Wouldn't this make a delicious dinner? I can't believe how long I waited to enjoy dishes like chicken tikka masala.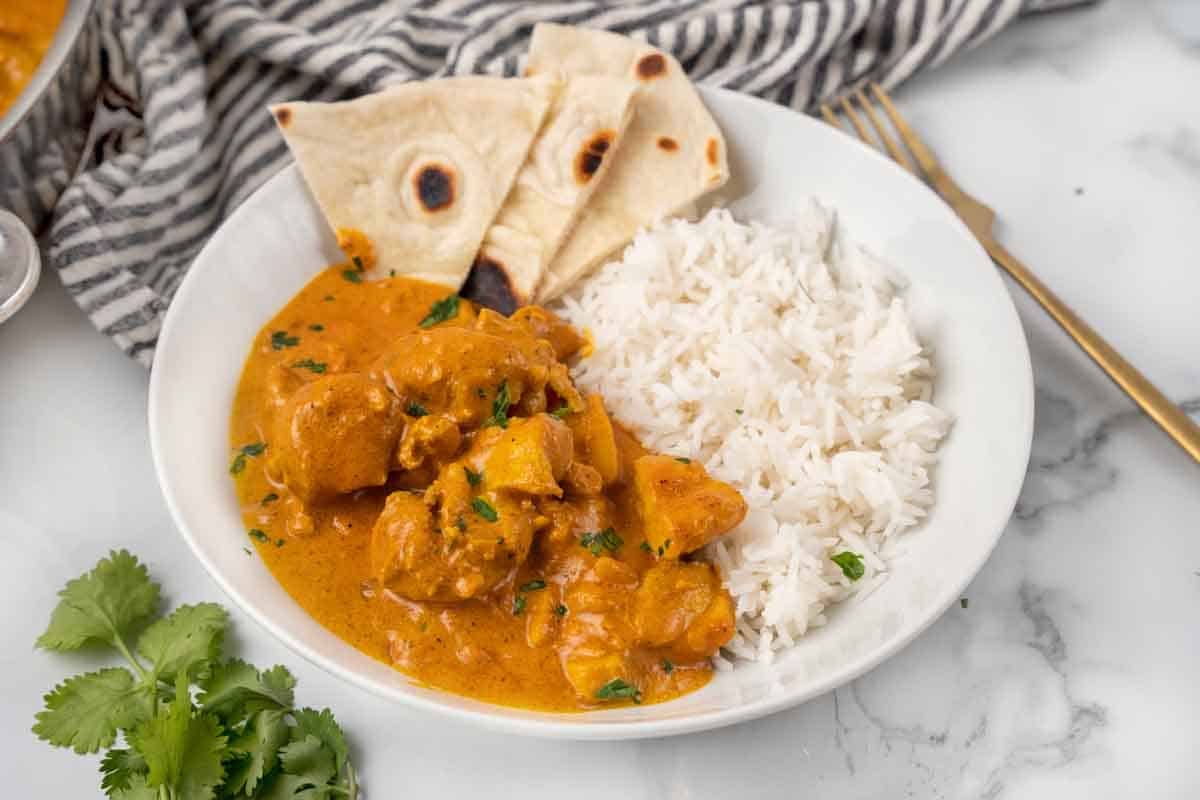 Serve Chicken Tikka Masala with basmati rice (or cauliflower rice) and homemade naan bread for an exceptional Indian meal.
Recipe FAQ'S
What is Tikka Masala Sauce made of?
Tikka masala is a tomato cream sauce that uses heavy cream, yogurt, or cashew milk as the creaming source of the sauce. It's a heavily seasoned sauce that includes traditional Indian spices, garam masala, coriander, turmeric, cumin, ginger, and chili powder. Resulting in a sauce with a slightly sweet earthy flavor and orange hue.

What is the difference between chicken tikka and chicken tikka masala?
Tikka is a type of Indian cooking that is comprised of grilled or roasted pieces of meat that have been marinated in yogurt or spiced water before being cooked on skewers. Masala refers to a sauce made with tomatoes, cream, yogurt, and seasonings that is then combined with the cooked chicken resulting in chicken tikka masala.
Is Chicken Tikka Masala spicy?
Considering all of the spices used to make this dish, it is still one of the least spicy Indian dishes you'll encounter. It is a curry but one of the milder curries you'll find on menus.
More Recipes You'll Love!