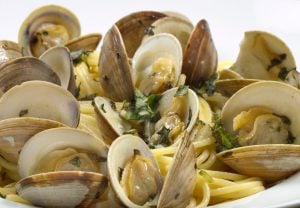 This classic Italian dish can be on your dinner table in less time than it takes to pick up takeout. The only problem is it will be better than your favorite Italian restaurant! Sorry guys.
This post includes affiliate links. As an Amazon Associate I earn from qualifying purchases.
If you ask Lisa what her favorite dinner was, without hesitation she would say Linguine with clams. Luckily for us, you can get farm raised little neck clams at most supermarkets. And they're pretty darn close to wild caught.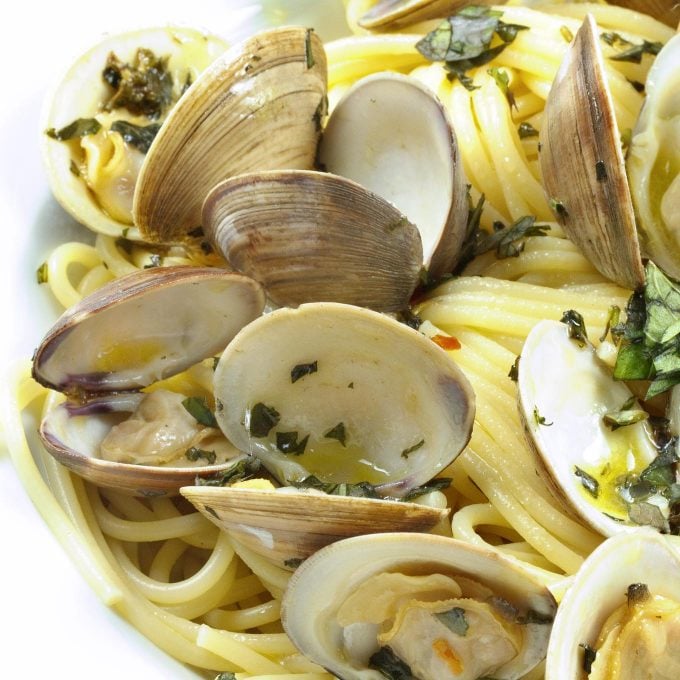 While it's not my favorite meal, it is one of my favorites to prepare, because of how easy it is to make! For that same reason, it's one of the first entrées I teach my students to make at the Mount.
Bags of farm-raised littlenecks are readily available in most grocery stores in this area, so they are easy enough to find, and a bag of 50-60 usually runs around $ 16.00, add in a pound of linguine and a special dinner for two just became very affordable!
We really began eating Linguine and clams after our first trip to Italy, I think that has to be the first time I ever had it prepared properly.
All of my years of restaurant clam sauce consisted of chopped canned clams….Yuck! When I think back on what we served….sigh, well I'm just glad I learned the right way to make this dish and I've never resorted to canned clams since that trip!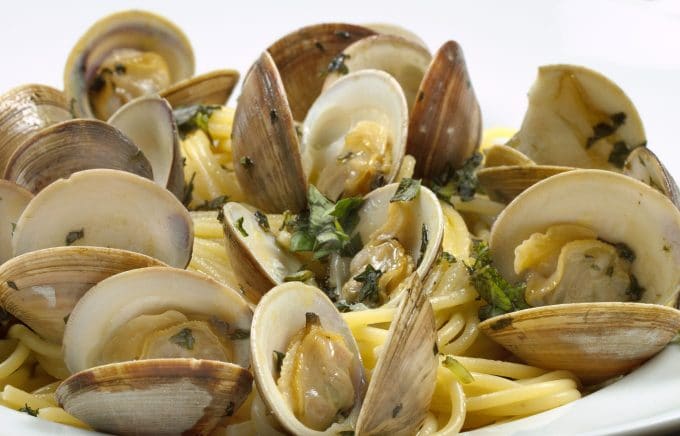 Throw in a nice tossed salad and some crusty bread and you have a feast! Throw in a glass of your favorite white wine or prosecco and you've made dinner a memorable occasion.
Timing is everything with this dish
First of all start your pot of water for the pasta heating up, while the water is coming to a boil get out your clams and wash them off in cold water.
This is the time for you to inspect your clams, an open clam is a dead clam, (if you tap it and it closes it's just trying to fool you) so discard any open clams. If a clam gets broken by miss handling it will die and it will smell…..this does not mean all the clams are bad but it will impart an odor to the rest of the clams, just rinse them well in cold water.
One very important thing to remember about clams is that they come in a mesh bag for a reason, so they can breathe. If you place them in a plastic bag to get them home, remove them from the bag immediately when you get home and place them in a bowl uncovered in the refrigerator. The cold might open some of the clams, but they will close if they are not dead when you move them around.
If you love clams and other seafood you might also like these recipes:
Print Recipe
Linguine with Clams in a white sauce
This classic Italian dish can be on your dinner table in less time than it takes to pick up takeout. The only problem is it will be better than your favorite Italian restaurant! Sorry guys.
Ingredients
⅔

lb

Linguine

(De Cecco, Del Verde, or Barilla)

1

bag

Farm Raised Little Neck Clams

(bag of 50 or at least 15 clams per person)

2

cloves

Garlic sliced

1

Tablespoons

Fresh Parsley chopped

1

Tablespoon

Fresh Basil chopped

Pinch of Crushed Red Pepper

Pinch of Black Pepper

Sprinkle of grated Romano Cheese

2-3

Tablespoons

Extra Virgin Olive Oil

splash of white wine

optional
Instructions
place large stock pot on stove to cook pasta per directions on the box (aldente is always best)

Finely chop parsley and basil

Chop garlic

Rinse clams in cold water checking to make sure they are all closed, or that they will close when tapped. If they are open they are dead..do not use them!

As soon as the pasta water is ready add the pasta and set your timer per instructions.

Place a large saute pan on the stove and add the olive oil and garlic.

Briefly sautee the garlic then add the clams, basil and crushed red pepper, and splash of white wine to the pan and cover with a lid allowing the clams to steam open.

If you have timed this correctly the clams will open with about two minutes to spare on the pasta, turn off the heat on the clams and keep covered until serving.

Drain pasta, place in bowl and divide clams and sauce between them

sprinkle fresh chopped parsley on top of the clams and serve with grated romano cheese.
Nutrition
Calories:
712
kcal
|
Carbohydrates:
115
g
|
Protein:
24
g
|
Fat:
17
g
|
Saturated Fat:
2
g
|
Cholesterol:
8
mg
|
Sodium:
161
mg
|
Potassium:
337
mg
|
Fiber:
5
g
|
Sugar:
4
g
|
Vitamin A:
296
IU
|
Vitamin C:
4
mg
|
Calcium:
47
mg
|
Iron:
2
mg
I know that purists will tell you that you Never put cheese on seafood, but it's what you enjoy and how you like to eat. If you like grated cheese like we do, then add it on and enjoy your meal