Linguine with clams is one of those dishes that you think you can only get when you go out to eat at your favorite seafood or Italian restaurant. And that couldn't be further from the truth, it's actually one of the easiest, most affordable pasta dishes you can make in your home kitchen.
Don't let cooking seafood like clams or mussels be intimidating, I promise they are incredibly easy to cook, and after your first time making this delicious dish, you'll wonder what took you so long!
The prep takes no time at all, with so few ingredients. The only real work is rinsing the clams, and that's not much work at all. The meal can be on your table in less than 30 minutes.
WHAT INGREDIENTS DO I NEED TO MAKE CLAMS AND Linguine?
The list of ingredients is pretty short.
littleneck clams
olive oil
garlic cloves
crushed red pepper flakes
dry white wine (like pinot grigio)
fresh basil
linguine
sea salt
black pepper
Bags of farm-raised littlenecks are readily available in most grocery stores in this area, so they are easy enough to find, and a bag of 50-60 usually runs around $ 25.00. Add in a pound of linguine and a special dinner for two just became very affordable!
Chef Dennis Tip:
Don't overuse garlic for this dish!! My first time eating clams and linguine in Italy I was amazed at how little garlic was actually in the dish, most novice cooks think that lots of garlic is needed for this type of dish and most Italian cooking, and that is not true.
What Types of Clams should I use?
For clams and linguine the smaller the clam the better. For appearance and tenderness of the clam. The larger the clam the tougher the meat. These are my choices.
Countneck Clams (also known as pasta clams)
Littleneck Clams
Topneck Clams
Steamers (also known as soft shell clams and Ipswich clams)
Manilla Clams (found on the west coast of the US and Japan)
Chopped Clams (frozen or canned) I don't recommend canned clams but if that's you're only option they will work.
How do you cook Clams and Linguine?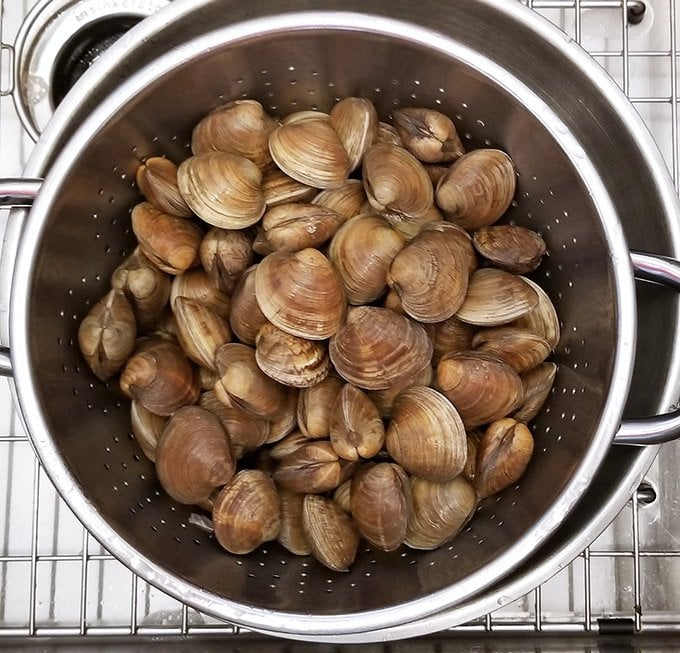 The first step is to rinse the clams thoroughly in cold clean water. I let them soak in the water using a colander. Then dump out the water and repeat the process 5 times or until the water is clear and free of sand and debris.
*If any of the clams are open, they are dead and must be discarded.
This is an important part of the recipe to ensure your clams and linguine is sand-free. Clams burrow themselves in the sand and washing them well can get rid of the grit you don't want in your dinner.
Chef Dennis Tip:
One very important thing to remember about clams is that they come in a mesh bag for a reason, so they can breathe. If you place them in a plastic bag to get them home, remove them from the bag immediately when you get home and place them in a bowl uncovered in the refrigerator. The cold might open some of the clams, but they will close if they are not dead when you move them around.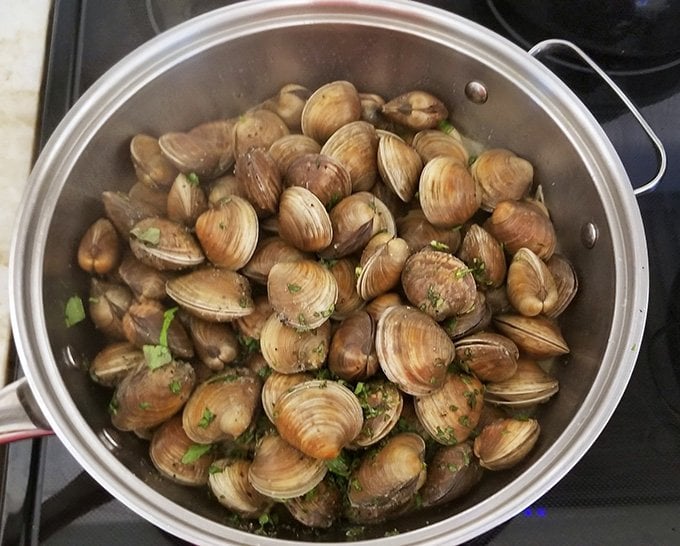 Place a large saute pan ( or small stockpot) on the stove and add the olive oil, garlic and crushed red pepper flakes. Allow the garlic to cook a little and become fragrant.
Add the clams, basil, and a splash of white wine to the pan. Cover the pan with a lid allowing the clams to steam open, about 7-8 minutes.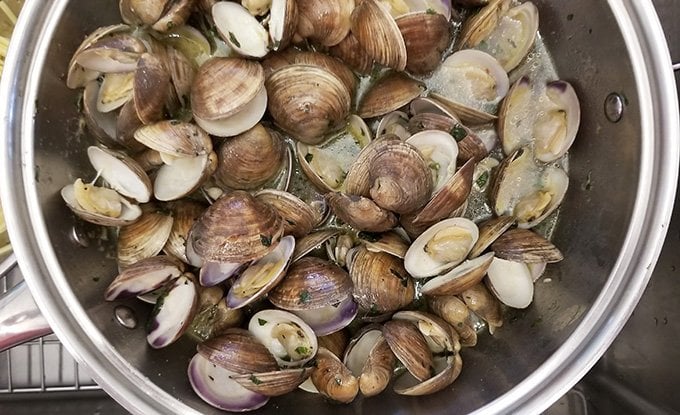 HOW DO I KNOW THE CLAMS ARE COOKED?
Once the clams have all opened they are fully cooked. Keep the clams covered until ready to serve.
If the clams don't open they still be okay, but just a warning, every now and then you get a mudder. A clam packed with mud from the seabed. Don't open them over your pasta, I speak from experience. If it is a good clam, you can add it.
Timing is everything with this dish
First of all start your pot of water for the pasta heating up, while the water is coming to a boil get out your clams and wash them off in cold water.
This is the time for you to inspect your clams, an open clam is a dead clam, (if you tap it and it closes it's just trying to fool you) so discard any open clams. If a clam gets broken by miss handling it will die and it will smell…..this does not mean all the clams are bad but it will impart an odor to the rest of the clams, just rinse them well in cold water.
What to serve with Linguine and Clams?
I like serving a nice tossed salad with this dish. A Ceasar salad can also be served, but that adds more garlic to the dinner and can detract from the overall experience.
Good crusty bread is a necessity, using it to sop up the juices from the dish is highly recommended! And of course, a nice glass of the white wine you used to make this dish will be a perfect accompaniment.
I know that purists will tell you that you Never put cheese on seafood, but it's what you enjoy and how you like to eat. If you like grated cheese like we do, then add it on and enjoy your meal.
Recipe FAQ's
What is the difference between spaghetti and linguine?
The only real difference between linguine and spaghetti is that linguine is a flat and slightly wider noodle, while spaghetti is a round noodle.
Spaghetti is generally used with tomato sauces, while linguine is used for seafood and pesto dishes.
Should I use fresh or canned clams for this recipe?
My first choice would always be fresh clams for this classic dish. Frozen chopped clams or canned chopped clams can be used if fresh clams cannot be sourced.
Should I remove the clams from the shell to serve?
That is a personal preference, but served in restaurants clams are never removed from the shell because they add to the appearance of the dish, add volume and can be served while hot. Picking the clams out of the shells takes time and you'll reheat the sauce which can toughen the clam meat.
What kind of clams should I use for this recipe?
My first choice of clam and linguine are littleneck clams. They are small enough to be tender but not as small as pasta clams. Depending upon where you live other varieties can be used manilla clams and steamer clams (Ipswich) are also great choices.
More Shellfish Recipes You'll Love!