This post includes affiliate links. As an Amazon Associate I earn from qualifying purchases.
Having traveled to Spain one of things I remember most was the amazing seafood that was served. And a Spanish Seafood Stew was one of the dishes that I enjoyed the most and ordered more frequently.
This post was sponsored by Mirum. The thoughts and opinions expressed are my own.
Lisa and I love to travel and one of our dream locations had always been Spain. A few years ago we made that dream come true. The culture, the food and the beauty of Spain is simply amazing and the people are some of the friendliest we've ever encountered during our travels.
You know I love to eat and I enjoy telling people that I eat for a living. It's not a bad job to have, although it can have its challenges. When a smiling local, hands me one of their favorite dishes to try, I can't say no.
Every now and then I sample foods that can cause the old Chef Dennis indigestion and heartburn, but thanks to Omeprazole Orally Disintegrating Tablets I can eat everything I'm offered without worrying about the consequences of my frequent heartburn.
That gives me comfort and more time to enjoy all the deliciousness that my travels have to offer, other than just food, like the Flamenco show we attended in Madrid.
Isn't it time you left your heartburn behind and started enjoying life? If you suffer from frequent heartburn, Omeprazole ODT may be just what you're looking for.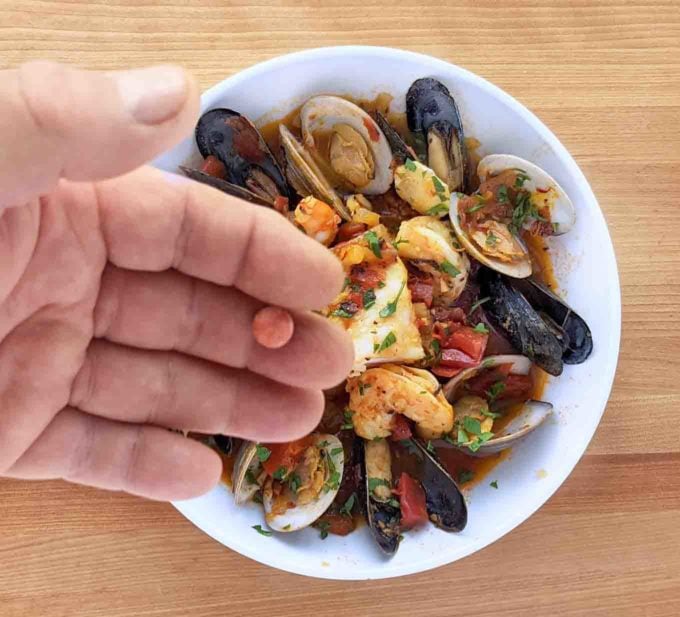 Made for frequent heartburn sufferers who experience symptoms 2 or more days per week, Omeprazole Orally Disintegrating Tablets provide long-lasting 24-hour protection! Bonus: you don't even need a glass of water, as the strawberry-flavored tablet dissolves right on your tongue.
Take one dose daily for 14 days according to package directions. Don't take Omeprazole Orally Disintegrating Tablets for more than 14 days unless directed by your doctor. Omeprazole ODT may take 1-4 days for full effect and is not intended for immediate relief.
You can find it online and in stores under the Store Brand label. Eight out of 10 Omeprazole users prefer an Orally Disintegrating Tablet* to get relief from their symptoms..
*Based on a 2017 survey of heartburn sufferers who had used either national brand or store brand Omeprazole tablets within the last 12 months, 78% of survey participants responded that they would prefer an orally disintegrating tablet versus other over-the-counter ("OTC") Omeprazole capsules or tablets to obtain heartburn relief.
What do I need to make a Spanish Seafood Stew?
Let's start by gathering the ingredients we need to make my Spicy Spanish Seafood Stew. In Chef Speak this is called the "Mise en Place", which translates to "Everything in its Place".
Not only does setting your ingredients up ahead of time speed up the cooking process, but it also helps ensure you have everything you need to make the dish.
Start the process by thoroughly rinsing the clams and mussels.
Peel and devein the shrimp and pat the cod and shrimp with paper towels.
Season the cod and shrimp with sea salt and black pepper.
How do I make Spanish Seafood Stew?
Place a large saut pan over medium-high heat. Add the olive oil to the pan and when it heats up add the diced onion, garlic, and sliced fennel. Saut for about 3 minutes.
Add smoked paprika, thyme, and crushed red pepper flakes to the pan. Add white wine to deglaze the pan.
Add tomatoes, chicken broth, saffron and season with sea salt and black pepper. Bring mixture to a boil and reduce heat to simmer.
Add the cod, shrimp, clams and mussels to the pan.
Cover the pan and continue to cook for 4-5 minutes or until the clams and mussels have opened.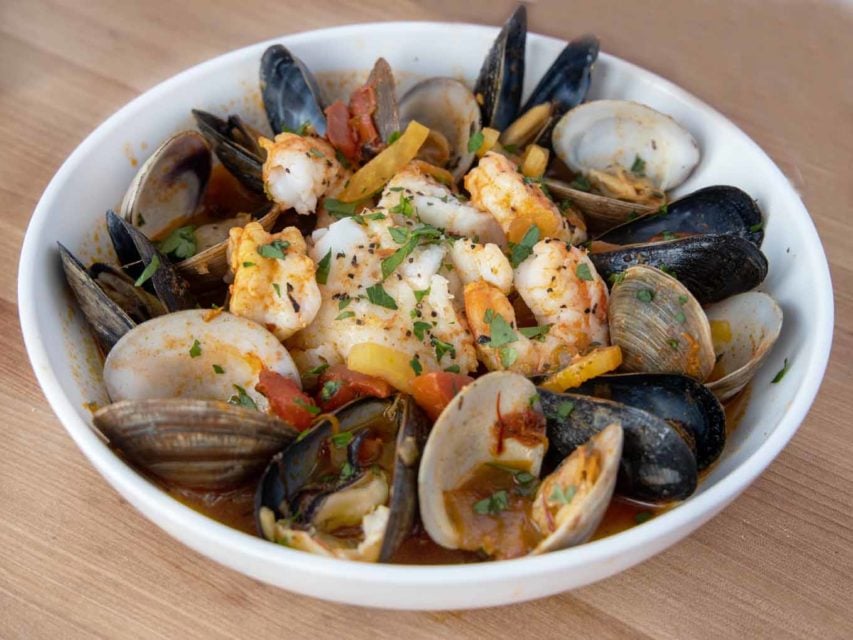 Serve up the seafood with all the delicious juices and garnish with parsley. Serve with your favorite crusty bread and you've got a hearty meal that can be prepared in about a half-hour.
It's perfect for your next date night or small dinner gathering, it's really that easy to make.
More Recipes You'll Love!