Having traveled to Spain one of the things I remember most was the amazing seafood that was served. And Spanish Seafood Stew was one of the dishes that I enjoyed the most and ordered more frequently.
Lisa and I love to travel and one of our dream locations had always been Spain. A few years ago we made that dream come true.
The culture, the food and the beauty of Spain is simply amazing and the people are some of the friendliest we've ever encountered during our travels.
I love traveling because not only do I get to sample delicious dishes, I get to attend events like the Flamenco show we enjoyed in Madrid.
What do I need to make a Spanish Seafood Stew?
Let's start by gathering the ingredients we need to make my Spicy Spanish Seafood Stew. In Chef Speak this is called the "Mise en Place", which translates to "Everything in its Place".
Not only does setting your ingredients up ahead of time speed up the cooking process, but it also helps ensure you have everything you need to make the dish.
Start the process by thoroughly rinsing the clams and mussels.
Peel and devein the shrimp and pat the cod and shrimp with paper towels.
Season the cod and shrimp with sea salt and black pepper.
How do I make Spanish Seafood Stew?
Place a large saut pan over medium-high heat. Add the olive oil to the pan and when it heats up add the diced onion, garlic, and sliced fennel. Saut for about 3 minutes.
Add smoked paprika, thyme, and crushed red pepper flakes to the pan. Add white wine to deglaze the pan.
Add tomatoes, chicken broth, saffron and season with sea salt and black pepper. Bring mixture to a boil and reduce heat to simmer.
Add the cod, shrimp, clams and mussels to the pan.
Cover the pan and continue to cook for 4-5 minutes or until the clams and mussels have opened.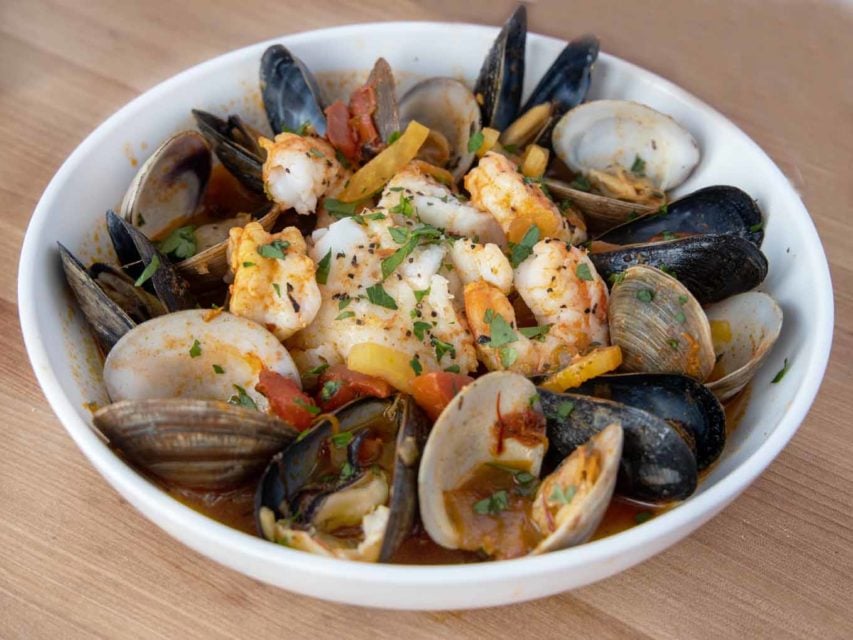 Serve up the seafood with all the delicious juices and garnish with parsley. Serve with your favorite crusty bread and you've got a hearty meal that can be prepared in about a half-hour.
It's perfect for your next date night or small dinner gathering, it's really that easy to make.
More Recipes You'll Love!