What could be better than the aroma of freshly baked banana bread in the morning (or any time of day)? This moist and delicious banana bread is easy to make and a great recipe to use up those leftover bananas that all of have of us have on our kitchen counters.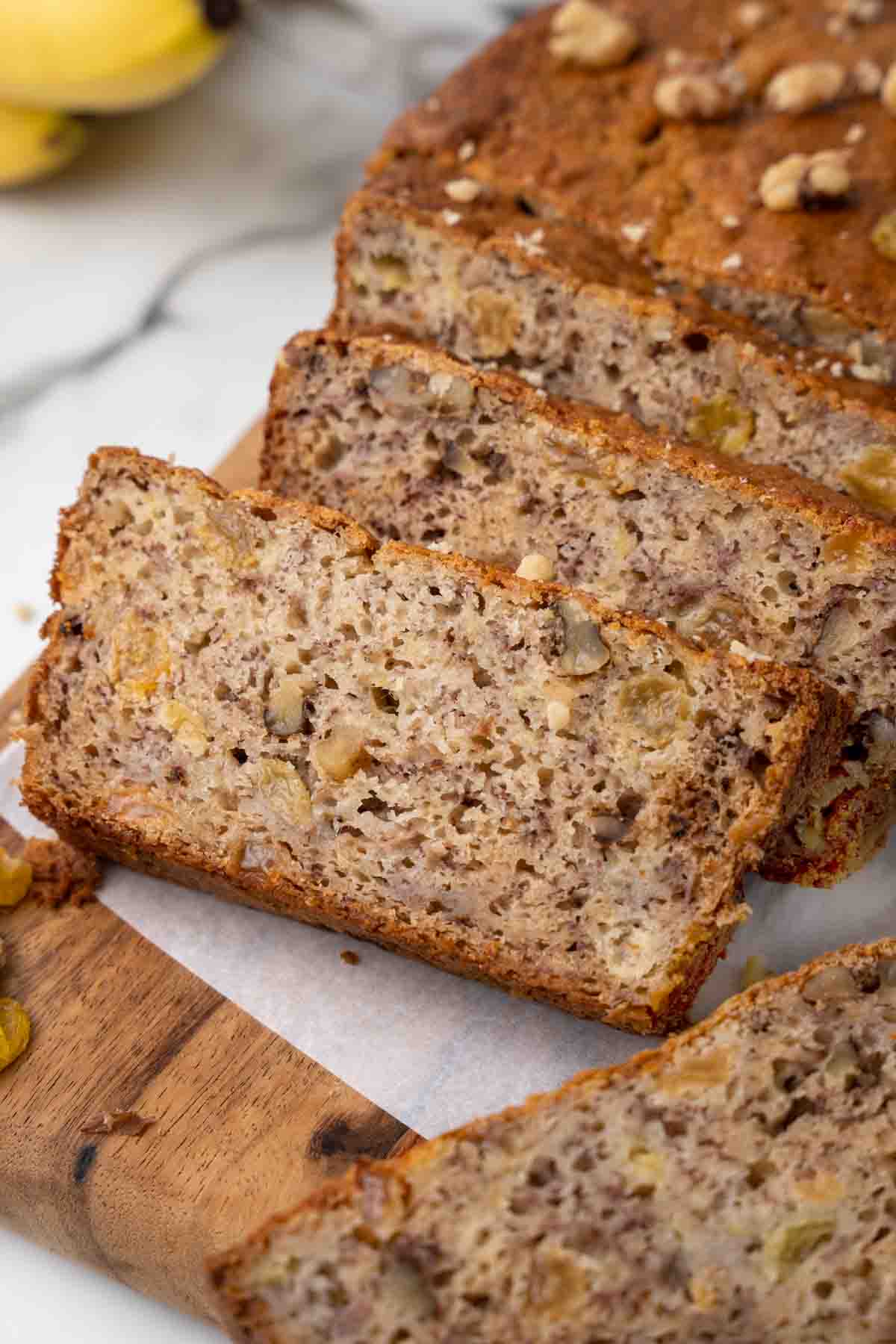 One of the great things about making homemade banana bread is its versatility. You can add nuts to my banana bread recipe or your favorite chocolate chips to make chocolate chip banana bread.
The origins of this moist banana bread recipe can be traced back to the Great Depression. Nothing was wasted during that era. Ingredients were scarce, and you couldn't afford to throw overripe bananas away.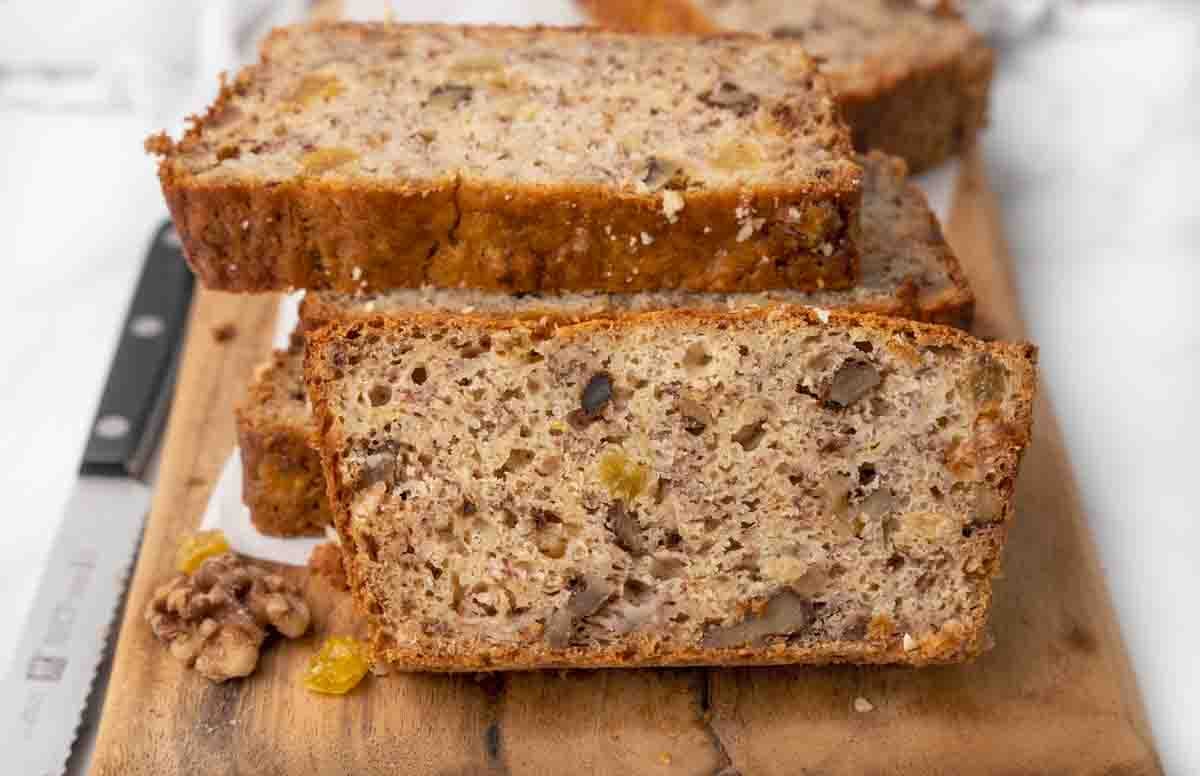 The soft crumb and buttery texture of my easy banana bread recipe lets the rich banana flavor of this cake shine through.
A reader asked if bananas could be too ripe to make a loaf of banana bread. Bananas should have plenty of brown spots and can be completely black. The riper the banana, the sweeter it's going to be, and the more intense the flavor will be.
If you like this recipe, you're going to love my Banana Crumb Coffee Cake.
Ingredients to make Banana Bread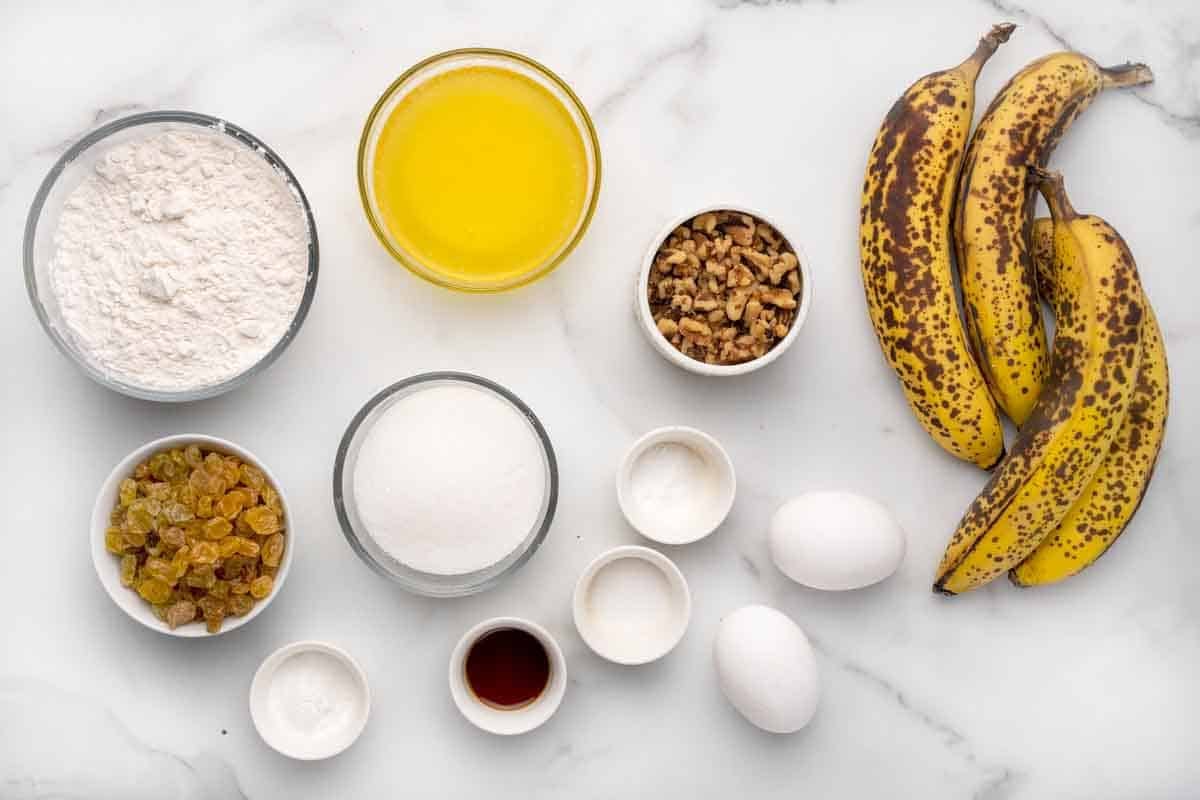 Let's start by gathering the ingredients we need to make traditional Banana Bread. In Chef Speak, this is called the "Mise en Place," which translates to "Everything in its Place."
Not only does setting up your ingredients ahead of time speed up the cooking process, it also helps ensure you have everything you need to make the dish.
How to make Banana Bread
Prepare a 9″loaf pan with butter and flour (or pan spray).
Preheat the oven to 325 degrees F.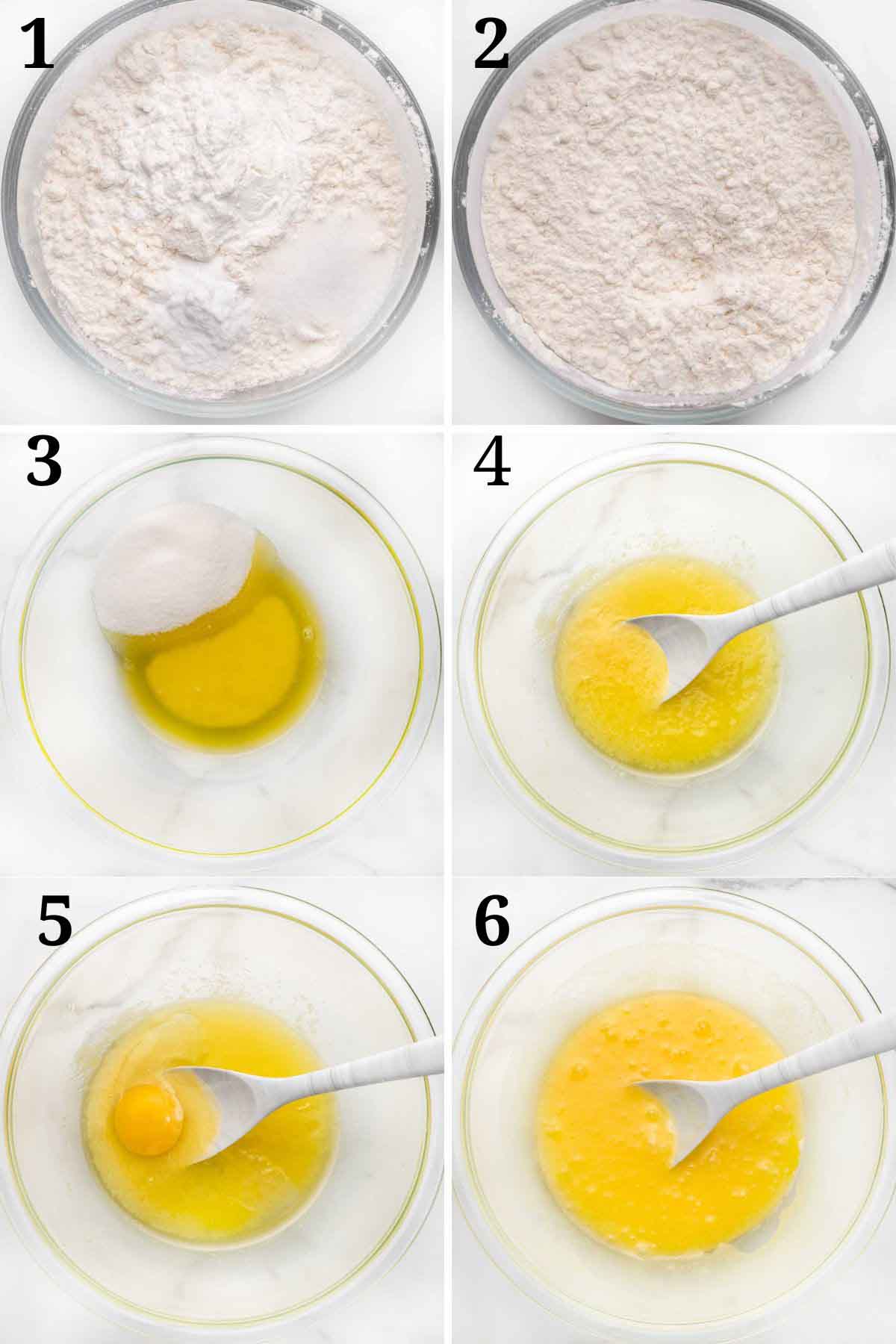 Add the all-purpose flour, salt, baking soda, and baking powder to a small bowl.
Whisk the dry ingredients together until well blended
Add the melted butter and sugar to a large bowl.
Mix until well combined.
Add the eggs one at a time to the butter mixture.
Whisk until completely blended into the mixture.
*You can use a stand mixer or hand mixer to make this recipe.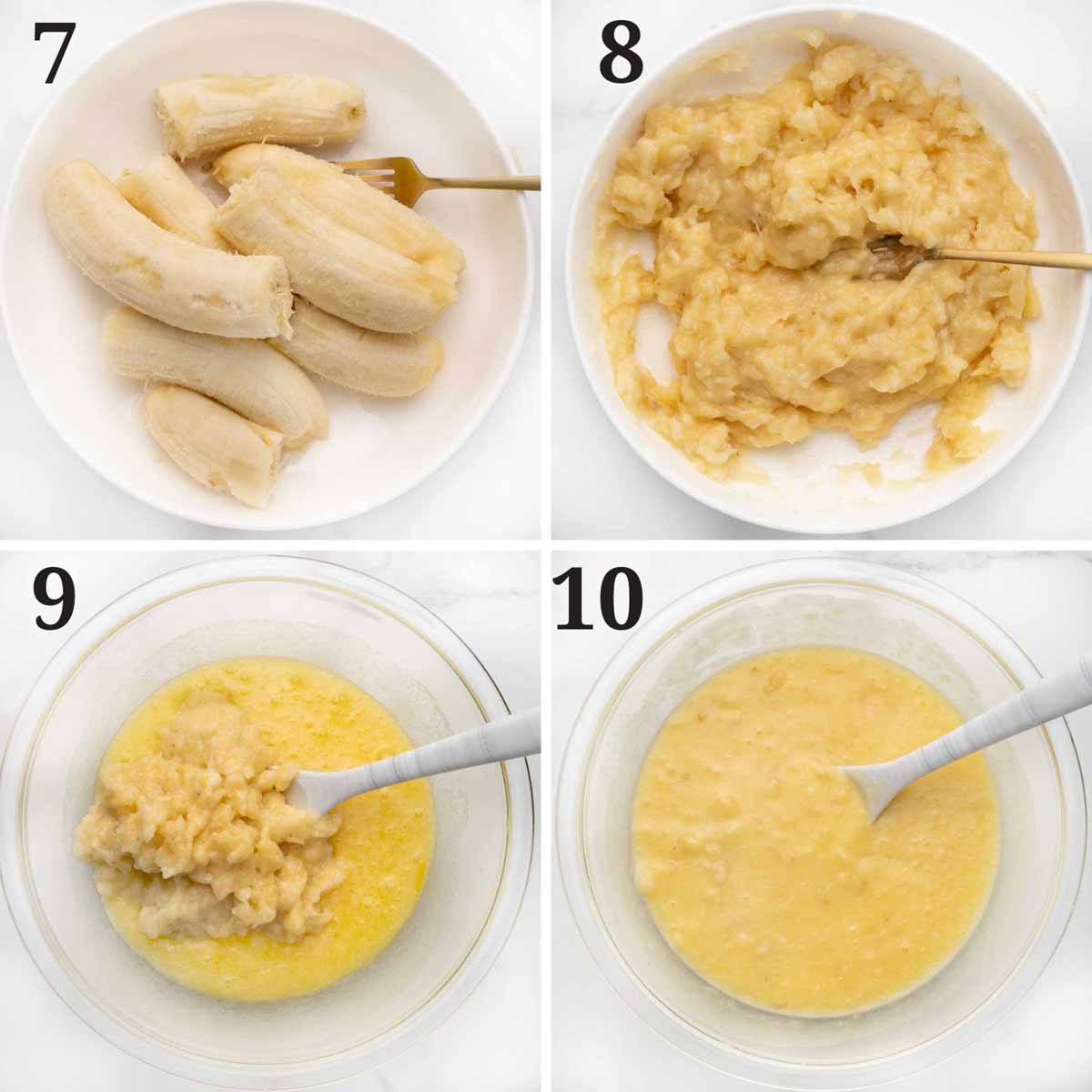 Peel 4 medium-sized bananas.
Mash the bananas with a fork.
Add the mashed bananas to the wet ingredients.
Mix until well combined.
*Don't think that adding extra bananas will make this recipe extra delicious. Using more or even large bananas will only result in problems with the recipe.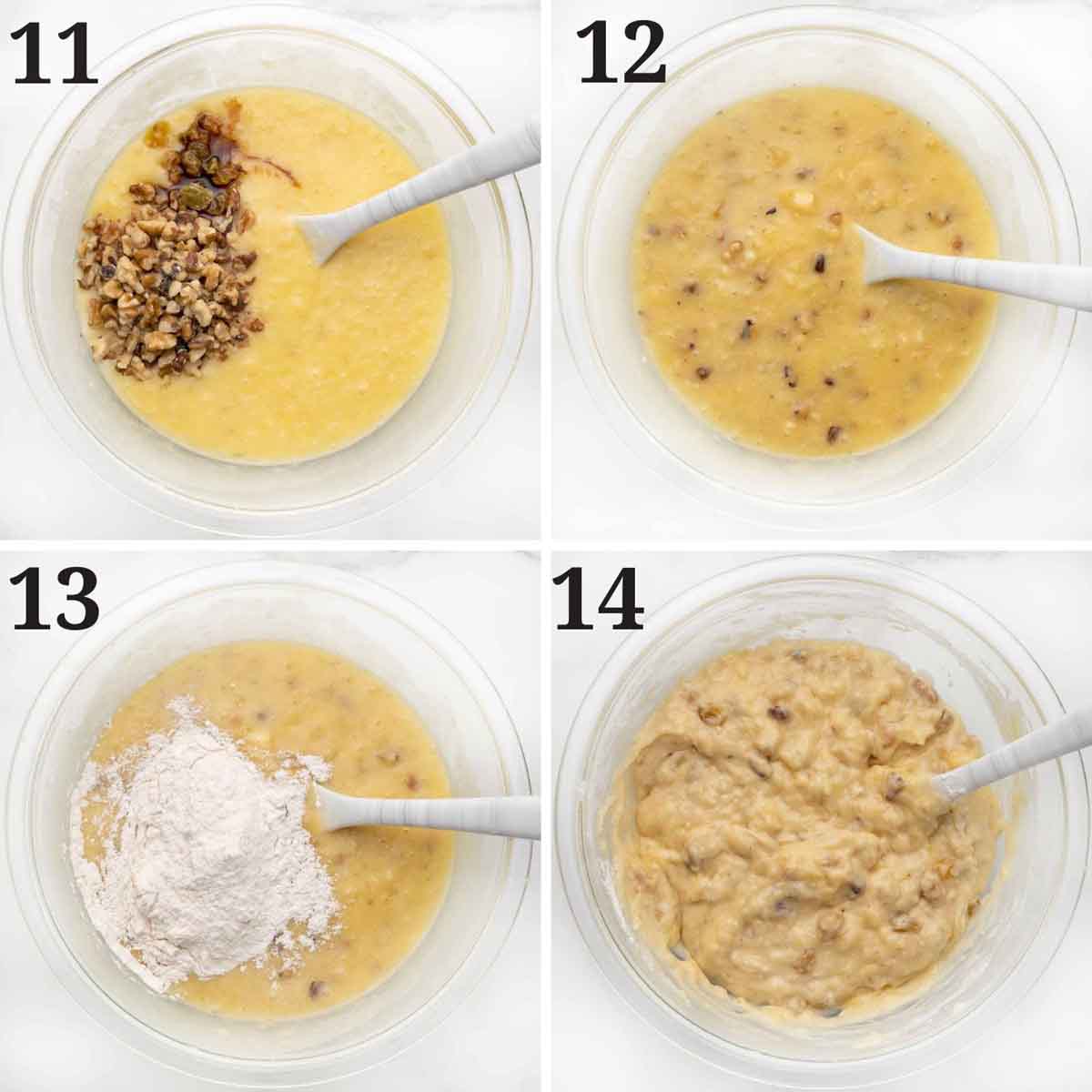 Add the raisins, walnuts, and vanilla extract to the banana mixture.
Mix until well combined.
Add the flour mixture to the wet ingredients, one-third at a time.
Mix until each addition is just mixed in. Don't overmix.
Other flours can be used in this recipe. Whole wheat flour and almond flour are two that I have heard worked well with this recipe, but it's something you'll have to experiment with to come up with the right proportions.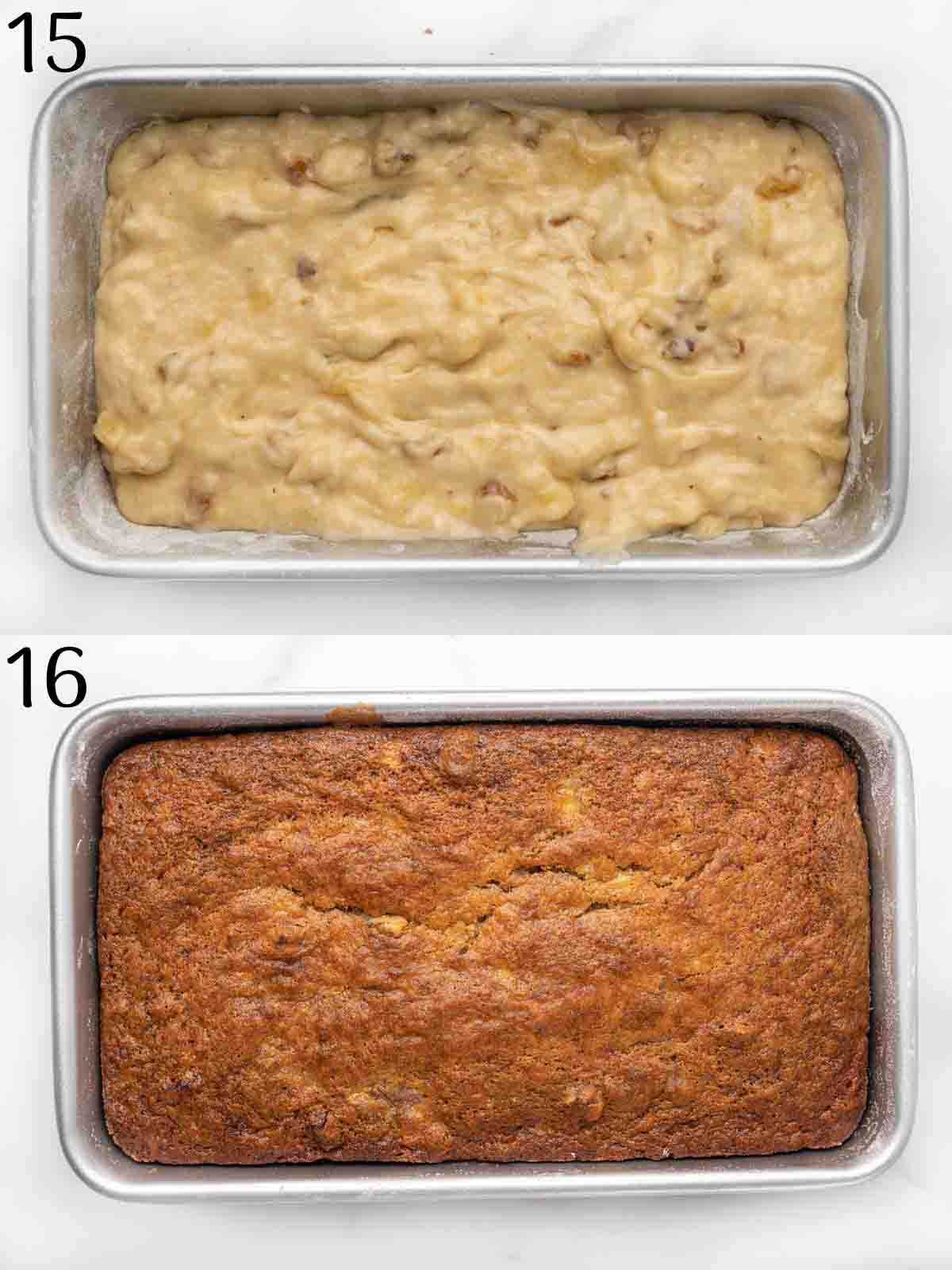 Pour the batter into the greased loaf pan.
Place the loaf pan on the center rack of the preheated oven and bake for 60-70 minutes or until a wooden toothpick or cake tester inserted into the center of the loaf comes out clean.
Place the pan on a wire rack to cool for 15 minutes. Then remove the delicious banana bread from the loaf pan.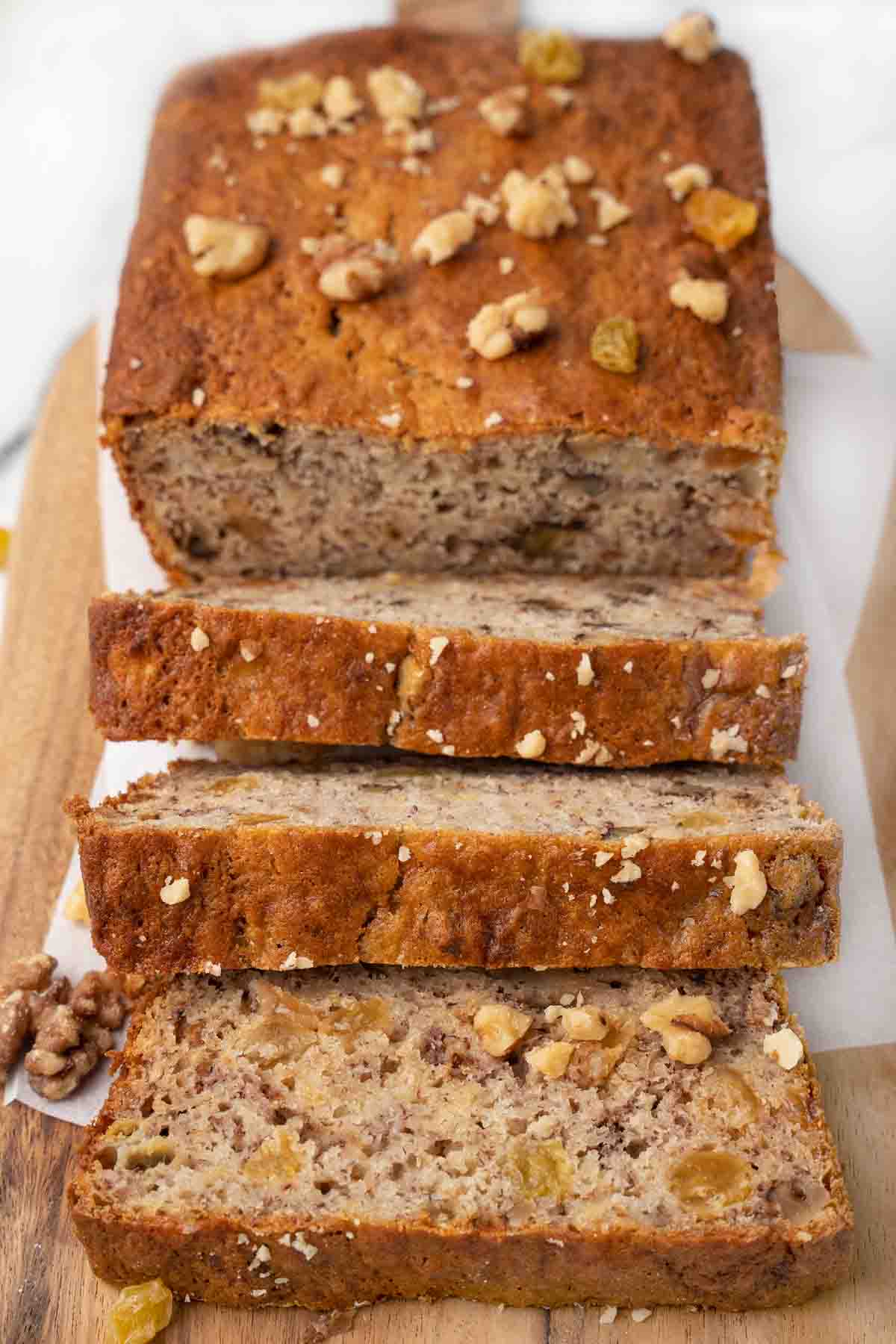 This is my favorite way to use up leftover bananas, and after one bite, I know you'll agree that this is the best banana bread recipe you've ever tried and is sure to become a family favorite.f
I like to make two loaves of this easy recipe and freeze one for another day. You can keep the bread frozen in an airtight container for up to three months.
Chef Tip:
Don't have enough bananas? Freeze them until you have enough or have the time to make this quick bread. I suggest peeling them before freezing it will make things a lot easier.
Recipe FAQ's
Can bananas be too ripe to make Banana Bread?
If your bananas are black, that means they're perfect for banana bread. Just yellow and spotted are good, but really overripe is even better. Bananas get sweeter as they get riper.
If your bananas aren't ripe enough, place them in a brown paper bag overnight to hurry the process.
Can I make banana bread without eggs?
Yes, you can make banana bread without eggs. Use applesauce, yogurt, or flax eggs as an egg substitute. Keep in mind that the texture and flavor of the bread may be slightly different.
Can I freeze Banana Bread?
Yes, you can freeze banana bread. Wrap the bread tightly in plastic wrap or aluminum foil, then place it in an airtight container or freezer bag. It can be stored in the freezer for up to 3 months.
Baking Tools I use
Chef's Choice
Chef's Choice
Chef's Choice
More Banana Recipes You'll Love!