Wouldn't your family love to sit down to a plateful of my Tuscan Chicken and Sausage served with your favorite pasta?
Mama Mia, it's delicioso and can be made in about 20 minutes!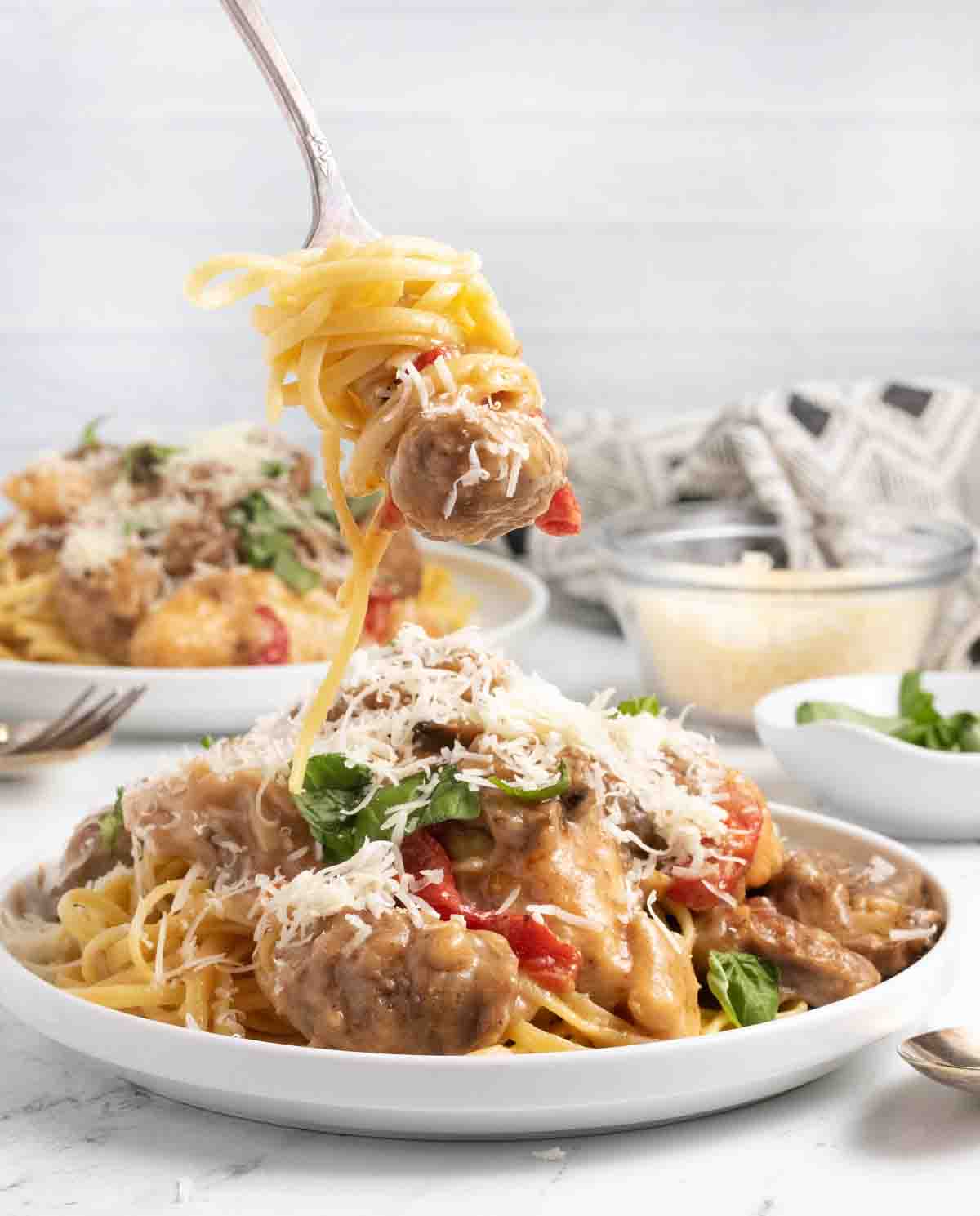 I'll be the first to admit we do eat a lot of pasta. It comes from my restaurant days of creating delicious combinations in a saute pan. I never wanted my guests to go home hungry and pasta always helped fill their bellies.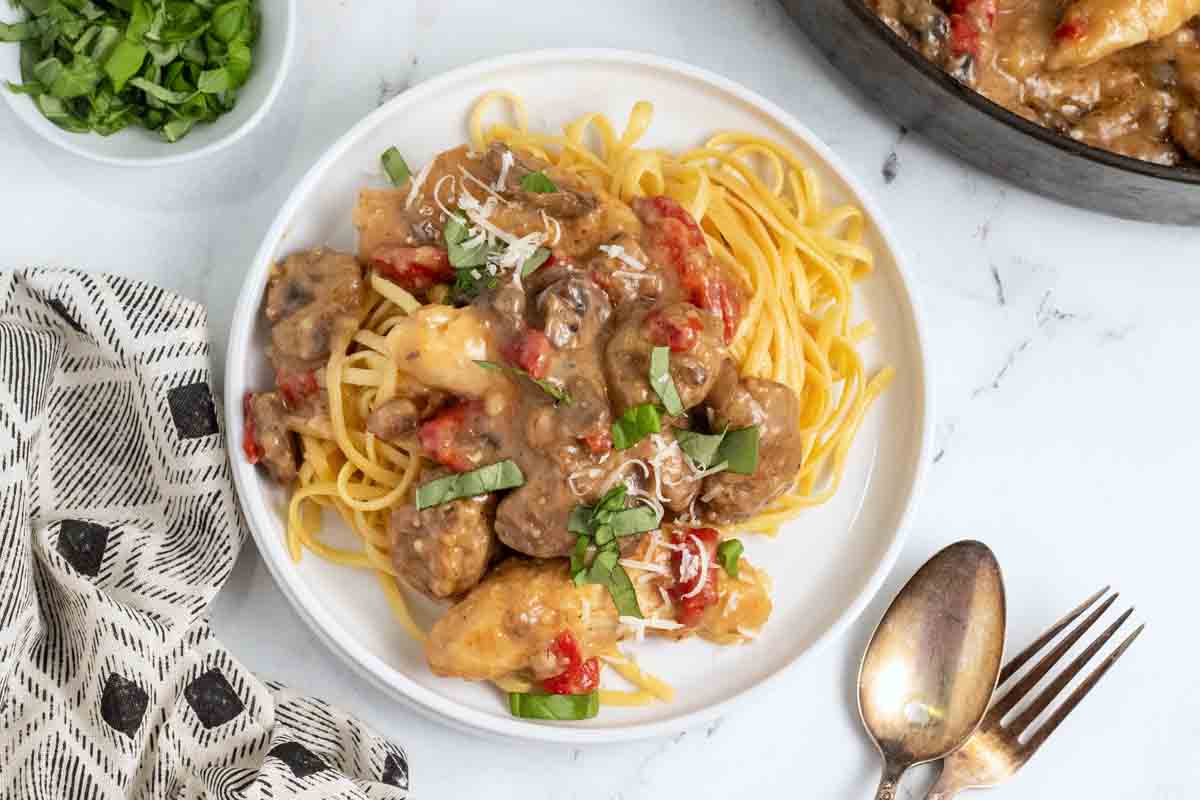 Many times what I create for dinner comes from what I have in the refrigerator to work with. You'll find that by using this method to make dinner you'll come up with some pretty tasty combinations and use up what you have on hand, not letting food go to waste.
What ingredients do I need to make Tuscan Chicken & Sausage?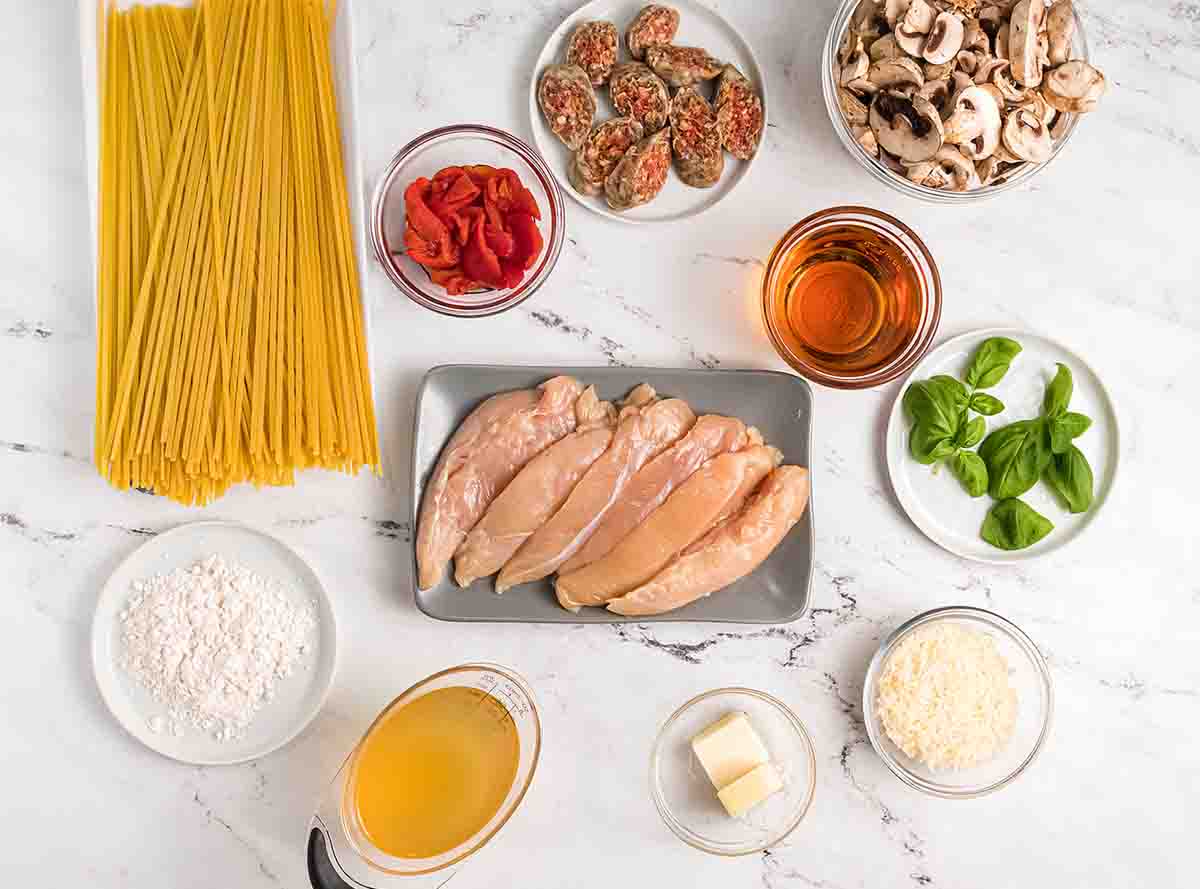 Let's start by gathering the ingredients we need to make Tuscan Chicken & Sausage. In Chef Speak this is called the "Mise en Place" which translates to "Everything in its Place".
Not only does setting your ingredients up ahead of time speed up the cooking process, it also helps ensure you have everything you need to make the dish.
How do I make Tuscan Chicken & Sausage?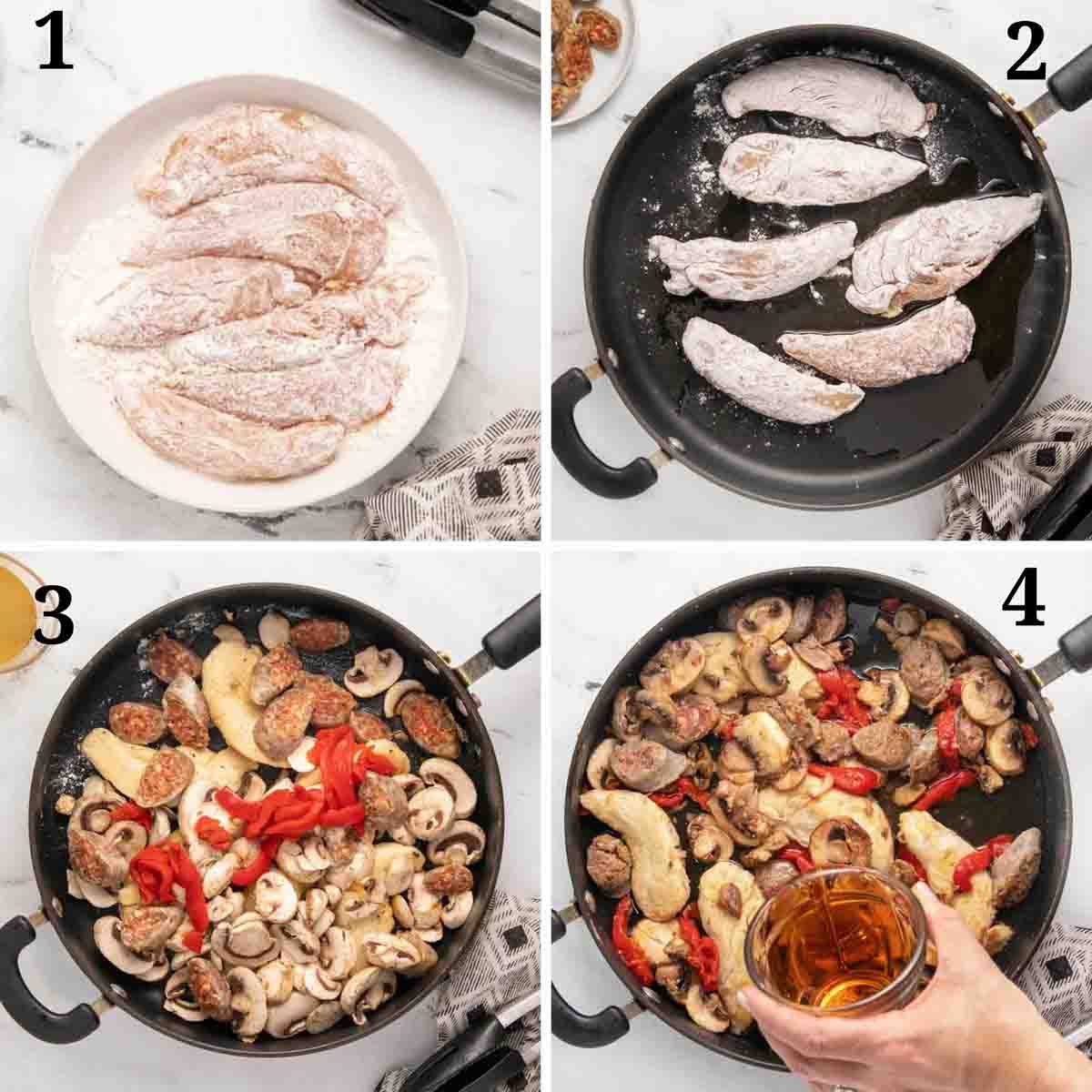 Dredge chicken tenders in flour seasoned with salt and pepper
Place the floured tenders in a large saute pan with enough olive oil to saute them.
Cook chicken 3-4 minutes on one side and turn them over to begin cooking the other side.
Add the raw sliced sweet sausage, sliced mushrooms and roasted red peppers to pan. Continue cooking the mixture for about 5 minutes turning the chicken after it has been browned on the other side.
Add all but 2 ounces of the marsala wine to the hot pan. This is called deglazing and will loosen all of the delicious bits stuck to the pan allowing them to add flavor to the dish.
*The alcohol will cook off in about a minute.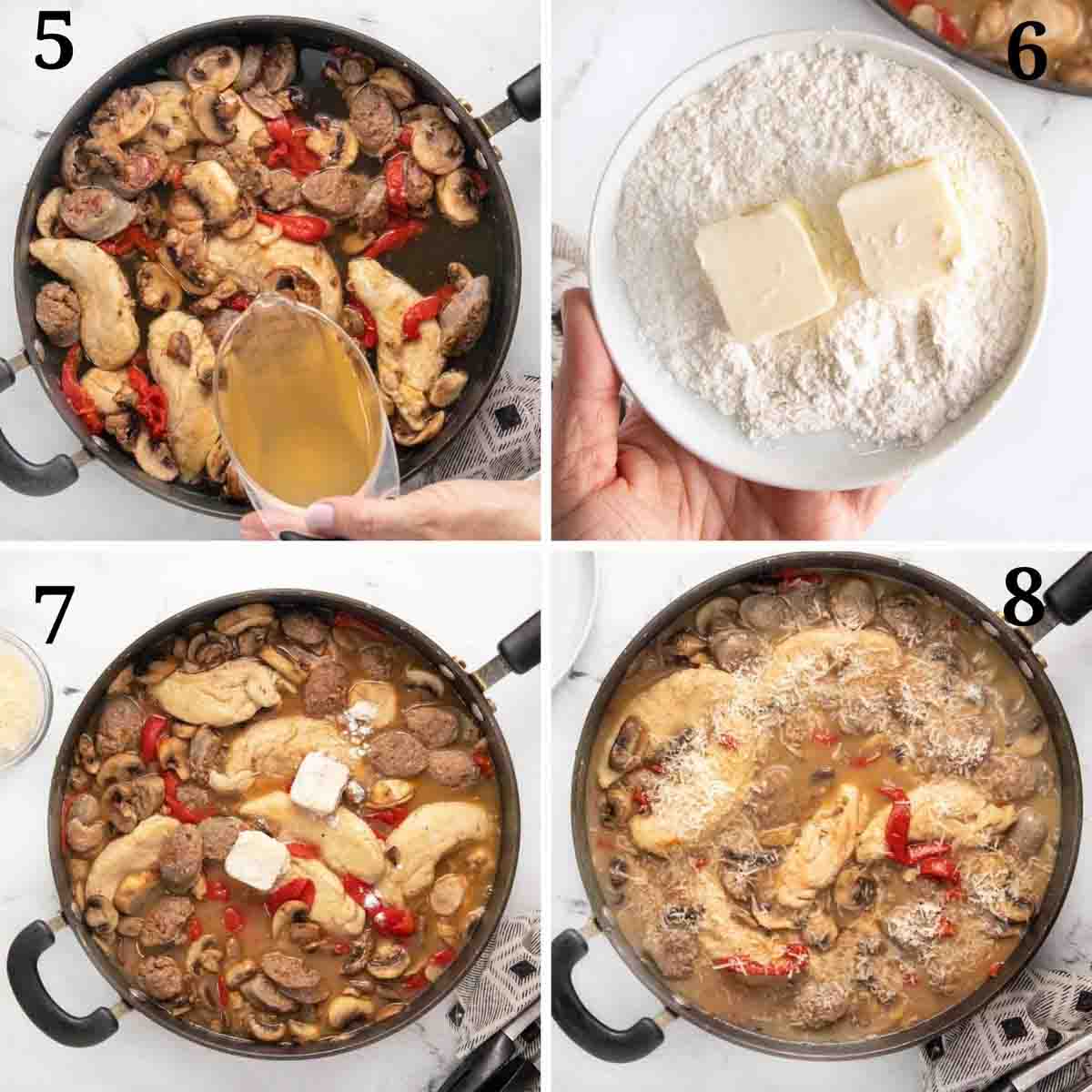 Add the chicken stock,and a pinch of black pepper (season to taste).
Reduce the heat to medium and continue to cook while sauce is reducing.
Take the butter and coat it in flour pressing flour into the butter and add to the sauce (this is called a beurre manie) it will thicken the sauce and the butter will impart a rich flavor
As the sauce begins to thicken lower heat to simmer, and add remaining marsala and grated cheese.
Do I have to use peppers in this dish?
No. you don't. The first rule of cooking at home is to use ingredients that you and your family enjoy eating and if you don't like peppers, leave them out.
Would other types of cheese go well with this dish?
Absolutely! This is your dinner, get creative and use what you have on hand or what you like to eat.
You could top this dish with melted mozzarella, provolone, or fontina to name a few of my favorites. You could also use some Gorgonzola crumbles if you're feeling adventurous.
Can I use other types of sausage in this dish?
You sure can. Hot sausage or chorizo would add some zip to this dish.
What ingredients could I add to Tuscan Chicken?
Some of my favorite additions are:
Spinach
Sundried Tomatoes
Pepperoncini
Cannellini Beans
Shrimp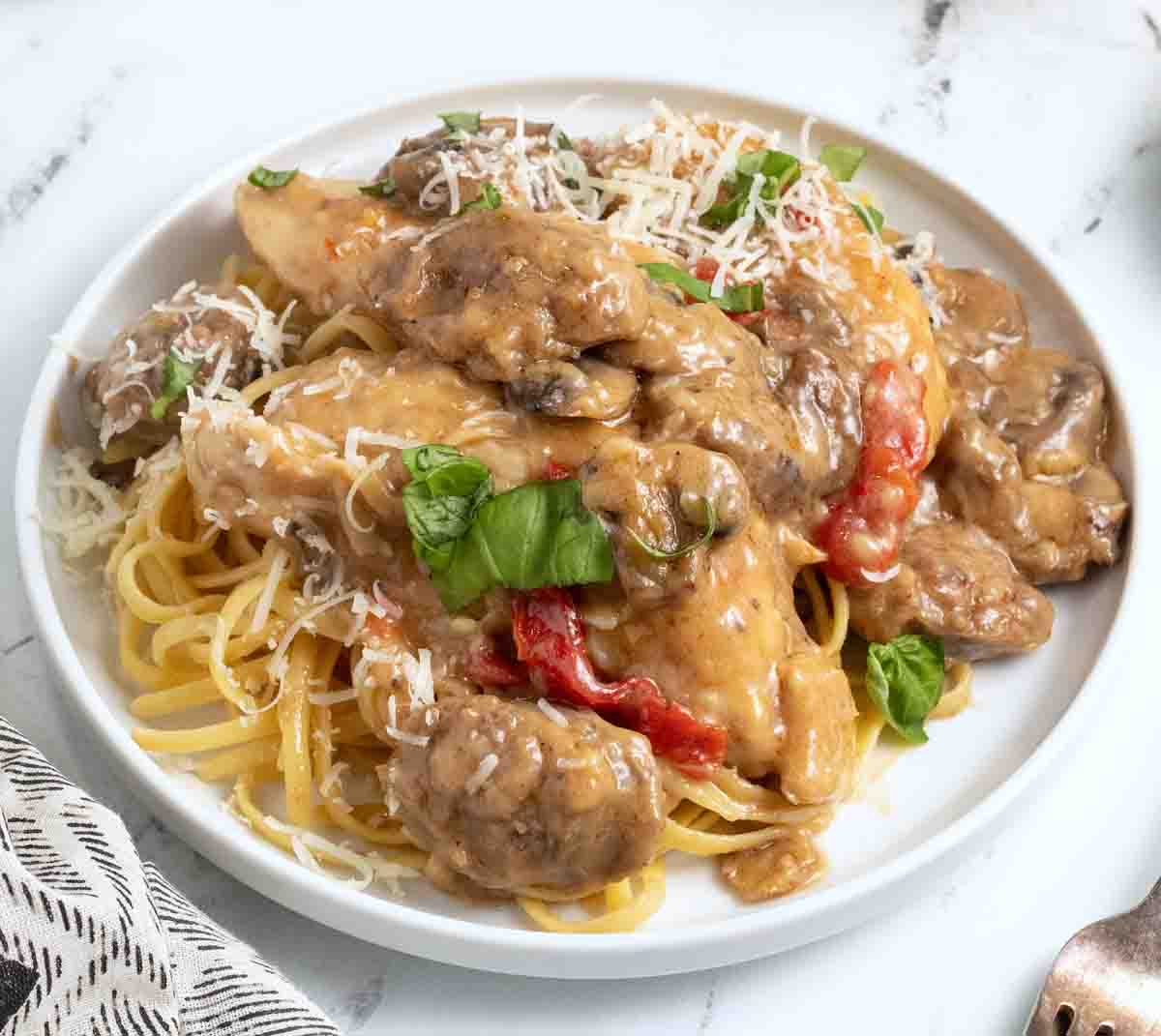 Serve over pasta, garnish with fresh chopped basil, additional grated cheese and watch the smiles around your dinner table!
Recipe FAQ's
What makes a Tuscan Chicken sauce?
A Basic Tuscan sauce is stock-based with added herbs and cheese. Many Tuscan sauces that are found online incorporate cream which makes it more of a northern Italian Sauce, rather than a Tuscan sauce.
What is Tuscan Chicken made of?
The basic dish is chicken in the stock based sauce which is generally served with pasta. You can incorporate a variety of vegetables that you enjoy eating to the dish as well as shrimp or lobster.
Tuscan Chicken is basically a blank canvas for ingredients you enjoy or have on hand.
What is Tuscan Cooking?
Tuscan cooking is a simple style, which is characterized with stock and olive oil based sauce. Not heavy or cream based which is more prevelant in the Northern regions of Italy.
More Chicken Recipes You'll Love!