This post includes affiliate links. As an Amazon Associate I earn from qualifying purchases.
Mama Mia its Tuscan Chicken and Sausage!
I'll be the first to admit we do eat a lot of pasta, it just seems that so many of the saute dishes I create go so well served over linguine or spaghetti. Many times what I create for dinner comes from what I have in the refrigerator to work with.
Of course, I do buy specific items for menu ideas that I have, but some of the time If I haven't really given it any thought, I'll just buy basic items and come up with something on the spot working with what I have in the fridge and the pantry.
In my restaurant kitchen that's how many of my specials were created. By working this way in my restaurant kitchen, this not only helped me to come up with new and interesting specials but it also helped me utilize the foods that I had on hand.
Whether it be at home or at a restaurant the last thing you want to do is waste money by not using the product that you already purchased. You'll find that by working this way, you'll come up with some pretty tasty combinations! Don't be afraid to experiment, just taste as you go and make adjustments as needed, you'll find more times than not you'll be successful!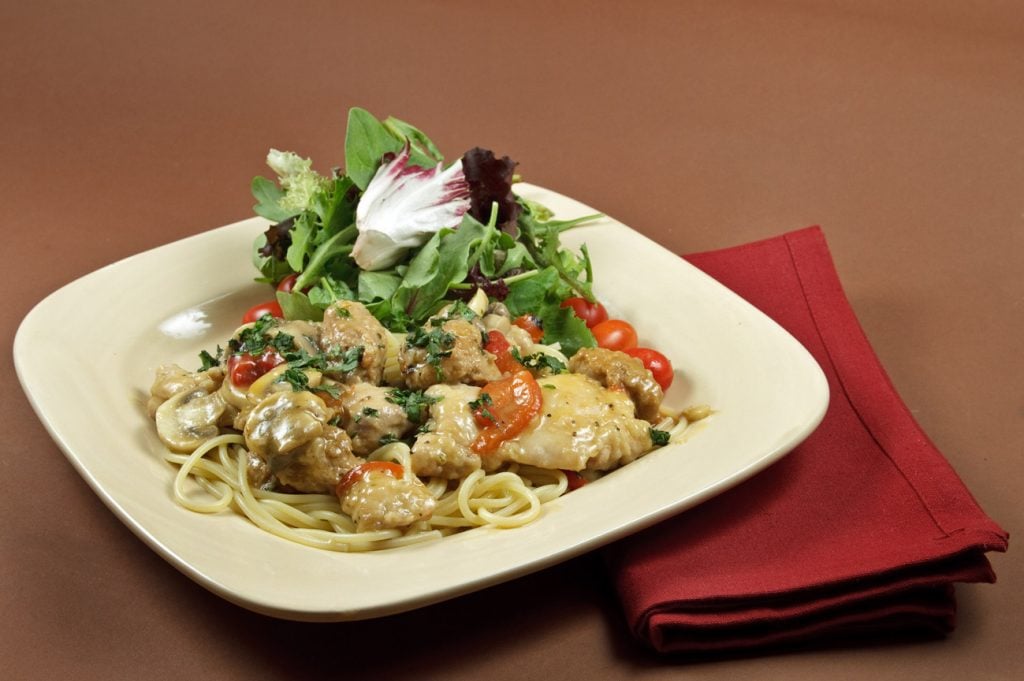 You can be creative with this dish depending upon what you have on hand, spinach, sun-dried tomatoes or cannellini beans would be wonderful additions, as would jumbo shrimp! Just make sure not to overcook the shrimp if you do use them, taking them out of the pan when they are almost ready, and then returning them to the pan for the final reheat before serving.
I kept this dish fairly simple, sometimes that's the best way to enjoy the flavors.
If you've tried my Tuscan Chicken and Sausage recipe or any other recipe on askchefdennis.com please don't forget to rate the recipe and let me know where you found it in the comments below, I love hearing from you! You can also FOLLOW ME  on Instagram @chefdenniseats and @chefdennistravels,  Twitter and Facebook.
You might also like my Chicken Scarpariello Recipe.