I'll be the first to admit we do eat a lot of pasta, it just seems that so many of the saute dishes I create go so well served over linguine or spaghetti. Many times what I create for dinner comes from what I have in the refrigerator to work with. Of course I do buy specific items for menu ideas that I have, but some of the time If I haven't really given it any thought, I'll just buy basic items and come up with something on the spot working with what I have in the fridge and the pantry. In my restaurant kitchen that's how many of my specials were created. By working this way in my restaurant kitchen, this not only helped me to come up with new and interesting specials but it also helped me utilize the foods that I had on hand. Whether it be at home or at a restaurant the last thing you want to do is waste money by not using product that you already purchased. You'll find that by working this way, you'll come up with some pretty tasty combinations! Don't be afraid to experiment, just taste as you go and make adjustments as needed, you'll find more times than not you'll be successful!
In the Italian restaurants I've worked in two of the staple ingredients were always chicken and sausage, sometimes hot but most times sweet sausage. I'd often use this a base and add in other ingredients to compliment the flavors I was using. You could always do a tomato based dish if you like, using your favorite marinara sauce or just crushed plum tomatoes, but for this dish I kept it simple using just chicken stock making what I was taught to be a Northern Italian Sauce. It went perfectly over the pasta, creating a dish your favorite Italian restaurant would be jealous of!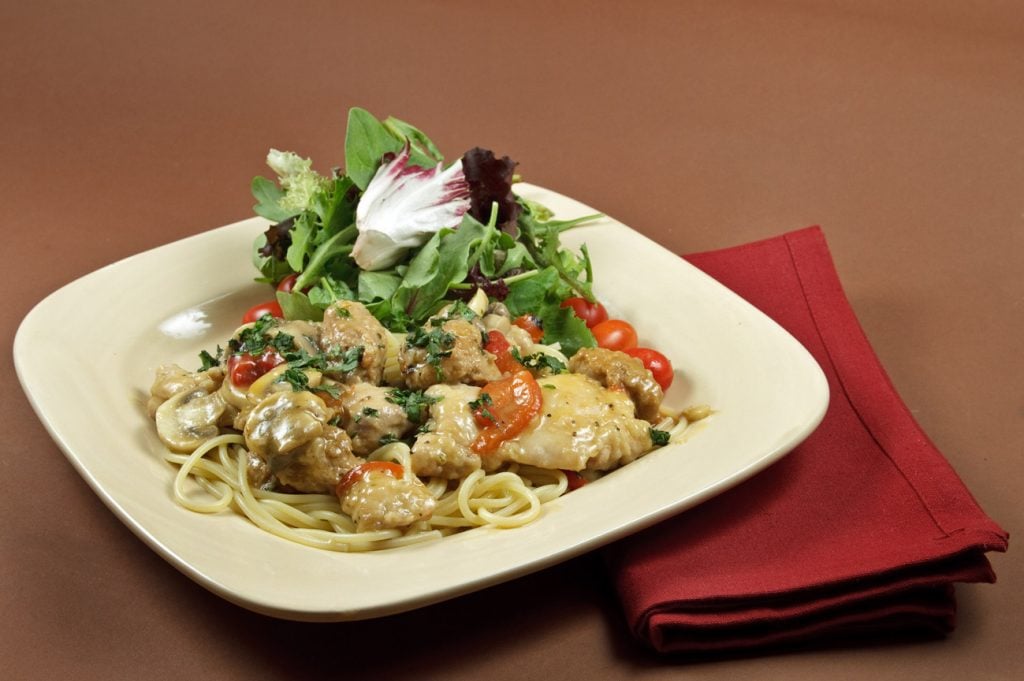 You can be creative with this dish depending upon what you have on hand, spinach, sun dried tomatoes or cannellini beans would be wonderful additions, as would jumbo shrimp! Just make sure not to overcook the shrimp if you do use them, taking them out of the pan when they are almost ready, and then returning them to the pan for the final reheat before serving.
I kept this dish fairly simple, sometimes that's the best way to enjoy the flavors. Although I would have added cannellini beans, but Lisa doesn't like beans……so I left them out. (They would have added even more flavor to this dish)
Ingredients
8

oz

chicken tenders

225 gm

1

cup

sliced mushrooms

70 gm

1/4

cup

roasted red peppers- sliced

56 gm

2

oz

sweet Italian sausage

56 gm

6

oz

sweet marsala

180 ml

6

oz

chicken stock

180 ml

2

tbsp

. unsalted butter

30 gm

2

tbsp

. flour

15 gm

2

tbsp

. grated romano cheese

30 gm

1

tbsp

. fresh chopped basil

15 gm, for garnish

1/2

lb

. linguine or spaghetti

230 gm
Instructions
Cook pasta per instructions on the box at the same time you begin cooking this dish.

Dredge chicken tenders in flour seasoned with salt and pepper

place floured tenders in a large saute pan with enough olive oil to saute them.

Cook chicken 3-4 minutes on one side and turn them over

Add in the sliced sweet sausage, sliced mushrooms and roasted red peppers and saute until for another 5 minutes turning the chicken after it has been browned on the other side.

Add all but 2 ounces of marsala wine wine to pan to deglaze the pan, allow alcohol to cook off for a minute then add the chicken stock,and a pinch of black pepper

reduce heat and continue to cook while sauce is reducing.

Take the butter and coat it in flour pressing flour into the butter and add to the sauce (this is called a beurre manie) it will thicken the sauce and the butter will impart a rich flavor

as the sauce begins to thicken lower heat to simmer, and add remaining marsala and grated cheese

Serve over pasta, garnish with fresh chopped basil and enjoy!
Just remember there is no secret to cooking, you just have to love what you do when you're in the kitchen, the rest will come naturally. Cook what you like to eat and don't be afraid to experiment. You'll be glad you did and so will your family!
Have a great week my friends!