Roasting pork in your oven for that perfect pulled pork we all love isn't difficult. It takes a little time but very little effort and the rewards are exceptionally delicious!
No need for a grill or smoker, my oven-cooked pulled pork recipe makes flavorful, fork tender and amazingly delicious pulled pork and so easy to make, it almost cooks itself.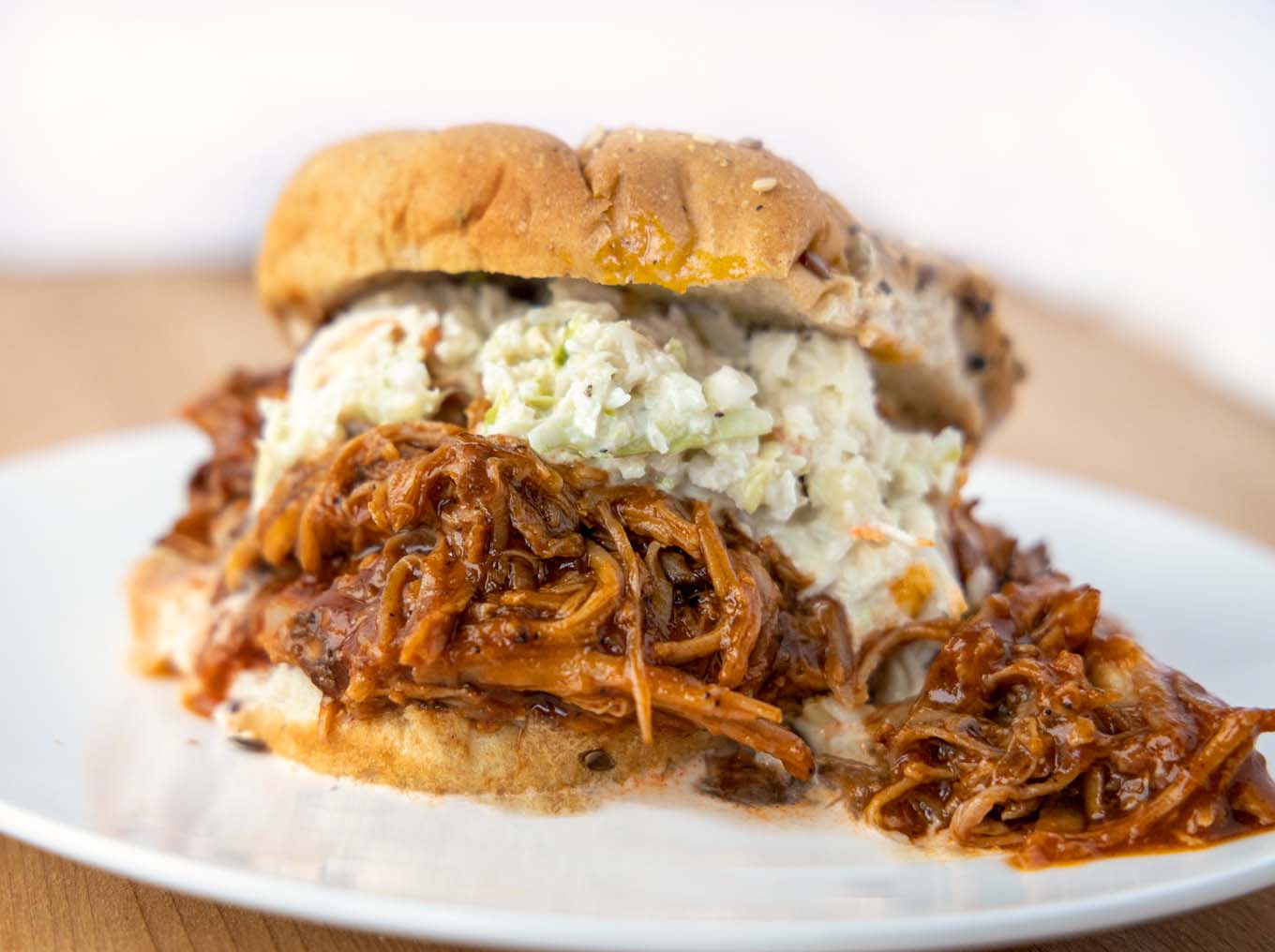 I love pulled pork! There are so many ways to use this delicious slow-roasted pork that it will become a regular item on your menu, once you see how easy it is to make.
If you love pulled pork I've got an amazing Smoked Pulled Pork Butt recipe and an easy as can be Slow Cooker Pulled Pork recipe.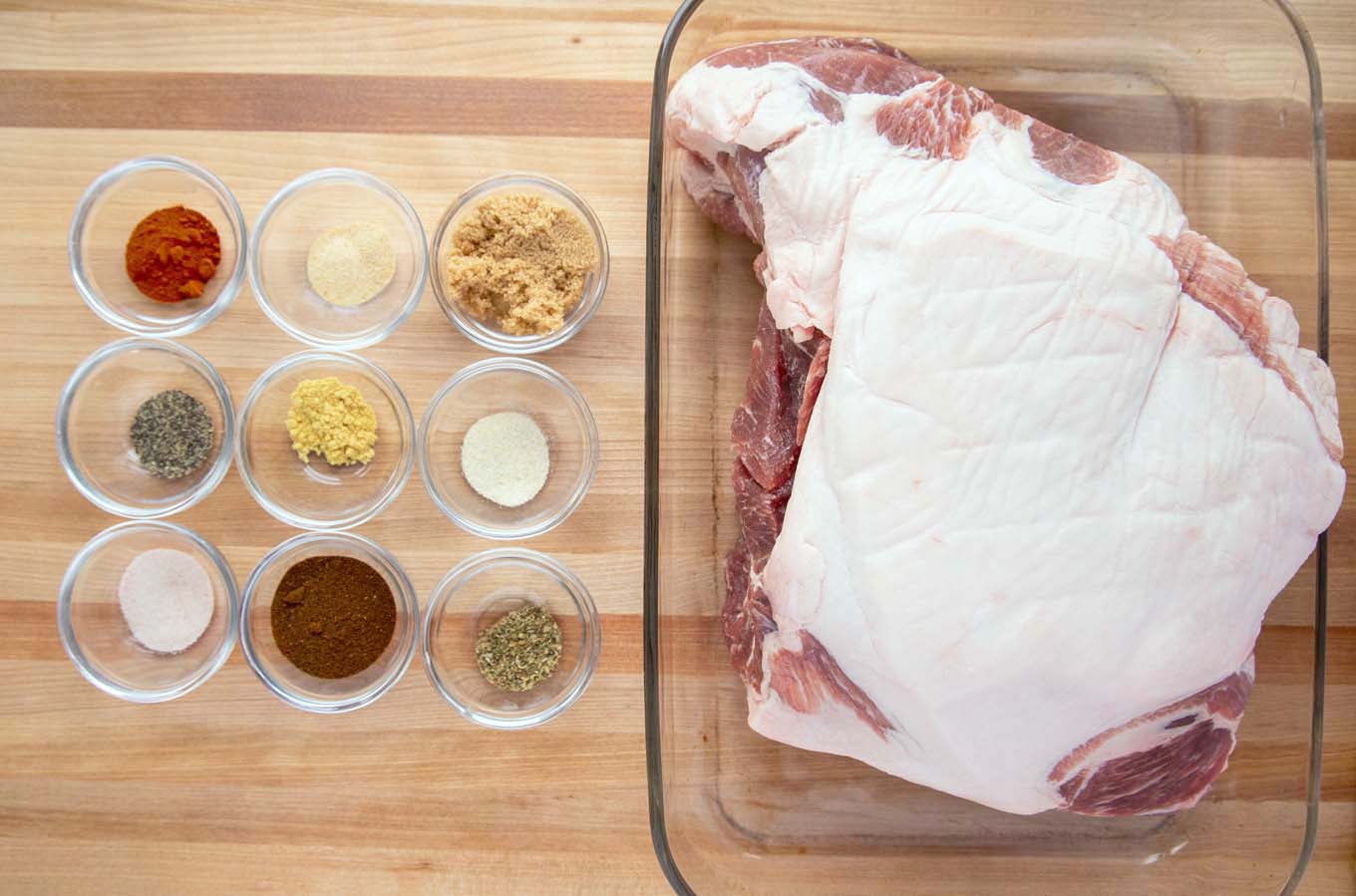 Let's start by gathering the ingredients we need to make a Dry Rubbed Pork Roast. In Chef Speak this is called the Mise en Place which translates into Everything in its Place.
Not only does setting your ingredients up ahead of time speed the cooking process, but it also helps ensure you have everything you need to make the dish.
You'll love the seasoning blend for the pulled pork, made with black pepper, chili powder, garlic powder and other flavorful spices.
What Cut of Pork should I use for Perfect Pulled Pork?
Most barbecue restaurants use whole pork shoulder roast for their pulled pork, but they're rarely available in grocery stores. The shoulder roast is the entire front leg and shoulder of a hog. For home consumption, this cut is generally too large, but perfect for restaurant use. This is the cut the Famous Kansas City BBQ uses for their pulled pork.
In your grocery store, you will usually find this divided into two cuts, the Boston butt (cut of pork that comes from the upper part of the shoulder from the front leg ), and the picnic roast.
Either of these cuts are good for pulled pork, but I prefer the Boston butt also known as a pork butt.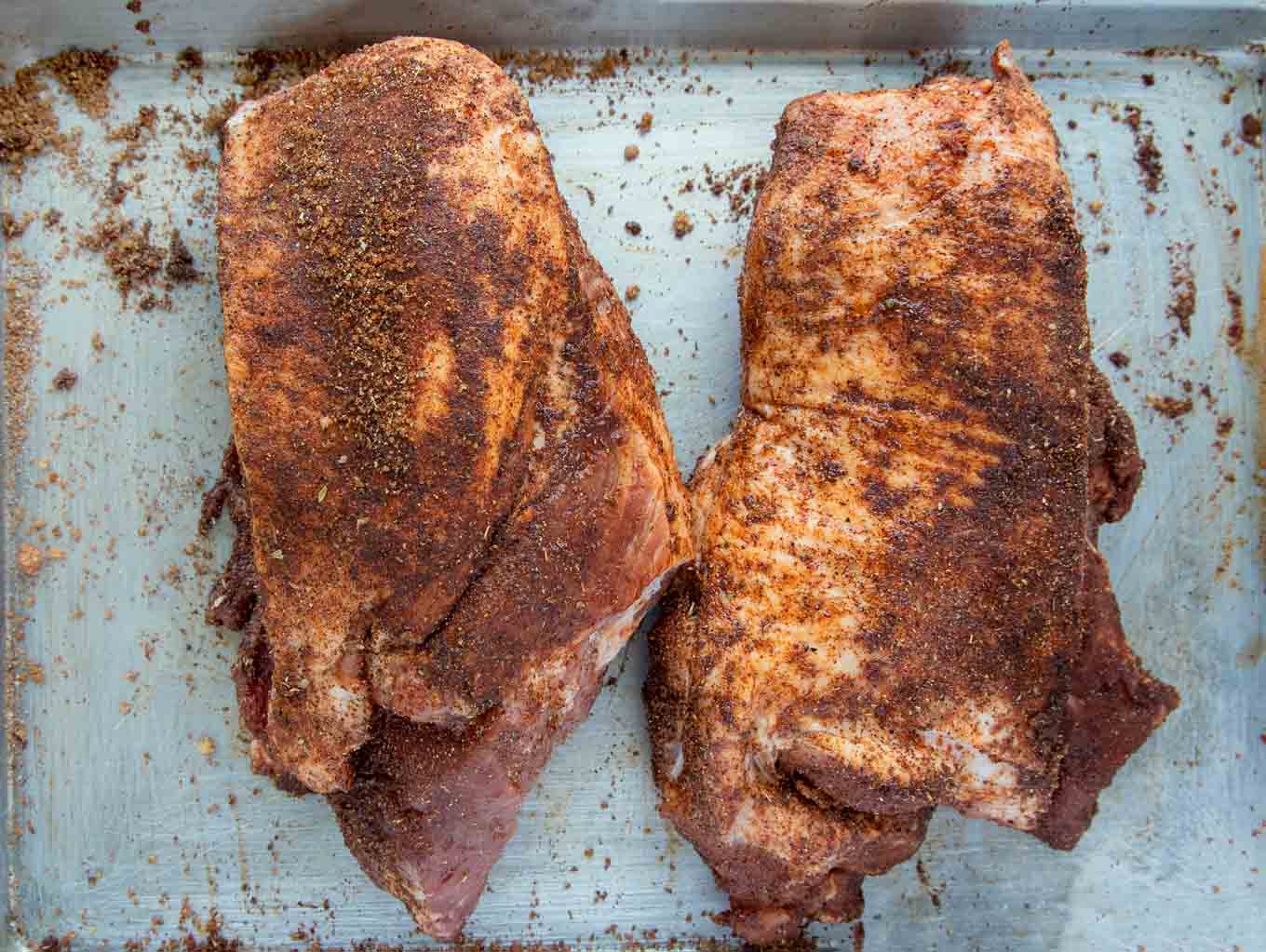 Once you've got all your ingredients together the first step is mixing all the seasonings together in a small bowl. Make sure they are all well blended for the spice rub.
Then begin the dry rub process which actually means rubbing the spices into the pork butt.
Chef Dennis Tip:
To make this recipe I split the pork butt into two pieces to make it easier to control and also to help reduce the overall cooking time. A large Pork Butt can take a long time to cook, two smaller butts will cook faster.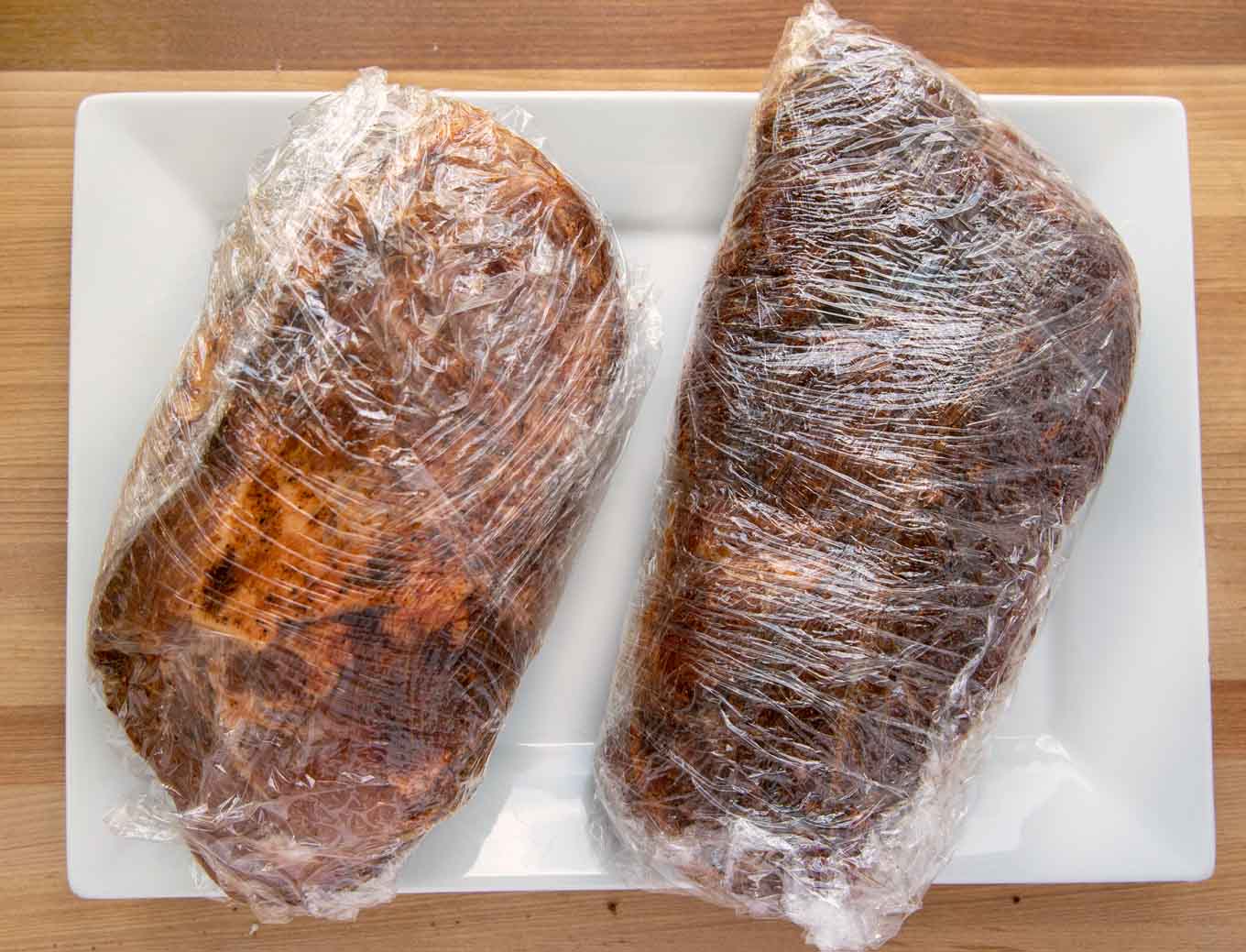 Wrap the pork in cling wrap, double wrapping it to make sure that its completely sealed to help avoid leakage.
Place a plate under the wrapped pork and refrigerate for at least 12 hours up to 24 hours.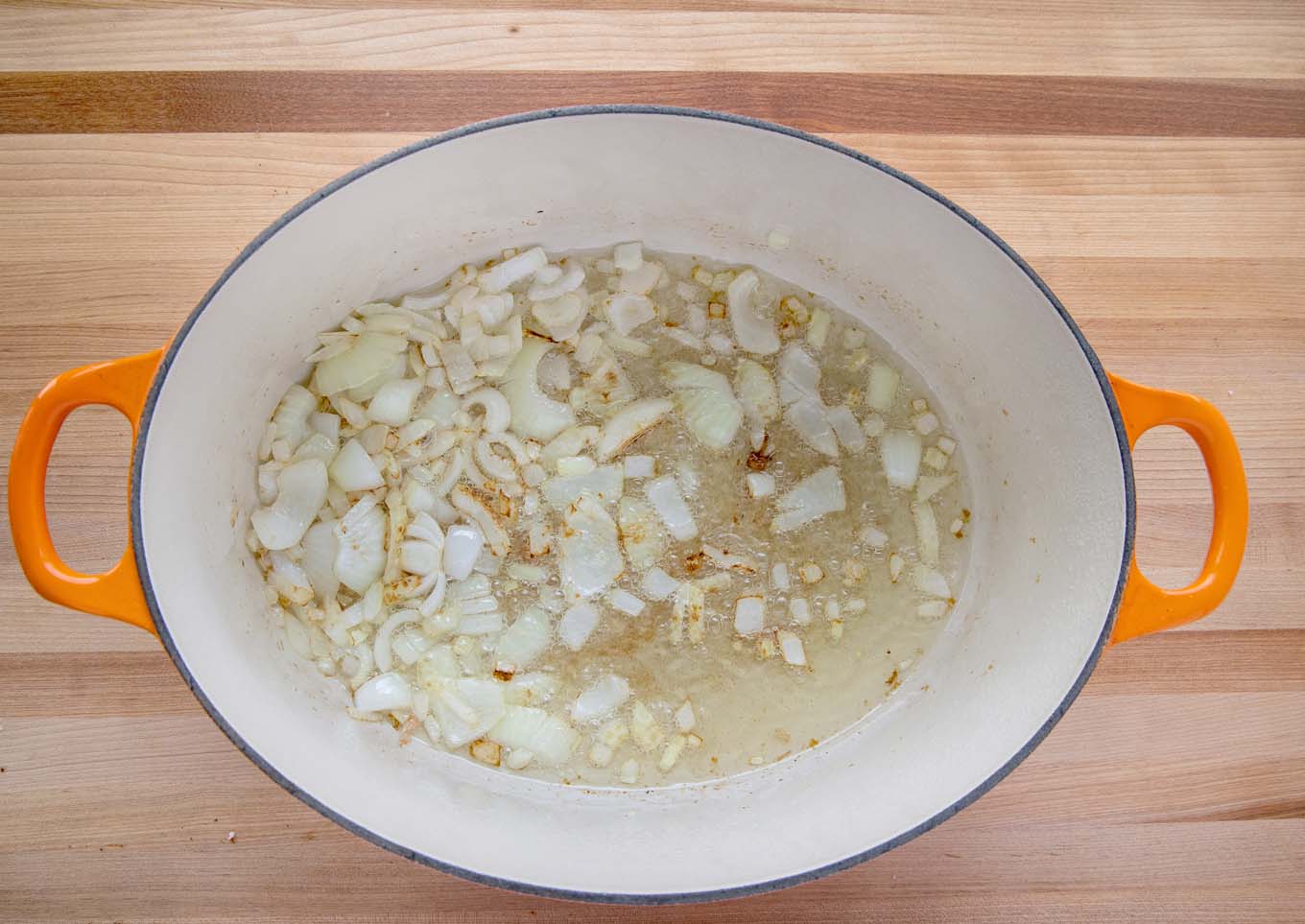 When the pork is ready it's time to start the cooking process. Dice an onion and saute it in olive oil (or oil of your choice) for 2-3 minutes.
The pot you saute in should have a lid and be oven ready.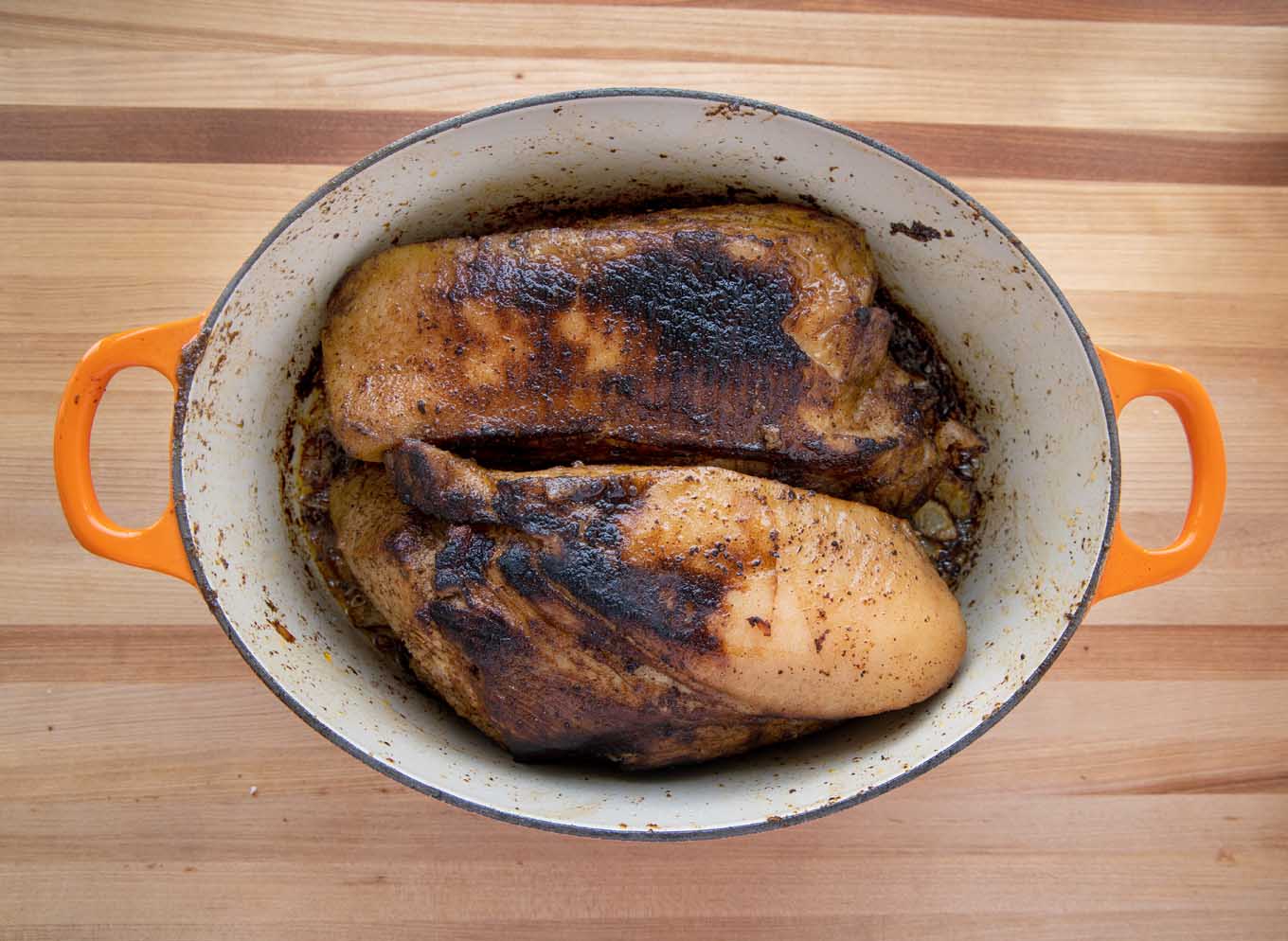 Next, add the pork and begin searing the pieces on all sides. Searing each side for 3-4 minutes until the entire roast has been seared and has a nice color.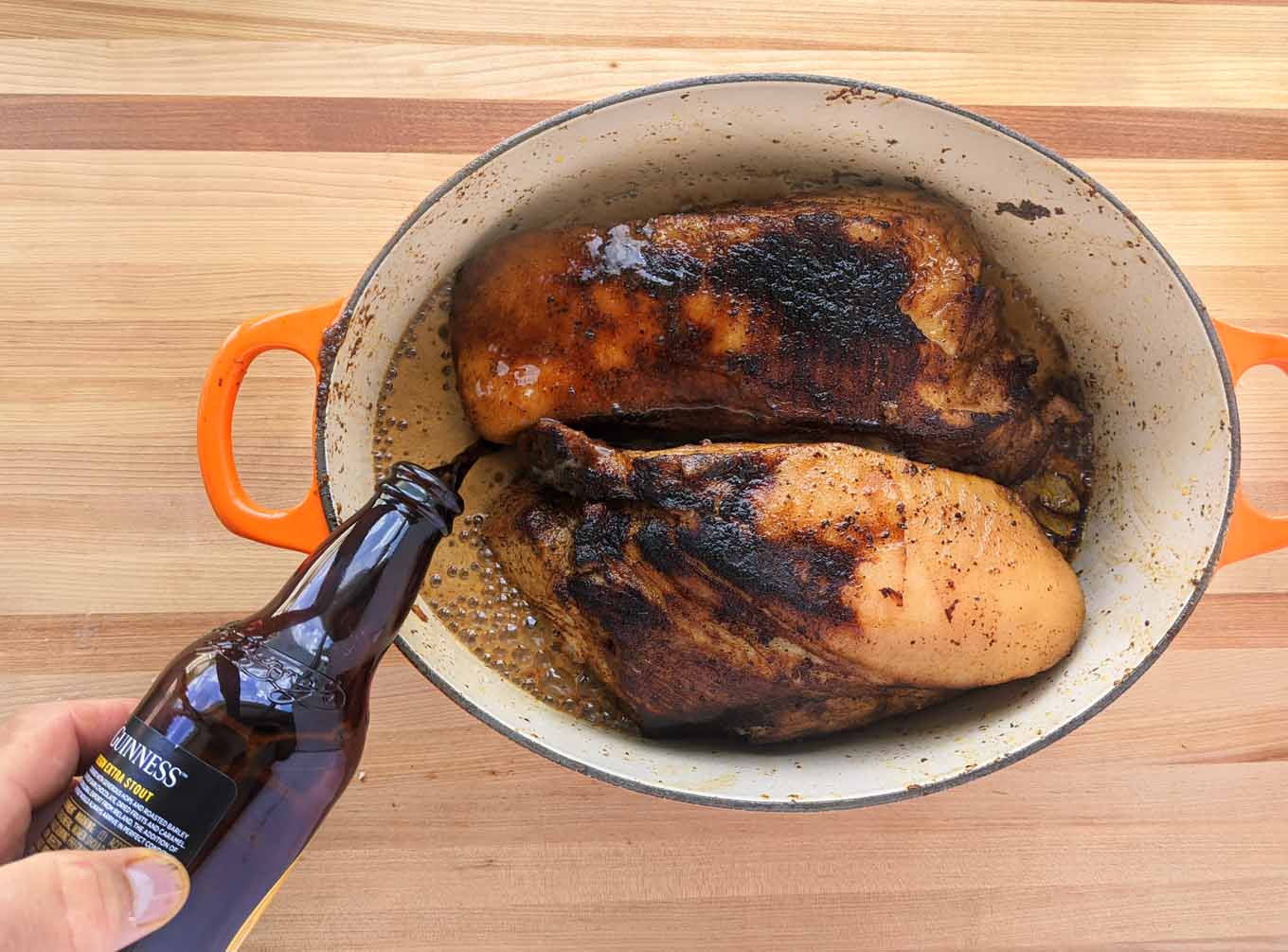 Add your favorite beer (or Dr. Pepper, Root Beer or Cola) to the pot. Place the lid on the pot and put the pot into a preheated 300 degrees F oven for 3 hours. If you'd like a smoky flavor you can add a little liquid smoke to the cooking liquid.
Check the roast at the 90-minute mark to see if it needs more liquid. If it does add more beer or water to the pan. Mine had more than enough liquid in the pan and didn't need any additional liquid.
Chef's Choice
Misen
The Misen Dutch Oven has proven to be the best Dutch oven I have ever used. Four layers of premium enamel offer lifelong durability and a nearly nonstick surface.
Check Price at Misen
This post includes affiliate links. I earn from qualifying purchases.
Chef's Choice
Misen 8 inch Chef's Knife
Kitchen knives are the most important tool in your kitchen. This one of the Misen knives that I use in my home kitchens. It's comfortable and has a great edge that stays sharp.
Check Price at Misen
This post includes affiliate links. I earn from qualifying purchases.
Chef Dennis Tip:
Make sure to have the fat side up when you're ready to roast the pork butts.
Do I have to use a pot with a lid to roast the pork butt?
No, you don't. You can cover the pot with aluminum foil, or place a half sheet pan over the top of the pot when you make this recipe.
You can also place it in a baking dish that is big enough to hold the pork, onions and beer and cover it with foil.
You can also forgo the beer and onions double wrapping the pork butts in foil and placing them on a sheet pan to roast.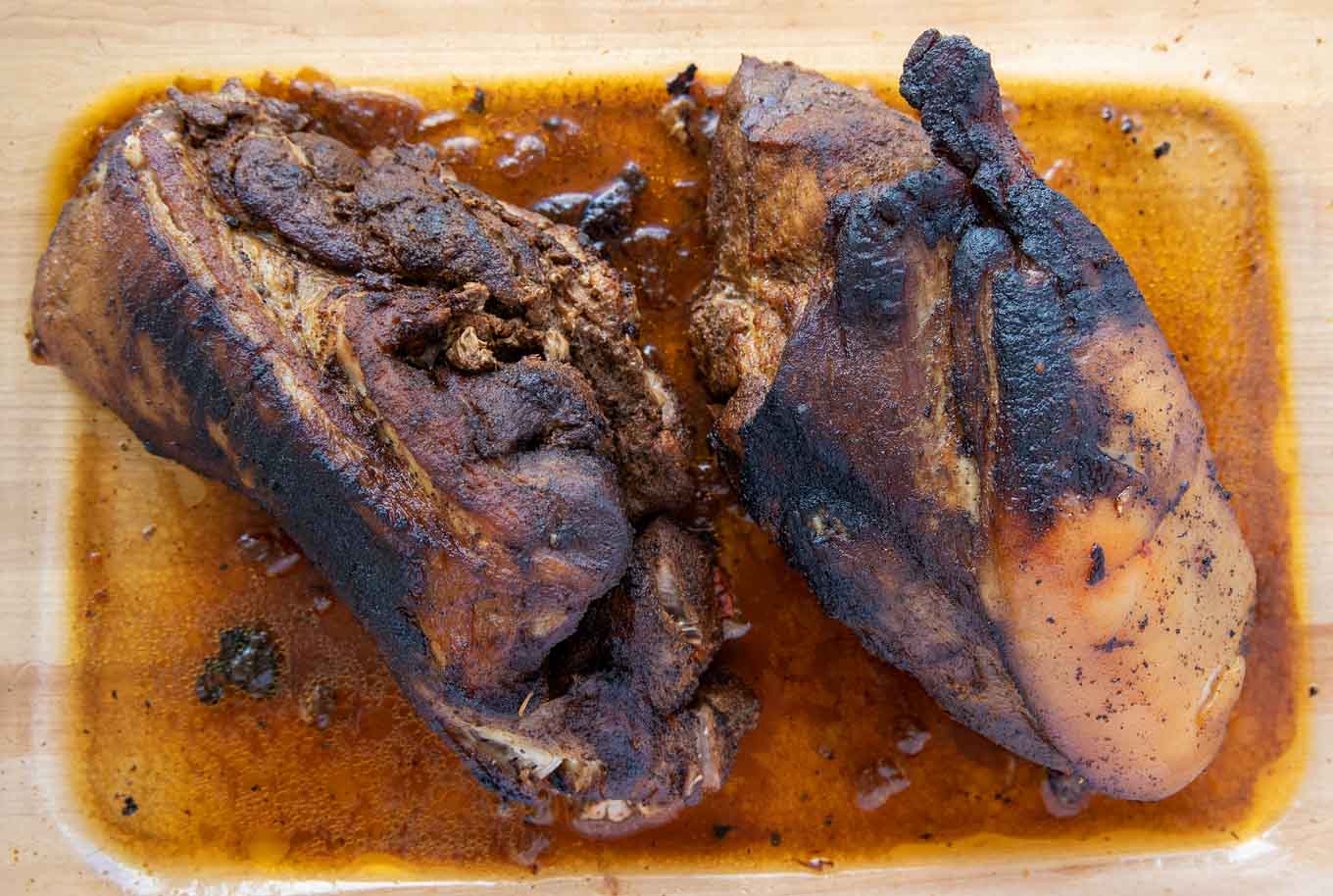 Depending upon the size of your pork roasts it will take 2.5 hours to 3.5 hours to cook to the desired temperature for pulled pork.
*Average cook time is 40 minutes per pound.
What temperature should I roast Pork Butts to for Perfect Pulled Pork?
For pulled pork, the ideal temperature is 205 degrees F. This goes well beyond the recommended 165 degrees F that most of us are used to cooking pork too.
The high internal temperature allows the collagen in the pork butt to break down, making the meat very tender.
When the pork reaches an internal temperature of 190 F to 195 F, the meat is ready to be pulled. Cooking the pork to any temperature below that won't give you meat that is tender enough to pull apart properly.
Remember that the pork roast will continue to cook internally by and the temperature will increase by about 10 degrees after it's been removed from the oven.
Chef's Choice
MEATER Plus: Wireless Smart Meat Thermometer
I love this thermometer and actually have a set of four that I use for oven roasting, grilling, and smoking. The phone app makes it easy to check on the temperatures of what you're cooking.
Check Price On Amazon
This post includes affiliate links. As an Amazon Associate, I earn from qualifying purchases.
I absolutely love my Meater Plus | Smart Meat Thermometer It takes all the guesswork out of cooking meats in the oven, on the grill, or in a smoker.
How do I shred pulled pork?
When the roast is cool enough to handle (but still hot) begin the process of pulling the meat. The tried and true method is using your hands to pull the meat against the grain into slivers.
Here are two other ways to get perfect pulled pork.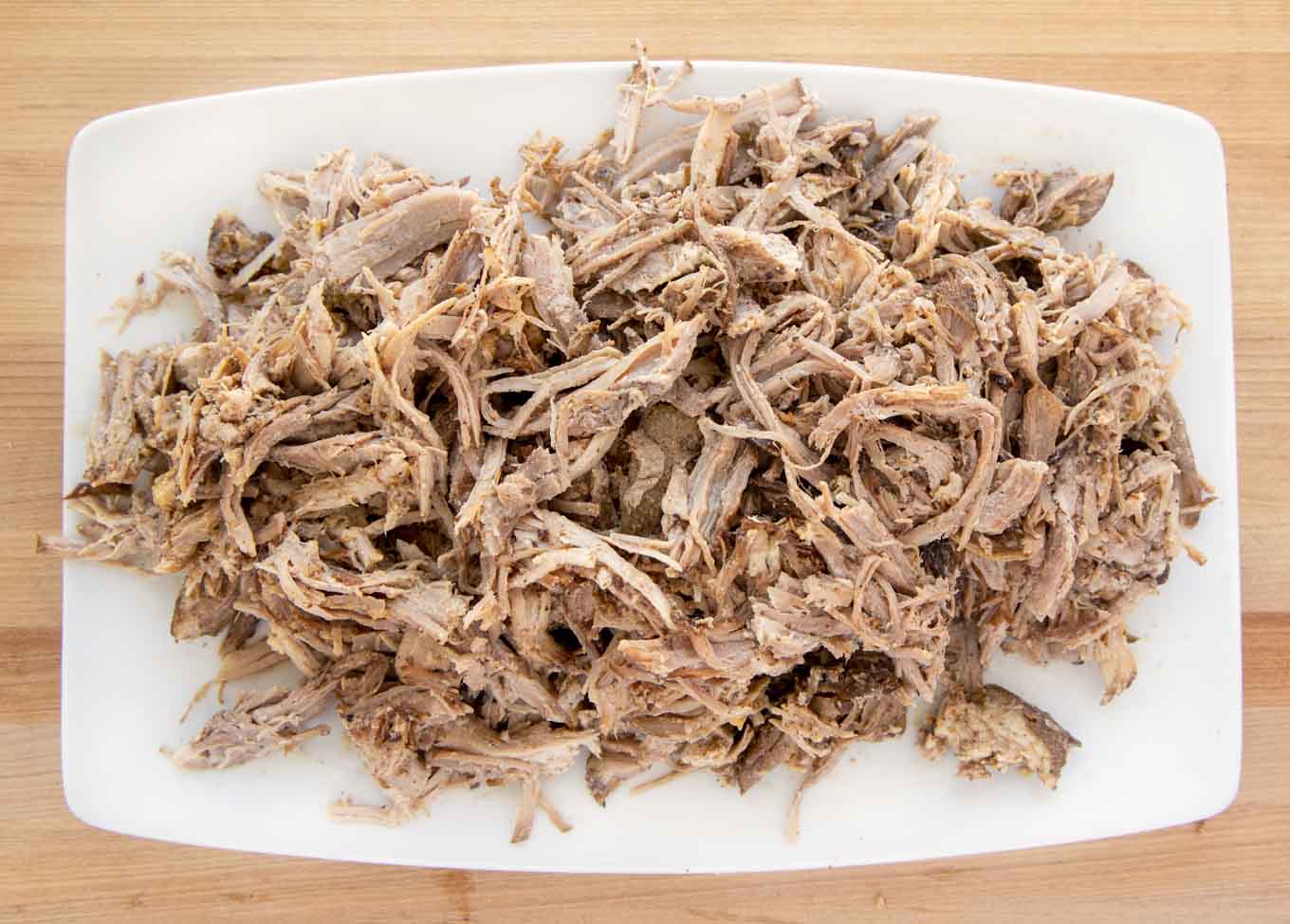 Two Fork Method:
Cut the meat into workable pieces. Then use one fork to hold the meat stable, and the other to rake it into shreds. Or use the forks to pull the meat away from each other.
Easy Method:
Using a stand mixer is the fastest and easiest way to shred pork (or chicken). Place the cooked meat in the mixing bowl, attach the flat beater paddle to the mixer, and lock the lever. Turn the mixer to medium speed and let it run for approximately 30 seconds or until the meat has shredded.
If you're serious about pulled pork and will be making it on a regular basis, get a pair of meat claws.
Chef's Choice
BBQ Meat Shredder Claws - Wolverine Style
These meat claws take all the work out of pulling pork or beef to make your favorite pulled meat sandwiches!
Buy On Amazon
This post includes affiliate links. As an Amazon Associate, I earn from qualifying purchases.
12/11/2023 05:53 am GMT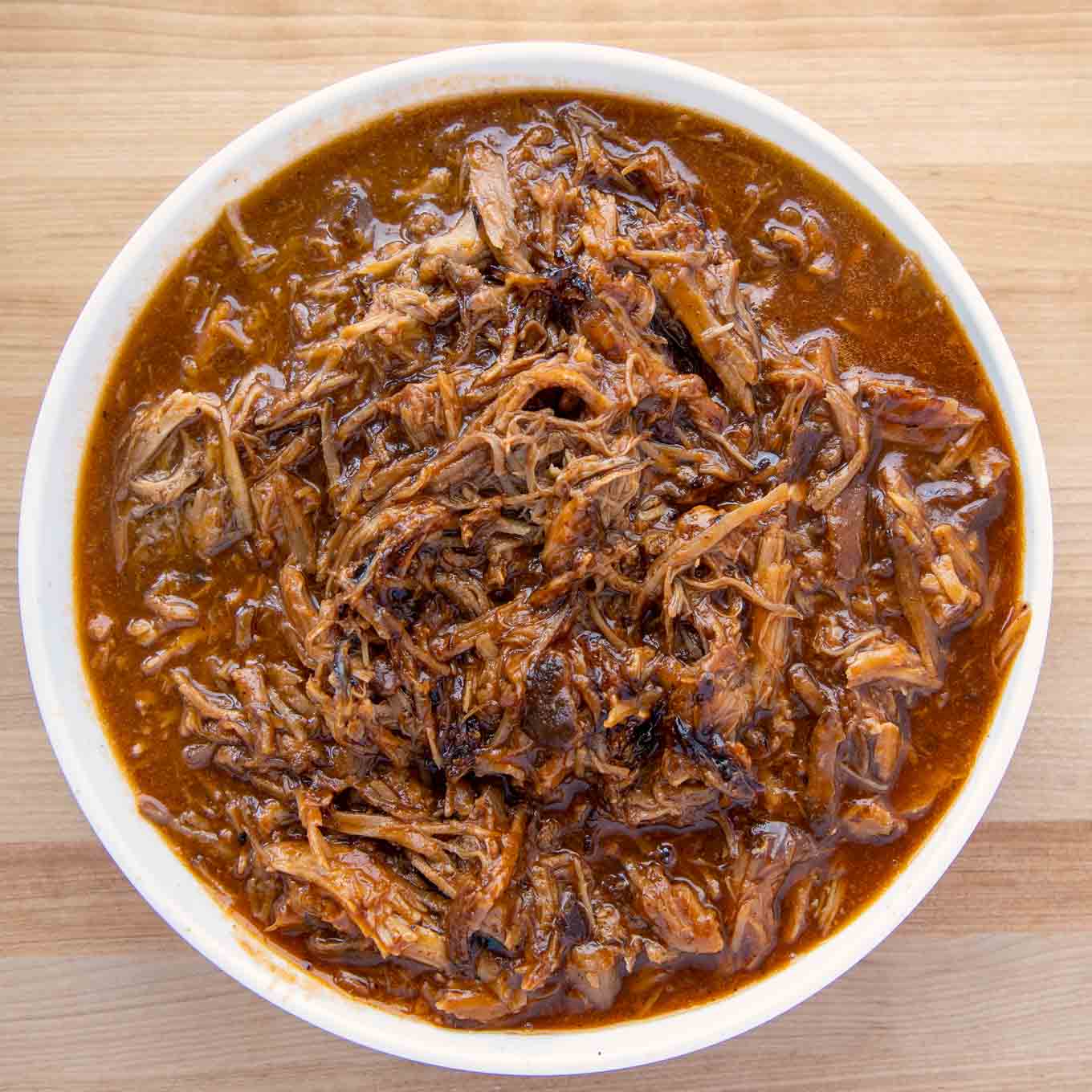 Use your favorite barbecue sauce to turn pulled pork into a masterpiece of deliciousness! And if by some chance you have leftover bbq pulled pork, try my Ultimate Pulled Pork Cheeseburger.
Can I Make Pulled Pork in a slow cooker?
Yes, you can. Use the seasoning method as described in the recipe.
If possible, sear the pork as in the Dutch oven method, but you can cook the pork without searing. Add the onion, beer, and seared pork to your slow cooker. Cook on low for 6-8 hours, depending on your slow cooker.
Shred the pork while warm.
Recipe FAQ's
What is the best cut of meat for pulled pork?

Pork Shoulder is the best cut of pork for pulling. It has the right fat content that yields tender meat for pulled pork. Because of the nature of the shoulder, it needs to be cooked slowly to allow the protein to break down properly.
Why is my pulled pork dry and stringy?
This is one of the biggest complaints with pulled pork, usually due to being exposed to a high temperature for too long and being overcooked. After pulling apart the pork, use the pan juices to moisten the meat. Adding a barbecue sauce will help add moisture to the pulled pork.
How long should I let the pork rest before pulling the meat?
Let a cooked pork shoulder rest for 15-20 minutes, loosely tented with foil, before pulling or serving the meat. This "relaxes" the meat, which makes it juicier and more flavorful.
How much pulled pork should I prepare per person?
The rule of thumb for pulled pork is one-third to one-half pound of meat per person. With about a 40% loss while roasting a raw 10-pound pork shoulder (or two 5-pounders) will yield about 6 pounds of finished meat, which will serve 12 to 18 people.
Can you freeze pulled pork?
Yes, you can. Shred the pork first, then store it with the barbecue sauce in a large resealable freezer bag. Make sure to take out as much of the air as possible before sealing the bag.
More Pork Recipes You'll Love!