Don't think because you hear the word Chili that it's got to be hot. It's all about picking the right chili for the right dish. Of course, you can always dial up the heat, but if you're looking for the earthy rich flavor that only chilis can give a dish, then my Beef Chili Colorado is just what you're looking for.
This post includes affiliate links. As an Amazon Associate I earn from qualifying purchases.
Have you ever had Beef Chili Colorado? Next time you're in the mood for chili, take my advice and try the real deal. No beans, just meat and chili sauce, served up with brown rice and tortillas.
And if you want beans with your Chili Colorado, they're served on the side…..Cowboy Style.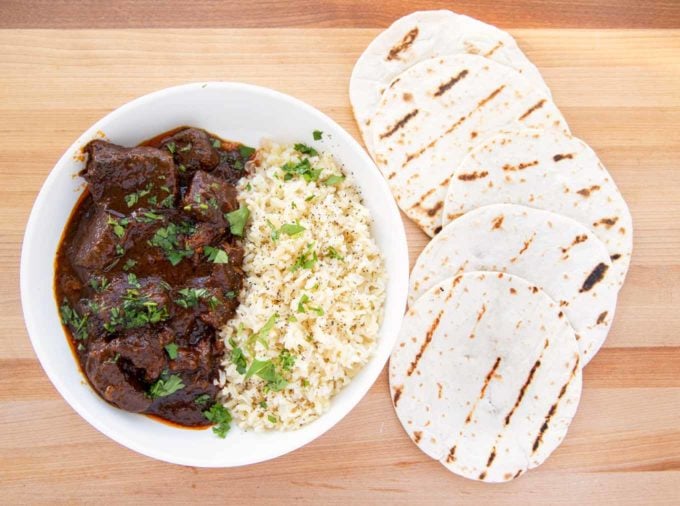 This post was sponsored by Mirum. The thoughts and opinions expressed are my own.
Growing up in Tex/Mex household in San Antonio set my taste buds to a level most kids my age wouldn't have experienced. And I am eternally grateful for all the deliciousness my Mexican grandmother, aunts and uncles fed my cute little chubby face during those impressionable years. It taught me how to venture outside my comfort zone when it came to food.
But as we get older our bodies react differently to the foods we grew up enjoying. And all those wonderful dishes we've discovered over the years from friendships and travel have turned on us, causing more grief than joy.
I suffered from chronic heartburn for many years and nothing is worse than a chef who can't eat his own food or enjoy deliciousness with friends and family.
But thanks to Omeprazole ODT, I can eat everything I make and anything I order from the restaurants I visit while I travel the world (although it's not happening right now), enjoying all that life has to offer.
Made for frequent heartburn sufferers who experience symptoms 2 or more days per week, Omeprazole Orally Disintegrating Tablets take the guesswork out of relieving your heartburn with its long-lasting protection! And you don't even need a glass of water, as the strawberry-flavored tablet dissolves right on your tongue.
No need to chew it or dissolve it in liquid, just put it on your tongue and let it do all the work. The MELTechTM format means it dissolves in your mouth without water, so you can conveniently take it even if you're on-the-go.
Take one dose daily for 14 days according to package directions. Don't take Omeprazole Orally Disintegrating Tablets for more than 14 days unless directed by your doctor. Omeprazole ODT may take 1-4 days for full effect and is not intended for immediate relief.
If you're not sure where you can buy Omeprazole ODT, go to dissolveyourheartburn.com to find a store near you.
What do I need to make Beef Chili Colorado?
Let's start by gathering the ingredients we need to make the Sauce for Beef Chili Colorado. In chef speak this is called the Mise en Place which translates into Everything in its Place.
Not only does setting your ingredients up ahead of time speed the cooking process, but it also helps ensure you have everything you need to make the dish.
Once you've gathered the ingredients for the chili sauce, the first step is toasting the deseeded chili peppers.
This will enhance and deepen the flavor of the chilies. Just be careful not to scorch the peppers, which will make them bitter.
Chef Dennis Tip:
If possible wear plastic gloves when you handle the chilies. Also make sure to clean all the surfaces and wash your hands thoroughly.
Can I toast the Chilies in the oven?
Yes, you can. Place the chili peppers on baking sheet and toast in 350-degree oven just until fragrant and puffed, about 5-6 minutes.
Can I use different Chili Peppers in the Red Chili Sauce?
Yes, you can. Depending upon your tolerance for heat, you can use hotter peppers. The peppers I've chosen are mild.
These are some of the other peppers you can use:
Cascabel – Round, tropical, fruity, relatively mild heat.
Puya – Similar to guajillos but smaller and spicier, earthy, fruity but with some acidity, medium heat.
Chipotle – Medium-sized, tough-skinned, smoky, medium heat.
Chiles de Arbol – Small, nutty, earthy, very spicy.
Morita – Petite, smoky, sweet dried fruit flavors, medium to high heat.
Pequin – Tiny, a little smoky, a little fruity, very spicy.
Chef Dennis Tip:
When you toast the chilies make sure to have your hood fan on and open a window if possible. The lower heat peppers won't be a problem, but if you use the spicier varieties the aroma coming off the peppers can easily choke you.
Sauté the onion in a little olive oil for 2-3 minutes then add the garlic and continue cooking for an additional minute.
Place the remainder of the ingredients for the chili sauce into the pot. Bring the mixture to a boil, cover and allow too steep for 45 minutes.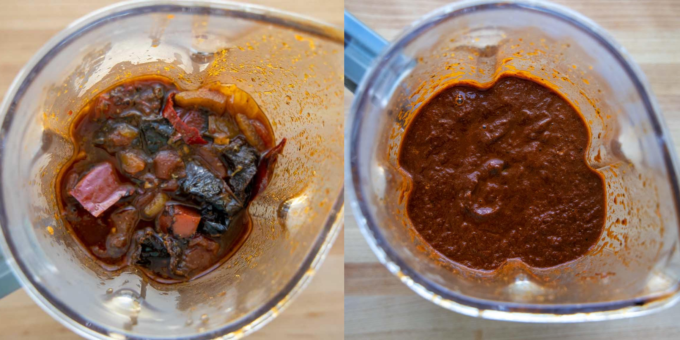 Reserve one cup of broth for later use. Place the remainder of the ingredients into a blender and blend at its highest setting.
Depending on the power of the blender it may completely puree all the ingredients. If it has bits and pieces remaining, run the sauce through a sieve to take out and pieces that didn't get pureed.
Gather the remaining ingredients, and let's get started making the Beef Chili Colorado!
Season the beef with sea salt and black pepper. Then seer the beef in a hot pan with a little olive oil. Make sure to sear all the sides of the beef cubes.
Don't overcrowd the pan, do the beef in two batches if you don't have a big enough pot.
Add the chili sauce to the seared beef along with the reserved beef stock. Bring the mixture to a boil then reduce the heat to a simmer and cover the pot. Let the beef simmer covered for 2 hours.
After simmering for two hours, uncover the pot. Mix the masa harina with 2 tablespoons of the broth to make a slurry. Add the slurry to the pot and stir well, making sure to have and lumps from the slurry.
Continue cooking the Chili Colorado for about 30 minutes until the sauce has thickened.
Serve Beef Colorado with seasoned rice (and beans if desired) and grilled (or heated) tortillas of your choice. I can never decide whether I like corn or flour tortillas the best, today I went with flour tortillas.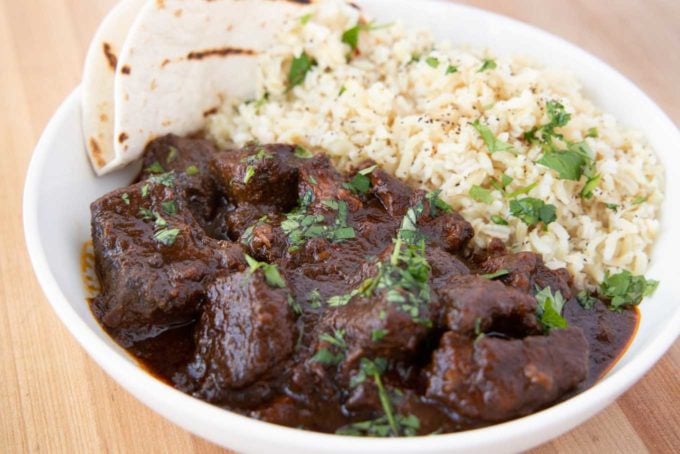 The rich smokey flavor of the chilies with the fork-tender beef will soon become one of your favorite dishes. I love using brown rice with this type of dish, it adds a nuttiness that you don't get with white rice. It takes a little longer to cook than most of my dishes but trust me when I tell you it's well worth the effort!
Did you know that Beef Chili Colorado wasn't named after the state of Colorado? The name "Colorado", which means "colored red", is derived from the deep red color of the chili sauce.
If you enjoyed this recipe, you may also like these: