I love a good salad and my favorite is a blackened chicken salad complete with all the toppings!
A large dinner-type salad is usually something we order when we go out for lunch or dinner, but the truth is, it's super easy to make and will cost a lot less when made at home.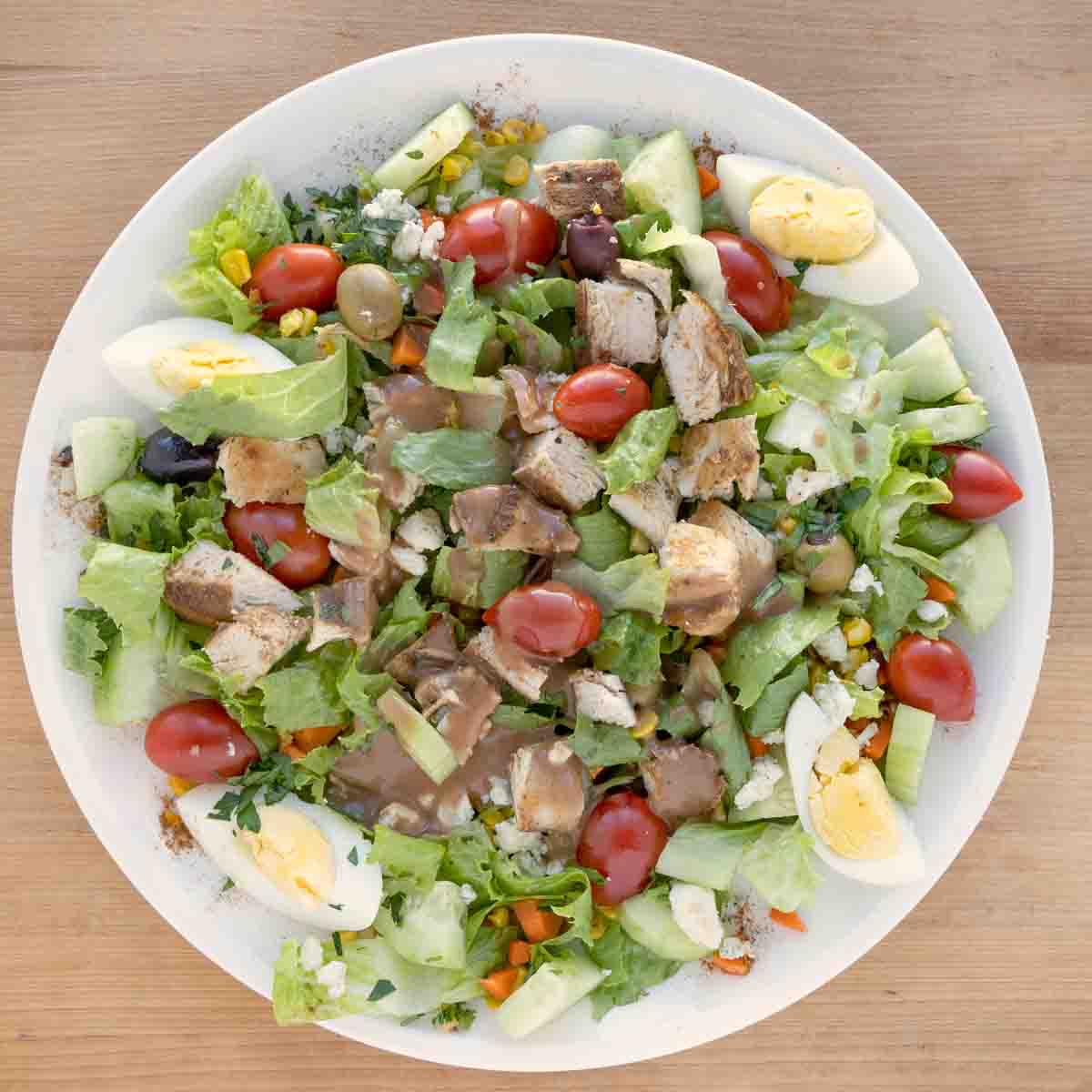 Last year I was diagnosed with pre-diabetes thanks to all of the sweet treats I had been baking at home. Right then I made the conscious decision to start eating better and eliminating those foods that I loved, but that didn't love me.
Now that doesn't mean that I never get to eat desserts or fatty foods. The lesson learned is moderation. That is how you become the "New You."
My new lifestyle was actually an awakening or duh-moment for me as I found foods that were naturally sweet and delicious to satisfy my cravings.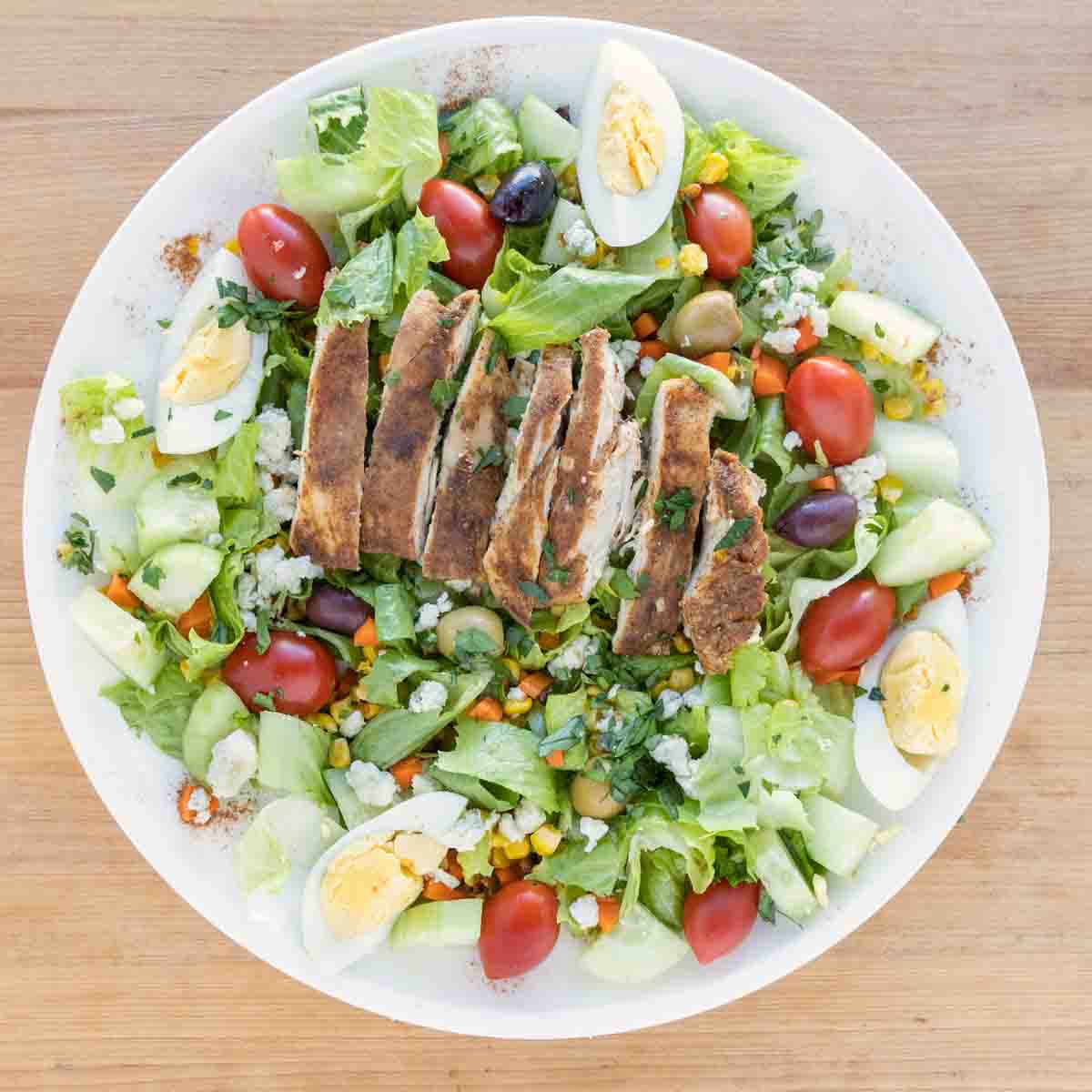 Tempting, isn't it? My restaurant-style Blackened Chicken Salad makes a perfect lunch or light dinner. Every bite is delicious and satisfying.
The great thing about salads is they can be made with whatever you have on hand at the time. You really only need greens and tomatoes.
The rest of the salad can be a blank canvas that allows you to create a different salad every time you make it. NatureSweet Cherubs provide a bursting, tangy flavor that makes for the perfect, delicious, final touch on your salad.
Ingredients for Blackened Chicken Salad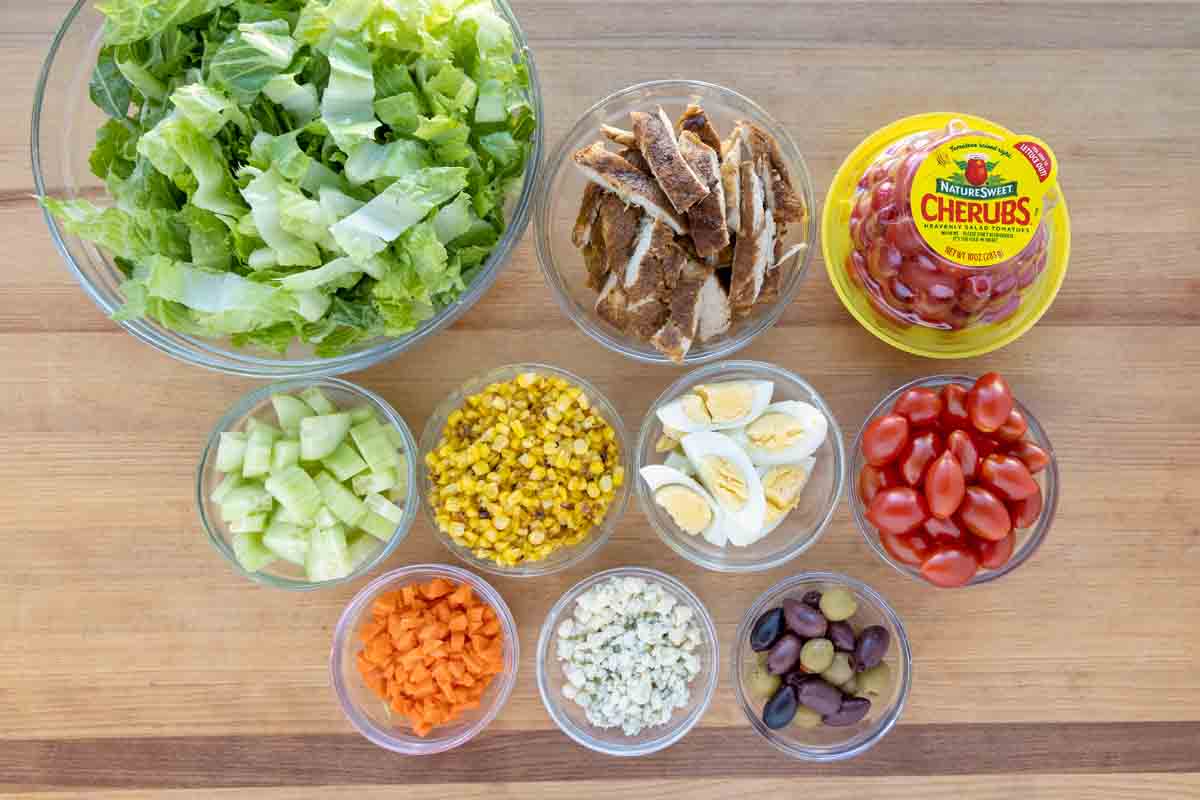 Let's start by gathering the ingredients we need to make my blackened chicken salad. In "chef speak" hef Speak this is called the Mise en Place which translates to "everything in its place."
Not only does setting your ingredients up ahead of time speed up the cooking process, it also helps ensure you have everything you need to make the dish.
How do I make a restaurant-style salad?
The first step in creating a delicious restaurant-style salad is prepping the ingredients.
This can be done in advance or right before you make the salad. So, before you begin building your salad, prep the ingredients you want to add.
*Timed properly all these tasks can be done at the same time.
How to hard-cook eggs
You notice I said hard-cooked and not hard-boiled. The reason most hard-cooked eggs are horrible or green is that we overcook them or boil them.
I will now share the secret to perfect hard-cooked eggs.
Place 4 eggs into a small pot and cover with water. The water should be at least half an inch over the eggs.
Bring the eggs to a boil and allow them to boil for 2 minutes. Turn off the heat, cover the pot and remove the pot from the heat.
Allow the eggs to sit undisturbed in the covered pot for 20 minutes.
Rinse the eggs in cold water and peel them while still warm. Running cold water will help in the peeling process. This is the easiest method I have found for peeling eggs.
Refrigerate the eggs until needed.
*Old eggs will not peel well. Always use fresh eggs
How to roast corn
I like the crunch that roasted corn adds to my blackened chicken salad but its optional if you're not a fan of corn.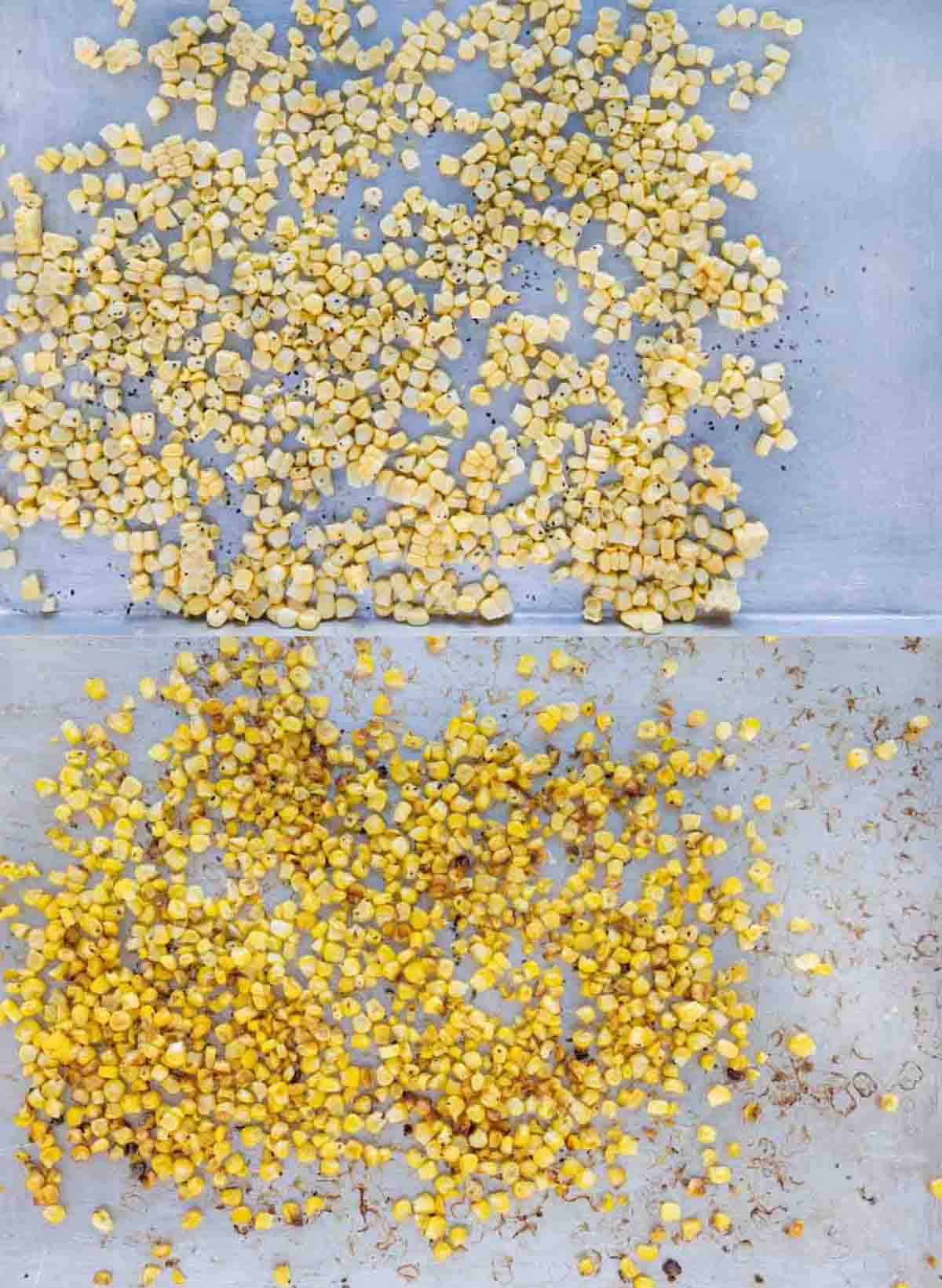 Cut the corn off the ears (yes, you can use frozen corn).
Mix with a little olive, sea salt, and black pepper.
Place the corn on a sheet pan and roast at 425 degrees for 15-20 minutes (or until the corn starts to brown).
Allow to cool and set aside until needed.
How to make blackened chicken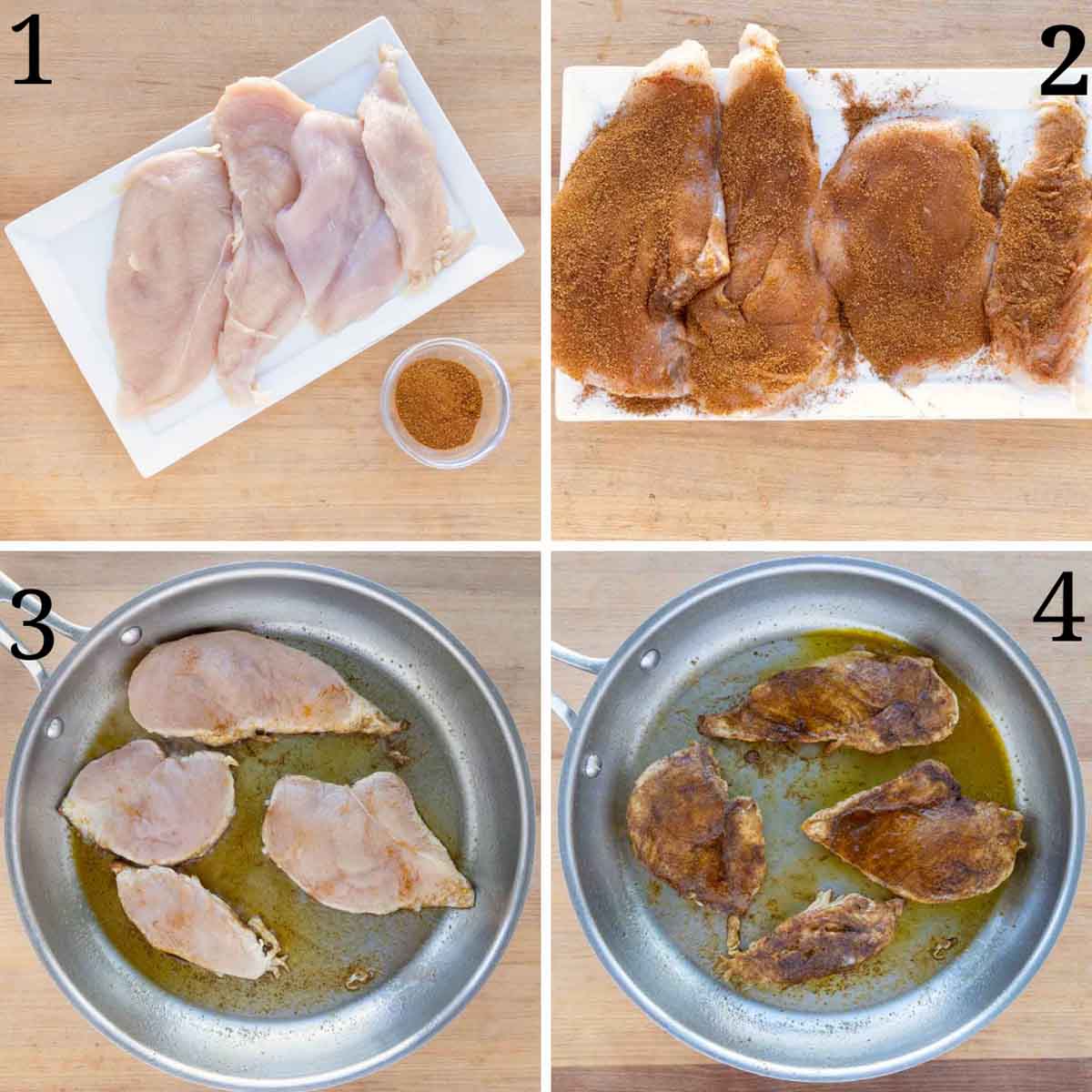 Clean up the chicken breasts, and remove any fat or skin. If the chicken breasts are too thick, split them in half to make them easier to cook.
Season the chicken breasts with your favorite cajun spice or a spice blend of your choice.
Heat a large skillet over medium-high heat. When the pan is heated, add a little olive oil and place the seasoned breasts, spice side down in the pan. Allow the breasts to cook for 2-3 minutes.
Flip the breasts over and continue to cook for an additional 2-3 minutes, or until an internal temperature of 165 degrees has been reached.
Place the cooked seasoned breasts on a plate and allow to cool.
When fully cool, slice the chicken breasts to add to the salad.
*You can also chop the slices so everything is bite-size. I prefer this method.
How do I assemble a restaurant-style salad?
The first rule of restaurant cooking (after making something delicious) is to arrange that meal on the serving dish so it's as pretty as it is delicious.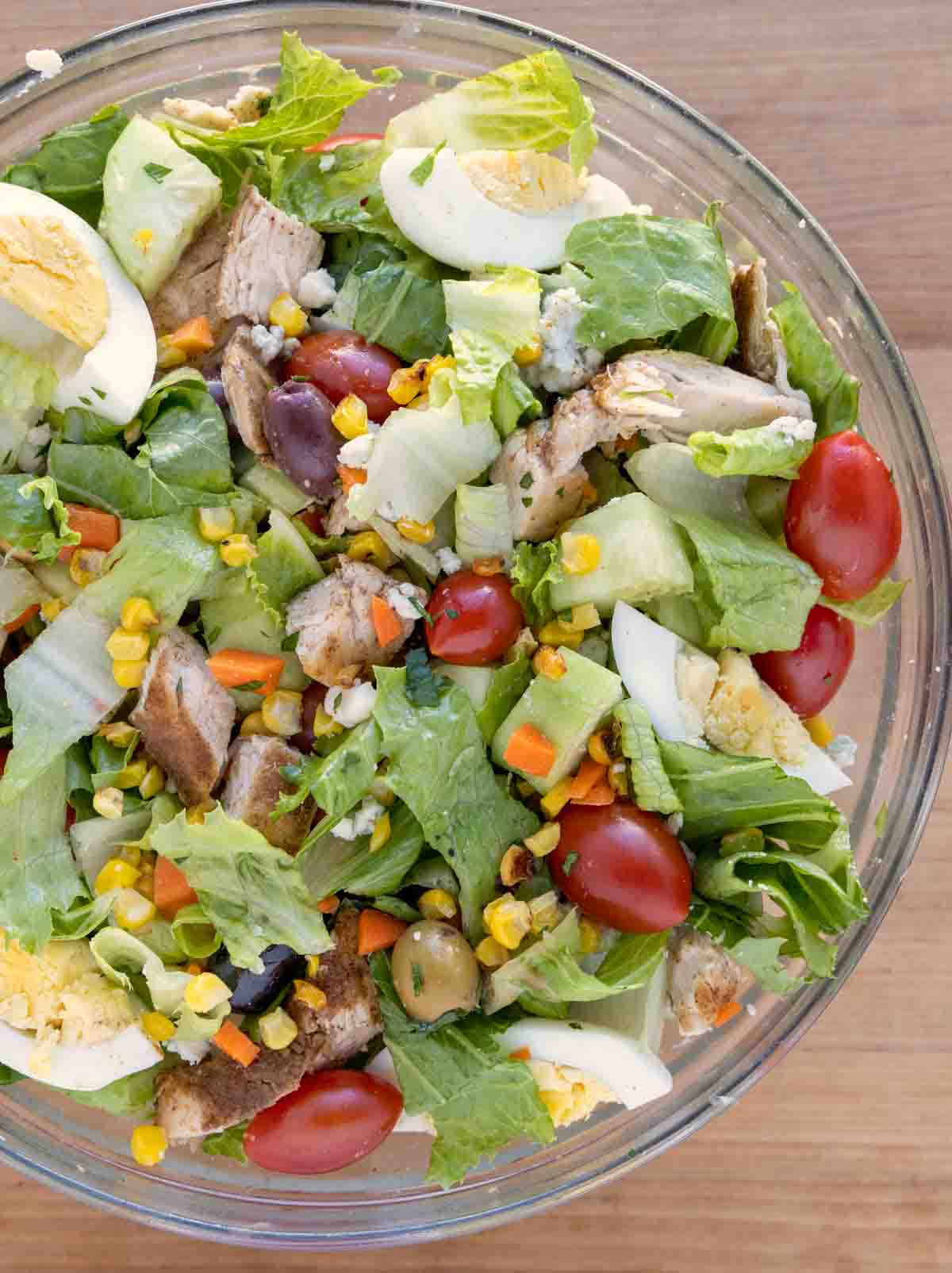 There are no set methods for how you accomplish this. It depends on how you choose to serve the salad. The first image I shared shows the salad being served on a dinner plate or in a large bowl. For that method, I began by laying the prepared romaine on the plate to use as a base.
I then added the various toppings. I like to place the tomatoes around the outside of the plate at regular intervals, followed by the hard-cooked egg wedges.
These will be the focal point of the plate offering a circular continuity to the dish. Who knew there was actually a science to food design?
After setting the plate, I then start sprinkling the other ingredients, creating a colorful pattern on the plate. Remember, we "eat with our eyes" before we actually taste the food.
The last ingredient to be added to a plated salad will be the blackened chicken (sliced or chopped depending upon your preference). Follow this with a little sprinkling of carrots, cheese, and corn. I usually have a little chopped parsley or another fresh herb to add a little more color to the plate.
If you prefer to serve it family-style, use a bowl large enough to hold all the ingredients and mix them. I would also dress the greens and toss them before adding any of the toppings.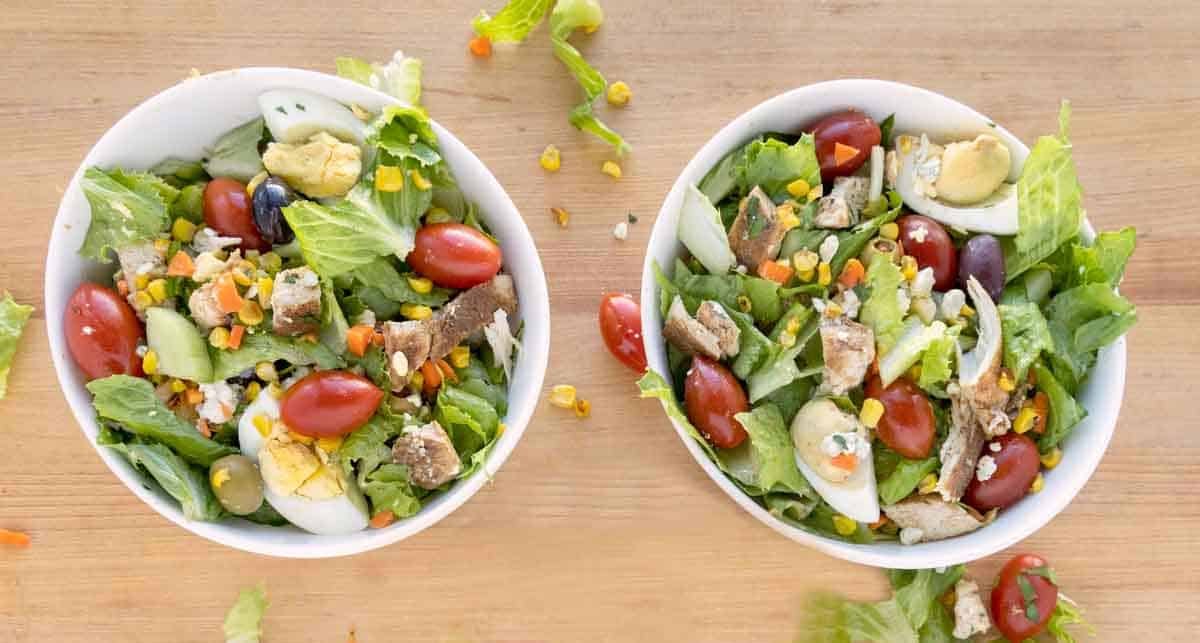 You can also serve the blackened chicken salad in small bowls as a side salad. If you're having a get-together or dinner party, this is a great way to premake your salad so you can spend more time with your guests.
But any way you serve up your salad you can be sure you'll have smiles around the dinner table.
More Salad You'll Love!