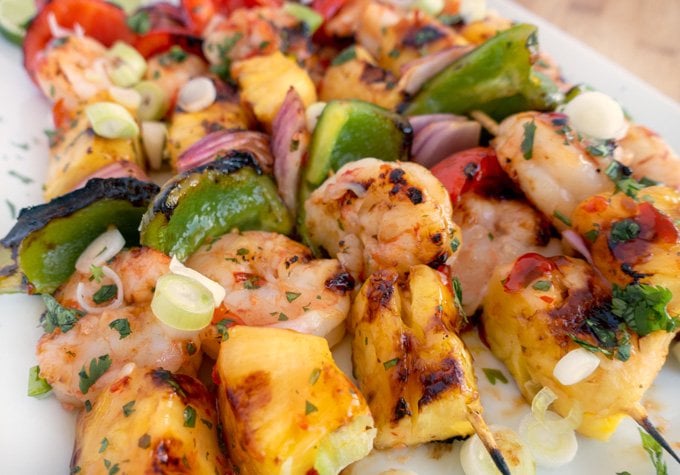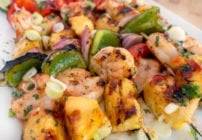 I love grilling and I love seafood. When you're ready to spice up your grilling game make sure to try my Grilled Shrimp and Pineapple Skewers with a sweet chili sauce.  They'll be the hit of your next get together!
This post includes affiliate links. As an Amazon Associate I earn from qualifying purchases.
Summertime means Grilling Time and my Grilled Sweet Chili Shrimp and Pineapple Skewers are perfect for your next get together!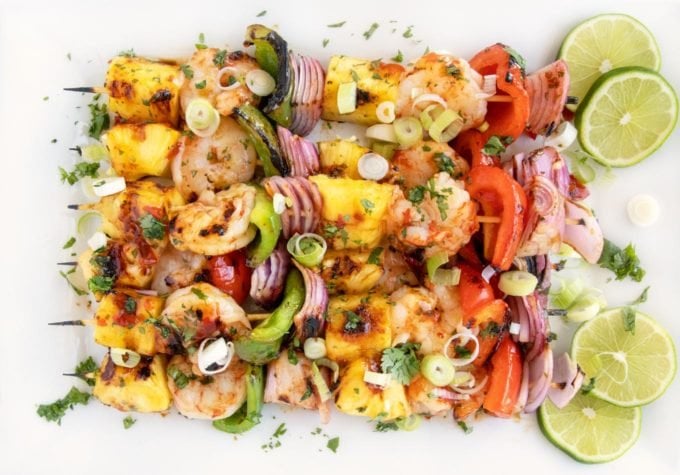 This post was sponsored by Mirum. The thoughts and opinions expressed are my own.
What do I need to make Grilled Shrimp and Pineapple Skewers?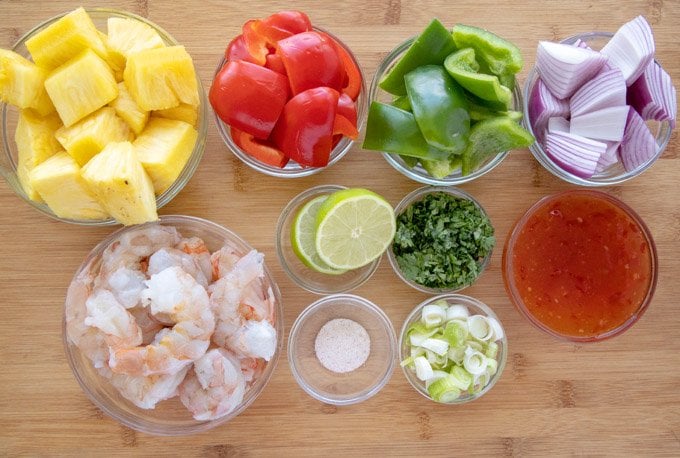 Let's start by gathering our ingredients together. In Chef Speak this is referred to as the Mise en Place, which translates to everything in its place.
It's really a good idea to get into the habit of getting your ingredients ready. It speeds up the cooking process and ensures you're not missing an ingredient you need to make the dish.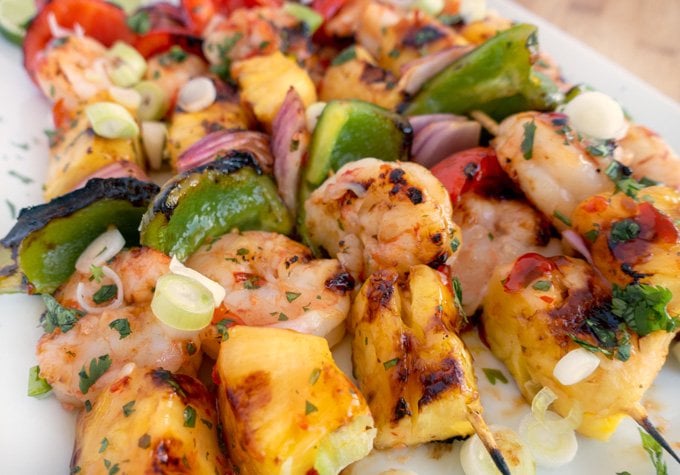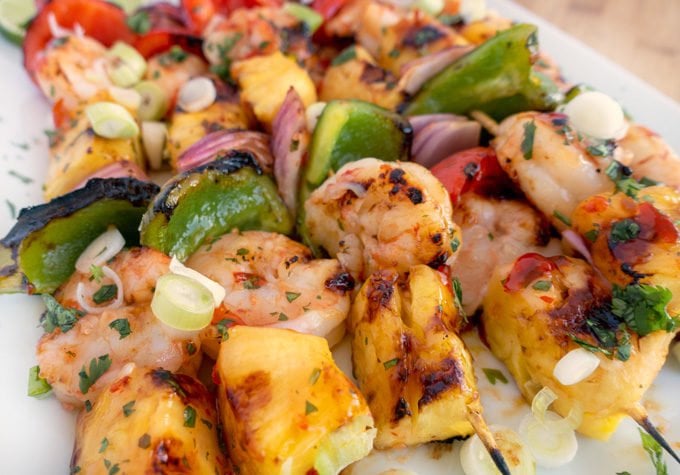 I love sweet chili sauce and use it as a marinade on shrimp, chicken and salmon. It adds a lot of flavor to a dish with just a little work.
You can also just brush it on when you grill. The natural sugars in the sauce help caramelize the food your grilling adding flavor and color to the dish.
It's not difficult to look like a grilling superstar with recipes like this. Your friends will be amazed by this easy to make restaurant-style dish!
Remember to Soak the Wooden Skewers in Water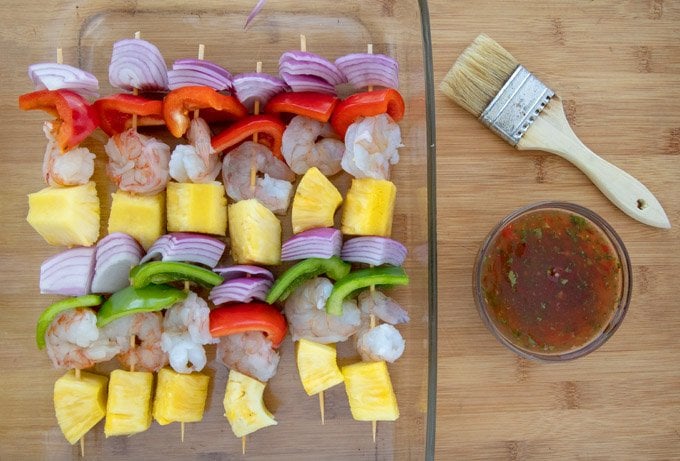 Soaking the skewers in water for an hour or more will ensure that the wood doesn't burn while you're grilling your shrimp and pineapple skewers.
Do I have to Marinate the Skewers?
Don't worry if you don't have time to marinate the skewers. You can just brush on the sweet chili sauce and repeat the process while you're grilling the skewers.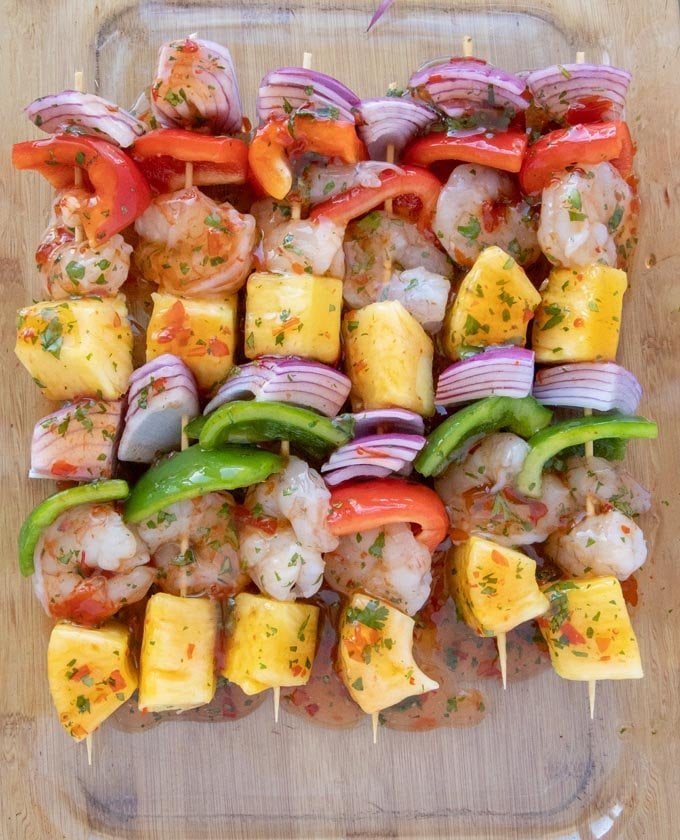 Can marinating the shrimp too long hurt them?
If you marinate the shrimp too long and the marinade is acidic (which this is) it will cook the shrimp. This is why I suggest 5 minutes or just brushing the marinade on the skewers before you grill. The little time sitting with the sweet chili sauce will add a little more flavor to the shrimp, but it's not a deal breaker.
Over-marinating shrimp can make them mushy, so don't leave them too long. It will be an expensive lesson.
How Long Should I Grill Shrimp?
One of the greatest cooking sins is overcooking seafood. Shrimp (depending upon the size) usually take about 5-7 minutes to cook on a 350-400 degree grill.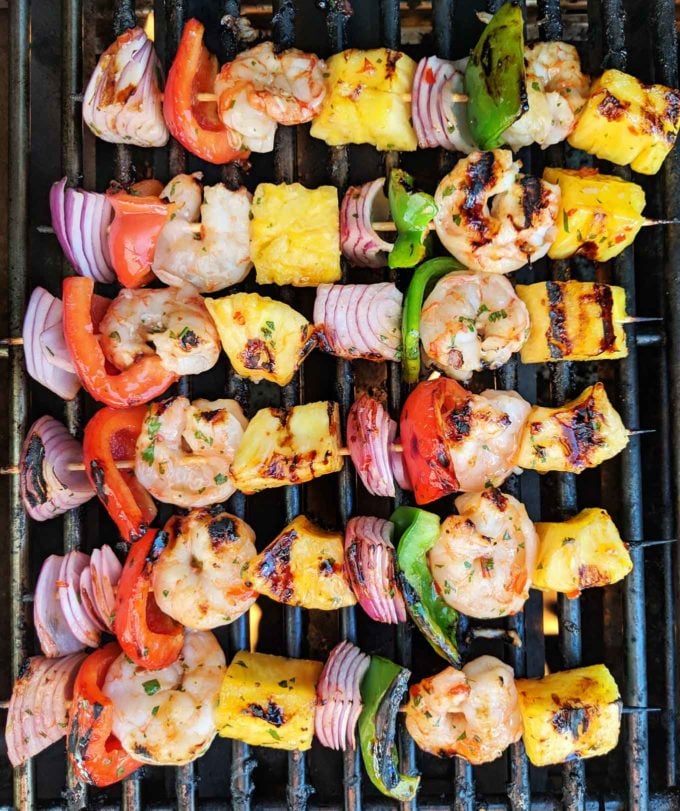 So after 3-4 minutes turn them over, this should help give you some color on the skewers. Depending upon your grill it could take a little longer.
Remember to brush the skewers with the chili sauce.
Can I use other seafood, chicken or beef with instead of shrimp?
This recipe is easily adaptable to just about any protein you like to eat and that will fit on the skewer or be cut into pieces that will fit on the skewer.
Make these skewers your own by using ingredients you love to eat. Don't like peppers? Try grape tomatoes. Not a fan of onions? How about mushrooms or cauliflower florets?
Get the idea? Have fun with the recipe!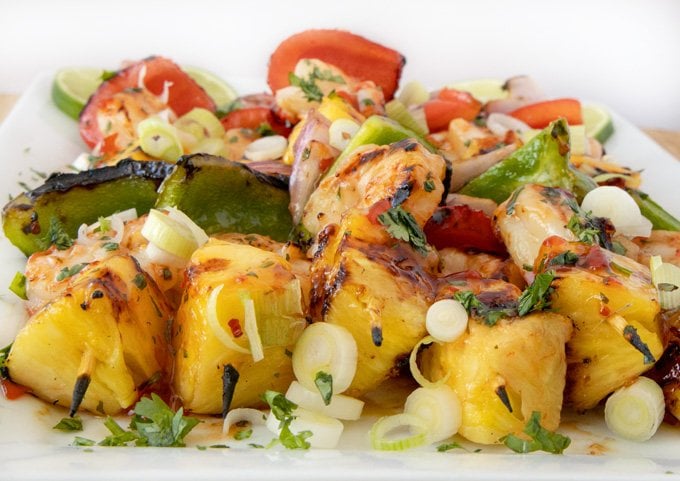 Can you believe that sweet chili sauce was on my no-eat list for a long time? Spicy foods just didn't agree with me. And trust me nothing is worse than being a chef with heartburn.
I love feeding my friends and family and sitting down to partake in a meal with them is the highlight of my day. And thanks to Omeprazole ODT, I can eat everything I make!
Made for frequent heartburn sufferers who experience symptoms 2 or more days per week, Omeprazole Orally Disintegrating Tablets take the guesswork out of your heartburn with its long-lasting protection! Bonus, you don't even need a glass of water, as the strawberry-flavored tablet dissolves right on your tongue.
Just don't chew it or dissolve it in liquid—put it on your tongue and let it do all the work.
Take one dose daily for 14 days according to package directions. Don't take Omeprazole Orally Disintegrating Tablet for more than 14 days unless directed by your doctor. Omeprazole ODT may take 1-4 days for full effect and is not intended for immediate relief.
If you love Grilling you might also like these recipes: