My Smoked Pork Tenderloin Pork cooked low will have you squealing in delight! And these delicious, incredibly tender and juicy, smoky pork tenderloins couldn't be easier to make. After a few minutes of prep work, all you have to do is sit back, relax and wait for the deliciousness!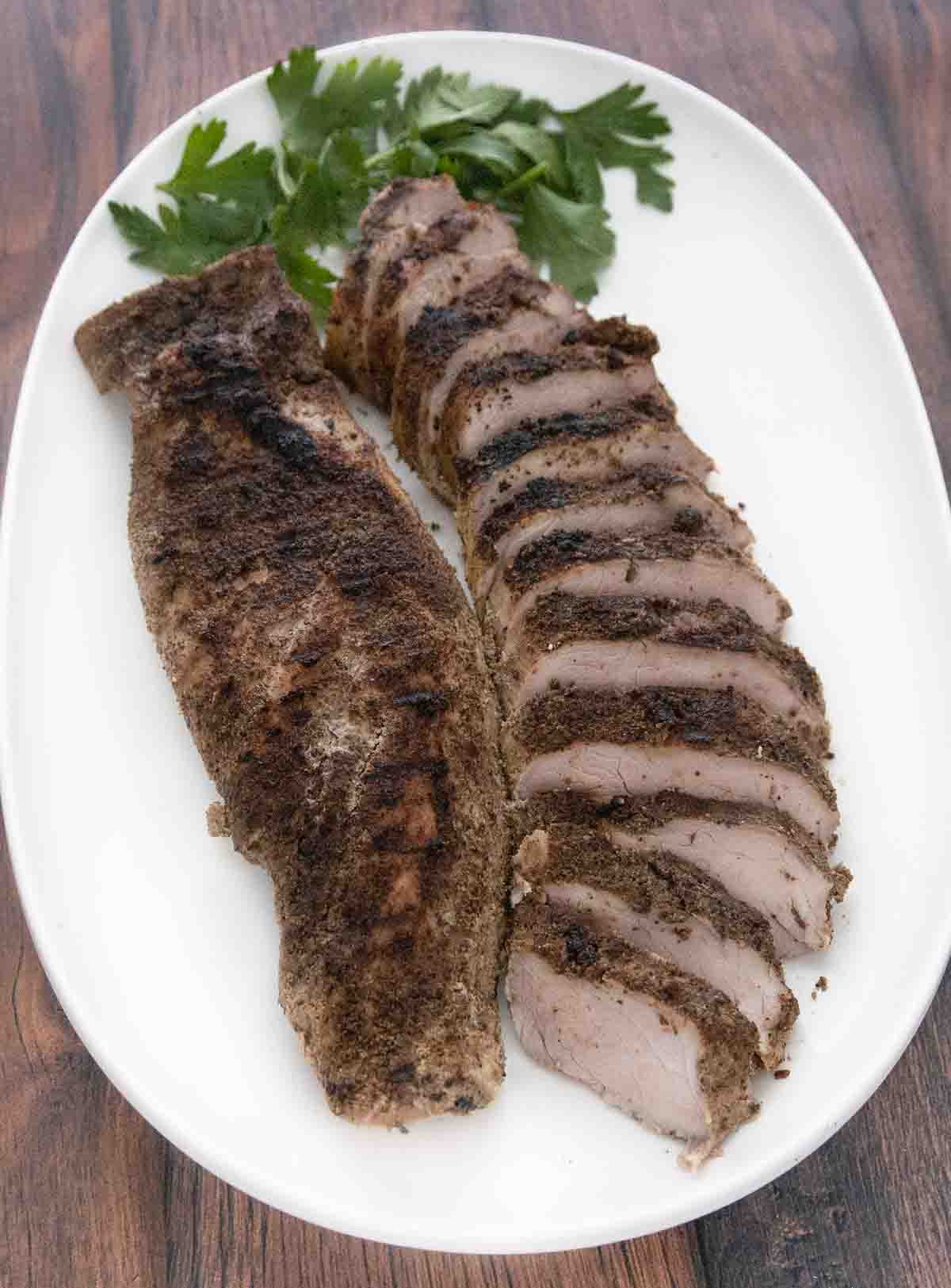 You'll love the amazing flavor the dry rub gives my smoked pork tenderloins, and the hint of smoky flavor that seeps into the meat.
If you love smoked pork, make sure to try my recipe for Smoked Pork Belly Burnt Ends aka Meat Candy.
Ingredients for Smoked Pork Loin
Let's start by gathering the ingredients we need to make Smoked Pork Tenderloins. In Chef Speak, this is called the "Mise en Place," which translates to "Everything in its Place."
Not only does setting up your ingredients ahead of time speed up the cooking process, it also helps ensure you have everything you need to make the dish.
Made with simple ingredients
Pork tenderloins
Olive oil
Black pepper
Kosher salt (or coarse sea salt)
Garlic powder
Onion powder
Masala
Cumin
Sumac
Nutmeg
Can I use other seasonings in the dry rub?
Absolutely. The key to making delicious smoked meats that you and your family will love is to use seasonings that you enjoy eating. Changing up the spices in this simple rub is easy and definitely something you can do each time you prepare smoked beef, pork, or chicken.
Other chili powder, cayenne pepper, ground ginger, turmeric, and coriander. For a sweet rub, add a little brown sugar.
You can also use your favorite seasoning blend or favorite rub for pork recipes. Cajun seasoning, jerk seasoning, or barbecue seasoning can be used instead of making your own dry rub.
What is a Pork Tenderloin?
A pork tenderloin is a cut of meat that comes from the muscle running alongside the backbone of a pig. It's a long, narrow cut that is exceptionally tender and lean. The tenderloin is known for its tenderness because it is located in a part of the pig that doesn't get much exercise, which results in a lack of tough connective tissue.
How to Smoke Pork Tenderloin
Pre-heat the smoker to 250 degrees F.
Place the pork tenderloins on a cutting board and using a sharp knife, trim any excess fat or sliver skin meat.
Smoking at low temperature yields juicy, tender meat. Don't rush the process by using a higher temperature for this smoker recipe.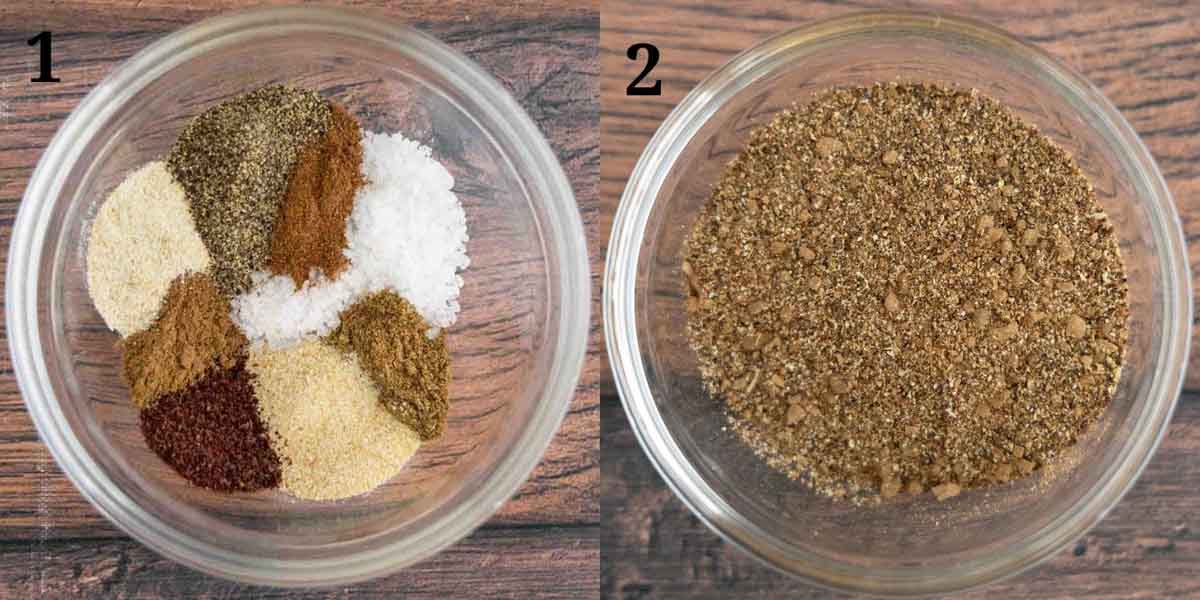 Add the seasonings for the dry rub to a small bowl.
Mix the pork rub to combine the seasonings.
Pat dry the pork tenderloins using paper towels. Then rub them down with extra virgin olive oil.
Rub the seasoning mix on the outside of the meat, coating all the sides. Let the seasoned tenderloins sit for 30 minutes to let the meat come to room temperature and allow the pork rub to penetrate the meat.
You can also wrap the seasoned pork tenderloins in plastic wrap and let them marinate in the seasonings overnight. This will add even more flavor to the meat. Just remember to let it come to room temperature before starting the smoking process.
Add the wood chips to the smoker tube. I used cherry wood for my smoked pork tenderloin recipe. You can also use apple wood, or your favorite fruit wood.
Place the seasoned pork loin on a wire rack in the smoker, with a drip pan underneath the meat.I use disposable aluminum foil pans. It makes clean-up a breeze.
Make sure to check the smoker after one hour and add more wood chunks if needed.
I love my electric smoker, it's easy to use and you never worry about an open flame or feeding the fire. Depending upon where you live an electric smoker might also be your only option. It doesn't alway produce the same type of bark that other styles of smokers create, but it does add delicious smoke flavor to everything you cook. And did I mention it's easy to use?
You can also use a Traeger smoker, pellet smoker, charcoal grill, or gas grill using indirect heat.
Use a digital meat thermometer to keep an eye on the internal temperature of the meat. When it reaches 145 – 150 degrees remove the smoky pork tenderloin from the smoker. *Cook time will vary and it's important to remember that you're cooking to the internal temperature of the meat, not a specific time.
After removing the meat from the smoker, tent the pork with aluminum foil and let it rest for 15 minutes before slicing. This will give the juices time to reabsorb and redistribute.
Slice the pork into ½ inch to ¾ inch slices and serve your favorite side dishes. This would go well with my chimichurri sauce, mushroom marsala sauce, or your favorite bbq sauce.
My easy recipe for smoked pork tenderloin goes well with just about anything. Our Truffle Mac and Cheese or Wedge Salad would be two great side dishes to serve with it.
Recipe FAQ's
What is the ideal smoking temperature for pork tenderloin?
The recommended smoking temperature for pork tenderloin is around 225°F to 250°F. This slow and low temperature allows the meat to absorb the smoky flavors while remaining tender.
What type of wood chips or chunks should I use for smoking pork tenderloin?
Fruit woods like apple, cherry, or peach are excellent choices for smoking pork tenderloin. These woods provide a mild and sweet smoke flavor that complements the meat well.
Can I glaze or sauce the pork tenderloin while smoking?
Absolutely. Add your favorite glaze or barbecue sauce during the last 15-20 minutes of smoking. This allows the flavors to caramelize and create a tasty outer layer on the meat.
More Recipes You'll Love!
Chef's Choice
Masterbuilt 30-inch Digital Electric Smoker
An electric smoker takes all the work out of smoking your favorite meats and seafood. This is the smoker I use for all my recipes.
Buy On Amazon
This post includes affiliate links. As an Amazon Associate, I earn from qualifying purchases.
09/25/2023 03:48 pm GMT
Chef's Choice
ThermoPro Twin Wireless Meat Thermometer
I love the ThermoPro wireless meat thermometers. The easy to use app makes it easy to track the temperatures of the meats and seafood your cooking.
Buy On Amazon
This post includes affiliate links. As an Amazon Associate, I earn from qualifying purchases.
09/25/2023 04:04 pm GMT
Top Choice
Western BBQ Smoking Wood Chips Variety Pack
You get a great variety of wood chips with this starter pack. You get one bag of apple, cheery, mesquite, and hickory wood chips in each variety pack.
Buy On Amazon
This post includes affiliate links. As an Amazon Associate, I earn from qualifying purchases.
09/25/2023 03:53 pm GMT
Chef's Choice
Heat Resistant Oven Gloves & Grilling Gloves
These gloves take all the worry out of handling hot foods. These are perfect for grilling, smoking or removing pans from the oven.
Buy On Amazon
This post includes affiliate links. As an Amazon Associate, I earn from qualifying purchases.
09/25/2023 04:08 pm GMT