I Love a Classic Wedge Salad! Crisp iceberg wedges, topped with crispy bacon crumbles, sweet red onion, cherry tomatoes and bleu cheese crumbles and finished with my homemade bleu cheese dressing!
A traditional wedge salad has always been one of my favorite salads. It's made with simple ingredients that goes so well together. The crunchy icebery lettuce is the canvas and the salty bacon bits, juicy tomatoes and tangy bleu cheese crumbles help paint a delicious picture!
It's a salad I used to only see in the classic steakhouses I would visit, but it's been poping up more and more at some of my local eateries. It is the perfect side dish for a heavy meal like a steak.
It's a simple salad that is crisp and refreshing and works well as a side salad or a lite dinner salad with the addition of grilled chicken or shrimp.
Ingredients to make Wedge Salad
Let's start by gathering the ingredients we need to make a Wedge Salad. In Chef Speak, this is called the "Mise en Place," which translates to "Everything in its Place."
Not only does setting up your ingredients ahead of time speed up the cooking process, it also helps ensure you have everything you need to make the dish.
I make my own bleu cheese dressing but you can buy your favorite brand of creamy bleu cheese drissing.
How to make Wedge Salad
Start by preparing the bacon for then iceberg wedge salad.
Cut the bacon into small pieces and cook the bacon in a skillet until crisp.
Remove the bacon from the pan and let it drain on a plate lined with paper towel.
Place the bacon bits in a small bowl and set aside until needed.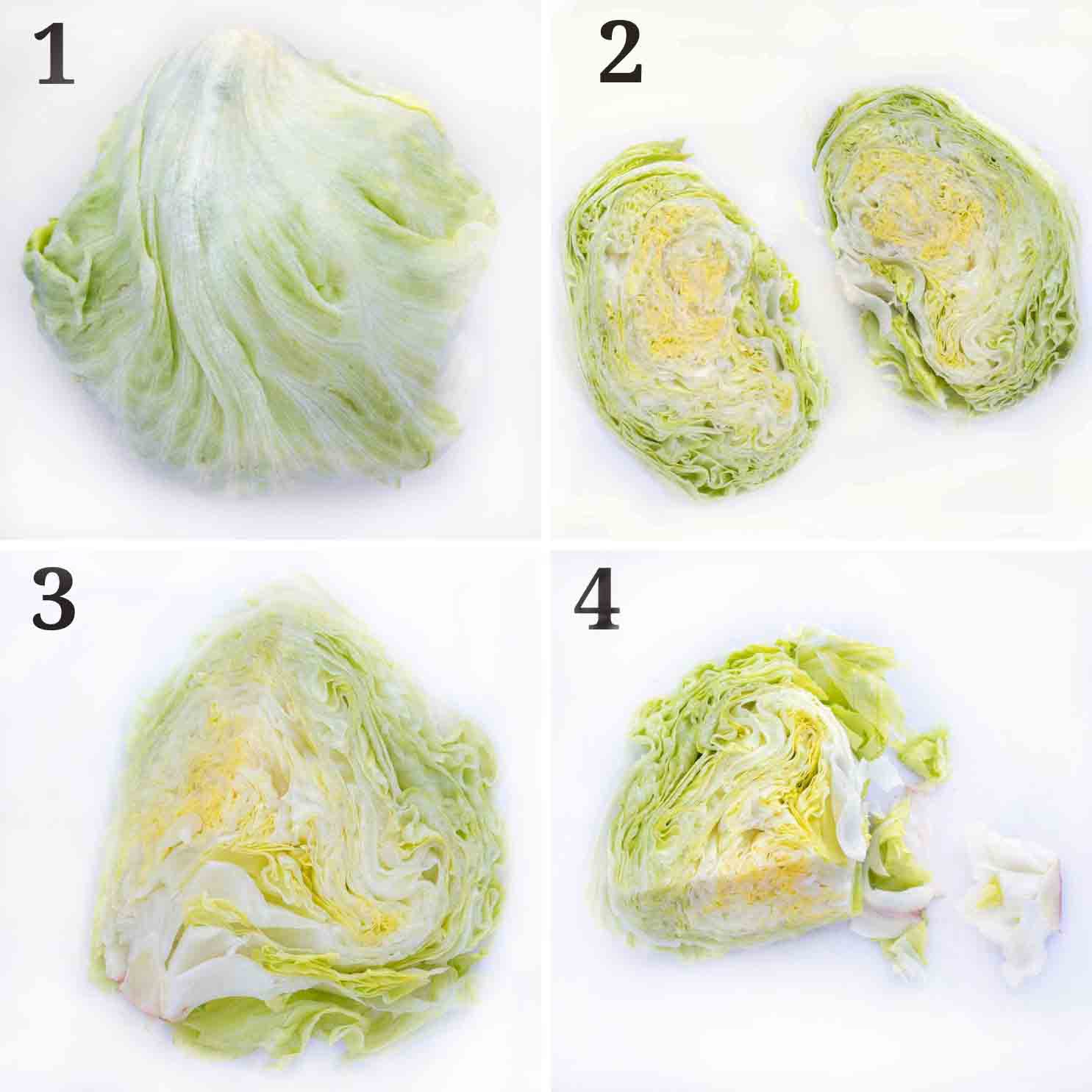 Clean and peel away the exterior leaves on the head of lettuce.
Cut the iceberg lettuce in half.
Cut each of the halves again in half to create the iconic "iceberg wedge."
Cut the stew off of the wedge.
*You don't have to use a whole head of lettuce, cut it in half and save the rest of the lettuce for another salad or sandwiches.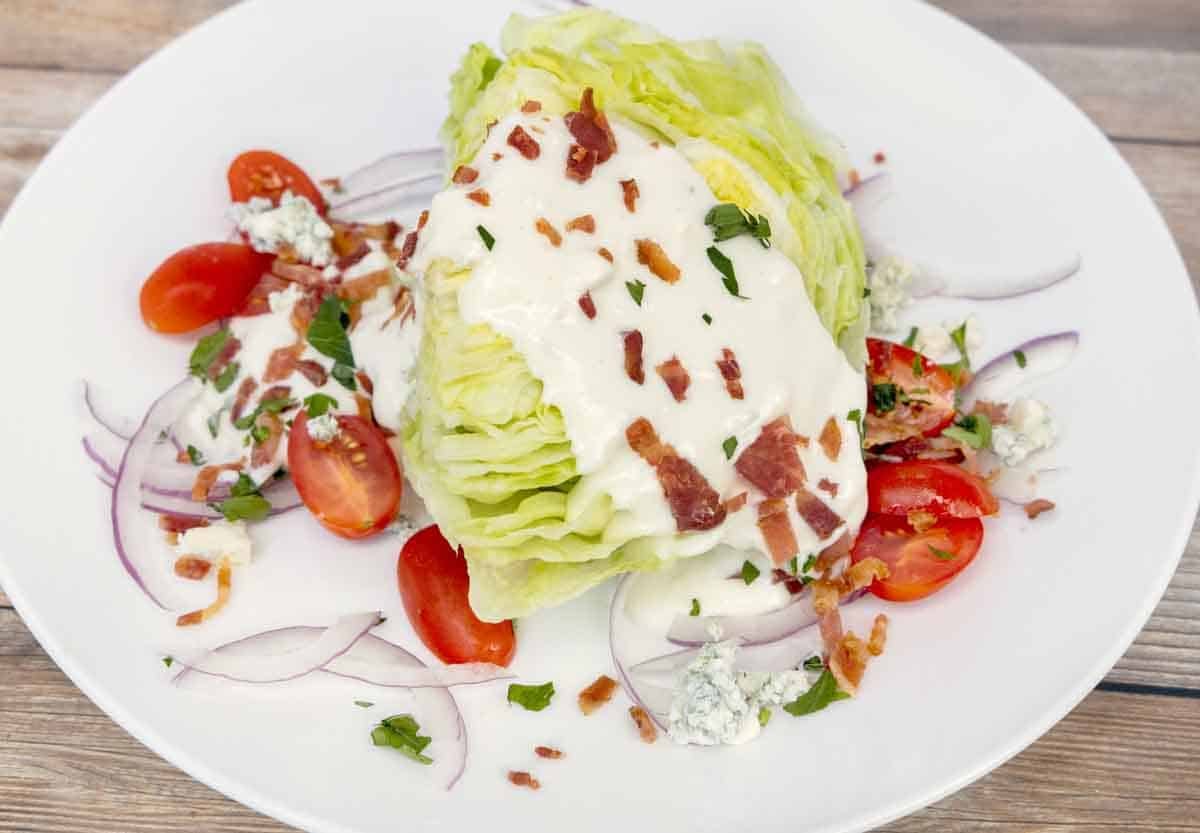 Place the wedges of iceberg lettuce on individual plates along with the cherry tomato halves and thinly sliced red onion.
Top the lettuce with a generous portion of bleu cheese dressing and then add the bacon bits, bleu cheese crumbles and chopped Italian parsley for a little extra color.
*Make sure to keep the lettuce ice cold before serving if you prep the ingredients ahead of time.
Recipe FAQ's
What is a classic wedge salad made of?
A classic wedge salad is made with a cold wedge of iceberg lettuce, bacon crumbles, cherry tomatoes, thinly sliced red onion, bleu cheese crumbles and topped with a creamy blue cheese dressing
What does a wedge salad go with?
Traditionally a wedge salad was made to accompany a heavy meal like a steak. As it's popularity grew outside of steakhouse, it has proven to be a great side salad option and can be served with just about anything.
More Recipes You'll Love!