My smoked pork belly burnt ends are melt-in-your-mouth tender, juicy, and so very flavorful, and after one bite, you'll understand why it's called "meat candy."
The best part is there's not much preparation needed. Once you put the food in the smoker, you just have to wait for it to be delicious.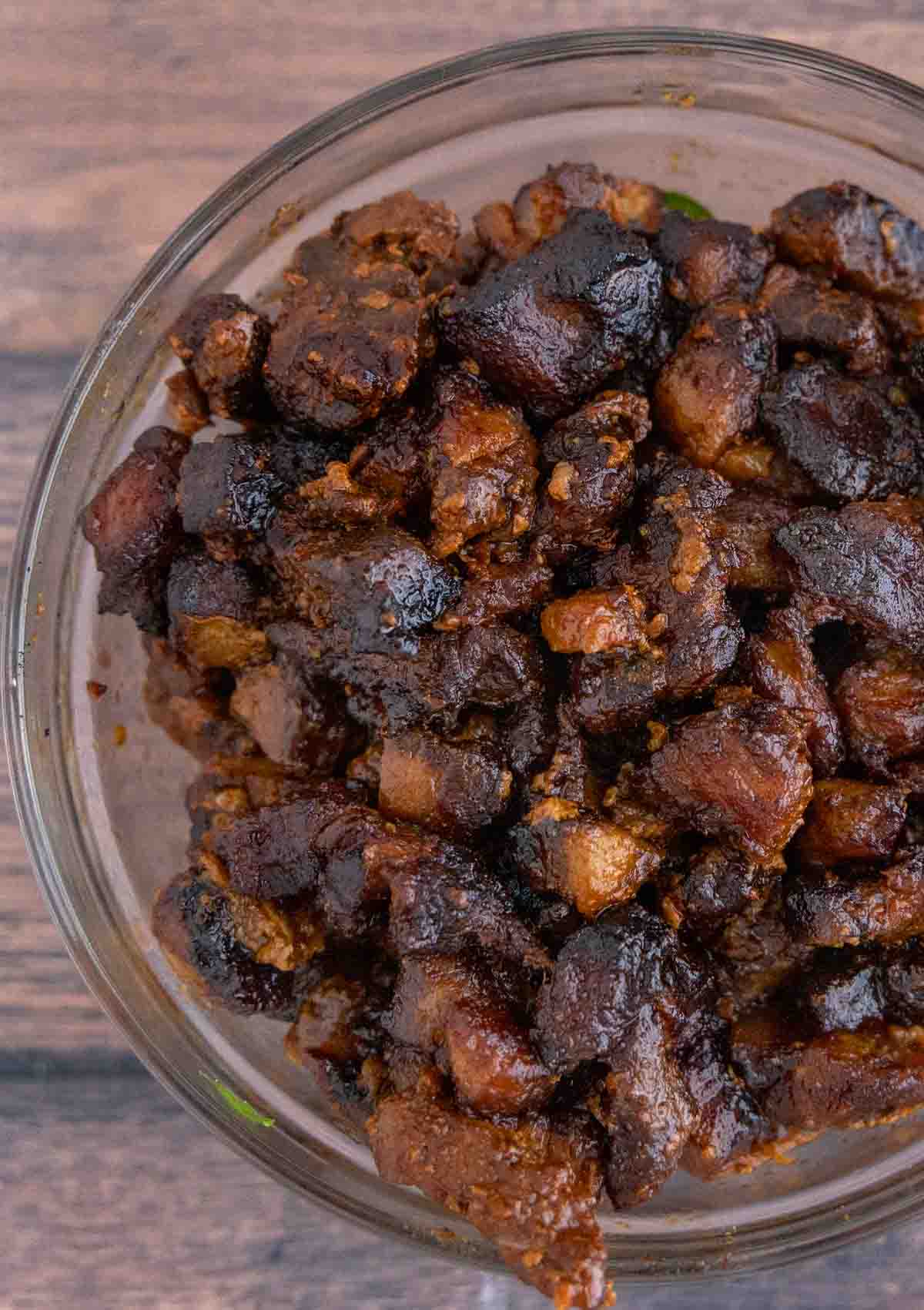 If you've tried beef brisket burnt ends, you'll understand how incredibly tasty they are. And making perfect smoked pork belly burnt ends using my easy recipe couldn't be easier.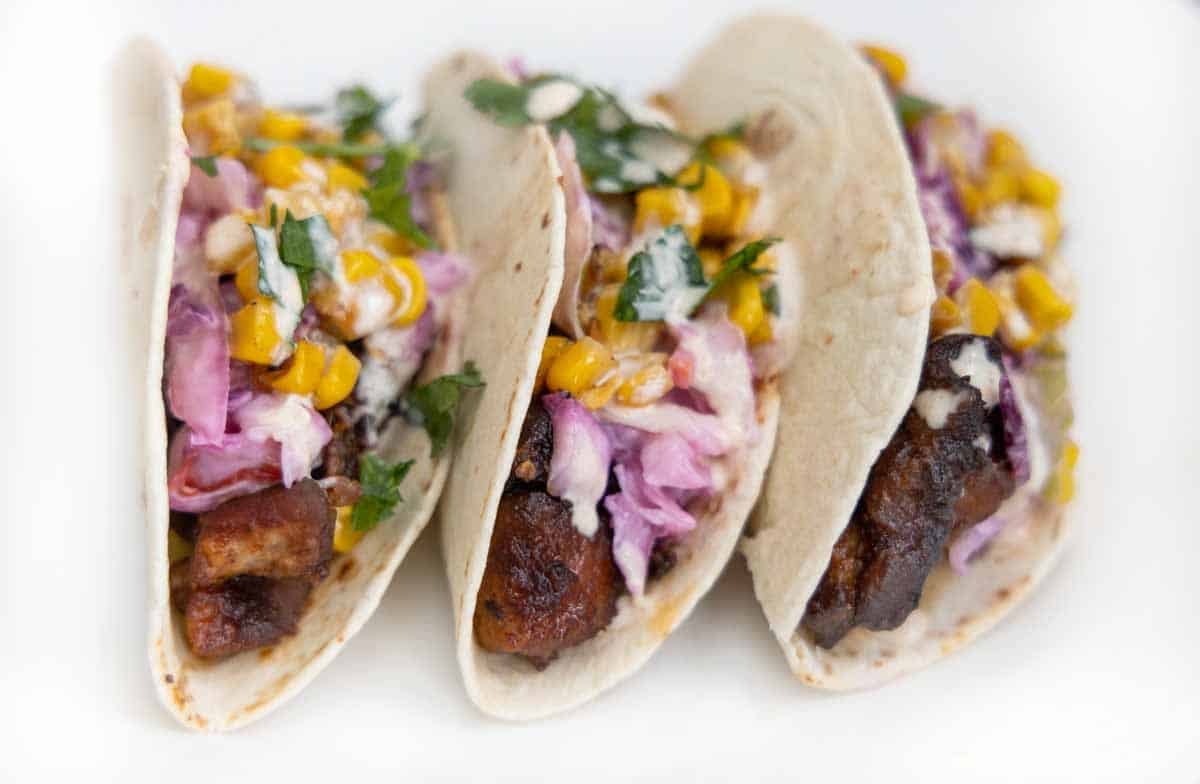 My crispy pork belly burnt ends make amazing tacos and sandwiches. Add your favorite toppings and get ready for your friends and family to sing your praises!
If you love delicious smoked pork make sure to check out my fall off the bone smoked rack of ribs and country style pork ribs.
Ingredients for Smoked Pork Belly Burnt Ends
Let's start by gathering the ingredients we need to make Smoked Pork Belly Burnt Ends Recipe. In Chef Speak, this is called the "Mise en Place," which translates to "Everything in its Place."
Not only does setting up your ingredients ahead of time speed up the cooking process, it also helps ensure you have everything you need to make the dish.
What is pork belly?
Pork belly is a fatty, boneless cut of pork that comes from the belly of the pig. A whole cut of pork belly will look like a brick of meat with a thick layer of flat running along the top, with smaller layers of fat marbled throughout the meat.
This is the cut of meat that bacon comes from.
Can I use other spices to season pork belly?
Yes, you can. The key to making delicious smoked meats that you and your family will love is to use seasonings that you enjoy eating. Changing up the spices in this simple dry rub is easy and definitely something you can do each time you prepare my smoked pork belly recipe.
Other seasonings you could add to your spice rubs are cumin, chili powder, dry oregano, ground ginger, turmeric, and coriander. You can also use your favorite seasoning blend. Add a little brown sugar for a sweeter flavor or cayenne pepper to make a spicy rub.
How to make Smoked Pork Belly Burnt Ends
Preheat the smoker to 250 degrees Fahrenheit.
I use an electric smoker, but you can use a pellet smoker, propane grill or smoker, or charcoal grill for this recipe.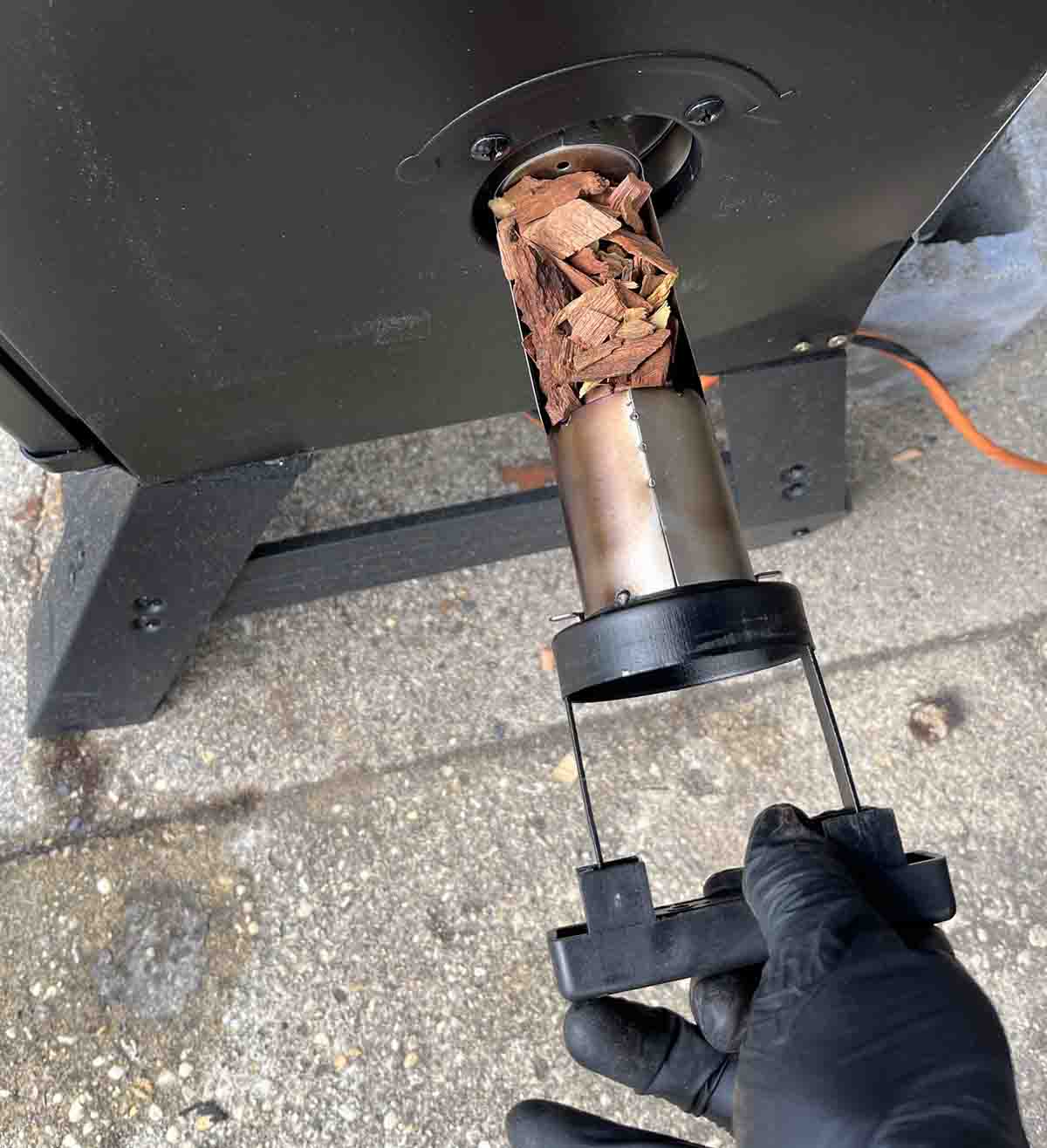 Fill the smoke tube with your favorite wood chips.
Fruit woods like apple, cherry, or peach are excellent choices for smoking pork belly burnt ends. They impart a mild, sweet flavor that complements the pork belly well. Hickory and oak are good choices if you prefer a stronger smoky flavor.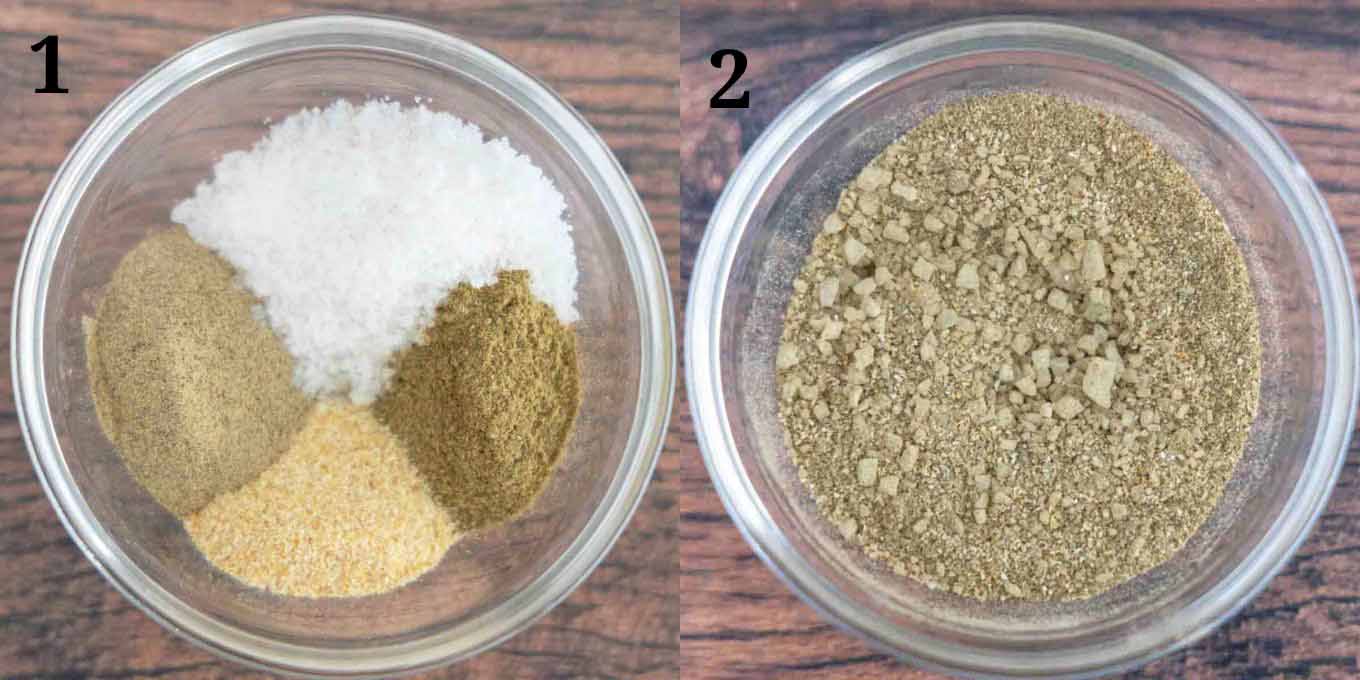 Add the kosher salt, white pepper, ground sage, and garlic powder to a small bowl.
Whisk the seasonings together until thoroughly combined. Set aside until needed.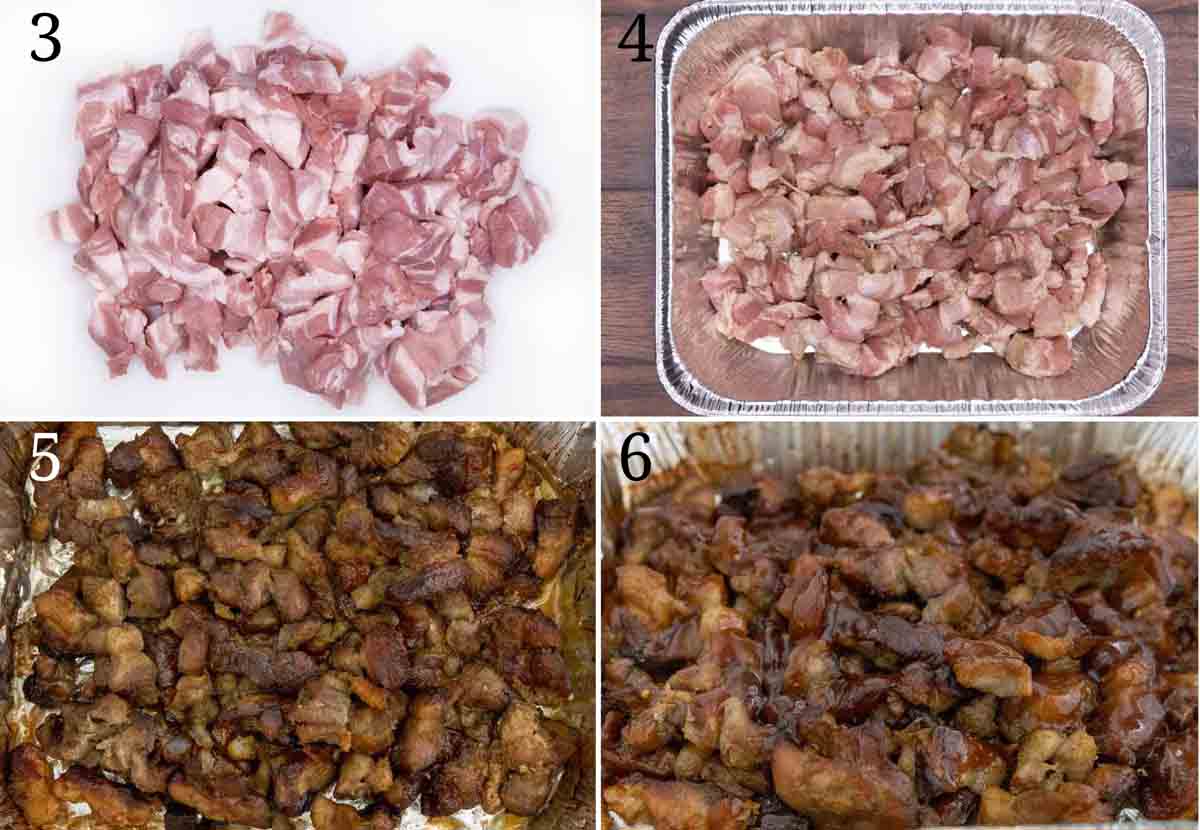 Using a sharp knife, cut the pork belly slab into one-inch cubes.
Place the cubed pork belly in a disposable pan or baking pan that can go into the smoker. Add the olive oil to the pork belly cubes and mix to coat all the pork belly pieces. Then add the seasoning blend to the pan and toss to evenly season all of the sides of the cubes of pork belly.
Place the foil pan with the seasoned pork cubes on a wire rack in the preheated smoker and let the pork cook for a total of 4.5 – 5 hours or until the pork belly cubes reach an internal temperature of 200 degrees F. That's the sweet spot for smoked pork.
When the pork has reached 200, remove the pan from the smoker and toss the smoked cubes of cooked pork belly with my semi-homemade barbecue sauce or your favorite bbq sauce. Then return the pan to the smoker for an additional hour, giving the cubes time to crisp up and absorb the bbq sauce.
Remove the pan from the smoker and let the pork belly sit for 10 minutes before serving.
*After 2 hours have passed in the first part of the smoking process, check the smoker tube and add more wood chips if needed. You'll get a feel for how often you need to add wood chips, make sure to keep it loaded so that delicious smoky flavor gets into every little nook and cranny of the meat.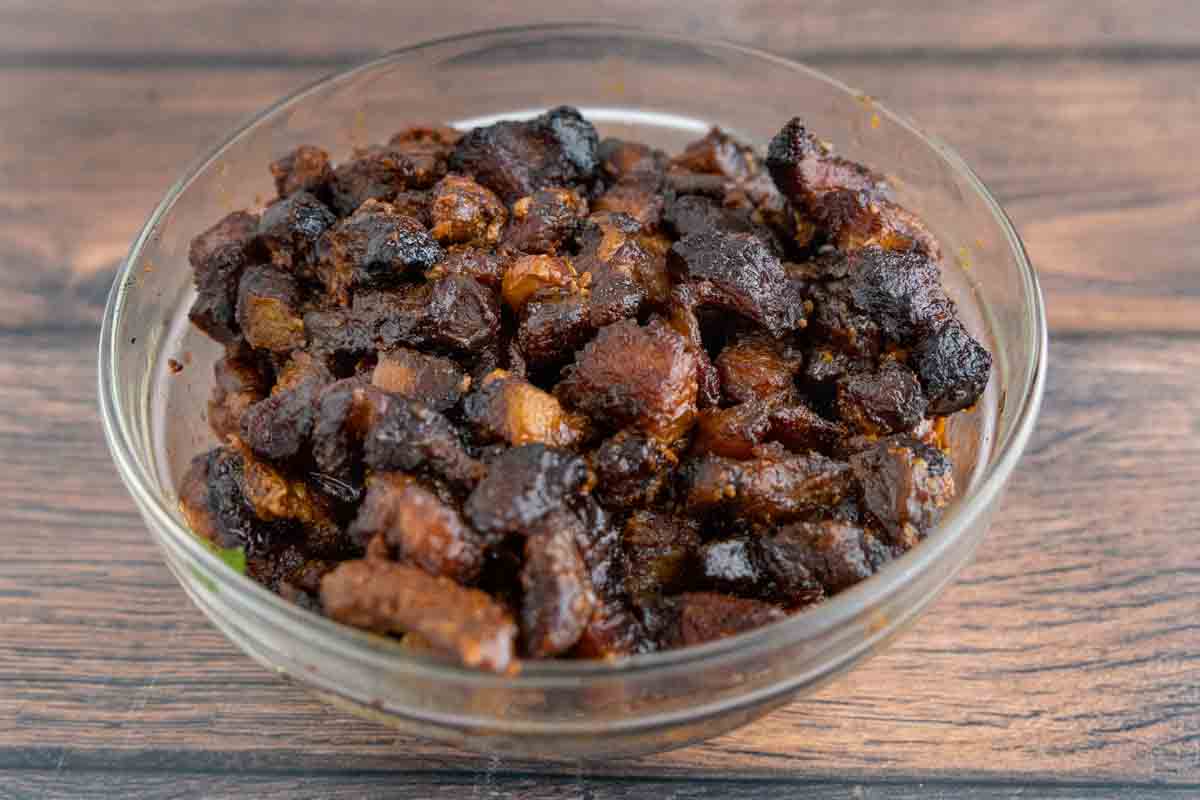 These delicious little pork belly bites are guaranteed to be a big hit with your friends and family, so make sure to have enough on hand because it is insanely delicious.
*I used two pounds of pork belly to make this bowl of burnt ends.
Once the meat has cooled to room temperature, store iany leftover burnt ends in an airtight container (or wrapped in aluminum foil) in the refrigerator for 3-4 days or in the freezer for up to 3 months.
Recipe FAQ's
What are burnt ends?
Usually, when you talk about burnt ends, that means the outside area of the smoked meat that is exposed to the heat, caramelizing the outside to a crisp, amazingly delicious piece of meat. And sadly, the burnt ends are limited to the outside edges.
In the case of pork belly, the meat is cubed, and all the pieces are smoked low and slow, caramelizing the whole cube. This way, the whole pork belly becomes burnt ends.
What does pork belly burnt ends taste like?
The flavor of your burnt ends BBQ differs based on the BBQ sauce used, but all burnt ends are crispy on the outside with a nice bite while being tender and juicy on the inside. They generally have a smoky, sweet flavor and a perfect combination of textures that makes them irresistible.
Can I use pork belly from the supermarket?
Absolutely. When purchasing pork belly from the supermarket, look for fresh, unseasoned pork belly with a good meat-to-fat ratio. With some supermarket cuts, you may need to trim excess skin or fat before cutting it into cubes.
Why are my pork belly burnt ends chewy?
If you use a higher temperature, the burnt ends can come out with a chewy texture. Remember to stick to low and slow cooking for the best results.
More Recipes You'll Love!
Chef's Choice
Masterbuilt 30-inch Digital Electric Smoker
An electric smoker takes all the work out of smoking your favorite meats and seafood. This is the smoker I use for all my recipes.
Buy On Amazon
This post includes affiliate links. As an Amazon Associate, I earn from qualifying purchases.
09/29/2023 04:03 pm GMT
Chef's Choice
ThermoPro Twin Wireless Meat Thermometer
I love the ThermoPro wireless meat thermometers. The easy to use app makes it easy to track the temperatures of the meats and seafood your cooking.
Buy On Amazon
This post includes affiliate links. As an Amazon Associate, I earn from qualifying purchases.
09/29/2023 04:18 pm GMT
Top Choice
Western BBQ Smoking Wood Chips Variety Pack
You get a great variety of wood chips with this starter pack. You get one bag of apple, cheery, mesquite, and hickory wood chips in each variety pack.
Buy On Amazon
This post includes affiliate links. As an Amazon Associate, I earn from qualifying purchases.
09/29/2023 04:13 pm GMT
Chef's Choice
Heat Resistant Oven Gloves & Grilling Gloves
These gloves take all the worry out of handling hot foods. These are perfect for grilling, smoking or removing pans from the oven.
Buy On Amazon
This post includes affiliate links. As an Amazon Associate, I earn from qualifying purchases.
09/29/2023 04:28 pm GMT