My Garlic Herb Baked Pork Tenderloin is an incredibly delicious restaurant-style dish that can be on your dinner table in under 45 minutes.
Seasoned with fresh garlic and herbs my pork recipe is perfect for a quick weeknight dinner or a fancy dinner party. It's a delicious alternative to pork chops!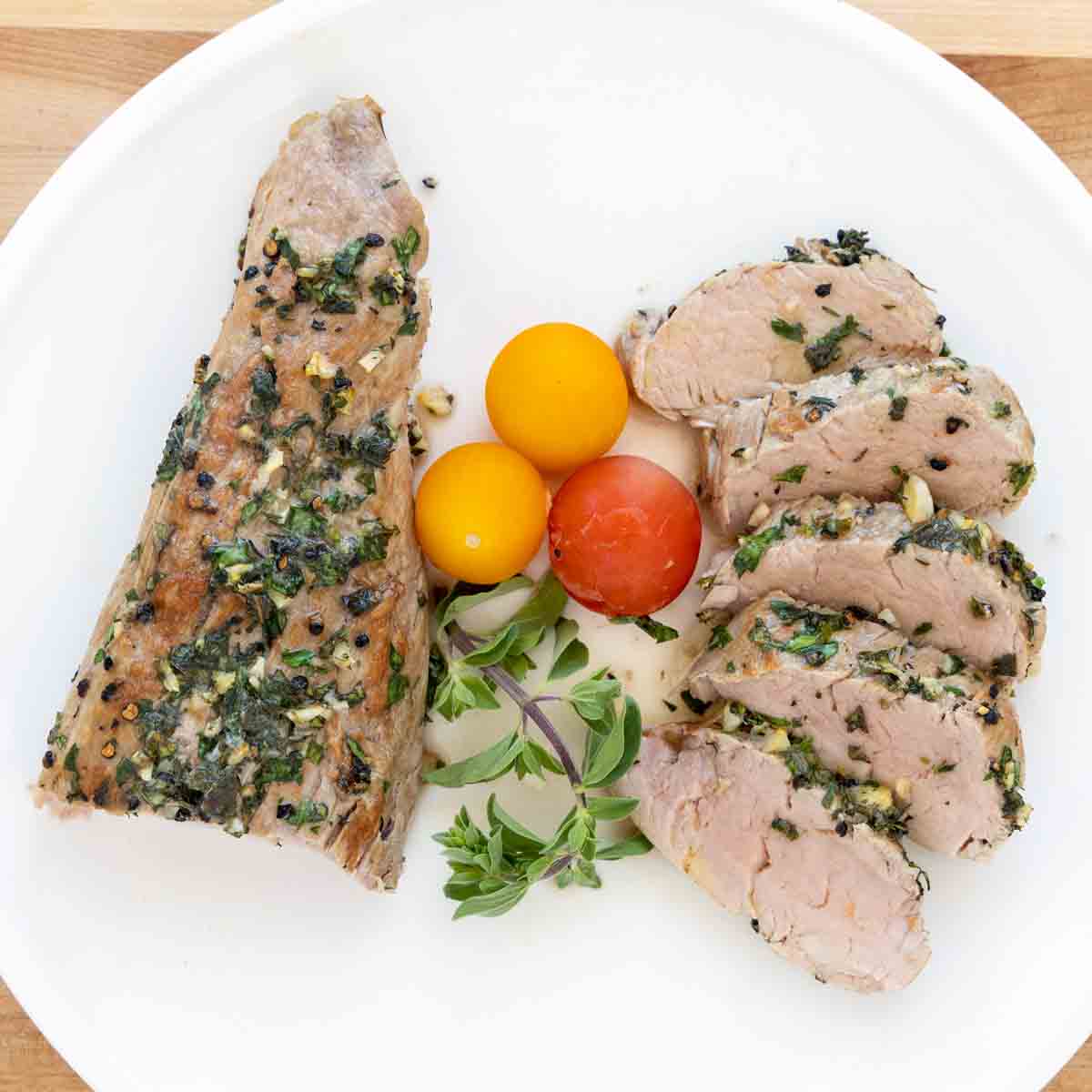 Seasoned with fresh garlic, cracked black pepper, sea salt (or kosher salt) and fresh herbs this pork roast comes out tender and juicy every time.
It's an inexpensive and simple recipe that will wow your family and friends everytime you serve it.
What ingredients do I need to make Garlic Herb Baked Pork Tenderloin?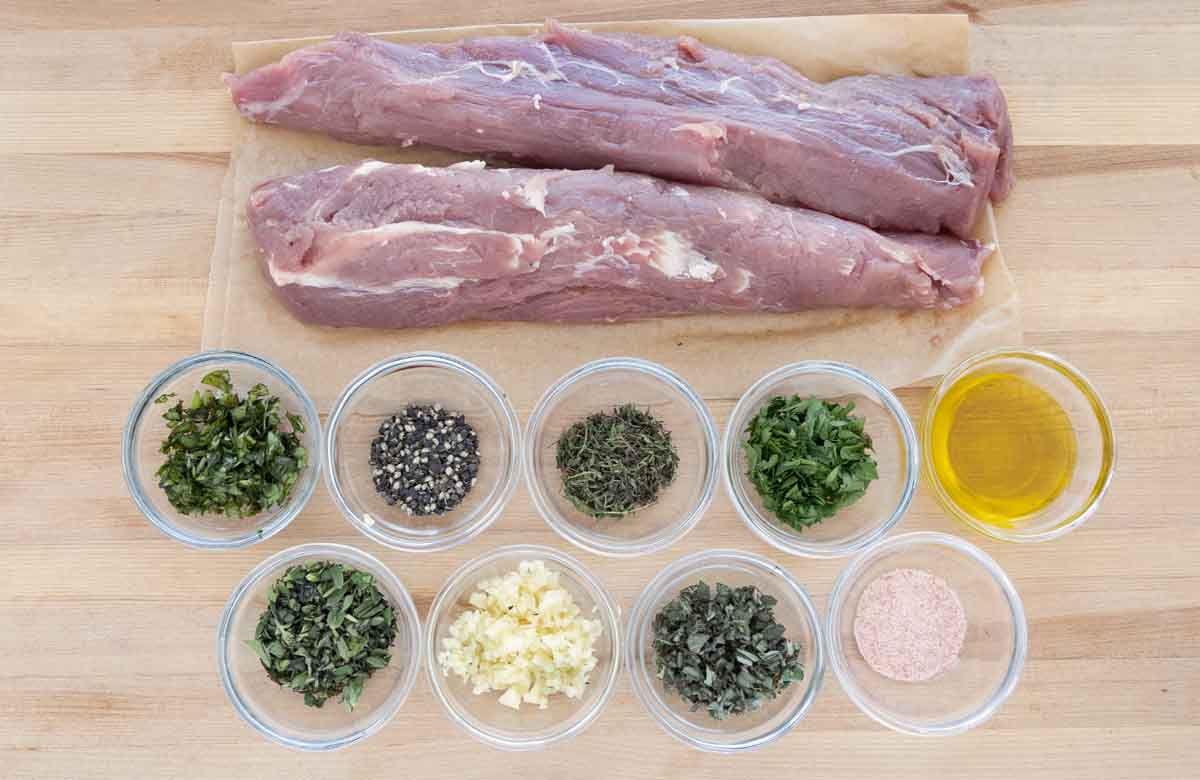 Let's start by gathering the ingredients we need to make Garlic Herb Baked Pork Tenderloin. In Chef Speak this is called the "Mise en Place" which translates to "Everything in its Place".
Not only does setting your ingredients up ahead of time speed up the cooking process, it also helps ensure you have everything you need to make the dish.
How do I make a garlic herb seasoning rub?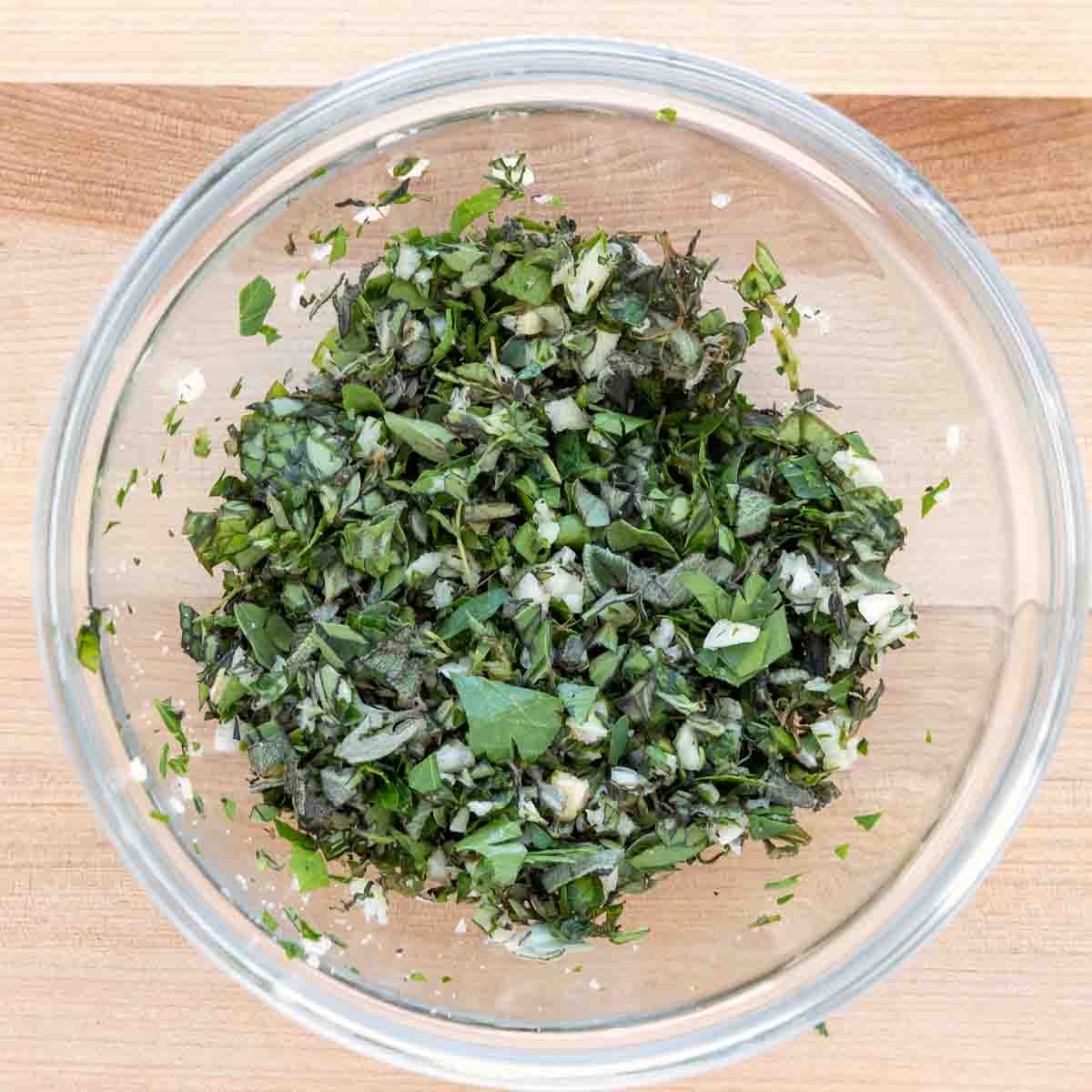 In a small bowl, combine the chopped garlic, basil, oregano, thyme, parsley, and sage. Set aside until needed.
How do I make Garlic Herb Baked Pork Tenderloin?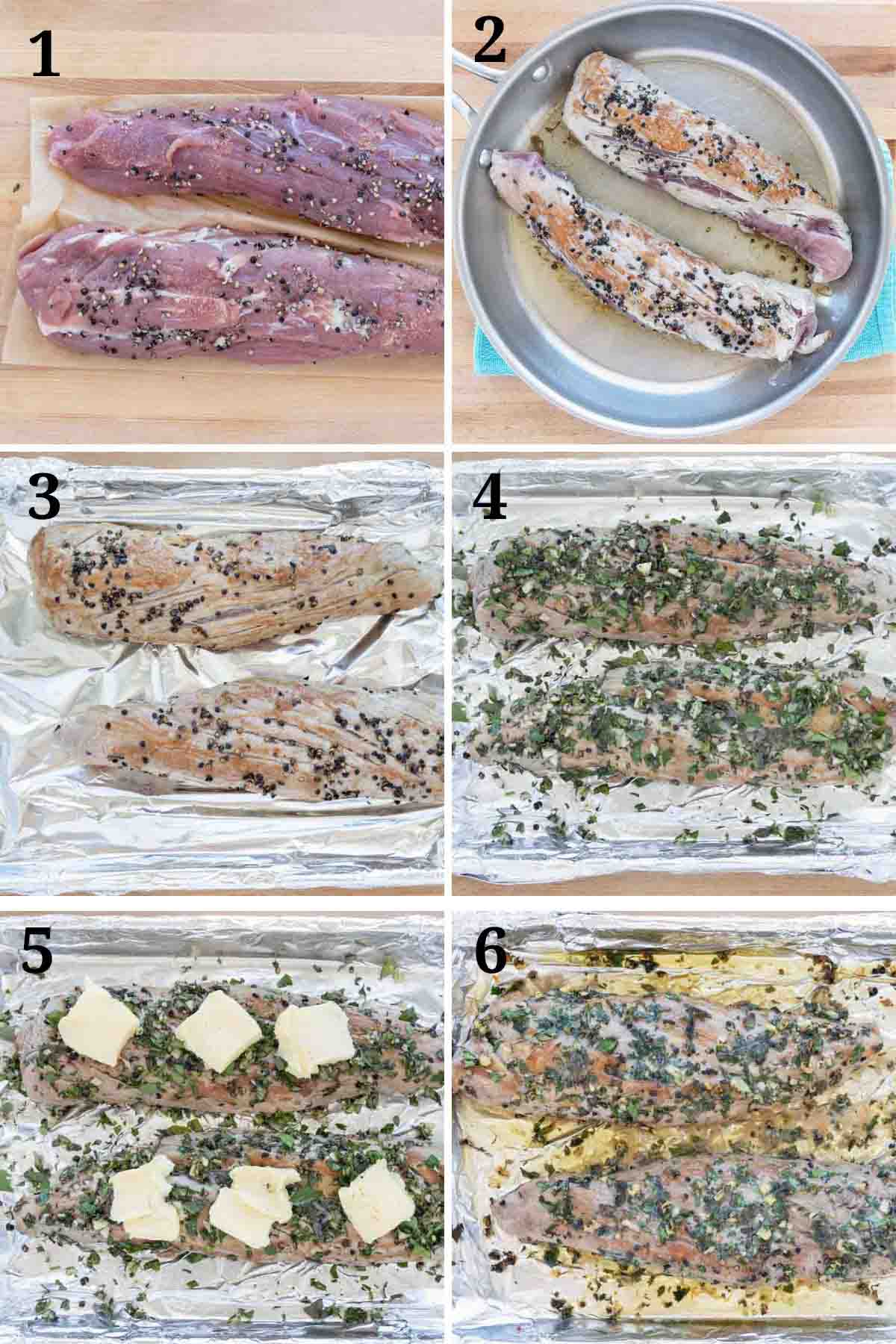 Pat dry the pork tenderloins with paper towels and generously season the pork with sea salt and cracked black pepper. (allow them to come to room temperature before searing)
Add olive oil to a large saute pan (or roasting pan) over medium-high heat. Allow the oil to get hot then carefully place the pork tenderloins in the pan. Sear each side of the roast until it gets a golden brown color.
Transfer the seared pork to a foil-lined baking sheet.
Coat the seared pork tenderloins with the garlic herb mixture.
Place pats of butter on top of the pork roast.
Bake the pork for about 25 minutes or until the meat reaches an internal temperature reaches 145 degrees F. (use a meat thermometer inserted into the thickest part of the tenderloin)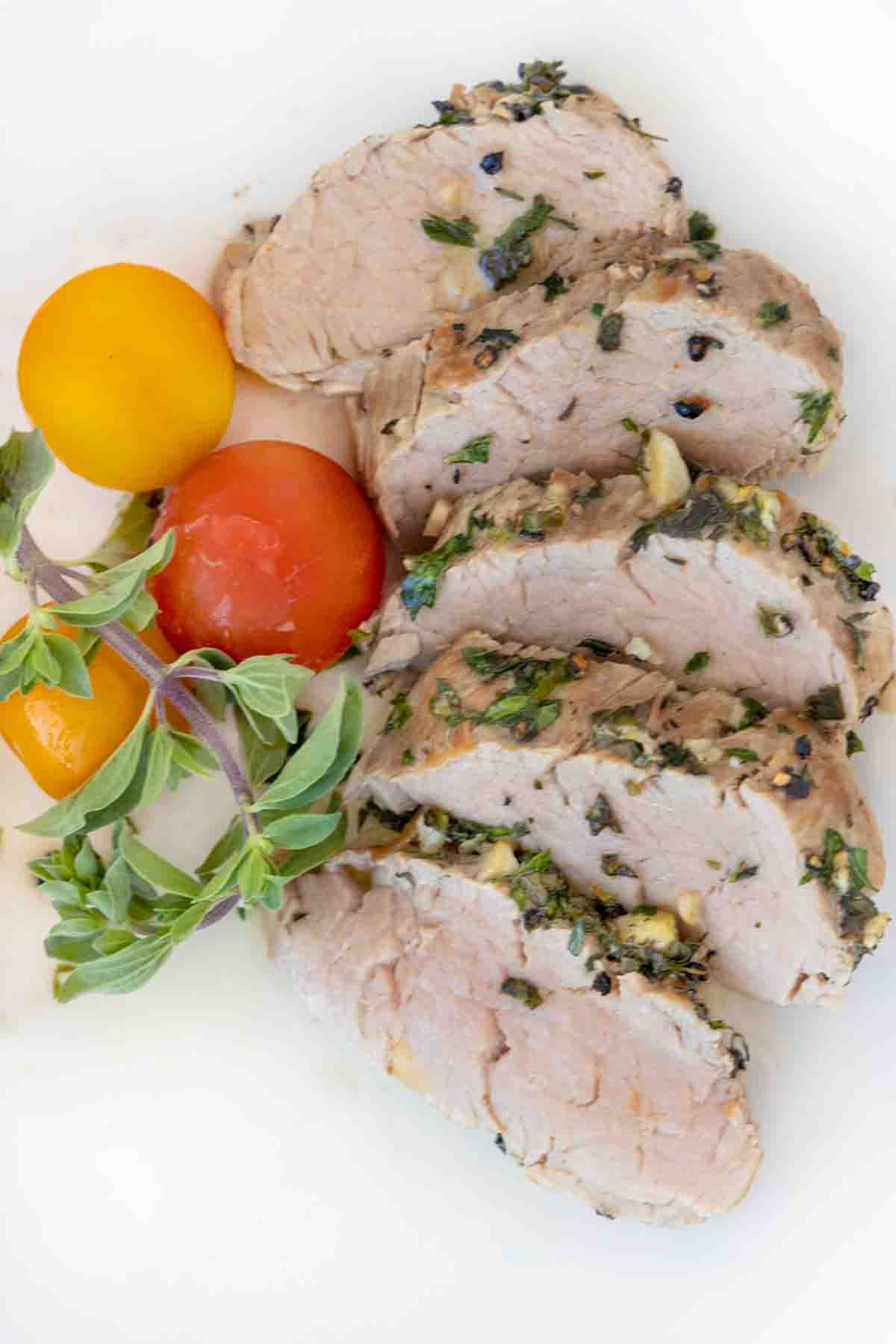 Remove the pork from the oven, tent the roast with foil, and allow to rest for 5-10 minutes before slicing to allow the juices to flow back into the pork.
Slice against the grain and serve immediately with mashed or roasted potatoes and your favorite green vegetable.
Recipe FAQ's
What herbs are best for pork?
Much like chicken, pork is mild-tasting meat that lends itself to any of your favorite herbs and seasonings. I used a blend of basil, oregano, sage, thyme and parsley which would work well on just about any type of meat.
Should a pork tenderloin be cooked fast or slow?
Pork tenderloins are tender and don't have a lot of fat so that means high cooking temperatures and short cooking times will yield the best results. The high temperature sears the meat, keeping the juices from cooking out of the meat. Don't be tempted to overcook this delicious cut of pork.

More Pork Recipes You'll Love!