My Easy Smoked Pulled Pork Butt (smoked pork shoulder) is a great choice when you need to feed a hungry crowd. Laced with flavorful fat and connective tissue, a pork butt cooked low and slow produces melt-in-your-mouth pork with an incredibly tender texture and succulent flavor.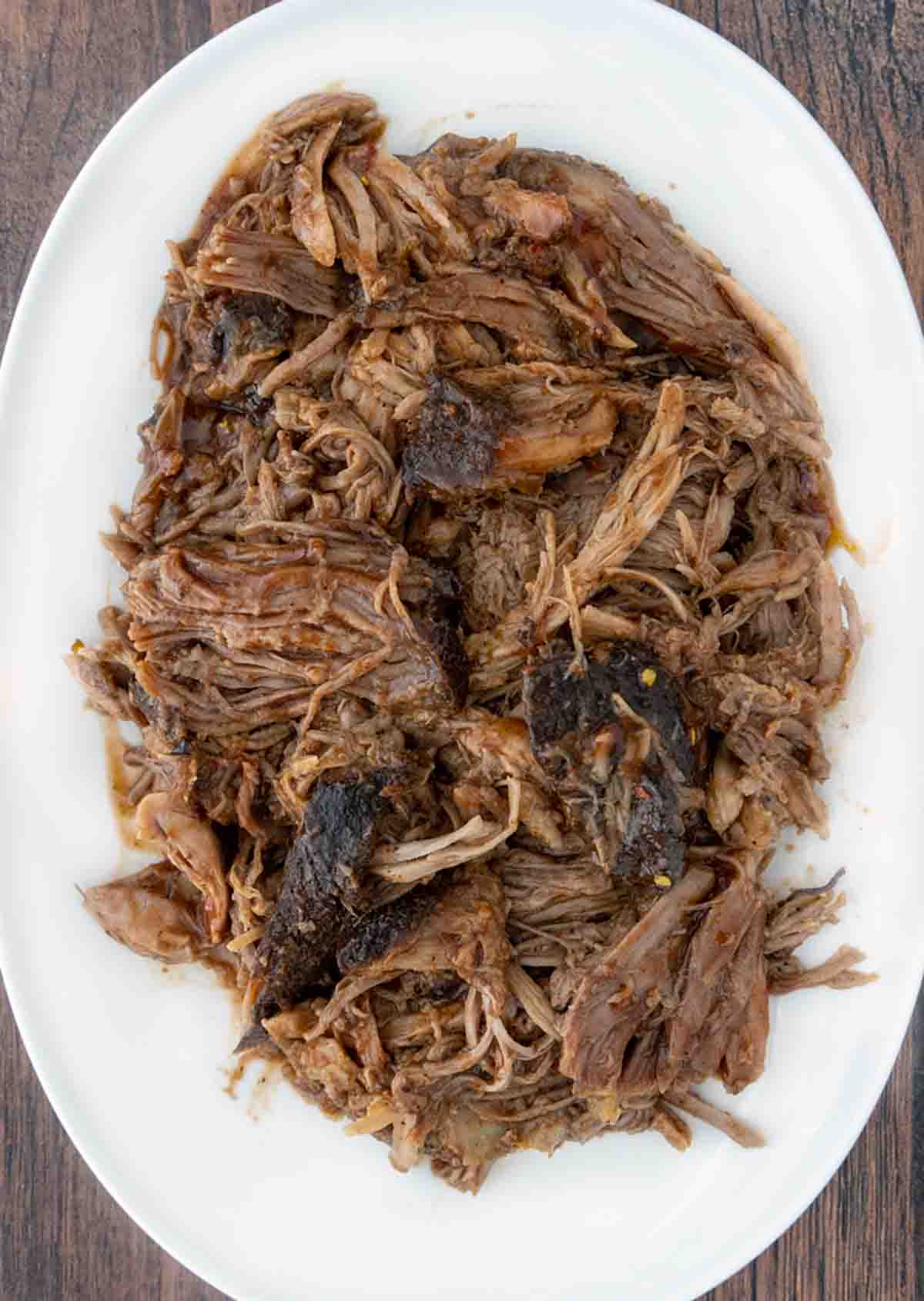 Smoking a pork butt couldn't be easier. In fact, it pretty much does all the work for you. With just a few minutes of prep, all you need to do is load it your smoker and wait for the deliciousness.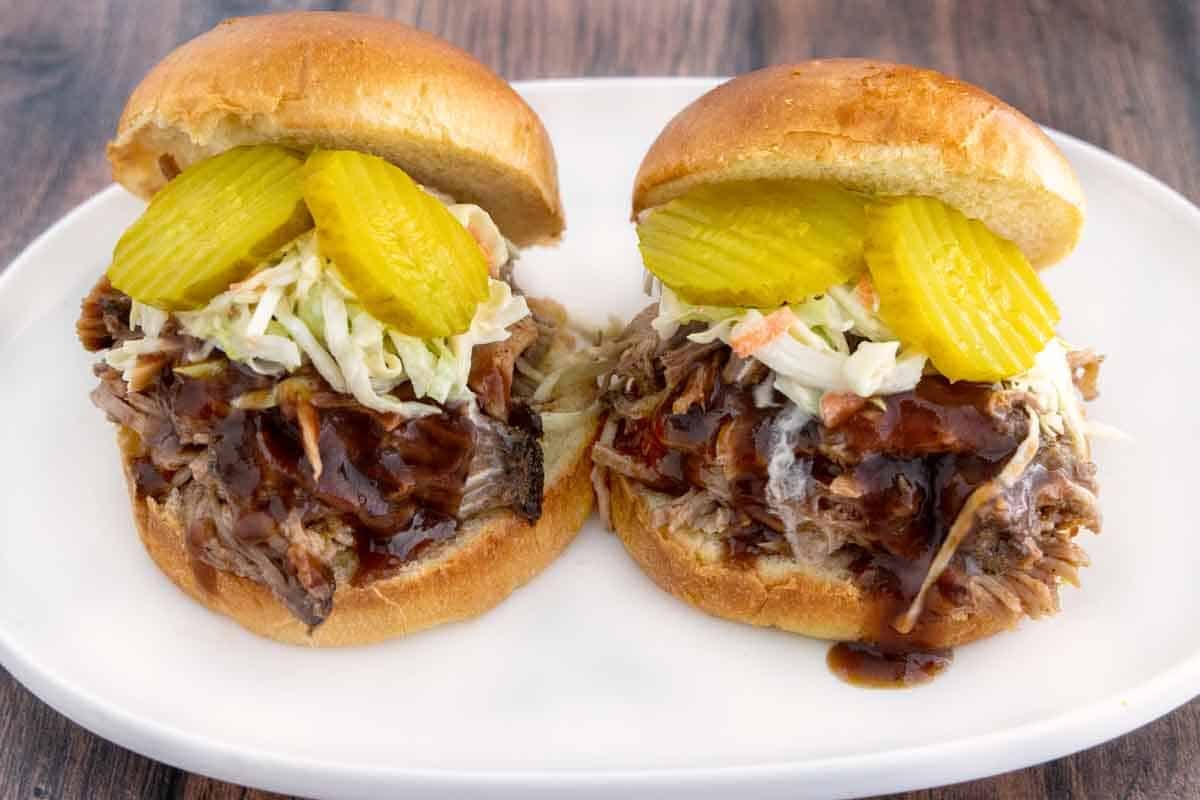 There is something magical about pulled pork, and when it comes to great barbecue, nothing beats a smoked pork butt. It makes the best pulled pork sandwiches and tacos.
Served Southern-style with tangy barbecue sauce, coleslaw, and pickles on a tender brioche bun….. well, it's just about the best sandwich you'll ever have.
If you love pulled pork but don't want to use your smoker, make sure to check out my Oven Cooked Pulled Pork recipe. You can even make Slow Cooker Pulled Pork.
Ingredients to make Smoked Pork Butt Pulled Pork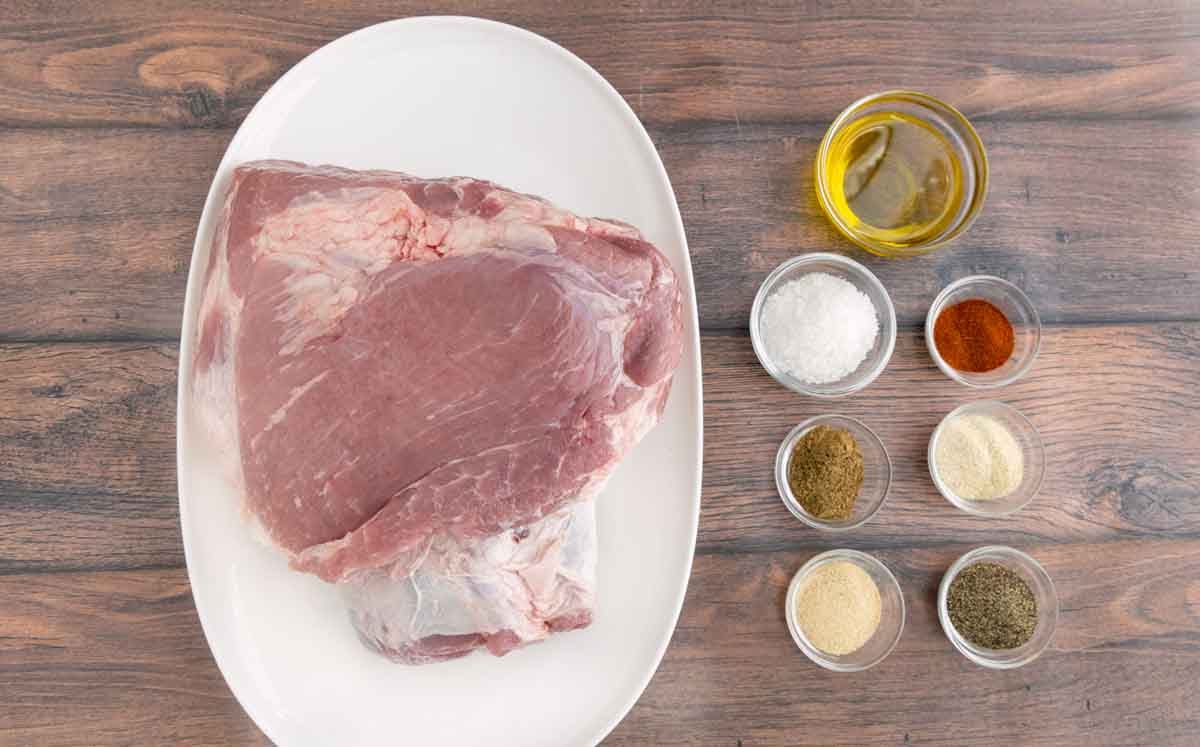 Let's start by gathering the ingredients we need to make Smoked Pork Butt Pulled Pork recipe. In Chef Speak, this is called the "Mise en Place," which translates to "Everything in its Place."
Not only does setting up your ingredients ahead of time speed up the cooking process, it also helps ensure you have everything you need to make the dish.
Can I use other spices in my dry rub?
Yes, you can. The key to making delicious smoked ribs that you and your family will love is to use seasonings that you enjoy eating. Changing up the spices in this simple dry rub is easy and definitely something you can do each time you prepare smoked ribs, beef, or chicken.
Other options are chili powder, dry oregano, ground ginger, turmeric, and coriander. For a little sweetness, add brown sugar, and if you like heat, add a little cayenne pepper. You can also use your favorite seasoning blend.
Cajun seasoning, jerk seasoning, barbecue seasoning, and Old Bay seasoning can be used instead of making your own dry rub.
What's the difference between a pork butt and pork shoulder?
The terms "pork butt" and "pork shoulder" can be a bit confusing because they are sometimes used interchangeably. However, they refer to different cuts of meat from the shoulder area of the pig. Depending on your grocery store, the names may be used interchangeably, making it hard to know for sure which cut of meat you're buying.
Most smoked pork butt recipes call for a bone-in pork shoulder, which is also referred to as a Boston butt (aka pork butt). This cut of meat has more marbling which makes it especially good for slow-cooking methods like smoking, braising, or slow-roasting. This marbling renders down during cooking, resulting in tender and flavorful meat.
The pork shoulder (picnic shoulder or picnic roast) cut comes from the lower part of the shoulder. It's a bit leaner than the pork butt but still has a good amount of fat. Although it's similar to the butt, it has a slightly different texture and flavor because it is leaner.
Both cuts are excellent for slow-cooked dishes because the longer cooking time breaks down the connective tissues, leading to tender meat. The choice between the two often comes down to personal preference or specific recipe requirements.
How to make Smoked Pulled Pork Butt
Preheat the smoker to 250 degrees Fahrenheit.
Load the smoker tube with your favorite wood chunks or wood chips. I used applewood to smoke the pork butt. Hickory, pecan, maple, oak, and peach are also good choices.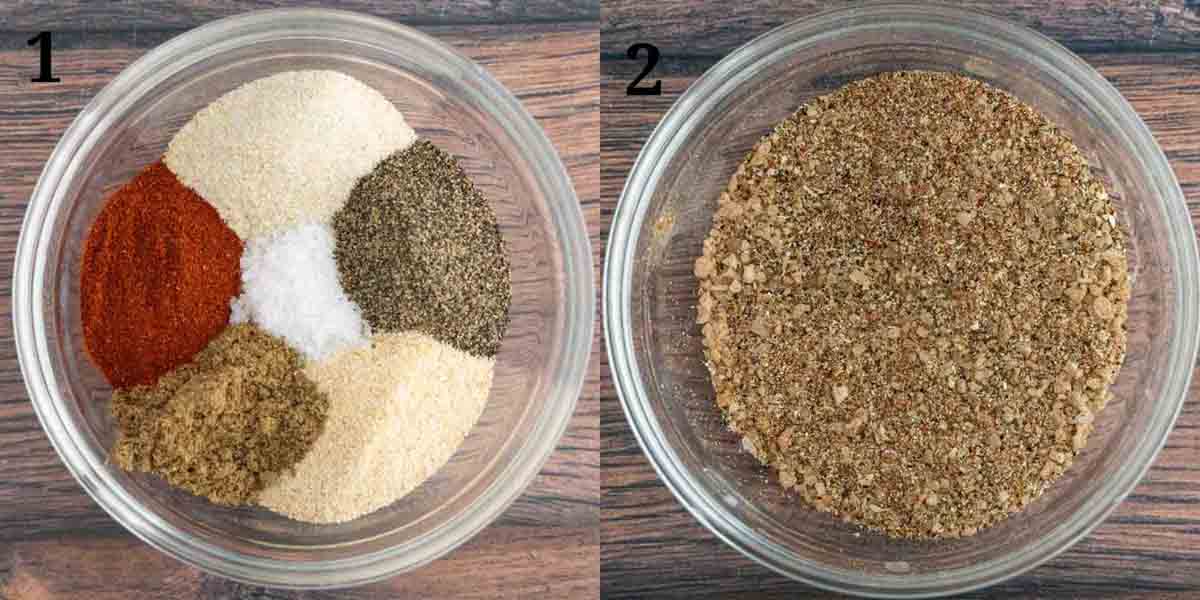 Add the garlic powder, onion powder, paprika, cumin, black pepper, and kosher salt to a small bowl.
Mix the seasonings to fully combine the pork rub.
Place the roast on a cutting board.
Using a sharp boning knife or chef's knife, trim off the fat cap and any excess fat and skin off the pork butt.
Place the pork butt in a disposable aluminum pan and rub it down with extra virgin olive oil. Then rub the pork seasoning blend on all sides of the pork roast. Let the roast sit for 30 minutes to give the pork dry rub time to penetrate the meat and marinate the pork shoulder. This also gives the roast time to come to room temperature before placing it in the smoker.
Place the seasoned pork butt on a smoker rack (fat side up) with a drip pan underneath.
When the roast has reached an internal temperature of 165 degrees F., remove it from the smoker.
Make sure to check the smoker tube during the smoking process, you may need to refill the tube twice in the prior to the pork should reaching an internal temperature of 165 degrees.
It's important to keep the wood chips full, the wood smoke is what helps to form the bark on the outside of the roast.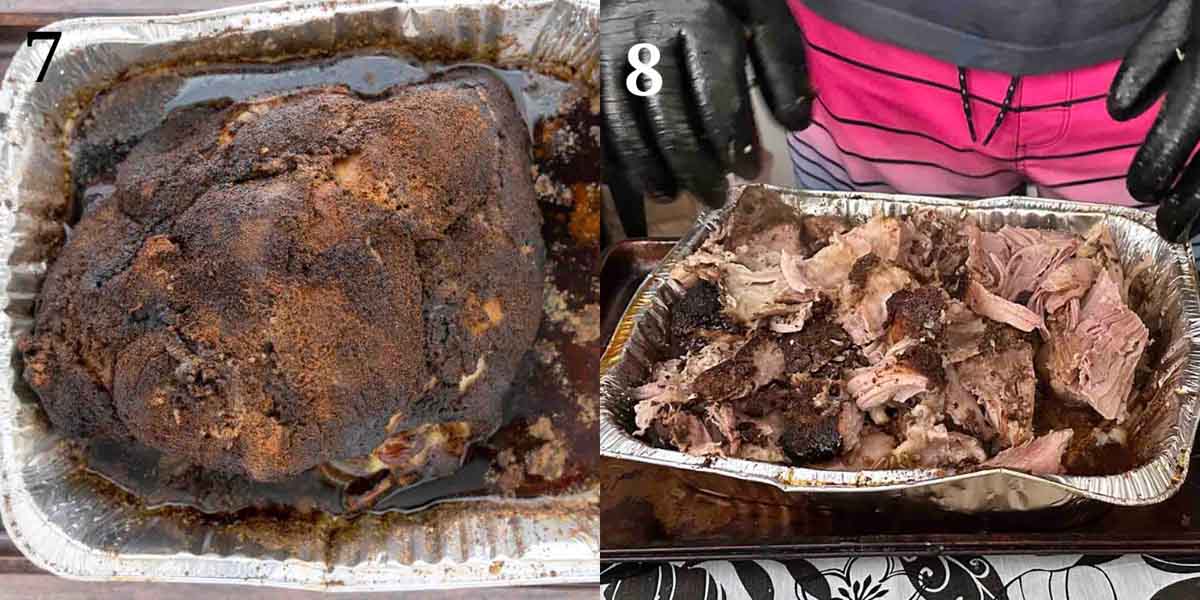 Increase the smoker temperature to 275 degrees Fahrenheit. Place the smoked pulled pork butt into a foil pan and wrap it with foil and return it to the smoker. *An important thing to remember is you are cooking to the internal temperature of the meat, not a certain amount of time.
When the pork shoulder reaches an internal temperature of 200-205 degrees Fahrenheit, remove it from the smoker and let rest for 30 -45 minutes in the pan with the juices.
Once cooled, you can remove the bone and push the pork allowing it to separate into large pulled pork pieces, which you can pull into small pieces and shred with your hands, forks or meat claws.
It's important to use a meat thermometer during the smoking process to make sure you don't undercook or overcook the roast for my smoked pork shoulder recipe.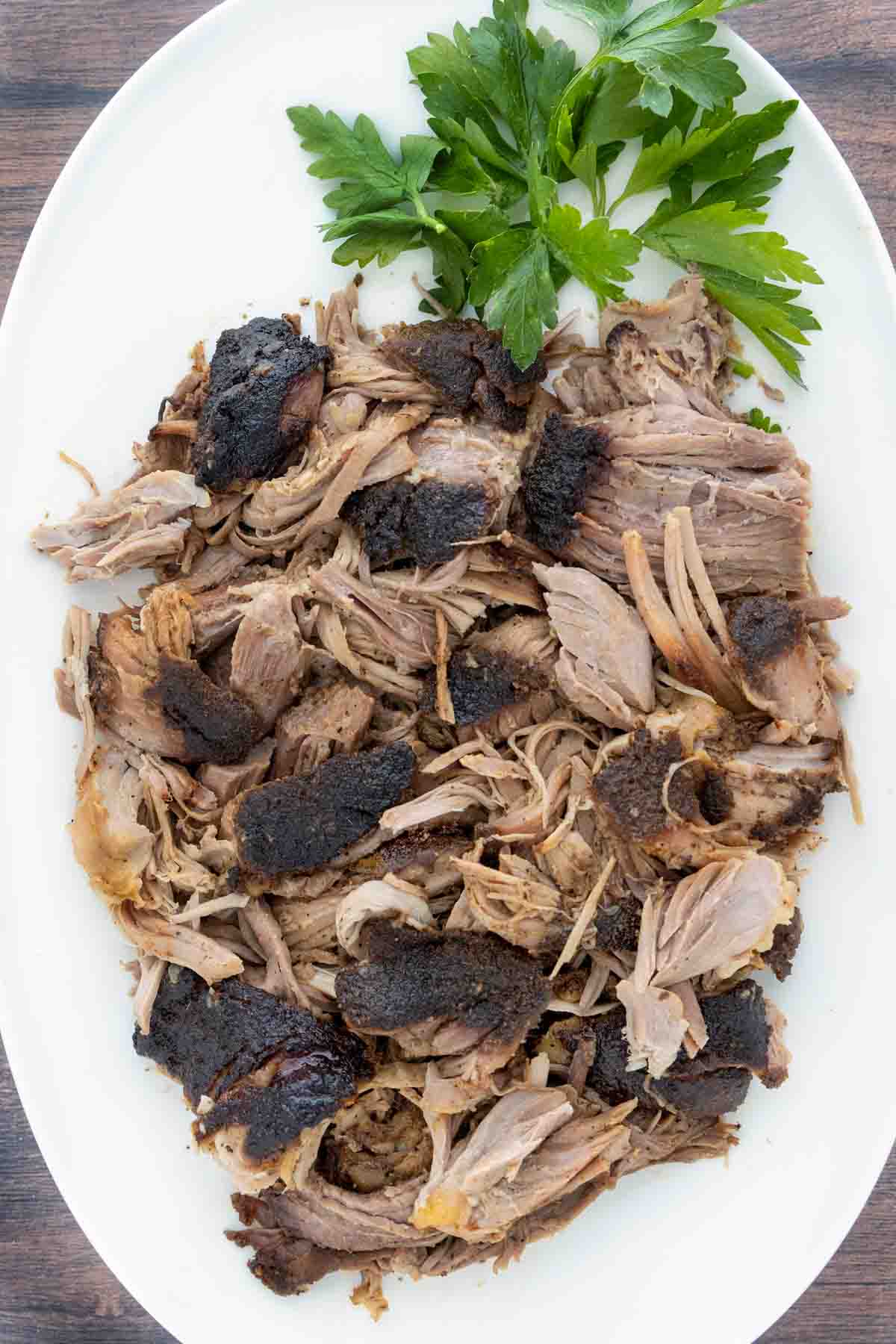 You can serve up this tender and flavorful smoked pulled pork butt plain and let your guests use their favorite barbecue sauce. I like to mix some bbq sauce into the pulled pork to help keep it moist.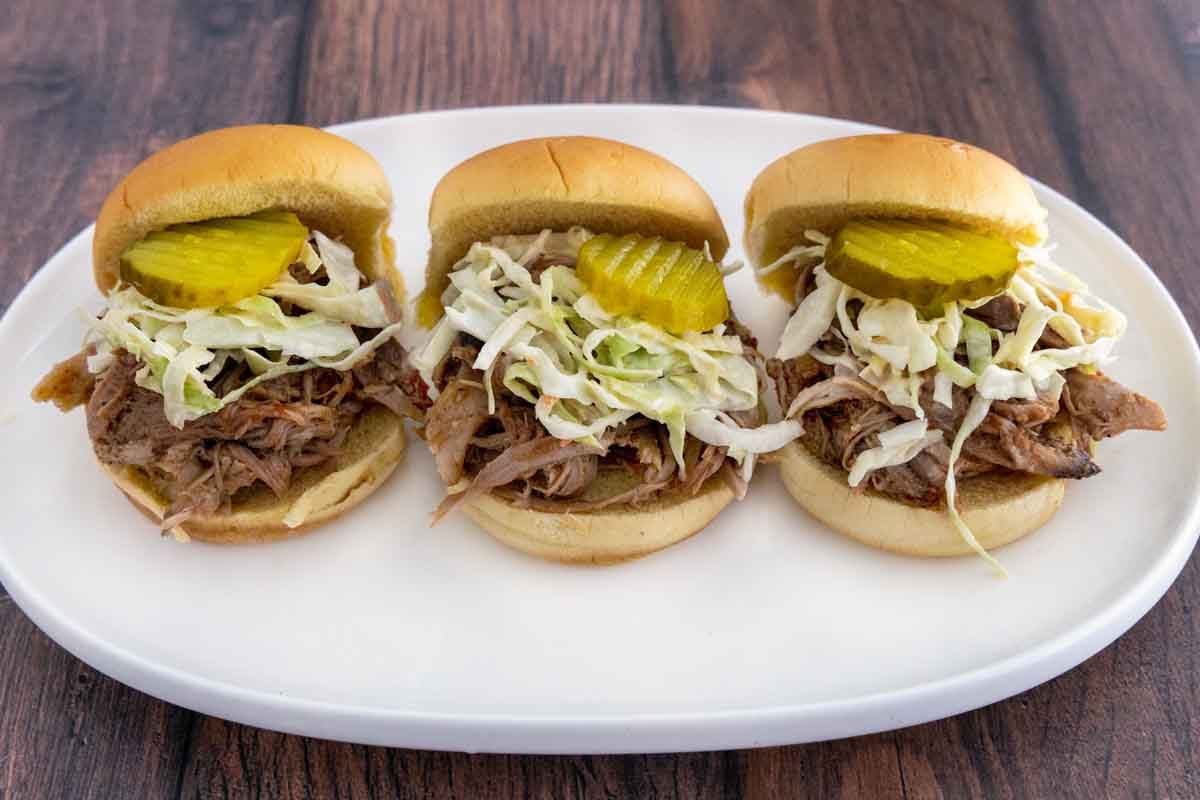 You don't have to be a pitmaster to enjoy delicious BBQ pulled pork sandwiches like the ones pictured above. Whether you use an electric smoker like I did, a charcoal grill, a pellet grill, or a pellet smoker, you're going to love the smoke flavor you'll taste with every bite. And I know you'll agree that this is the best smoked pulled pork you've ever made!
Store any leftover pulled pork in an airtight container (or wrapped in plastic wrap) in the fridge for up to 5 days. It can also be frozen in a well-sealed container, with or without sauce, for up to 3 months
Recipe FAQ's
How long does it take to smoke a pork butt?
The time it takes to smoke a pork butt can vary depending on several factors. The size of the roast is the biggest deciding factor. Plan on 1.5 to 2 hours per pound, depending on the temperature you set for the smoker.
At 250 degrees, a 7 lb roast will take about 11.5 hours to cook. At 225 degrees, it will take closer to 14 hours.
Is it better to smoke the pork at 225 or 250?
The best temperature to smoke a pork roast is 250 degrees Fahrenheit. Cooking at this temperature will help ensure that the pork is fully cooked while retaining its moisture and flavor. Cooking at a lower temperature, such as 225°F, will take longer and could result in drier, tough meat.
What is the best wood for smoking pork butt?
Fruit woods like apple or cherry are popular, but oak, hickory, pecan, maple, and mesquite are also commonly used. The choice of wood will affect the flavor profile.
More Recipes You'll Love!
Chef's Choice
Masterbuilt 30-inch Digital Electric Smoker
An electric smoker takes all the work out of smoking your favorite meats and seafood. This is the smoker I use for all my recipes.
Buy On Amazon
This post includes affiliate links. As an Amazon Associate, I earn from qualifying purchases.
09/29/2023 04:03 pm GMT
Chef's Choice
ThermoPro Twin Wireless Meat Thermometer
I love the ThermoPro wireless meat thermometers. The easy to use app makes it easy to track the temperatures of the meats and seafood your cooking.
Buy On Amazon
This post includes affiliate links. As an Amazon Associate, I earn from qualifying purchases.
09/29/2023 04:18 pm GMT
Top Choice
Western BBQ Smoking Wood Chips Variety Pack
You get a great variety of wood chips with this starter pack. You get one bag of apple, cheery, mesquite, and hickory wood chips in each variety pack.
Buy On Amazon
This post includes affiliate links. As an Amazon Associate, I earn from qualifying purchases.
09/29/2023 04:13 pm GMT
Chef's Choice
Heat Resistant Oven Gloves & Grilling Gloves
These gloves take all the worry out of handling hot foods. These are perfect for grilling, smoking or removing pans from the oven.
Buy On Amazon
This post includes affiliate links. As an Amazon Associate, I earn from qualifying purchases.
09/29/2023 04:28 pm GMT