If you love grilled meats, you'll love my easy chimichurri sauce! This classic Argentinian sauce is packed with flavor that has been described as bright, pungent, spicy, and tangy. Just to give you an idea of how amazingly delicious this sauce is.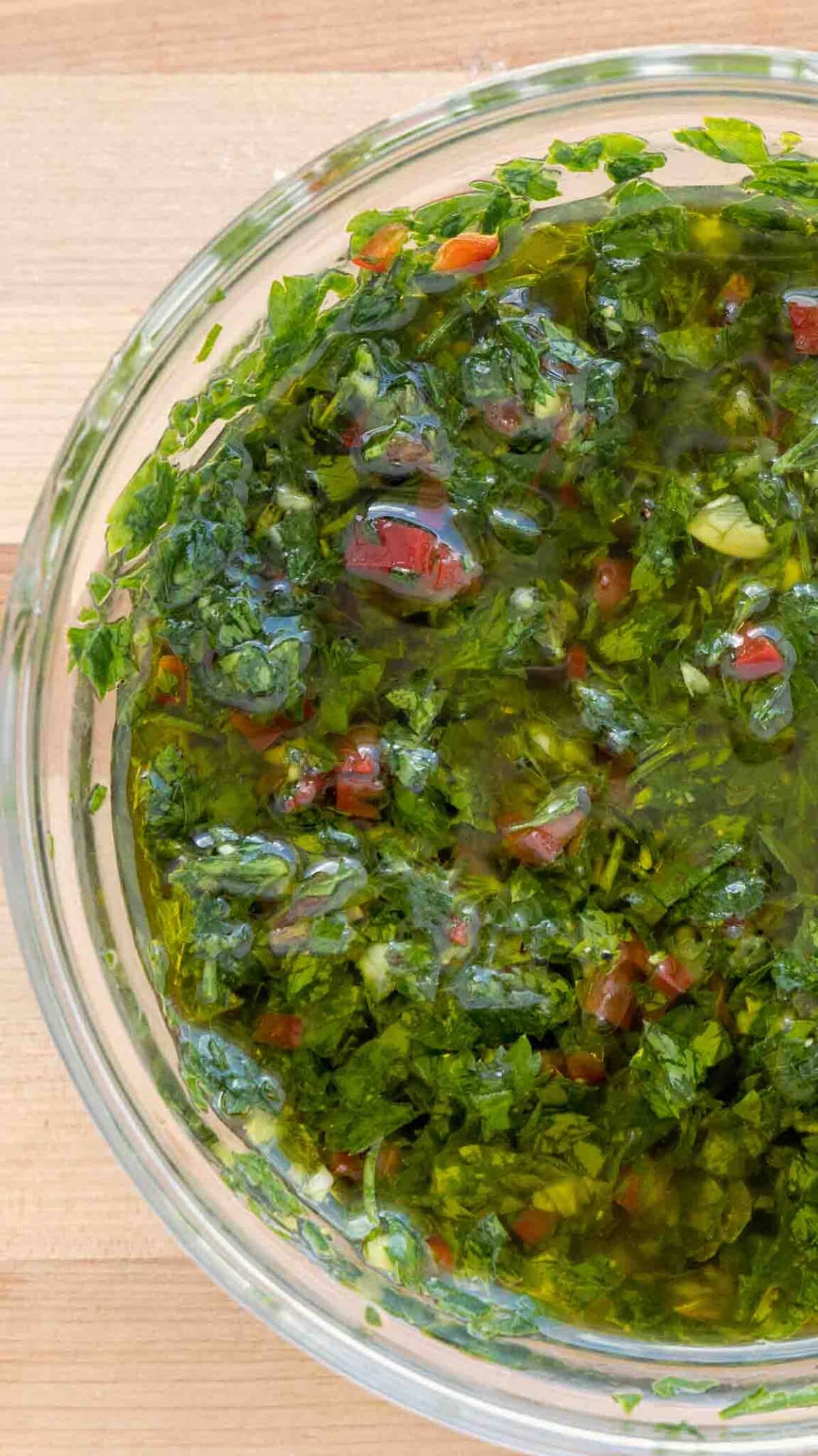 I promise you'll love serving chimichurri sauce with your grilled and roasted meats. It's that one sauce you'll be making time and time again. It's just that good!
Ingredients to make Chimichurri Sauce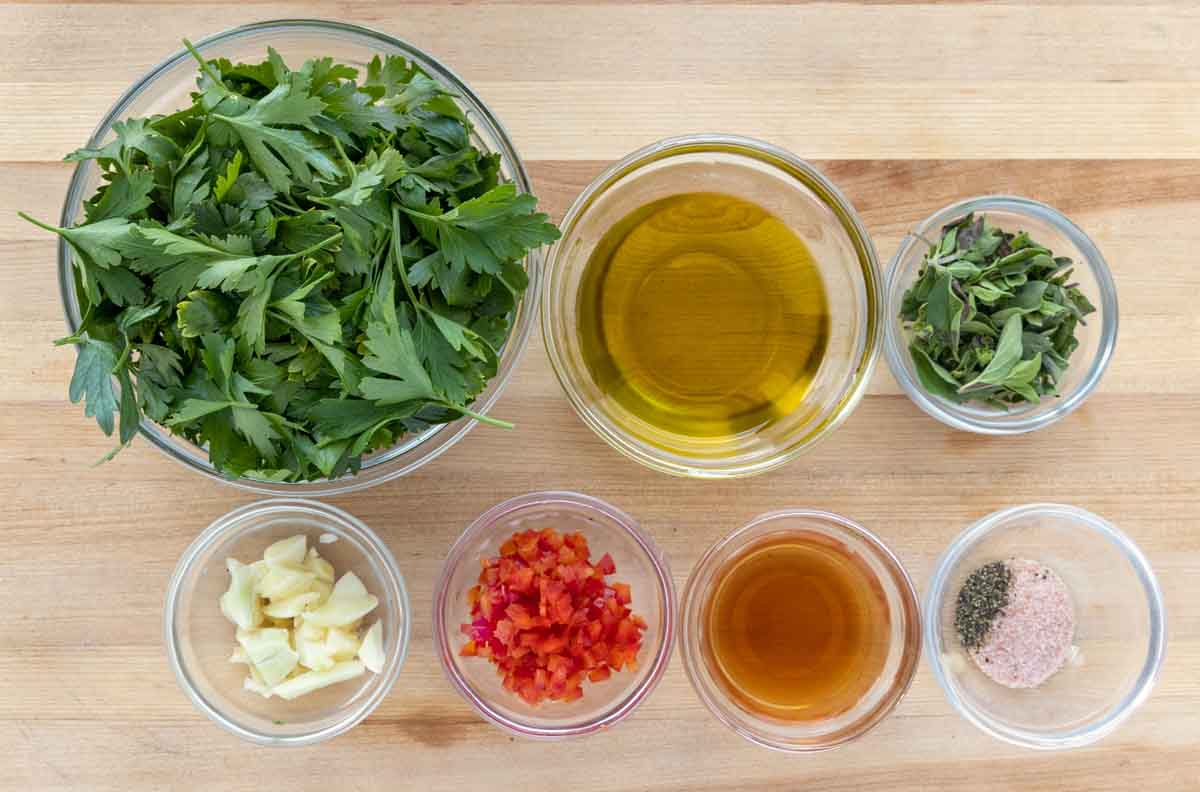 Let's start by gathering the ingredients we need to make Authentic Chimichurri Sauce. In Chef Speak, this is called the "Mise en Place," which translates to "Everything in its Place."
Not only does setting up your ingredients ahead of time speed up the cooking process, it also helps ensure you have everything you need to make the dish.
Made with simple ingredients
flat-leaf parsley (Italian parsley)
oregano leaves
garlic
red bell peppers
olive oil
red wine vinegar
salt and black pepper
If you like a little heat, add red pepper flakes to the sauce. Lemon juice can be used instead of red wine vinegar.
How to make Chimichurri Sauce
Add the fresh parsley leaves, oregano leaves, and garlic cloves to the bowl of a food processor and pulse until the parsley and other ingredients are finely chopped.
This flavorful green sauce from South America depends on fresh herbs for its flavor, don't try to make it with dried herbs; you won't be happy.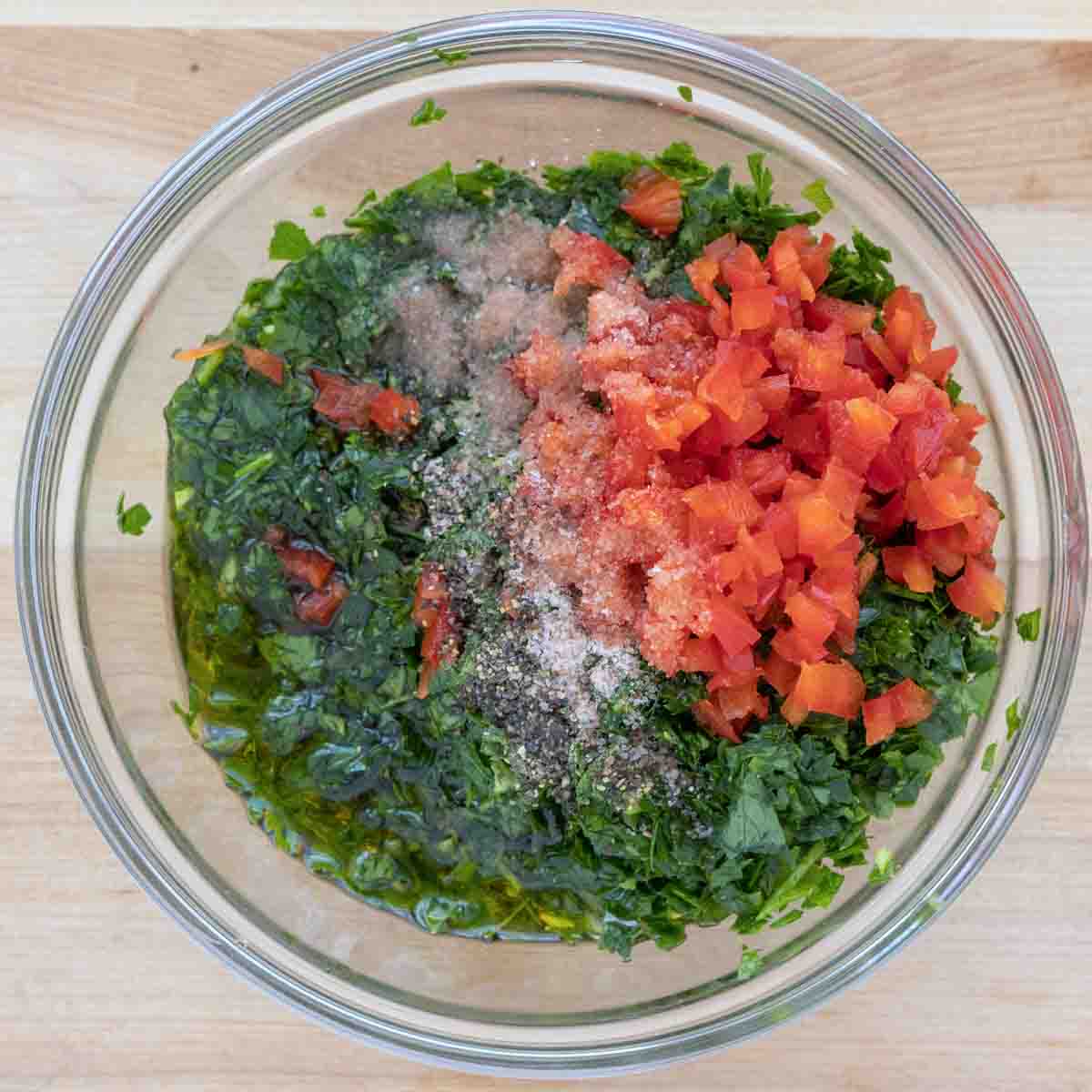 Add the parsley mixture, diced red bell pepper, olive oil, red wine vinegar, sea salt, black pepper, and red pepper flakes to a medium bowl.
Mix until all the ingredients are well combined.
This sauce also makes a great marinade for skirt steak and chicken breast. Add extra olive oil and vinegar, and chopped red onion to make it a salad dressing.
Serve this sauce with well-seasoned grilled beef, lamb, chicken or pork. It's the only accompaniment you'll need.
After one bite, you'll see why Argentineans use chimichurri sauce with grilled steak and basically every cut of grilled beef they serve.
Chef Tip:
Make extra and freeze the sauce in ice cube trays. Pop them out after they're frozen solid and store them in an airtight container or ziplock bag, and you have chimichurri sauce when you need it.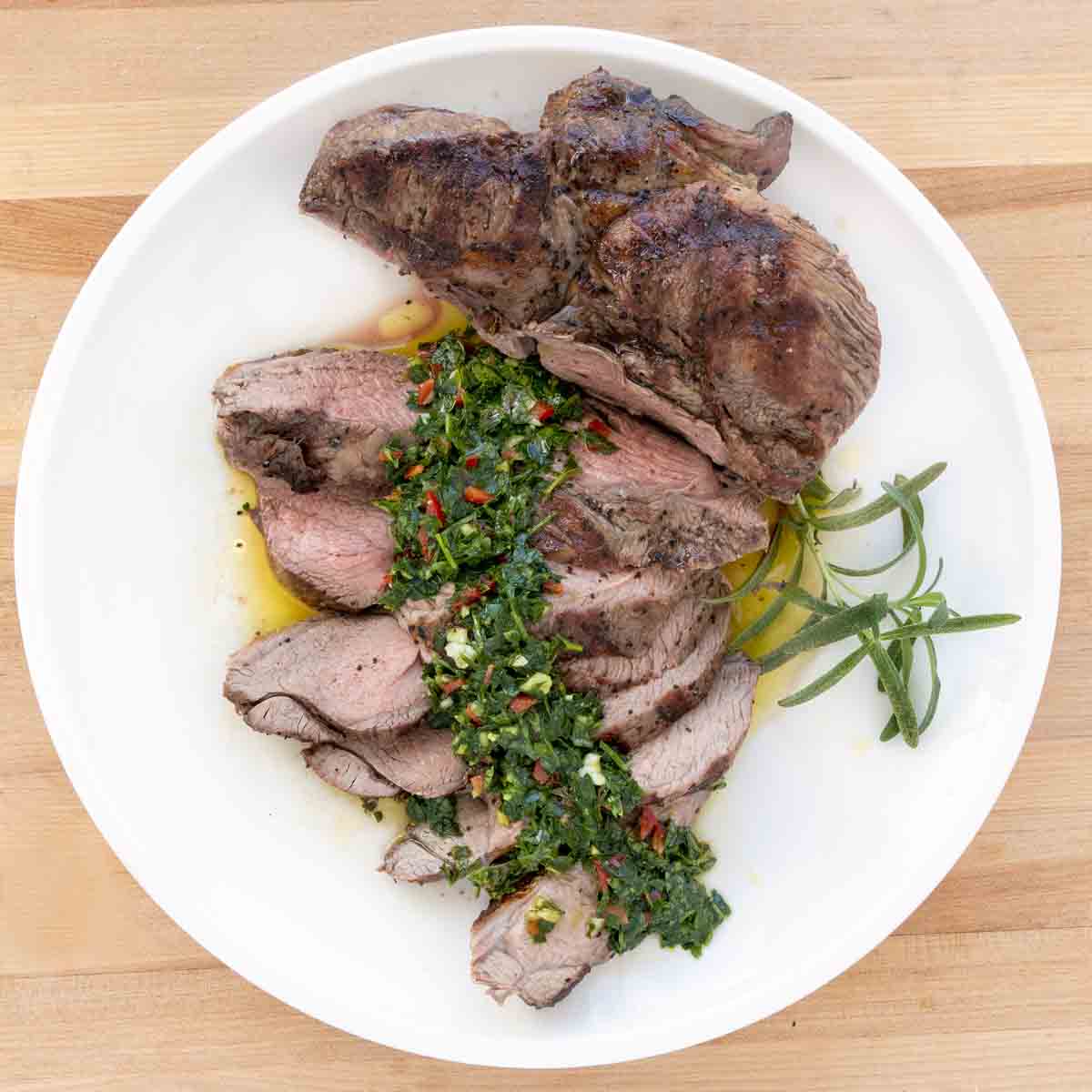 This sauce is the perfect accompaniment to roasted or grilled meats. Here you see it with my grilled boneless leg of Lamb.
This sauce can be made up to 24 hours ahead of time but is best served when made. The longer it sits, you will notice color changes as it starts to darken and loses its bright green color.
Recipe FAQ's
What is chimichurri sauce made of?
Chimichurri sauce is a green sauce that originated in Argentina. It's made from parsley, oregano, garlic, red peppers, olive oil, and spices. The Argentineans are well known for their beef, and this sauce is served with the many variations of grilled beef they prepare. It's also a delicious accompaniment to grilled lamb, chicken, or pork.
What does chimichurri sauce taste like?
The best way to describe the flavors are bright, pungent, spicy, and tangy. It's a simple sauce made with simple ingredients that bring out the flavor of grilled meats.
Is chimichurri the same as Italian salsa verde?
No, it's not. Although they are both made with parsley, garlic, and olive oil, chimichurri contains oregano and red wine vinegar. Italian Salsa Verde is made with the addition of capers, lemon juice, and sometimes anchovy.
More Recipes You'll Love!