One bite of my Slow Cooker Texas Pulled Pork and you'll wonder what took you so long to make this barbecued taste of heaven. The secret to cooking amazing pulled pork is letting it cook low and slow. The good news is that using a slow cooker will take all the work out of making my deliciously tender perfect pulled pork.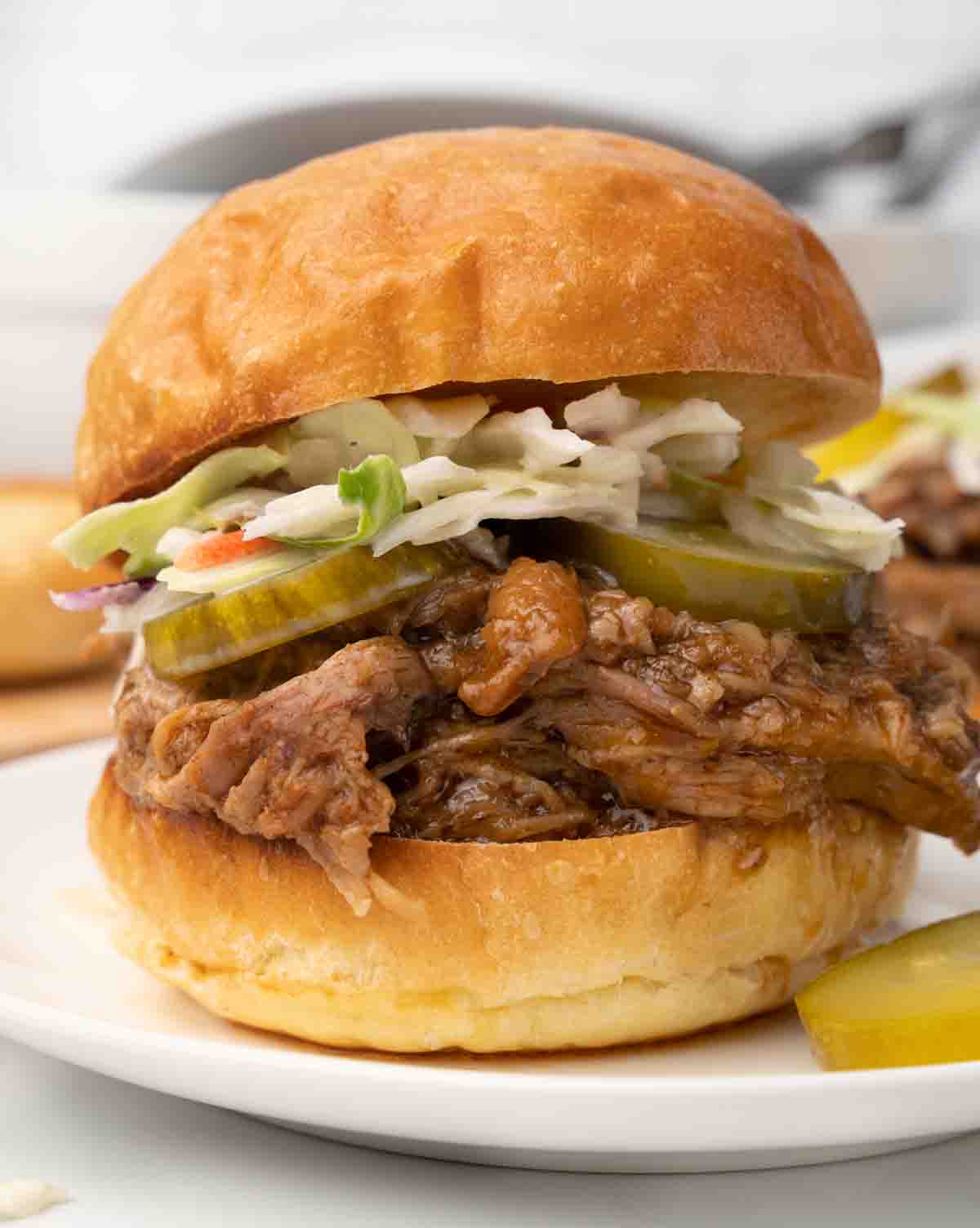 My slow cooker Texas Pulled Pork only takes about 10 minutes of prep work. Once you're ready, all you need to do is set the slow cooker and get on with your day. After slow cooking in that delicious barbecue sauce, you're rewarded with flavorful, tender pulled pork.
You're going to love my pulled pork recipe! It's perfect for pulled pork sandwiches, tacos, nachos, and be still my heart…. bbq pulled pork mac and cheese. It's a hearty game-day treat that can easily feed a crowd of hungry friends or family.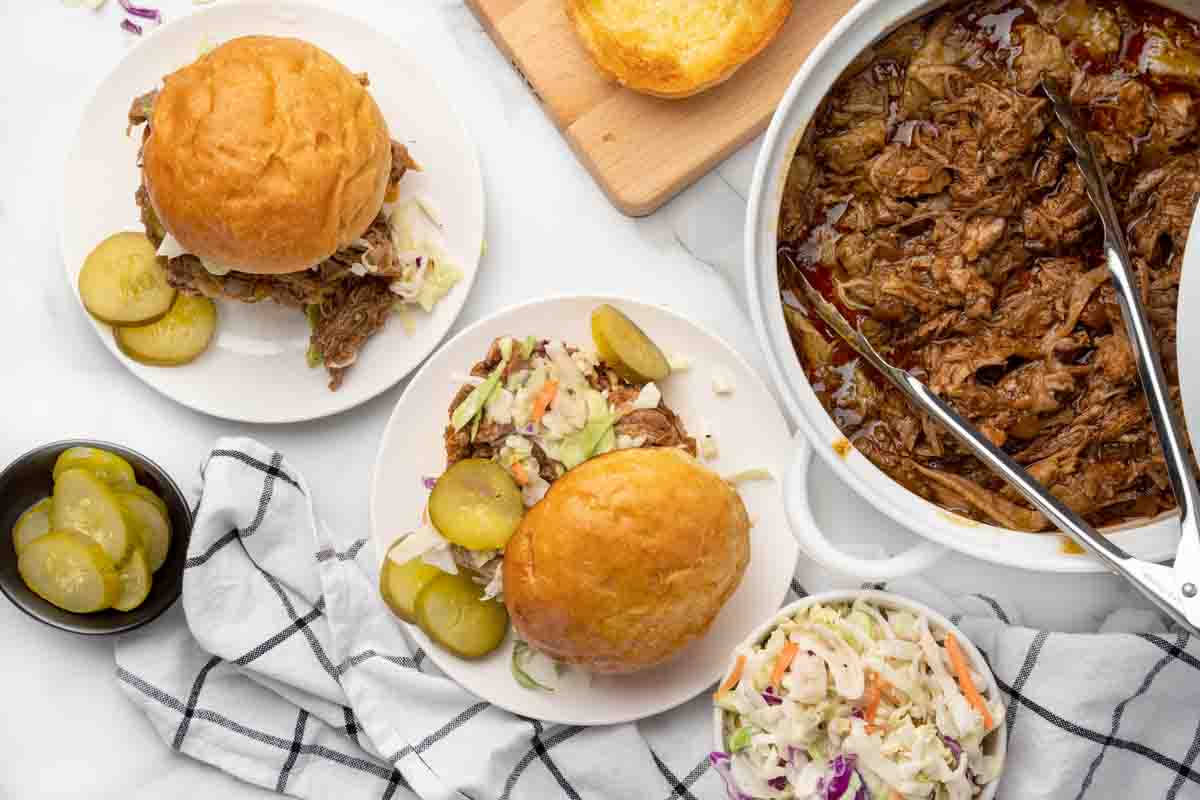 This is one of my favorite slow cooker recipes. I mean, who doesn't love an easy recipe especially one that produces some of the best pulled pork you'll ever make?
And the best part is there's no need for a grill or a smoker. In fact, you don't even have to turn on the oven to make amazing, tender, juicy pulled pork!
But if you're not a slow cooker fan, I've got an easy recipe for Oven Cooked Pulled Pork and for Smoked Pulled Pork Butt.
Ingredients for Texas Pulled Pork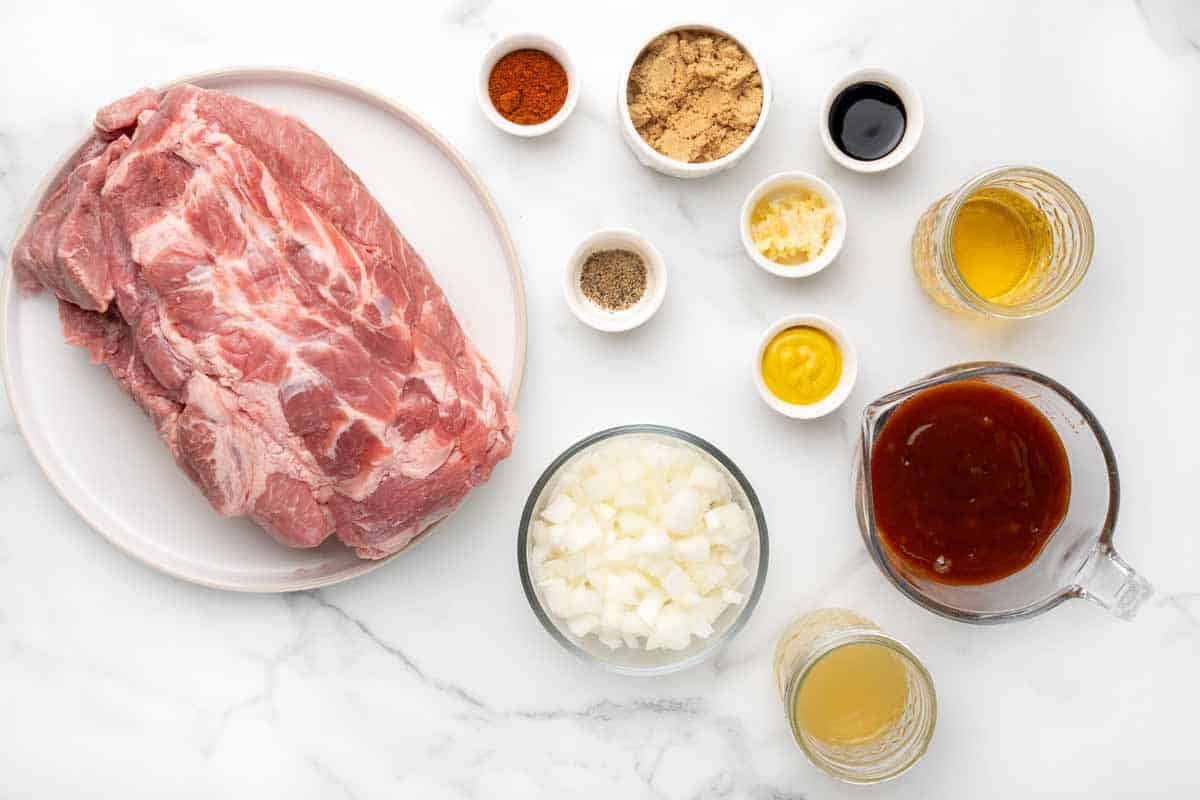 Let's start by gathering the ingredients we need to make Slow Cooker Texas Pulled Pork. In Chef Speak this is called the "Mise en Place" which translates to "Everything in its Place".
Not only does setting your ingredients up ahead of time speed up the cooking process, it also helps ensure you have everything you need to make the dish.
This recipe is made with simple pantry ingredients:
Boston butt aka pork butt
your favorite barbecue sauce
chicken broth
brown sugar
onions
garlic
prepared yellow mustard
apple cider vinegar
Worcestershire sauce
black pepper
chili powder
What cut of pork is best for pulled pork?
When it comes to making pulled pork, the best cut of pork is a pork shoulder, also known as a pork butt or Boston butt. You can use a bone-in pork roast and honestly a bone equals more flavor. But I prefer the boneless version, simply because it's easier to work with and I can fit more meat in the slow cooker without the bone.
When choosing a pork shoulder, you want to find one that's well-marbled (fat = flavor). That being said, you don't want too much fat covering the pork roast, and it's best to trim off any excess far from the outside of the roast.
How to make Slow Cooker Pulled Pork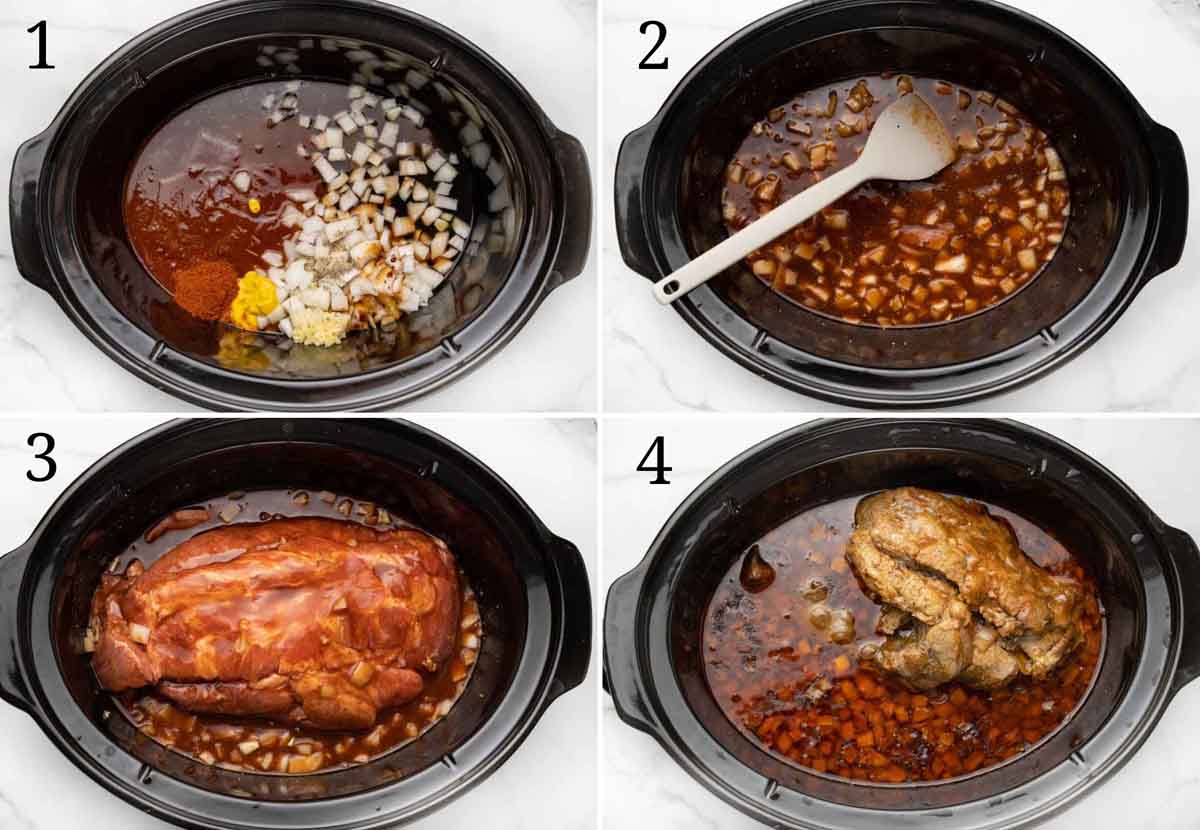 Add the barbecue sauce, apple cider vinegar, chicken broth, brown sugar, yellow mustard, Worcestershire sauce, garlic, onion, black pepper and chili powder into the slow cooker.
Mix the ingredients together.
Add the pork roast to the slow cooker and roll the roast in the mixture to coat it with the seasonings
Cover and cook on High until the roast shreds easily with a fork, 5 to 6 hours.
This post includes affiliate links. As an Amazon Associate, I earn from qualifying purchases.
When it comes to choosing a slow cooker, the two that I recommend are the All-Clad and Ninja Slow Cookers. They are both dependable and do a great job meeting your slow-cooking needs.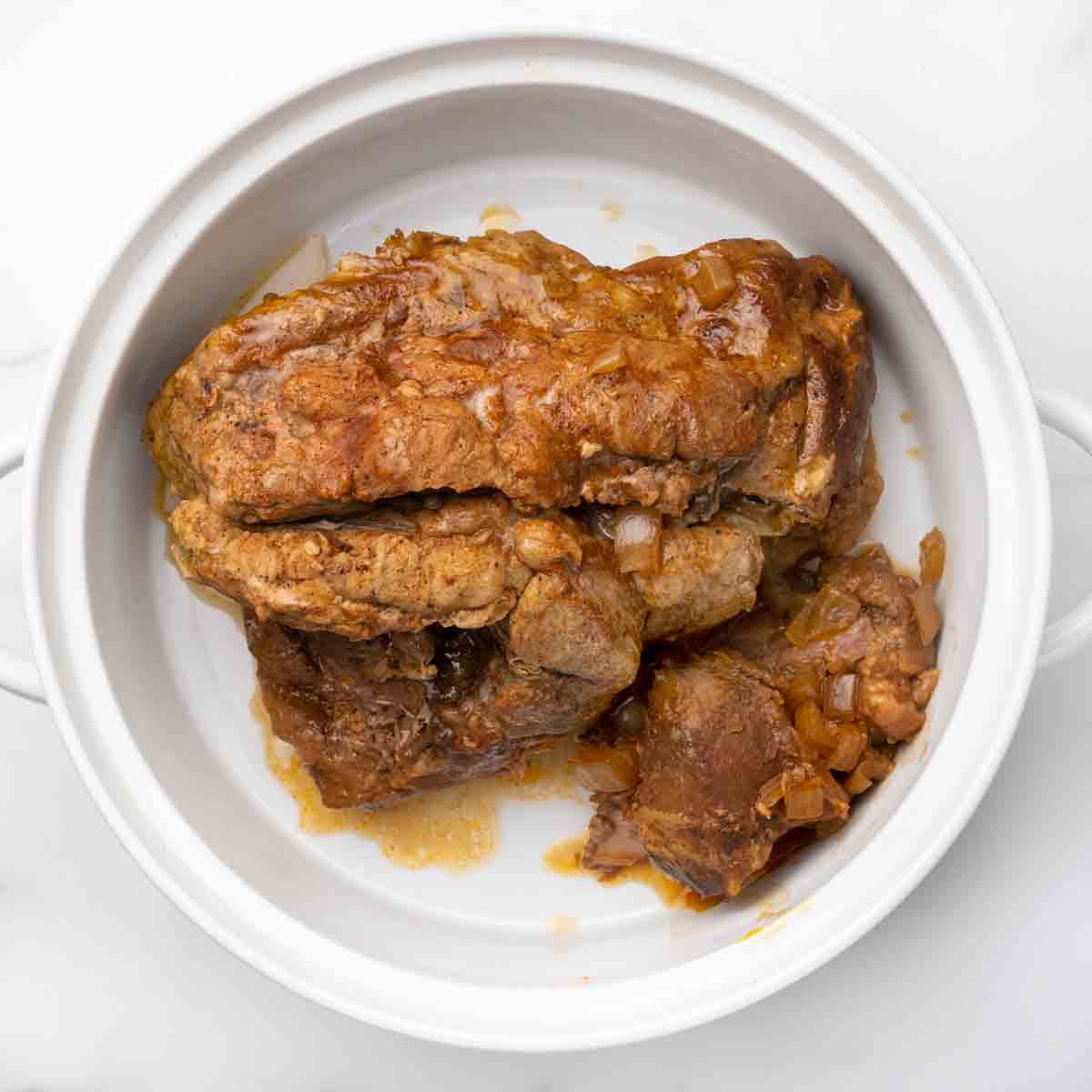 Allow the pork to cool for a few minutes, so it's easier to handle.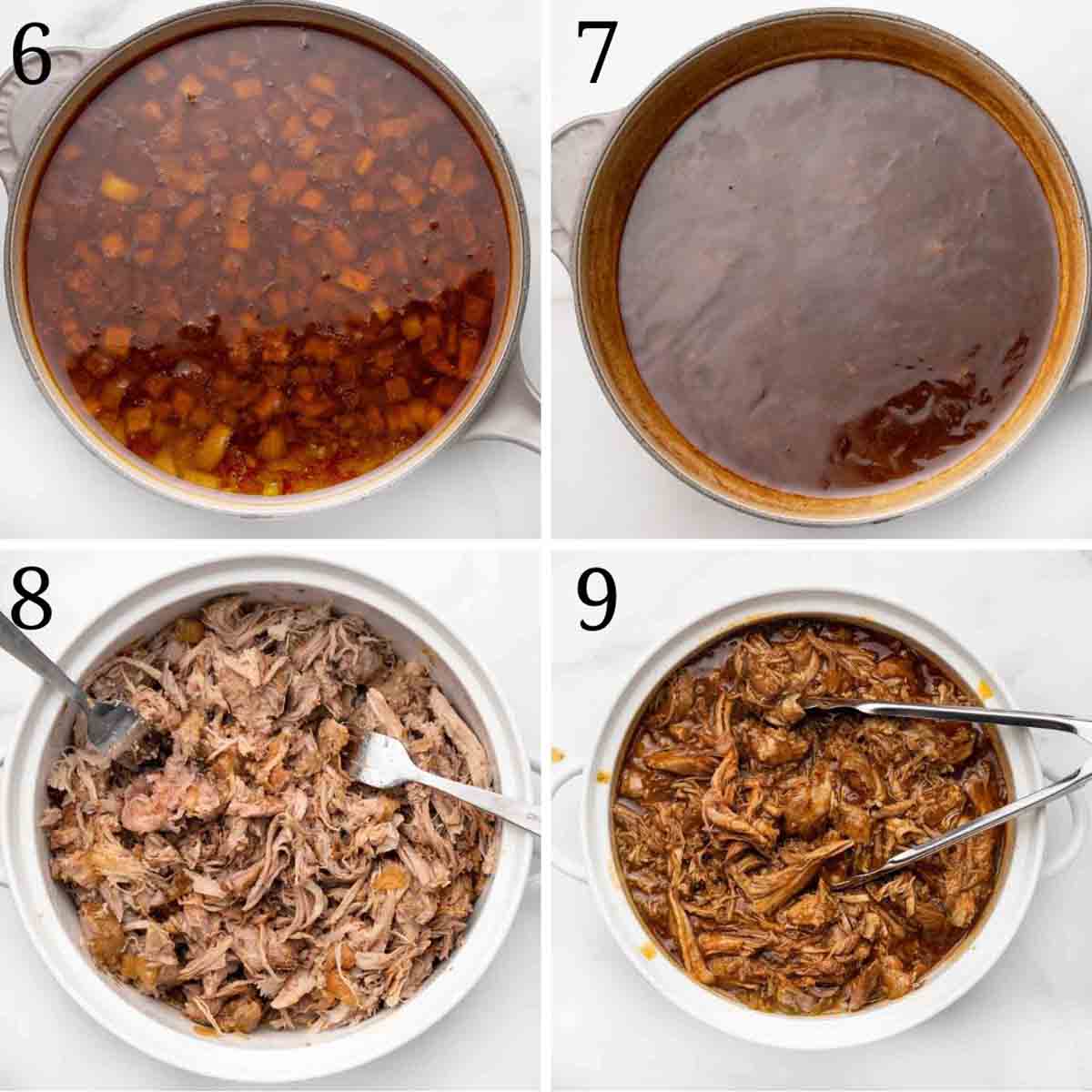 While the pork is cooking transfer the cooking liquids to a small saucepan. Make sure to pull off any excess fat that is on top of the sauce. *make sure to loosen any of the tasty bits stuck to the bottom of the slow cooker.
Reduce the barbecue sauce over medium heat until it thickens and reseason the barbecue sauce as needed.
Using two forks, pull the pork from the roast into small shreds. Don't let the pork cool too much or it won't shred as easily. *There is a fine line between allowing the pork to rest and pulling the pork. You want to give the pork roast 20-30 minutes to rest, so the juices flow back into the meat. But waiting too long will make it more difficult to shred.
Add the barbecue sauce to the Pulled Pork.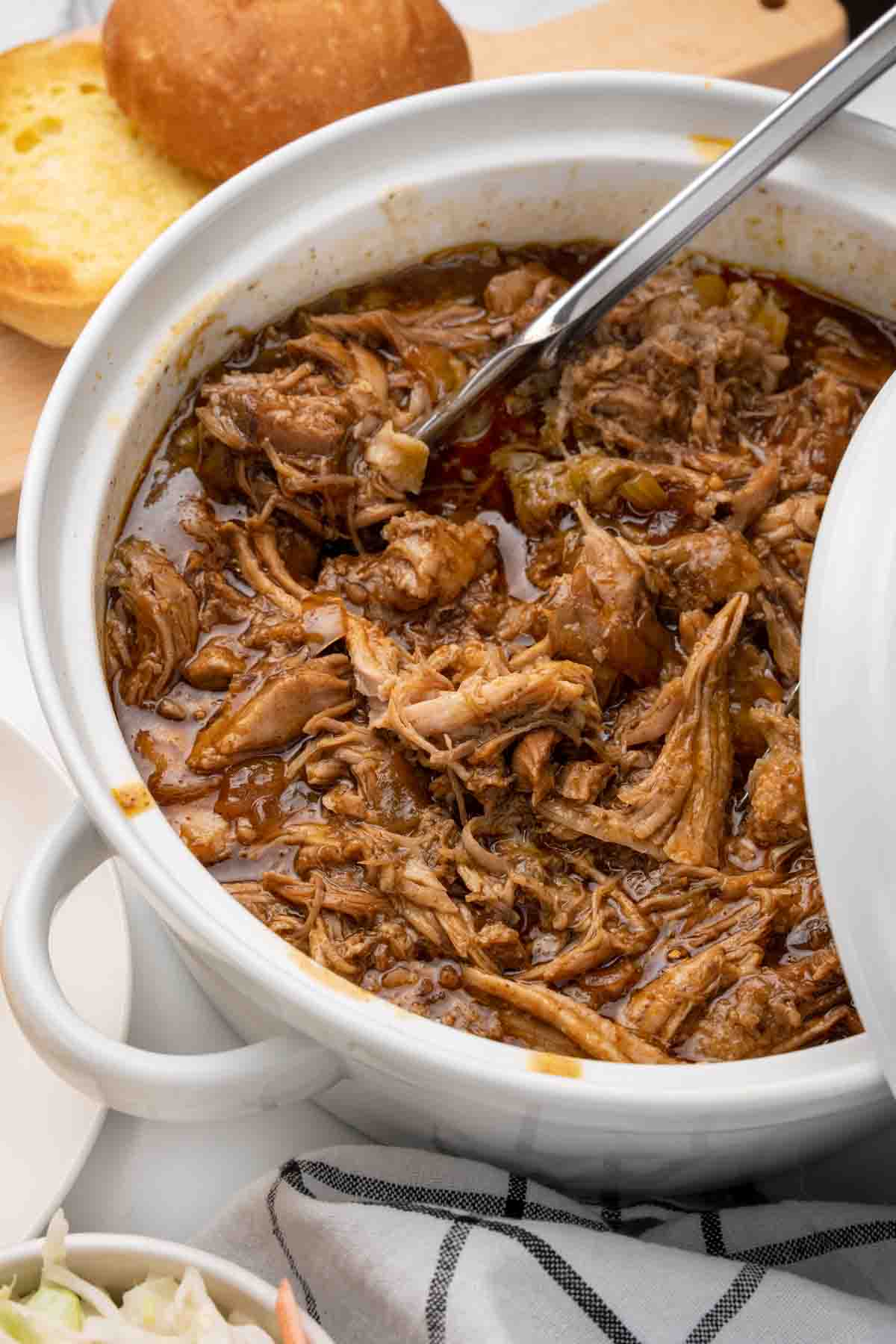 This delightfully delicious Texas pulled pork freezes well (if there's any leftover). Just place it in a freezer bag with or without sauce, and it's ready when you've got a pulled pork craving!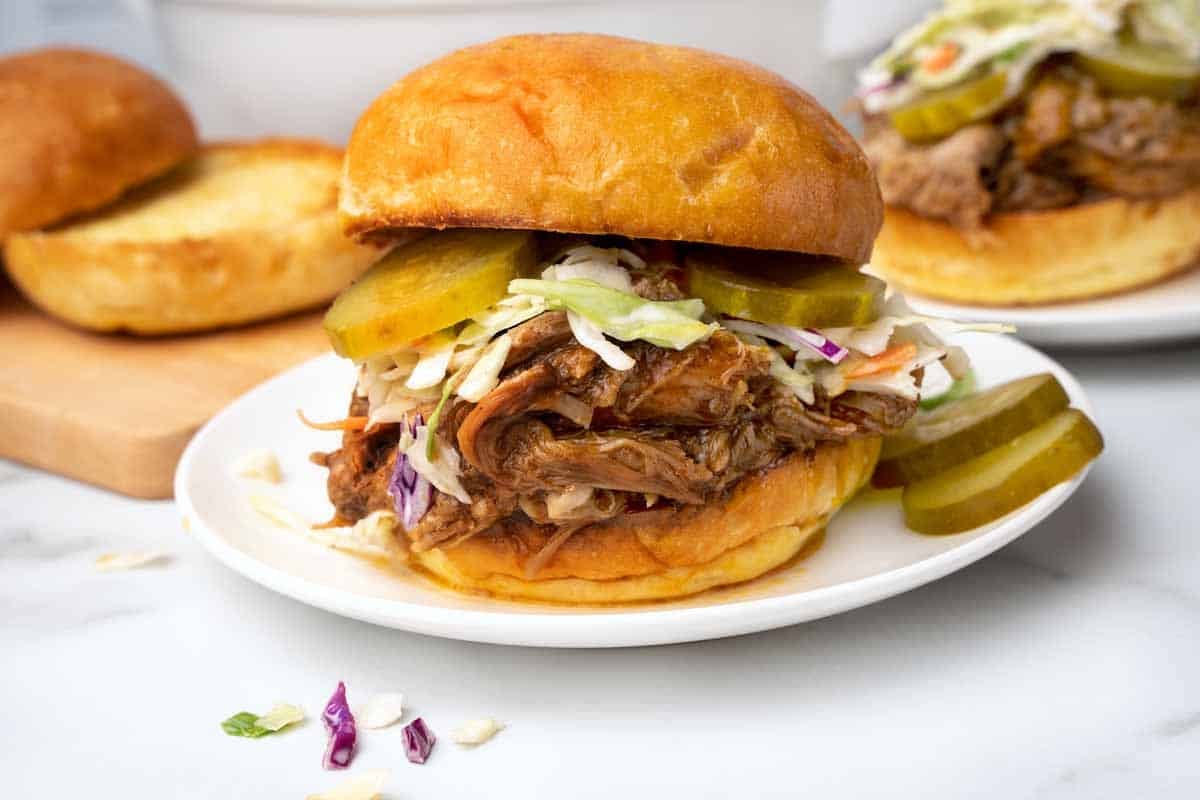 Who's ready to join me for this delicious Pulled Pork Sandwich? Serve it with potato salad, macaroni salad or any of your favorite sides for a true taste of Texas.
Recipe FAQ's
Do I need to add liquids to the slow cooker?
Actually, you don't need much in the way of juices or liquids. Some add flavor, like apple juice, chicken broth or beer. But the pork will render the fat, turning it into liquid during the cooking process, but you still need some liquids in the slow cooker.
If you opt for a small amount of liquid, you can simply add your favorite barbecue sauce to the pork, making the process even easier.
What is the best liquid to cook the pulled pork in?
That is a question you'll find many thoughts on. Personally, I like using chicken broth or a hearty dark beer like Guinness. But other liquids like apple juice, or root beer are often used to create delicious slow cooker pulled pork.
Can you overcook pork in the slow cooker?
While it is difficult to overcook pork in a slow cooker, it can happen. This is why you need to have some liquid in the slow cooker for the entire cooking process. And going any longer than 6 hours can start to turn the pork into mush, but again that will take a bit longer, not just minutes.
More Slow-Cooker Recipes