Some of my fondest memories are of our travels through France and Italy.  Trying new dishes and learning first hand how they taste, and seeing how they're presented.    Of course we can Google them to see what they look like but trying in person adds a whole new perspective to the learning process.
One of our trips years ago had us in the South of France spending a few days in Nice, and how can you not order a Salade Nicoise when you're in the city that gave the salad  its name.  I still remember the little café on the Cours Seleya where we'd go for breakfast each morning….sigh.   A plate full of pastries, butter that tasted better than any I've had, local jams and of course cappuccino.
Nice would be the home of the best pizza I've ever had and of course the classic Salade Nicoise.   Of course what seemed like a good idea at the time when Lisa ordered it, changed drastically when she saw the seared almost raw tuna!   Let's just say I thoroughly enjoyed it, as she made do with the pasta dish I had ordered.
I've never recreated this salad at home, and I've found myself wondering why last week.  With all the glorious fresh produce in the market I decided the time was right to bring a taste of the South of France to our table.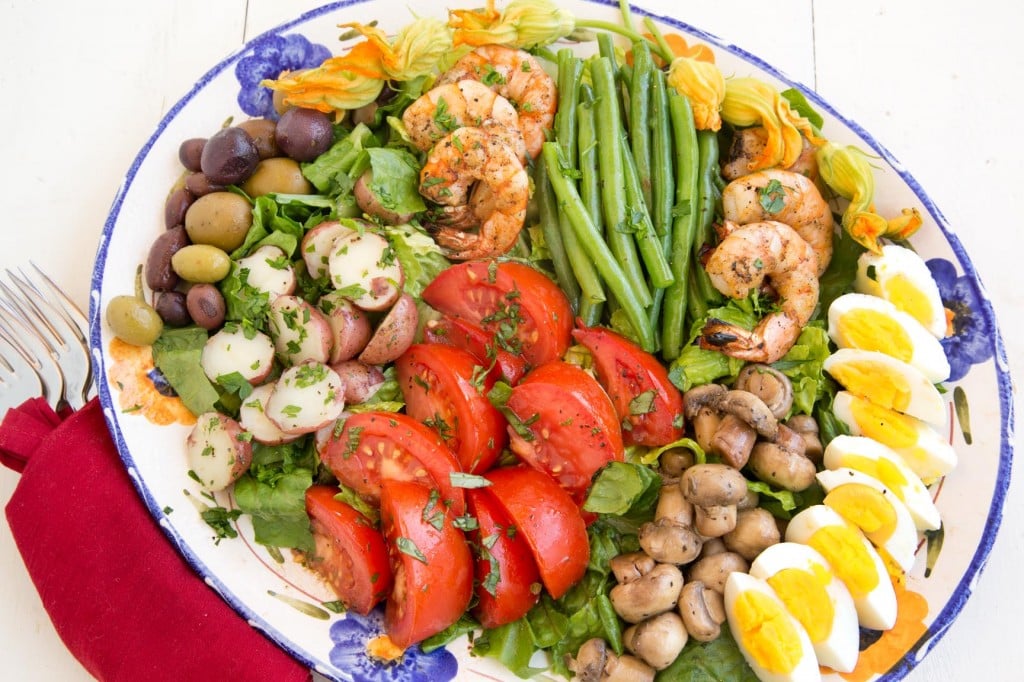 Needless to say I omitted the tuna and replaced it with grilled shrimp.   Lisa absolutely loved the salad and couldn't believe how beautiful it was.    It's really nice when dinner can look as good as it tastes!
Nicoise Salad with Grilled shrimp
Ingredients
1

head romaine lettuce

or lettuce of your choice

2

large tomatoes

3

eggs

4

ounces

button mushrooms

10

baby potatoes

4

ounces

olives of your choice

4

ounces

whole green beans

fresh basil

fresh Italian parsley

zucchini blossoms to garnish

optional

sea salt and ground black pepper to taste

Extra virgin olive oil and balsamic vinegar to taste

or your favorite dressing
Instructions
Wash romaine, dry leaves with paper towels and chop into bite sized pieces

Slice tomatoes into wedges and toss with olive oil, balsamic vinegar, chopped basil, and sea salt (all to taste)

Place eggs in cold water and bring to a boil. Allow eggs to boil for 2 minutes then remove from the heat and allow them to sit in the hot water to finish cooking for 20 minutes. Rinse in cold water and peel immediately. Slice eggs in quarters.

Boil Potatoes until they are just tender, rinse in cold water and allow to cool. Slice potatoes in half and add olive oil sea salt, black pepper and fresh chopped Italian parsley (all to taste)

Coat mushrooms with olive oil, sprinkle with sea salt and black pepper, Either sauté mushrooms, roast or grill until tender. Allow to cool

Add green beans to salted boiling water and allow to cook for 5-7 minutes, drain and rinse in cold water. Allow to cool.
Assembly:
Place dried chopped romaine on large platter

begin by placing tomatoes in the center of the platter then work your way out to the edges making small piles with the other ingredients. There is no set pattern, you just want to make it appealing to the eye.

*You can of course toss it all together but after that much work I think the presentation should be more grand.

Dress with olive oil , balsamic vinegar, sea salt and black pepper to taste, or use your favorite dressing.
I hope you get a chance to try this salad, it really was a flavorful combination.   Friday morning I'm off to Orlando for the Food and Wine Conference where I will be speaking on Google Plus and other social media.  The best part is I get to stay at our house in Kissimmee!  I really think I'm going to enjoy living in Florida, and thankfully my company has business throughout the state so finding a job once we relocate shouldn't be a problem.
Have a great weekend and I'll see you all real soon!