Beef Braciole was one of the recipes I developed during the early days of my restaurant career. I always cut my own steaks and the end of the Strip was never really fit for a good steak.
I would save those pieces for other recipes, and Braciole was always a customer favorite in the restaurants I worked at.
I can promise you if you ask your Italian grandmother how to make Beef Braciole it won't be this way. I can also promise you that after you make and eat my version of this Italian Classic you'll agree that there's more than one way to make braciole.
What Ingredients do I need to make Beef Braciole?
Let's start by gathering the ingredients we need to make Braciole. In Chef Speak this is called the "Mise en Place" which translates to "Everything in its Place".
Not only does setting your ingredients up ahead of time speed the up cooking process, but it also helps ensure you have everything you need to make the dish.
What Kind of Beef Should I use for Braciole?
There are a lot of different cuts of meat you can use for Braciole, I like to use Eye Round because of the uniform size. Top Round is also a good choice and will be a little more tender than eye round.
In my restaurant days, it was the ends from the sirloin steaks I hand cut. I've even used filet a time or too depending upon what I had on hand and who I was making it for.
How do I make Beef Braciole?
Mix the ricotta, spinach, roasted red peppers, Romano cheese, and seasonings together. Refrigerate until needed.
Use a meat hammer and pound each piece of beef thin. Pound out each side, but don't pound so hard that you tear the meat. As you pound the steaks, don't just pound straight down. You need to hold the piece and almost push it outwards as you hit the meat trying to stretch it as you pound. *This will also help tenderize the meat. The meat hammer should have a ridged side that helps with the tenderizing.
After pounding the meat, lay a piece of prosciutto on top of the beef before adding the ricotta stuffing.
Add 1-2 tablespoons of the ricotta stuffing and spread it out in the center of each piece of beef, leaving a little room around the edges unstuffed.
Roll the beef up, shaping it like a small football. Try to seal the braciole as much as possible.
Once the beef braciole are all formed, you can get the breading station ready.
Flour seasoned with salt and pepper
Egg wash ( beaten egg with milk)
Seasoned bread crumbs (your own or store-bought)
Dredge the braciole in the seasoned flour (this is a good time to help reshape the braciole, the flour will help you close it up a little more). Then in the egg wash, and finally in the seasoned bread crumbs.
Repeat the process until all the braciole are breaded.
add some olive oil to a saute pan over medium-high heat. Add the braciole to the pan.
Don't be in a hurry to turn them over, you want a nice crust on the braciole and good color. Turn your braciole over and allow the other side to brown, repeat the process to all the sides of the braciole. You want some color all the way around.
Place the sauteed braciole in a 350 degree preheated oven for 20 minutes.
While the braciole are in the oven, start making the sauce.
Saute the mushrooms in olive oil till fully cooked
Add sambuca and allow alcohol to burn off
Add tomato sauce and grated Romano cheese
re-season to taste
*If the sauce gets too thick, thin it out with a little water.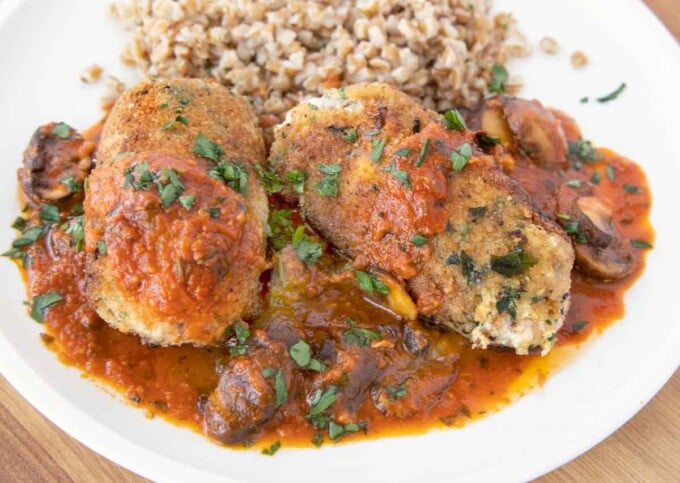 Serve the beef braciole with the mushroom tomato sauce and grain or pasta of your choice.
Recipe FAQ'S
What is the best cut of meat for braciole?
Braciole is best made from pounded slices of beef eye round, sirloin, or filet. The individual slices are stuffed, rolled and usually served in a tomato-based sauce.
*Pounded pork or veal cutlets can also be used.
What region of Italy is braciole from?
The most traditional braciole recipes made with beef are from Sicily, Calabria, and Naples. Northern-Italian braciole are made generally made from pork or veal.
What does braciole mean in English?
Literally translated braciole translate to chops. When it comes to Italian cooking, braciole refers to thin slices of meat rolled stuffed, rolled and braised in a hearty tomato sauce
More Italian Recipes You'll Love!