When you're looking for a dish to help kick up you're grill game, my Asian-Style Shrimp and Broccoli Skewers are just what you're looking for!
When it comes to creating deliciousness in your kitchen, having the right ingredients in your pantry can an ordinary dinner into a night to remember.
You can find all the ingredients I used in your local supermarket, check the Asian section and stock up on sauce ingredients and premade sauces. You'll have fun creating Asian-Style dishes in your kitchen and your family will love the variety!
How do I make the marinade for Grilled Shrimp and Broccoli Skewers?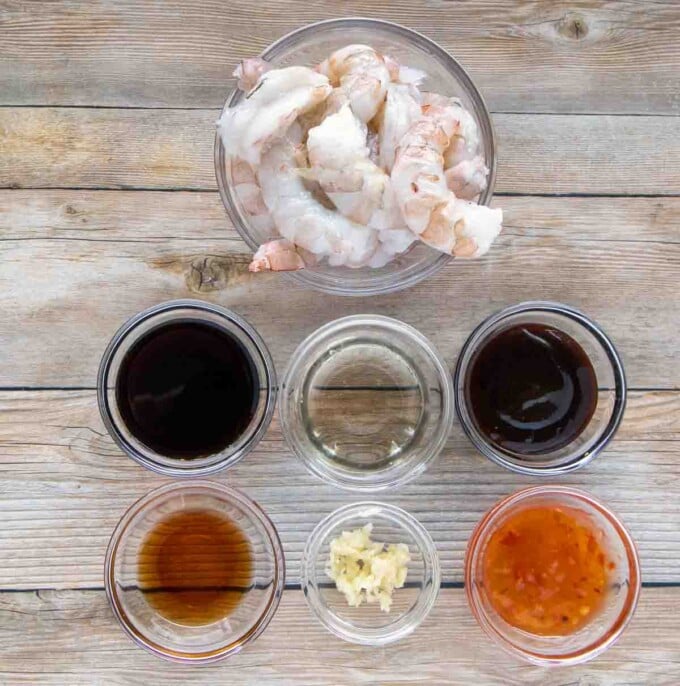 Let's start by gathering the ingredients we need to make the marinade for my Asian-Style Grilled Shrimp and Broccoli Skewers. In Chef Speak this is called the "Mise en Place" which translates to "Everything in its Place".
Not only does setting your ingredients up ahead of time speed up the cooking process, it also helps ensure you have everything you need to make the dish.
Let the shrimp marinate for 15-20 minutes in a ziplock bag or a sealed container.
Do I have to use Shrimp to make the skewers?
No, you don't. The marinade (and finishing sauce) would be delicious on just about anything. Fish, chicken, beef or pork.
How do I make the Finishing Sauce?
While the shrimp are marinating get the ingredients together for the finishing sauce.
In a small bowl, combine cornstarch and broth until smooth.
in a saute pan over medium-high heat saute the garlic in the sesame oil for 1 minute. Then add the soy sauce, hoisin sauce and sweet chili sauce. Bring to a light boil.
Whisk in the cornstarch mixture until the sauce is thickened. You may not have to add all the mixture. Remove the sauce from the heat and set aside until needed.
*If the sauce gets too thick you can thin it out with rice wine, water or additional chicken stock.
When the finishing sauce is ready and the shrimp have marinated, you can start putting together the shrimp and broccoli skewers.
Do I have to use Broccoli to make these skewers?
No, you don't. You could use zucchini, yellow squash or mushrooms.
You can swap out any of the vegetables you're not fond of with those you enjoy eating. This is your dinner.
*If you use carrots or any other veggie that takes longer to cook, make sure to par-cook them first.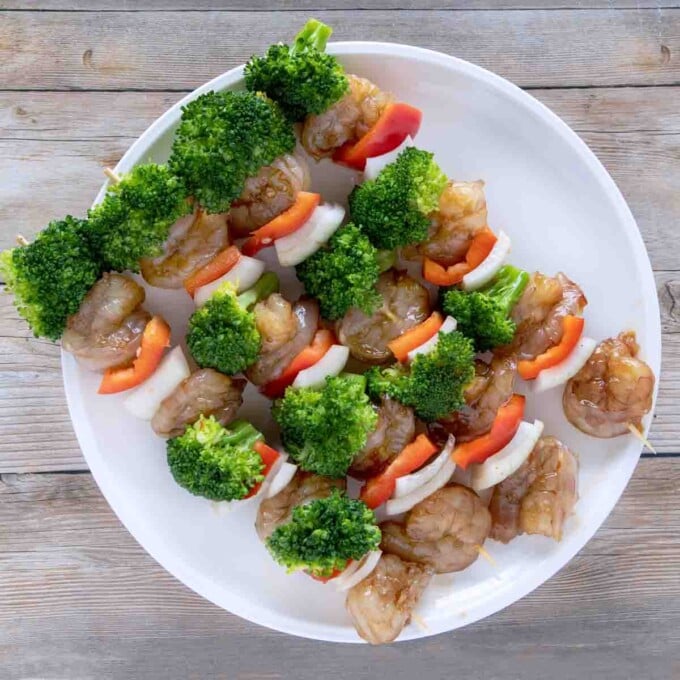 When the skewers are ready, it's time to start grilling!
You can grill this outdoors on a gas or charcoal grill. I used a grill pan to make my skewers to show you how easy it is to make this dish, even if you don't have a barbecue grill.
Wouldn't your family love sitting down to these shrimp and broccoli skewers? It would make a great addition to your weeknight menu. It's easy to make and you can let the family help make the skewers.
*I served my skewers over Jasmin Rice, but feel free to use your favorite grain.
More Asian-Style Recipes You'll Love!