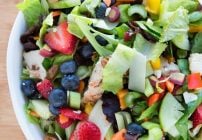 Building the perfect dinner salad isn't hard to do.   There are no rules to making a good dinner salad, but there are some key elements every good dinner salad should contain.
Greens
Protein
Fruit
Nuts
Cheese
After you've got those ingredients the sky's the limit and using what you have on hand adds variety each time you make your Perfect Dinner Salad.    
This is a sponsored post written by me on behalf of Tyson Foods, Inc. and Pinnacle Foods Group LLC.  The text ,images and deliciousness are 100% mine.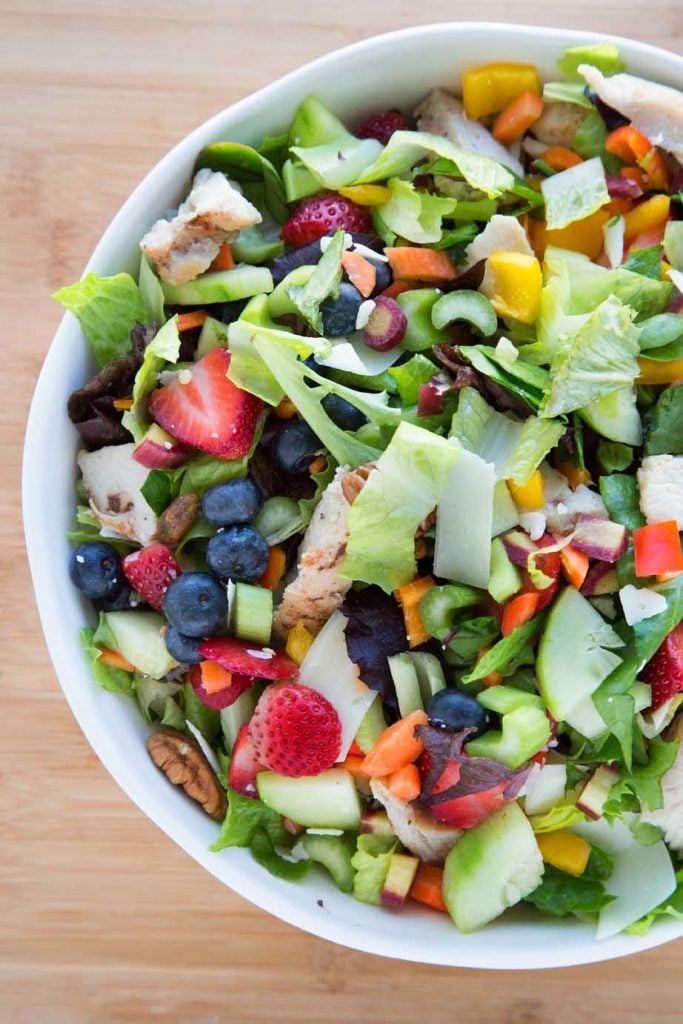 Being a chef and the grocery shopper does have it's advantages.  I get to pick up items that I know I'm going to use in dishes, but some items I pick up simply because they look good or I want them.  The important thing to remember when you buy produce is to keep it in sight, not buried in your vegetable crisper.  Throwing out product because it spoiled makes me very sad.
But making delicious and healthy salads using a variety of ingredients not only keeps your spoilage at home to a minimum, it makes for interesting and delicious meals.
How many times have you heard someone tell you "I don't like salads" ?  For the most part that's because the only salad they've ever been served is a lifeless hunk of iceberg with a few other sad ingredients, doused in salad dressing.
When I opened my refrigerator today, I have to say the cupboard was bare.  That meant it was time for a trip to my local Walmart to some shopping.  I do love shopping at Walmart, the produce is always fresh and considerably less expensive than most stores.  They also have a large variety to choose from, even organic!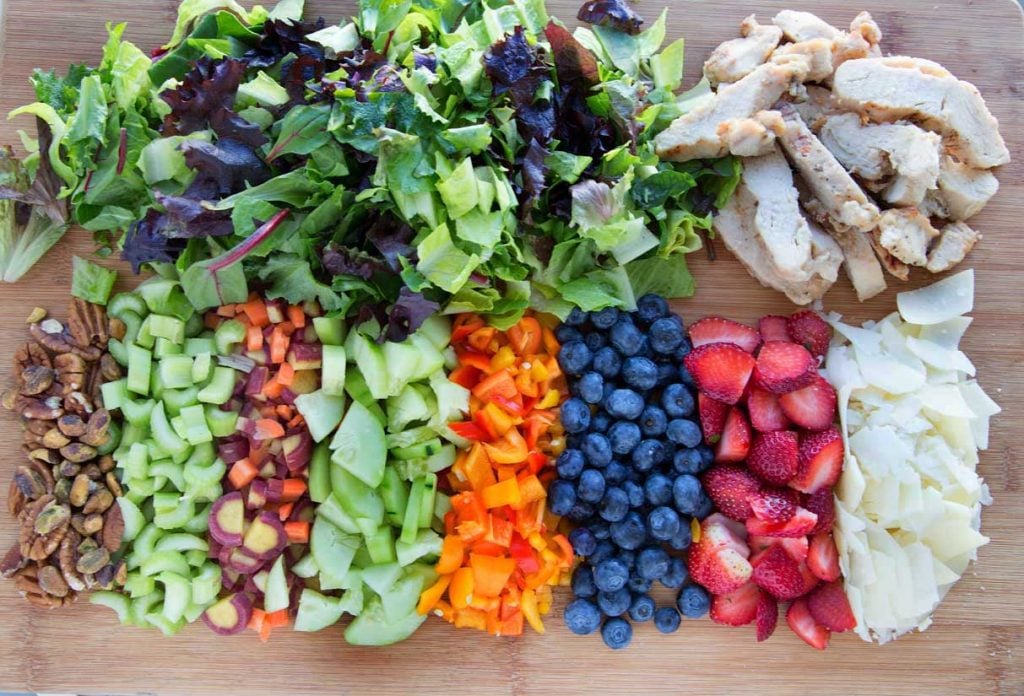 After I go home I began pulling ingredients out to build my perfect dinner salad.   As a chef I got into the habit of building my mise en place (everything in its place) when ever I have to make a dish, even a salad.   You'd be amazed at the ideas that come to you as you gather your ingredients.  Often times you'll end up adding items you never would have thought of including as you go through the process of prepping your ingredients.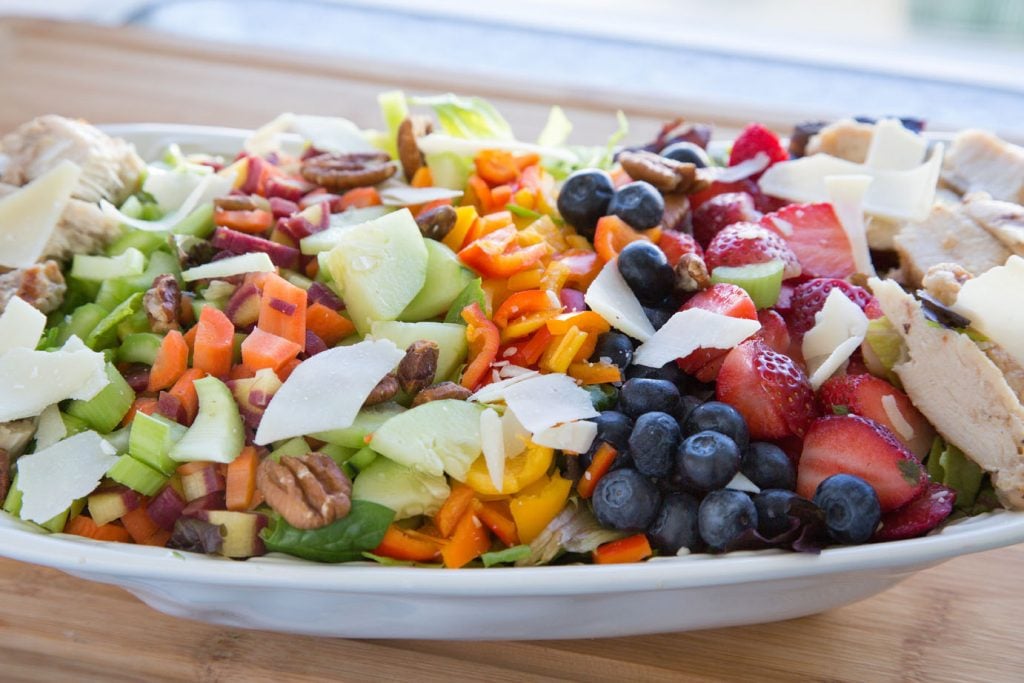 Once all of your ingredients are gathered, it also gives you the opportunity to build the final presentation of your dish.  Eye appeal is just as important as taste.  Take that extra minute or so to make everything perfect.  This was my presentation of my salad before I tossed it with my salad dressing.
Building your perfect dinner salad does take a little time.  Prepping the vegetables can be a social time in the kitchen for your family and friends, getting everyone involved in the process.   But we don't always have time to make that tasty main attraction that all good dinner salads need.   That's when I turn to products like Tyson® Grilled & Ready® Chicken Breast.   It's a name I know I can trust to add that delicious and healthy protein to my salad or any dish I'm making.   Easy-Peasy!
And as far as making my own salad dressings, I don't do it.  I like spending my time being productive in other aspects of cooking.   When its easy for me to pick up a bottle of my favorite Wish-Bone® Italian Dressing and have that full flavored taste, packed with herbs and seasonings, well it just doesn't make sense not to use it.   The fact that the Wish-Bone® Italian Dressing doesn't contain any high fructose corn syrup is an added benefit!
This makes my perfect dinner salad not only delicious and healthy, but easy to make.   Eating healthy isn't always easy, but enjoying a hearty salad like this will make you feel good about dinner.
Perfect Dinner Salad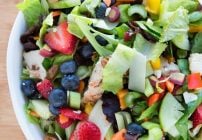 Ingredients
4

cups

mixed greens- chopped

1/2

cup

blueberries

1/2

cup

sliced strawberries

1/2

cup

sliced cucumbers

1/2

cup

diced carrots

1/2

cup

diced sweet peppers

1/2

cup

chopped celery

1/2

cup

Italian cheese

1/2

cup

pecans and pistachio's

2

cups

Tyson® Grilled & Ready® Chicken

Wish-Bone® Italian Dressing to taste
Instructions
Defrost Tyson® Grilled & Ready® Chicken per instructions on bag.

Set up your mise en place by preparing all of your ingredients.

Build your salad, taking time to make it look pretty.

Toss your salad in front of your guests.

Serve your salad with Wish-Bone® Italian Dressing and crusty bread.
For more ideas to make healthy and delicious one bowl meals click on this link.
Sponsored post written by me on behalf of Tyson Foods, Inc. and Pinnacle Foods Group LLC. All opinions are entirely my own.