My Classic Potato Salad Recipe is the perfect side dish for picnics, backyard barbecues, or a family dinner night. This creamy potato salad goes with everything from hot dogs, to steaks and my easy recipe is guaranteed to bring smiles to your dinner table.
This is the perfect potato salad for just about any event your hosting. You won't find any exotic, hard to find ingredients in my classic American Potato Salad, just simple wholesome ingredients.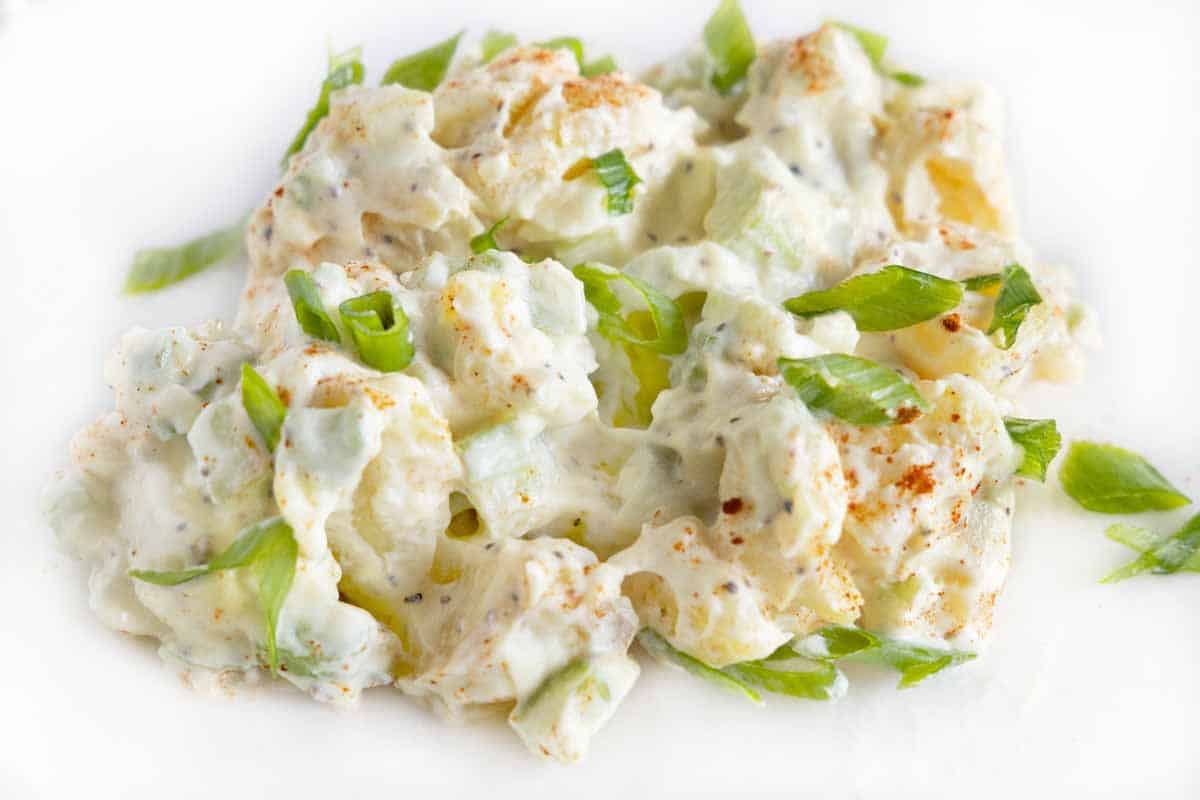 There are two very important steps that you can't miss if you want to make the best potato salad you ever had. The first step is making sure you add salt to the water you're cooking the potatoes in. Otherwise they'll be bland and you'll never get them to taste good.
The other step is drizzling apple cider vinegar or white vinegar over the drained warm potatoes after you've drained them. Those two simple steps makes all the difference in the world.
If you love summertime salads make sure to check out my Creamy Cole Slaw and Macaroni Salad.
Ingredients to make Classic Potato Salad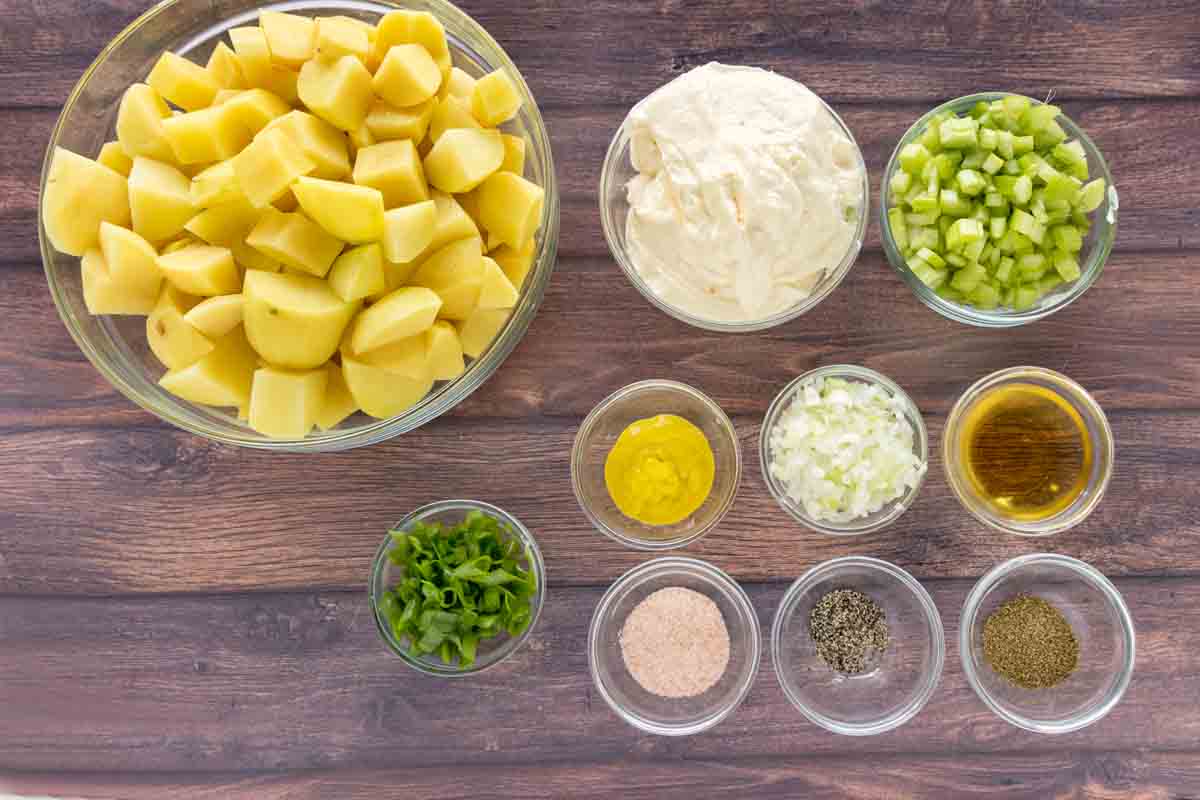 Let's start by gathering the ingredients we need to make Classic Potato Salad. In Chef Speak, this is called the "Mise en Place," which translates to "Everything in its Place."
Not only does setting up your ingredients ahead of time speed up the cooking process, it also helps ensure you have everything you need to make the dish.
Made with simple ingredients
Yukon Gold potatoes
mayonnaise (or miracle whip)
apple cider vinegar (or white vinegar)
yellow mustard (or Dijon mustard)
celery
green onions
salt
black pepper
celery salt
*I didn't add chopped hard-boiled eggs to my recipe, but they make a delicious addition. You can also add chopped red onions, sweet onions, chopped dill pickles, chopped sweet pickles or pickle relish to the salad. It's all about using ingredients you enjoy eating.
What potatoes are best for potato salad?
Yukon Golds is the variety I used, and are a favorite for making this classic recipe. They have a creamy texture and a slightly buttery flavor. They hold their shape well when boiled and are less likely to become mushy, making them ideal for potato salad.
Red potatoes is another excellent choice, they hold their shape after cooking and have a waxy texture and a slightly sweet taste. The skin is thin and smooth so that you can leave it on for added color and texture in your salad.
Fingerlings are also a great choice. They are small, elongated potatoes that come in various colors, including yellow, red, and purple. They have a firm texture and a nutty flavor. Not only will they make a more interesting-looking potato salad, they provide a unique taste and texture.
*Starchy potatoes like Idaho and Russet are not a good choice for potato salad.
What can I use instead of mayonnaise to make potato salad?
Greek yogurt is a healthy and tangy substitute for mayonnaise. It has a similar creamy texture and can be used as a 1:1 replacement in this recipe. Greek yogurt adds a slight tanginess to the dressing and provides a protein boost. You can use yogurt as a full replacement or to replace half of the mayonnaise.
Sour cream is another common substitute for mayonnaise. It has a creamy texture and a slightly tangy flavor. You can use sour cream as a 1:1 replacement for mayonnaise and can be used as a full replacement or half replacement.
Mashed avocado can be used as a flavorful and creamy alternative to mayonnaise. It adds a unique taste and a rich texture to the recipe. Use ripe avocados and mash them until smooth before mixing them with the potatoes.
A dressing made with Dijon mustard, vinegar, and oil can provide a tangy and zesty flavor to potato salad. Whisk together equal parts Dijon mustard and vinegar, and gradually add oil until it reaches the desired consistency.
If you enjoy the taste of pesto, it can be a flavorful substitute for mayonnaise. Toss the cooked potatoes with your favorite pesto sauce until they are well coated. The herbs, garlic, and olive oil in pesto will add a burst of flavor.
How to make Potato Salad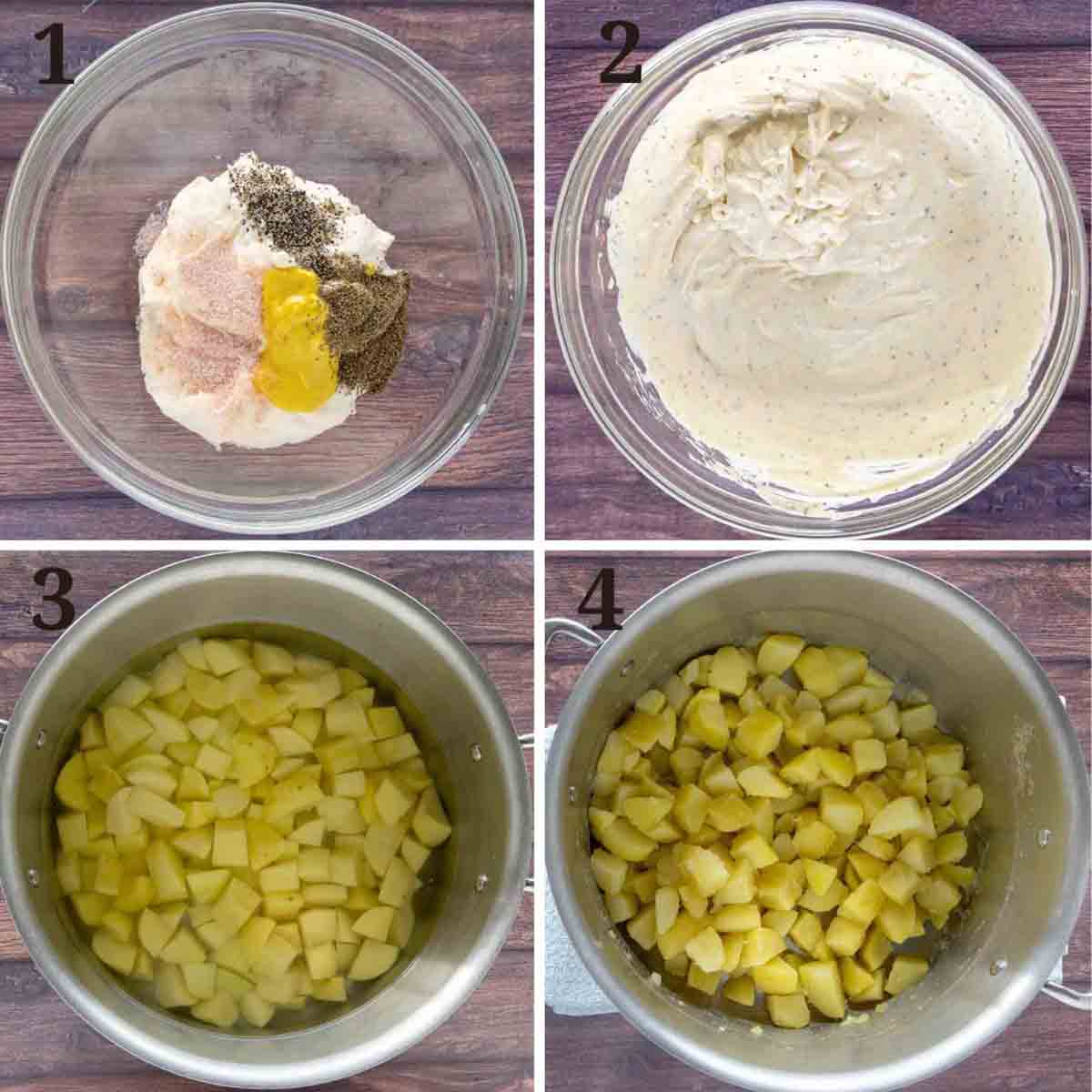 Add the mayonnaise, yellow mustard, celery seed, salt, and pepper to a small bowl.
Whisk to combine the dressing ingredients.
Place potatoes in a large stockpot and add enough cold water to cover the potatoes by 1 inch of water.
Place the large pot of water on a burner set at high heat and let the mixture come to a boil. When the water begins to boil, add one teaspoon of salt to the boiling water. Reduce the heat to medium and let the potatoes simmer.
Let them continue to cook for 5-8 minutes or until the potatoes pierce easily with a fork. Don't let the potatoes overcook, or the potato salad will be mushy.
Thoroughly drain the potatoes in a colander, then return them to the pot and drizzle vinegar evenly over the warm potatoes.
*Adding vinegar to the warm fork tender potatoes is the secret to good potato salad.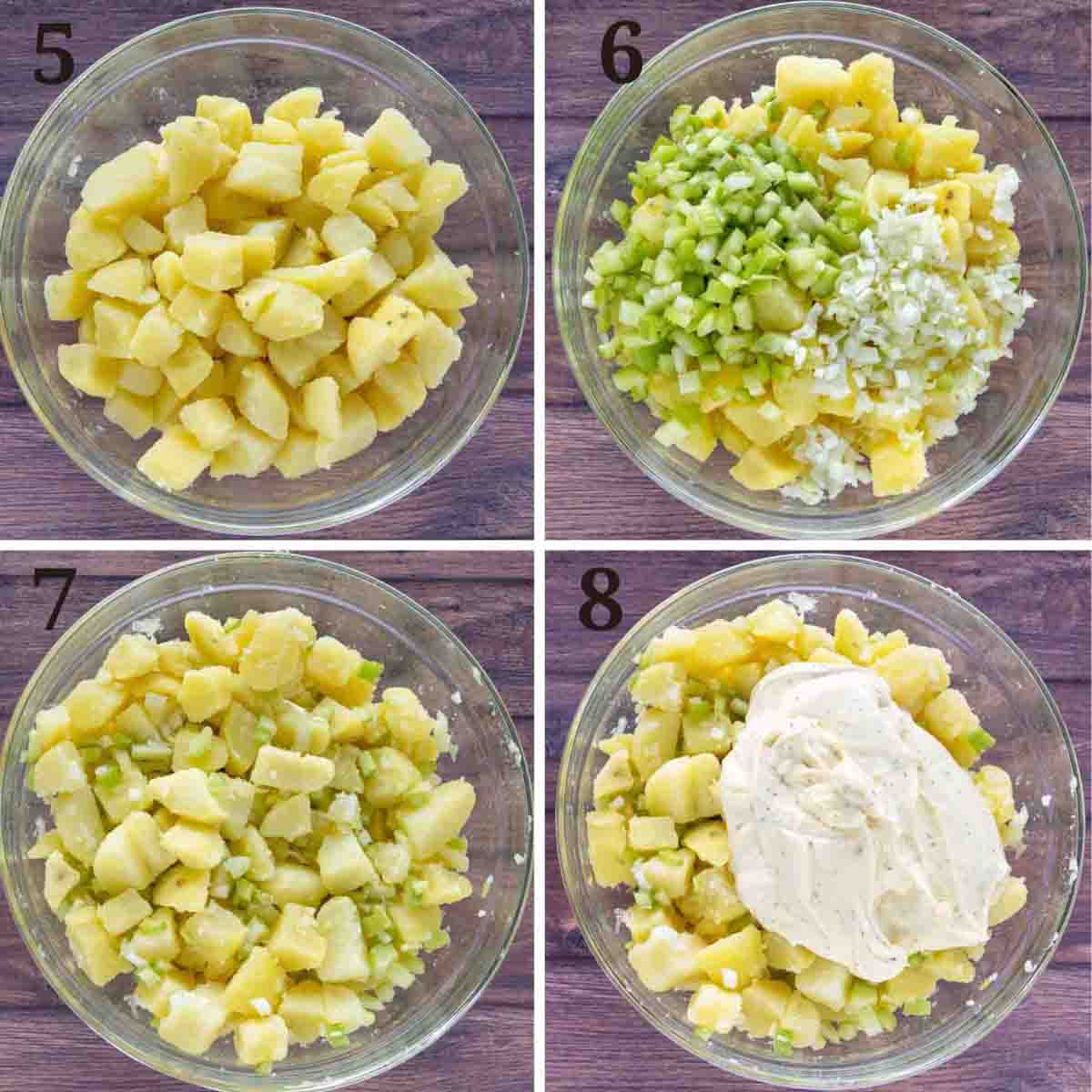 Let the potatoes rest for 20-30 minutes or until well cooled. Then add them to a large mixing bowl.
Add the diced celery and the diced green onions to the potato mixture.
Mix the celery and diced green onions with potatoes.
Gently fold the creamy dressing into the cooled potatoes.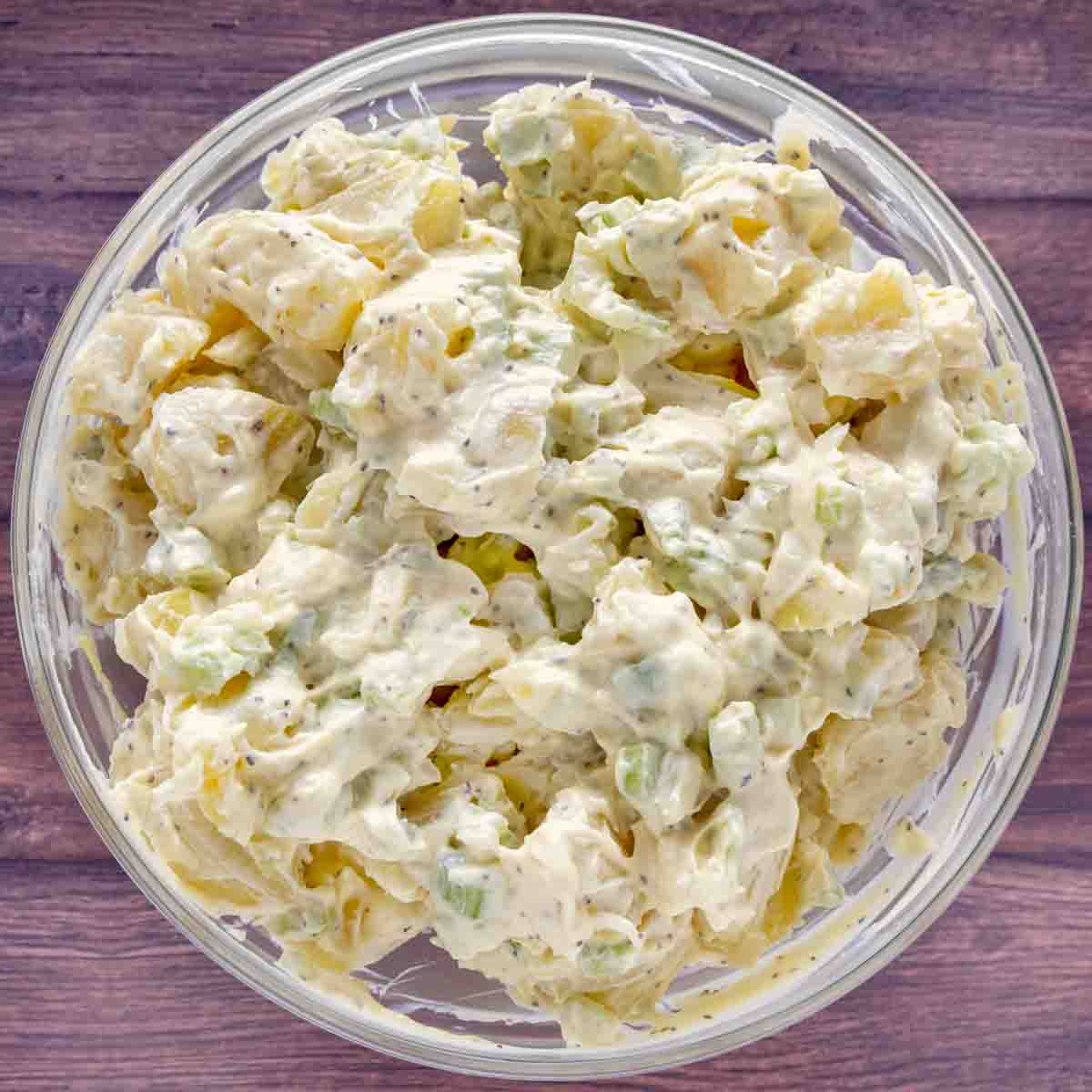 Taste the potato salad and reseason with salt and pepper as needed. Refrigerate the potato salad for at least 1 hour (overnight is best) before serving.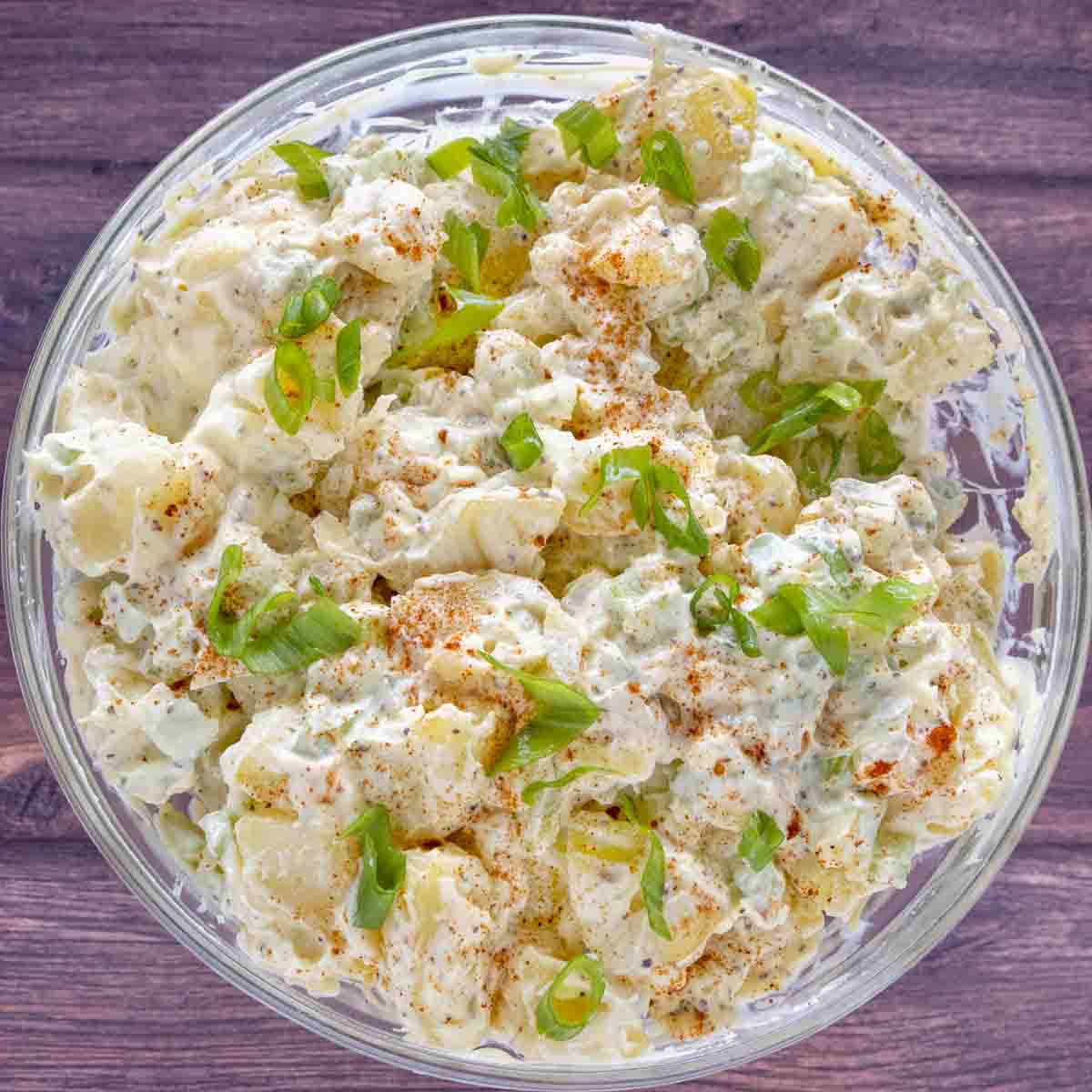 Sprinkle the top of the potato salad with sweet paprika and garnish with sliced green onion tops.
So when you're planning your next summer cookout make sure to add my classic American potato salad to the menu. It's the perfect side dish for hamburgers, hot dogs, ribs and just about anything you can think of.
Recipe FAQ's
What are the best potatoes for potato salad?
Yukon Golds are the potatoes I used and are an American favorite for making potato salad. They have a creamy texture and a slightly buttery flavor. They hold their shape well when boiled and are less likely to become mushy, making them ideal for potato salad.
You can also use Red Bliss potatoes and use them peeled or unpeeled. Another good option are fingerling potatoes. They have great flavor and add a different look to potato salad.
How long can potato salad be left unrefrigerated.
Two hours is the maximum amount of time it can be left unrefrigerated, if you're planning on saving the leftovers. Any longer than that, and you'll need to discard any left over potato salad.
If its a warm day, that time can be cut in half or less, so make sure to monitor the temperature of the salad while its unrefrigerated.
Can I make the potato salad the day before?
You certainly can, and in fact it will taste even better the next day. Using my recipe I've kept leftover potato salad in the fridge for up to 5 days without any issues.
More Recipes You'll Love!