How to make the perfect summer salad!
One of my favorite pastimes is going to our Farmer's Market every Saturday, but with all the conferences I've been attending this summer, I haven't had many opportunities to take advantage of our market. Luckily for me, while I haven't made many shopping trips to our farmers market this summer, our local Wegman's has done an excellent job bringing in many of the local fruits and vegetables we that Lisa and I love to eat.
With a push toward's healthier eating I have been trying to add more salads to our diet, not only as a side salad but also as the main course. And while I don't think Lisa would complain much if I topped our entrée salads with crabmeat, shrimp or lobster every time I made them, it wouldn't be long before I would be tired of the same old salad…sigh Variety is the spice of life!
A few weekends ago I was at the Big Summer Potluck, and one of the items in our swag bag was an amazing assortment of Gourmet Garden herbs. This was my first experience working with them, and I have to say they certainly make life easier using these delicious freshly prepared herbs. Not only did I make a wonderful marinade out of some of them, but I used the basil for my tomato salad that went on this lovely summer salad…..sigh It's a beautiful thing when you can eat something this healthy that tastes that good.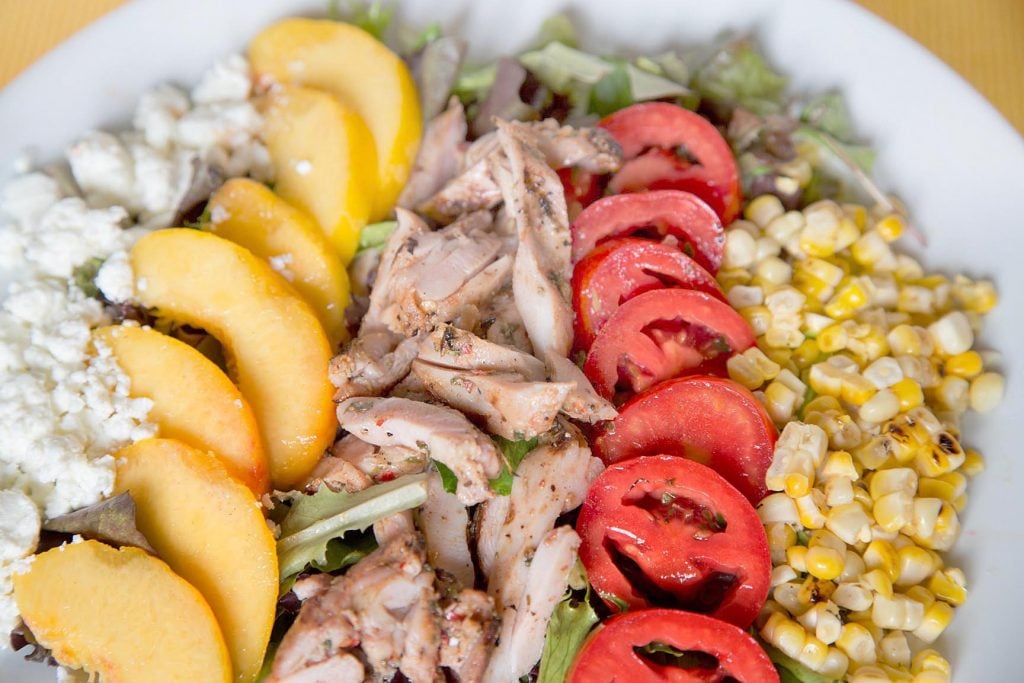 I really hadn't planned on making this salad with these specific ingredients but since they were all on hand, so they found their way into my dinner salad. When composing a dinner salad, it's important to have a good selection of ingredients, your salad should be balanced for flavors, textures, and colors. While I got my flavor profiles and textures taken care of I do think I was one color short on making this salad visually stimulating….sigh I thought about adding olives but the flavor profile just didn't seem right with the peaches and corn. Fresh Peas may have been the perfect color addition, but I don't think the texture would have been right. What would you have used?
In any event, while not quite a visually stimulating as I would have hoped for, the taste and textures were outrageously delicious and got two thumbs up from Lisa, and since she's the one person whose approval means the most to me, I was a happy man.
If you enjoyed this recipe you might also like these:
Thanks for stopping by today! Now get outside and enjoy this beautiful summer day!