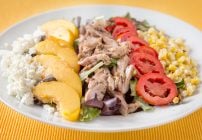 When your looking for a salad that won't have you walking away hungry, try my summertime salad full of delicousness!
This post includes affiliate links. As an Amazon Associate I earn from qualifying purchases.
How to make the perfect summer salad!
One of my favorite pastimes is going to our Farmer's Market every Saturday, but with all the conferences I've been attending this summer, I haven't had many opportunities to take advantage of our market. Luckily for me, while I haven't made many shopping trips to our farmers market this summer, our local Wegman's has done an excellent job bringing in many of the local fruits and vegetables we that Lisa and I love to eat.
With a push toward's healthier eating I have been trying to add more salads to our diet, not only as a side salad but also as the main course. And while I don't think Lisa would complain much if I topped our entrée salads with crabmeat, shrimp or lobster every time I made them, it wouldn't be long before I would be tired of the same old salad…sigh Variety is the spice of life!
A few weekends ago I was at the Big Summer Potluck, and one of the items in our swag bag was an amazing assortment of Gourmet Garden herbs. This was my first experience working with them, and I have to say they certainly make life easier using these delicious freshly prepared herbs. Not only did I make a wonderful marinade out of some of them, but I used the basil for my tomato salad that went on this lovely summer salad…..sigh It's a beautiful thing when you can eat something this healthy that tastes that good.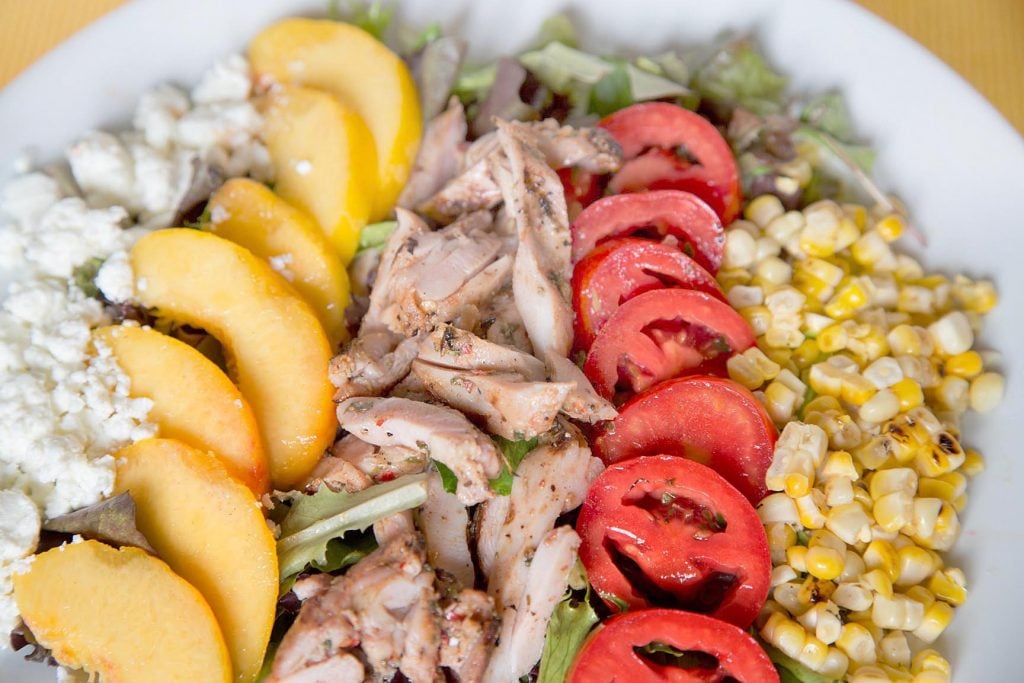 I really hadn't planned on making this salad with these specific ingredients but since they were all on hand, so they found their way into my dinner salad. When composing a dinner salad, it's important to have a good selection of ingredients, your salad should be balanced for flavors, textures, and colors. While I got my flavor profiles and textures taken care of I do think I was one color short on making this salad visually stimulating….sigh I thought about adding olives but the flavor profile just didn't seem right with the peaches and corn. Fresh Peas may have been the perfect color addition, but I don't think the texture would have been right. What would you have used?
In any event, while not quite a visually stimulating as I would have hoped for, the taste and textures were outrageously delicious and got two thumbs up from Lisa, and since she's the one person whose approval means the most to me, I was a happy man.
If you enjoyed this recipe you might also like these:
Print Recipe
The Perfect Summer Salad Recipe
When your looking for a salad that won't have you walking away hungry, try my summertime salad full of delicousness!
Ingredients
4

cups

field greens

or chopped romaine lettuce

1

peach

peeled and sliced

1/2

cup

feta cheese crumbles

1

pound

boneless chicken thighs

marinated with your choice of spices

1

ear

corn

kernels cut off the ear

2

Roma tomatoes

sliced and marinated with olive oil basil and sea salt

extra virgin olive oil to taste

balsamic vinegar to taste

sea salt and freshly ground black pepper to taste
Instructions
Marinate chicken thighs for 3-4 hours (overnite is best) in extra virgin olive oil, and your choice of fresh herbs and spices. I used basil, garlic and spicy red pepper from Gourmet Gardens

Grill chicken thighs until done, set aside until cool. When fully cool, slice into strips

Place ear of corn directly on grill and allow to cook until tender. Set aside until cool and then cut the kernels off of the corn cob to use when assembly salad

Peel Peach and cut into slices, set aside

slice Roma tomatoes and add olive oil, sea salt and chopped basil. Mix well and allow to marinate until assembling salad
Salad Assembly
Place field greens on large serving platter

Starting from the middle, place strips of cooked chicken thighs and then work your way out to the edges alternating colors to form a pleasing display.

Serve with Extra Virgin Olive Oil, Balsamic Vinegar, Sea Salt and Black Pepper or your favorite salad dressing, and enjoy!
Nutrition
Calories:
656
kcal
|
Carbohydrates:
15
g
|
Protein:
45
g
|
Fat:
47
g
|
Saturated Fat:
16
g
|
Cholesterol:
256
mg
|
Sodium:
604
mg
|
Potassium:
1010
mg
|
Fiber:
4
g
|
Sugar:
11
g
|
Vitamin A:
9284
IU
|
Vitamin C:
17
mg
|
Calcium:
240
mg
|
Iron:
3
mg
Thanks for stopping by today! Now get outside and enjoy this beautiful summer day!