Nothing beats a good homemade soup and my Restaurant Style Corn Chowder is a delicious way to use the summer corn or to warm your body and soul during the winter months.
Whether you serve up my corn chowder as the main course or a starter, making delicious soups is easier than you think. And my tips and tricks will have you making restaurant-style soups in your own kitchen for your family and friends in no time.
What ingredients do I need to make Corn Chowder?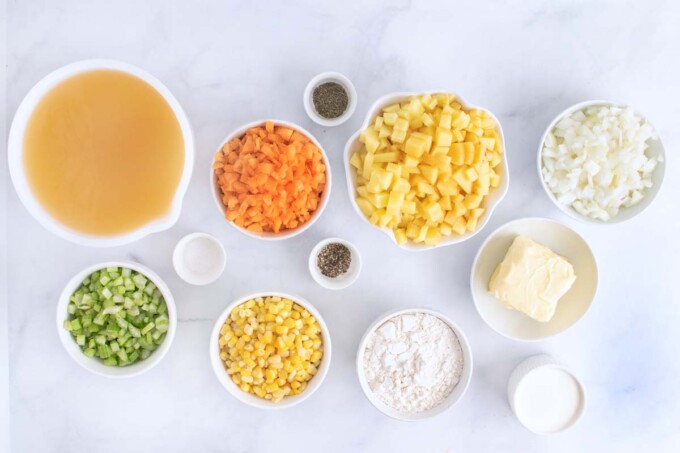 Let's start by gathering the ingredients we need to make Corn Chowder. In Chef Speak this is called the "Mise en Place" which translates to "Everything in its Place".
Not only does setting your ingredients up ahead of time speed up the cooking process, it also helps ensure you have everything you need to make the dish.
Do I have to use fresh vegetables in my soup?
No, you don't. I prefer using fresh vegetables when ever possible but you can also use frozen vegetables when making soups. I also try to use up any leftover veggies or meats that I have on hand. In the old days soups were always made out of leftovers!
What vegetables do I need to make soups at home?
Most soups start out with three basic vegetables, celery, carrots and onions. This is called a Mirepoix.
When making chowders you add potatoes. Since I was making Corn Chowder the other ingredient is pretty obvious, corn.
How do I make Corn Chowder?
In a large sauce pan add the butter and allow it to melt
Add the diced vegetables and saute them for 5-7 minutes over med-high heat
Add in the flour and mix well, turn down the heat to low and allow to simmer for 3-4 minutes to let the flour cook. (Don't let the flour burn or get dark)
Add the hot stock to the cooked roux (butter and flour mixture) and mix in well.
Add the milk, corn, and seasonings.
Reduce the heat and allow the chowder to simmer for 30-45 minutes.
**If the chowder starts to get too thick, thin it out with additional milk, stock or water.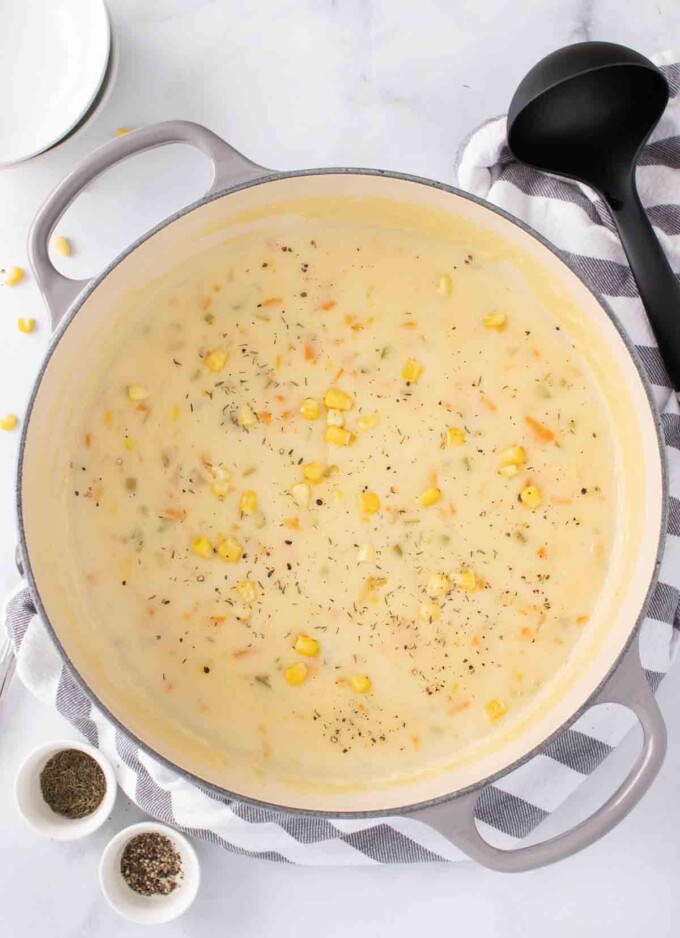 What else can I add to my corn chowder?
Pulled cooked chicken would make a great addition to the soup. But you could also add some of your favorite veggies to the chowder.
Originally soup was made up of anything extra we had lying around, so don't be afraid to get creative with your leftovers!
Once you see how easy they are to make and how many different types of soup you can make they'll be no going back to the canned soups.
More Soup Recipes You'll Love!