You're going to love my creamy and delicious Potato Soup Recipe! This easy-to-make hearty soup is made in one pot, start to finish, and can be on your dinner table in about an hour.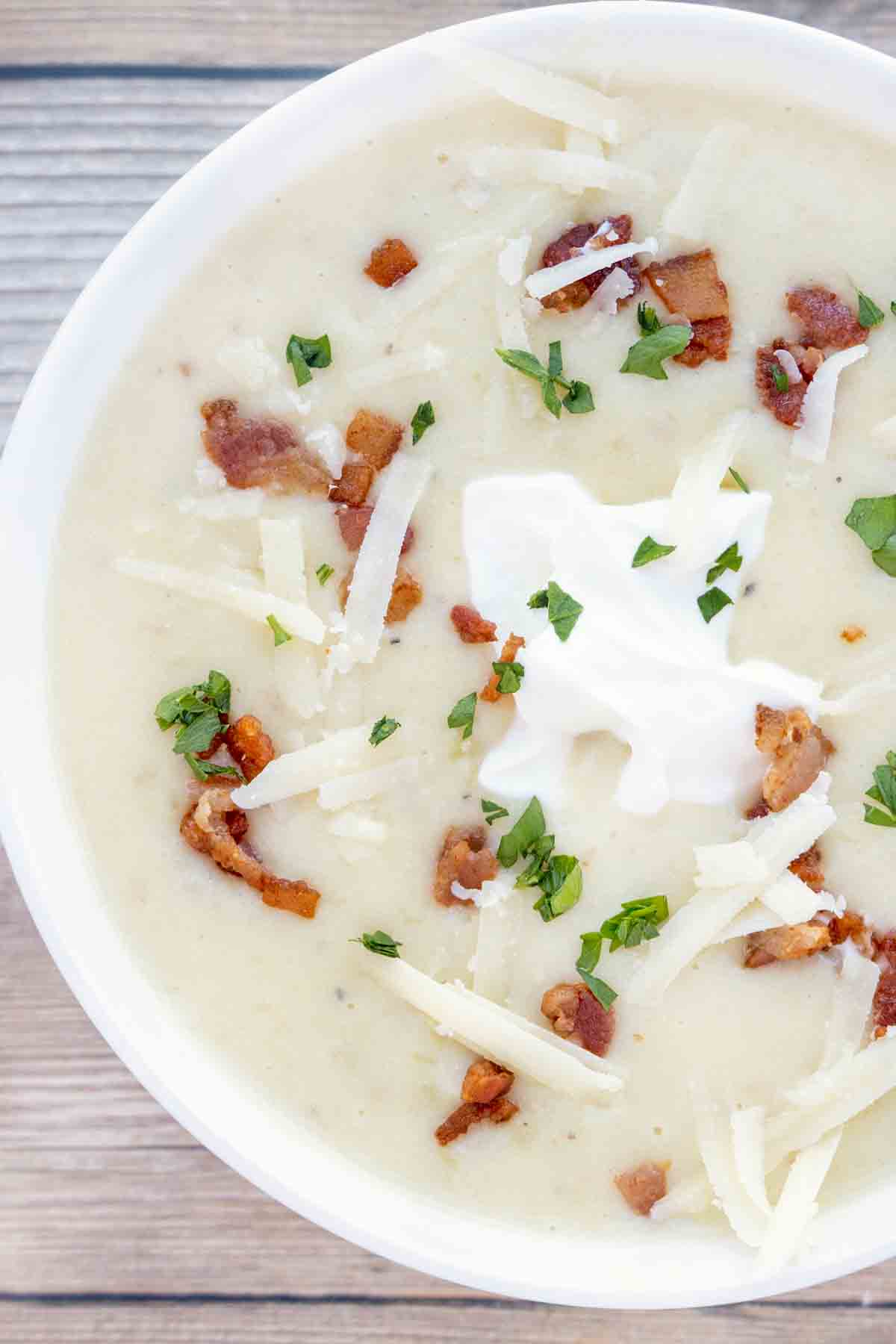 The creamy texture of the potatoes, along with the added flavor of the onions and bacon, makes my loaded potato soup the ultimate comfort food. I know after one bite, you'll agree this is the best potato soup recipe you've ever tried.
My soup recipe is sure to be a hit with your family, and it's easily adaptable to the flavor profile you love. Add sharp cheddar cheese or your favorite chees and make a cheesy potato soup.
It can also become a vegetarian soup by leaving out the bacon and using vegetable broth instead of chicken broth.
Ingredients for Potato Soup
Let's start by gathering the ingredients we need to make Potato Soup. In Chef Speak, this is called the "Mise en Place," which translates to "Everything in its Place."
Not only does setting up your ingredients ahead of time speed up the cooking process, it also helps ensure you have everything you need to make the dish.
Made with simple ingredients
Yukon gold potatoes
bacon
onions
garlic
butter
all-purpose flour
chicken broth
whole milk
heavy cream
salt
black pepper
What are the best potatoes to use?
White potatoes are low in starch and hold their shape better if you want to see chunks of potatoes in your soup.
Yukon gold potatoes and red potatoes are both medium in starch and are all-purpose potatoes, which makes them perfect for a soup that is creamy but still has some chunks in it.
Russet potatoes are high in starch and are better suited for making mashed potatoes or cream soups that will be smooth with no chunks of potatoes.
How to make Potato Soup
Add the butter and bacon to a large pot and cook over medium heat until the bacon begins to crisp up.
Add the chopped onion to the pot and continue to cook over medium heat until the onions are tender (3-4 minutes).
Add the chopped garlic to the pot and cook for about 30 seconds.
Add the flour to the pot.
Stir the flour together with the butter and bacon grease. This is a roux that will thicken the soup.
Let the mixture cook over low heat for 2-3 minutes to cook the flour.
Add the chicken broth (or vegetable broth) to the pan and whisk until well blended. Bring to a light boil over medium heat.
Add the milk to the pot and whisk together.
Add the diced potatoes, salt, and pepper to the pot, mix together, and bring to a light boil, then reduce to low heat and cook for 30-45 minutes until the potatoes are fork tender. *Depending on how thick the soup is, add 1 – 2 cups of water to thin the soup out while the potatoes cook.
Remove half of the potatoes and set aside.
Add the heavy cream to the soup.
Puree the soup using an immersion blender, food processor, hand mixer, or potato masher.
Return the potato chunks to the soup pot – reseason with salt and pepper to taste. *If the soup is too thick, add water to thin it out.
Do I have to puree the potatoes?
No, you don't. If you let the soup cook for another 10 – 15 minutes, the potatoes will break down and can easily be whisked into the soup. That's really all you have to do to make this soup smooth and creamy.
This post includes affiliate links. As an Amazon Associate, I earn from qualifying purchases.
This is the immersion blender I use.
Bring the soup to a light boil and serve piping hot.
Garnish the soup with sour cream, crispy bacon, sharp cheddar cheese, or chopped green onions and serve with a side salad and crusty bread. This hearty soup can be a main course or an appetizer.
Recipe FAQ's
What is creamy potato soup made of?
This soup is made with potatoes, onions, and bacon cooked in a rich, buttery cream sauce.
What makes potato soup thick?
Cream soups are usually made with a roux, a mixture of butter and flour that is cooked over low heat. Stock and/or milk is then added to the roux to make the creamy base for the soup. Cooking the potatoes in the cream sauce will also help thicken the soup.
More Soup Recipes You'll Love!