Split pea soup with ham is perfect for lunch or a light dinner. This creamy and delicious soup made with green split peas, flavorful broth, and smoky ham is one of my favorite soup recipes, and I know it will be one of yours too.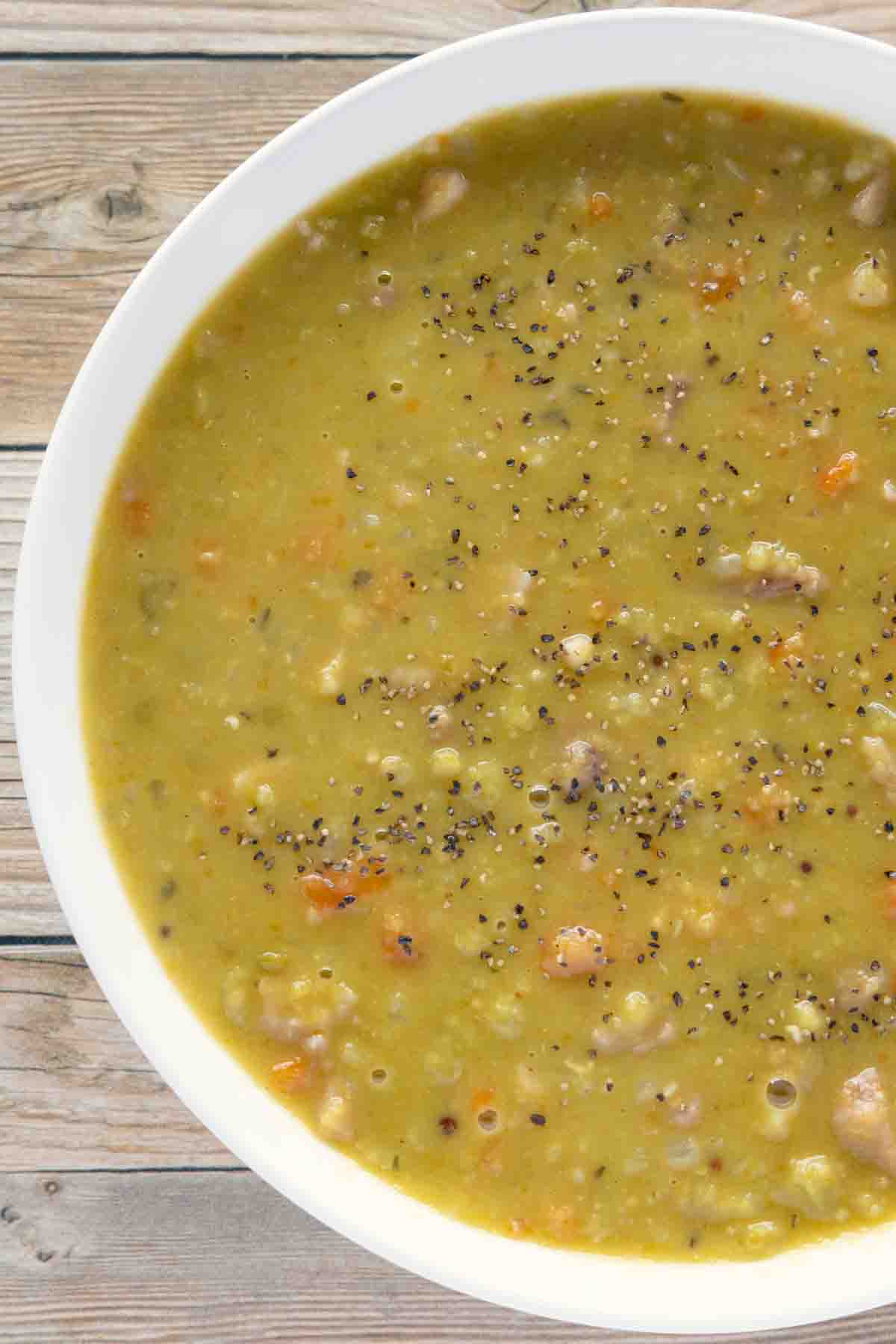 Your family is going to love this comforting soup, it's one of the soups my mom made best and one of my fondest childhood memories. This classic split pea soup is easy to make and so much better than any premade soup you can buy at the grocery store.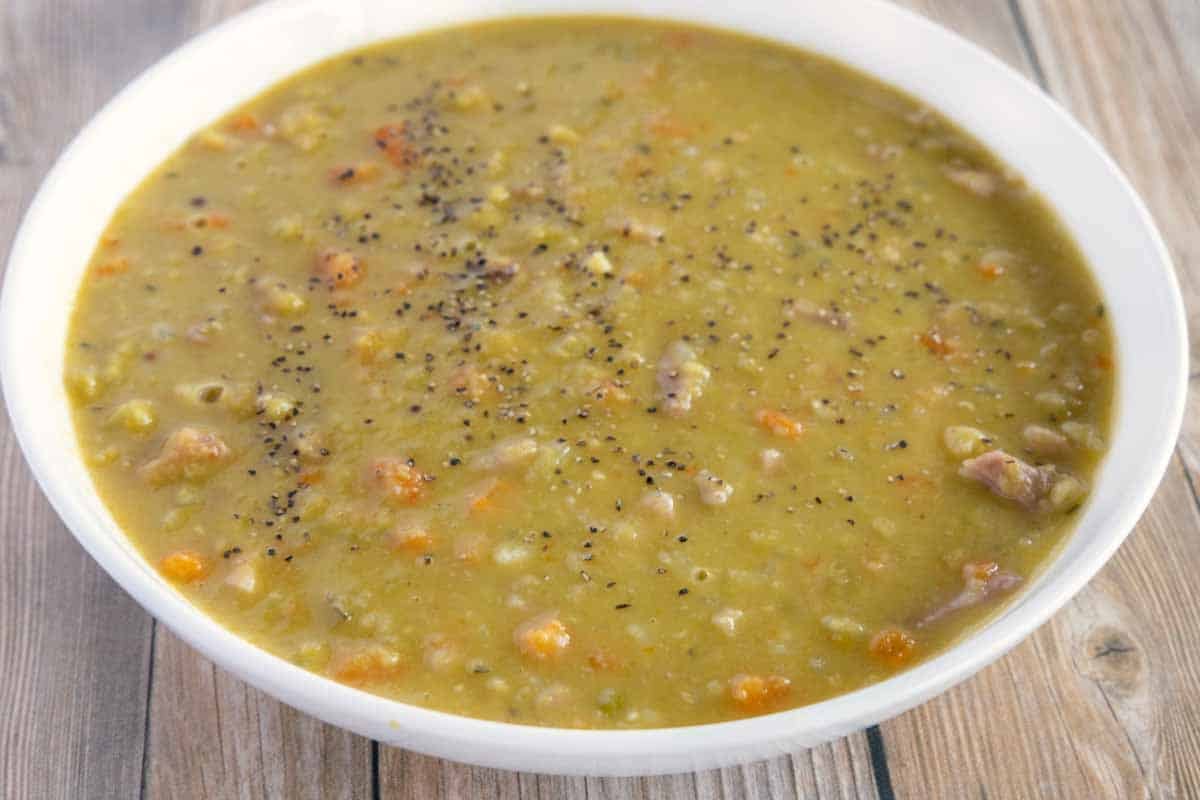 Homemade split pea soup made with tender green split peas is a classic that your family will love. It's high in protein, low in fat, and packed with fiber. Split peas are also a good source of Vitamins A, B, and magnesium, making it as healthy as it is delicious.
I you love hearty soups that stick to your ribs, you're going to love my Hearty Beef Barley Soup.
Ingredients to make Split Pea Soup with Ham
Let's start by gathering the ingredients we need to make Split Pea Soup with Ham. In Chef Speak, this is called the "Mise en Place," which translates to "Everything in its Place."
Not only does setting up your ingredients ahead of time speed up the cooking process, it also helps ensure you have everything you need to make the dish.
This soup is a great way to use up a leftover ham bone, but you don't have to use a bone to make the soup. Using a ham bone will add a lot of flavor to the split pea soup, but if you don't have a leftover bone, alternatively, you could use ham hocks or ham shank to flavor the soup.
If you don't want to use either in your soup, it's not a deal breaker. You can still make a delicious soup without the bone, you will just need to add additional seasonings to help build the flavor.
*For a vegetarian split pea soup, use olive oil instead of butter, leave out the meat and bone, and use vegetable stock.
Made with Simple Ingredients
ham bone
ham steak
dried split peas (or yellow split peas)
onion
carrot
celery
unsalted butter
chicken broth (ham broth or vegetable broth)
black pepper and salt
fresh thyme leave
bay leaves
garlic cloves
What are split peas?
Split peas are made from fresh field peas. They're dried, peeled, and split in half for cooking, hence the name split peas. You can find split peas in both green and yellow varieties. Green split peas, like their fresh counterpart, are sweeter in flavor, while yellow split peas have a milder flavor, making them perfect for spicy dishes like curries.
How to make Split Pea Soup with Ham Bone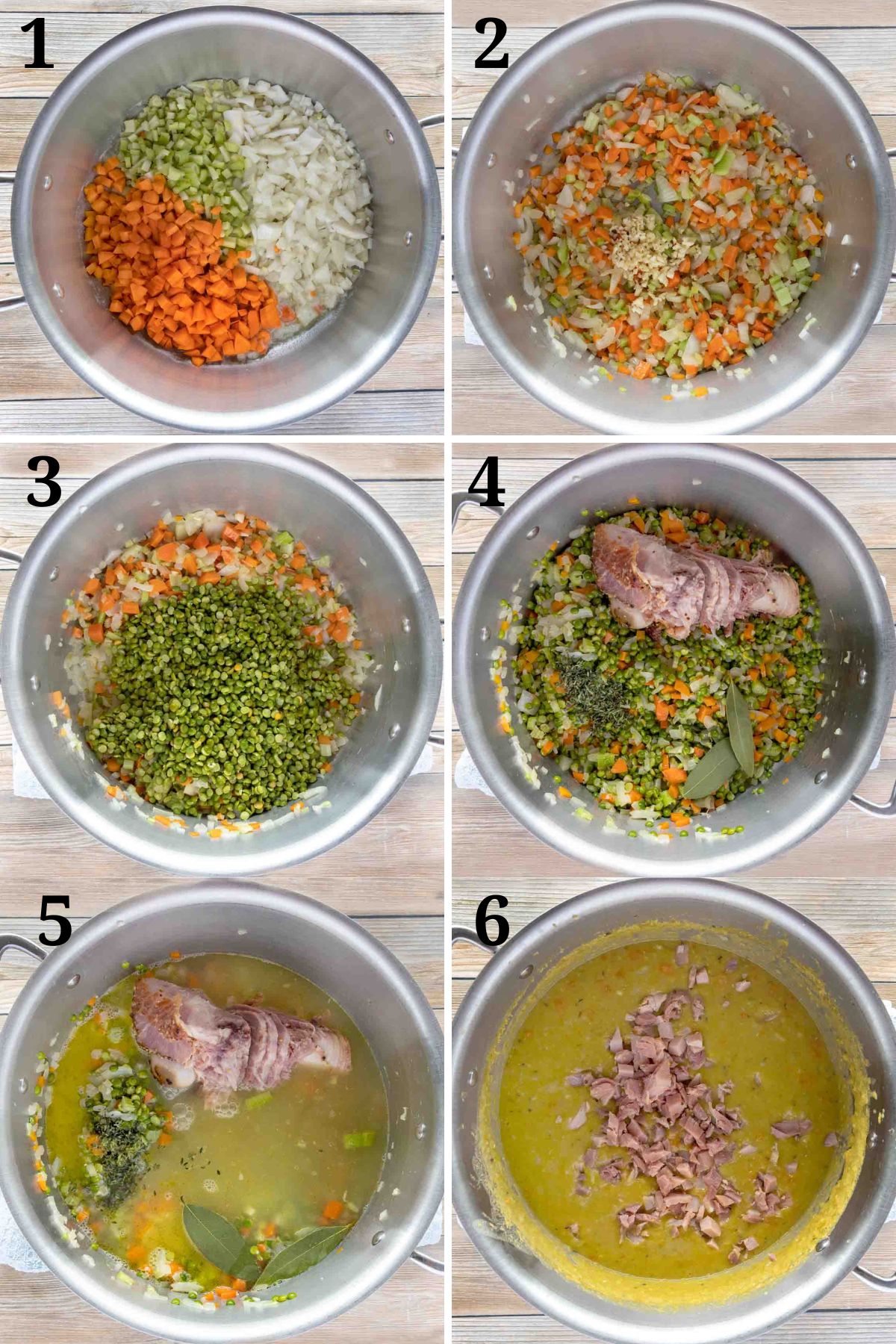 Melt butter in a large Dutch oven or large pot over medium heat. Then add the chopped onion, carrot, and celery to the pot. Cook until vegetables are softened, 4-5 minutes.
Add the chopped garlic to the pot and continue to cook for 1 minute.
Add the green split peas and continue to cook for 1 minute.
Add the ham bone, bay leaf, and fresh thyme to the pot.
Add the chicken stock and water to the pot. Stir to mix the ingredients and increase the heat to medium-high and bring the mixture to a boil. Reduce the heat to simmer and cook uncovered for 60-90 minutes, stirring as needed, until the split peas are cooked, and the soup is thickened to the desired consistency. (cooking times may vary)
Add the diced ham and let the soup cook for ten more minutes. *Add a little water if the soup gets too thick.
When the soup is at the desired consistency and ready to serve, remove the ham bone and bay leaf and discard. Season to taste with salt and black pepper.
*If you prefer a creamy pea soup, use an immersion blender to puree the soup before you add the ham.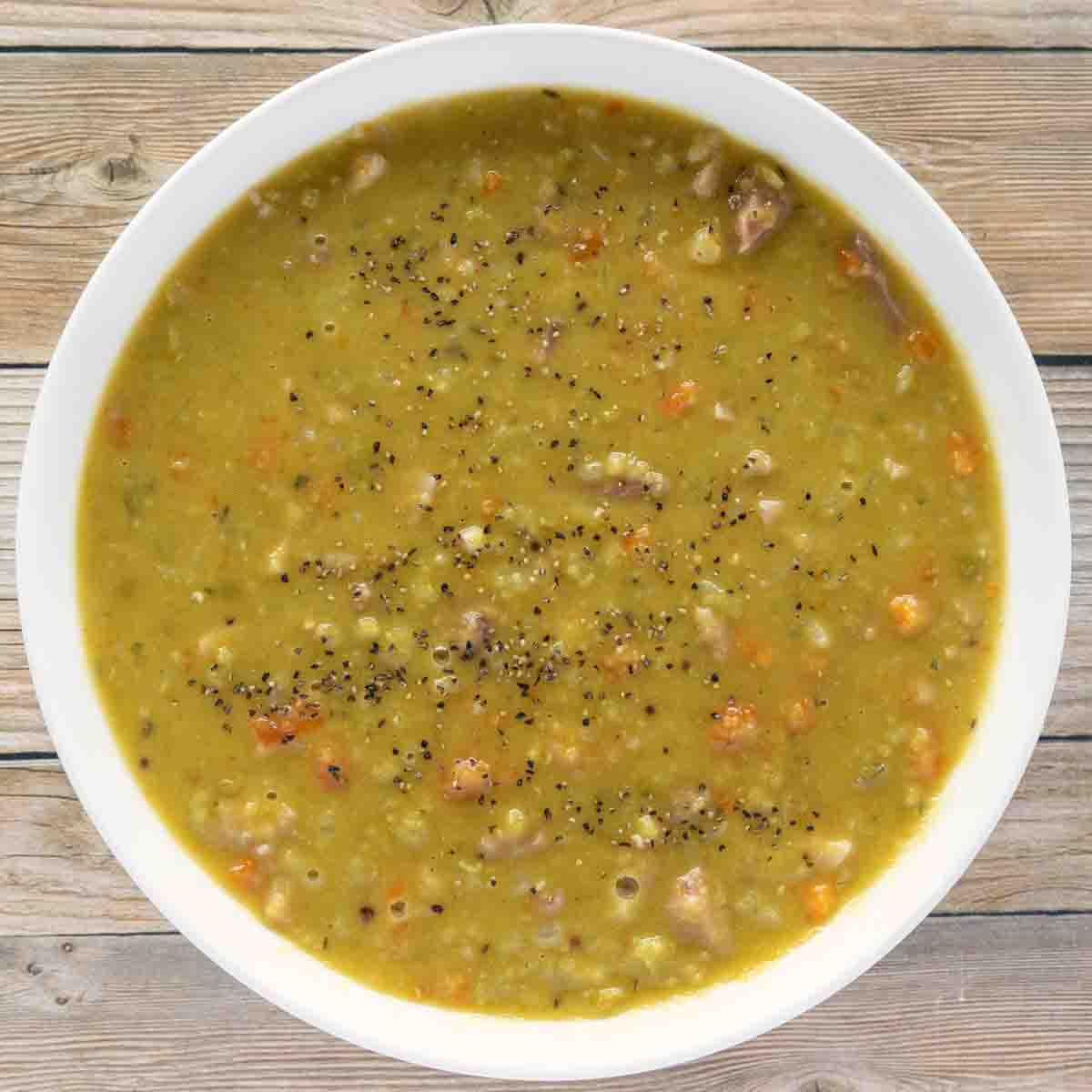 Serve the soup with additional black pepper and crusty French bread. You can also add homemade croutons to the soup instead of serving bread with it.
This soup turned out better than I could have imagined. The ham bone really added a lot of flavor to the soup. My Split Pea Soup is perfect for lunch, a light dinner, or a starter at your next get-together.
I know after one bite, you'll agree it's the best split pea soup you ever tasted! And trust me when I tell you the soup will be even better the next day.
Make a double batch and freeze the soup in airtight containers for up to 3 months. Refrigerated, well covered, it will last for 4-5 days.
*This soup can be made in a pressure cooker, instant pot or slow cooker.
Recipe FAQ's
Can I save the ham bone and use it again?
Although you may be tempted to save the ham bone for another soup, I would advise against it. The majority of the flavor you get from the bone will be used up when you make the soup, and it's not worth trying to use it again. Make a double batch of soup with the bone if you want to make additional soup.
How long can I save a ham bone?
A ham bone can be kept in the refrigerator for up to 5 days. Alternatively, you can keep it frozen, well sealed for up to 2 months.
How do I add flavor to bland split pea soup?
Using onions, garlic, and fresh spices like thyme will add flavor to the soup. The real trick to making a bland pea soup extra tasty is using a bone or ham hock in the soup during the cooking process. Chicken broth will also add flavor to the soup.
More Soup Recipes You'll Love!