This post includes affiliate links. As an Amazon Associate I earn from qualifying purchases.
One of the great joys in life is a delicious, rich bowl of Tomato Bisque. Now I'm not talking about the canned variety of tomato soup that we all grew up on. I'm talking about a restaurant-style bisque that will have you moaning with every spoonful.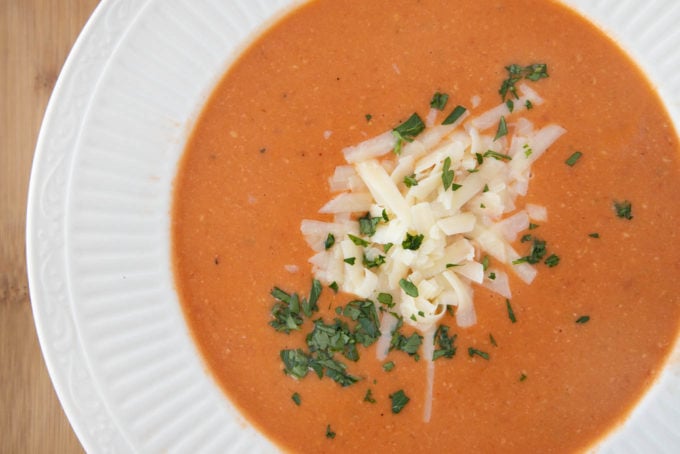 I do have to warn you, that once your friends and family taste this bisque there's no turning back to the canned variety of tomato soup. But the good news is, my Tomato Bisque is easy to make and freezes well, so you can make up a big batch!
What do I need to Make Tomato Bisque?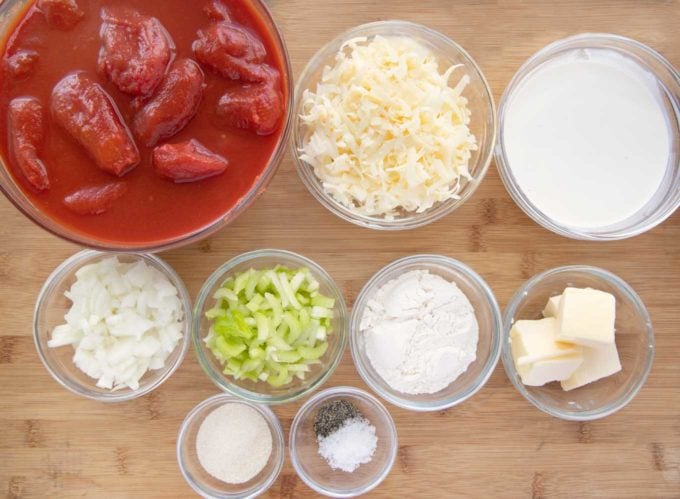 Let's start by gathering the ingredients we need to make our Tomato Bisque. In chef speak we call that the Mise en Place, or everything in its place.
This is a good practice to get into whenever you cook. Not only does it speed up the process but it ensures you have everything you need to make the dish.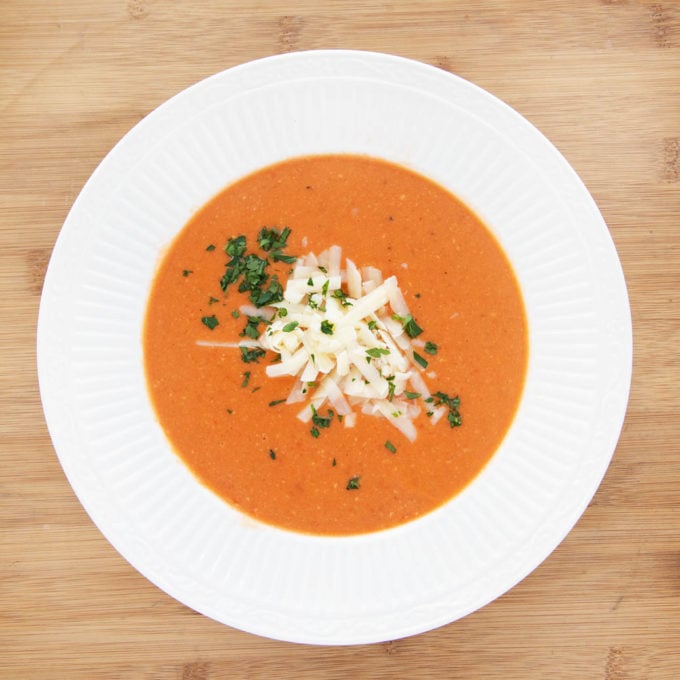 Soups are really easy to make with almost no rules or essential ingredients. In the old days, soups were made out of scraps and foods we wanted to make of use of before they went bad. I think this is were the true kitchen artisans showed their skills making nothing into something delicious.
The problem we run into these days is making something out of what's on hand is having everyone loving it so much that they want you to make it again. That my friends is why we have recipes.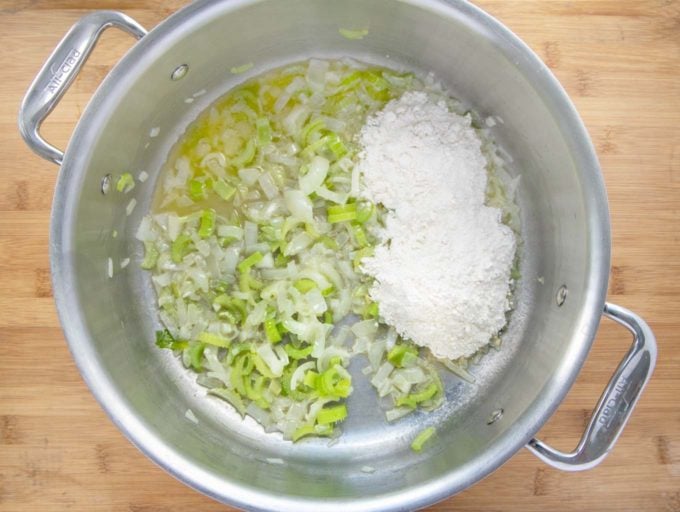 The first step in creating my Tomato Bisque is how I start most cream soups. I start with butter, chopped onions and celery (and sometimes carrots or peppers). After sauteing the onions and celery for about 5 minutes, I then add the flour to make a roux.
I use my favorite 6 qt. Copper Core 5-ply All-Clad pot for this soup. It's classified as a roaster and is a great pan for use in your kitchen!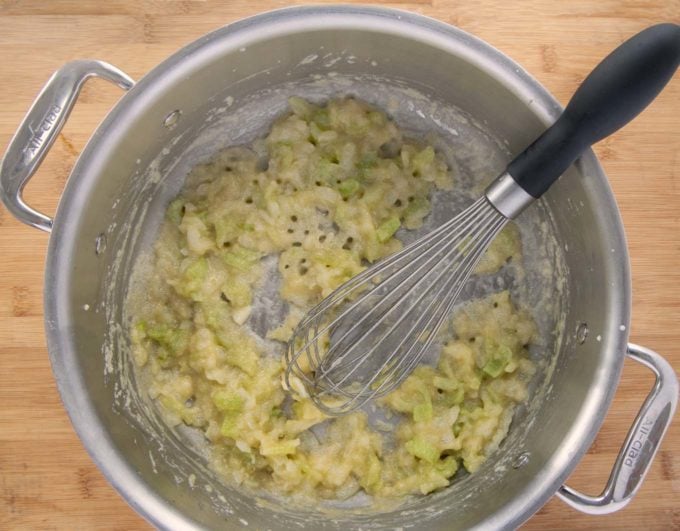 A roux (pronounced ROO) is an important part of many soups and sauces. In this soup, the roux is used as a thickener and a way to make the soup smooth and velvety. A roux helps with consistency and texture and can turn a lackluster dish into a culinary masterpiece.
This is my recommended wire whisk if you need one for your kitchen.
What is a Roux?
There are three basic types of roux: white, blonde and brown. They all contain the same ingredients, equal parts flour and butter. The difference in color (and flavor) depends on how long you cook the mixture.
White roux is the most common and it has the most thickening power. This is the basic ingredient in a bechamel sauce and cream soups. You only need to cook the roux long enough to eliminate the flour's raw flavor, about 5 minutes.
Blonde roux is caramel colored and will have a nuttier flavor. It is cooked for about 10 minutes. This is the type of roux you would use to make a velouté and is also used in making soups. This is my favorite type of roux. **One way to know you've cooked it long enough is the roux will start to smell a little like bread as the flour cooks.
Brown roux is the darkest. This roux can be cooked for as long as 30 minutes. The trick to making this roux successfully is to stir it constantly to keep it from burning. This type of roux will sometimes use vegetable oil instead of butter because it has a higher smoke point. What you'll end up with is a maple-colored roux that won't thicken dishes as well as the other two types, but it is has a more pronounced flavor. This is the type of roux used in Cajun dishes.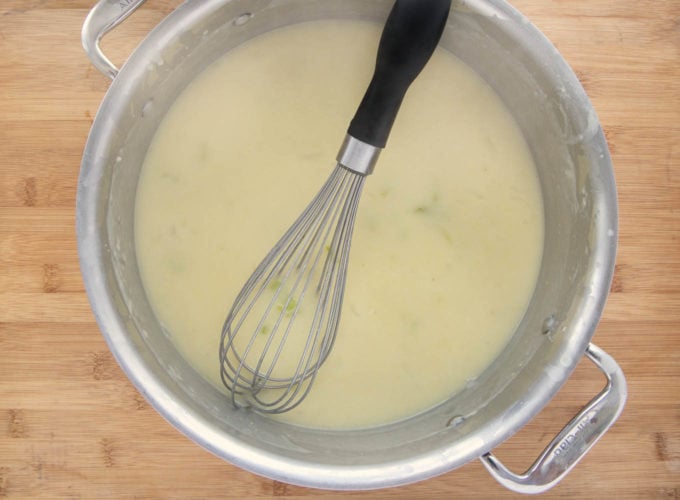 Adding hot stock to the roux creates a Veloute. This alone could be called a poor man's cream soup. The addition of cream or milk adds body to the soup making a hybrid type of bechamel sauce which is how I like to make my cream soups.
There is actually very little cream or milk in most of my creamed soups. The cream changes the texture, color and mouthfeel. But using too much can detract from the overall flavor and mouthfeel, so don't overdo the cream!
After the stock has been fully incorporated into the roux you can add the other ingredients to the veloute.
Chef Dennis Tip:
Use a rubber spatula to make sure you get in all the corners of the pot to release any roux that may be stuck in the pan.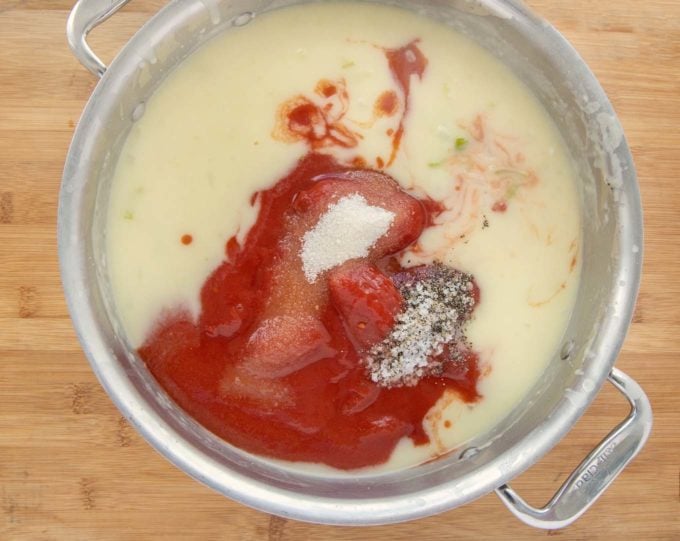 Once the veloute is ready, add in the tomatoes and seasonings. Mix well and simmer for about 30 minutes.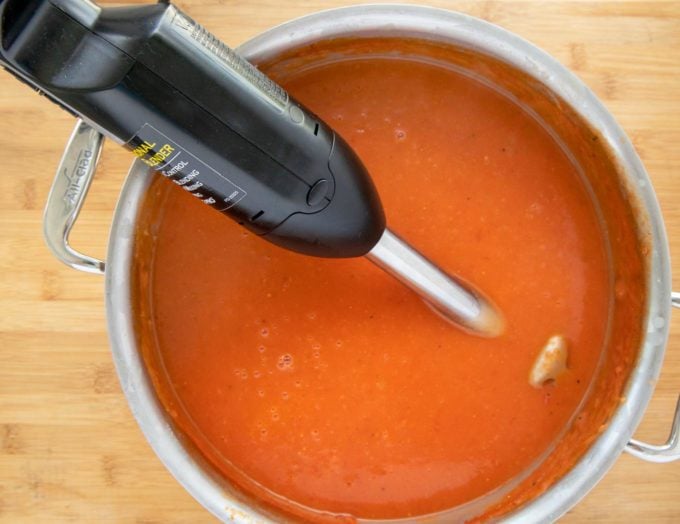 Using an immersion blender or a traditional blender puree the soup until smooth.
I absolutely love my Waring Professional Immersion Blender. I have had two less powerful household units that both burned out. This professional immersion blender has been going strong for 5 years already and shows no signs of slowing up.
When you take into account how much I spent on the two that broke down this immersion blender is not really that expensive, and its a kitchen tool you'll come to depend on.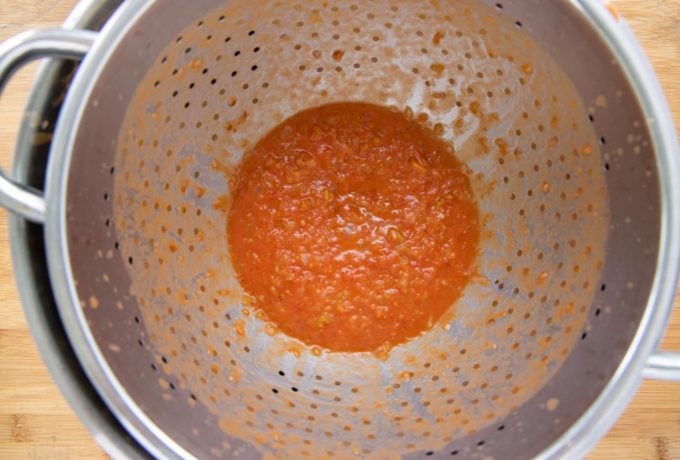 The nest step is straining the bits and pieces of celery, onions and tomato out of the soup so its smooth and creamy. There really wasn't much left after the immersion blender did its thing.
Do I have to strain Tomato Bisque?
No, you don't. If you don't a few chunks it's perfectly acceptable not to strain the bisque.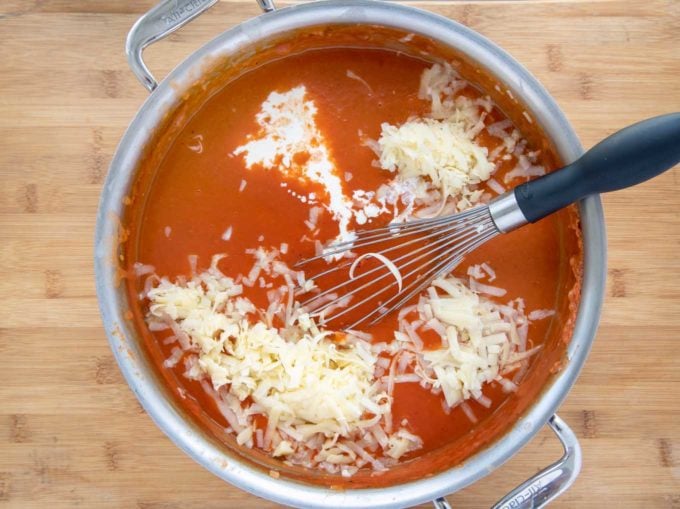 The last step in creating this ah-mazingly delicious Tomato Bisque is adding the cream and the cheese.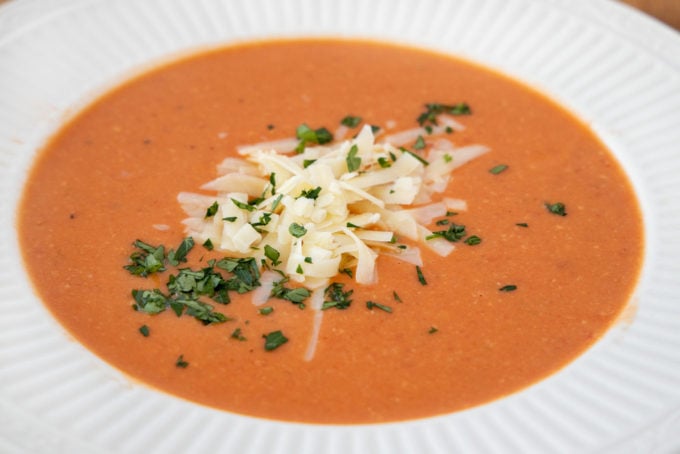 What you end up with is an incredibly flavorful Tomato Bisque. It's rich flavor and velvety smooth texture will make a tomato soup lover out of anyone. And trust me you'll never reach for that red and white can again!
If you love soups you may also like these recipes: