One of the great joys in life is a bowl of delicious Tomato Bisque packed with a rich tomato flavor. Now I'm not talking about the canned variety of tomato soup that we all grew up on. I'm talking about a silky-smooth, creamy tomato soup that will have you moaning with every spoonful.
And the good news is you can have this on your family's dinner table in an hour.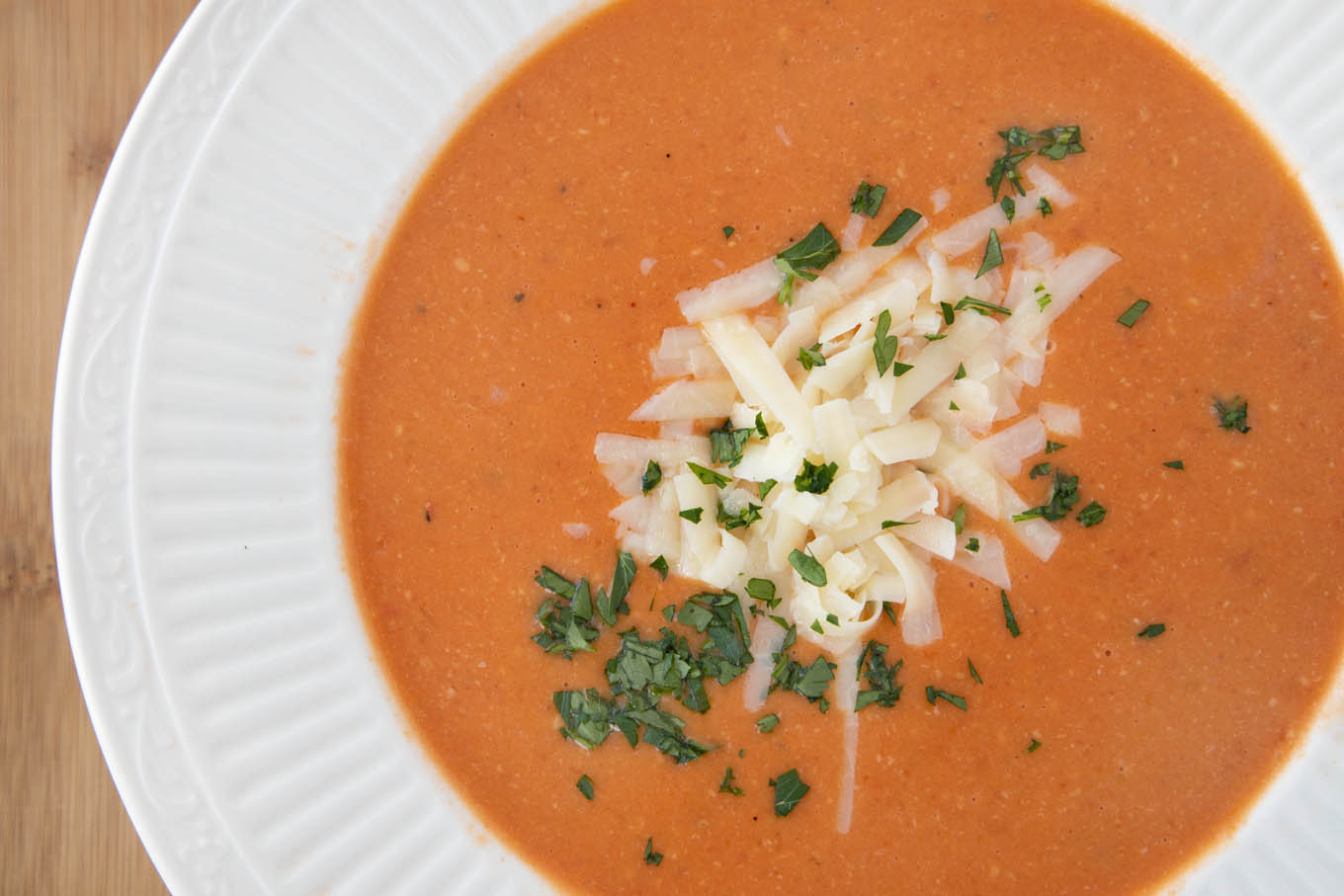 I do have to warn you, that once your friends and family taste this bisque there's no turning back to the canned variety of tomato soup. But the good news is, my Tomato Bisque is easy to make and freezes well so make up a big batch and freeze some for later! This is definitely one of my favorite soups.
Make a few grilled cheese sandwiches to go along with the bisque and you'll have the perfect comfort food.
Ingredients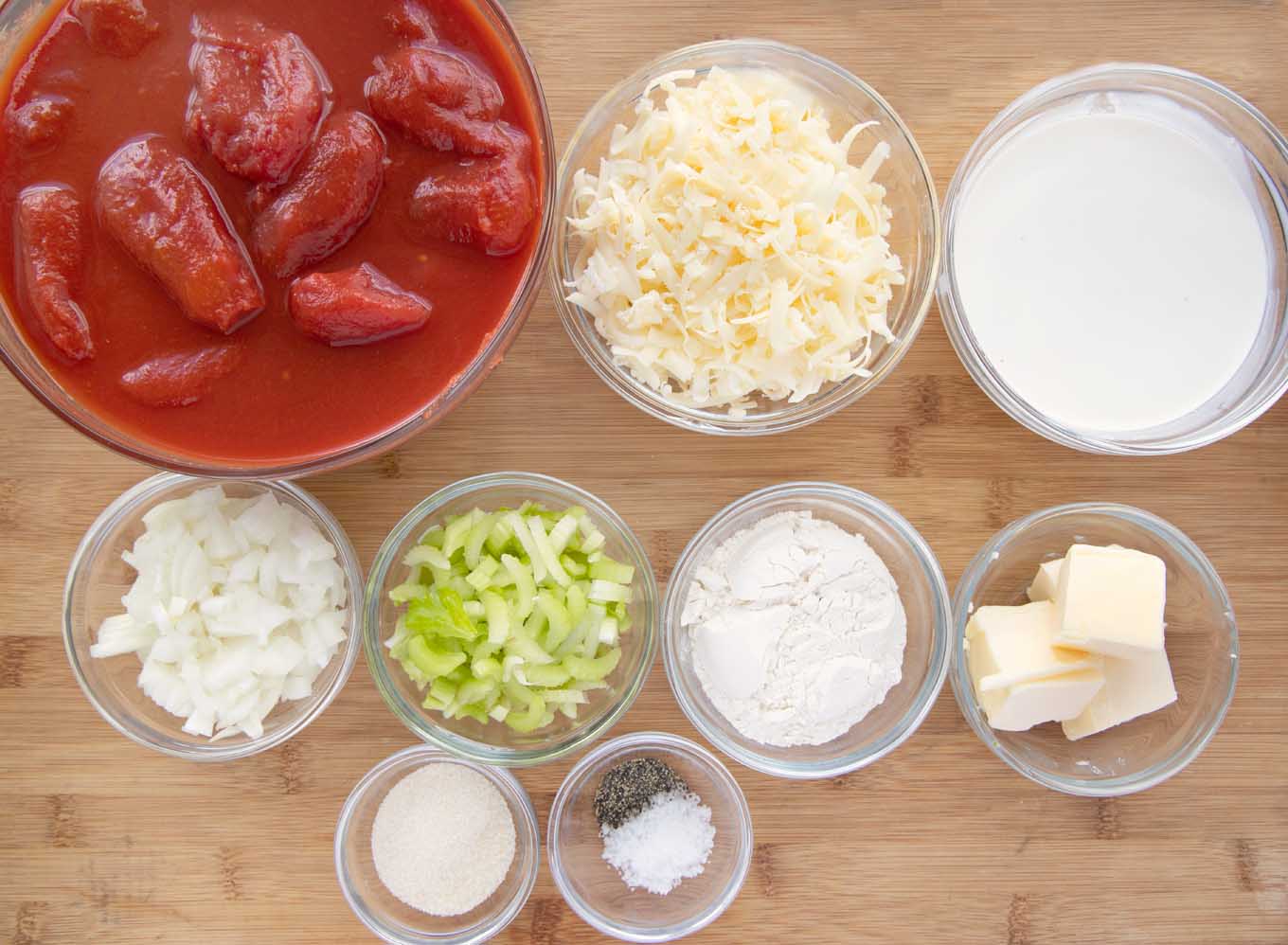 Let's start by gathering the ingredients we need to make our Tomato Bisque. In chef speak we call that the Mise en Place, or everything in its place.
This is a good practice to get into whenever you cook. Not only does it speed up the process but it ensures you have everything you need to make the dish.
It's a short list of ingredients. Canned tomatoes ( I use San Marzano), vegetable broth or chicken broth, cheddar cheese, cream, chopped onions, chopped celery, flour, butter, salt, black pepper and sugar (optional).
You can also add a little grated romano or parmesan cheese to the soup.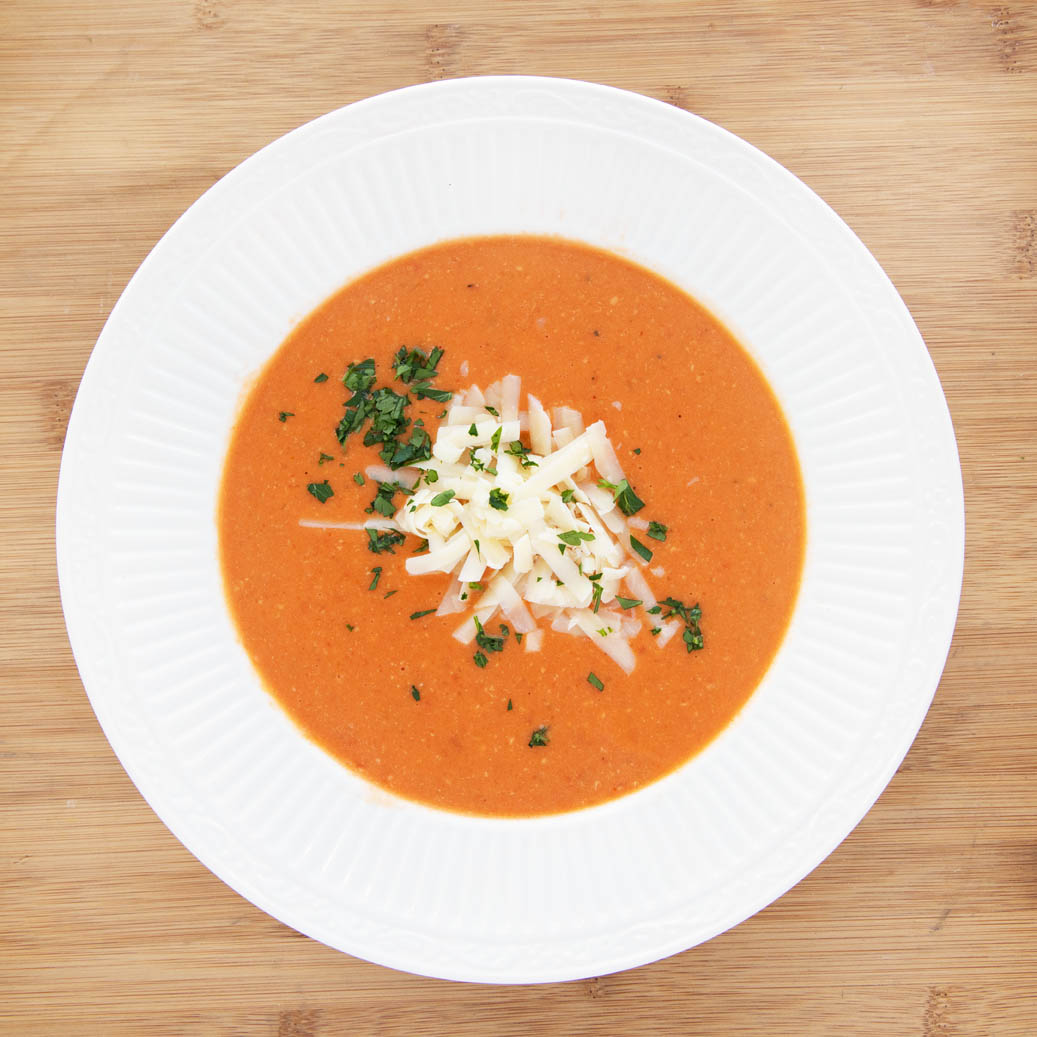 Soups are really easy to make with almost no rules or essential ingredients. In the old days, soups were made out of scraps and foods we wanted to make of use of before they went bad. I think this is where the true kitchen artisans showed their skills making nothing into something delicious.
The problem we run into these days is making something out of what's on hand is having everyone love it so much that they want you to make it again. That my friends is why we have recipes.
How do I make tomato bisque?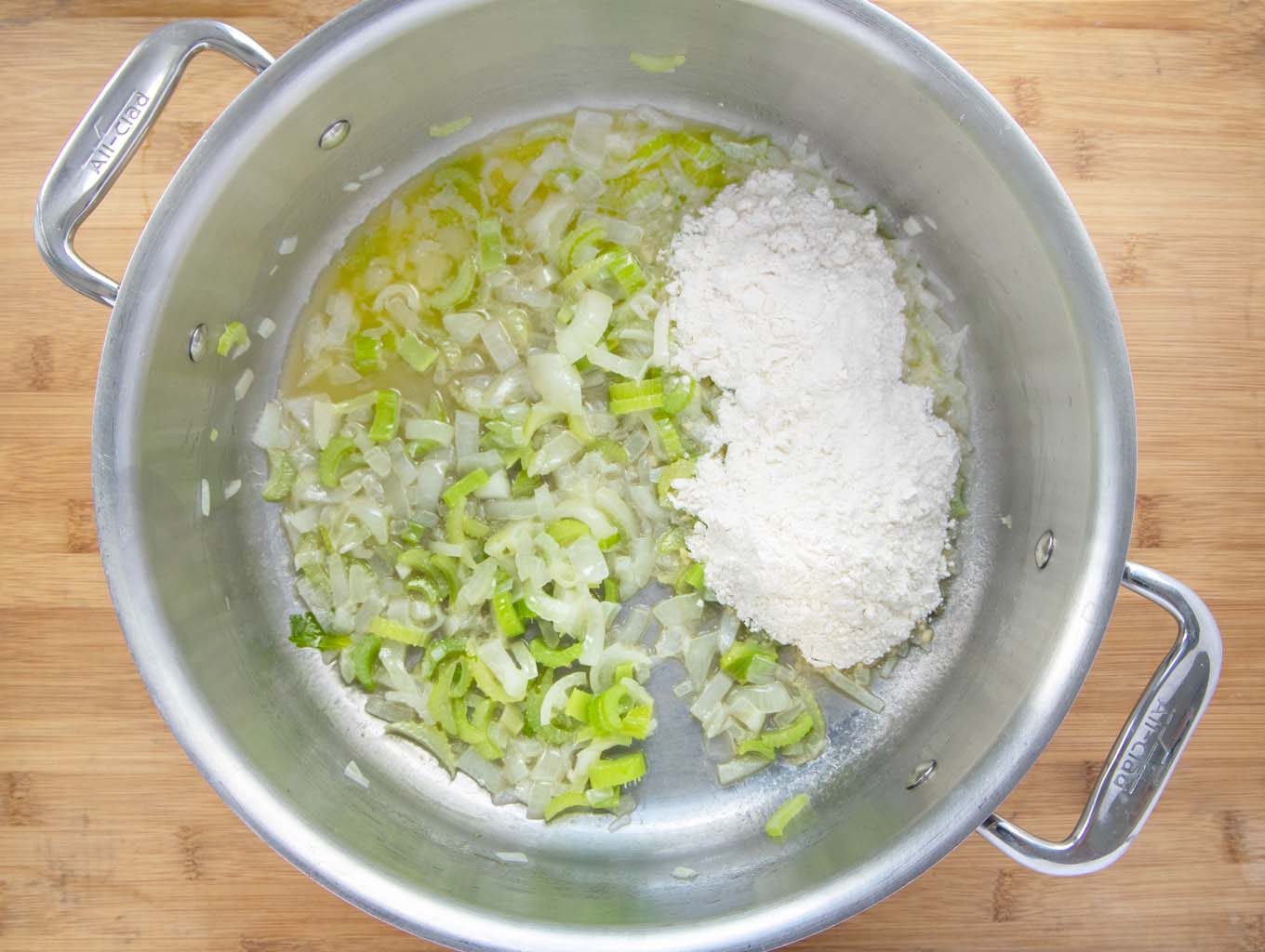 The first step in creating my Tomato Bisque is how I start most cream soups.
Add the butter to a large pot.
As the butter melts, add the chopped onions and celery.
After sauteing the onions and celery for about 5 minutes, add the flour to make a roux. *You can use olive oil to make the roux, but the soup won't be as rich.
Chef's Choice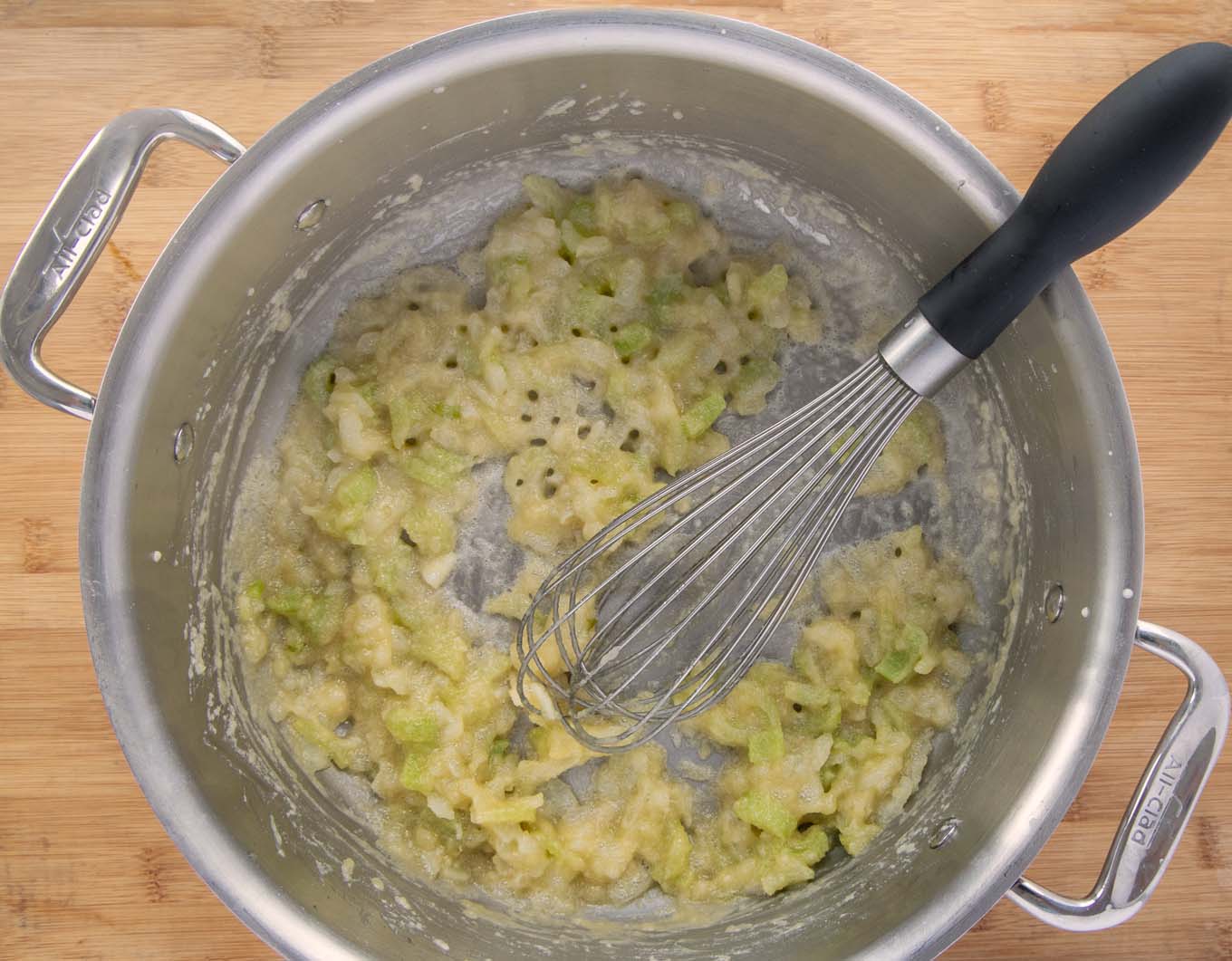 A roux (pronounced ROO) is an important part of many soups and sauces. In this soup, the roux is used as a thickener and a way to make the soup smooth and velvety. A roux helps with consistency and texture and can turn a lackluster dish into a culinary masterpiece.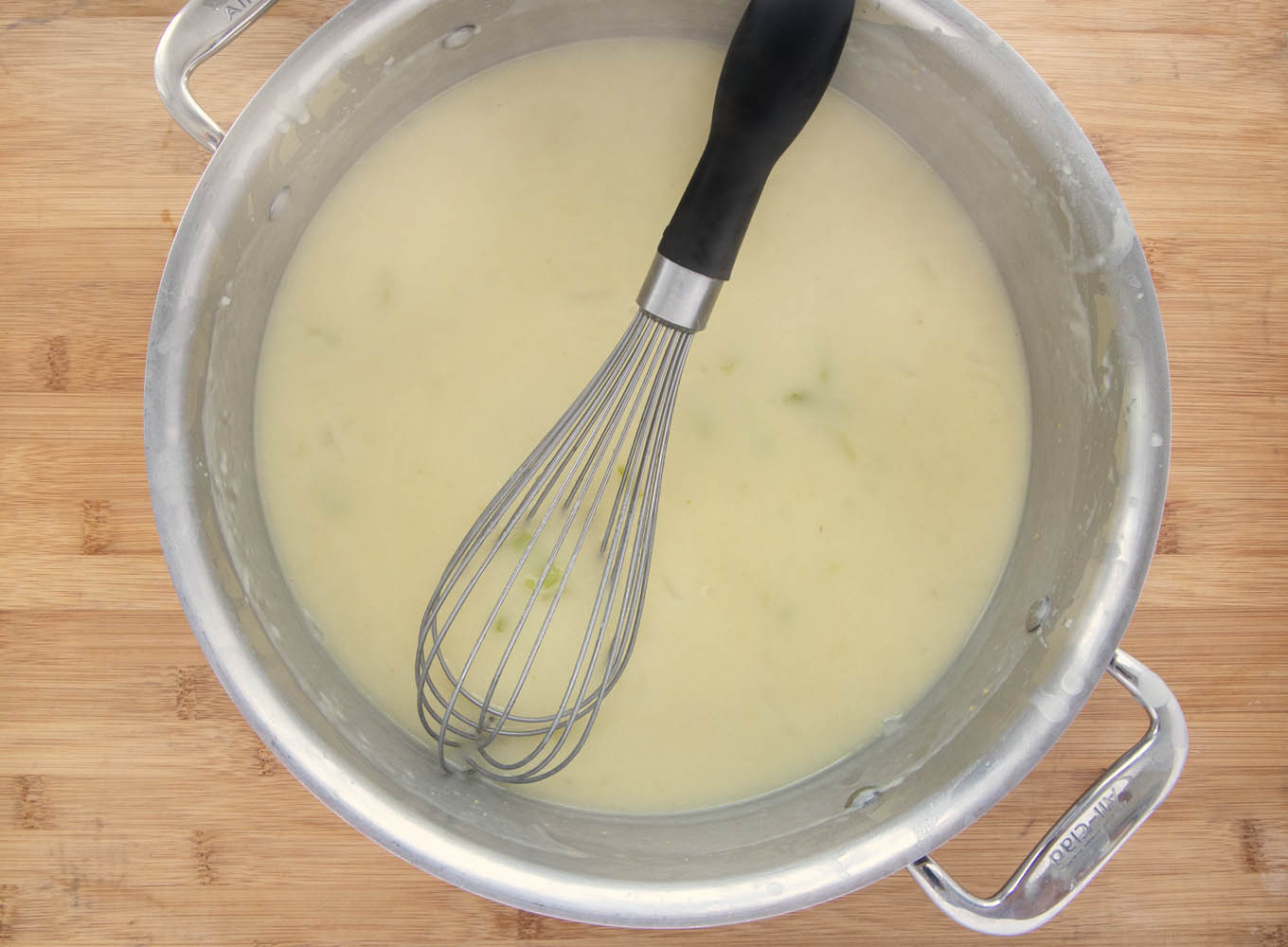 Adding hot stock to the roux creates a Veloute. This alone could be called a poor man's cream soup. The addition of cream or milk adds body to the soup, making a hybrid type of bechamel sauce, which is how I like to make my cream soups.
There is actually very little cream or milk in most of my creamed soups. The cream changes the texture, color, and mouthfeel. But using too much can detract from the overall flavor and mouthfeel, so don't overdo the heavy whipping cream!
After the stock has been fully incorporated into the roux, you can add the other ingredients to the veloute.
Chef Dennis Tip:
Use a rubber spatula to make sure you get in all the corners of the pot to release any roux that may be stuck in the pan.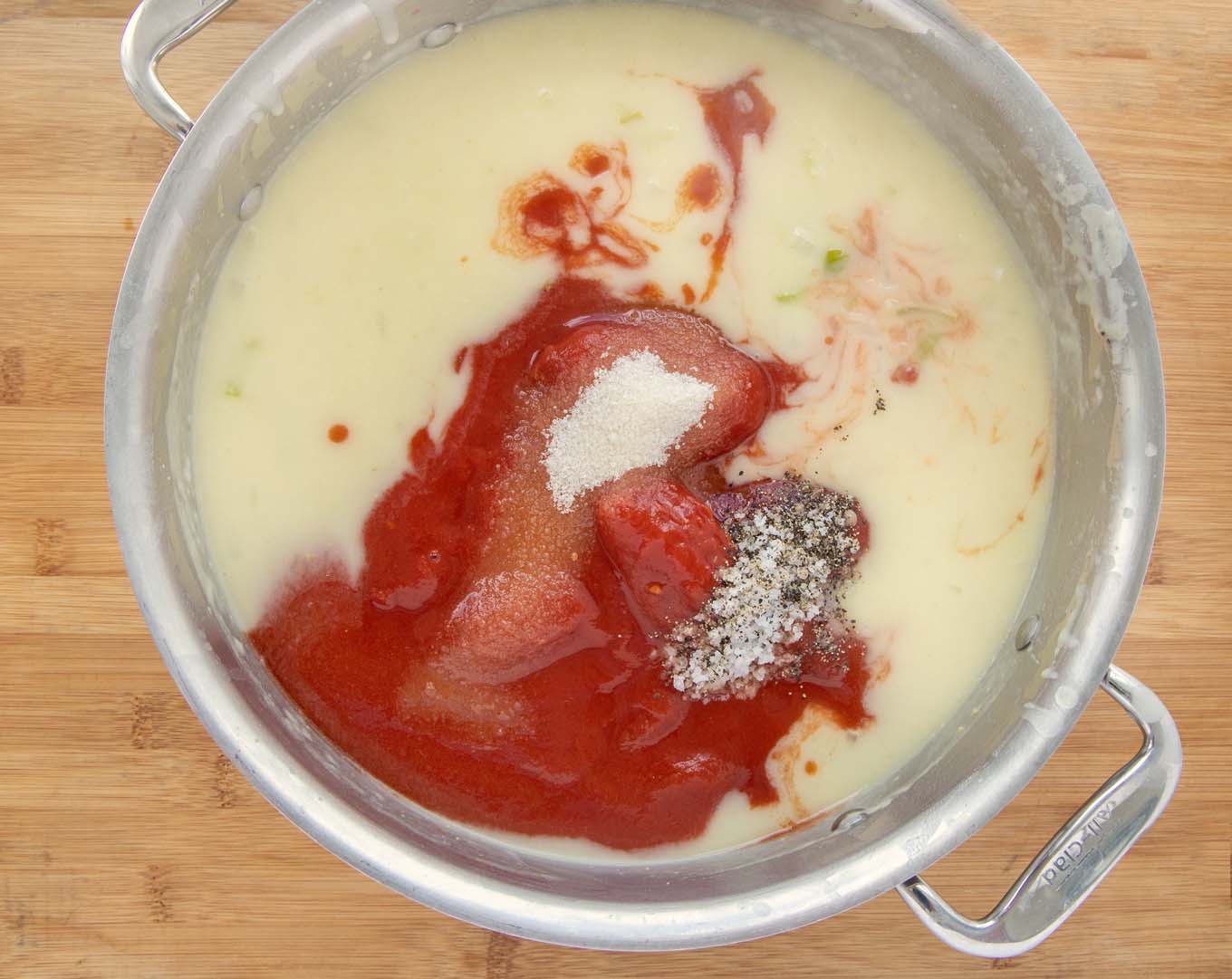 Once the veloute is ready, add in the tomatoes and seasonings. Mix well and simmer for about 30 minutes.
You can use fresh tomatoes to make this delicious creamy tomato soup, but I would suggest just using San Marzano tomatoes and skip the extra work.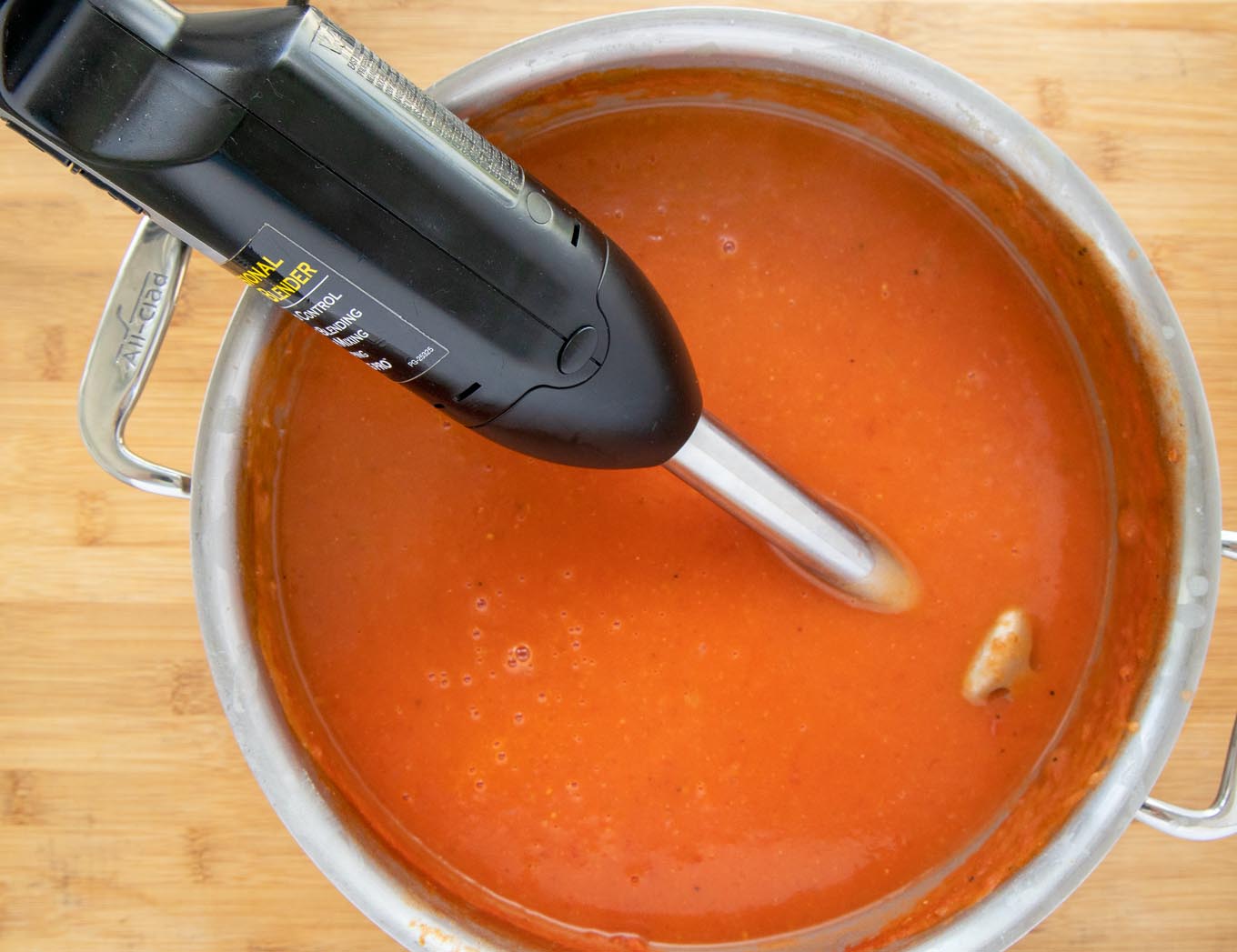 Use an immersion blender or a traditional blender to puree the soup until smooth. It's an easy way to make smooth, creamy soups.
Chef's Choice
Chef's Choice
You can also use a traditional blender or food processor to puree the soup.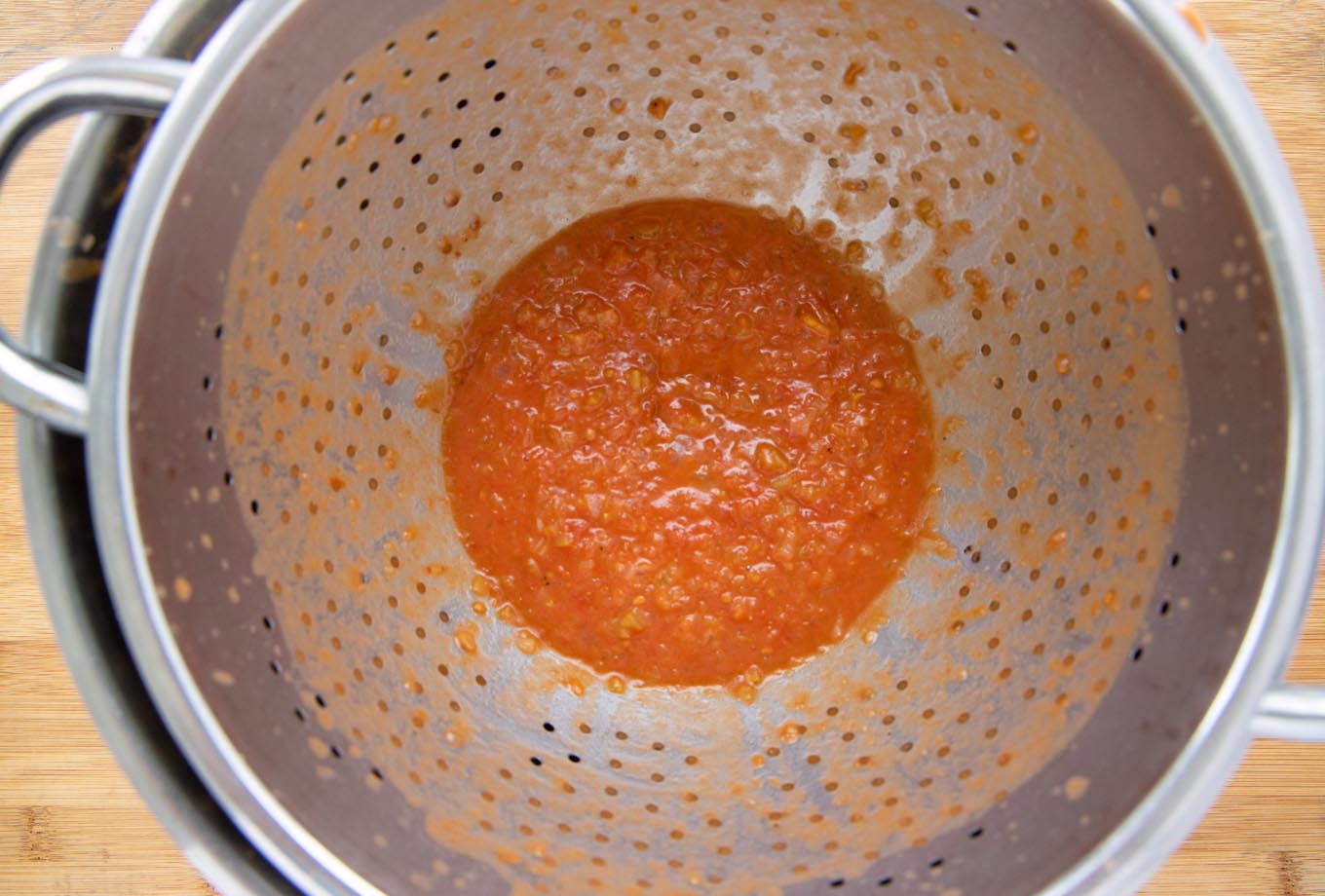 The next step is straining the bits and pieces of celery, onions and tomato out of the soup so it's smooth and creamy. There really wasn't much left after the immersion blender did its thing.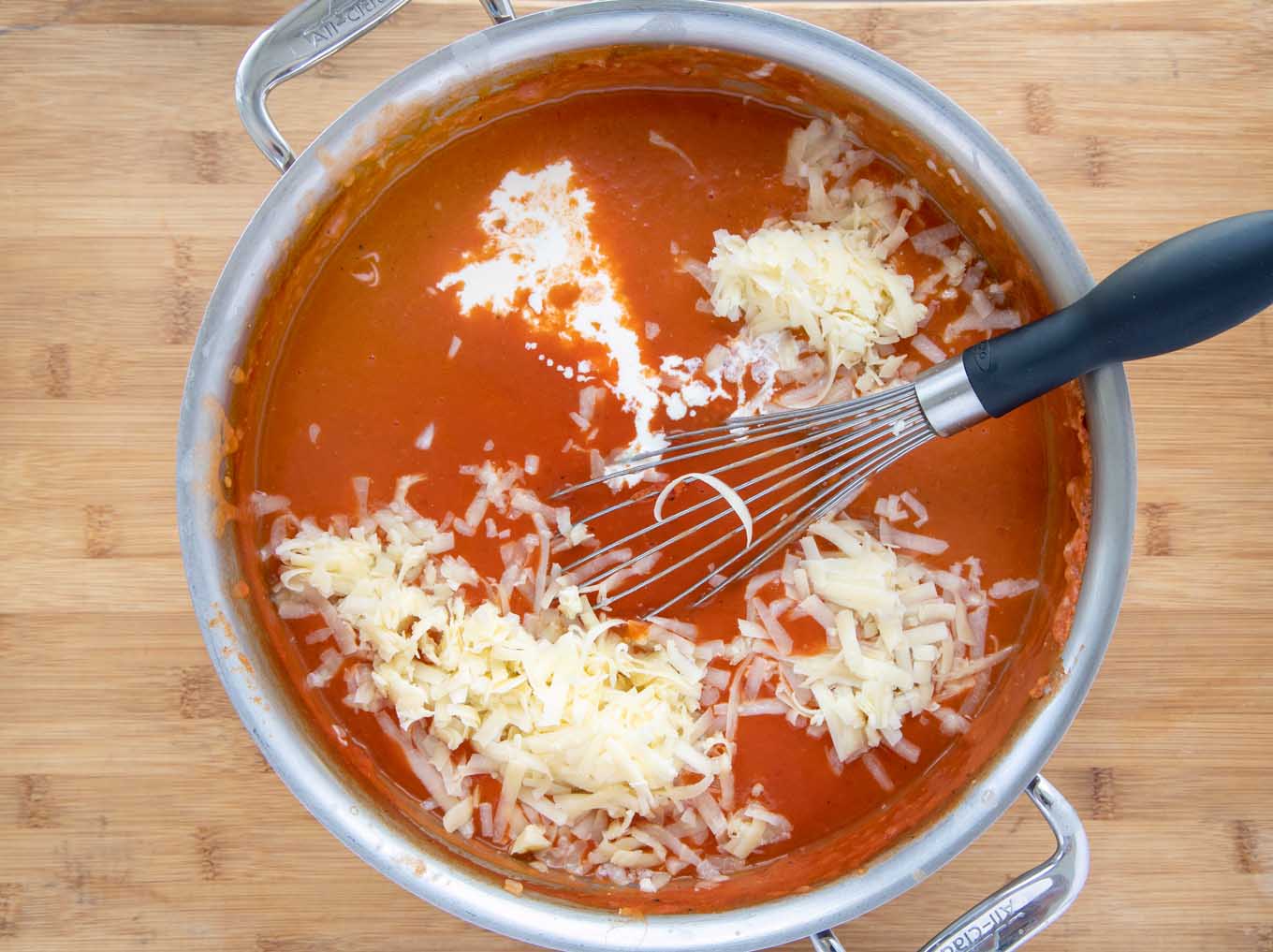 The last step in creating this ah-mazingly delicious Tomato Bisque is adding the cream and the cheese.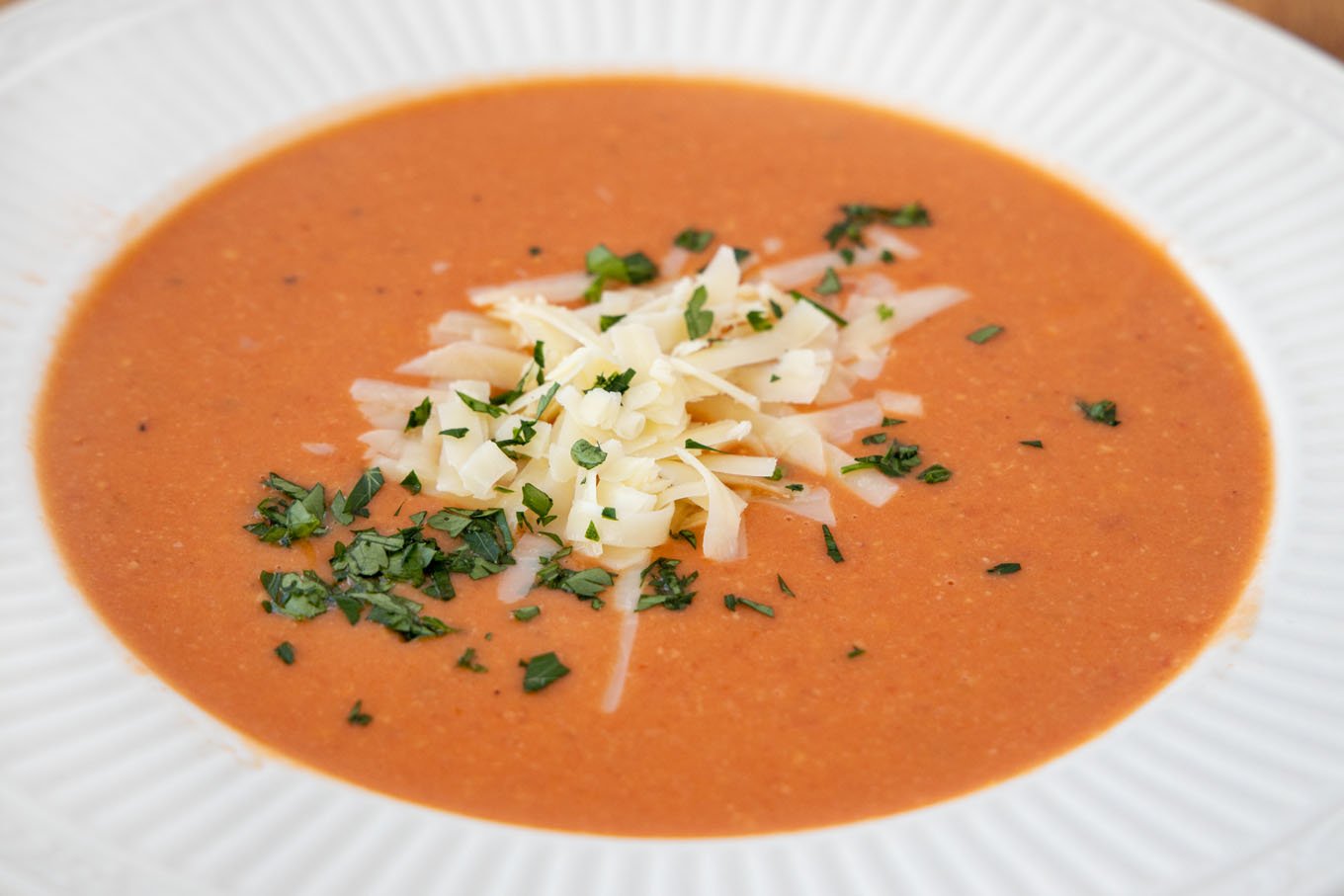 What you end up with is an incredibly flavorful Tomato Bisque. Its rich flavor and velvety smooth texture will make a tomato soup lover out of anyone and will soon become a family favorite. You'll never reach for that red and white can again!
I like to garnish my tomato bisque with shredded cheddar and chopped fresh basil.
Recipe FAQ's
Do I have to strain Tomato Bisque?
No, you don't. If you don't mind a few chunks in the soup it's perfectly acceptable not to strain the bisque.
Do I have to add cheese to Tomato Bisque?
No, you don't. I like the way it mellows out the tomato flavor and the added cheese flavor is always a good thing.
What is the difference between tomato soup and Tomato Bisque?
Tomato soup is usually made with either vegetable or chicken stock. Tomato bisque is made by adding cream or whole milk. The dairy is what makes it thicker and creamier, which gives it the defining traits of a bisque.
What can I add to the finished Tomato Bisque?
Croutons, fresh herbs, dried basil, toasted nuts, sour cream, poached egg, or additional shredded cheese can be used to enhance the flavor of the bisque.
More recipes you'll love!