At the beginning of this year I received an invitation to participate in a Recipe Swap of sorts from Chistianna of  Burwell General Store  .  During her travels Christianna had found an old time hymnal and cookbook ( All-Day Singin' and Dinner on the Ground by Albert E. Brumley) and thought it would be fun to take the older recipes and update them giving them our own twist.  The rules of the swap are pretty simple, change 3 things about the original recipe while staying true to the basic premise of the recipe while adding your own twist to the recipe.   This months Selection for the recipe swap was "Wild Rabbit with Vegetables"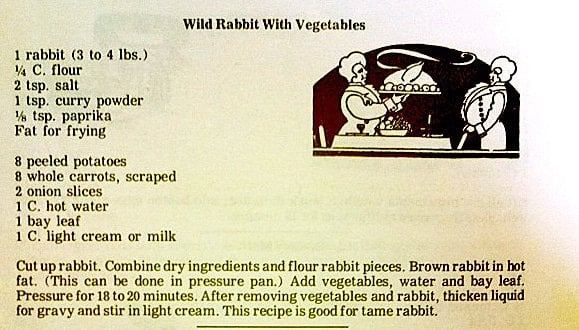 Now I have to tell you, the thought of eating a little fluffy bunny is not high on my list, I do understand they're considered good eatin' in certain parts of the world, but I'm afraid rabbit has not made it's way in to my repertoire.
As I looked over the recipe, it really didn't look much different than any stew I could make, and chicken would have been the easiest substitution for the little fluffy bunny….sigh.    But, I had Shrimp and jumbo lump crab meat on hand and rather than make a trip to the store, I decided to make my entry in this months swap a Seafood stew.   I did have some fish pieces in the freezer but they looked a little worse for the wear and instead of ingredients in the stew, found there way into the stock pot with all the shrimp shells I had been saving.   This would have made a wonderful  fisherman's stew with chunks of fish and even a few clams, but without the fish I decided to make version into a chowder,  it was without a doubt a good decision, and will be making many more appearances at our table.  Feel free to recreate this dish with with what ever seafood you have on hand or is available in your area.  Anyway you make it, I'm sure it will be a hit at your table!
Ingredients
1 medium onion medium dice
3-4 carrots, rough cut medium
6 celery stalks rough cut medium
2 medium potatoes rough cut medium
1 lb. shrimp peeled, deveined, and chopped
½ lb. crab meat ( I used jumbo lump)
½ lb. (2 sticks) unsalted butter
1 Cup all purpose flour
2 quarts Fish stock
1 cup heavy cream
old bay to taste
black pepper to taste
Instructions
start a seafood stock with any fish pieces, or scrap, shrimp shells or fish bones you may have on hand. ( you may use clam juice instead)
add the butter to a 4 quart sauce pan with all of the rough cut vegetables and allow to cook until they begin to soften.
Add the flour to the vegetables and mix well, to make a roux, allow this to cook for at least 5 minutes to get rid of the raw flour taste.
add the heated stock to the roux mixture and blend well.
add in the heavy cream and season.
add the chopped shrimp pieces and allow to cook in the chowder.
allow chowder to simmer for 20-30 minutes.
Before serving add in your crab meat.
Notes
*if using fish pieces add them in raw and allow them to cook in the chowder, they will remain more intact this way and impart flavor to the chowder.
We did have a wonderful meal with this chowder serve it up with some nice crusty bread or garlic bread and you'll be in heaven!  It does freeze well, you may just have to thin it out a bit more when you reheat the chowder.
Don't forget to head on over to  Burwell General Store for a full listing of all the participants in our vintage recipe swap, you'll see a lot of different takes on this months vintage recipe!
Thanks so much for stopping by, for all of my friends celebrating Labor day, I hope you have enjoyed  a relaxing and safe holiday, and for my friends in the rest of the world, I hope your last official weekend of summer was a joyous one!   This summer went much to fast for me, but that's the way it goes sometimes.   This time next week I will have finished my first week back at school, starting my 7th year at the Mount, and my third year of culinary classes, as my Culinary Journey continues!
Cheers
Dennis