Making delicious soups like my creamy New England Fish Chowder isn't difficult. It's all about the ingredients and a few simple techniques. And of course, using my fish chowder recipe will make it even easier.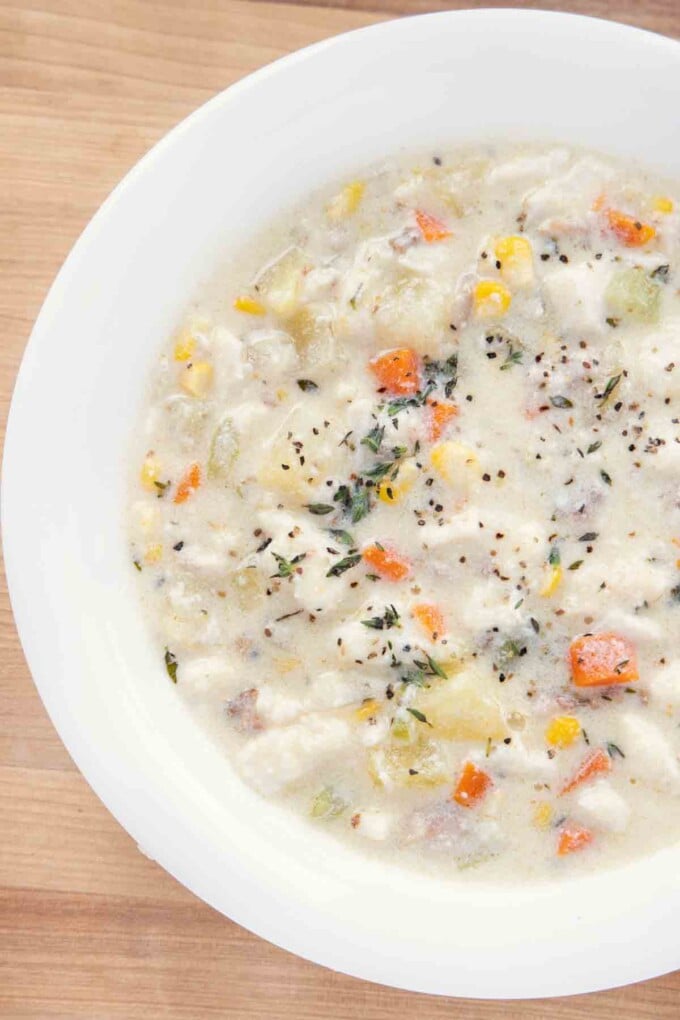 My creamy fish chowder is made from simple ingredients and is as good if not better than any restaurant fish chowder you've ever had. And I should know, I made this soup for years in my restaurants!
This may not be a "classic New England Chowder", it's a new and improved Fish Chowder that you're going to love!
Ingredients to make a New England Fish Chowder?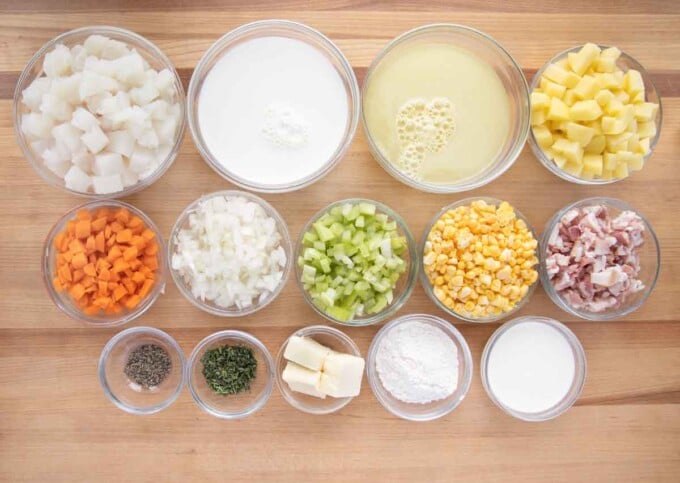 Let's start by gathering the ingredients we need to make my Fish Chowder. In Chef Speak this is called the "Mise en Place" which translates to "Everything in its Place".
Not only does setting your ingredients up ahead of time speed the up cooking process, but it also helps ensure you have everything you need to make the dish.
What kind of fish can I use to make Chowder?
In my restaurant days, I would make this soup out of whatever fish I had left over. You can even save cooked fish in your freezer and use that to make a seafood chowder.
These are some of my favorite fish to use in my chowder.
halibut
pollock
haddock
salmon
Or use a combination of your favorite meaty white fish and seafood you have on hand.
How do I make New England Fish Chowder?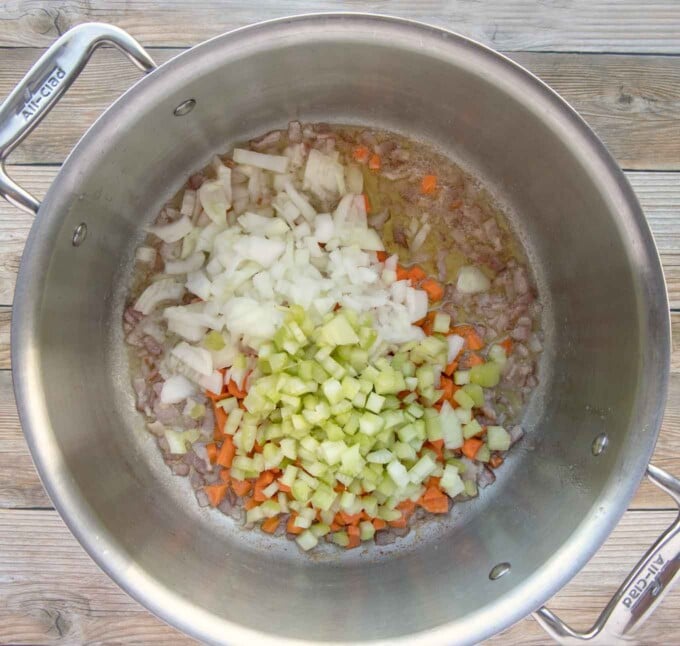 In a large pot (or dutch oven) over medium heat, cook the bacon until almost done (leave the bacon grease in the pan). Add the onions, celery and chopped carrots and continue cooking for 5-6 minutes.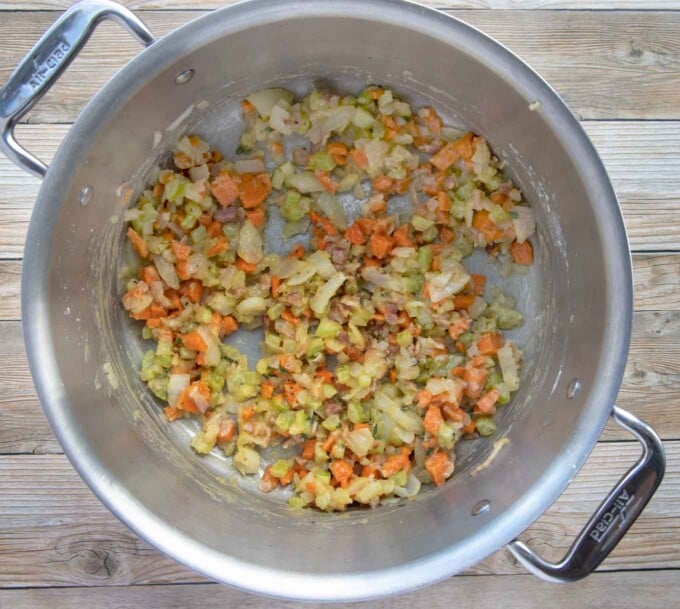 Reduce the heat to low and add the flour to the pot to make a roux. This will thicken the soup.
Allow the roux to cook over low heat for 5- 7 minutes, but don't let the roux get dark or burn.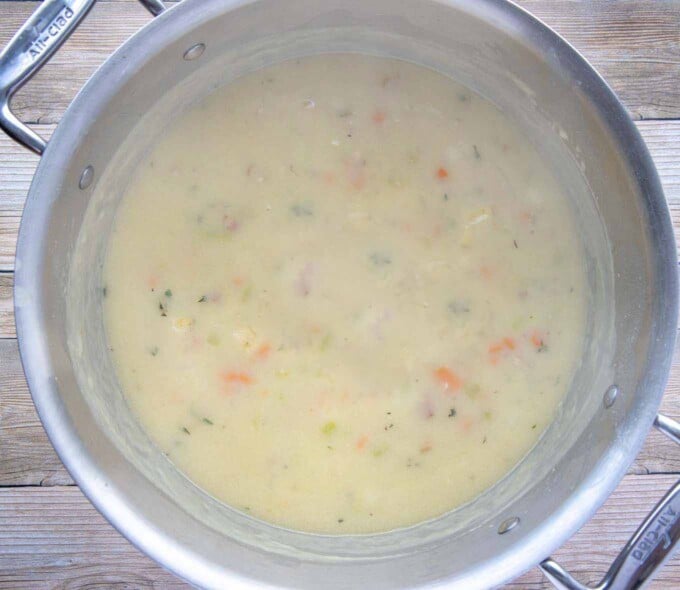 Heat the stock in a saucepan over medium-high heat while the roux is cooking. Add the hot stock to the roux and mix well using a wire whisk.
I use chicken stock in my seafood soups because it gives the soup a better flavor and a better mouth feel. Feel free to use clam juice or fish stock if you prefer.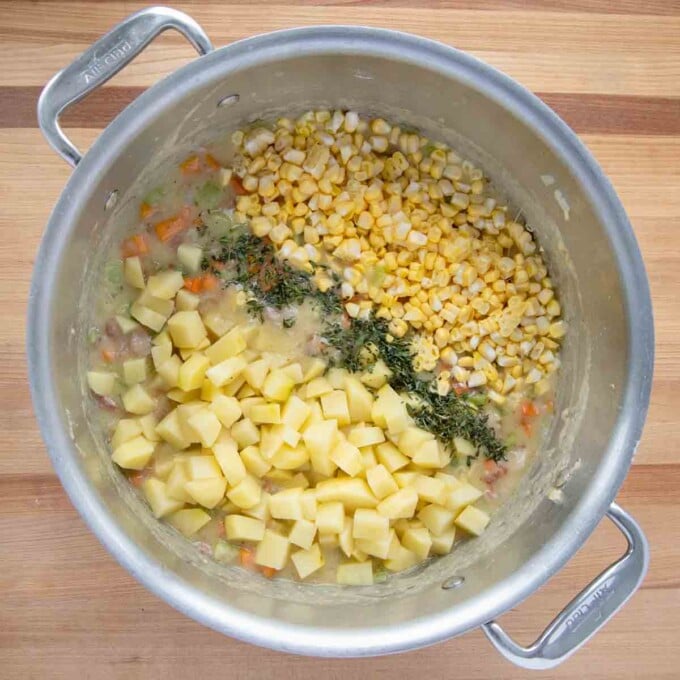 Add the potatoes, sweet corn, and fresh thyme into the pot at this time stirring them into the soup.
I used Yukon gold potatoes in my fish soup, but you can also use red potatoes.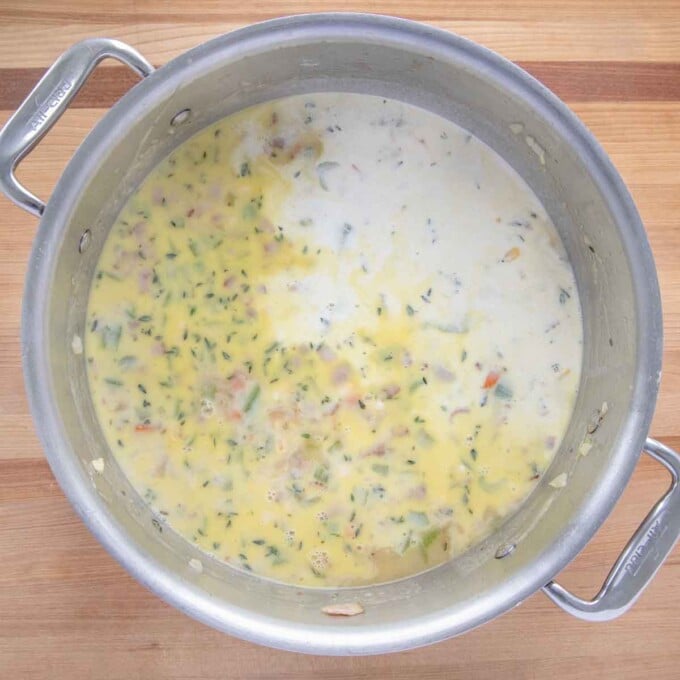 Add the milk and heavy cream to the soup, mixing well. Bring the soup to a light boil, and reduce the heat to a simmer. Allow the mixture to simmer for 30-45 minutes, stirring occasionally.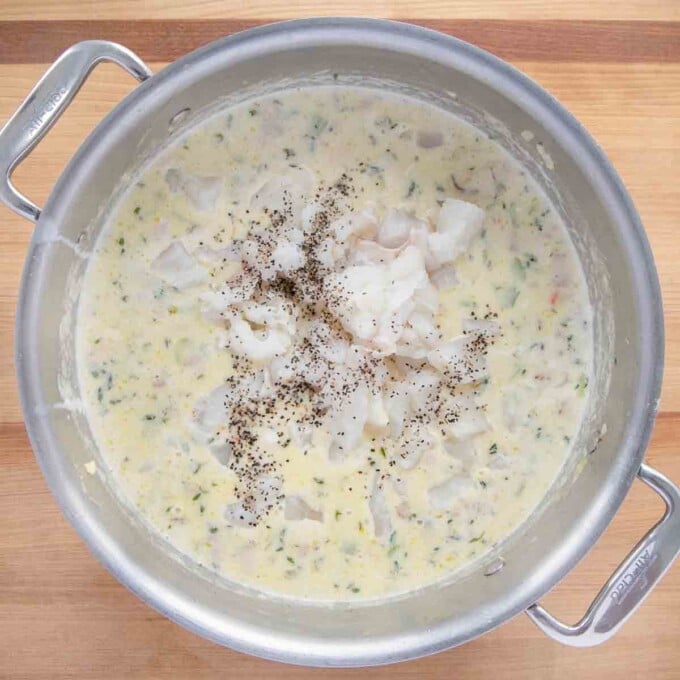 After allowing the soup to simmer, add the chopped cod fillets and black pepper. Let the soup continue to simmer over low heat for an additional 15-20 minutes. Or until the halibut is fully cooked.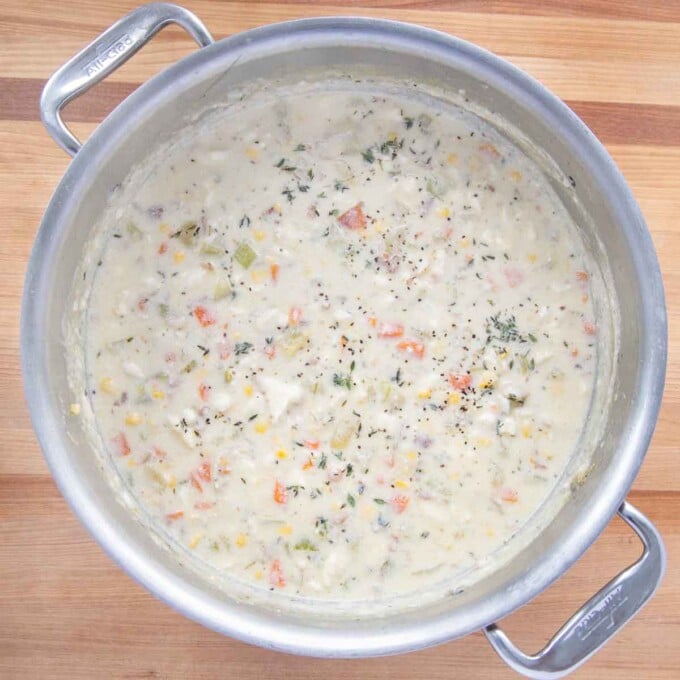 *If the soup gets to thick, add water to pot. I wouldn't add any more dairy at this point, just water.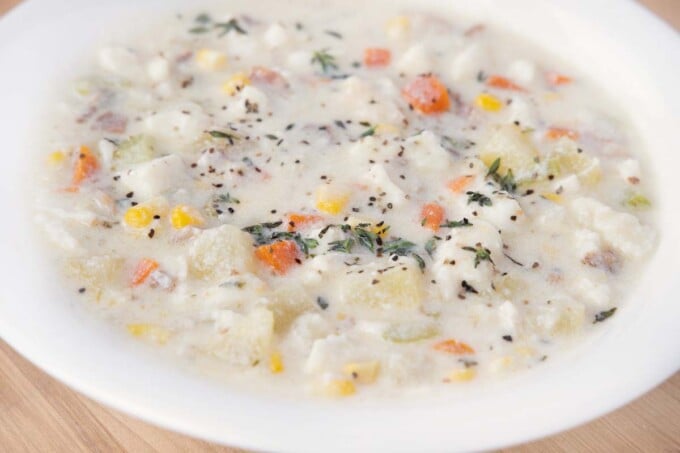 Serve this delicious Fish Chowder with crusty bread or oyster crackers and watch the smiles around the dinner table!
Recipe FAQ's
How long will my Chowder hold up in the refrigerator?
Fish chowder will hold up for 4 days in your refrigerator. And the truth is it will taste better the second day when the ingredients have to time build their flavors.
Can I freeze Fish Chowder?
Yes, you can. Let it fully thaw in your refrigerator before heating, and you may need to add a little water to thin the soup out.
*Reheat the chowder to a minimum of 165 degrees for one minute before serving.
More Soup Recipes You'll Love!