My creamy New England Clam Chowder is made with tender clams, chunks of russet potatoes, a mirepoix of vegetables, and smoky bacon. Making every bite of this delicious soup a culinary event.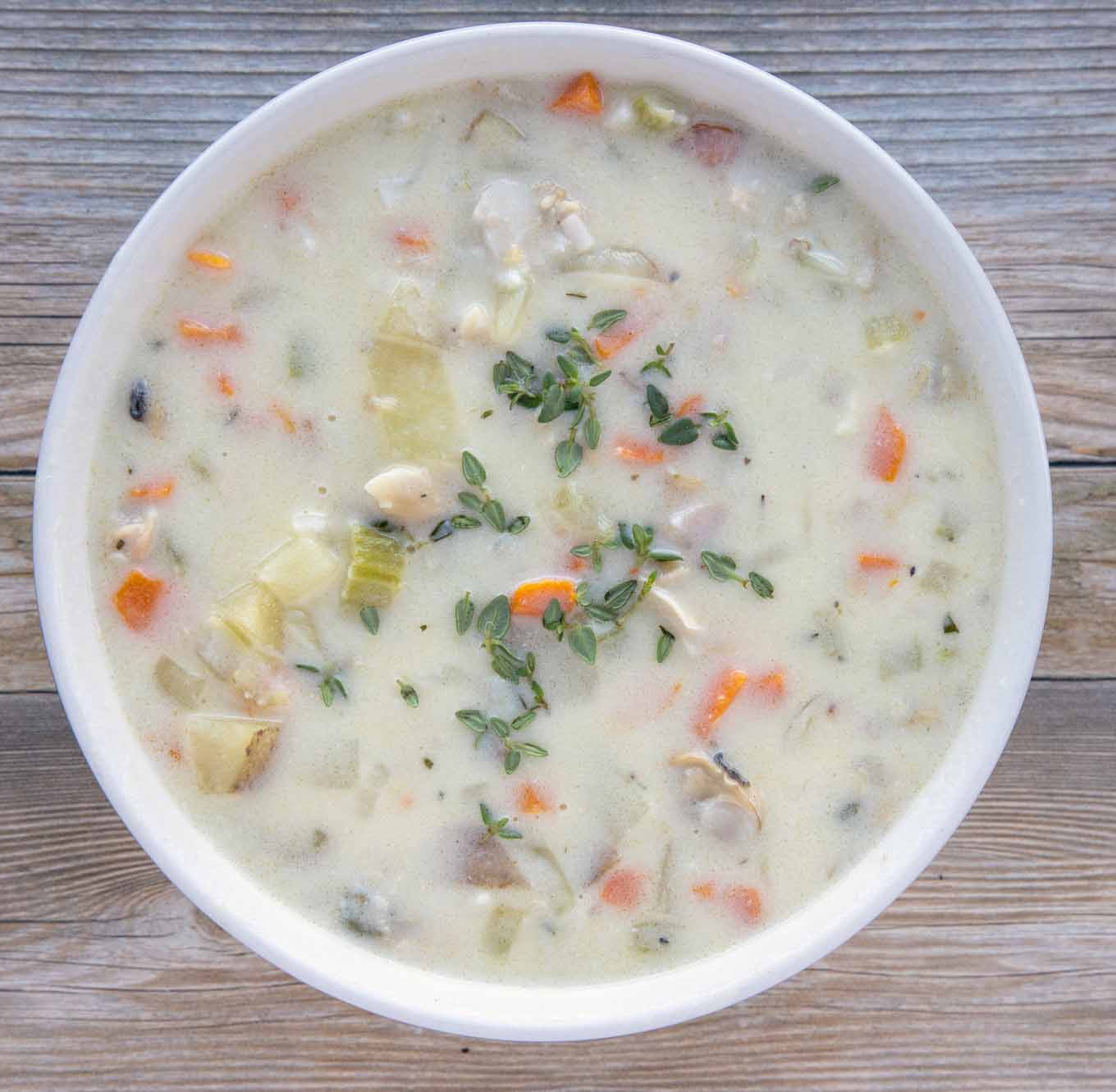 Bring the taste of New England to your home with this easy Clam Chowder recipe. This hearty soup is comfort food at its best.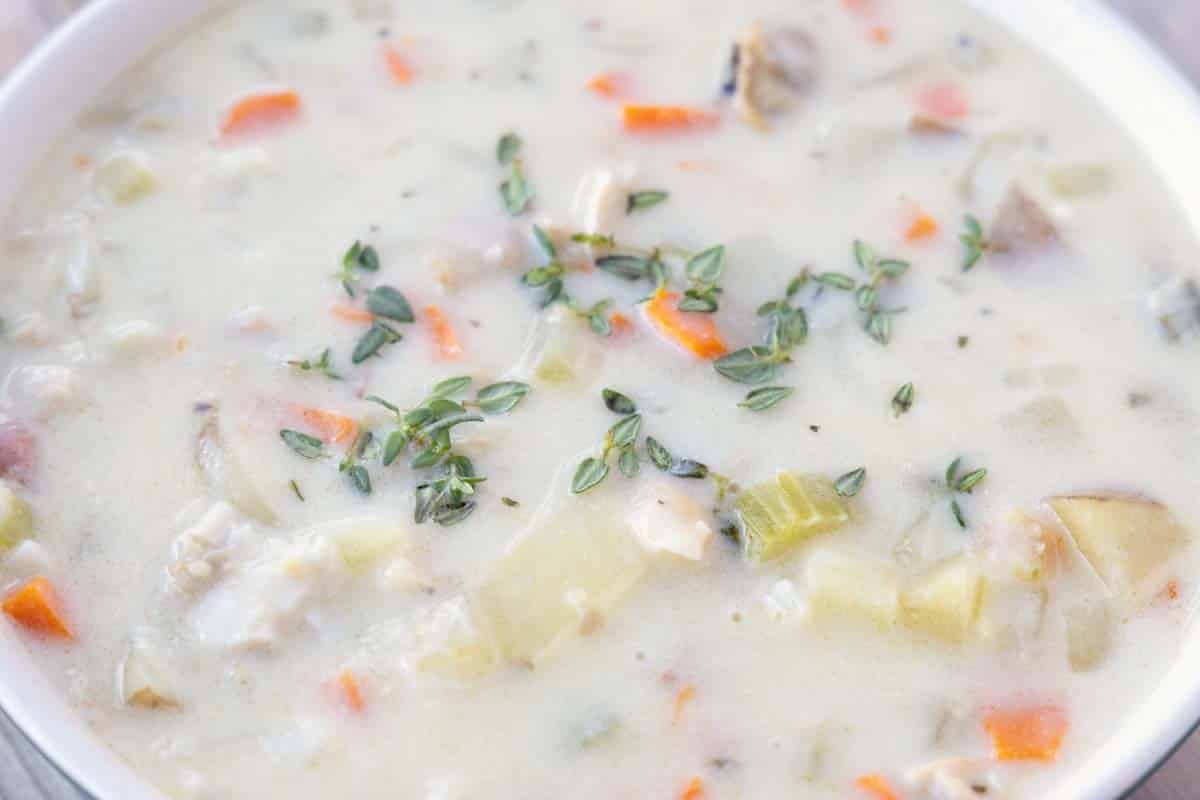 Clams were abundant in the coastal New England area of the United States and clam chowders and seafood stews could be found cooking on the stoves in many New Englanders households.
But with the advent of canned soups, America stopped making homemade soups and most seafood soups became an extravagance we only got to enjoy on those special occasions when we would dine out.
You might also enjoy my version of Manhattan chowder.
What Kind of Clams should I buy?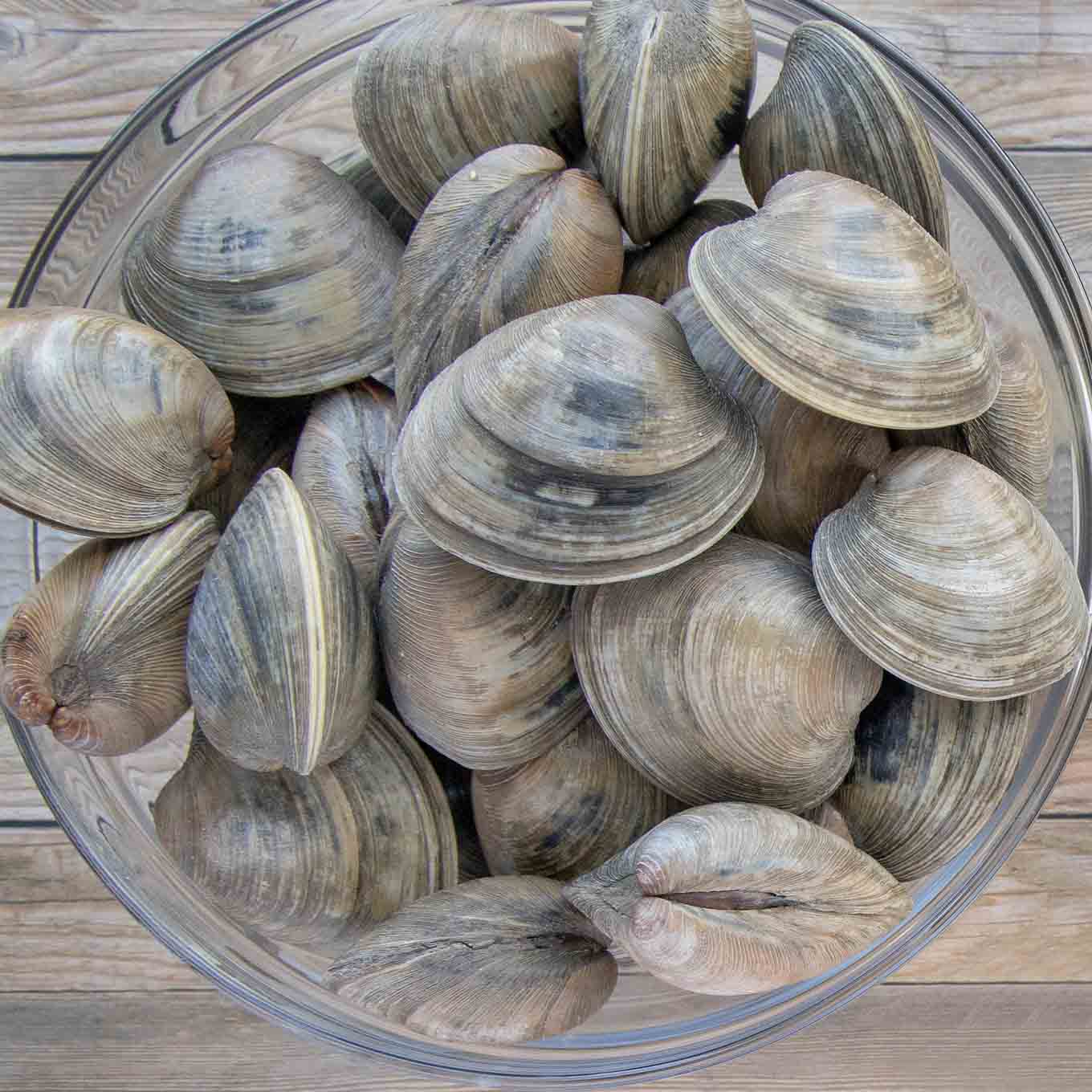 Little Neck clams are most often the type of clams you'll find in supermarkets. This size clam is generally used in pasta dishes such as clams and spaghetti. And that's because the larger the clam gets, the tougher and chewier it will be.,
A lot of supermarkets also carry Middle Necks (pictured above), Top Necks or Cherrystone.
Pasta Necks (or Spaghetti clams) – smaller than Little Necks, they are tender and easy to digest. Their delicate flavor goes well in light sauces, pasta or rice dishes.
Little Neck – small and tender they are usually steamed open or eaten on the half shell. Also good for pasta dishes.
Middle Neck – rich, firm-textured meat has a salty and slightly sweet flavor. Great for steaming in a garlic sauce and for soups.
Top Neck – typically eaten raw on the half shell, grilled open or as a baked clam appetizer such as clams casino or deviled clams.
Cherrystone – eaten raw or most often used for baked clam appetizers such as clams casino or deviled clams.
Chowder – the largest and toughest hard clams, usually winding up in chowders.
If you don't see them, ask the seafood person if the larger clams can be ordered.
Ingredients to make New England Clam Chowder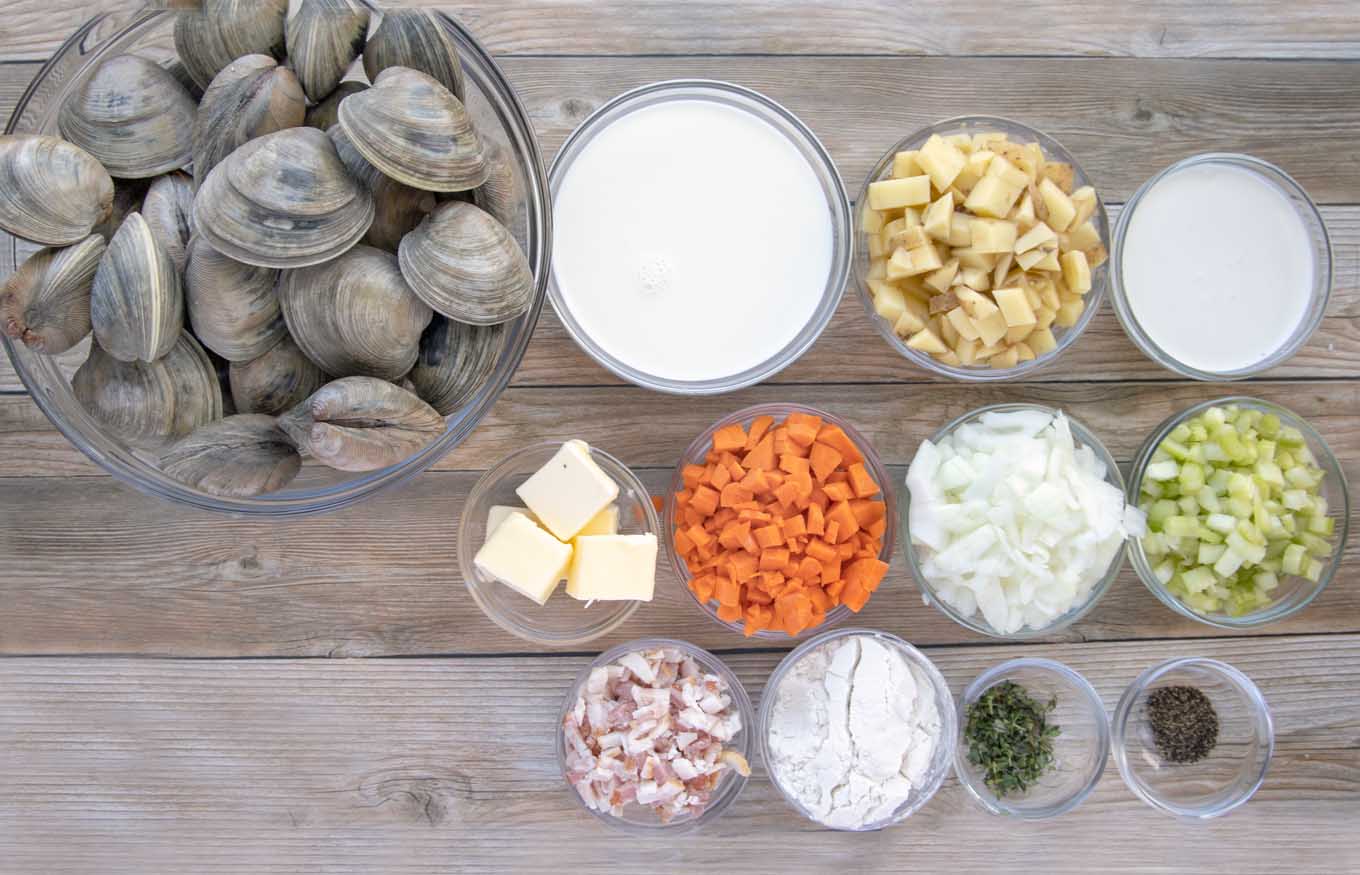 Let's start by gathering the ingredients we need to make New England Clam Chowder. In Chef Speak, this is called the Mise en Place, which translates into Everything in its Place.
Not only does setting your ingredients up ahead of time speed the cooking process, but it also helps ensure you have everything you need to make the dish.
Simple Pantry Ingredients
fresh clams
russet potatoes (or red potatoes)
bacon
celery, onions, carrots
heavy cream
whole milk
butter
all-purpose flour
thyme
black pepper
I'm not a fan of using a bay leaf in my chowder, but feel free to add one or two bay leaves if you enjoy the flavor it imparts.
How to make New England Clam Chowder
The first step is steaming the clams you'll be using for the soup.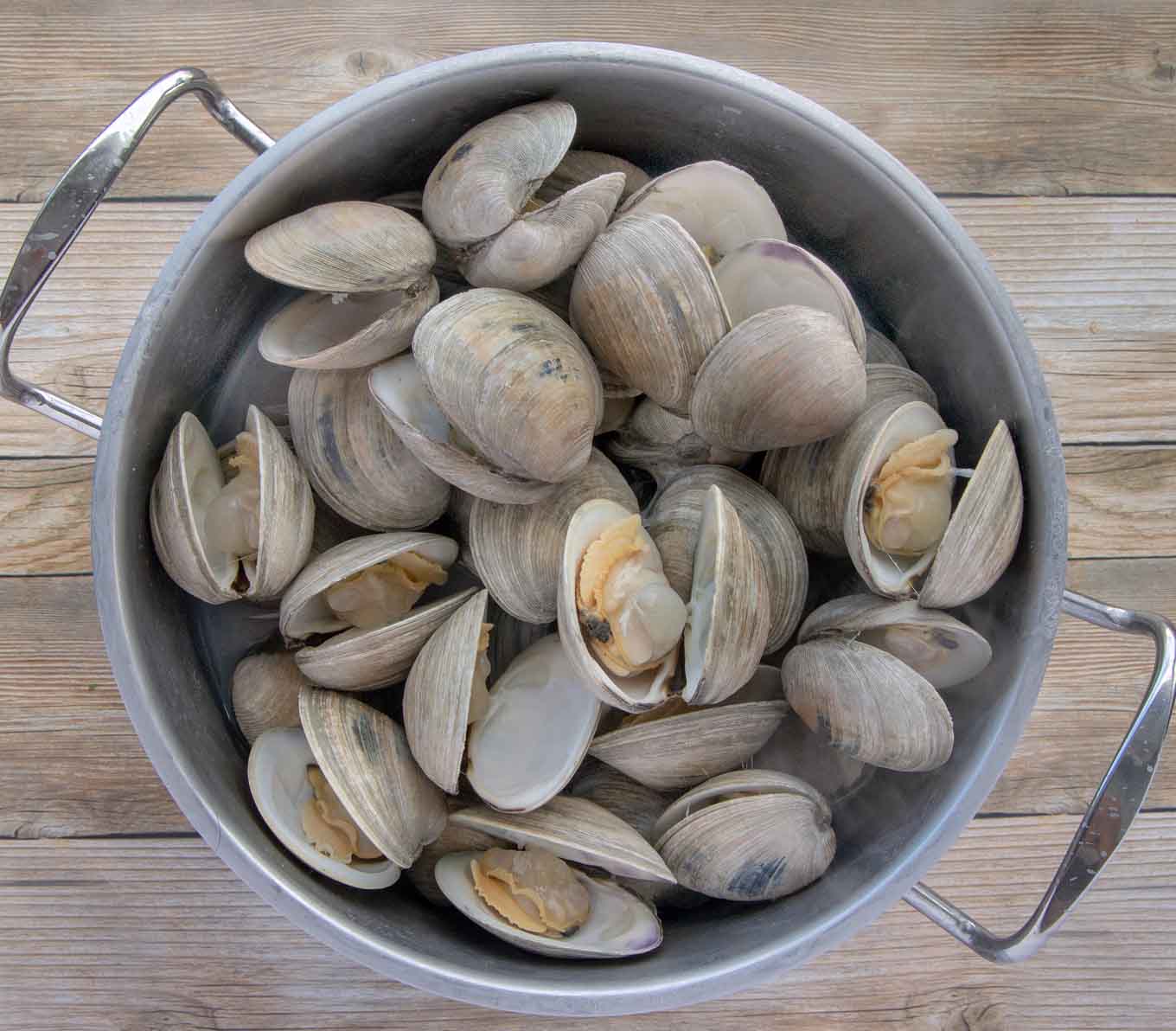 Add one cup of water to a large pot over medium heat.
Add the whole unopened clams to the pot and cover.
Steam the clams for 8-10 minutes or until they open.
**Don't let the clams cook longer than it takes to steam open.
Once the clams have steamed open, remove them from the stove and allow them to cool until you can safely handle the clams.
When the clams have sufficiently cooled, remove the meat from the shells. Don't remove the tiny mussel that holds the clam to the shell; it will be tough and chewy.
**Discard the shells but make sure to save all the clam broth from the steamed clams. The natural flavor of the clam juice really enhances the overall flavor of the chowder.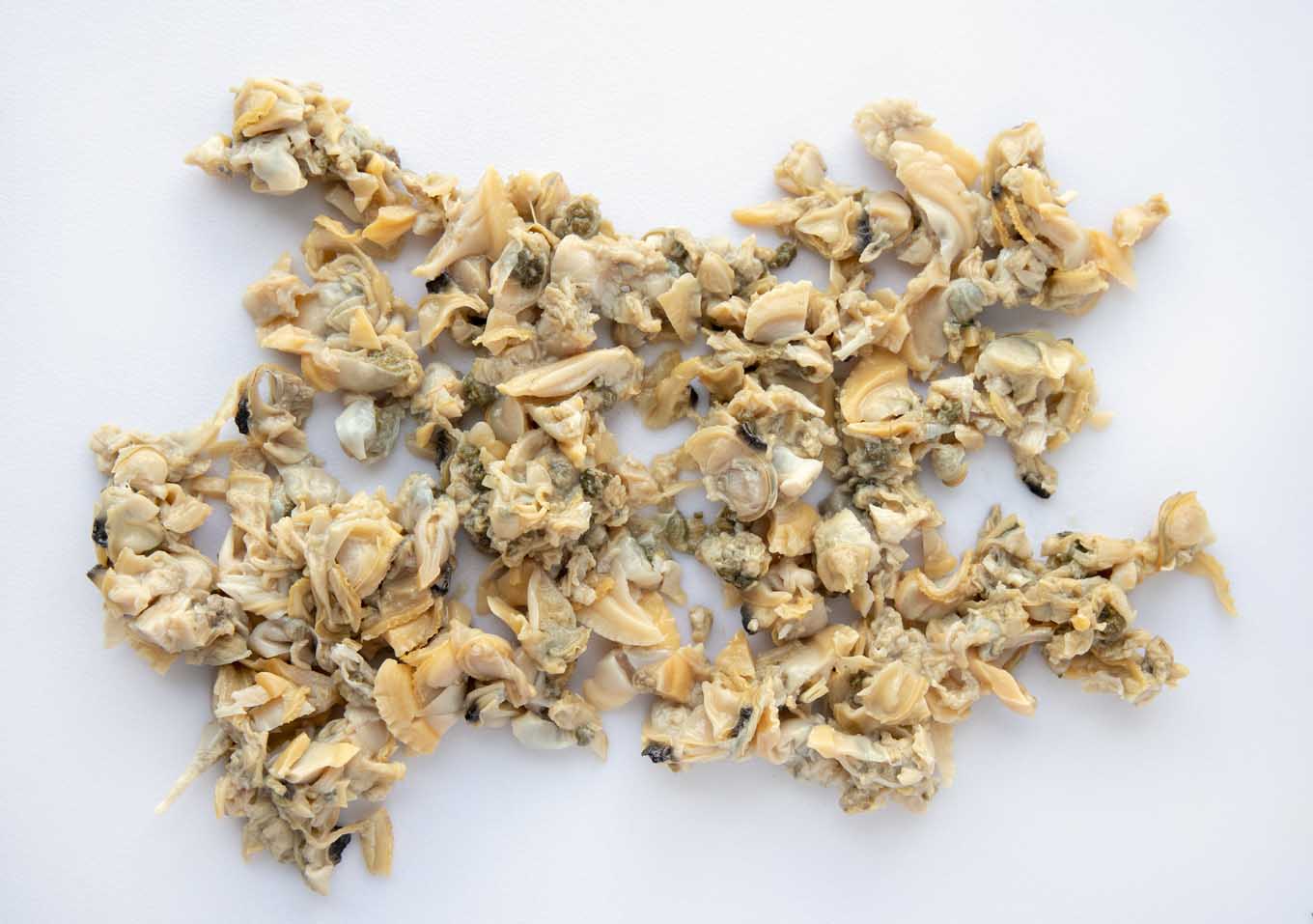 Chops the clams into small pieces and refrigerate the chopped clams until needed.
*Canned clams or frozen clams may be used if you can't find fresh clams. You will also need a bottle of clam juice with either of these choices.
In a 4- 6 quart soup pot (or dutch oven) cook the bacon over medium-high heat until it's almost done. Add the onions, celery, and carrots and continue cooking for 5-6 minutes.
*Authentic Clam Chowder would have used salt pork instead of bacon.
Reduce the heat to low and add the flour to the pot to make a roux. This will thicken the soup.
Allow the roux to cook over low heat for 5- 7 minutes, but don't let the roux get dark or burn.
Heat the clam broth in a saucepan while the roux is cooking. Add the hot clam broth to the roux and mix well using a wire whisk.
When thoroughly mixed, add the potatoes and fresh thyme into the pot and stir to mix well.
Now add the whole milk and the heavy cream. Allow the soup to simmer over low heat for about an hour.
**If the soup gets too thick, add water to the pot. I wouldn't add any more dairy at this point, just water.
Before serving the chowder, add in the chopped clams and simmer for 5 additional minutes to bring the soup back to temperature. Serve with crackers, oyster crackers or fresh crusty bread and enjoy!
*Some folks enjoy hot sauce with their chowder.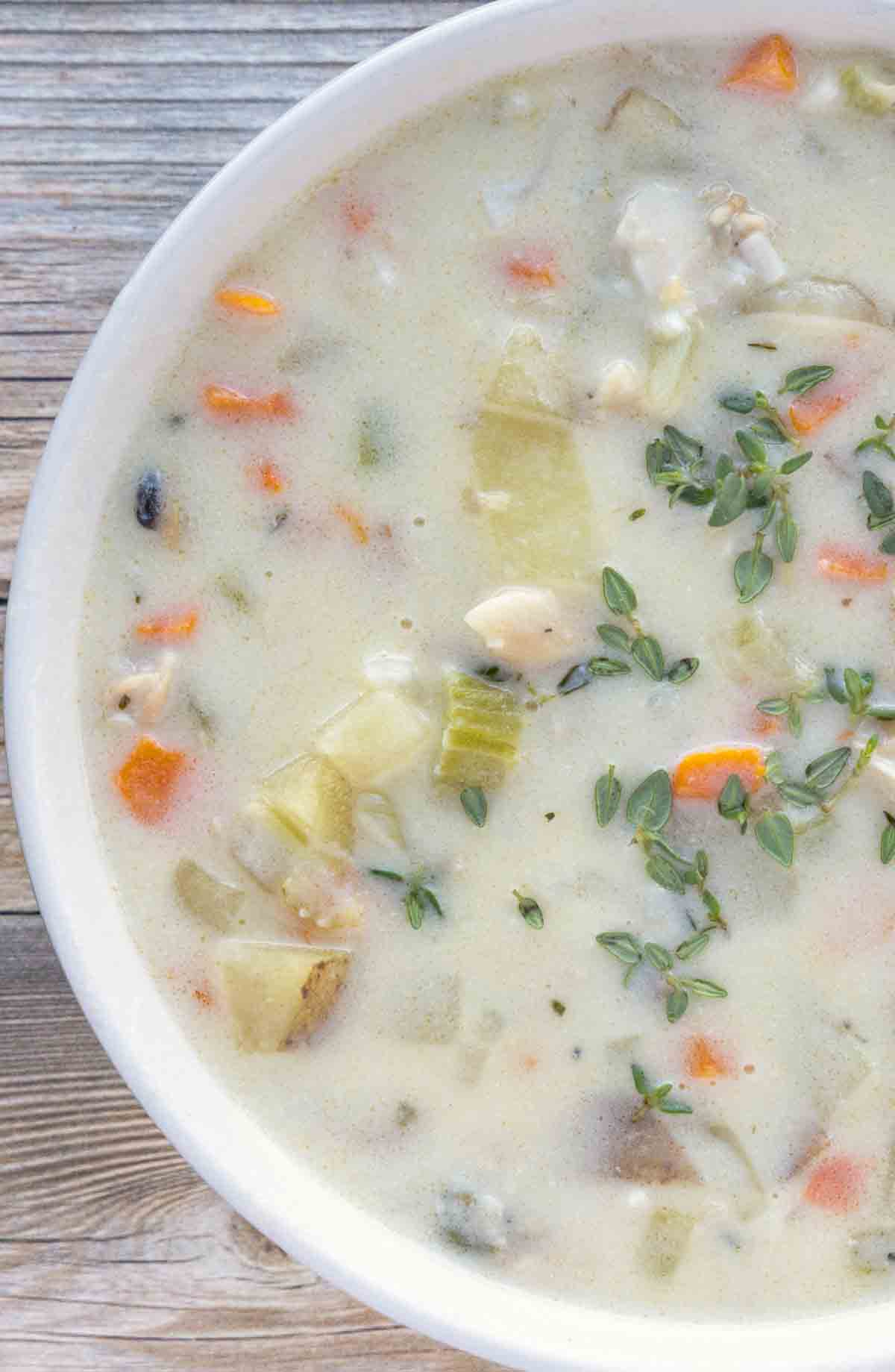 Can you freeze New England Clam Chowder?
Yes, you can. You may need to add a little water to the soup when reheating.
Recipe FAQ's
What is the difference between Clam Chowder and New England Clam Chowder?
New England Clam Chowder (also referred to as "Boston-style" clam chowder), is made using milk and cream. This makes it a much thicker chowder than other regional types of clam chowder. The other two styles of clam chowder, Rhode Island Clam Chowder and Manhattan Clam Chowder, are both tomato-based broth-style soups.
Why is it called New England Clam Chowder?
Originally made in the Maine and Massachusetts area and food historians believe that French or Nova Scotian settlers introduced the soup to the area, thus lending to the name of New England Clam Chowder.
Can I use canned clams to make New England Clam Chowder?
Yes, you can. Canned clams are a great alternative to fresh clams when fresh clams are not readily available. Make sure to buy extra clam juice when purchasing canned clams to help make the chowder.
More Soup Recipes You'll Love!