I love Italian food and especially linguine with spaghetti sauce and sweet sausage! Pasta is the ultimate comfort food, and letting the tomato sauce simmer for 4-5 hours builds a rich, delicious sauce with incredible flavors that Italian grandmothers love to make.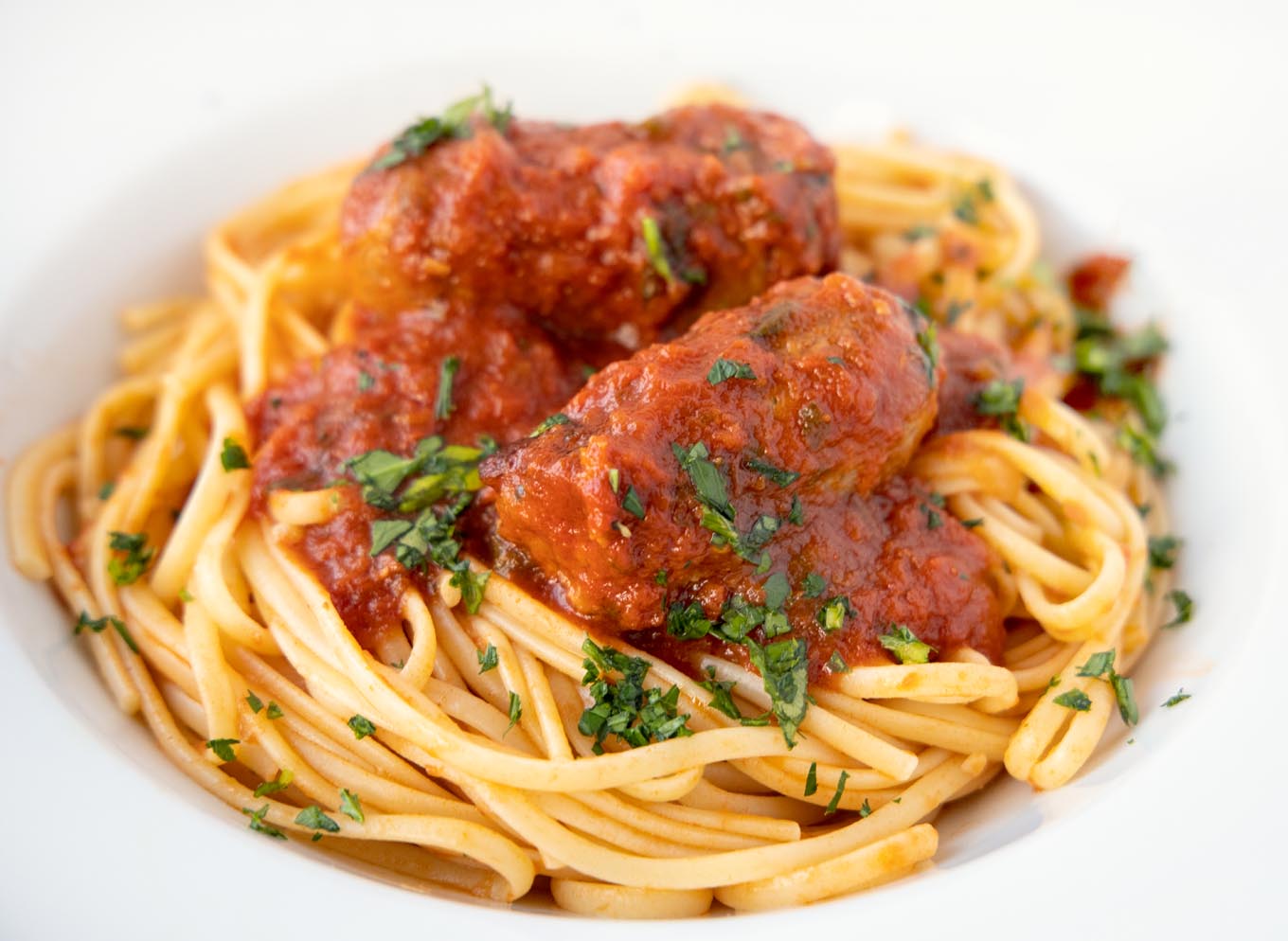 You'll see many recipes for "Quick and Easy Spaghetti Sauce" and in a pinch they're fine. But making spaghetti sauce like Nonna or your favorite Italian restaurant isn't difficult — and once it's on the stove, there isn't any more you need to do other than an occasional stir of the pot for this simple recipe.
When it comes to cooking, it's about the ingredients and the technique. In this case, the ingredients are minimal and the cooking technique is easy to follow. What makes this sauce exceptional is letting it simmer and build the rich flavors that we love.
And that, my friends, is the real secret to good tomato sauce. And this great recipe is a versatile one that you can absolutely make ahead for use on pasta for easy dinners on busy weeknights, but it can also double as a pizza sauce, or you can even use it as a dipping sauce for your garlic bread or mozzarella sticks.
Ingredients to make restaurant-style spaghetti sauce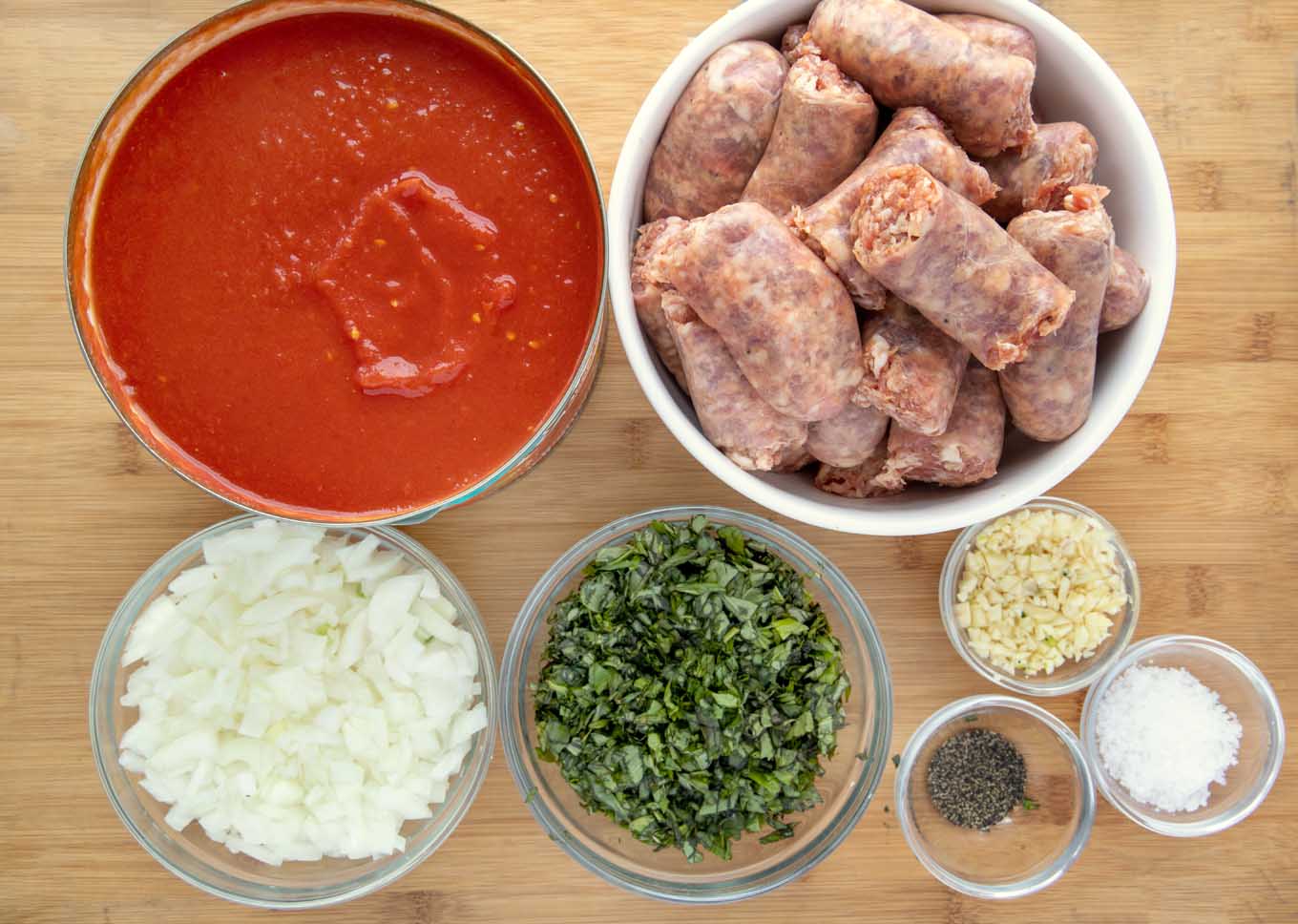 Let's start by gathering the ingredients we need to make Authentic Italian Spaghetti Sauce with Sausage. In Chef Speak this is called the "Mise en Place" which translates to "Everything in its Place".
Not only does setting your ingredients up ahead of time speed up the cooking process, it also helps ensure you have everything you need to make the dish.
Do I have to use sausage to make this pasta sauce?
No, you don't. You can use this recipe and just eliminate the sausage. Sausage or pork bones do add additional flavor, but if you let it simmer for four or five hours, it will still be an amazingly delicious spaghetti sauce even without the sausage.
If you want to add other meats, ground turkey, ground beef, or plant-based alternatives can work well, too.
How to make Italian Spaghetti Sauce with Sausage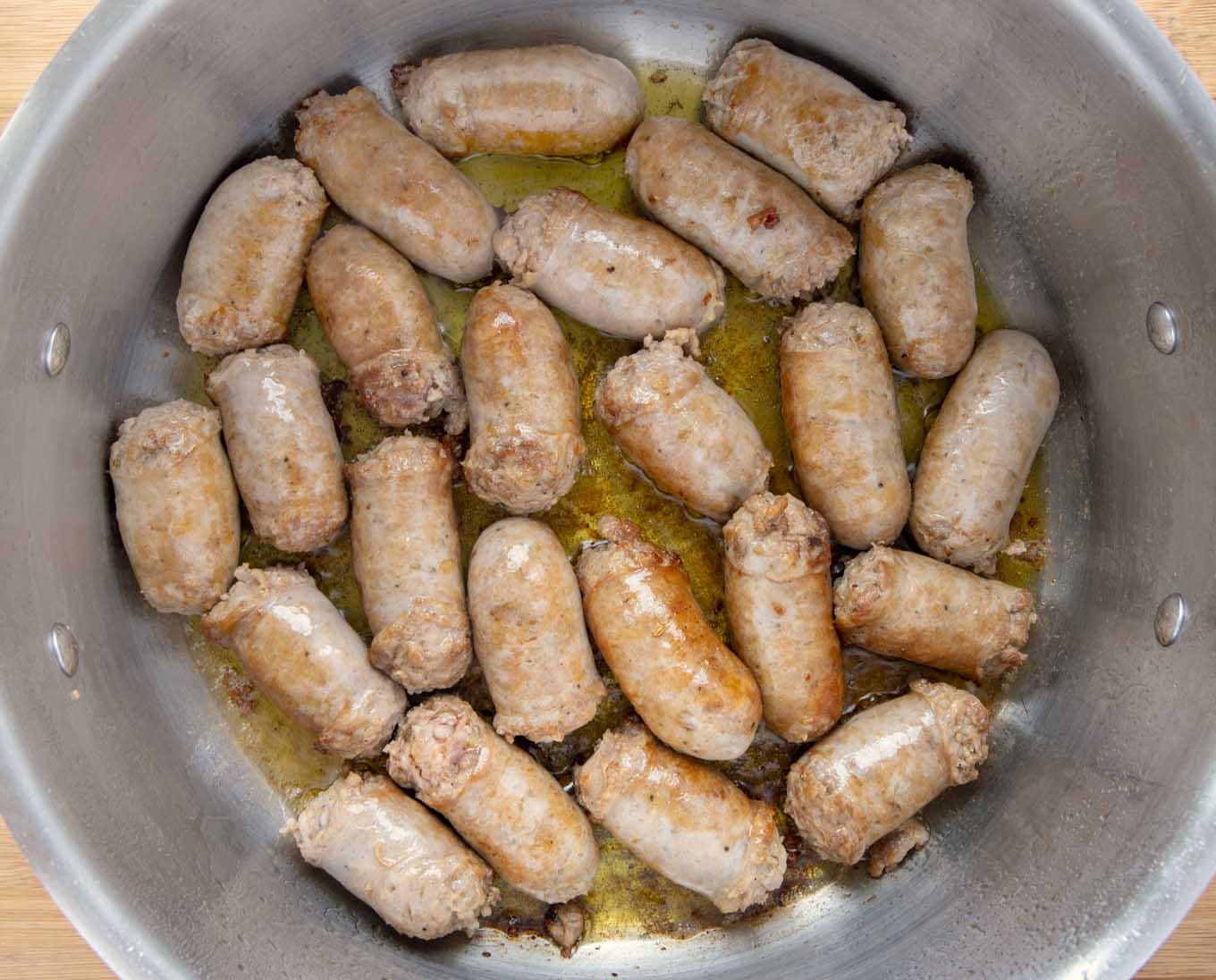 Start by browning the sausage in a large pot with olive oil. My favorite pot to use for this sauce is a Rondeau. It's been an essential piece of cooking equipment throughout my career as a chef at the restaurants I've worked at and in my home.
Chef Tip
*You can use spicy Italian sausage if you like heat, but I prefer the milder regular or sweet Italian sausage. I found the addition of red pepper flakes to the sauce will add enough heat for my tastes.
You can also use sausage meat (out of the casing) if you want a meatier sauce. That alone or combined with ground beef is another delicious way to make a meaty sauce.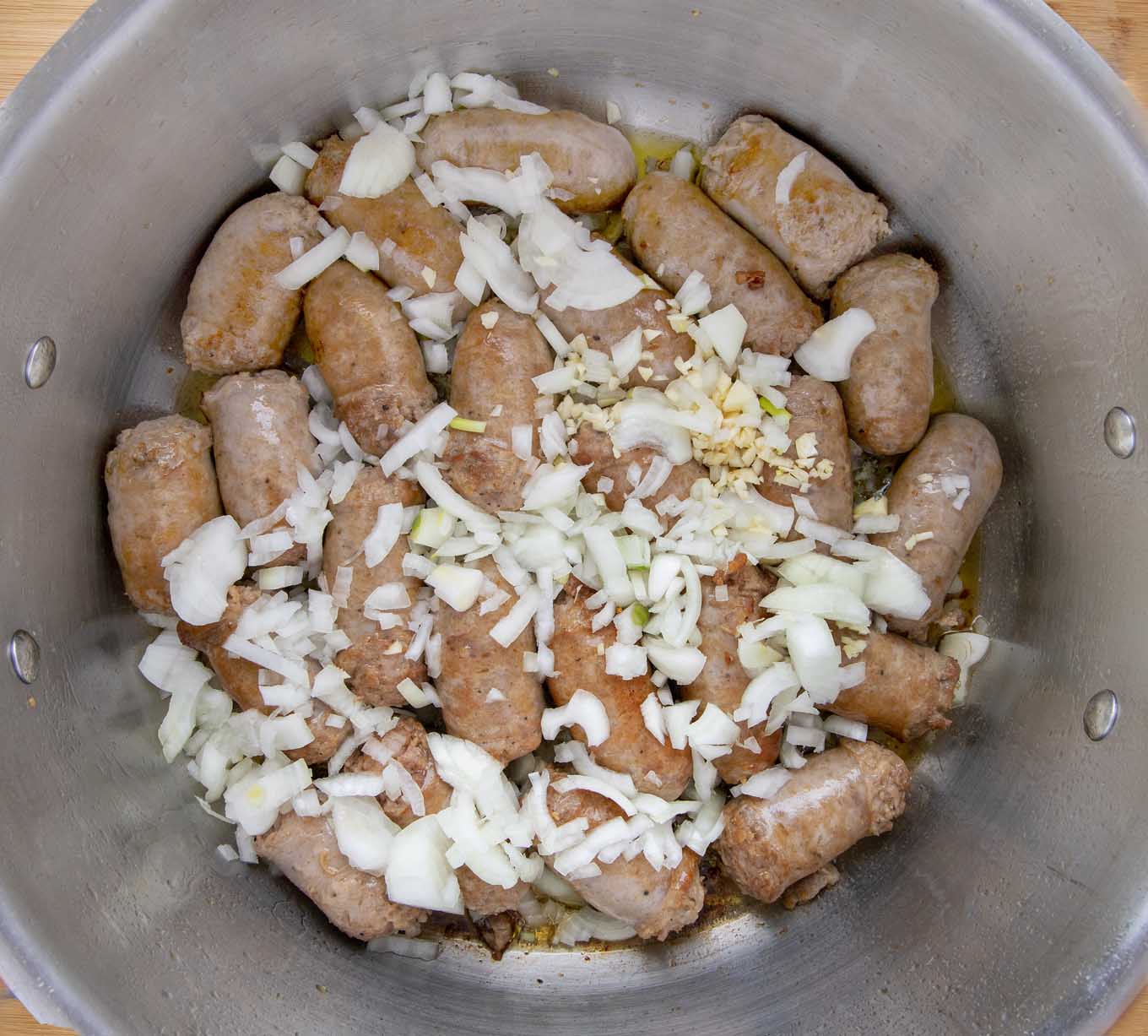 After the sausage has been browned add the diced onions and garlic and saute until the onions are translucent. Don't let the onions or garlic burn.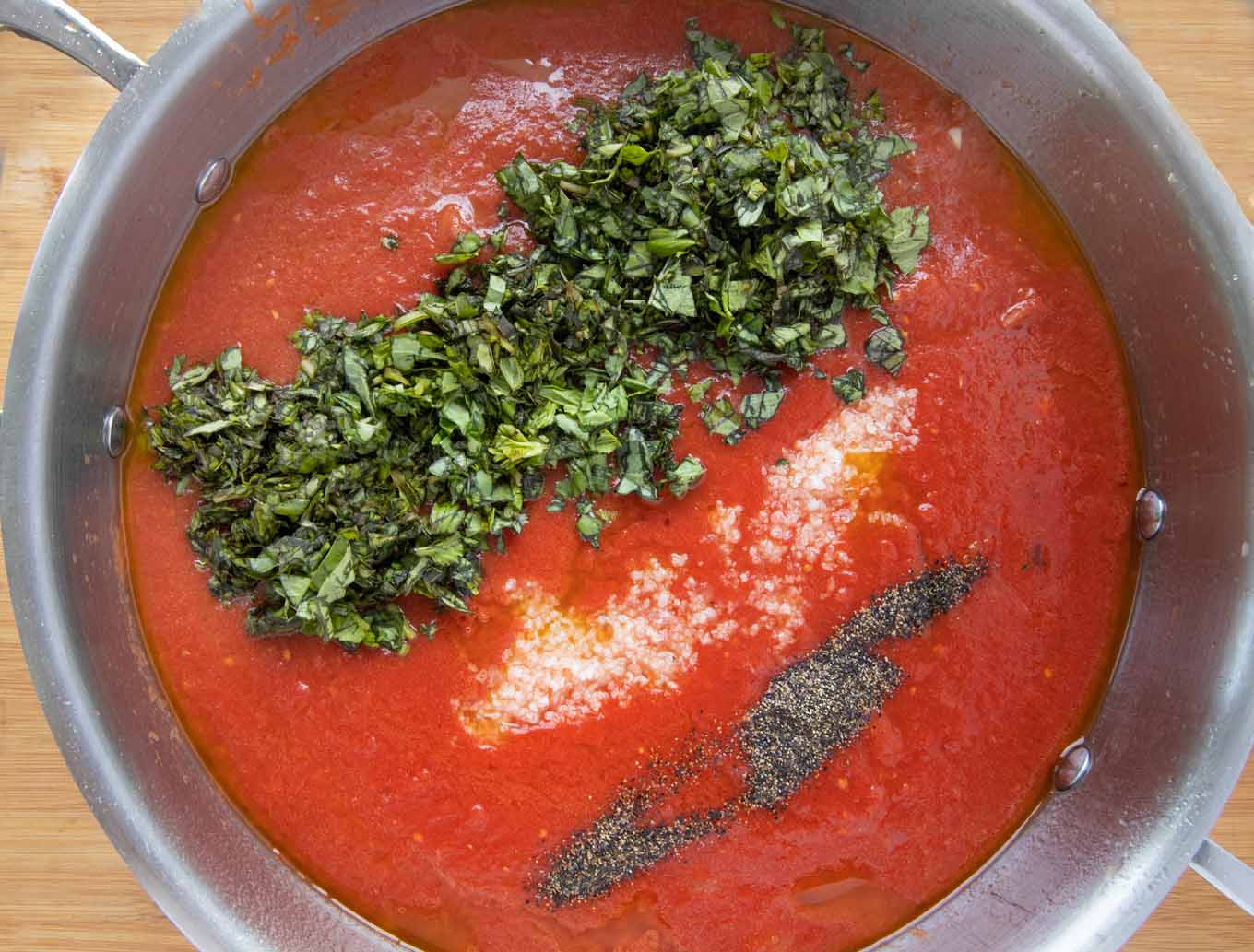 When that step has been completed, add the tomatoes and fresh basil, sea salt, sugar, and black pepper to the pan.
Sometimes I save half the basil to add to the spaghetti sauce when it's finished cooking. I like how the basil cooks into the sauce, but some prefer to add it the sauce at the end of the cooking process, so it adds a brighter, fresher basil flavor.
What is the best type of tomato for spaghetti sauce?
While you can use fresh tomatoes to make a homemade sauce, I only use San Marzano tomatoes. San Marzano tomatoes are prized for their balanced and distinct tomato flavor. I also find them to be less acidic.
My wife has problems with most tomato sauces unless they're made with San Marzano plum tomatoes.
Where can I buy San Marzano Tomatoes?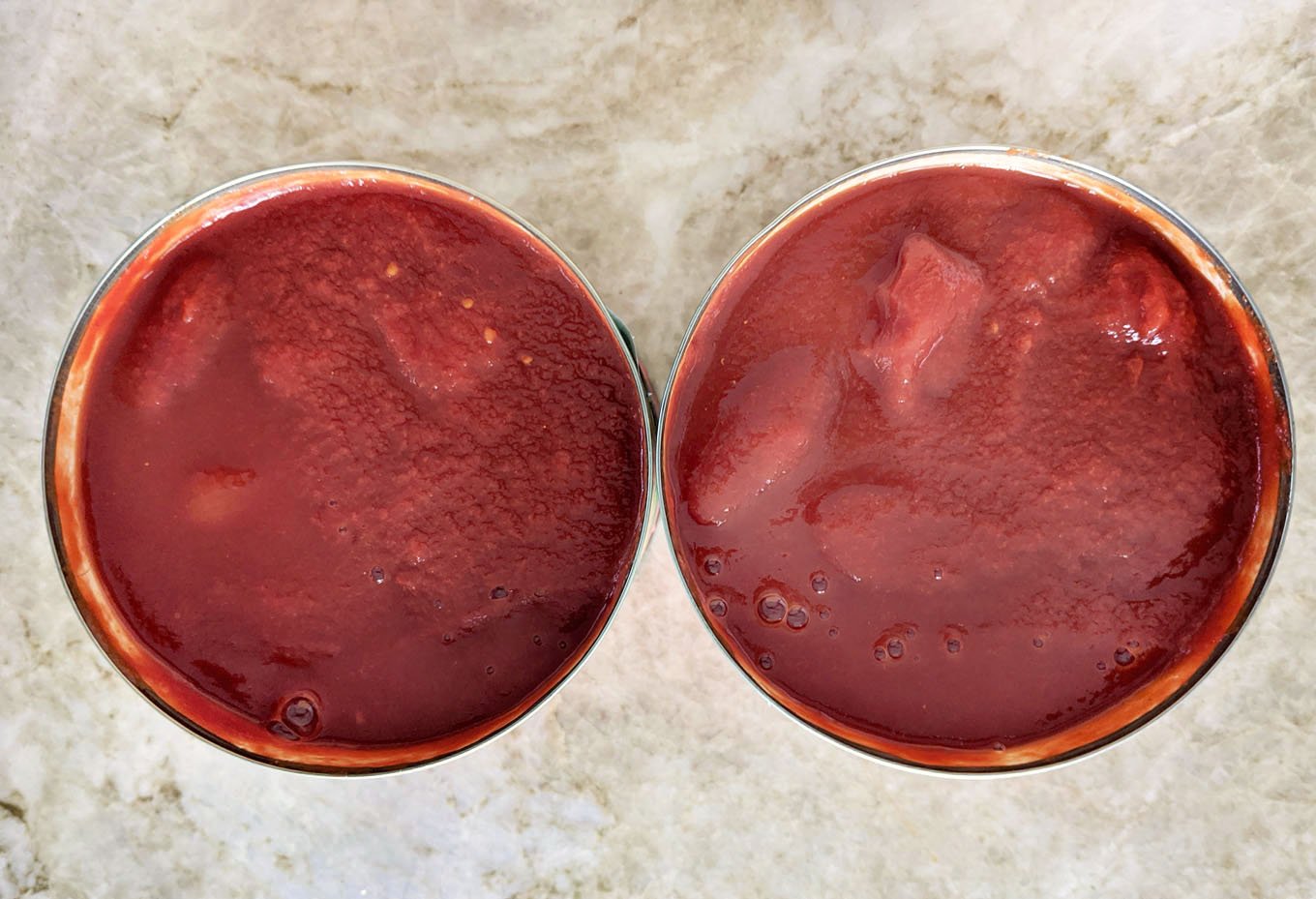 You can find San Marzano tomatoes at just about every grocery store. In the larger chains, you'll even find different brands, including organic varieties. But all San Marzano tomatoes are not created equally. You'll find some brands contain less tomato and more juice, and some may actually be from other regions.
The volcanic soil and the microclimate of the Campagna region account for their balanced, rich tomato flavor. In Italy, tomatoes labeled as "San Marzano" must adhere to strict DOP (the Italian-protected designation of origin) guidelines, which govern where they're grown and how they're processed.
Using the same plant or the same seeds in another region of Italy or other countries will not make San Marzano tomatoes.
How do I tell if the tomatoes are really San Marzano?
The easiest way to tell if the tomatoes are fake is if they contain crushed or diced tomatoes. San Marzanos are only certified whole or in fillets, peeled, and canned.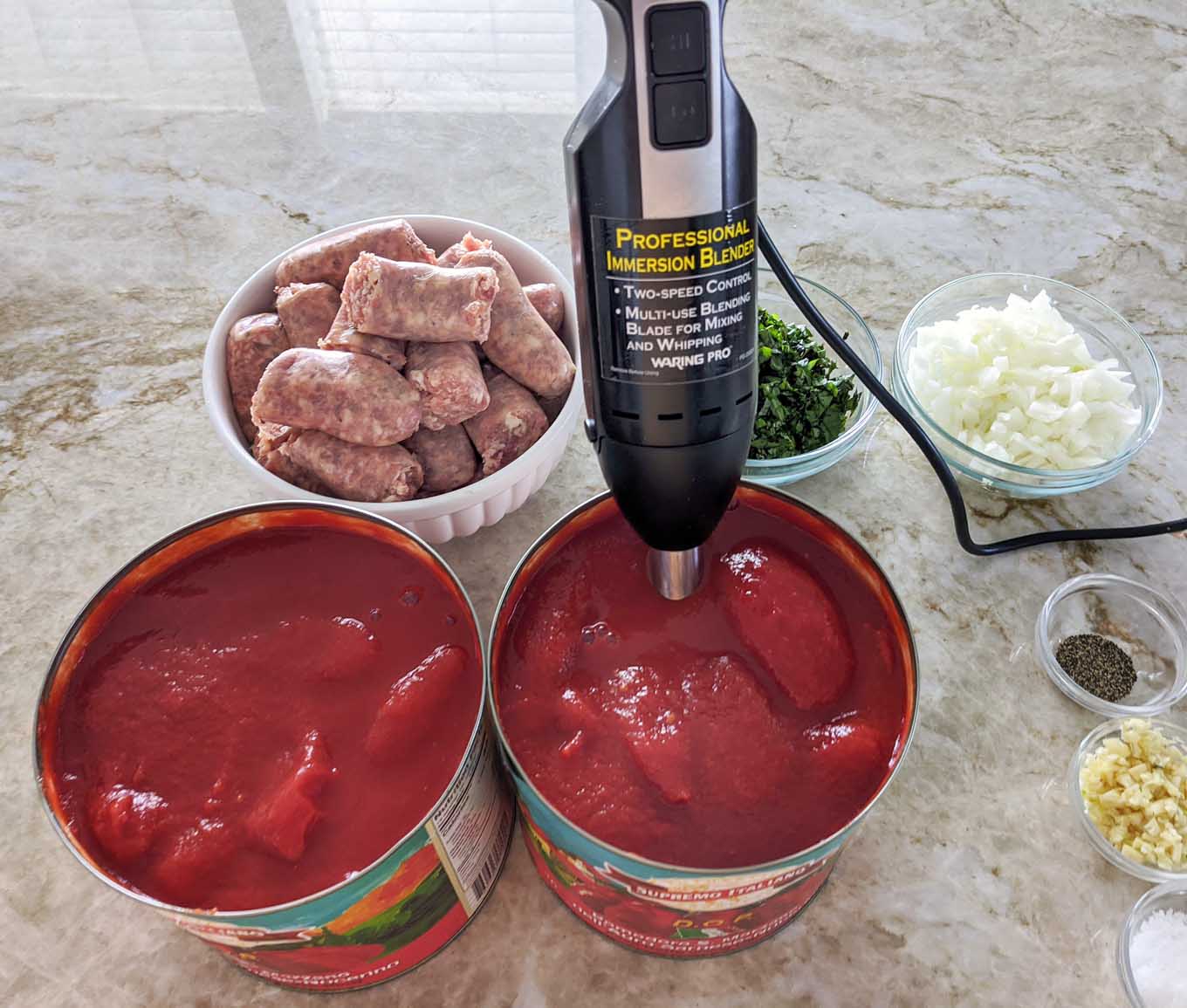 And since you're buying tomatoes whole, you need to crush them for the spaghetti sauce. I use an immersion blender for this task.
Chef's Choice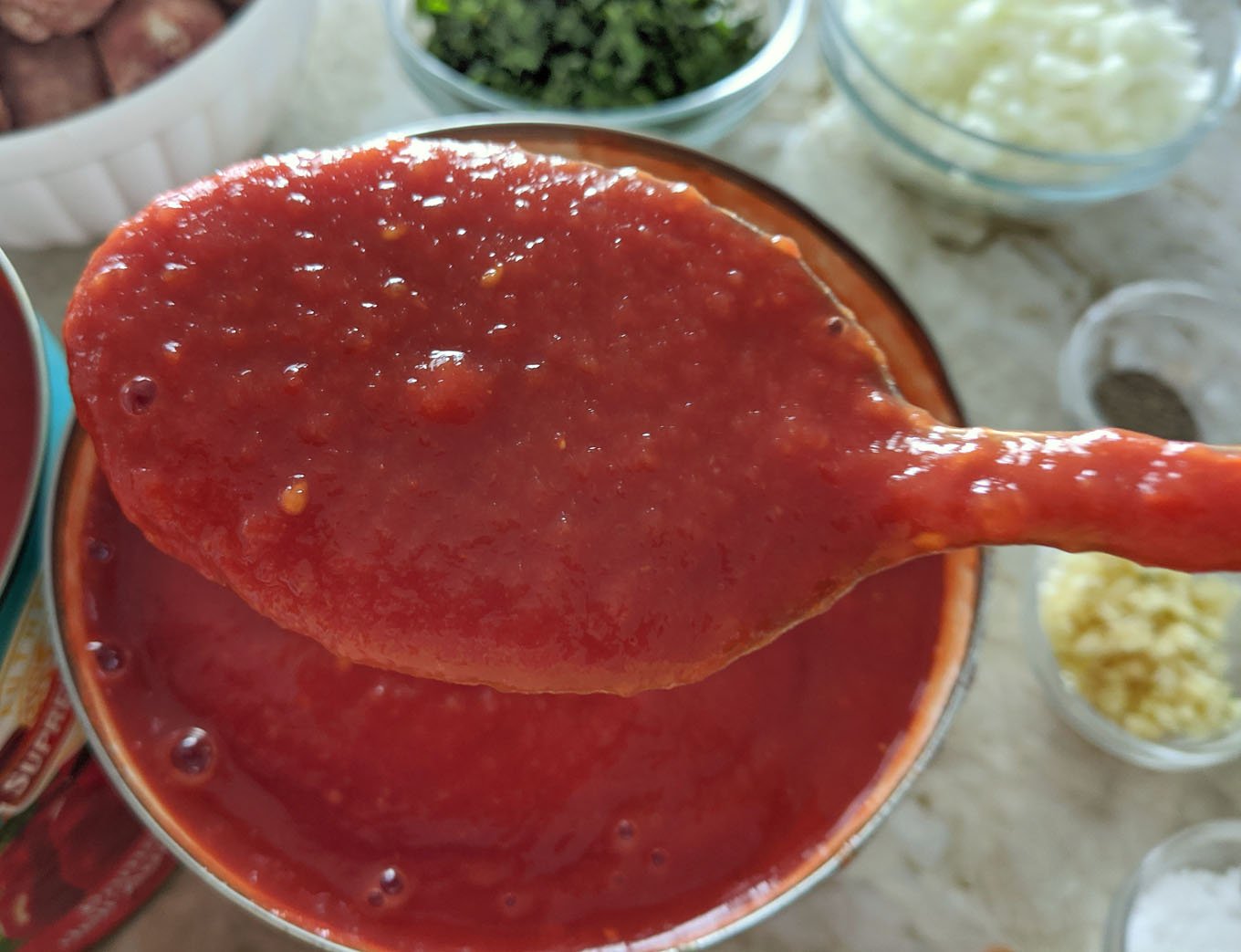 I love that I can use the immersion blender right in the can, it makes clean-up easy and purees tomatoes, soups, and sauces perfectly.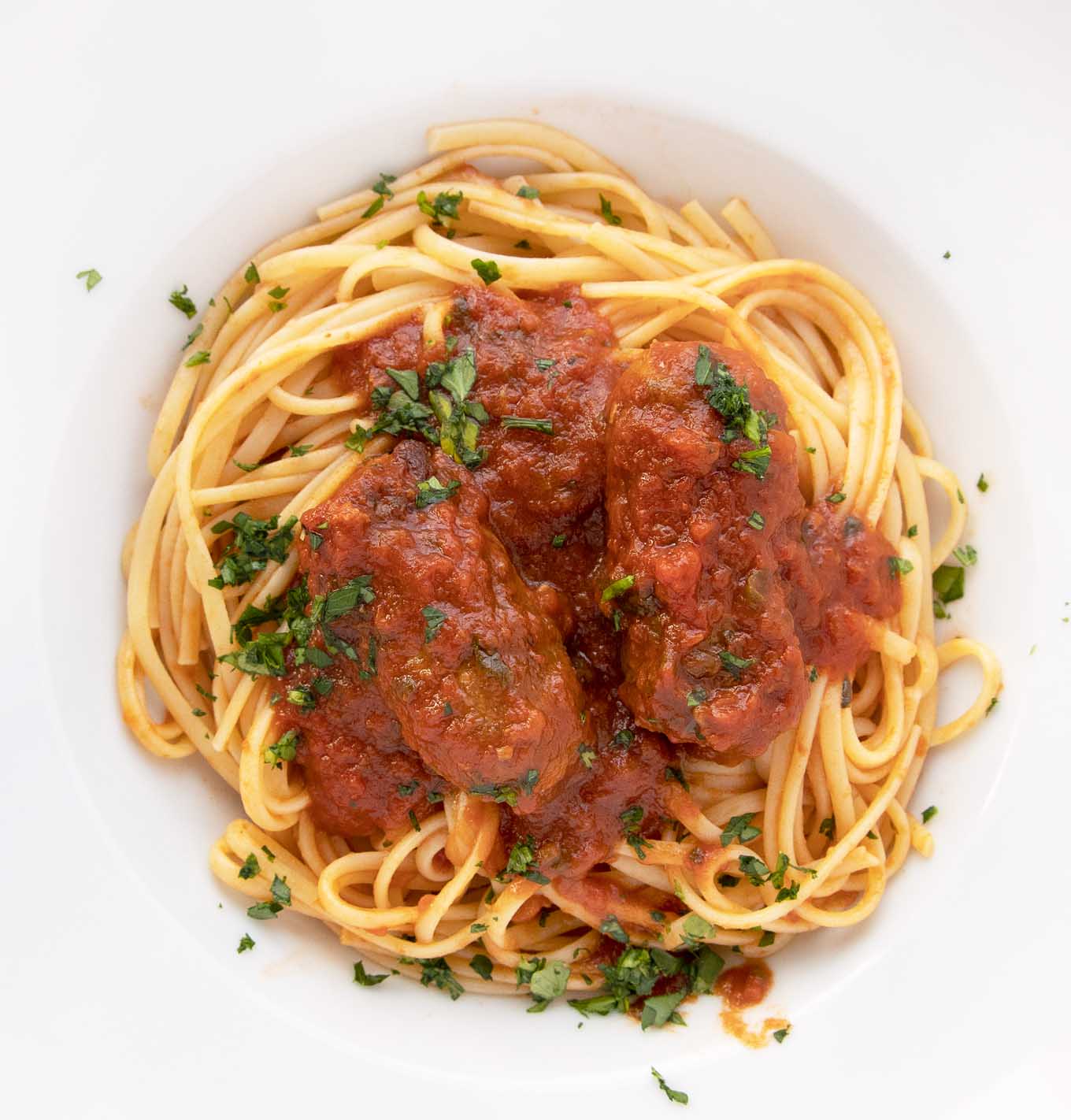 Once the sauce is finished, just serve this delicious spaghetti sauce over your favorite pasta. If you choose, garnish with fresh parsley or basil.
Who's ready to sit down to a plateful of delicious homemade spaghetti with sausage? After one bite, you'll agree that this is the best homemade spaghetti sauce you've ever tasted.
But here's the best part: tomorrow, it's going to taste even better. When I make a big batch of spaghetti sauce, I wait two days before I freeze it so the flavors have time to build.
Store leftovers in an airtight container in the refrigerator for up to 4 days. You can also store this sauce in a freezer bag for up to 6 months.
Recipe FAQ's
Can you cook raw Italian Sausage in spaghetti sauce?
Yes, you can. Italian sausage, meatballs, ribs, or just about any meat can be put directly into the sauce raw as long as you are cooking the sauce until the meat is cooked. The internal temperature of the meat must be at least 165 degrees.
*Searing the meat before adding it to the pot will make the sauce more flavorful.
What else can I use spaghetti sauce for?
I love using the sauce to make Chicken Parm or Eggplant parm. It's so much better than jarred spaghetti sauce. You can also add cream and Romano or parmesan cheese to make a Rosa Sauce (aka Vodka Sauce).
Does spaghetti sauce freeze well?
Yes, it does. And I always make a large batch of sauce when I do make spaghetti sauce and freeze enough for those days I don't feel like cooking. It will last up to 3 months in a tightly sealed container.
More Pasta Recipes You'll Love!