One of my favorite Italian dishes will always be Eggplant Parm. Although I've gotten some pretty bad interpretations of this classic Italian dish when dining out.
And whether you can call it eggplant parmesan, eggplant parmigiana, melanzane alla parmigiana, or simply eggplant parm. And after one bite I'm sure you'll agree it's the best eggplant parmesan you've ever made!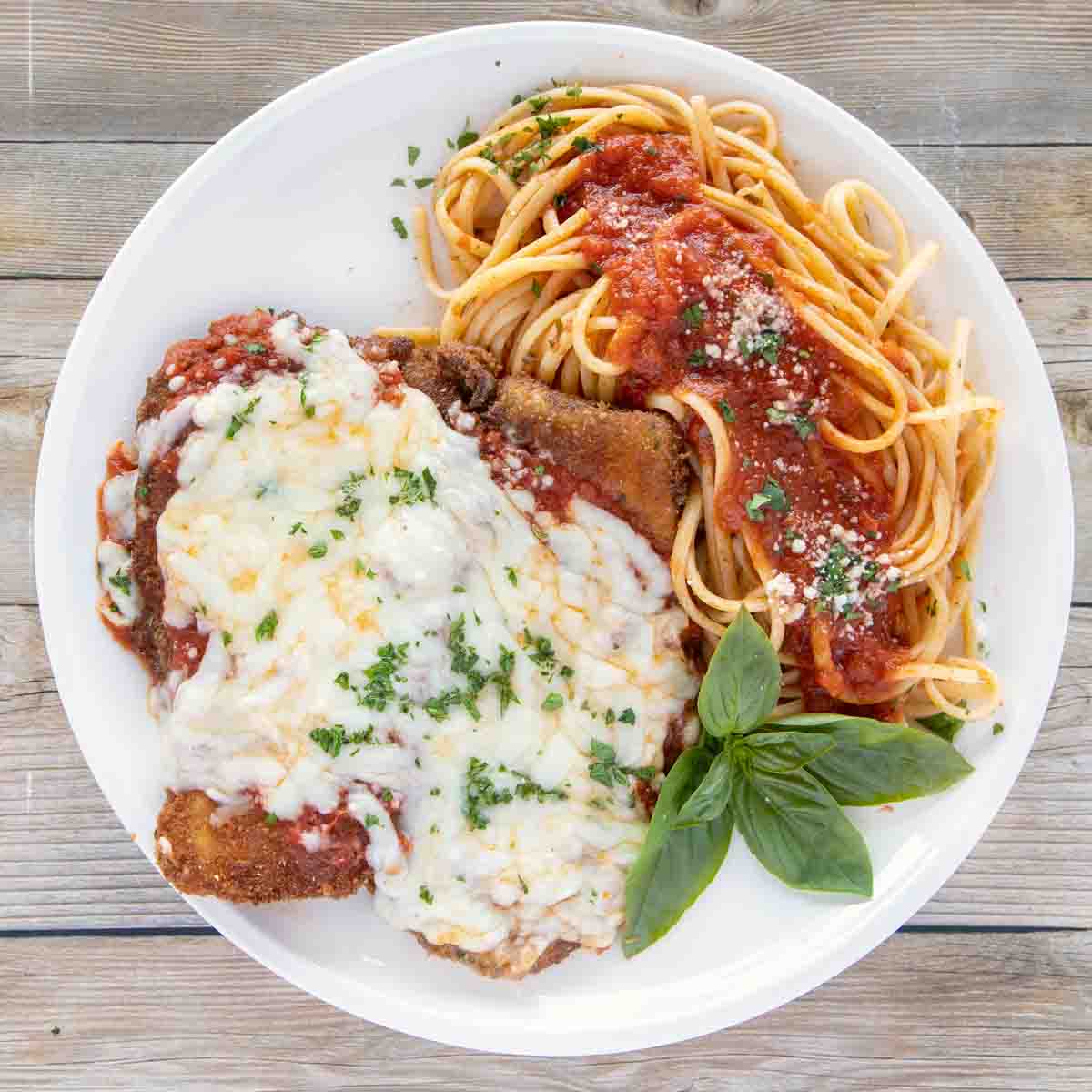 It's incredibly easy to make Eggplant Parmesan and since it doesn't include meat, it's a very inexpensive dish to prepare. And it's one of my favorite comfort foods.
What ingredients do I need to make Eggplant Parmesan?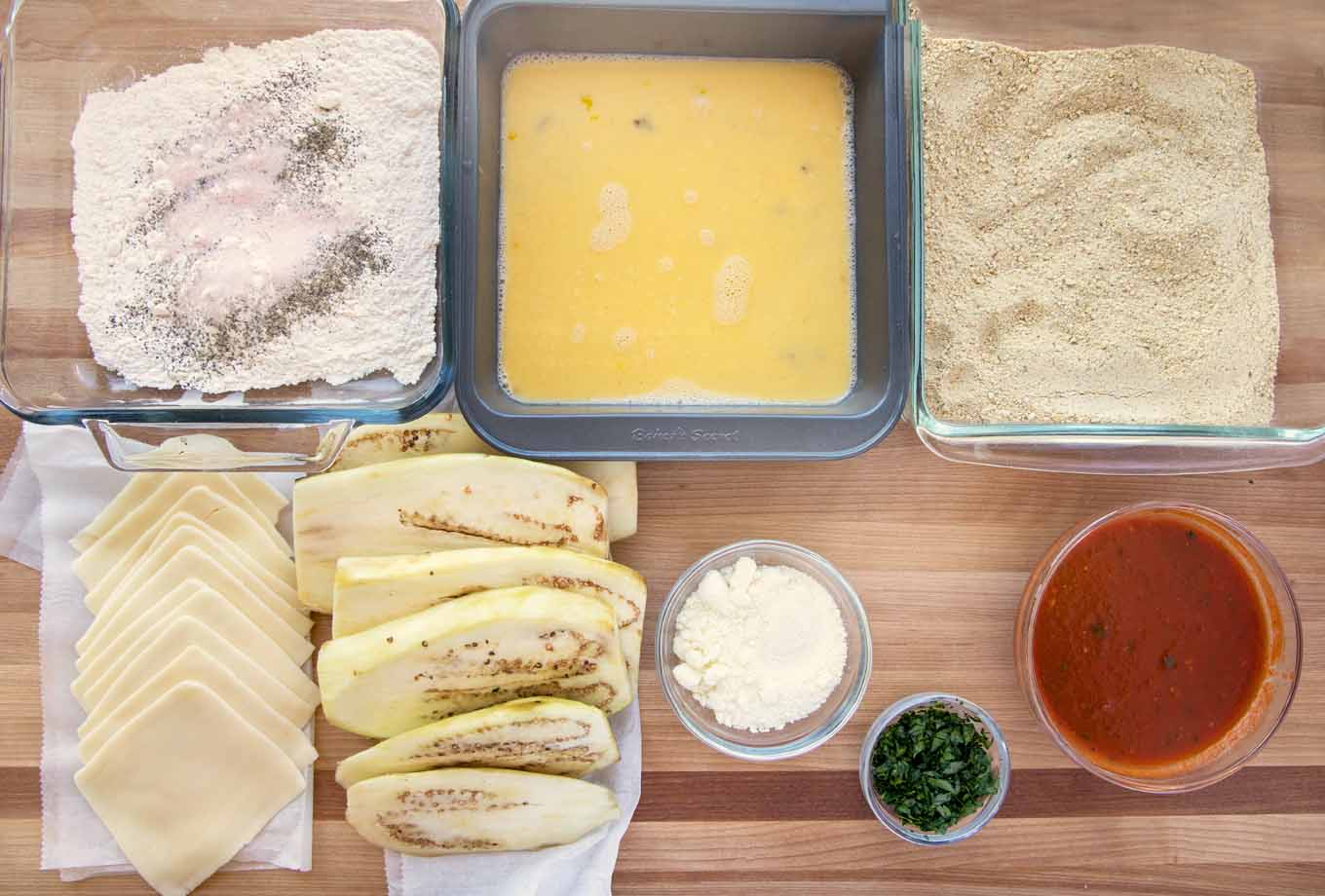 Let's start by gathering the ingredients we need to make Eggplant Parm. In Chef Speak this is called the "Mise en Place" which translates to "Everything in its Place".
Not only does setting your ingredients up ahead of time speed up the cooking process, it also helps ensure you have everything you need to make the dish.
*The eggplant slices can be cut in circles, I just find the long cut is easier to use and makes a better presentation.
*If you are using jarred spaghetti sauce, think about adding some fresh basil and other seasonings to perk up the flavor.
I enjoy cooking with eggplant and my Vegetarian Pasta, and Pasta alla Caponata are more delicious eggplant recipes you can make at home.
How do I make Eggplant Parm?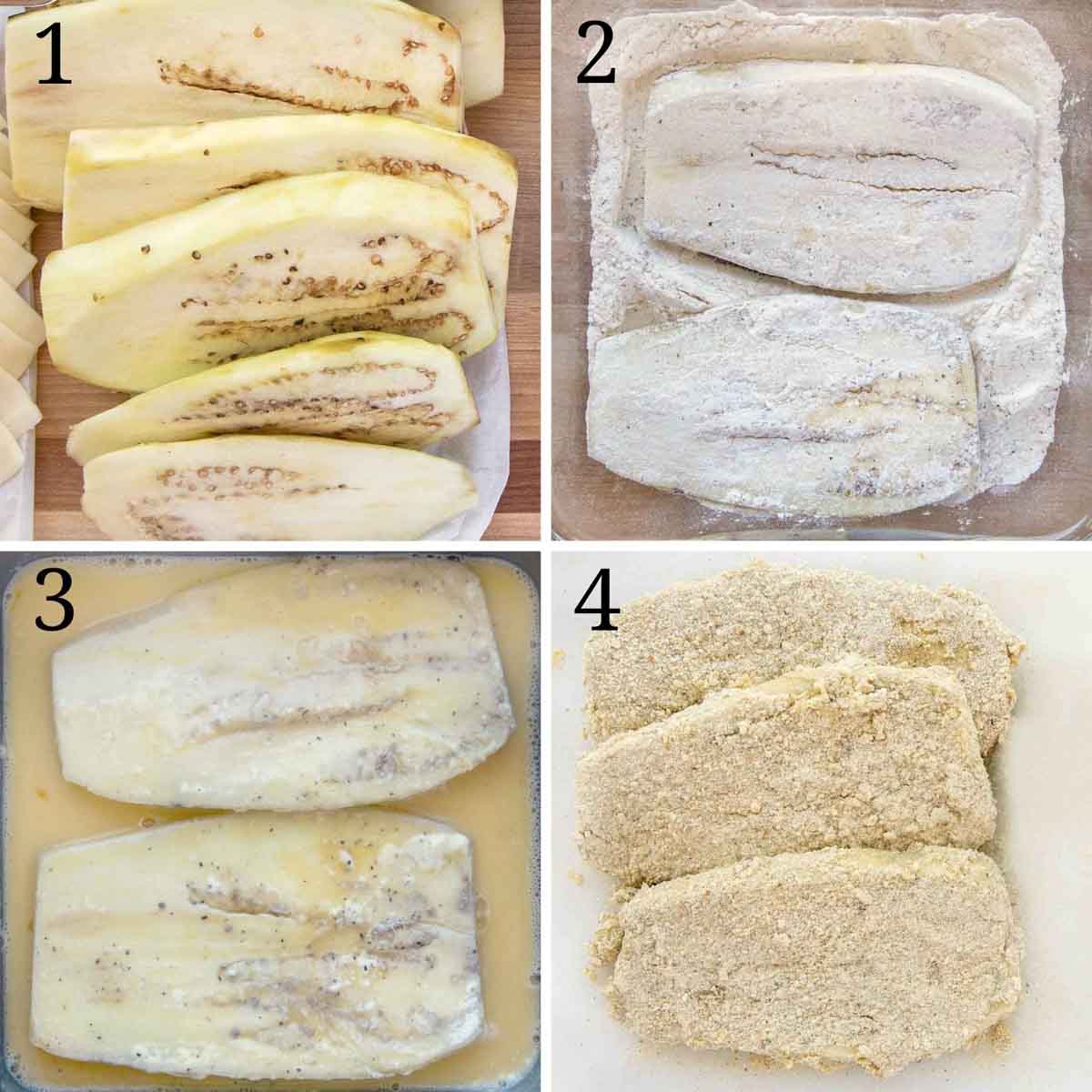 The first step in making Restaurant-Style Eggplant Parm is to set up a breading station. Once the breading station has been set up, it's an easy process.
Peel and slice the eggplant
Dredge the eggplant cutlets in flour seasoned with salt and black pepper, completely coating the eggplant.
Next, dip the floured eggplant into an egg wash (egg wash is whole eggs, whipped with water, milk or a combination of both. I usually use 2 eggs with ½ cup of water).
Finally, place the egg-dipped eggplant cutlets into the bread crumbs, making sure to completely coat the eggplant as you bread the eggplant.
*Repeat the process until you've made all the breaded eggplant slices. I like to make extra whenever I bread eggplant or chicken because I hate breading food. That way I can skip the process the next time I want a delicious eggplant or chicken parm.
What kind of bread crumbs should I use?
You can use plain, seasoned, or panko bread crumbs whatever you prefer or have on hand. I usually make my own bread crumb mixture, rather than buying bread crumbs with Italian seasoning, that way I get to control what goes into the bread crumbs.
*If you want to season plain bread crumbs, I use fresh chopped parsley, and grated Romano cheese (or parmesan cheese). If I want to add a little more flavor I add black pepper, onion powder and garlic powder (red pepper flakes if you like a little heat).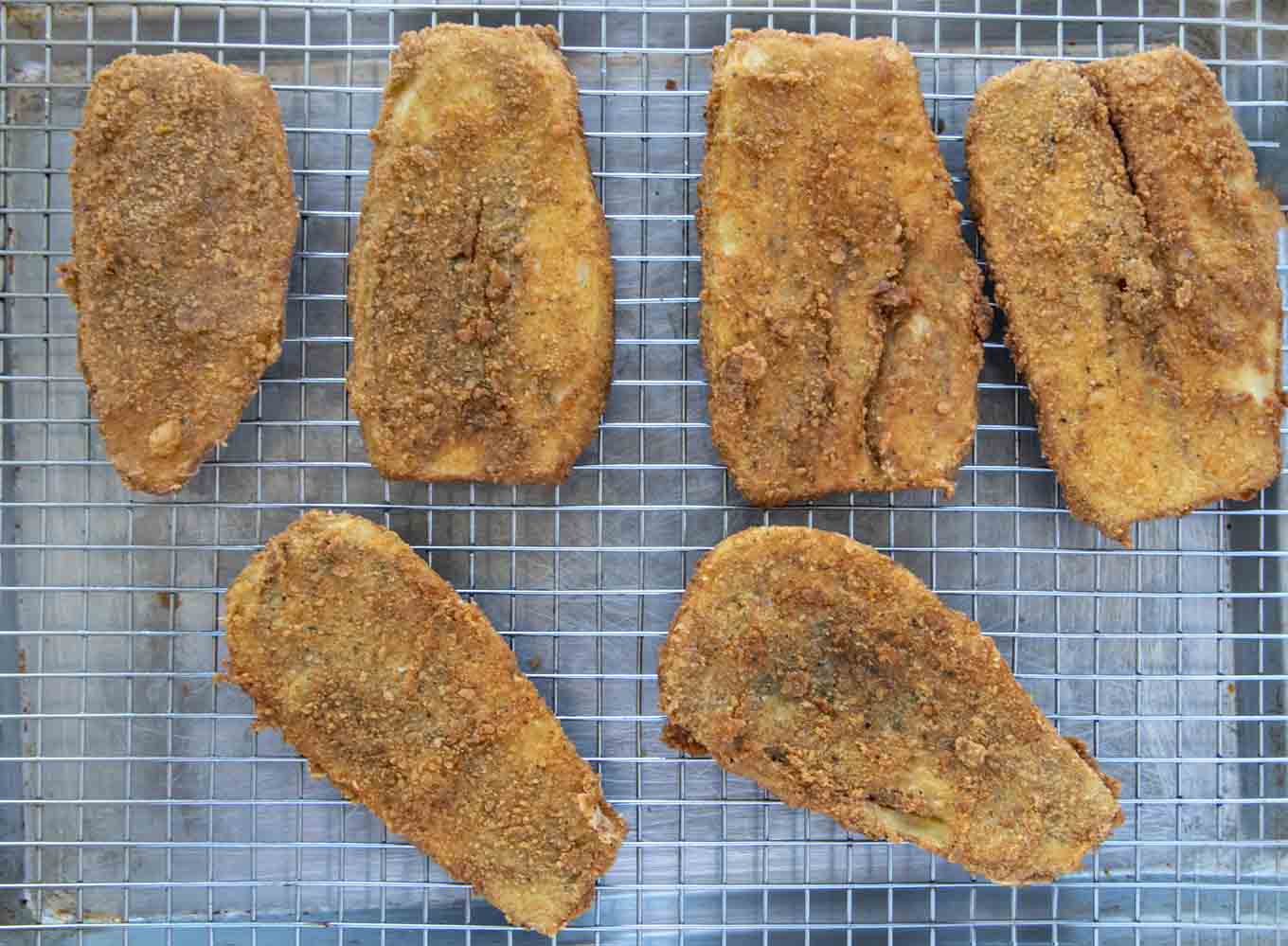 After the breading process has been completed, it's time to pan fry (or deep fry) the eggplant cutlets.
Add about ½ an inch of your favorite oil to a large saute pan or skillet. Let the oil heat up or medium-high heat, until a bit of breading dropped into the oil, begins to sizzle.
When the oil is hot enough, carefully add the breaded eggplant cutlets to the pan using tongs. Don't drop them in, the oil can splatter and burn you!
Let the cutlets sautee on each side for about 2 minutes or until you have a nice golden brown color. Move the fried eggplant cutlets to a screen (or paper towels) to drain off the excess oil.
Can I Freeze Eggplant Parm?
Breading the eggplant is the most time-consuming and messy part of the recipe. Whenever I bread eggplant or chicken for parm, I always triple the recipe. It doesn't take much more time or effort since you've already got the breading station set up.
When you're done breading the extra cutlets you can freeze them on a sheet pan, then place them into ziplock bags to cook when you need them. Or you can pan fry them and freeze them already precooked.
This is the method I choose. And on nights that I want something delicious for dinner, without much effort, I take a pack out of the freezer. Easy-Peasy.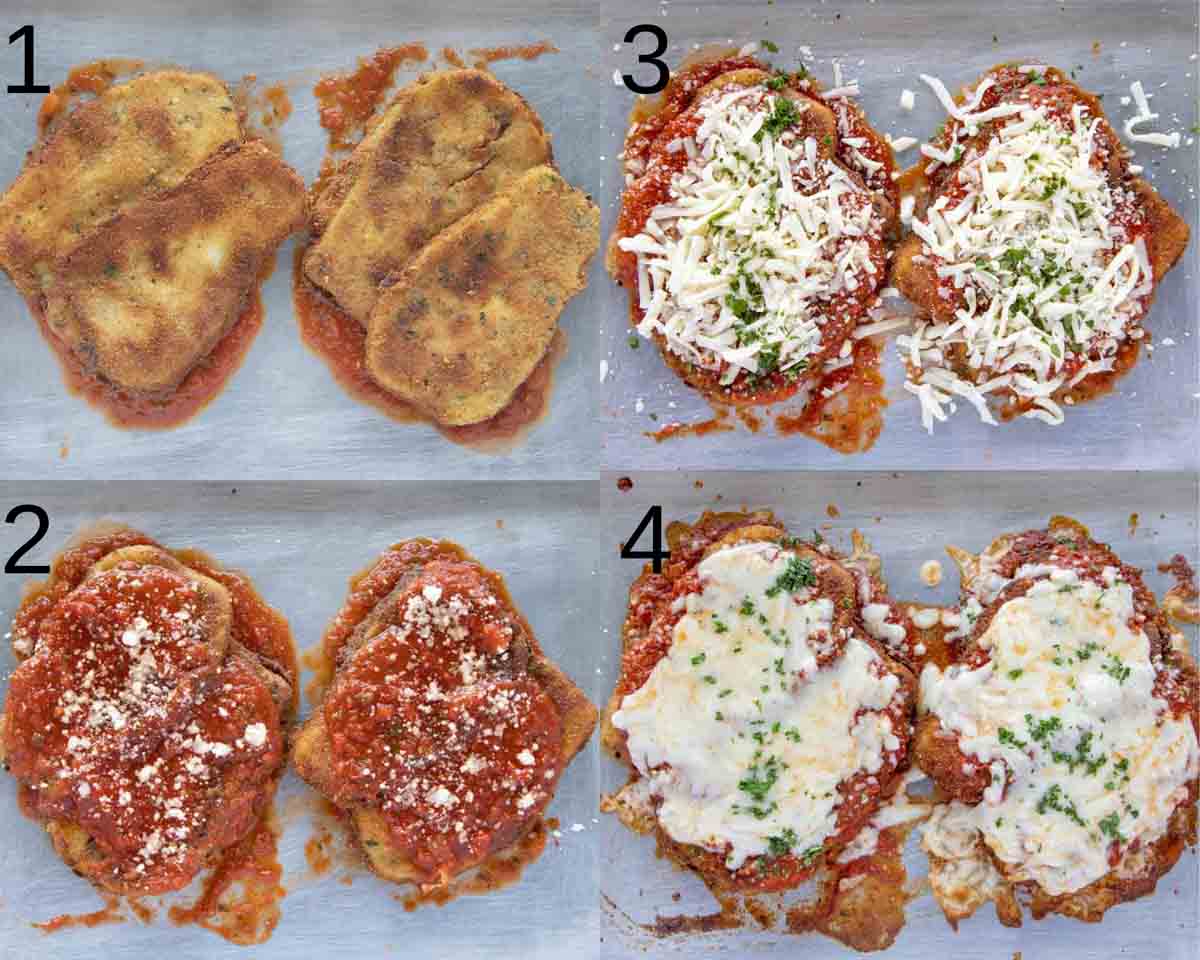 The secret to any parmesan is using enough sauce and cheese. This along with your side order of pasta is where restaurants fail.
Add a little sauce to the sheet pan (or casserole dish) before placing the fried eggplant on the pan.
Top the eggplant cutlets with a good amount of sauce. then add a sprinkle of grated Romano cheese. Don't skimp on the sauce!
Add as much cheese as your heart desires. I like to leave a little of the cutlet exposed. We eat with our eyes first and making it pretty helps make it taste even better.
I always add a sprinkle of fresh chopped parsley on top of the cheese before melting. It melts into the cheese and makes the parm look good.
Bake the eggplant parmesan long enough for the cheese to melt without it getting burnt. Off course unless you like crispy burnt edges on your cheese… it's your dinner after all.
*If you want to change things up a bit, you can use fresh mozzarella instead of shredded mozzarella or in addition to it if you're a cheese lover.
Do I have to cut the eggplant lengthways?
No, you don't. Feel free to make eggplant rounds if you prefer. My eggplant slices are around ⅜ of an inch thick, and I would cut eggplant rounds the same thickness.
Can I make Eggplant Parm in the Air Fryer?
Yes, you can.
Preheat an air fryer to 375 degrees F
Place the breaded eggplant in a single layer in the air fryer basket, making sure they are not touching
Cook for 8 to 10 minutes, then turn the eggplant to the other side and cook until desired crispiness, another 4 to 6 minutes.
Top each eggplant round with marinara sauce, shredded mozzarella cheese and a sprinkle of chopped parsley.
Place basket back in the air fryer and cook until cheese has fully melted, 1 to 2 minutes.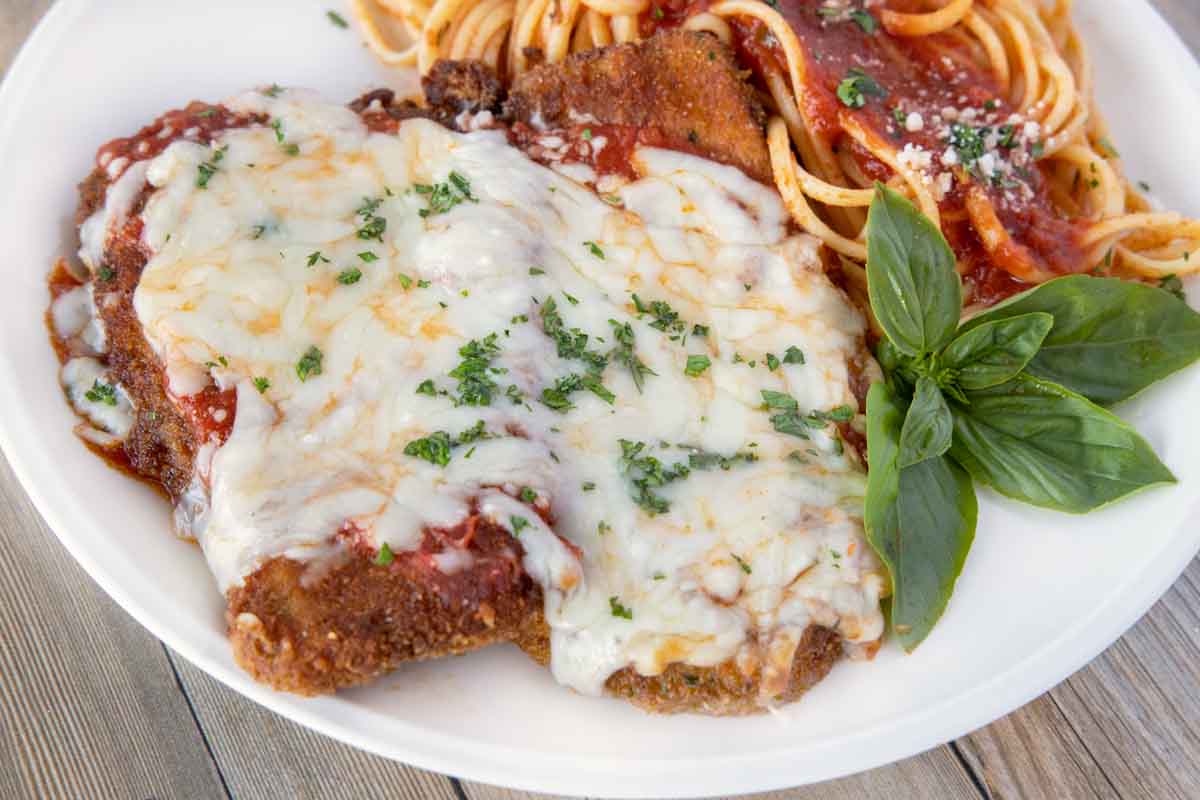 Serve the eggplant parm with your favorite pasta and you've got an ah-mazingly delicious restaurant-style meal that won't break the bank!
Wouldn't your family love to sit down to this deliciousness?
*I've shared an easy recipe for Marinara Sauce, but feel free to use your favorite brand of jarred sauce.
Recipe FAQ's:
Can you leave the skin on eggplant parmesan?
The short answer is yes. The eggplant skin is completely edible and tends to soften as it cooks, and although I do leave it on in some recipes for parmigiana I always peel the eggplant. We tend to use larger eggplant for parm and this avoids the possibility of the larger eggplant having tougher skin.
Do you soak eggplant before cooking?
Many recipes call for salting and rinsing eggplant before cooking it to draw out its bitterness. That being said, I have never soaked or salted my eggplant and never had an issue with the flavor.
Is eggplant parm healthy?
Well, it is a vegetable and you're using tomato sauce which is also a vegetable and cheese from the dairy group, but if you fry it in oil, the short answer is….not, really. But if you air fry the eggplant parm it will reduce the calories from the oil
More Recipes You'll Love!