If you're looking for an easy slow-cooker spaghetti sauce recipe that your whole family will love, look no further. This is one of my favorite slow cooker recipes and makes a delicious homemade spaghetti sauce with a depth of flavor that will have you swearing off of jarred sauces forever!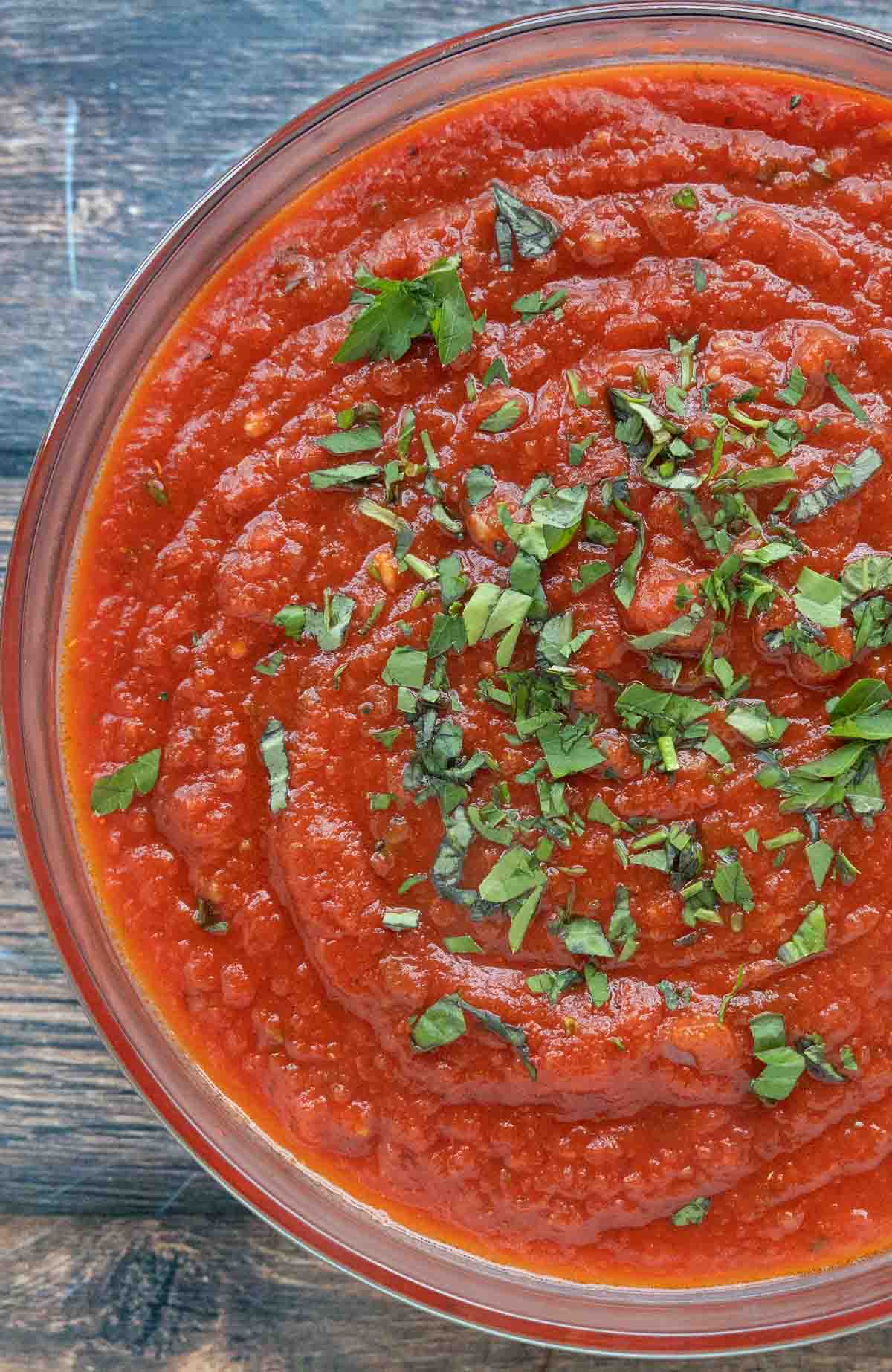 If you don't have a slow cooker, my homemade crockpot spaghetti sauce recipe can be made on the stove top.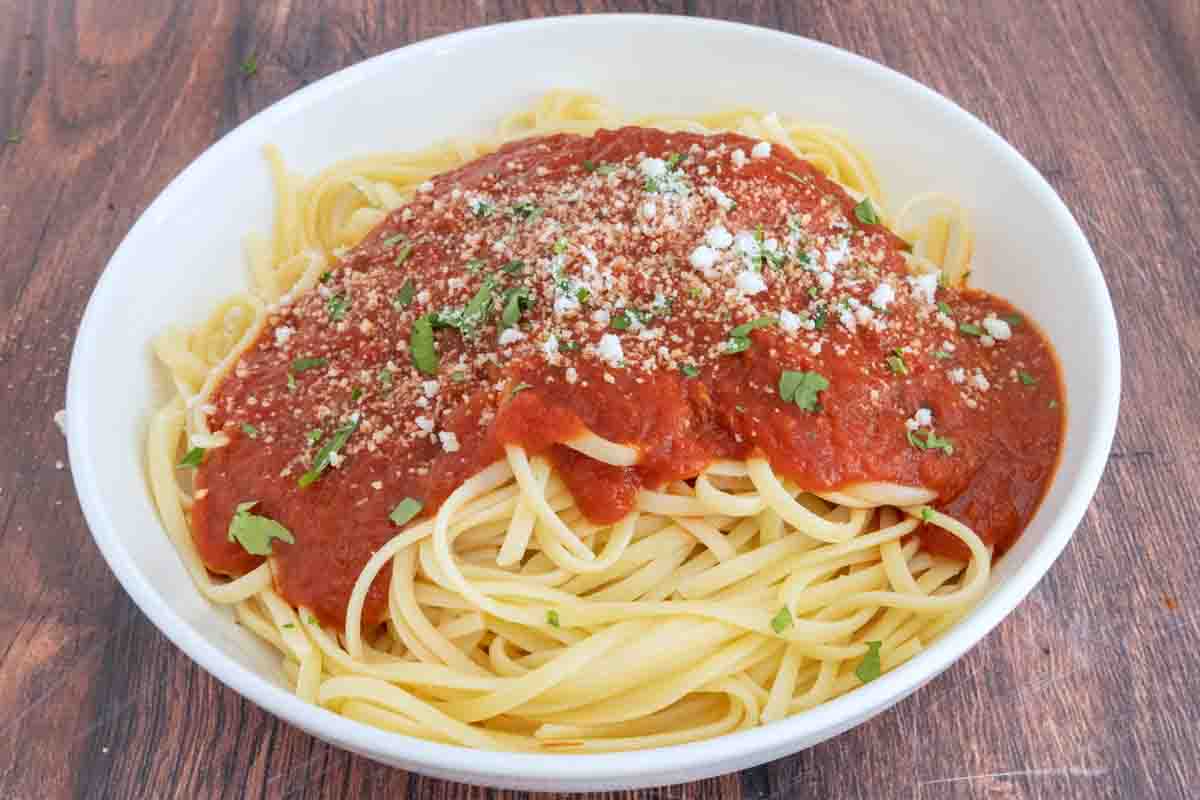 Pasta dishes are true comfort food. Serve it with your favorite pasta shape or zucchini noodles for a dinner time treat.
If you need spaghetti sauce in a hurry, make sure to try my Classic Marinara Sauce. It can be on your table in 30 minutes. If you're looking for a delicious meat sauce, try my authentic Italian bolognese sauce.
Ingredients to Make Slow Cooker Spaghetti Sauce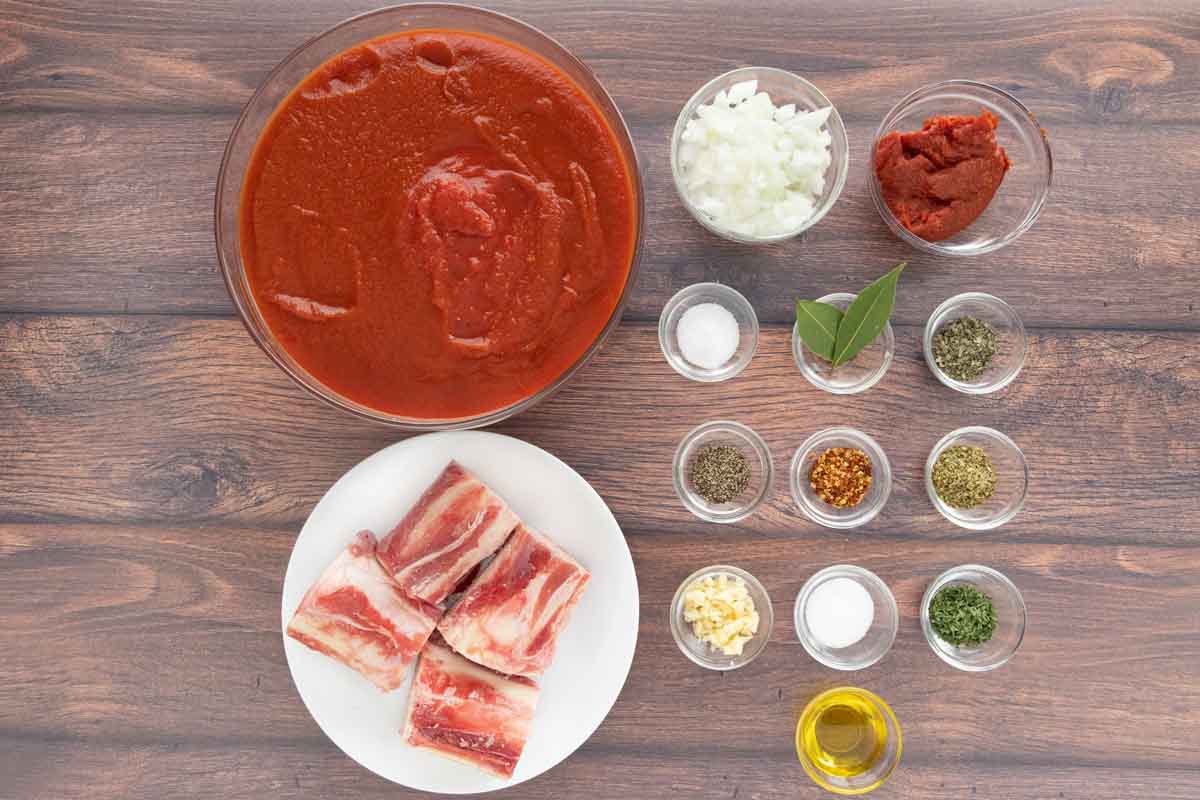 Let's start by gathering the ingredients we need to make Slow Cooker Spaghetti Sauce. In Chef Speak, this is called the "Mise en Place," which translates to "Everything in its Place."
Not only does setting up your ingredients ahead of time speed up the cooking process, it also helps ensure you have everything you need to make the dish.
Made with Simple Ingredients
Tomato puree
Crushed tomatoes
Tomato paste
Beef marrow bones
Fresh garlic cloves
Olive oil
Dried basil leaves
Dried parsley leaves
Dried Oregano leaves
Bay leaves
Sweet onion
Granulated sugar – or brown sugar (optional)
Sea salt
Black pepper
Red pepper flakes (optional)
Fresh basil
Do I have to use marrow bones?
No, you do not. You can make this sauce completely vegetarian if you like. The marrow bones add an incredible amount of flavor to the sauce, but they can be left out.
If you prefer a meaty spaghetti sauce, you can add beef short ribs, pork ribs, or Italian sausage to the sauce. Any of those meat products will also add great flavor to the simmering tomato sauce. You can also make a regular meat sauce by adding ground beef, ground pork, or ground chicken to the mixture.
What type of tomatoes are best?
For my slow cooker spaghetti sauce, I used a combination of tomato puree, crushed tomatoes, and tomato paste. But you can use your favorite canned tomato products to make this recipe. I would not suggest using fresh tomatoes to make my homemade spaghetti sauce unless that is something you have tried before.
Whole tomatoes in puree or juice can be used in place of the crushed tomatoes and puree. You can puree them with an immersion blender or crush them by hand. If you do use whole tomatoes, my favorite is San Marzano from Italy. They are less acidic than most tomatoes and have a rich flavor.
For this type of sauce, dried herbs are best. You can use fresh herbs, but they would be added at the end of the cooking process. I like to add fresh basil to my homemade sauce when it's finished cooking to add a boost of flavor.
*Feel free to substitute your favorite Italian seasoning blend for the dry spices.
How to Make Slow Cooker Spaghetti Sauce
Set the slow cooker temperature to the high setting. When it heats up add the olive oil and chopped garlic to the cooker. Stir the garlic into the olive oil and let it cook for 2 minutes. Don't let it burn.
Add the tomato puree, crushed tomatoes, and tomato paste to the cooker and stir to combine.
Add the seasonings and chopped onions to the slow cooker.
Stir the mixture to make sure all ingredients are fully combined.
Add the beef marrow bones to the crock pot, making sure they are fully submerged in the sauce.
Cover and turn down the temperature to the low setting to cook the tomato sauce for 6-8 hours. Check the sauce during the process and stir every hour or so.
*Depending on your schedule, letting the sauce cook longer will yield a richer, better tasting pasta sauce.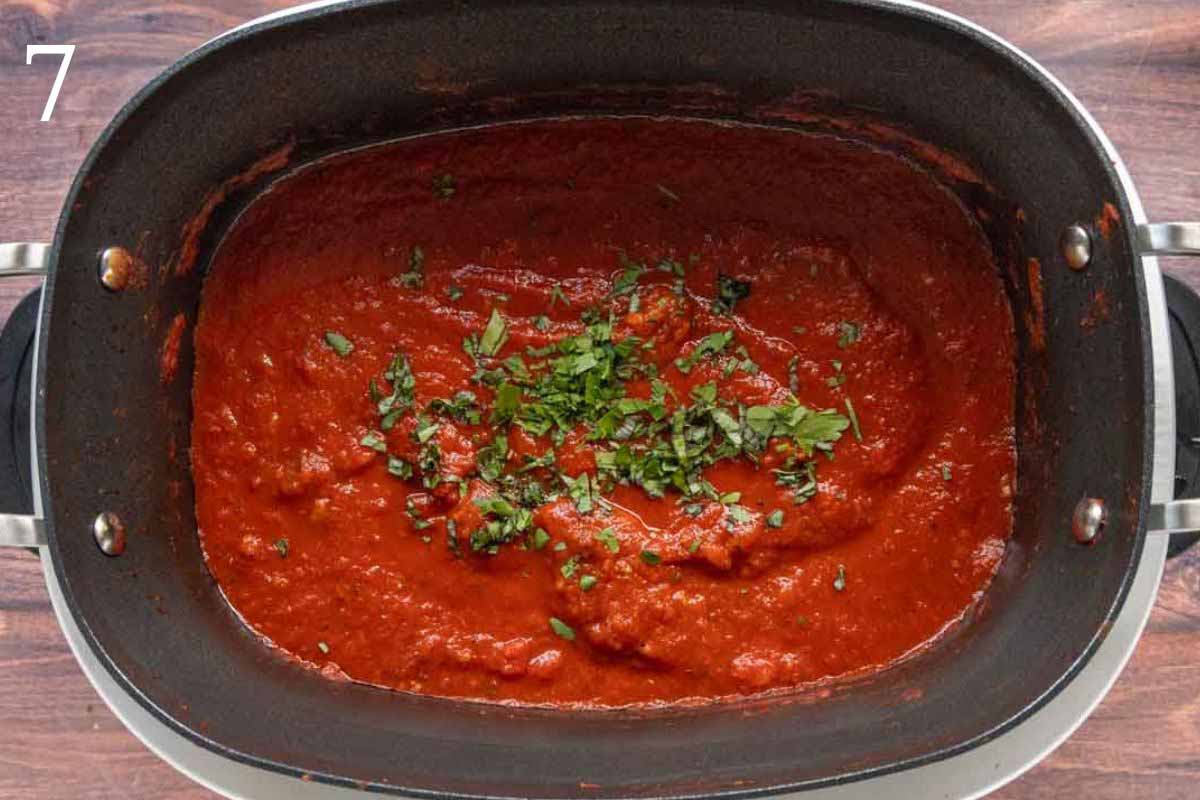 After 6 hours, you will want to use a spoon or ladle to remove any excess grease that has pooled at the top. You don't want to remove all of it because there's a lot of flavor in the fat, but it shouldn't be overly greasy.
Remove the bone marrow bones from the sauce and discard. Stirring the sauce thoroughly to make sure all the bone marrow has been incorporated into the tomato sauce.
Cover and allow the sauce to continue cooking on the keep-warm setting until ready to serve.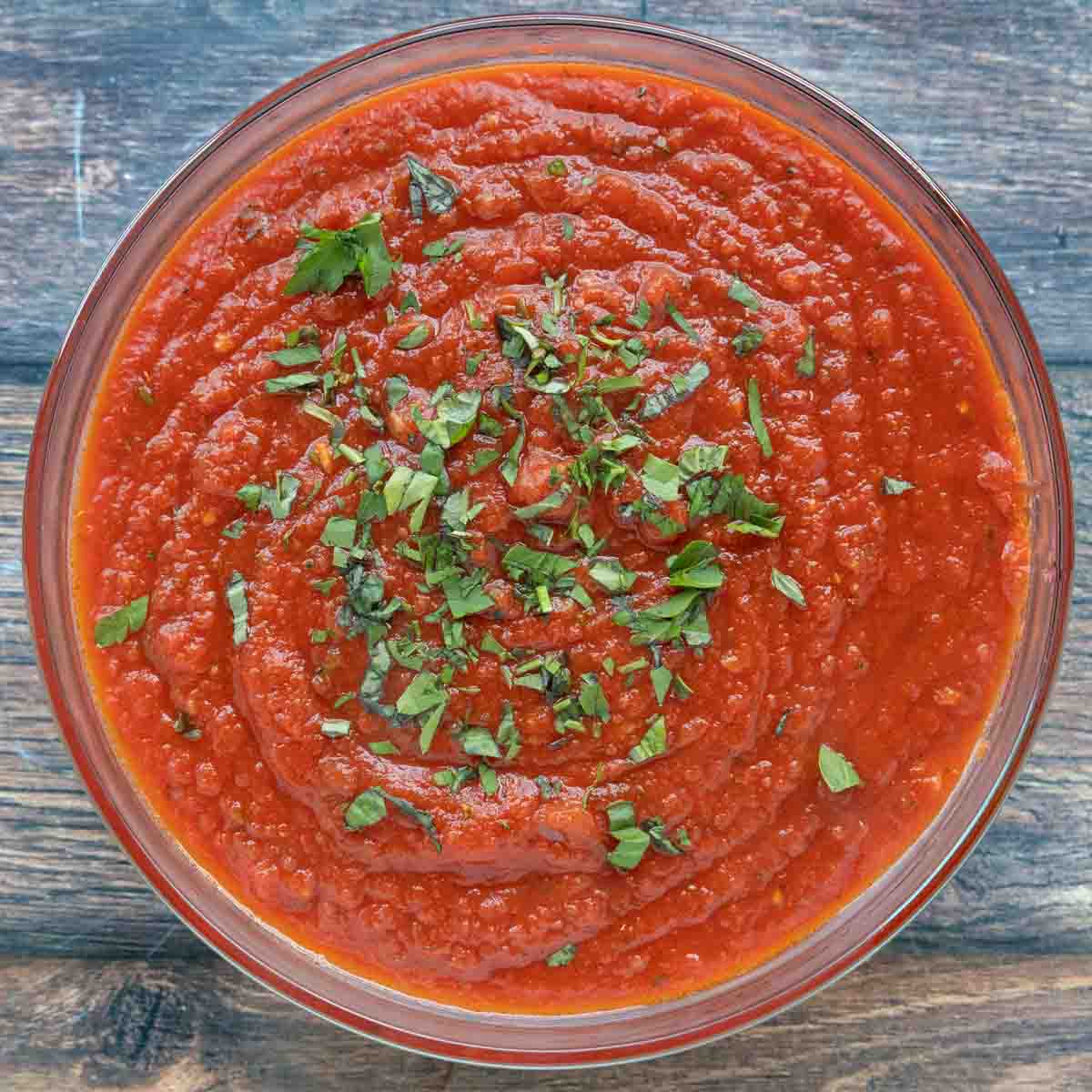 When you add this sauce to your favorite pasta, add a sprinkle of fresh basil or Italian parsley, and make sure to have grated romano or parmesan cheese on hand. I promise they'll be happy smiling faces at your dinner table.
Store any leftover sauce refrigerated in an airtight container. I like to double the recipe and cook a large batch of the sauce for those busy nights when I don't have time to cook.
The sauce freezes very well. But I would suggest letting it sit overnight in the fridge before freezing. Homemade spaghetti sauce is always better the next day.
Recipe FAQs
Will spaghetti sauce thicken in the slow cooker?
Yes, it will. The longer it cooks, the thicker it will get. Adding tomato paste to the sauce will help thicken it. You can turn the temperature setting to high during the last part of the process for a thicker sauce. Just be careful to keep an eye on the cooker; the higher temperatures could cause the spaghetti sauce to burn.
Does spaghetti sauce get better the longer you cook it?
It most certainly does. And it will also be better the day after it has been cooked. Letting the sauce sit refrigerated overnight allows the flavors to build, rewarding you with thickened, full-bodied sauce.
Can you leave the sauce in a slow cooker overnight?
Technically, you can, as most slow cookers will hold on the warm setting for up to 20 hours. But leaving it in the crockpot overnight at this temperature is not recommended. Don't leave it in the crockpot for longer than 2 hours after the cooking process has been completed.
More Recipes You'll Love!
Chef's Choice
Chef's Choice