My Tomato Basil Pasta is the perfect choice for a busy weeknight dinner. In just 15 minutes you'll be enjoying this delicious garden fresh pasta dish loaded with juicy ripe tomatoes bursting with flavor. Add fresh sweet basil, garlic and grated romano cheese and you've got a delicious pasta dish the whole family will love!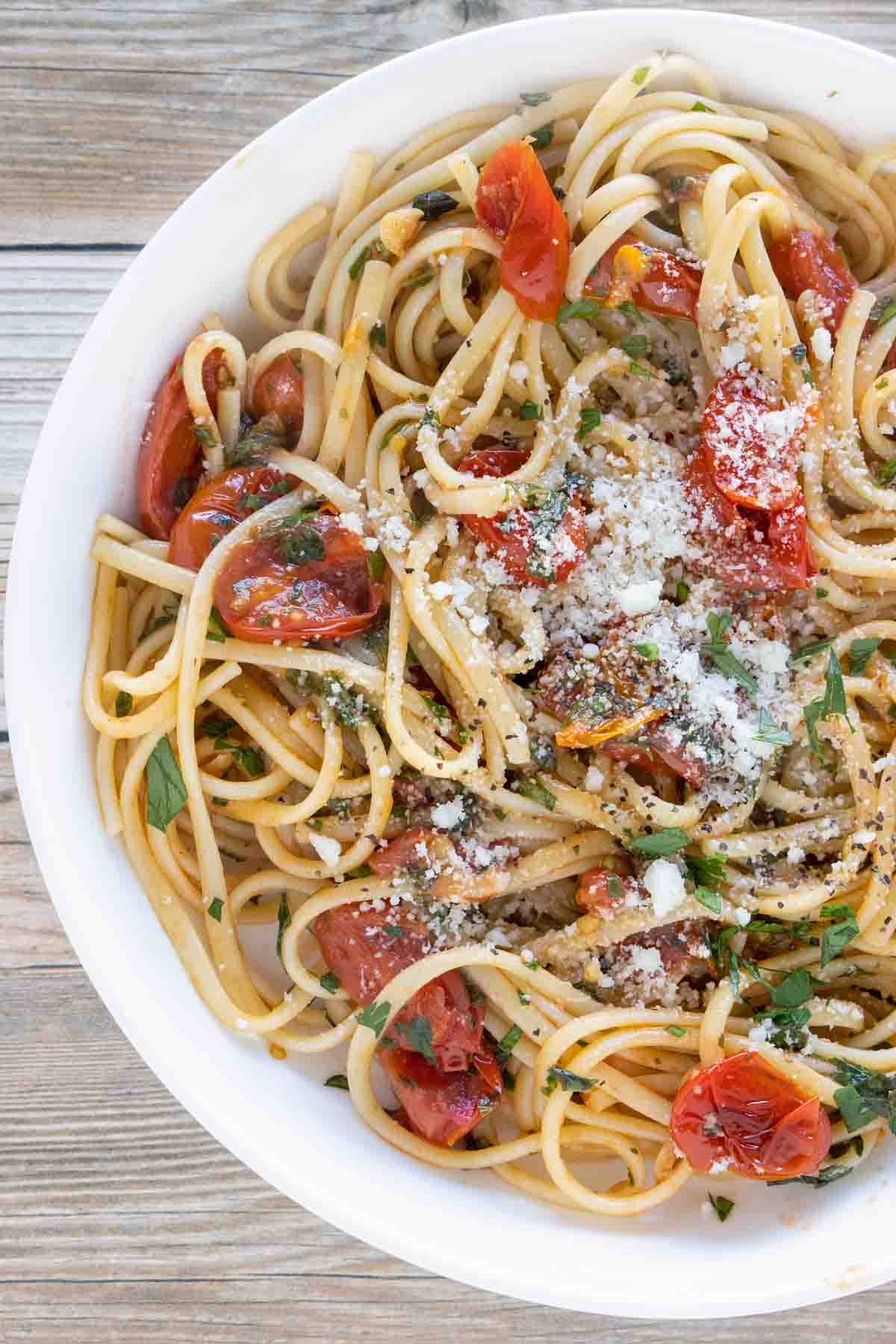 Growing up in New Jersey I looked forward to tomato season and the tomatoes of late summer were always my favorite. Made with a handful of ingredients the fresh flavors of the tomato and basil really shine in this easy pasta dish.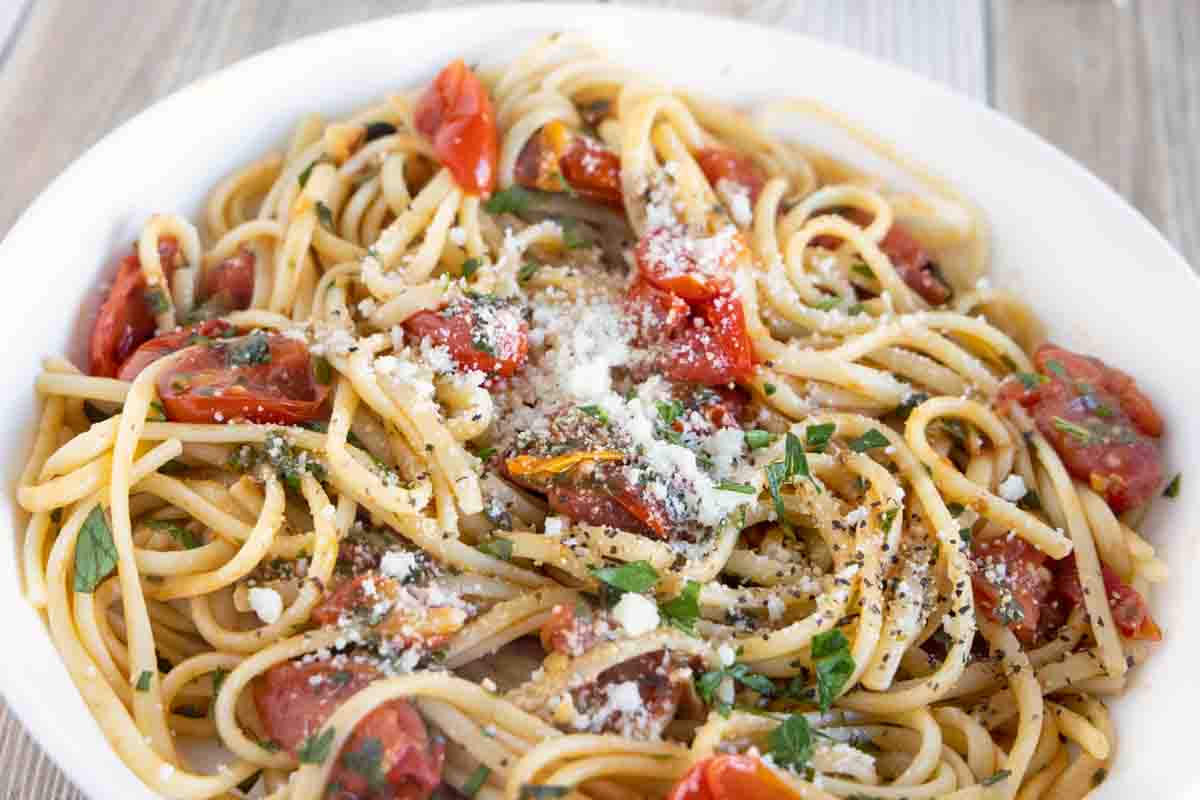 What's not to love about the is one-pot tomato basil pasta? A simple recipe made with fresh ingredients will make this delicious meal a great option for those nights you don't have time or the desire to spend an hour in the kitchen preparing dinner. I guarantee you're going to love my tomato basil pasta recipe.
If you're looking for another easy and delicious pasta sauce, make sure to try my Pasta Napoletana.
Ingredients to make Tomato Basil Pasta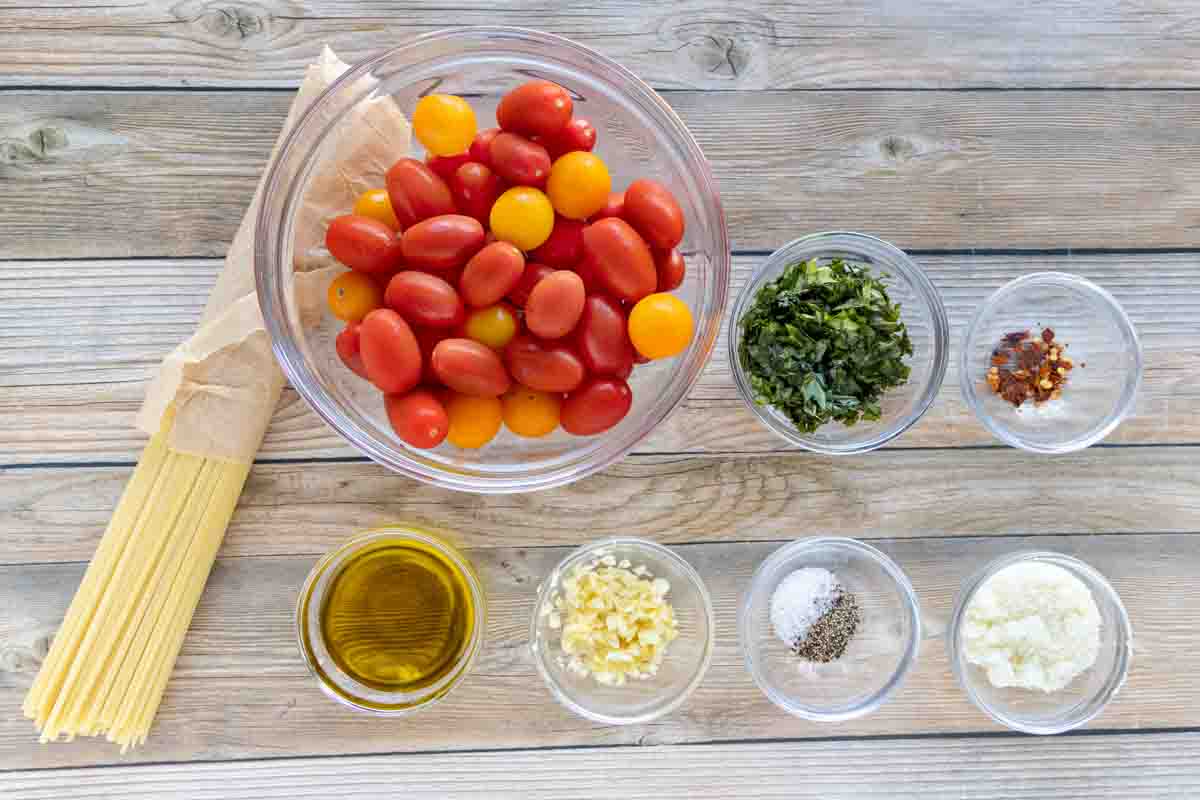 Let's start by gathering the ingredients we need to make Tomato Basil Pasta. In Chef Speak, this is called the "Mise en Place," which translates to "Everything in its Place."
Not only does setting up your ingredients ahead of time speed up the cooking process, it also helps ensure you have everything you need to make the dish.
Made with simple ingredients
Fresh tomatoes (grape tomatoes or cherry tomatoes)
Fresh basil leaves
Extra virgin olive oil
Grated romano cheese (or parmesan cheese)
Fresh garlic
Salt
Black pepper
Red pepper flakes
Linguine (spaghetti, or your favorite pasta shape)
This dish is easily adaptable. If you'd like to add more veggies to the dish, try adding sauteed zucchini, asparagus or spinach. If you want to add protein to this cherry tomato basil pasta, shrimp and cooked chicken will add flavor and substance to this easy weeknight meal.
If you want a sauce that's more heavily seasoned, try adding an Italian seasoning blend to the homemade tomato sauce. For a sweeter sauce add a pinch of sugar.
Some recipes add tomato paste, but there really isn't a need to add it to the tomato basil sauce. If you like the flavor of onion, saute a little diced onion before adding the garlic to the pan.
For a creamy version of this sauce add heavy cream to the sauce before adding the pasta.
What type of pasta should I use?
I used linguine but you can easily substitute spaghetti. If you prefer short cut pasta, try penne pasta, ziti, or cavatappi.
How to make Tomato Basil Pasta
Bring a large pot of salted water to a boil, then add the pasta. Cook al dente according to package directions.
*When you drain the pasta, make sure to reserve 1 cup of pasta water to add to the tomato sauce.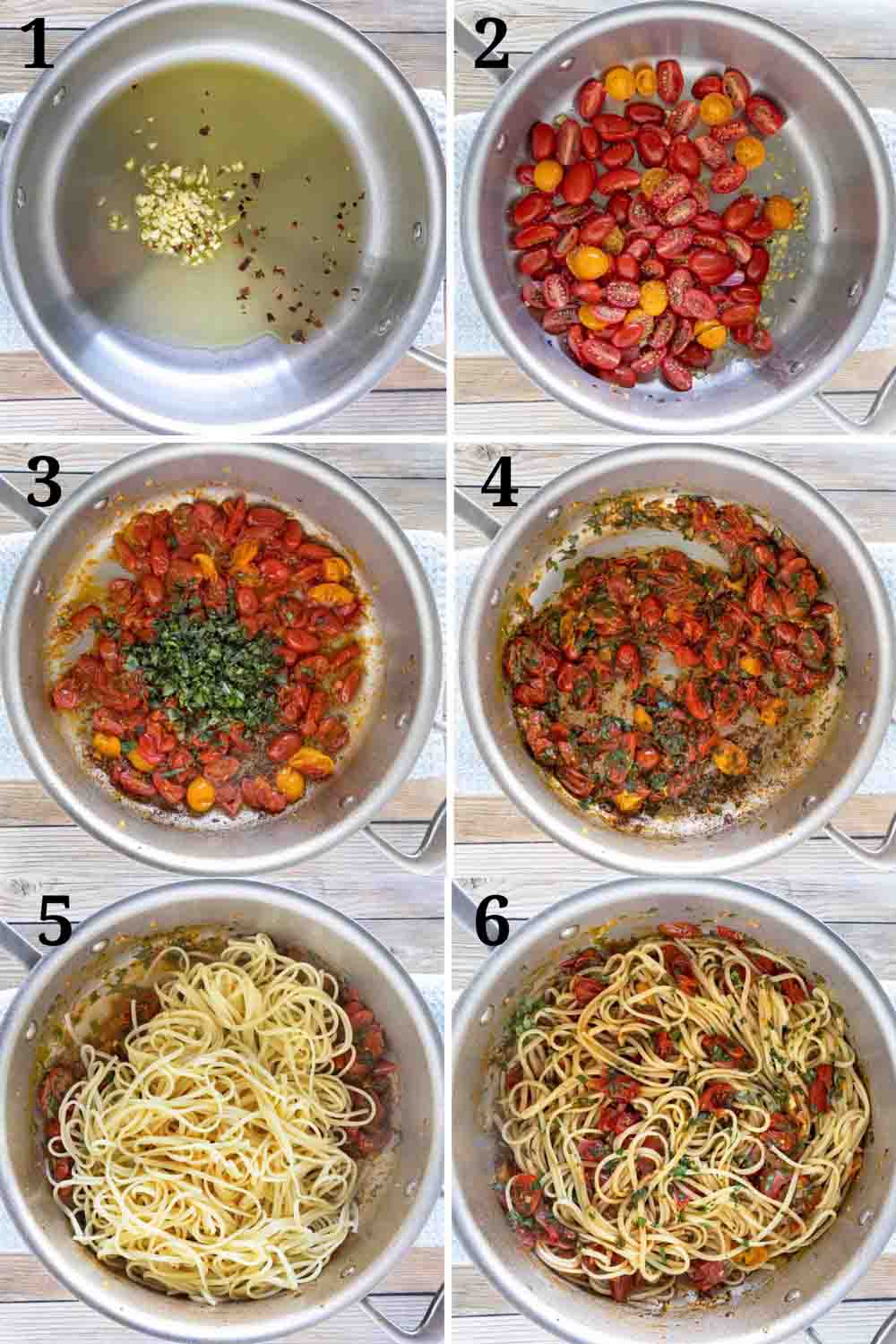 While the pasta cooks, add the olive oil to a large skillet over medium heat. When the oil is hot, add the garlic and chili flakes to the pan and cook for one minute until the garlic is fragrant.
Add the tomatoes, salt, and black pepper to the pan. Increase the heat to medium-high and let the tomatoes cook for 6-7 minutes. The tomatoes will burst and will start to stick to the bottom of the pan as the juices cook off.
Add the chopped sweet basil to the tomatoes and stir into the mixture. Let the mixture cook for one minute, then remove the pan from the heat until the pasta is finished cooking. *You will need to add a small amount of the starchy pasta water to thin out the sauce.
When the pasta is finished cooking, drain it, then add the cooked pasta to the skillet with the tomato sauce.
Toss the hot pasta with the sauce until well combined. Add more pasta water to the pan if needed and let it cook for another minute over medium-high heat to fully heat the dish.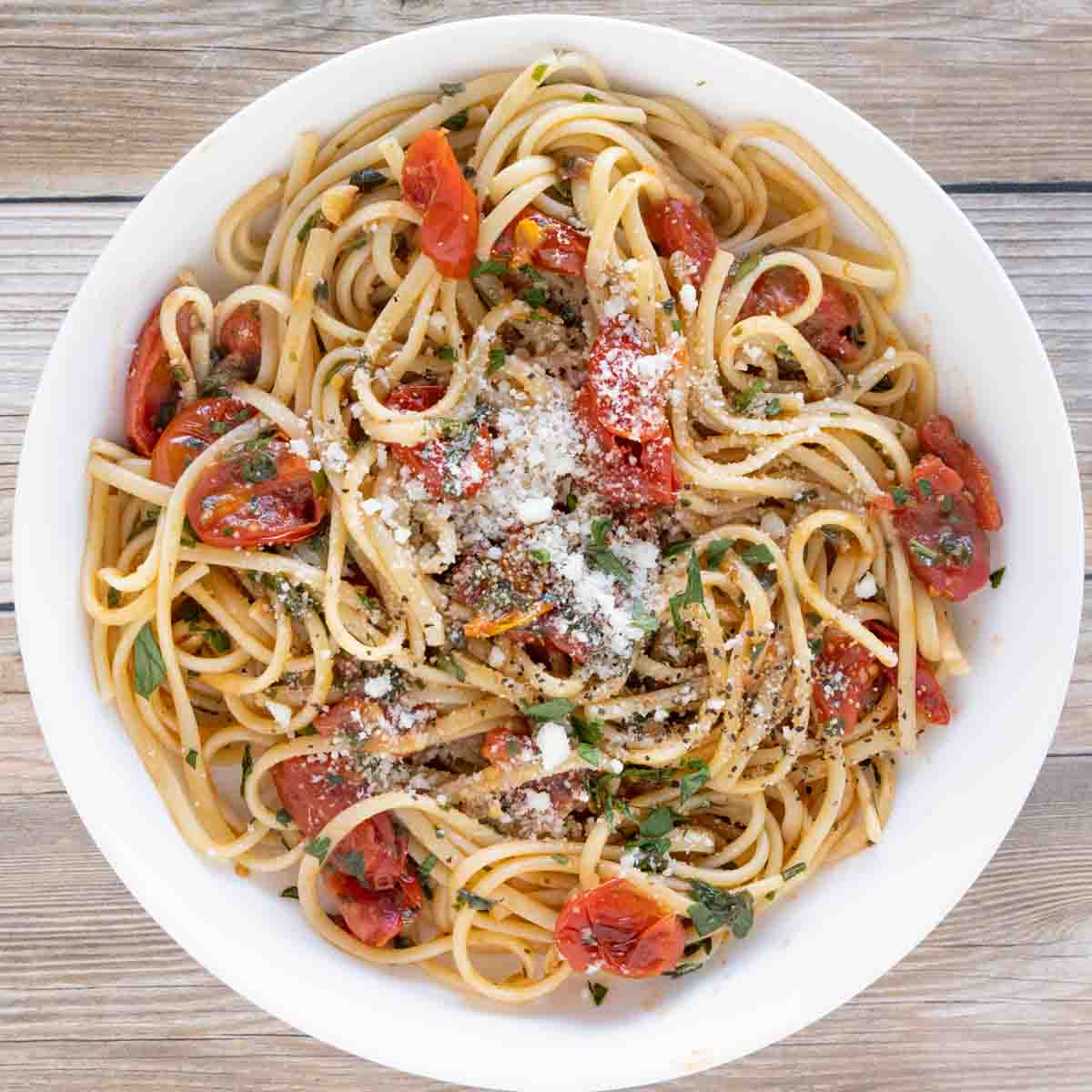 Serve the tomato basil pasta with a drizzle of extra virgin olive oil, grated romano cheese, and a sprinkle of freshly chopped basil.
Store any leftover pasta refrigerated in an airtight container for 2-3 days. It does not freeze well. Reheat on the stove over medium-low heat, adding a splash of water or broth if the sauce has thickened too much. Stir occasionally to ensure even heating.
Recipe FAQ's
Can I use canned tomatoes instead of fresh tomatoes?
Absolutely. You can used canned cherry tomatoes to make this sauce. You can also use diced or crushed tomatoes as a convenient alternative.
Can I use dried basil instead of fresh?
You can, but it really won't be the same. Fresh basil is recommended for its vibrant flavor and aroma.
More Recipes You'll Love!